Penne Primavera
Introducing our delightful Penne Primavera — a delectable pasta dish featuring a vibrant mix of veggies, all coated in our special creamy primavera sauce that's sure to have you coming back for seconds.
Jump to:
Why You'll Love Our Recipe
If you're on a mission to include more veggies into your diet, our Penne Primavera recipe is ideal. Think crunchy broccoli florets, tender asparagus spears, and pops of vibrant peas.
Plus, we've tweaked our pasta primavera with roasted vegetables to make it that bit more special. A touch of heavy cream adds velvety richness, while homemade basil pesto brings out even more flavor.
Here's the best part: easy pasta primavera is incredibly versatile. Our vegetable lineup is already fantastic, but you'll find more ideas below to help add your own personal touch.
Love vegetarian dishes? Try mushroom marsala! It's a perfect meatless meal to serve over protein-packed quinoa or nutty brown rice.
Ingredients
You should find all the ingredients to make this easy pasta dish in your local grocery store: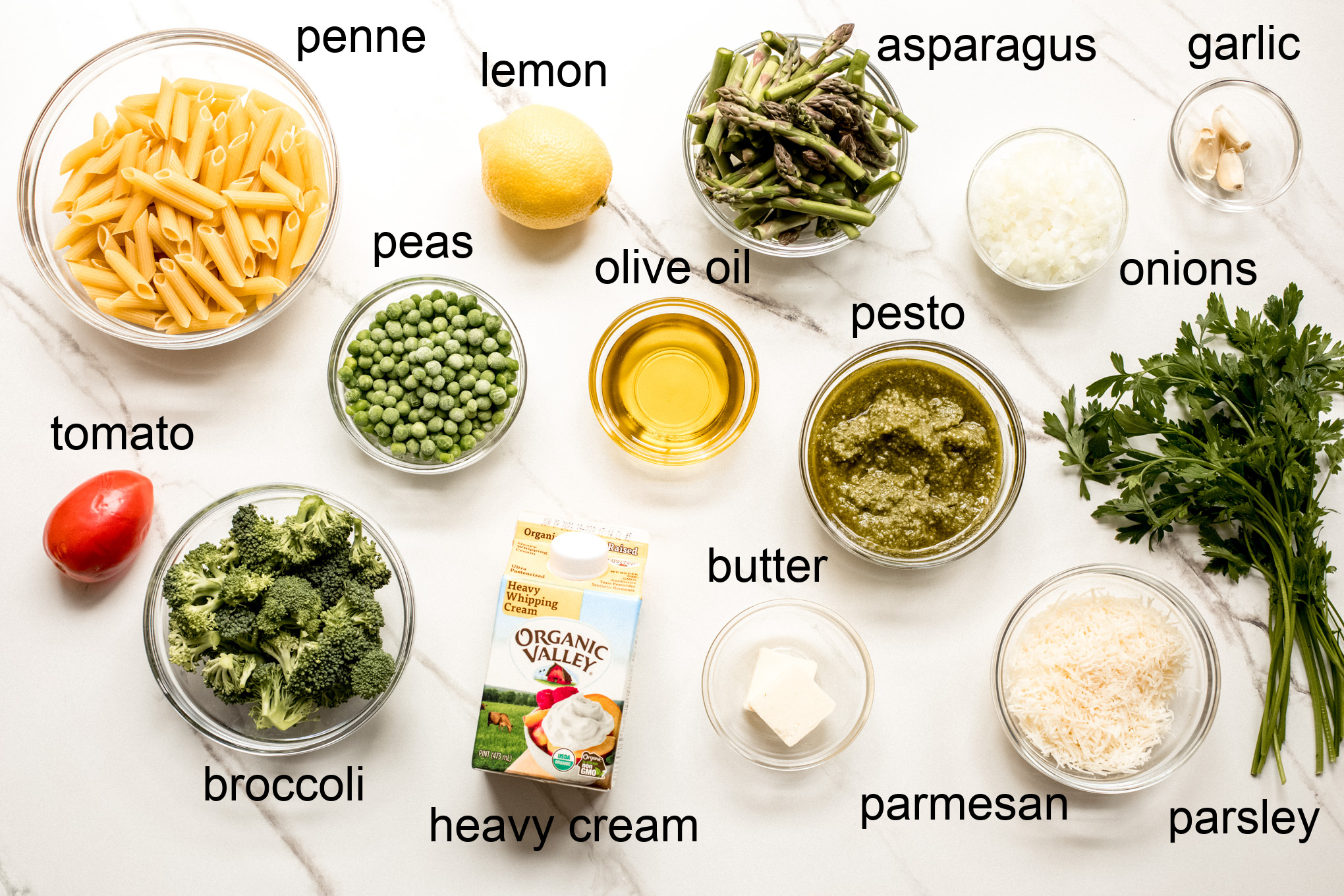 Penne pasta: This pasta, with its hollow center, is perfect for soaking up all the delicious sauce.
Asparagus: This fancy veggie brings a touch of elegance with its delicate, slightly earthy flavor.
Broccoli: For that satisfying crunch and fresh green goodness in every mouthful.
Peas: For their little bursts of sweetness and lively green color.
Roma tomatoes: The ideal choice for sauces, with their richness, tanginess, and sweetness.
Heavy cream: For a velvety texture that's simply irresistible. Using lower-fat cream won't give you the same luxurious thickness, so embrace the indulgence!
Olive oil and Butter: Gives your sauce that buttery smoothness and richer flavor.
Basil pesto: Infuses the sauce with its aromatic wonders, elevating your Penne Primavera to a whole new level.
Parmesan cheese: This cheesy goodness brings a salty and nutty flavor, adding depth and a hint of indulgence.
Aromatics: Garlic, onion, lemon juice, and fresh parsley.
See the recipe card for full information on ingredients and quantities.
Get Creative with Your Veggie Lineup
While our recipe already includes some fantastic vegetable choices, penne primavera is very versatile – it can rock any veggie you throw at it! Take a look at these veggie ideas for some fresh inspiration:
Zucchini: Slice it thin or julienne it for a delightful texture and mild flavor that blends perfectly with the pasta.
Bell Peppers: Brighten your plate with a mix of red, yellow, and green bell peppers. They'll also bring a bit of crunch and sweetness to every bite.
Cherry Tomatoes: Bursting with juicy goodness, cherry tomatoes bring a burst of acidity and freshness to the dish. Leave them whole or halve them.
Spinach: Give your pasta dish a nutritious boost by adding spinach leaves. For maximum freshness and texture, toss them in at the last minute and opt for more mature leaves.
Mushrooms: For an earthy twist, add mushrooms to the mix. Whether it's sliced cremini, button, or shiitake mushrooms, they'll bring a wonderful umami flavor.
Make It Your Own
You've got your own veggie game going, but why stop there? Here are some exciting ways to truly make this penne pasta recipe your own:
Shape it up: Who says penne primavera can only be made with penne? Explore other types of pasta shapes like farfalle, fusilli, or rigatoni.
Protein power-up: Want to add more protein to your pasta? Try shrimp pasta primavera or add other proteins such as sliced grilled chicken tenders or even hearty sausage.
Creamy or zesty: Play with the sauce! Try swapping out the heavy cream for a zingy lemon garlic cream sauce or a light and tangy Greek yogurt Caesar dressing.
Herbs and spices galore: Get creative with your herbs and spices. Try some dried oregano for a warm and earthy flavor, or perhaps even some crushed red pepper flakes for a spicy kick.
Instructions
Prep Tip! Our penne pasta primavera recipe is quick to make – have all of your ingredients prepared and just follow these simple steps.
If you need more detailed instructions, you'll find the full recipe card below.
Bring salted water to a boil in a large pot. Cook pasta as per package instructions. Save ½ cup of pasta water for later.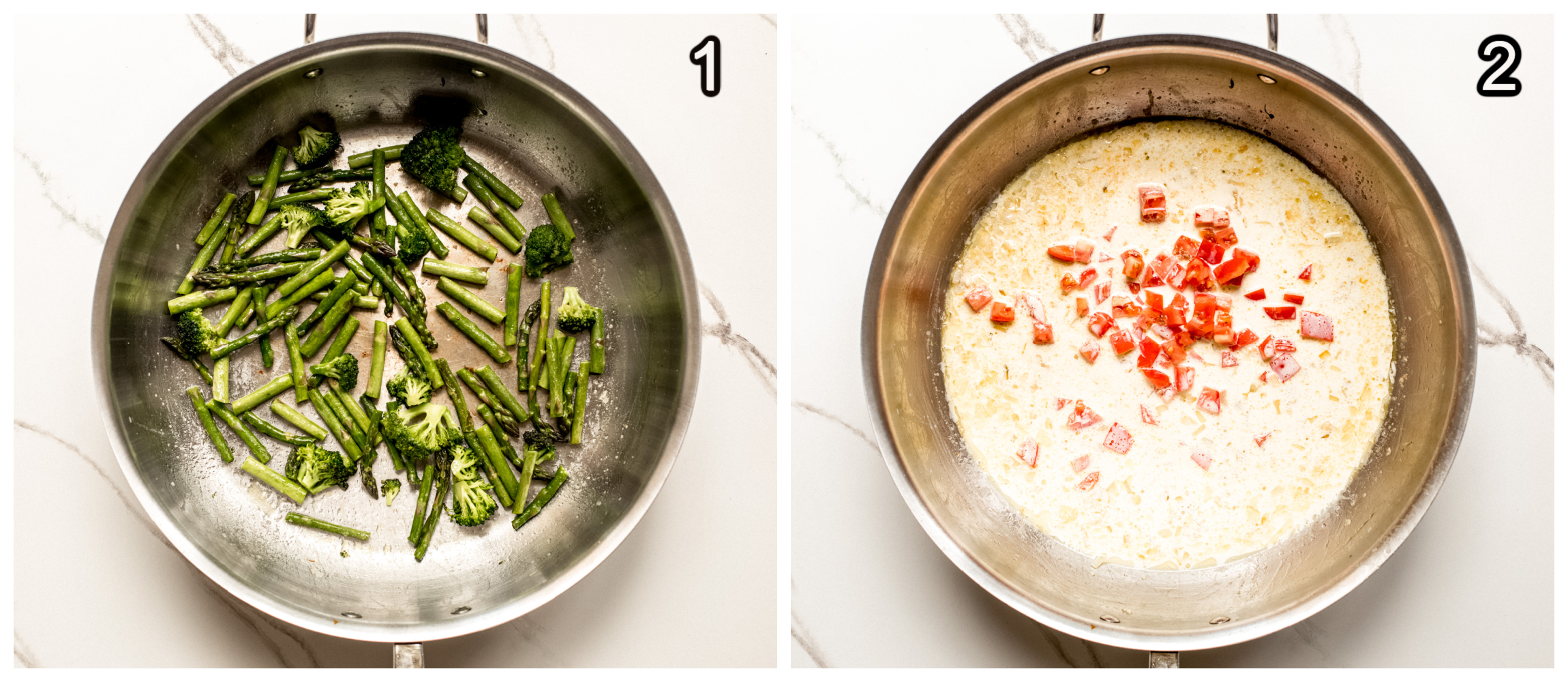 Heat olive oil in a large skillet over medium heat. Add broccoli and asparagus and cook until tender-crisp. Remove to a plate. (Image 1)
In the same skillet, melt butter and cook onions and garlic. Stir in heavy cream and tomato. Simmer until sauce thickens, about 2-3 minutes. (Image 2)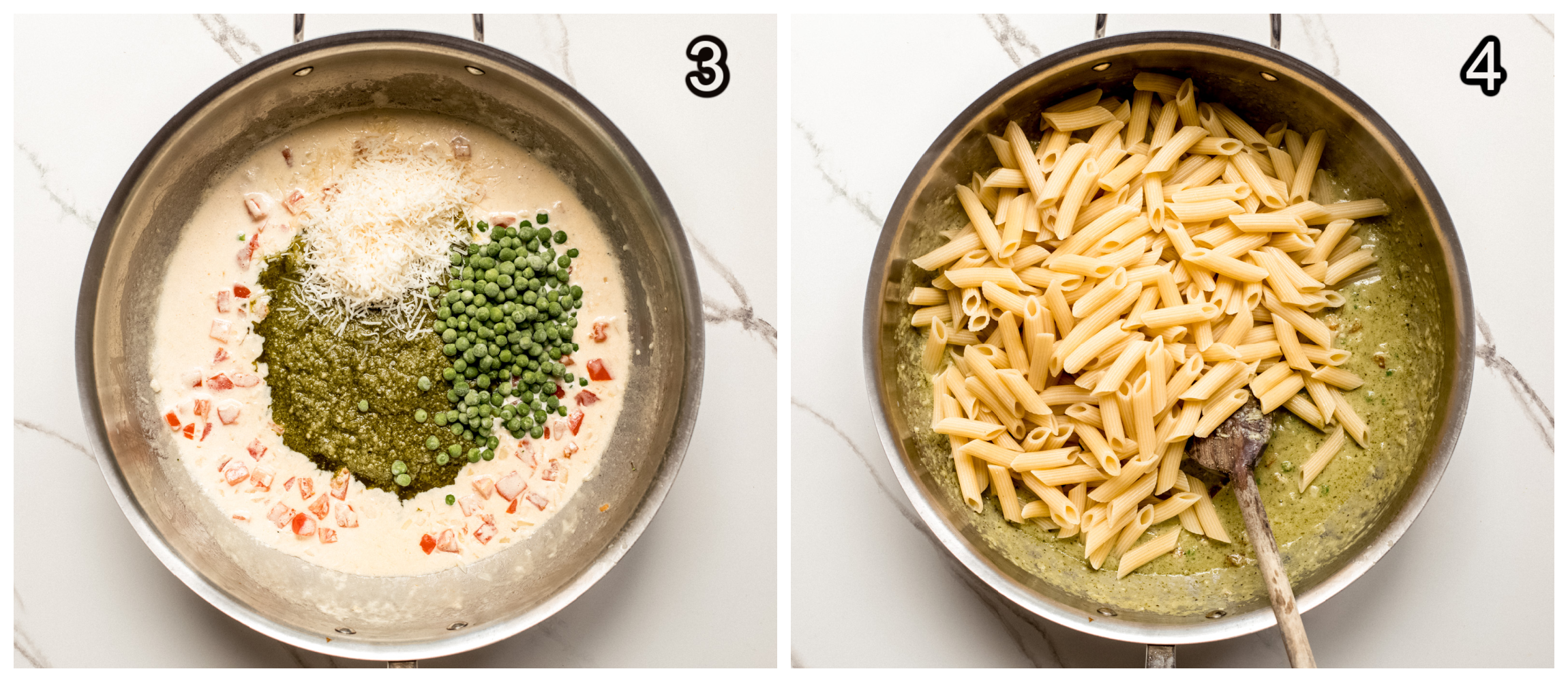 Stir in peas, pesto, and Parmesan cheese. Season with salt and pepper. Add cooked pasta to the sauce and toss with pasta water. (Image 3 & 4)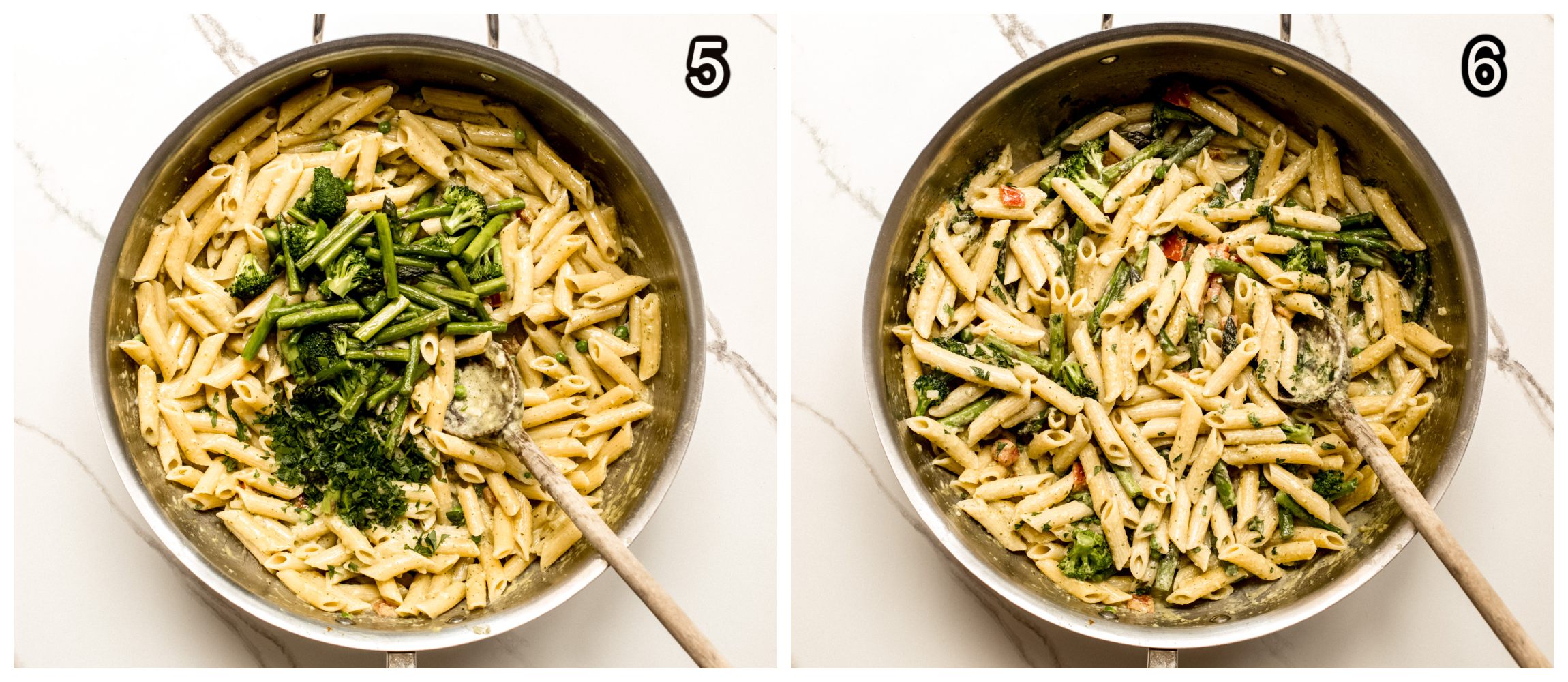 Mix in the cooked veggies, lemon juice, and parsley. Taste for salt and pepper. Serve with extra Parmesan. (Image 5 & 6)
Expert Tips
These expert tips will help you make the best penne primavera recipe:
Pasta perfection: Cook the penne pasta until it's al dente – with a slightly satisfying bite. Check the packaging for cooking time.
Homemade magic: Try making your own basil pesto. The fresh flavor and vibrant aroma will take your dish to new heights. Plus, it's a great way to show off your culinary skills and impress your guests.
Save that pasta water: It's a natural thickener and emulsifier, so if your sauce is too thin or lacks that velvety feel, gradually add small amounts of pasta water while stirring continuously and watch as the magic happens.
Taste and adjust: Salt and pepper are your best friends here, so be sure to season the dish properly to bring out those delicious flavors. Keep tasting and adjusting the seasoning as you go along.
Recipe FAQs
Can I make Penne Primavera ahead of time?
Absolutely! Penne Primavera is a great dish for meal prep or making ahead for busy days. Simply cook the vegetables and sauce as directed, and store them separately in airtight containers in the fridge. 

When you're ready to enjoy, reheat the sauce gently on the stovetop, then add the veggies and some freshly cooked pasta.
Can I use frozen vegetables instead of fresh ones?
While fresh vegetables are ideal for Penne Primavera, frozen vegetables are a convenient alternative – just make sure to thaw them before cooking.

Keep in mind that the texture might not be as nice and crunchy, but they should still be nutritious and flavourful. 
What can I serve with Penne Primavera?
Penne Primavera is a pretty well-rounded dish on its own, but if you'd like to add something on the side, garlic sourdough bread or a crisp green house salad are great choices.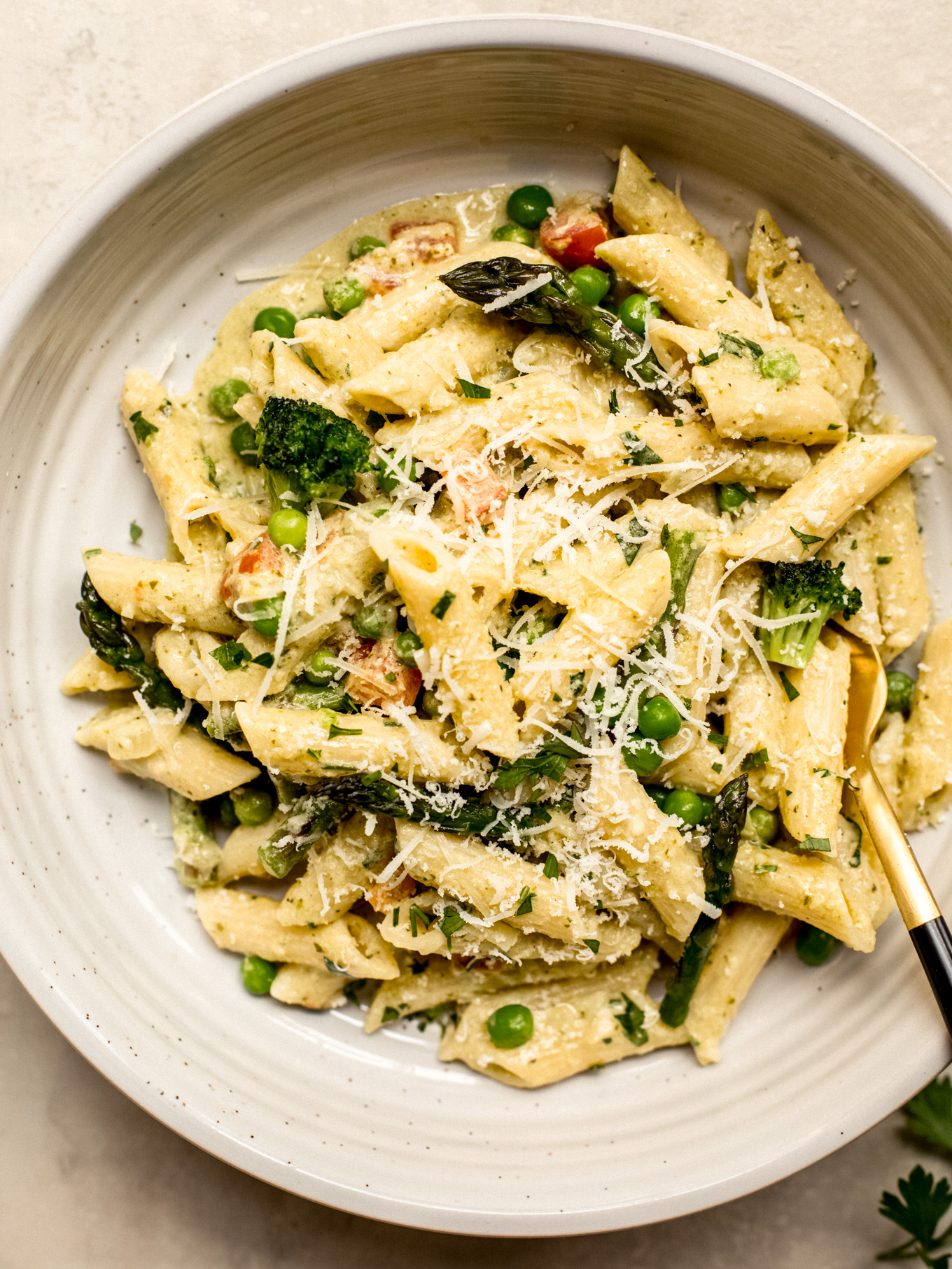 If you tried this Penne Primavera or any other recipe on my website, please leave a star rating and let me know how you liked the recipe in the comments below!
Print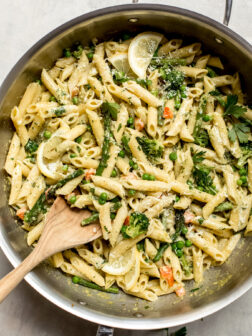 Penne Primavera Recipe
Author: Katya
Prep Time: 20 min
Cook Time: 15 min
Total Time: 35 minutes
Yield: 8 1x
Category: Main
Method: Stovetop
Cuisine: American
---
Description
Introducing our delightful Penne Primavera — a delectable pasta dish featuring a vibrant mix of veggies, all coated in our special creamy primavera sauce that's sure to have you coming back for seconds.
---
1 lb. dry penne pasta
1–2 Tbsp. olive oil
1 cup fresh broccoli florets
8 oz. thin asparagus, trimmed and cut into 1-inch pieces
2 Tbsp. butter
1/4 cup finely diced onion
3 garlic cloves, minced
3/4 cup heavy cream
1 Roma tomato, diced
1/2 cup frozen peas
3/4 cup basil pesto
1/2 cup freshly shredded Parmesan cheese, plus extra for serving
2 Tbsp. fresh lemon juice
2 Tbsp. fresh chopped parsley
Kosher salt and fresh black pepper
---
Instructions
Bring a large pot of salted water to a boil. Add pasta and cook according to the package directions. Reserve 1/2 cup pasta water and drain the rest.
Heat olive oil in a large skillet over medium heat. Add broccoli and asparagus. Season with salt and pepper. Cook, stirring occasionally, until tender-crisp, about 5-7 minutes. Cook time will depend on the thickness of the veggies. Remove to a plate.
In the same skillet, melt the butter. Add onions and garlic, and cook, stirring for about 1 minute.
Stir in the heavy cream and tomato, and simmer for about 2-3 minutes or until the sauce begins to thicken and the tomatoes soften. Stir in peas, basil pesto, and Parmesan cheese. Season with salt and pepper, to taste. 
Add cooked penne to the sauce and toss with some of the reserved pasta water. Add in the cooked vegetables, lemon juice, and parsley. Add more pasta water if needed. Taste for salt and pepper. Serve with more Parmesan cheese.
---
Notes
Parmesan cheese: I recommend buying a chunk of Parmesan cheese and shredding it yourself. It will taste and melt much better into the sauce.
Prep all of your ingredients! Despite the long ingredient list, this recipe comes together pretty quickly. It helps to have all of the ingredients measured and prepared before starting.
Optional add-ins: You can add more vegetables or switch out anything you don't like. You can also add cooked protein, such as chicken or shrimp. See the post for a full list.
Leftovers: Refrigerate leftover pasta for up to 4-5 days. Reheat with a splash of milk, cream, or broth. 
Nutrition
Serving Size: 1/8
Calories: 446
Sugar: 4.1 g
Sodium: 308.8 mg
Fat: 22.3 g
Carbohydrates: 49 g
Protein: 12.9 g
Cholesterol: 23.9 mg
Keywords: pasta primavera, spring, penne