Shrimp Lettuce Wraps
Shrimp lettuce wraps topped with sweet mango basil salsa and served inside a lettuce wrap. It's such an easy and quick meal for any day of the week.
Love spicy shrimp? Try our Easy Spicy Shrimp Tacos. It's a reader's favorite!
Looking for a quick and easy seafood dish that has all the flavor? This lettuce wrap with mango salsa and shrimp is light with amazing texture. Try the shrimp over cilantro lime rice or get creative for more wholesome dinner ideas.
The sweet heat is what this lettuce wrap with shrimp offers. The marinade has some great flavor that cooks into the shrimp and has a unique burst of flavor with hints of basil, chili flakes, and ginger. And it cooks up in minutes!
Just like chicken lettuce wraps or lettuce wrap tacos, these are perfect for dinner, lunch, or even appetizers at a summer gathering!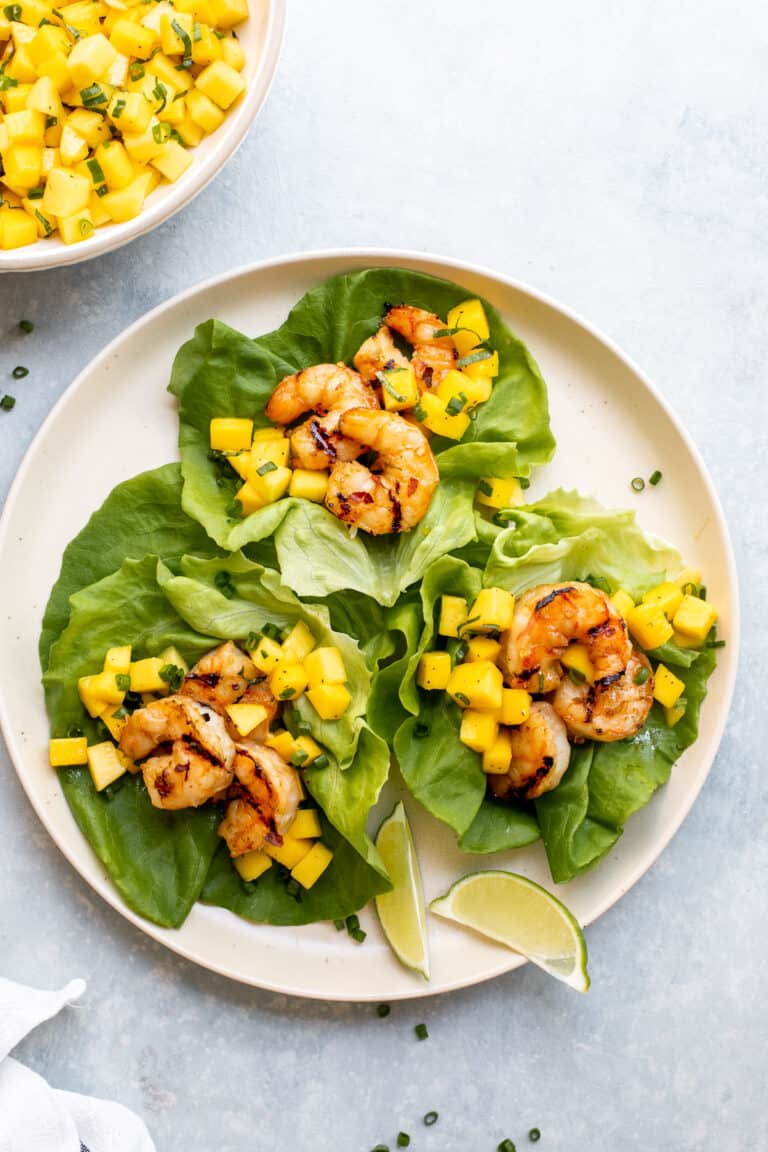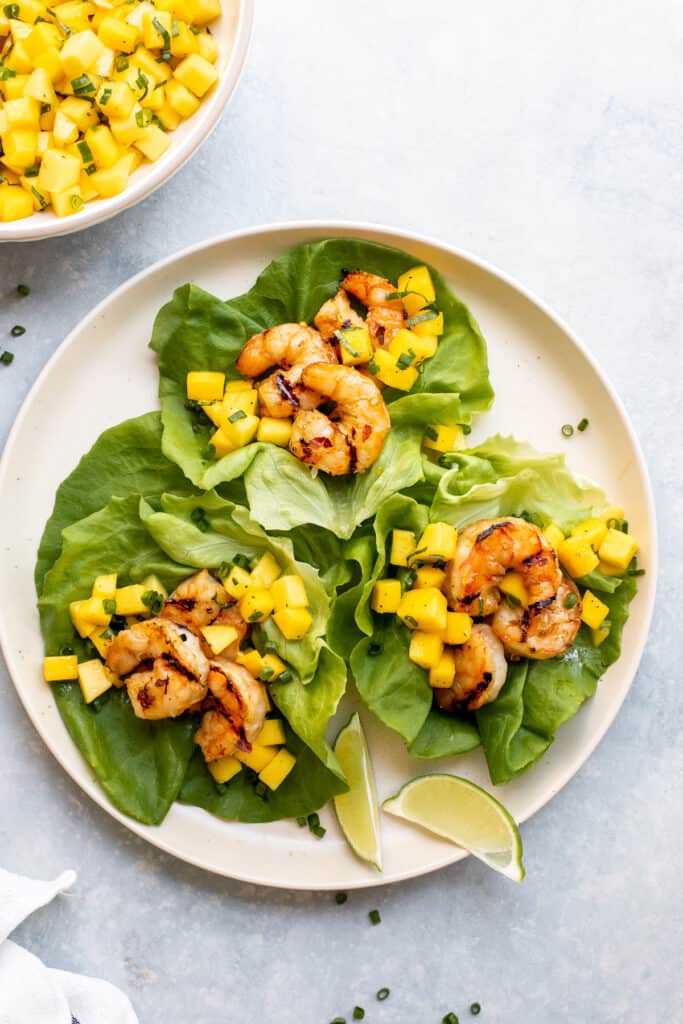 Reasons to Love this Recipe
Quick and Easy – After marinating the shrimp this recipe comes together quickly and only takes a few minutes to cook the shrimp.
Super Fresh – The salsa is loaded with freshness. Fresh mango salsa, fresh ingredients for the marinade, and fresh crispy lettuce leaves for wraps. Mango, basil, and lime are cool and refreshing additions, the perfect topping for the shrimp and crisp lettuce.
Light – This seafood lettuce wrap with shrimp is a delightful dish that is light and won't weigh you down.
FLAVOR – The aromatics in the marinade are fresh and bright. With basil, lime zest, and ginger, the aroma is crave-worthy. Once the shrimp hit the grill, you'll be pleasantly met with a plethora of fragrant scents. Topped with fresh mango salsa to round out the lettuce wrap.
Coconut Milk – Using coconut milk in the marinade plumps up the shrimp and adds a lovely tropical flavor to the shrimp after cooking.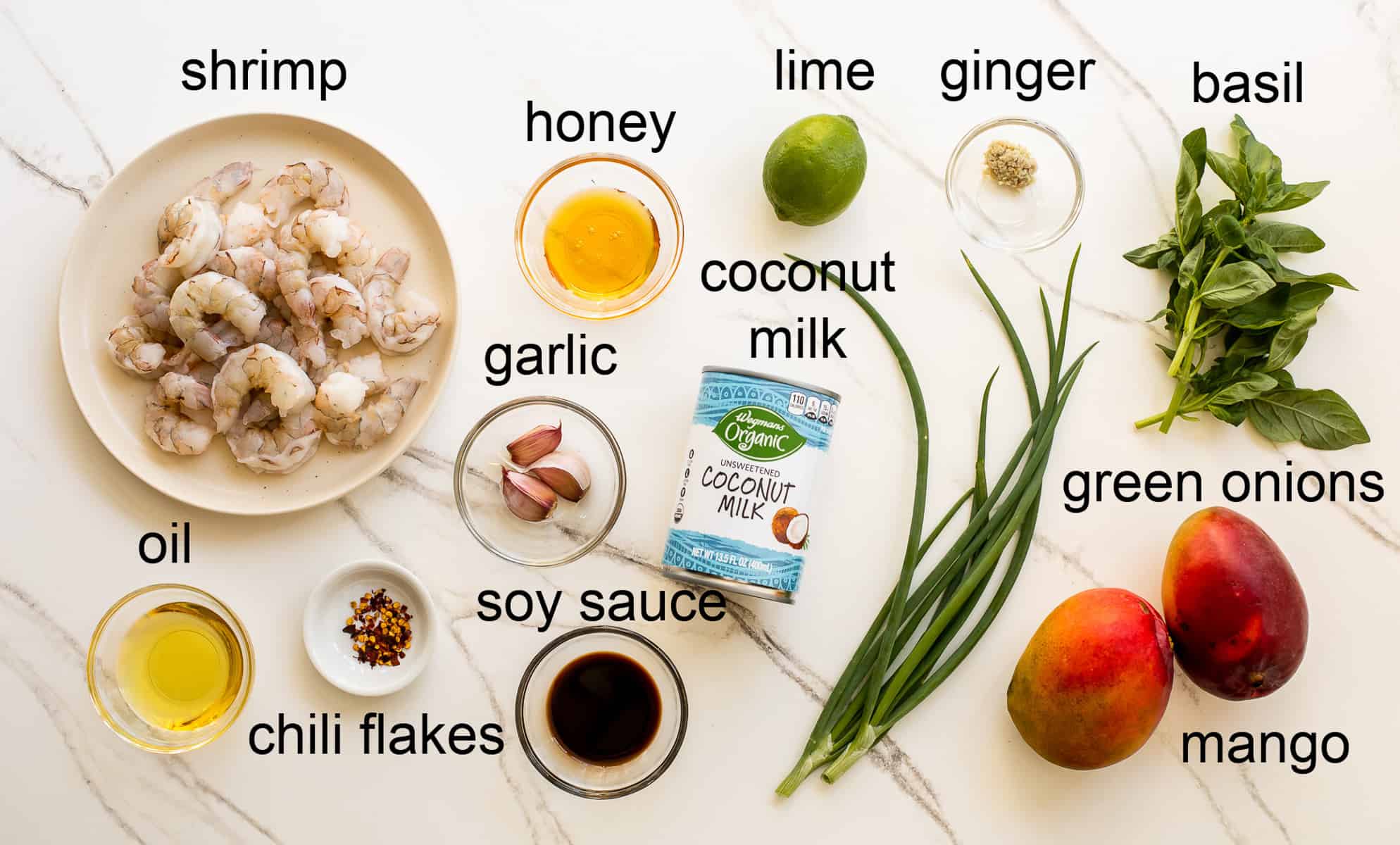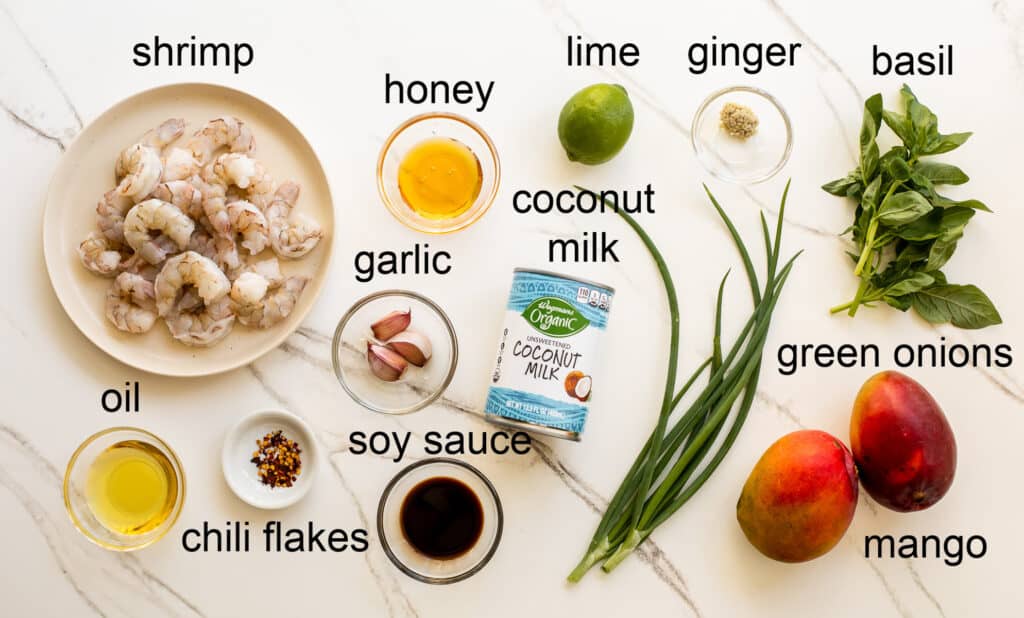 Ingredients
Aromatics – Ginger, lime zest, basil, and garlic. Throughout the salsa and marinade, these ingredients are very fragrant and highlight the shrimp. For the ginger, use a microplane for best results.
Coconut milk – Canned, unsweetened and full fat. You'll get the best flavor for the shrimp when using full-fat milk.
Produce – Mangos, scallions, and lettuce all play a big part in this recipe. There's sweetness with a little heat and some savory ingredients.
Umami – The taste is amazing and with a little soy sauce, honey, and seasoning it borders on the Umami flavor palate.
How to Make Shrimp Lettuce Wraps
Make Salsa – Combine mango salsa ingredients in a bowl and cover. Refrigerate until ready to use.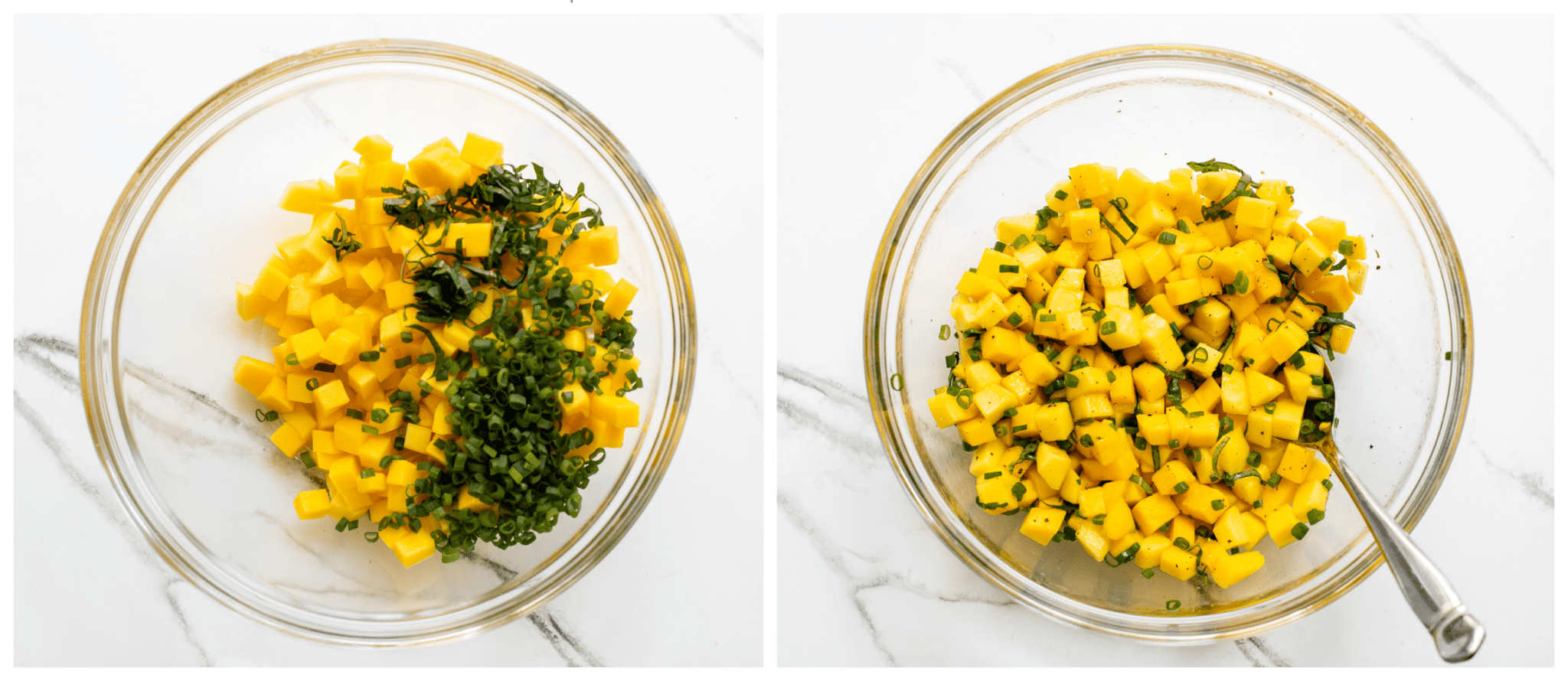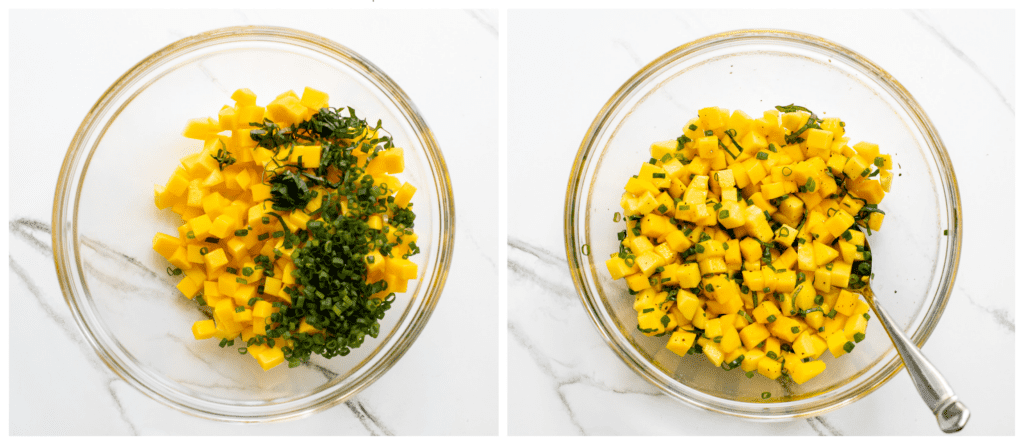 Marinate Shrimp – In a medium bowl, combine red chili flakes, garlic, ginger, honey, soy sauce, lime zest, coconut milk, basil, oil, salt, and pepper. Add the shrimp and marinate in the refrigerator for 30 minutes.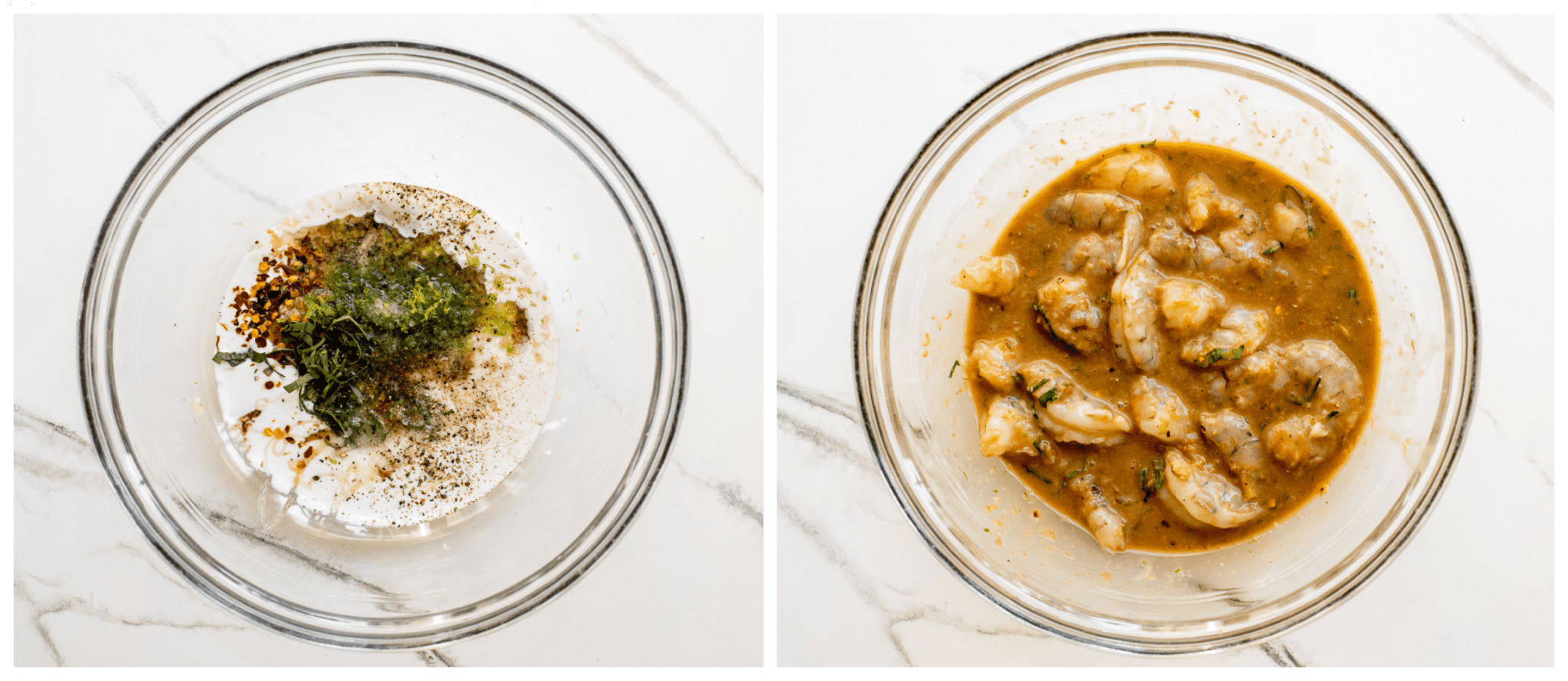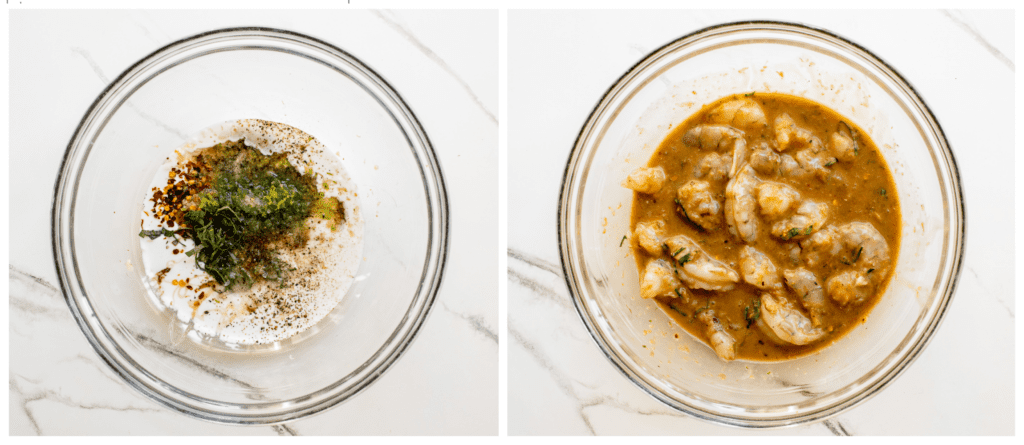 Cook Shrimp – Use tongs and place shrimp from the marinade on a hot, oiled grill. Cook 1-2 minutes on each side.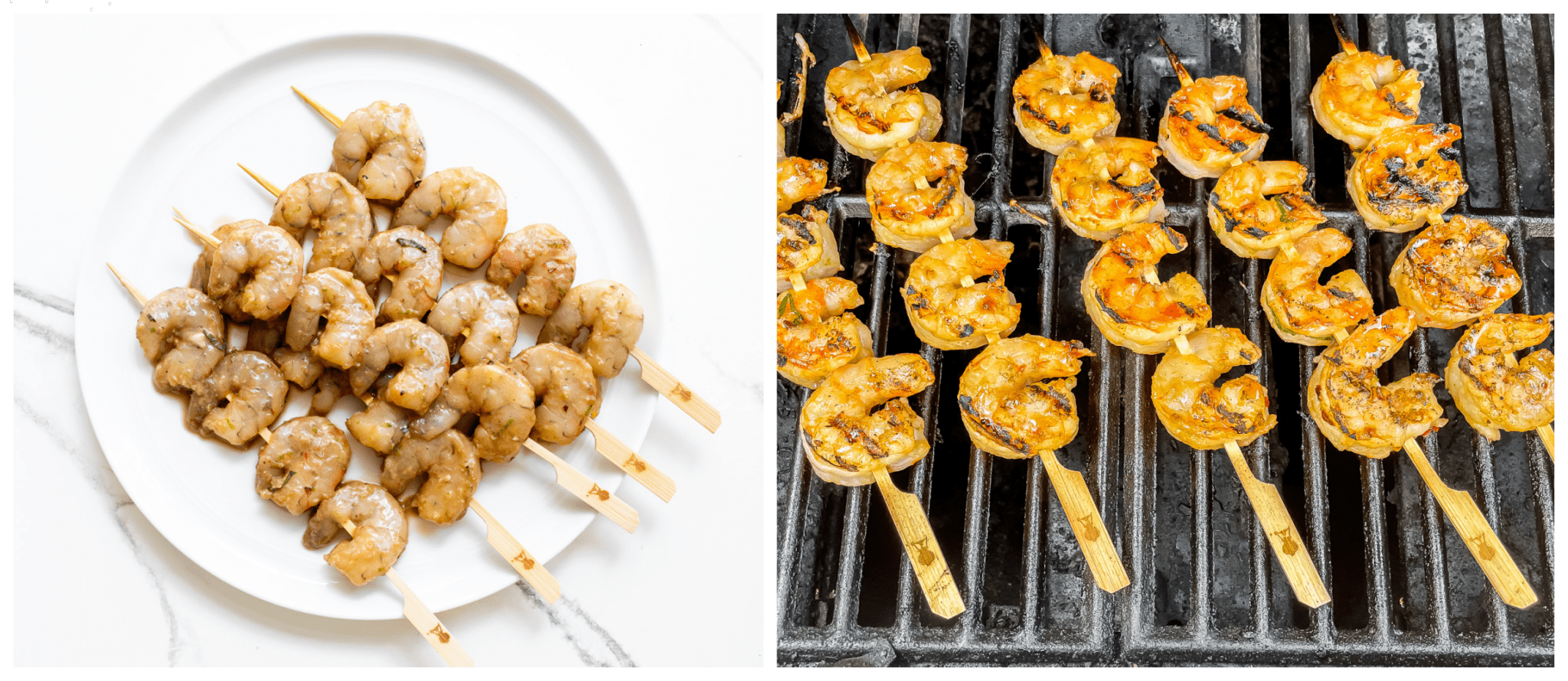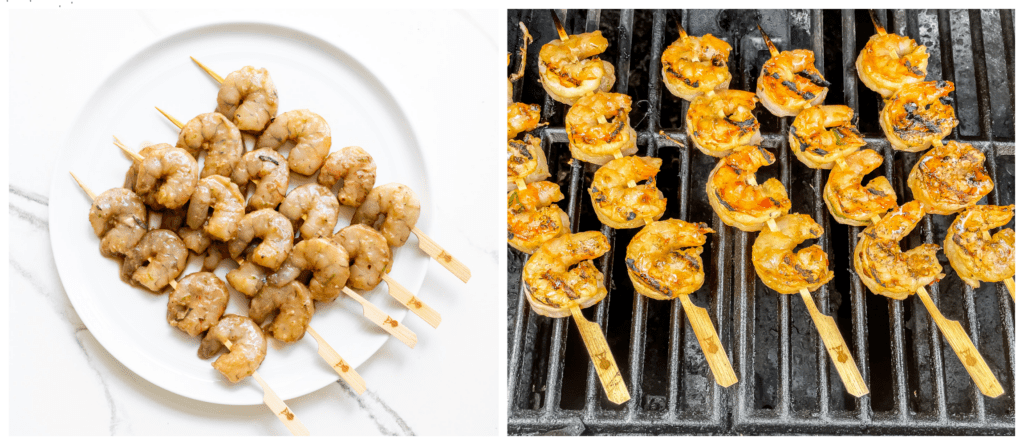 How to separate lettuce for wraps
You can use any type of green leafy lettuce for lettuce wraps, but our favorites include Boston bibb lettuce and iceberg lettuce.
Iceberg lettuce is so fresh and crispy but it's not always easy to separate. Here's a great trick I like to use to get the perfect-sized iceberg lettuce leaves without tearing.
Remove the core from a head of lettuce.
Place under running water allowing the water to fill the inside.
Loosen the leaves from the head gently while under the running water.
Peel apart the leaves and allow them to dry on paper towels.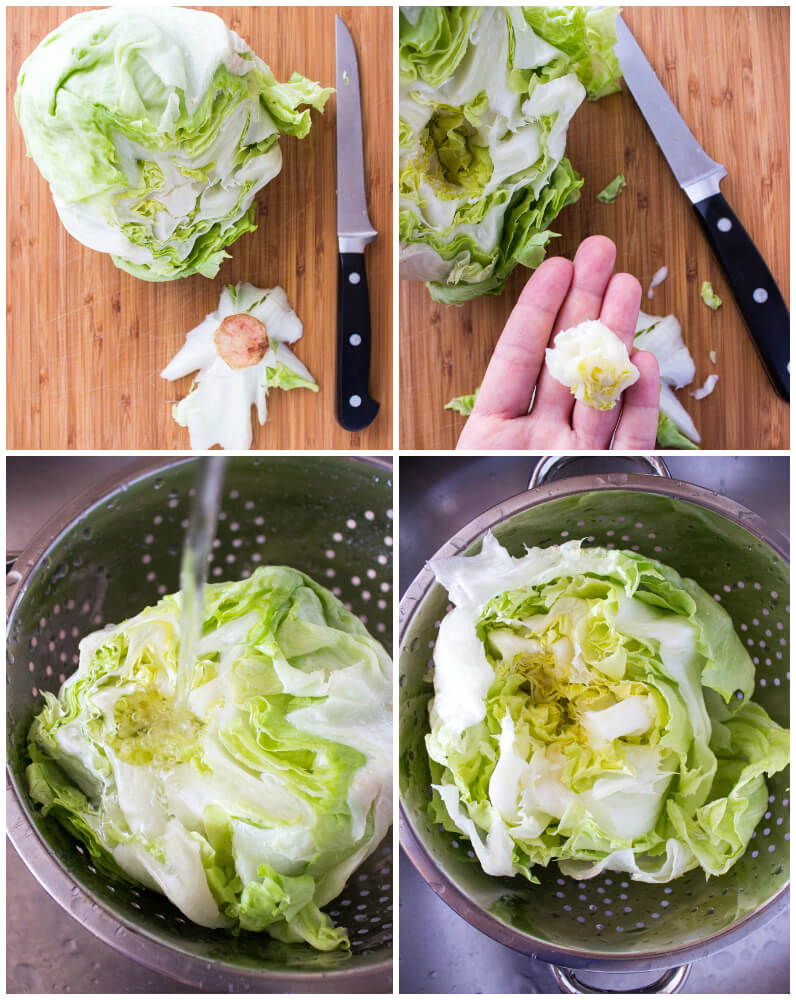 To Serve
Here are some tasty side dishes to serve with shrimp lettuce wraps:
These lettuce wraps also make a great appetizer to serve with things like our Easy Potstickers or Vegetable Rice Paper Rolls. Feel free to add a drizzle of cilantro vinaigrette for even more flavor!
Recipe Tips
Use skewers – Make grilling that much easier by using skewers! Place a few shrimp on each skewer after marinating. Simply place the whole skewer on the grill when ready to cook. They slide off easily and can make for a fun dinner when you build your lettuce wraps!
Soak skewers – To add, if using wooden skewers, be sure to soak them before cooking and placing the shrimp on them. This will prevent the skewer from burning.
Shake off excess marinade – Before placing the shrimp on the grill (or pan) shake off some of the extra marinades. This will prevent the shrimp from burning.
Make salsa ahead of time – For an even quicker meal, make the salsa the day before. Not only will the flavor be that much better, but it will also eliminate a step when you're ready to make this seafood lettuce wrap.
Marinate longer – This recipe only needs 30 minutes to marinate the shrimp before cooking and gives you a wonderfully tasty grilled shrimp! Because there is no citrus in this marinade for shrimp you can prepare them the night before.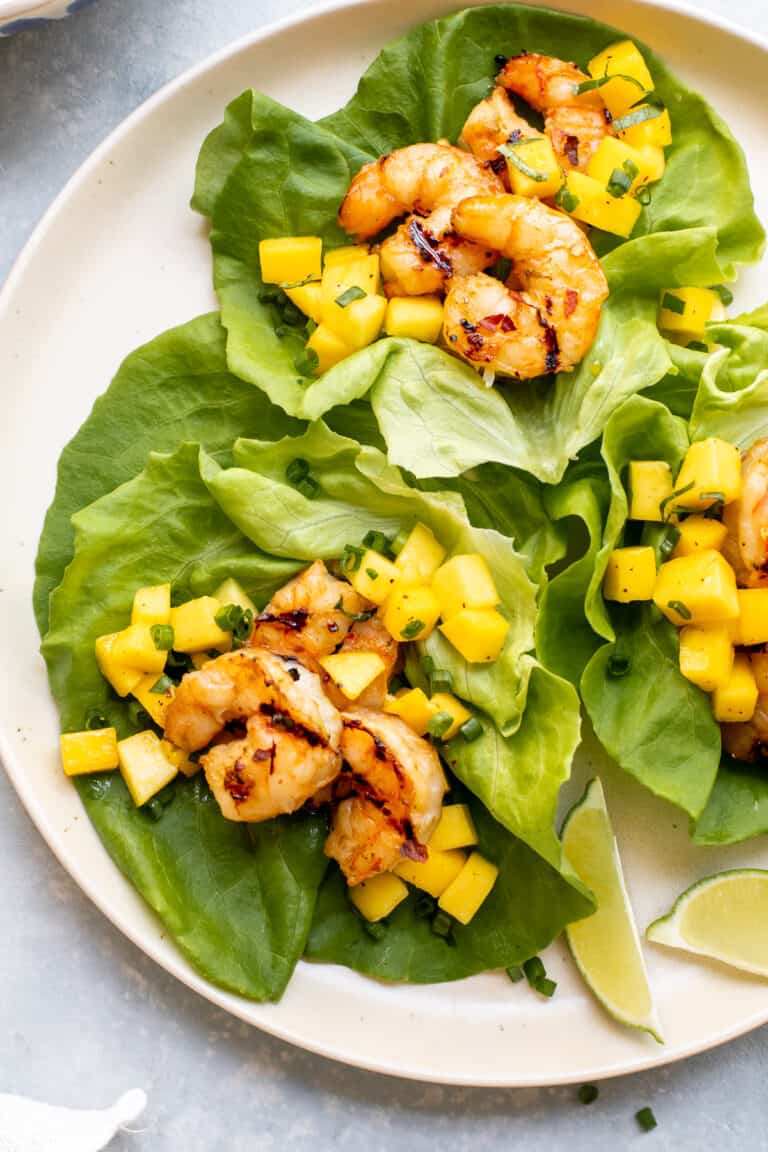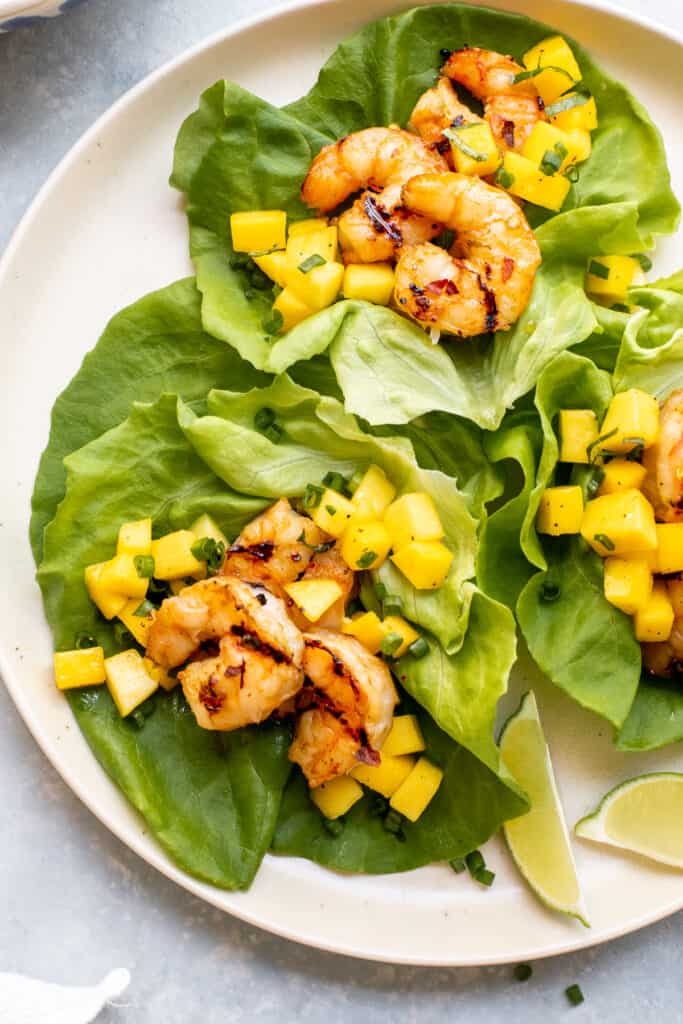 More Shrimp Recipes
Print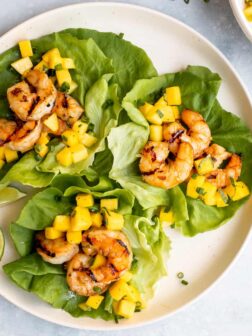 Shrimp Lettuce Wraps
Author: Katya
Prep Time: 30 mins
Cook Time: 5 mins
Total Time: 35 mins
Yield: 4 1x
Category: Main
Method: Grilled
Cuisine: Thai
---
Description
Grilled shrimp lettuce wraps topped with sweet mango basil salsa and served inside a lettuce wrap. It's such an easy and quick meal for any day of the week.
---
Shrimp
1/4 cup coconut milk
2 Tbsp. avocado or olive oil
2 Tbsp. low-sodium soy sauce
3 large garlic cloves, grated or pressed
1 tsp. fresh grated ginger
1/4 tsp. red chili flakes
2 Tbsp. honey
Zest 1 lime
1 Tbsp. fresh chopped basil
3/4 tsp. kosher salt
Black pepper, to taste
1 lb. large shrimp (31-35), peeled, deveined, and tails-off
Salsa
2–3 ripe mangos, peeled and diced (about 3 cups)
2–3 scallions, thinly sliced (green part only)
5 large basil leaves, julienned
1 lime, juiced
Kosher salt and black pepper, to taste
To Serve
Iceberg lettuce leaves or butter lettuce
---
Instructions
Marinate shrimp: In a bowl, whisk together the coconut milk, oil, soy sauce, garlic, ginger, chili flakes, honey, zest, basil, salt, and pepper. Add shrimp and toss to coat. Refrigerate for 30 minutes, covered.
Prepare salsa: Add all salsa ingredients to a bowl and toss to combine. Keep covered in the refrigerator until ready to serve. 
Grill shrimp: Remove the shrimp from the marinade and thread them onto skewers. Preheat an outdoor gas grill on medium-high and oil the grates. Place the shrimp on a hot grill and cook, uncovered, for about 2 minutes on each side or until shrimp is opaque. You can also grill the shrimp in a grilling basket.  
To serve: Fill each lettuce leaf with a couple of grilled shrimp and scoop of mango salsa. Serve immediately.
---
Notes
Mangoes: If your mangoes are not quite ripe, add a little honey to the salsa for added sweetness.
Skewers: Soak wooden skewers for at least 30 minutes before using so they don't burn.
Leftovers: Store leftover shrimp and salsa separately in the refrigerator for up to 3 days.
Recipe originally published May 2015
Nutrition
Serving Size: 2 lettuce wraps with salsa
Calories: 338
Sugar: 30.3 g
Sodium: 812.3 mg
Fat: 11.5 g
Carbohydrates: 37.4 g
Protein: 26.9 g
Cholesterol: 182.5 mg
Keywords: shrimp, grilled, low carb