Refried Pinto Beans
These easy refried pinto beans come together in no time and make for a delicious side dish to have with any of your favorite Tex-Mex and Mexican meals.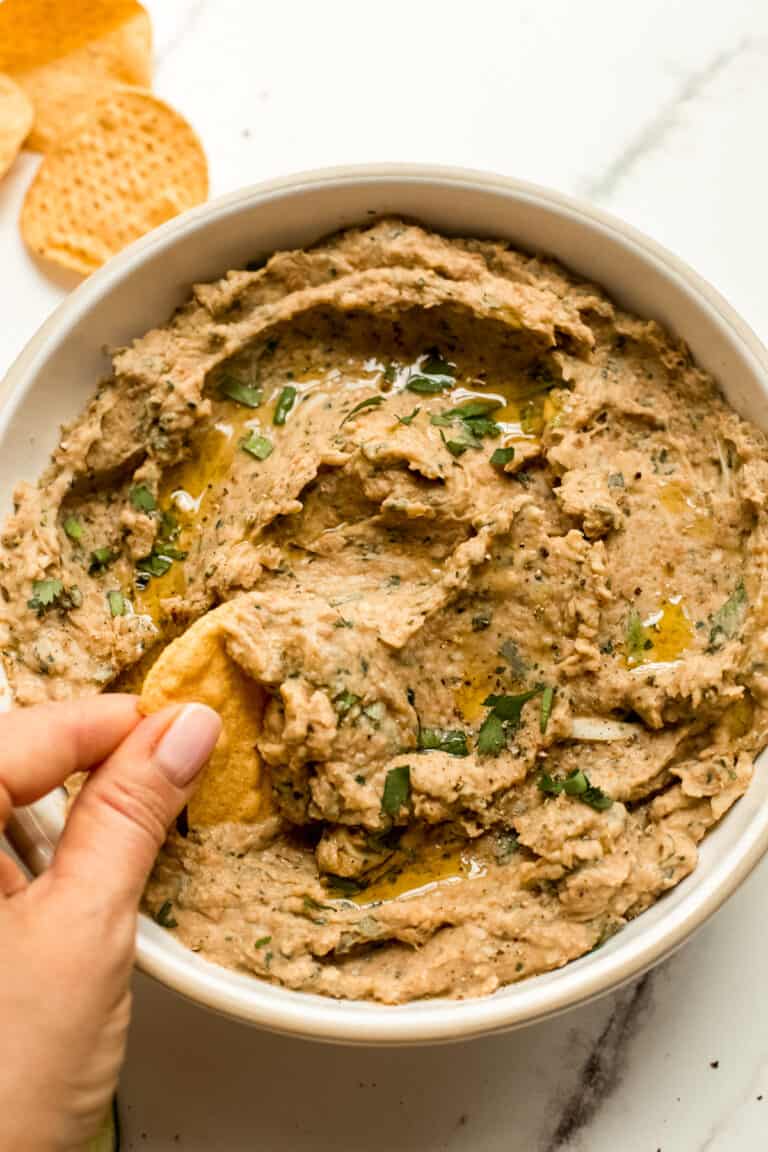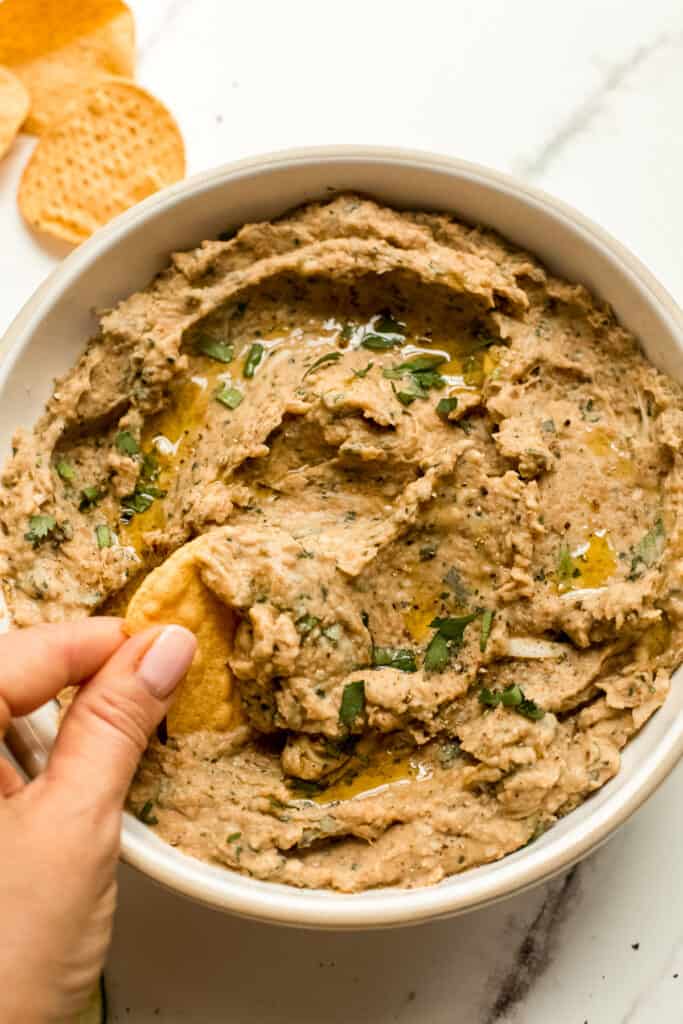 This homemade refried bean recipe is so much tastier than the canned version. It uses just the right amount of spices and fresh vegetables and herbs. You're building flavor up to smooth into these creamy refried beans.
After making this quick and easy recipe from scratch-made refried beans you'll never want to buy canned again! Ready in under 20 minutes, this Tex-Mex side dish will be your new go-to recipe. Plus, you can freeze any leftovers for later use.
Ingredients
This creamy bean recipe uses canned beans for the simplest of ingredients. Plus some spices and a few fresh ingredients.
Canned beans – pinto beans that have been drained and rinsed.
Produce – onions, cilantro, garlic, and lime.
Seasonings – for those classic undertones of Mexican cuisine we use ground cumin and chili powder.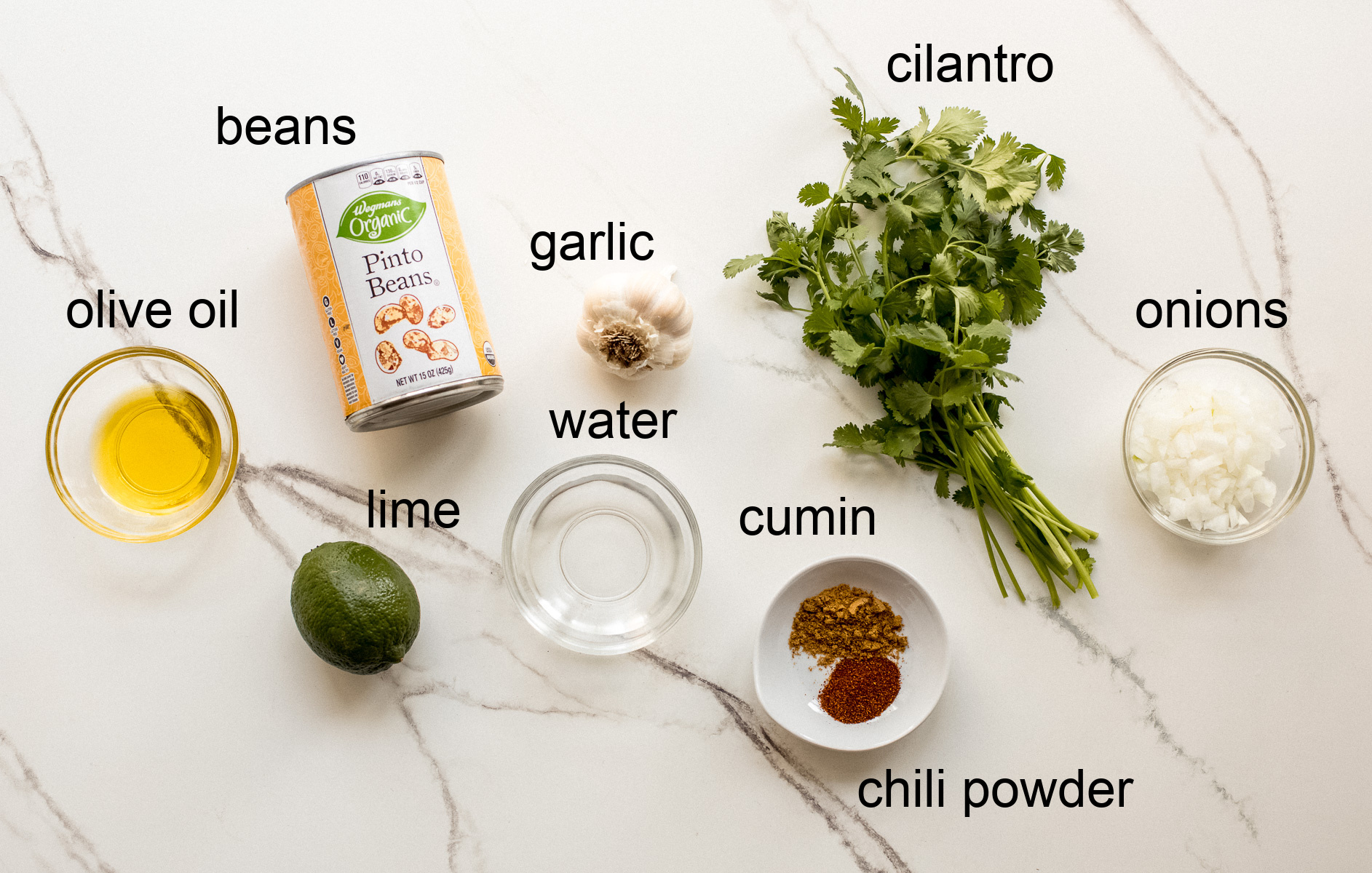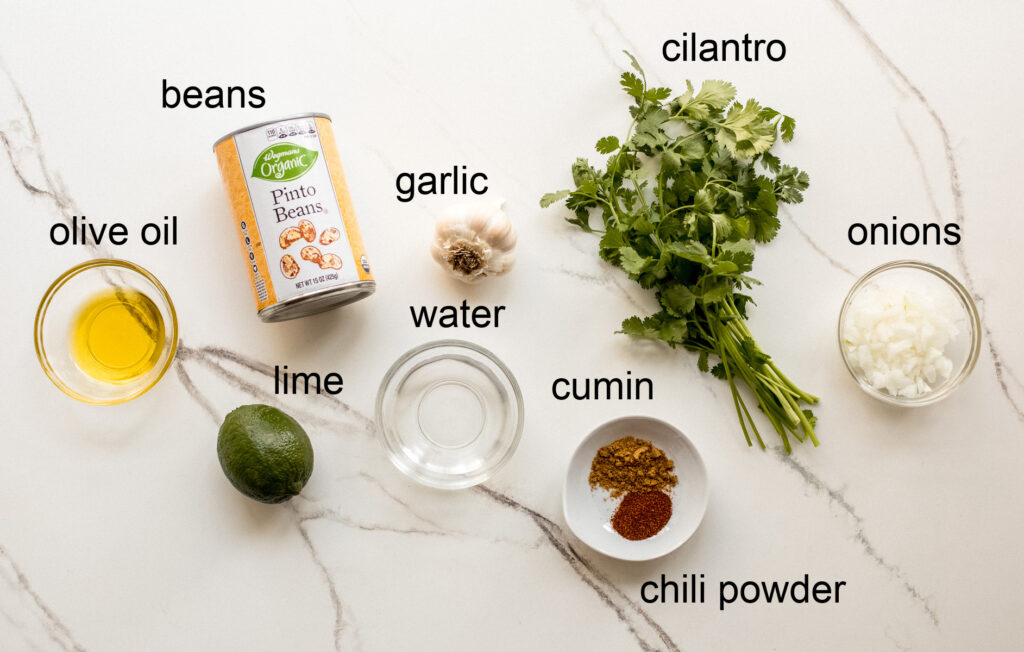 What I love about these ingredients is how they all work together but separately to build a more complex flavor profile for these homestyle refried beans.
The lime is zesty, the cilantro is earthy, and the spices kick it up a notch for that authentic Mexican taste.
How to make refried pinto beans
Step 1: Heat a large skillet with oil and add the onions and spices. Cook until the onions are soft. Add garlic and cook until fragrant.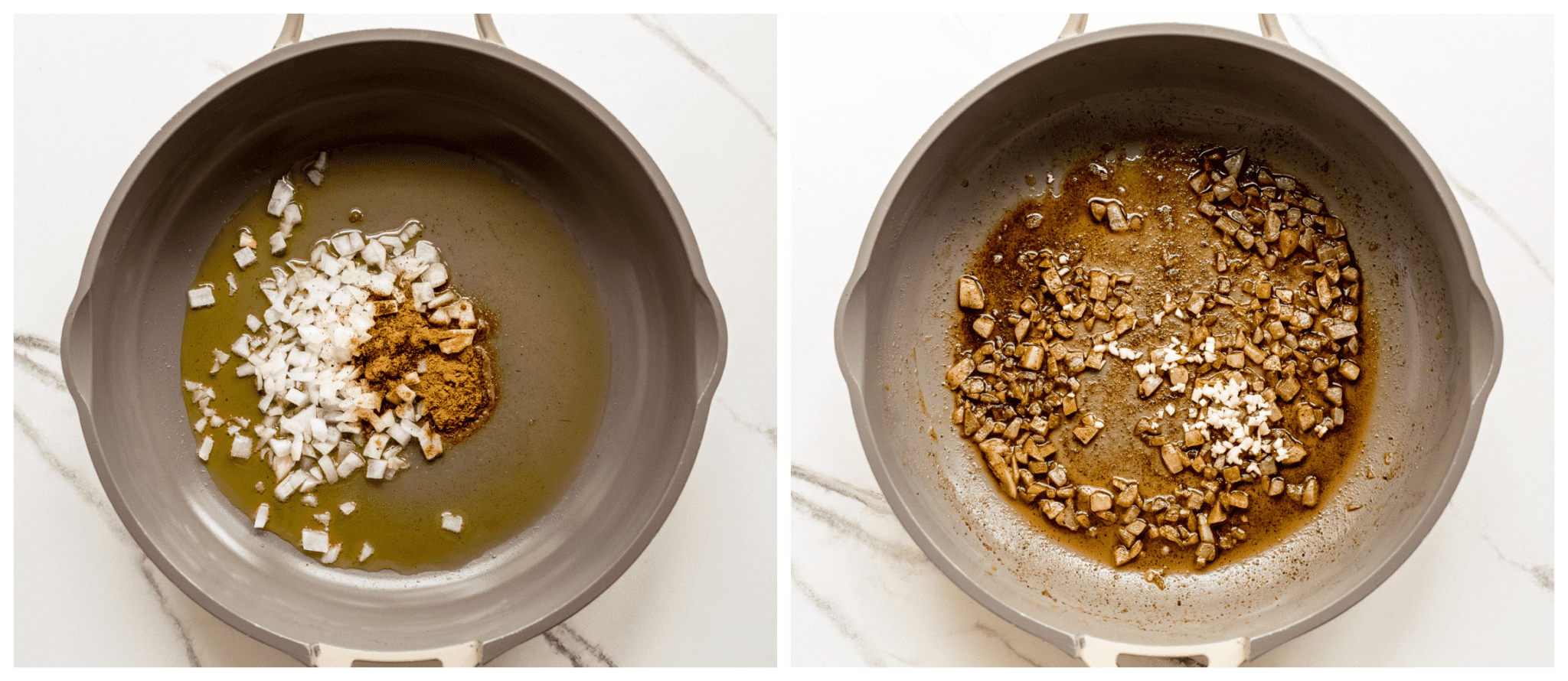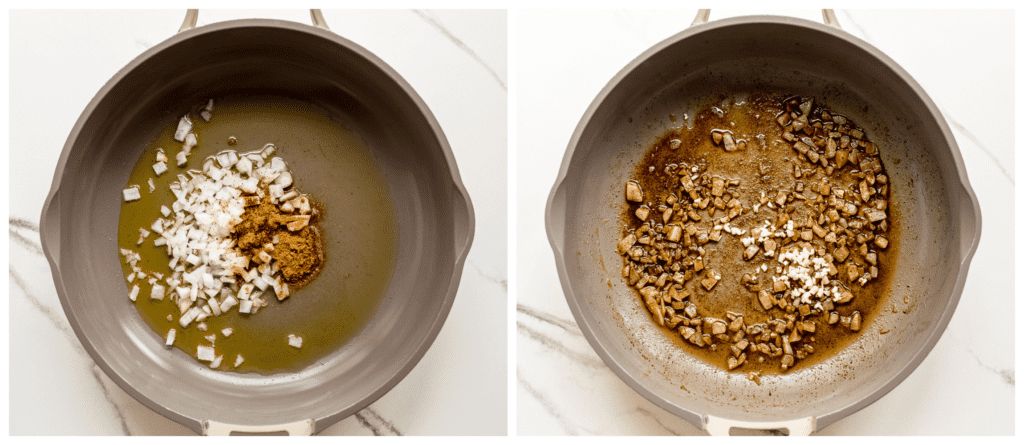 Step 2: Add beans and water, heating until just warmed through.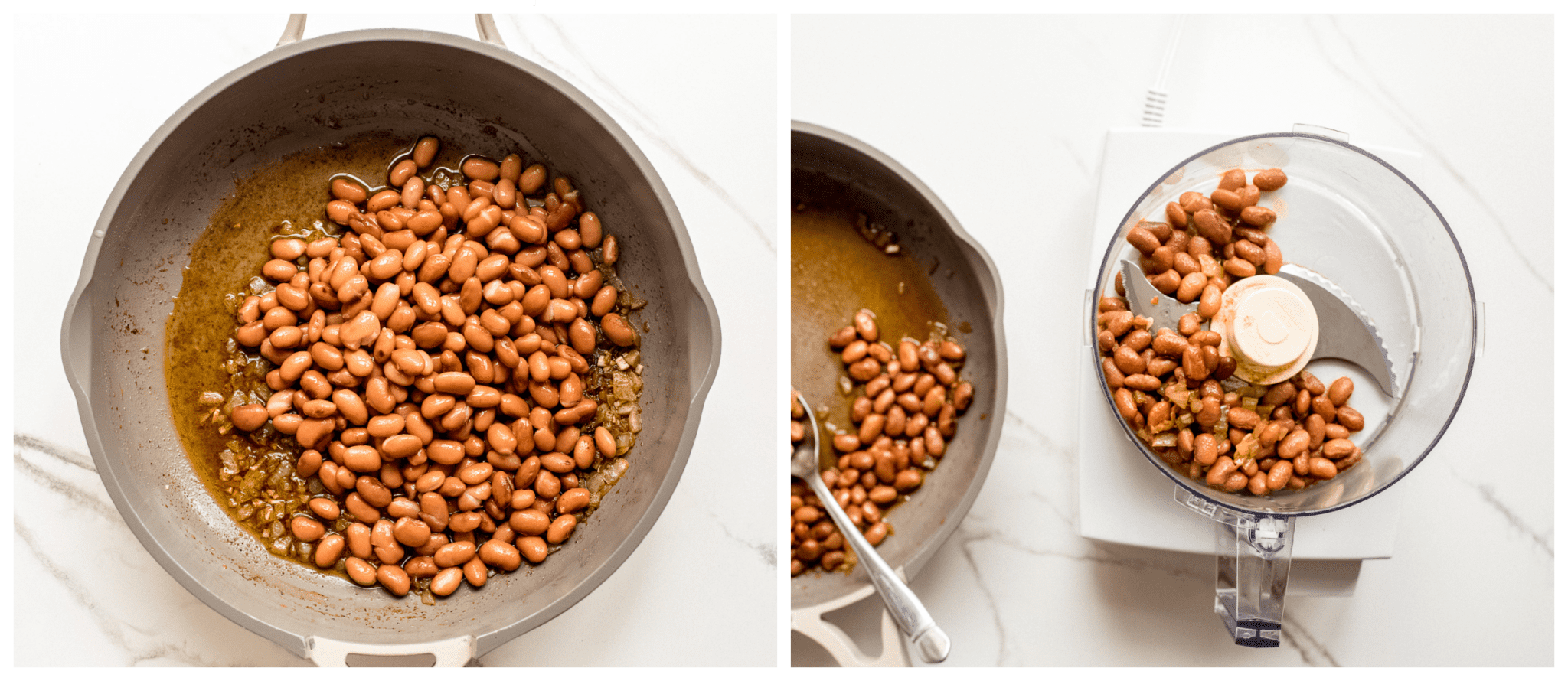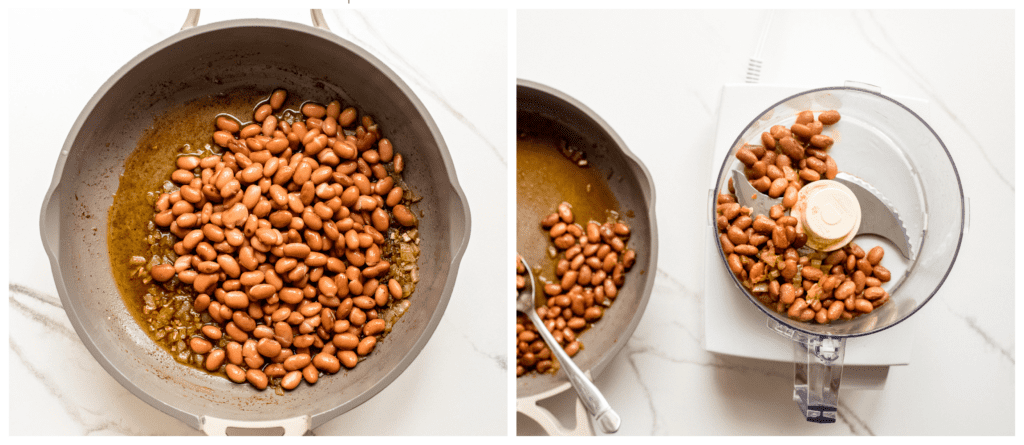 Step 3: Add beans, cilantro, and lime juice to a food processor and blend until desired consistency.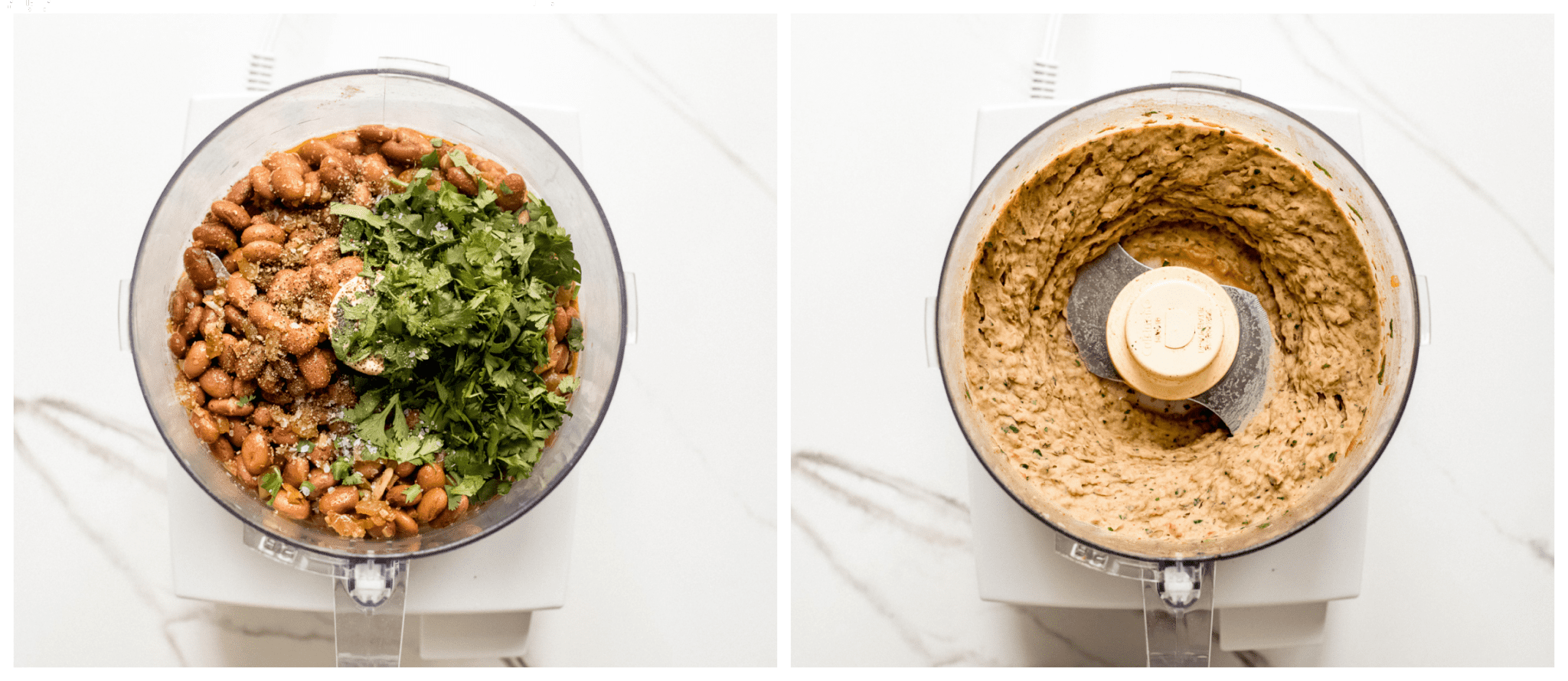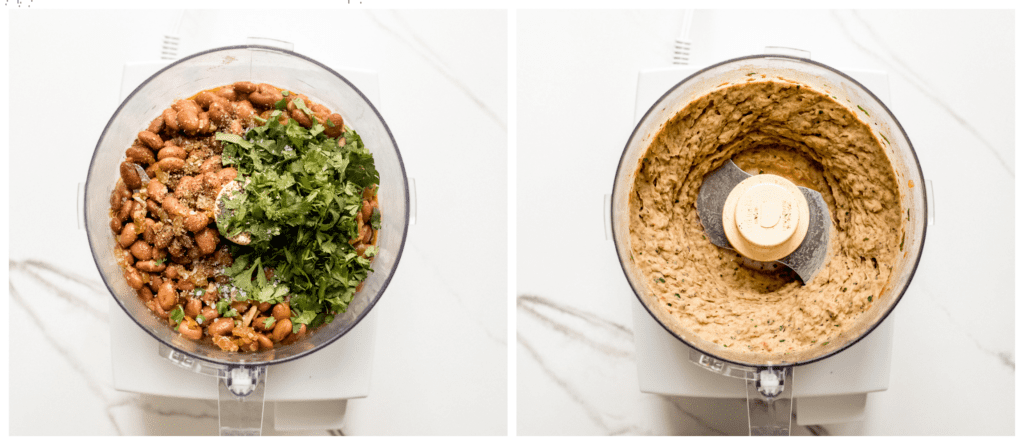 What can I use if I don't have a food processor?
Can I use other beans?
This refried beans recipe can use black beans instead of pinto. They would go great with Cilantro Rice and Crockpot pork and beans.
Recipe Variations
Add even more flavor with different variations of this pinto refried beans recipe. It can easily be customized to fit your meal.
Make it Spicy: Add in something spicy such as canned green chopped chiles, chopped and seeded jalapeno pepper, hot pepper sauce, or cayenne pepper.
Make it Smoky: Add in chipotle chili powder, smoked paprika, or chipotle pepper in adobo sauce.
Make it Cheesy: Right before serving, top the beans with cotija cheese or shredded cheddar. For warm cheesy beans, combine the beans, 1/2 cup shredded Monterey Jack cheese, and a few tablespoons of milk in a small saucepan and warm through on low heat.
Use dry beans instead of canned. If you have the time, prep dry beans according to their package. Once the beans are hydrated, follow the recipe for refried beans.
Use a different bean. Black beans are the common choice for substituting pinto beans. If you want another mild, creamy bean then cannellini beans would work well, too.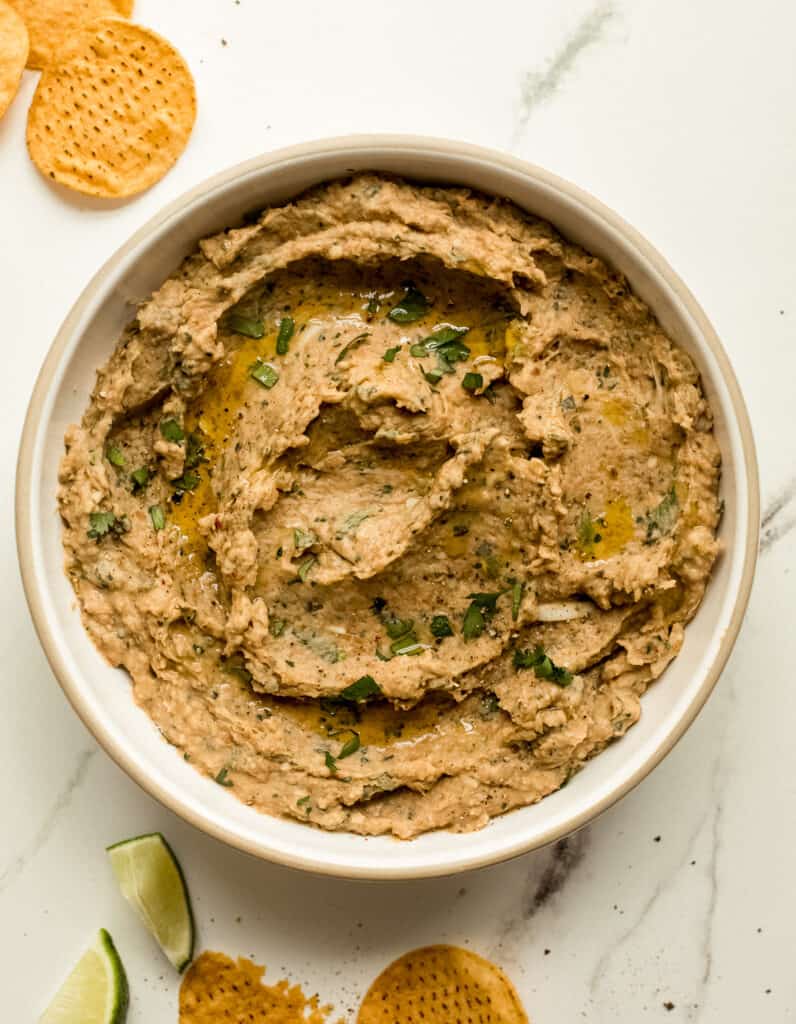 What to eat with Refried Pinto Beans
Try one of these dishes to pair with your refried beans for a variety of easy weeknight family meals.
More Ways to Use Refried Beans
Spread on a tostada for a quick snack.
Make a dip! Use in a layered dip with sour cream, cheese, salsa, guacamole, your favorite taco meat (or without), and topped with black olives.
Enjoy it with tortilla chips as a bean dip.
How to store
Store refried beans in an air-tight container and refrigerate for up to 5 days. Or freeze for up to 3 months in a freezer-safe container.
Now that you see how quickly these easy homemade refried pinto beans are and all the fresh, healthy ingredients, I promise you'll never buy canned again.
Print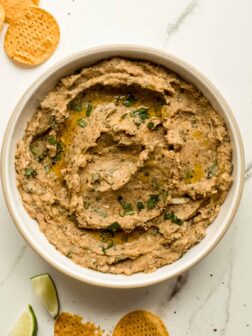 Refried Pinto Beans
Author: Katya
Prep Time: 15 min
Cook Time: 10 min
Total Time: 25 minutes
Yield: 4 1x
Category: Side
Method: Saute
Cuisine: Mexican
---
Description
These easy refried pinto beans come together in no time and make for a delicious side dish to have with any of your favorite Tex-Mex and Mexican meals. 
---
2 Tbsp. olive oil
1/4 cup white onion, chopped
1 tsp. ground cumin
1/2 tsp. chili powder
2 cloves garlic, minced
1 (15 oz.) can pinto beans, drained and rinsed
1/4 cup water
1 Tbsp. fresh lime juice, plus more to taste
1/2 cup roughly chopped cilantro
Kosher salt and black pepper
---
Instructions
In a non-stick skillet heat olive oil over medium heat. Add onion, cumin, and chili powder. Cook until the onions are softened, about 2-4 minutes. 
Stir in garlic and cook until fragrant, about 30 seconds. 
Add beans and water. Bring to a simmer and cook for 1-2 minutes or until warmed through.
Transfer the bean mixture into a food-processor. Add lime juice and cilantro. Season with salt and pepper. Pulse until desired consistency. Taste for salt and acidity. If the beans are dry, add a small splash of water. Refrigerate until ready to serve. Makes about 1 1/4 cups.
---
Notes
Leftovers: Store in an airtight container for up to 5 days or freeze for up to 3 months. 
This recipe was inspired by my 7-Layer Dip. 
Nutrition
Serving Size:
Calories: 194
Sugar: 0.9 g
Sodium: 13.8 mg
Fat: 7.8 g
Carbohydrates: 25 g
Protein: 8.2 g
Cholesterol: 0 mg
Keywords: dip, easy, beans