Mango Shrimp Salad
Mango Shrimp Salad is a light and refreshing salad that requires no cooking. It's made with fresh ingredients and is so delicious!
This cold and refreshing shrimp salad with mango and avocado is made with fresh ingredients with a bright citrus dressing. It's a colorful salad that is bursting with flavor and is perfect for warmer weather.
For the best shrimp salad that comes together quickly and has a punch of zesty flavor, this recipe is just right for entertaining guests on a table spread, or for a quick, simple lunch during the week.
Inspiration for This Salad
This shrimp mango avocado salad is inspired by ceviche, which is normally made with raw fresh fish or shrimp that's marinated in citrus juice.
Ceviche can be a little tricky and uncomfortable to make for some. So this tangy shrimp and mango salad is just as delicious and has a great bite.
It's made with pre-cooked shrimp, crunchy vegetables, and citrus dressing.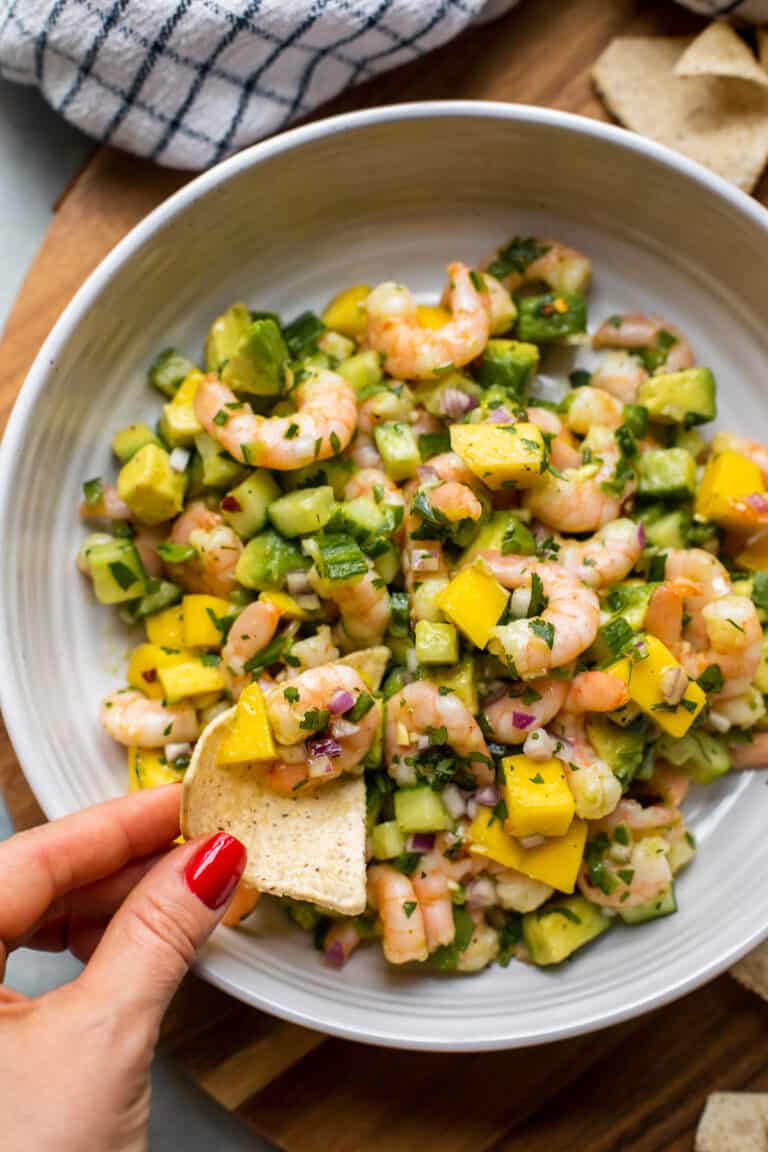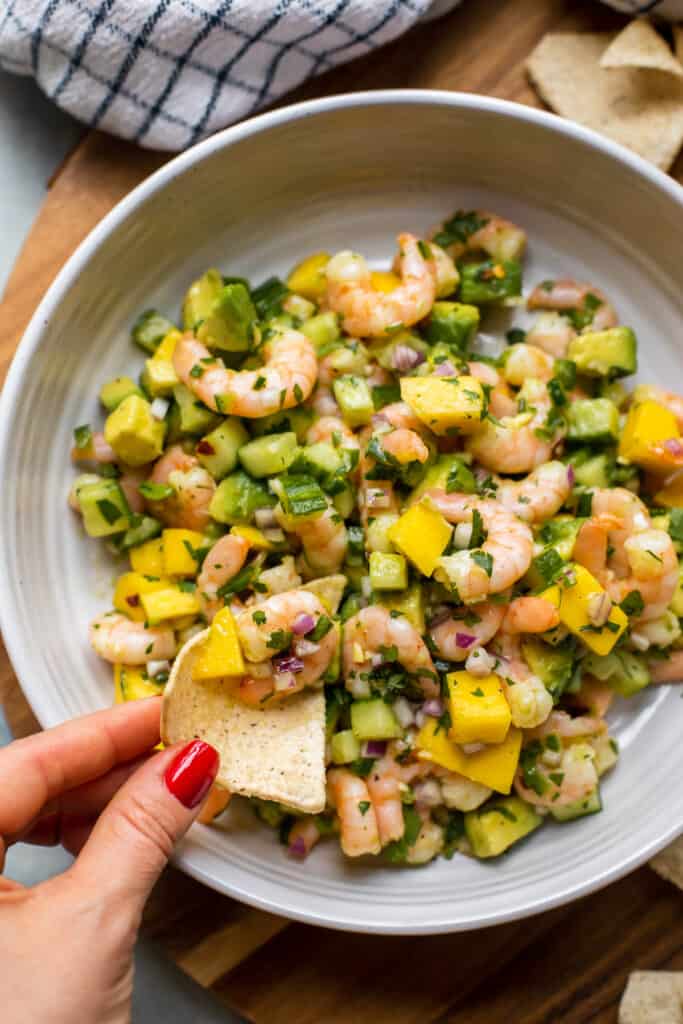 Reasons to Love This Shrimp Salad
Flavor – this shrimp salad recipe has so much flavor. The dressing is bright and zesty with fresh lime juice and garlic combined for an amazing flavor punch with fresh-cut fruit and vegetables.
Texture – loaded with shrimp, chunks of avocado, mango, cucumbers, red onions, jalapenos, and cilantro. A lot of bold flavors and a variety of textures result in a surprisingly delicate salad.
Easy – simply chop, mix, and toss! This shrimp salad is nothing to fuss about!
Meal prep – easily add this recipe to your week. The ingredients are common for other recipes and come together easily.
Adding this recipe to your brunch spread for Mother's Day, Sunday afternoon, or whatever the occasion, is a perfect complement to a few of my other favorite brunch and table spreads: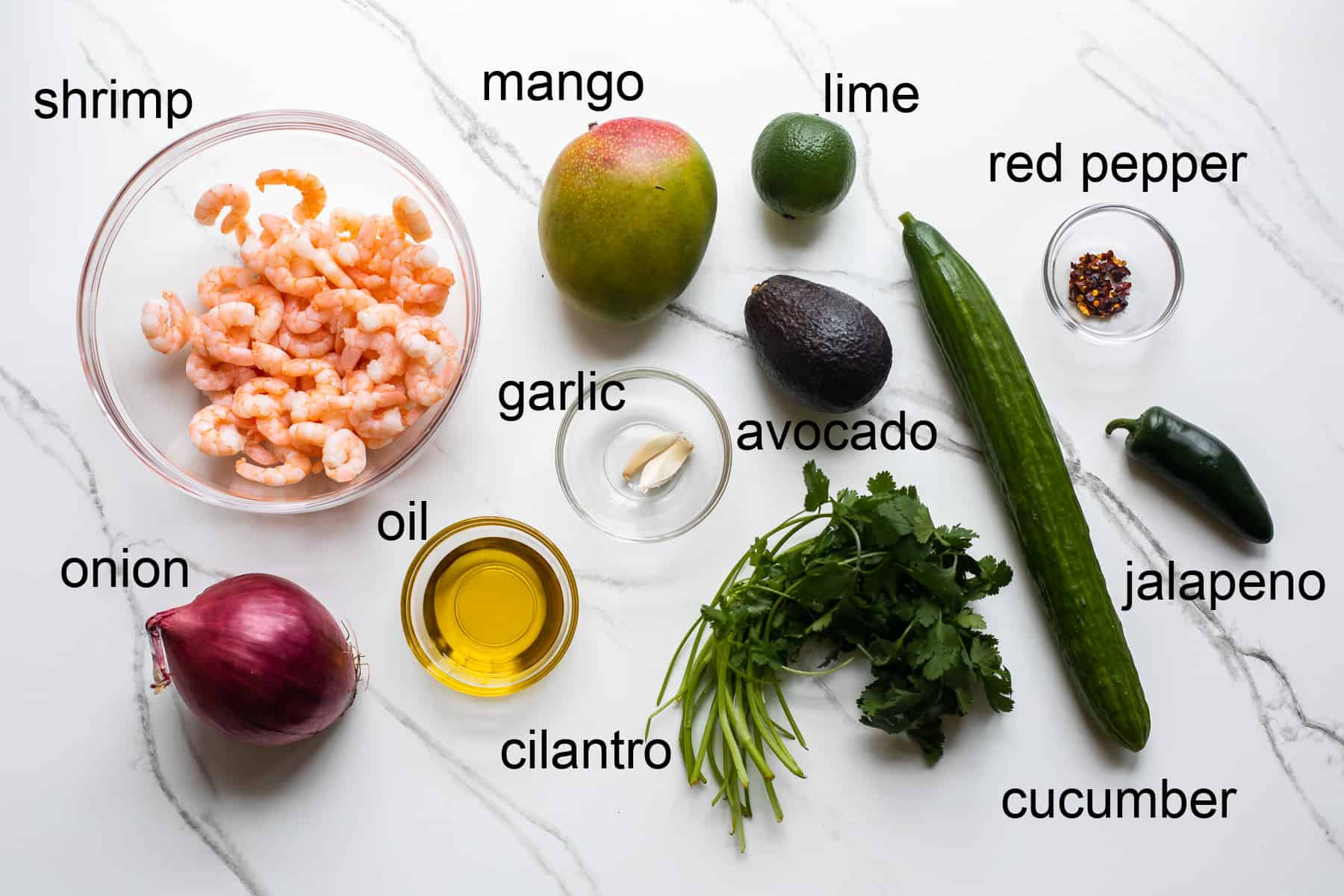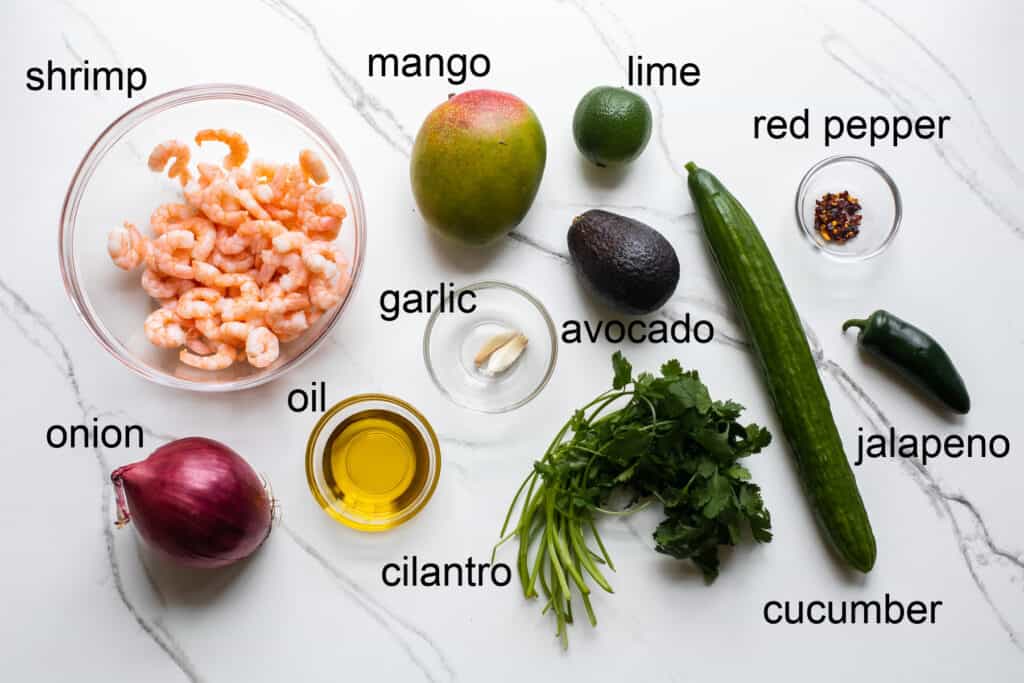 Ingredients
Shrimp – frozen cooked shrimp (either salad shrimp or larger shrimp cut up)
Mango – choose a ripe mango for a softer bite and sweeter flavor
Cucumber – this adds a great crunch
Avocado – chopped avocado is a great addition for creamy texture but also a nice, earthy flavor
Jalapeno – just the right amount of heat
Red onion – this adds a sharp flavor and crispy crunch
Cilantro – fresh cilantro gives this salad a tangy citrus flavor
Dressing – zingy with fresh lime juice, minced garlic, and red chili flakes
Best Shrimp for Salad
To make this delicious no-cook shrimp salad recipe super simple I like to use frozen cooked shrimp. It's easy to thaw by placing it in the refrigerator the day before. Plus, you are certain to have great texture and the best flavor for this shrimp salad.
Salad shrimp is my go-to type of shrimp for this type of salad. It's bite-sized, pre-cooked, and cleaned; just thaw and enjoy. Another option would be to use larger shrimp cut into bite-sized pieces.
Ways to Serve Shrimp Salad
Spoon over a crostini
Add to a wrap with lettuce and little mayo
Spoon over chopped lettuce
Toast a flatbread or naan bread and serve over with fresh spinach
Use pita chips for dipping or tortilla chips
Over white rice
How to Store
This salad recipe should be stored in an air-tight container and should last up to 2 days. I wouldn't suggest longer as the shrimp may lose its freshness and texture.
Recipe Tips
Prepare the dressing ahead of time. This will not only build more flavor as it rests, but it will make this salad recipe that much easier to come together.
Chop vegetables and store until ready to use. Store them in a sealed container for a few days. This can easily cut down prep time for your recipe. Hold off on chopping avocado ahead of time to avoid browning.
Thaw shrimp overnight in the refrigerator. If you thaw shrimp too quickly, it may become rubbery. It's best to place the shrimp to thaw slowly overnight or until you're ready to use.
Chill the salad. Allow your fresh shrimp salad to chill in the refrigerator for about 20 minutes up to 1 hour before serving. This will meld all the flavors together for a better taste.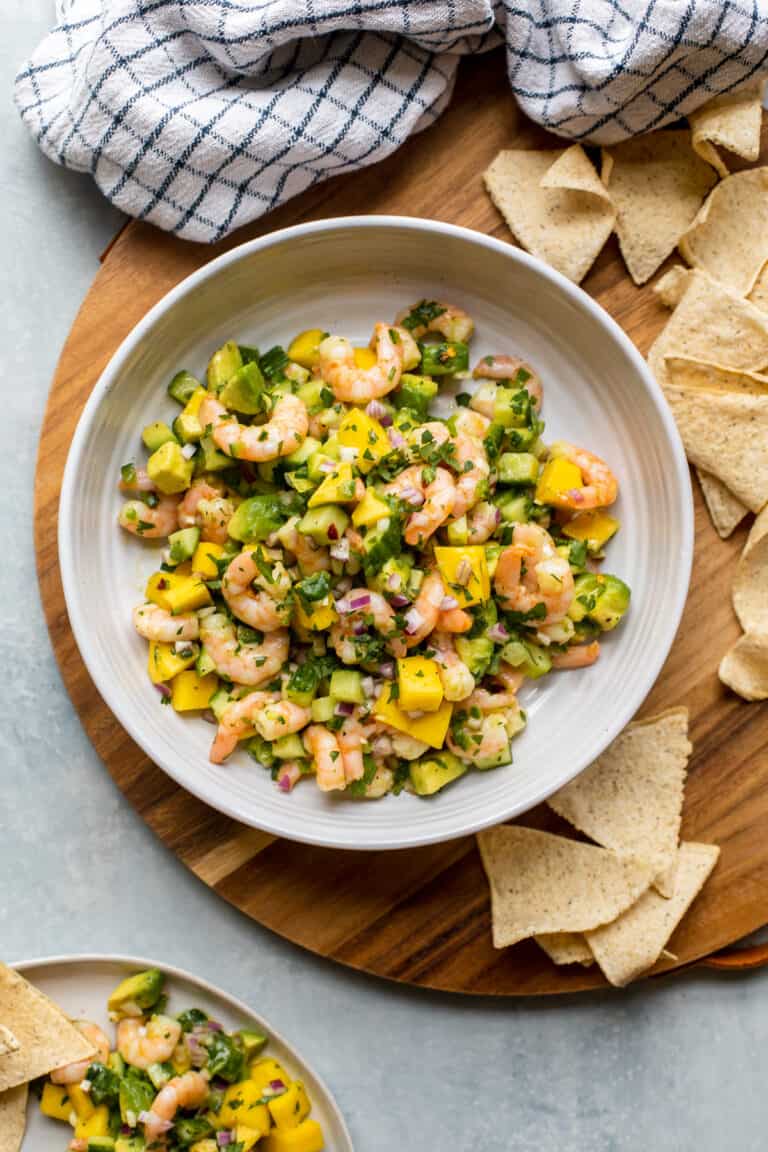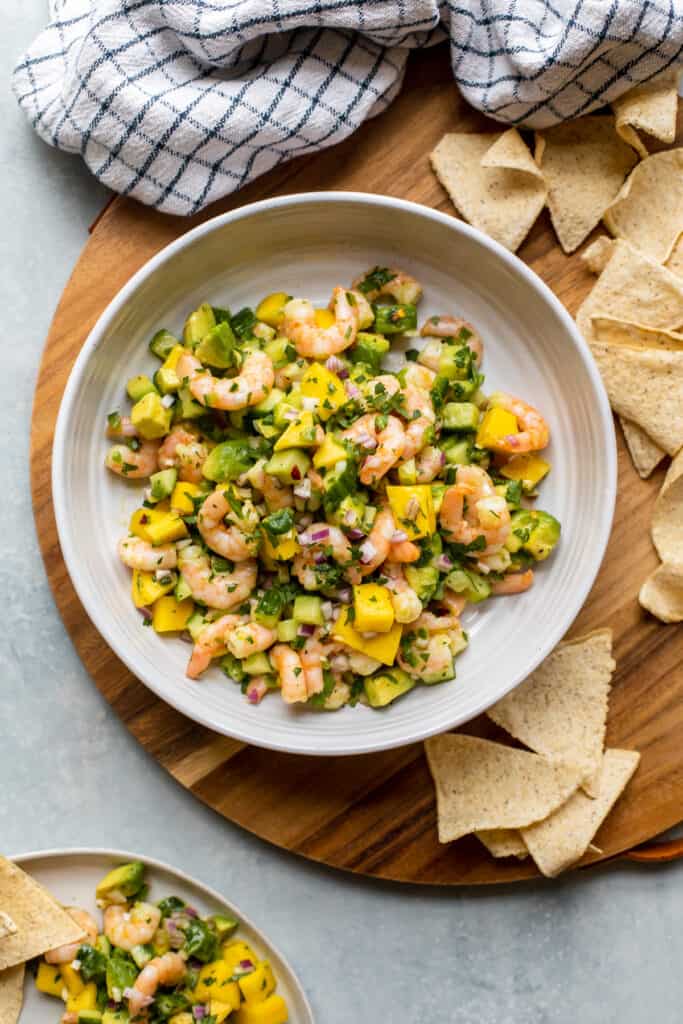 More Shrimp Salad Recipes
Print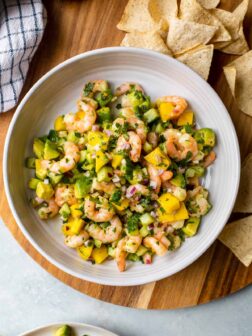 Mango Shrimp Salad Recipe
Author: Katya
Prep Time: 20 min
Total Time: 20 min
Yield: 6 1x
Category: Salad
Method: Chopped
Cuisine: American
---
Description
Mango shrimp salad is a light and refreshing salad that requires no cooking. It's made with fresh ingredients and is so delicious!
---
1 lb. frozen cooked shrimp, salad size or larger cut up, thawed
1 ripe mango, diced
1/2 English cucumber, chopped
1 large ripe avocado, chopped
1 jalapeno pepper, seeded and finely chopped
3 Tbsp. finely chopped red onion
1/4 cup finely chopped cilantro
Dressing
4 Tbsp. olive oil
2 Tbsp. fresh lime juice, about 1 lime
2 cloves garlic, minced
1/4 tsp. crushed red pepper flakes
Kosher salt and black pepper, to taste
---
Instructions
In a large bowl, combine the salad ingredients.
In a separate bowl, whisk together the dressing ingredients. Pour over the salad and gently toss to combine. Taste for salt and pepper. 
Refrigerate for at least 20 minutes up to 1 hour. Taste for salt and acidity beforer serving with tortilla chips, crostini, or over lettuce cups. 
---
Notes
Leftovers: Store leftovers in an airtight container for up to 2 days.
Nutrition
Serving Size:
Calories: 206
Sugar: 4.4 g
Sodium: 93 mg
Fat: 13.4 g
Carbohydrates: 7.8 g
Protein: 16.1 g
Cholesterol: 121.6 mg
Keywords: fresh shrimp salad, summer, no cook
Recipe originally published in June 2014 called for raw shrimp. We have since re-tested the recipe and updated it to include cooked frozen shrimp.  
You May Also Like…