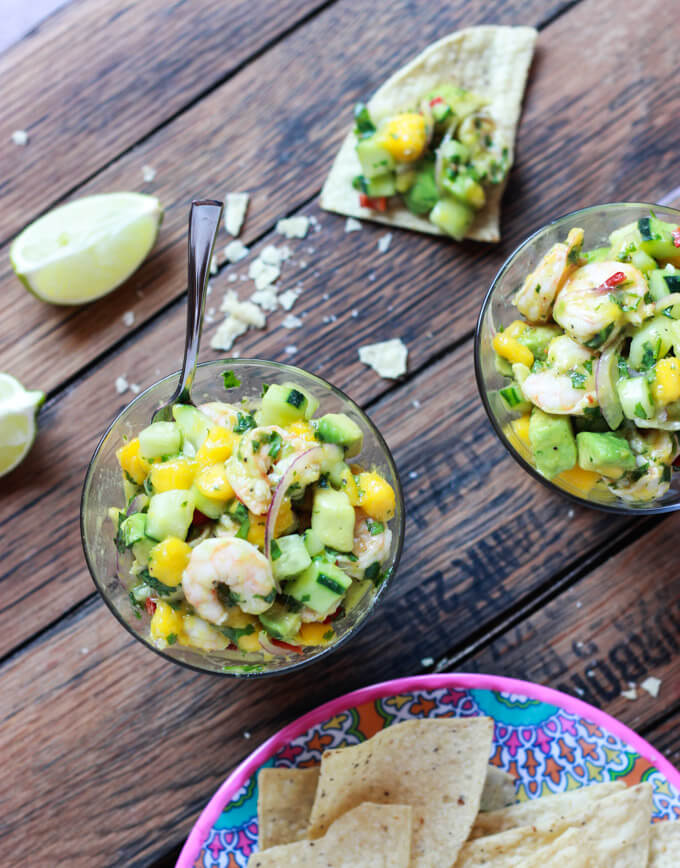 This post may contain affiliate links. Please read our disclosure policy.
I hate recipe fails. All the anticipation and excitement down the drain. Plus all the wasted groceries! That's a biggie for me.
I normally start off with an idea in my head, paper and then the kitchen. In the kitchen it can go 4 ways: (1) blog post – yeay success! (2) do-over (3) 100% fail and a new recipe is born or (4) 100% fail. Done deal.
This week it was #3. Phew! Not a complete waste.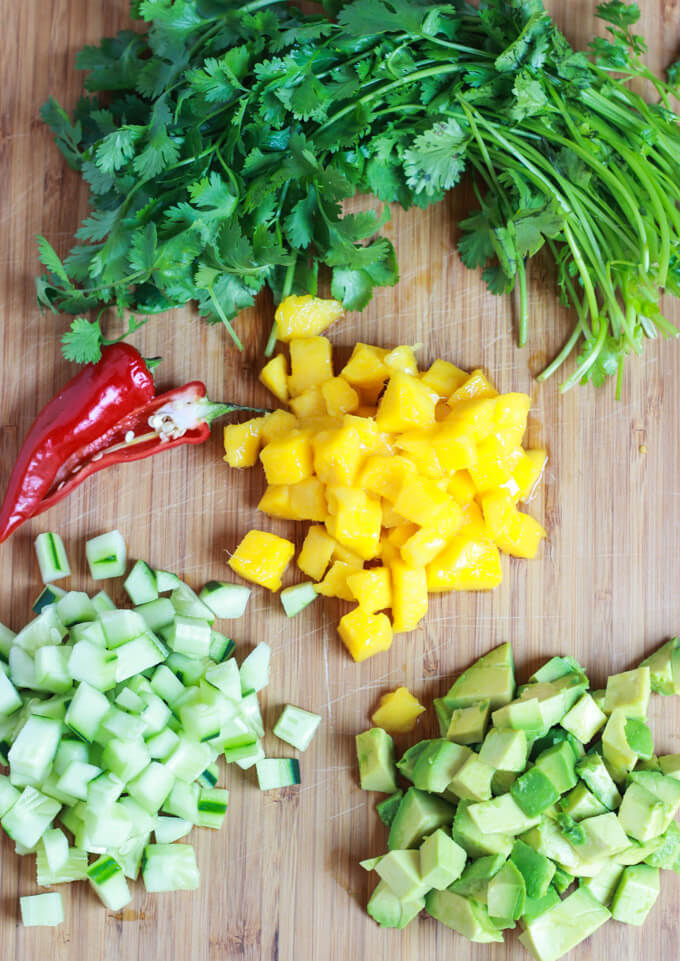 I've been wanting to make ceviche for a while now. I had tropical shrimp ceviche playing in my head with fresh mango and avocado. It was perfect! I researched all the techniques and it sounded like easy peasy stuff. Right? Well, apparently it wasn't doing it for me. My shrimp just refused to "cook" in the lime juice and turned out soggy and pink. So on my second batch of shrimp I just gave up and I'm not the one to give up easily. Well it was BAD! But with the bad there is always a good so Shrimp Salad with Avocado and Mango was born.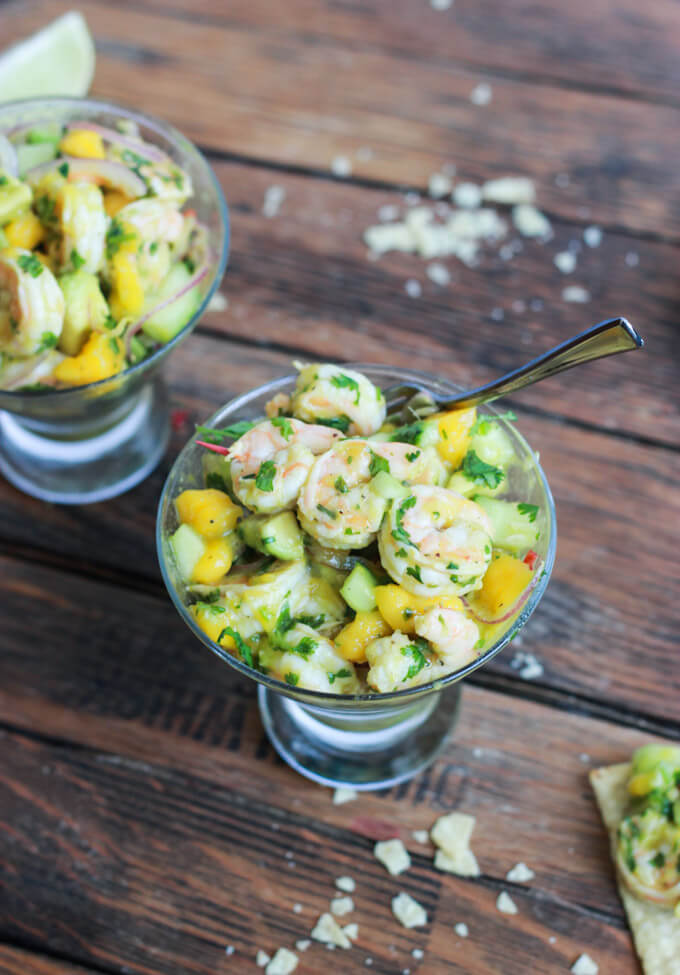 I love shrimp for its versatility, sweetness and speed of preparation. Cooking shrimp on the grill is a five minute ordeal or less but it could be tricky as it is easy to overcook the shrimp. I normally wait for my shrimp to curl into a C-shape to take it off the grill, which is normally between 3-5 minutes. If your shrimp looks like an O-shape than it's overcooked.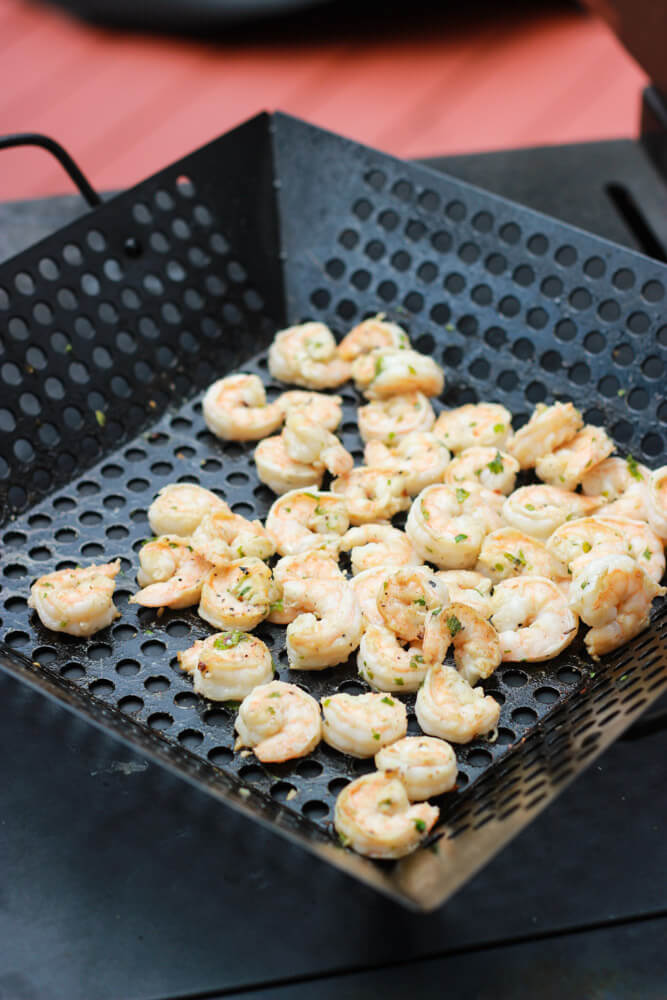 Marinated shrimp in garlic and crushed red pepper is simple yet flavorful. Fresh mango, avocado and cucumber add just the perfect amount of crunch and sweetness. Finished off with red chili pepper, red onion and cilantro. Simple, delicious and vibrant!
Print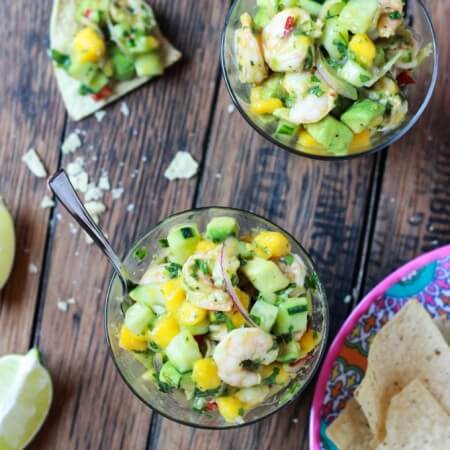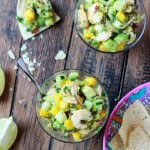 Shrimp Salad with Mango and Avocado
---
1

lbs. (51-60) raw shrimp, peeled and deveined

4 Tbsp

. extra-virgin olive oil

1

lime, juiced, separated

2

cloves garlic, minced

1/4 cup

+

2 Tbsp

. cilantro, minced

1/4 tsp

. crushed red pepper

1/4 tsp

. salt

1

mango, diced

1

medium cucumber, peeled and chopped

1

avocado, chopped

1/2

red chili pepper, seeded and finely sliced

1/4 cup

sliced red onion
fresh ground pepper
---
Instructions
In a small bowl, combine 2 Tbsp. extra-virgin olive oil, juice of 1/2 lime, garlic, 2 Tbsp. cilantro, red pepper, and salt. Pour the marinade into a large ziploc bag; add shrimp and marinate in the refrigerator for 30 minutes.
Preheat the grill on medium-high heat, add the shrimp to a grilling basket and grill 4-5 minutes or until opaque, stirring frequently; set aside to cool.
In a medium bowl, combine the mango, cucumber, avocado, chili pepper, red onion, cilantro and shrimp. Drizzle with the remaining 2 Tbsp. olive oil and juice of 1/2 lime. Mix gently and chill in the refrigerator for atleast 30 minutes.
---