Chicken Quinoa Salad
Lemony chicken quinoa salad with Mediterranean inspired veggies just might be the best make ahead salad. It's loaded with delicious veggies, healthy protein, and zesty vinaigrette.
We're all about easy and healthy meal prep ideas around here. Have you tried Homemade Chicken Patties with Corn Succotash? It's seriously the yummiest meal.
I personally love the idea of grab-and-go meals to enjoy throughout the week. It's very convenient and allows you to enjoy a home-cooked meal regardless of whether you have time to make one or not.
Chicken Quinoa Salad
Now you can add this chicken and quinoa salad to your weekly rotation. It's an incredibly fresh, light, and healthy salad. Made with protein-packed quinoa, crunchy veggies, fresh herbs, creamy cheese, and the zestiest vinaigrette.
The best part, it can be made ahead of time. In fact, it tastes even better the next day. You can proportion it out or keep it in one Tupperware to enjoy as needed.
Ingredients for Chicken Quinoa Salad
Chicken: Bone-in, skin-on chicken breast (split chicken breast).
Quinoa: I like using white quinoa but red quinoa or tri-color quinoa can be used instead.
Cucumber: English or mini cucumbers.
Tomatoes: Cherry tomatoes or grape tomatoes.
Parsley: Use fresh parsley for best flavor.
Green Onions: Milder than most onions, green onions or scallions are going to add delicious flavor to this salad.
Olives: I love Kalamata olives for their rich and fruity flavor. Black olives work too.
Feta Cheese: It's going to add some saltiness to the salad.
Mozzarella: Fresh mozzarella is so good and adds creaminess to the salad.
Olive Oil and Lemon Juice: Both are used to make the lemony vinaigrette for this salad.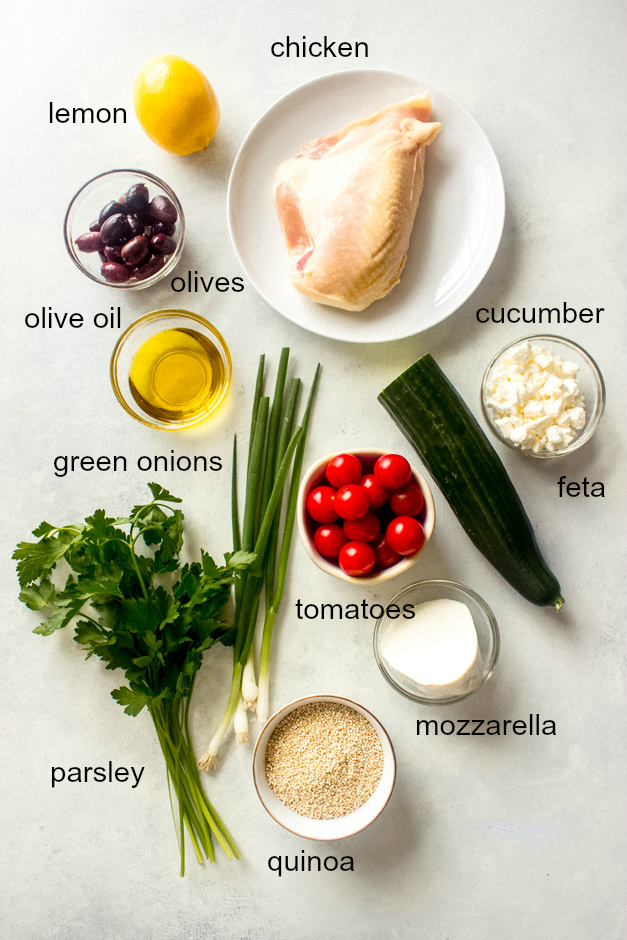 What's the Best Way to Cook Quinoa?
Normally you want to rinse the quinoa under water to remove the natural bitterness of quinoa's outer coating. For this lemon chicken and quinoa salad skip the rinsing! The lemony vinaigrette will take care of all the bitterness.
Add 1 cup of dry quinoa and 1 3/4 cups water to a small saucepan.
Cover and bring to a boil. Reduce heat to low and cook, covered, for 15-20 minutes or until quinoa has absorbed all of the water.
Remove the pot from heat and let the quinoa steam for 5 minutes. Remove the lid and fluff the quinoa with a fork.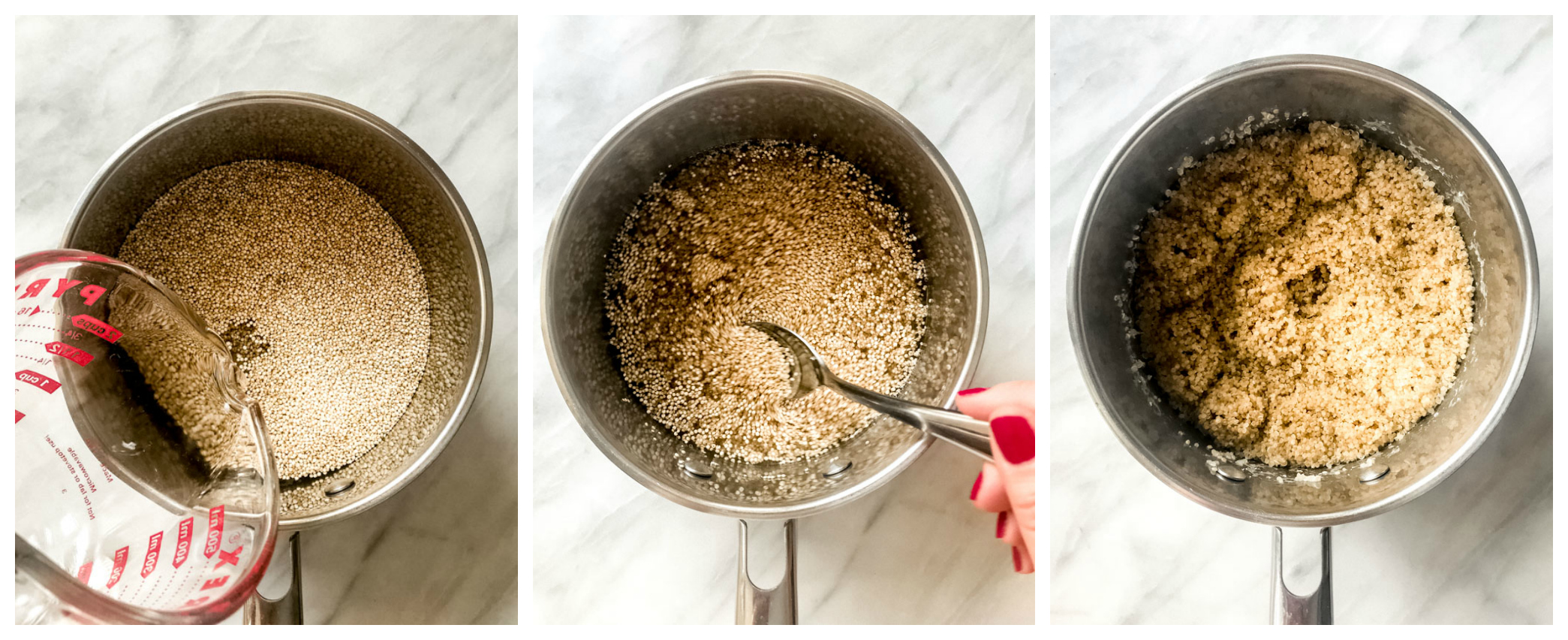 How to Make Chicken and Quinoa Salad
Roast the chicken for about 45 minutes in a 425 F oven. When cool enough to handle, pull the meat off the bones, and shred it.
Katya's TIP: Save time on prep and use rotisserie chicken instead.
While the chicken is roasting, cook the quinoa as directed on the box.
Next, add all of the ingredients through mozzarella cheese into a large salad bowl.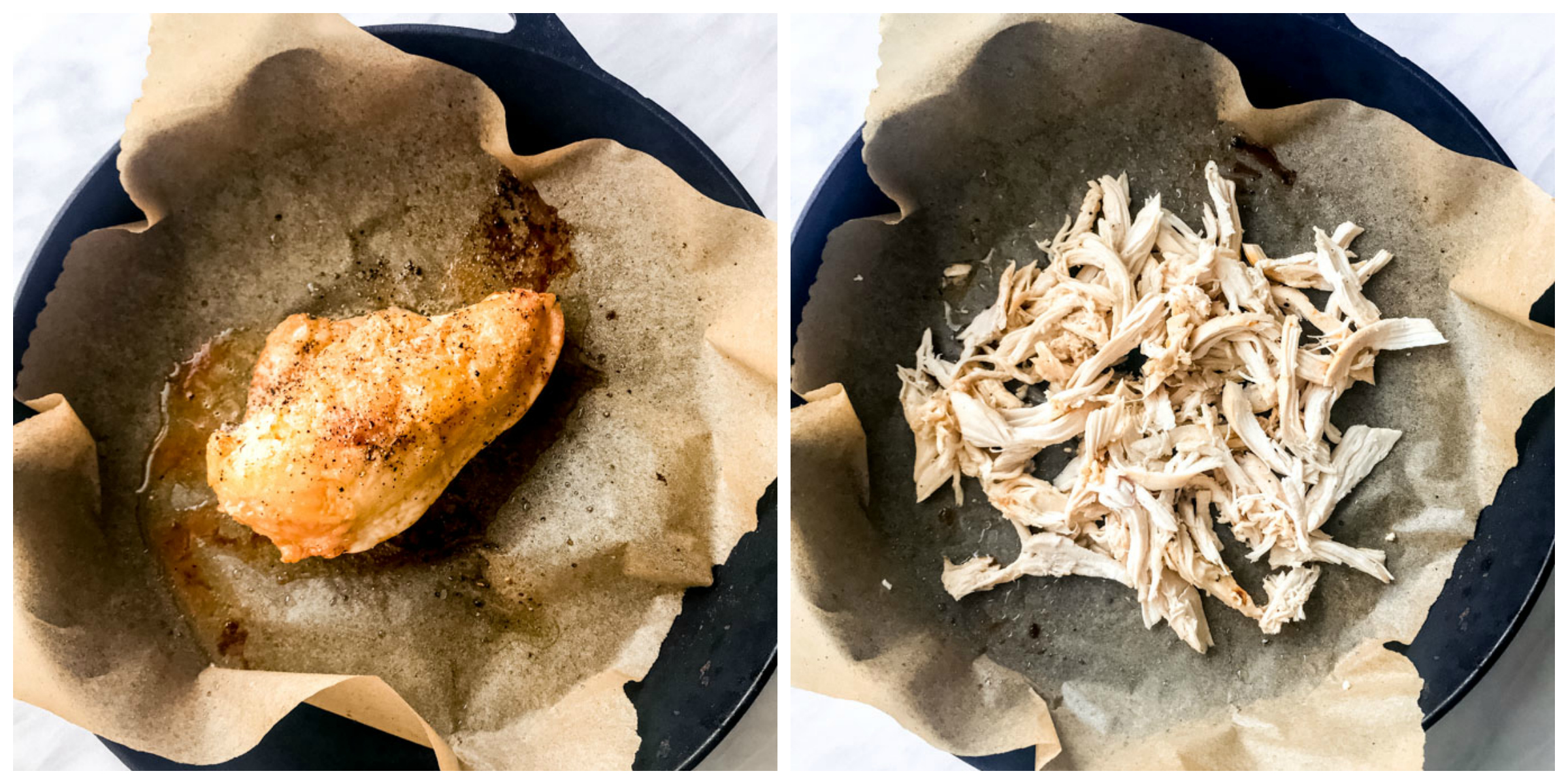 Whisk together the olive oil and lemon juice. Pour over the salad and toss to combine.
Chill the salad for about 30 minutes up to overnight before serving.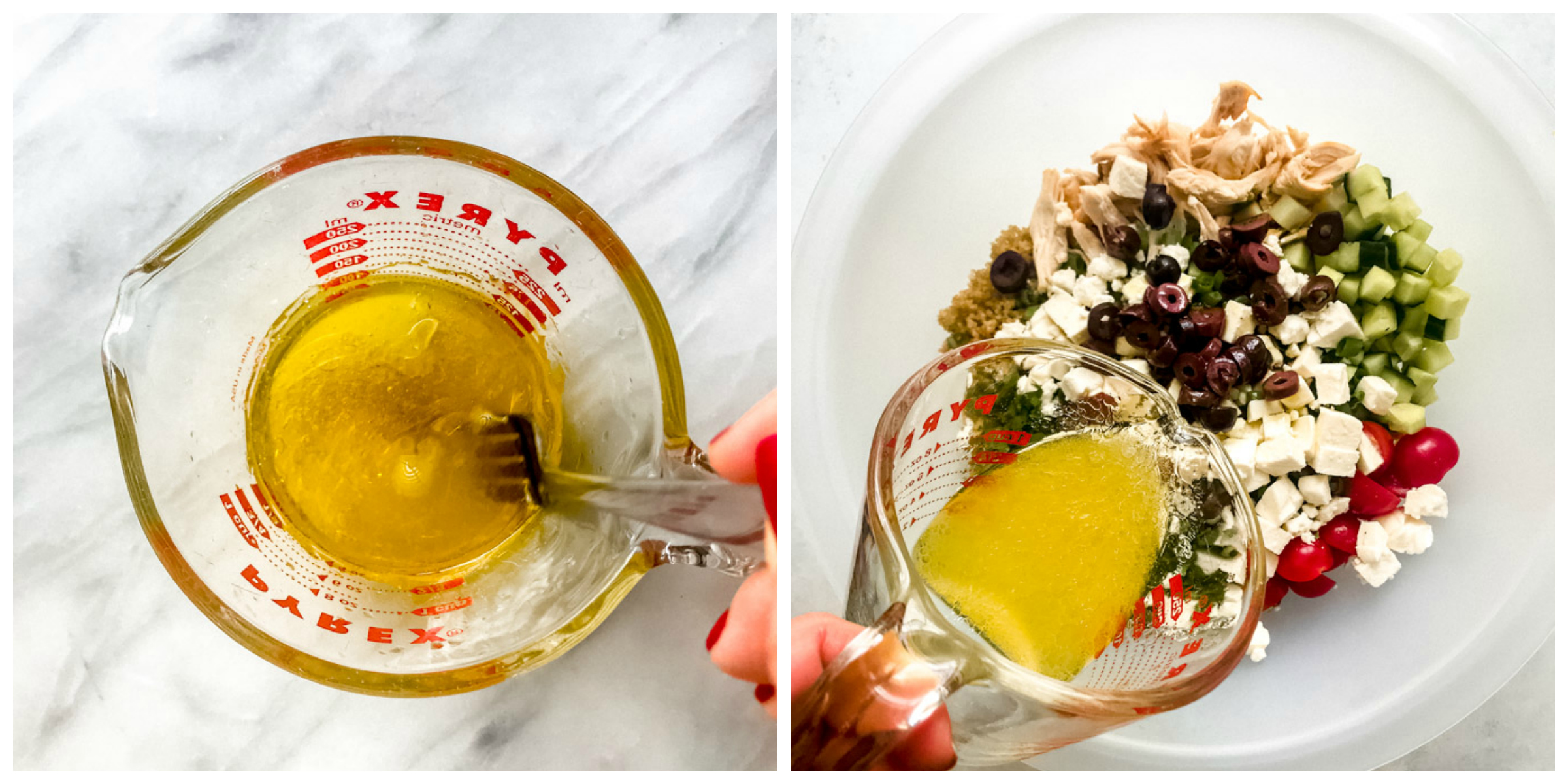 Is Quinoa Salad Eaten Hot or Cold?
This chicken quinoa salad is eaten cold. It's a great meal prep salad that tastes the best after it's been chilled.
How Long Does Quinoa Salad Last?
It will last in the refrigerator for up to 3-5 days. If you find the salad getting a little dry, simply add a drizzle of olive oil and some fresh lemon juice to freshen it up.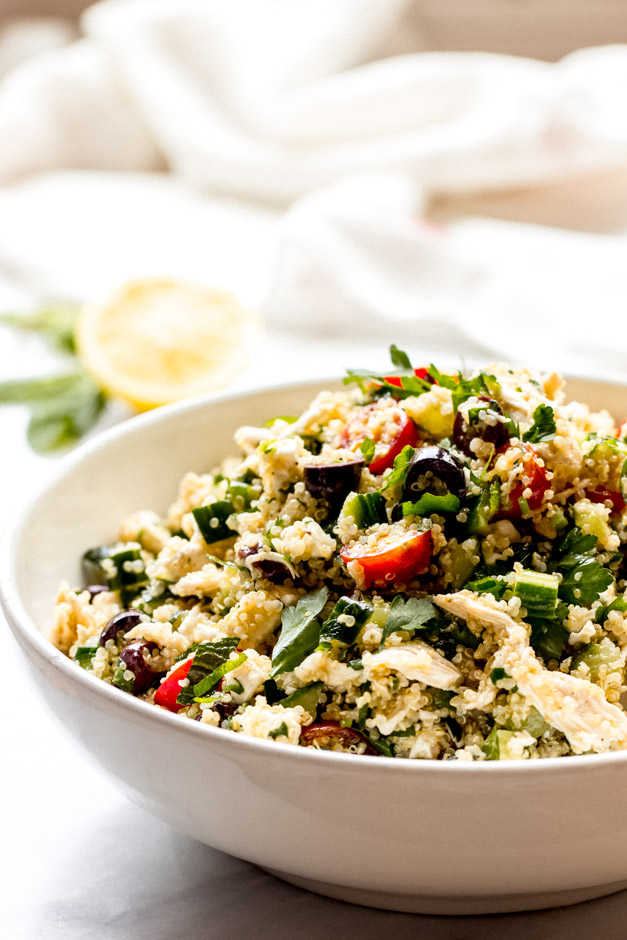 More Quinoa Salad Recipes
Print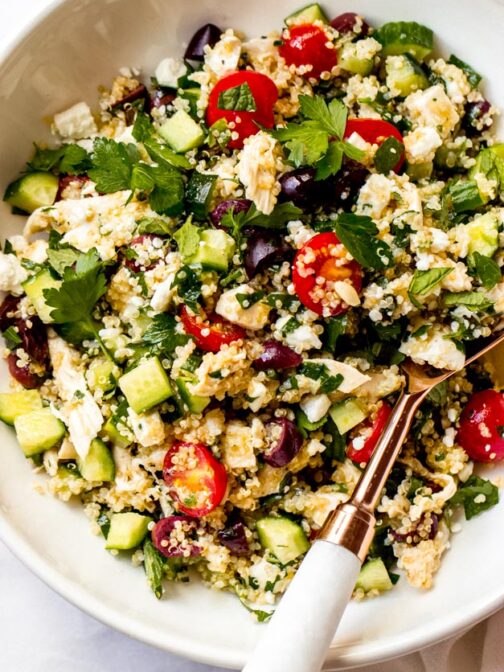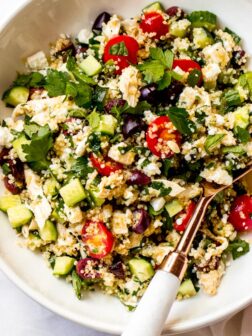 Chicken Quinoa Salad
Author: Katya
Prep Time: 20
Cook Time: 45
Total Time: 1 hour 5 minutes
Yield: 6 1x
Category: Salad
Method: Chopped
Cuisine: Mediterranean
---
Description
Zesty lemon chicken quinoa salad with Mediterranean inspired veggies. It's an easy make ahead salad that also doubles up as a healthy meal prep idea.
---
1 lb. bone-in chicken breast with skin-on
1 cup dry quinoa
1/2 English cucumber, chopped (2 cups)
1 cup cherry tomatoes, halved
1 cup chopped fresh parsley
1/2 cup sliced green onions
1/4 cup kalamata olives, sliced
1/3 cup crumbled feta cheese
4 oz. fresh mozzarella cheese, diced
1/4 cup extra-virgin olive oil, plus extra for roasting
1/4 cup fresh lemon juice (1 – 1 1/2 lemons)
Kosher salt and fresh black pepper
Fresh mint, to garnish, optional
---
Instructions
Prepare the chicken: Preheat the oven to 425 degrees F. Generously rub the chicken breast with olive oil and season with salt and pepper on each side. Bake on a parchment-lined pan for 40-45 minutes or until cooked through. When chicken is cool enough to handle, discard the skin, pull the meat off the bones and shred it using your hands or two forks.
Prepare the quinoa: Cook quinoa according to package directions. Let stand, covered, for 5 minutes, then transfer to a large salad bowl. Cool for 10-15 minutes before adding in the rest of the ingredients.
Prepare the salad: To the quinoa, add shredded chicken, cucumbers, tomatoes, parsley, green onions, olives, feta cheese, and mozzarella cheese. Whisk together the olive oil and lemon juice and pour over the salad. Season with salt and pepper and toss to combine. Cover and chill at least 30 minutes before serving.
---
Notes
Chicken: When roasting chicken, keep the skin on. It will keep the meat moist. You can also save on prep time and use rotisserie chicken.
Quinoa: Do not toss the hot quinoa with the vinaigrette as it will immediately soak up all of the liquid and your salad will be dry. Make sure to let the quinoa cool for 10-15 minutes after it's been cooked.
Leftovers: Quinoa salad can be refrigerated for up to 3-4 days in an airtight container. If you find the salad getting a little dry, add a drizzle of olive oil and little lemon juice to freshen it up.
Nutrition
Serving Size:
Calories: 378
Sugar: 2.3 g
Sodium: 280 mg
Fat: 19.9 g
Carbohydrates: 23.4 g
Protein: 27.3 g
Cholesterol: 77.5 mg
Keywords: easy, meal prep, make ahead, quinoa salad