Summer Squash Salad
Summer squash salad is an herby and chilled salad perfect for a summer lunch or side dish. This is a simple gluten-free side dish made with fresh herbs and raw squash.
What is Summer Squash Salad?
This summer squash salad recipe is the perfect summer dish when squash is in season in June, July, and August. It pairs great with potato perogies or something grilled like grilled chicken drumsticks.
The chopped fresh herbs make it feel like you're eating right out of your garden, and that summer will never end.
Low-carb squash salad is easy to make ahead of time to let rest in the fridge while the squash marinates and the flavors all come together.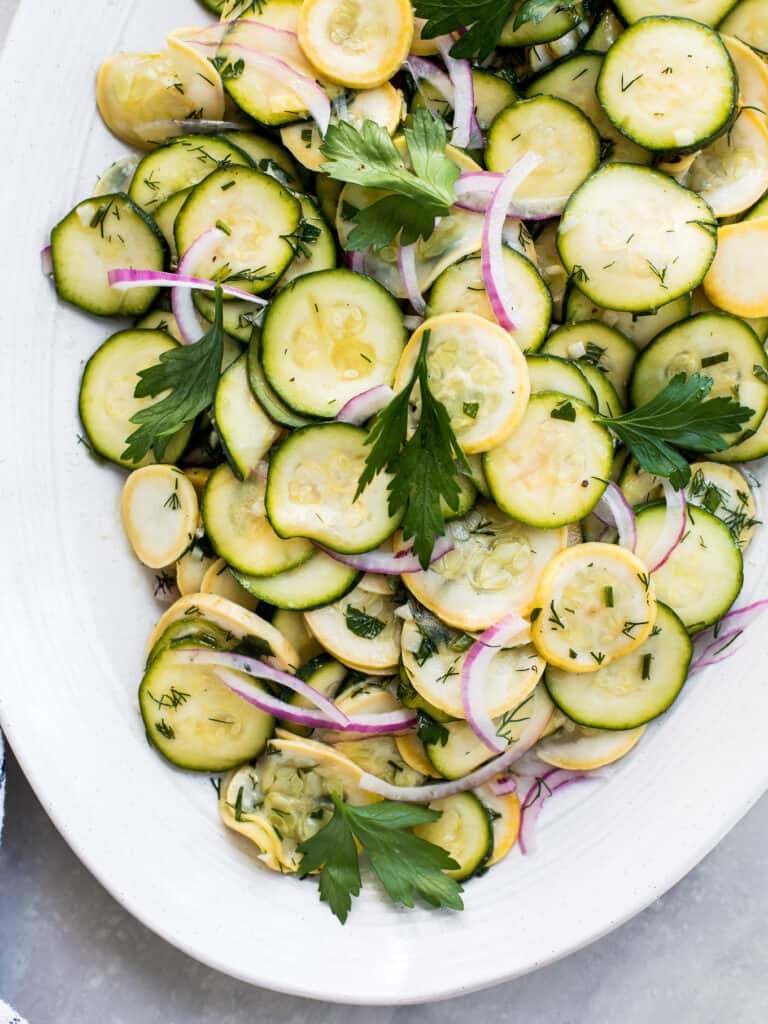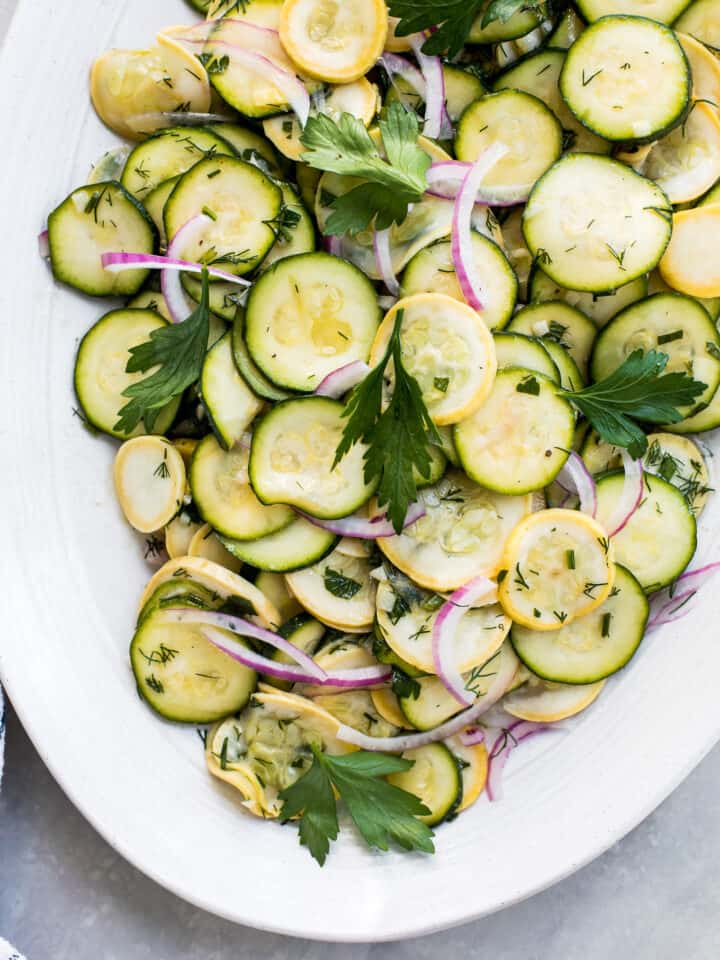 Ingredients
Here are the ingredients to make this tasty salad. It's best to use the freshest vegetables you can get, and if they're in season, that's even better.
Zucchini & yellow squash: This is the perfect way to eat all the squash growing in your own garden. Feel free to use a combination of both or all zucchini or all yellow squash.
Red onion: Sliced red onions add an excellent crunch and flavor to this dish.
Fresh dill: Fresh dill is a must in this salad. Dried dill just doesn't give it the same fresh, herby flavor.
Fresh parsley: Italian or flat-leaf parsley is better than curly parsley for this salad.
Apple cider vinegar: Vinegar helps the vegetables soften and slightly cooks them with acid.
Extra virgin olive oil: Use the best olive oil you can find for this dish.
Water: Use room temperature water.
Garlic: Make sure the garlic is fresh and aromatic, not dried out after it's peeled.
Salt and pepper: A little salt and pepper is the perfect seasoning for this salad.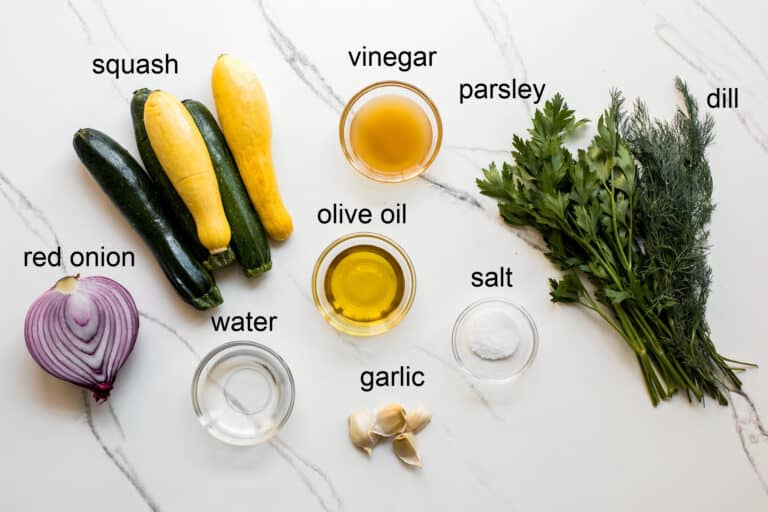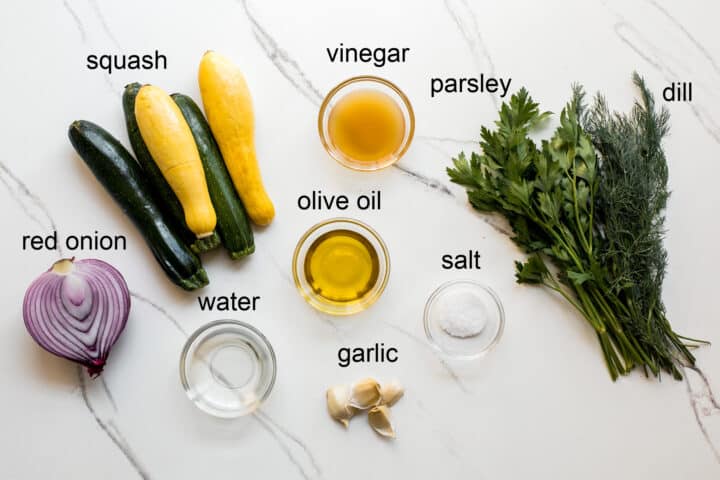 How to Make Summer Squash Salad
This simple salad is easy to prepare with only three steps.
Slice veggies: Slice the zucchini, yellow squash, and red onions and put them in a bowl. Add herbs and garlic.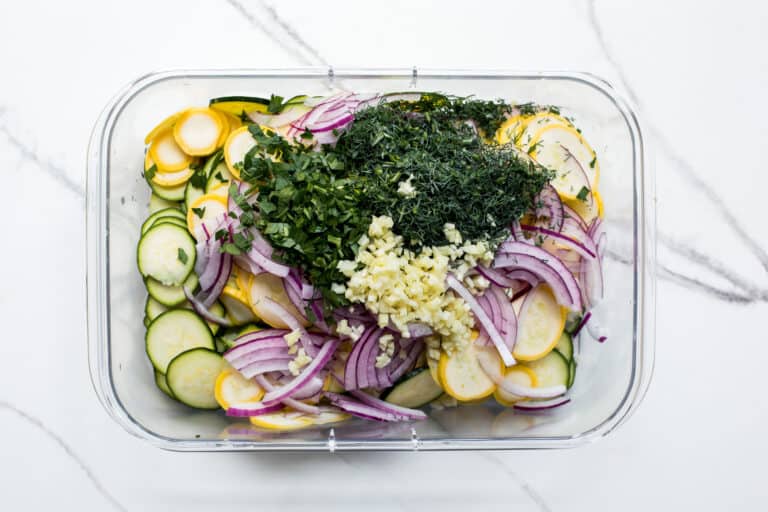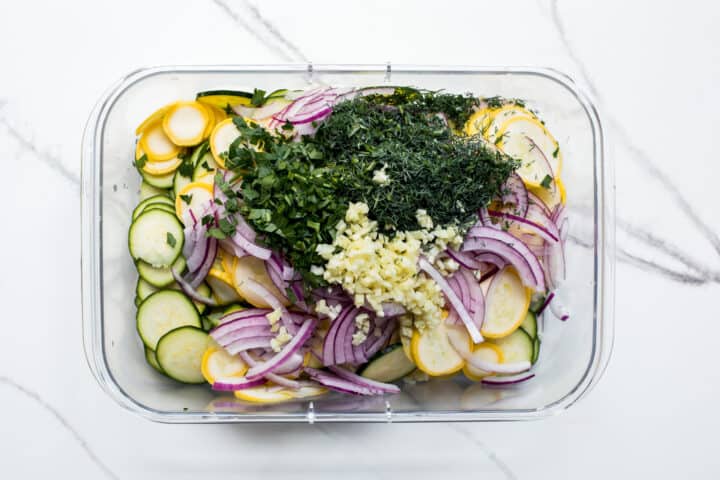 How to slice perfectly thin vegetables?
Mandoline slicer is a tool that's designed to give you very thin, even slices of vegetables or fruits, and you can control the thickness too!
Whisk dressing: Whisk together the apple cider vinegar, water, olive oil, and salt.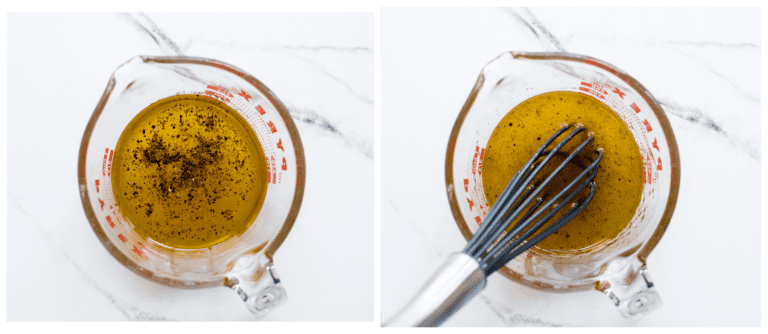 Combine: Toss the veggies with the dressing, cover, and let sit in the fridge for 4-6 hours.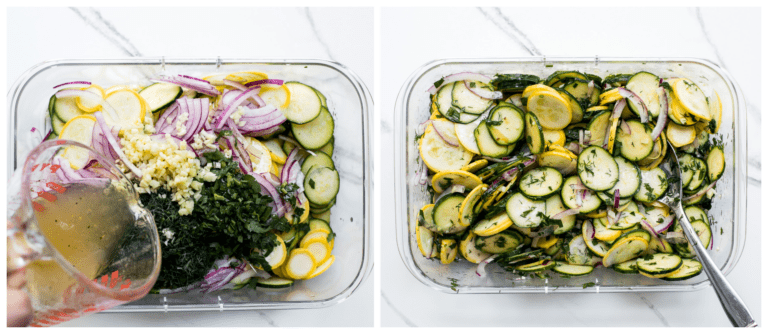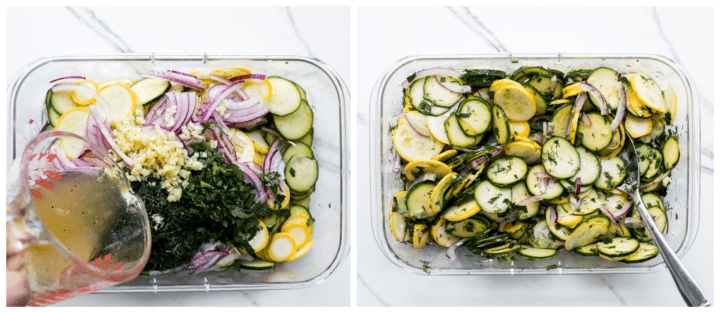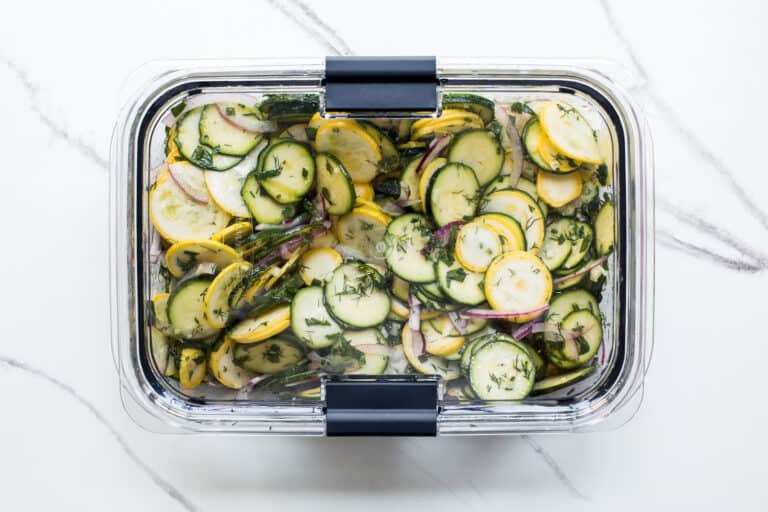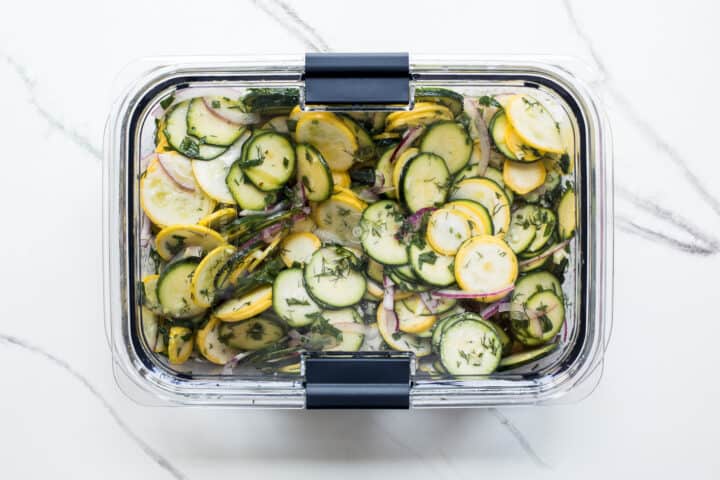 Recipe Tips & Notes
Here are some tips and tricks to help you make the best summer squash salad you've ever tasted:
Just like marinated cucumbers! This salad is similar to raw marinated cucumber salad, except it's made with squash.
Slice zucchini really thin. Slice the squash into ¼-inch to 1/8-inch rounds using a sharp chef knife or a mandoline slicer.
Add some zing. Add jarred banana pepper or pepperoncini juice instead of apple cider vinegar for extra zing.
Brighten up the taste. Add lemon juice or zest to the dressing.
Rest before serving. Before serving the salad, let it sit at room temperature for 10-15 minutes, and then drizzle a little extra virgin olive oil on top.
Other Veggies You Can Add 
Squash and red onions are a terrific pairing, and you can mix and match them with other veggies. Some options to try are:
Eggplant – thinly slice the eggplant and grill or roast before tossing in with the vegetables
Jalapenos – for extra heat, leave the seeds and slice the jalapeno into thin rounds
Celery – celery adds a delicious crunch
Artichokes – canned or marinated artichokes would be a great addition to this salad
Asparagus – cook asparagus in salted boiling water until tender crisp before tossing in
What to Serve with This Squash Salad 
This fresh and herby salad is perfect for a light lunch or as a side dish with dinner.
Pair this side dish with filling main courses like grilled orange chicken, grilled cilantro lime chicken sliders, pesto pasta, or hummus veggie sandwiches.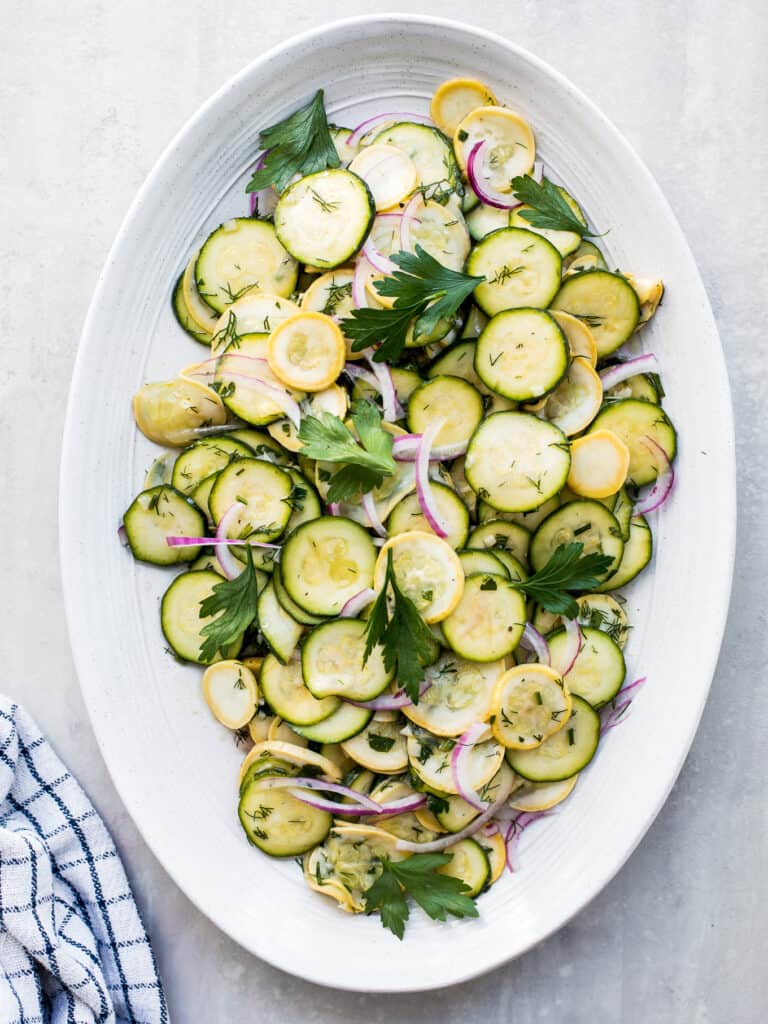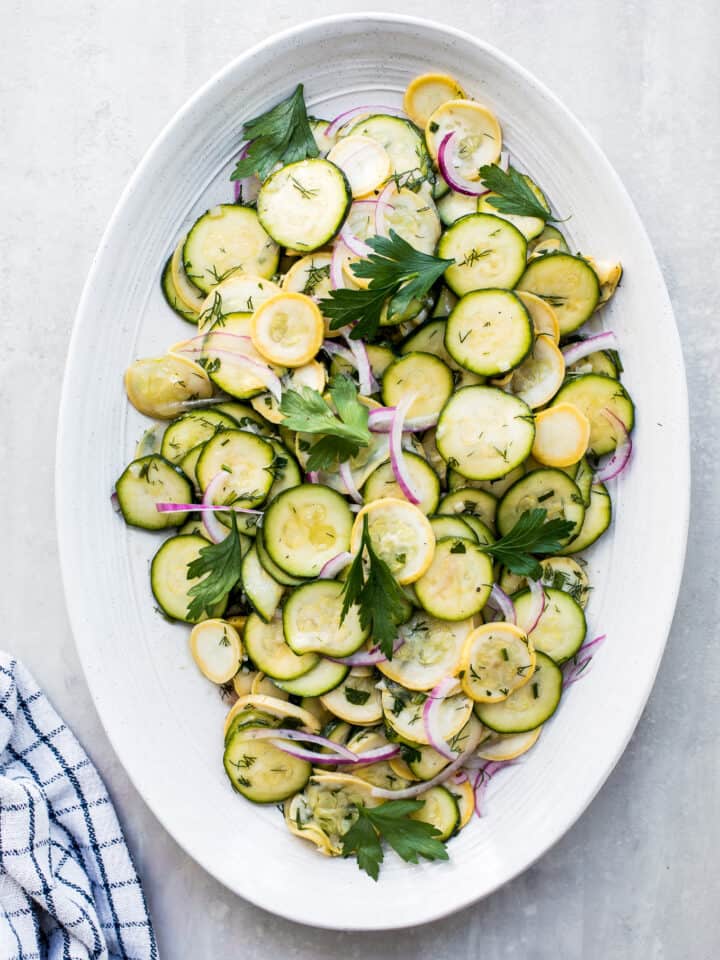 How to Store 
To refrigerate: Keep any leftover salad in an airtight container in the refrigerator for up to 3 days. Let the salad sit at room temperature for 10-15 minutes before serving.
To freeze: This dish doesn't do well with freezing. You can easily make another fresh batch when you're craving more.
To meal prep: Summer squash salad is the perfect dish for meal prepping since it takes 4-6 hours to chill in the fridge before it's ready to serve. You can make it in the morning and have it ready to serve for lunch or dinner.
Frequently Asked Questions
Can you eat yellow squash raw in a salad?
You can eat raw zucchini and yellow squash with the skins on. These soft vegetables are healthy and delicious in salads like these.  
Do I need to chill squash salad before serving?
It's best to chill this salad for four to six hours before serving it, and this will help break down the squash and infuse the flavors. 
Can I add cheese to the summer squash salad?
You can sprinkle feta cheese over the top for a salty addition. 
More Zucchini Recipes
Print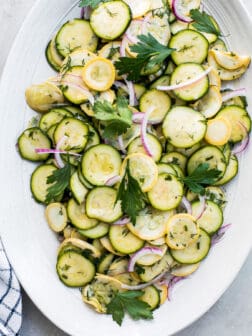 Summer Squash Salad
Author: Katya
Prep Time: 15 mins
Total Time: 15 mins
Yield: 8 1x
Category: Salad
Method: No-Cook
Cuisine: American
---
Description
Summer squash salad is an herby and chilled salad perfect for a summer lunch or side dish. 
---
1 1/2 lbs. zucchini and yellow squash, ends trimmed and thinly sliced, about 1/4-to-1/8 inch thick
1/2 medium red onion, thinly sliced
1/4 cup chopped fresh dill
1/4 cup chopped fresh parsley
4 cloves garlic, minced
1/4 cup apple cider vinegar (or white distilled vinegar)
1/4 cup extra-virgin olive oil
1/4 cup room temperature water
1 1/2 tsp. kosher salt
Black pepper, to taste
---
Instructions
To a large bowl, add zucchini and squash, onions, dill, parsley, and garlic.
In a separate bowl, whisk the vinegar, olive oil, water, salt, and pepper until salt is dissolved. Pour the liquid mixture over the zucchini and gently toss to combine.
Transfer the salad into a shallow Tupperware container. Cover and refrigerate for 4-6 hours, tossing halfway through. Zucchini will release liquid as it marinates. Taste for salt before serving.
---
Notes
Zucchini: Feel free to use all zucchini or all squash. If using large zucchini, halve the zucchini lengthwise and slice into half moons. Mandoline slicer works great for this step.
Dill: Not a fan of dill? Use all parsley. 
Leftovers: Leftover salad will keep well in the fridge for up to 3 days. Zucchini will continue to soften the longer the salad sits.  Before serving, let the salad sit at room temperature for 10-15 minutes.
Nutrition
Serving Size: 1/2 cup
Calories: 89
Sugar: 3.4 g
Sodium: 244.8 mg
Fat: 7.4 g
Carbohydrates: 5.3 g
Protein: 1.7 g
Cholesterol: 0 mg
Keywords: summer, raw, marinated
Recipe originally published September 2015
You May Also Like…