Israeli Couscous Salad
Incredibly fresh and loaded with spring vegetables, this Israeli couscous salad with marinated artichokes is the perfect salad for spring!
Pair this Israeli couscous salad with Roasted Lemon Rosemary Chicken for a beautiful spring meal.
Israeli couscous salad is a fresh and light salad for spring. It's bursting with seasonal vegetables and flavors. This simple couscous salad is a beautiful display of crisp vegetables dotted with tender semolina pearls for a vibrant, delicate combination of couscous, artichokes, cucumbers, radishes, and fresh herbs. 
What is Israeli Couscous?
Israeli couscous is a type of pasta size of small pearls. Made from toasted semolina flour. It's a versatile alternative to rice or other grains to use in main dishes or salads. It also goes by pearl couscous or Jerusalem couscous.
Reasons to Love Israeli Couscous Salad
The best combination of flavors. This couscous salad recipe takes on various textures and flavors, tossed in a bright, zesty lemon garlic dressing. The couscous is tender against the crisp vegetables, but the marinated artichokes take it to new heights!
Easy to make in minutes! Once you've cooked the couscous pearls until light and fluffy, you simply toss them with herbs, vegetables, and dressing. That's it!
Best spring salad recipe. The aromatics of garlic, lemon, and fresh herbs awaken your tastebuds and invite Spring in with open arms. It's refreshing, light, and precisely what you'd expect for the season. 

Is Israeli Couscous Gluten Free? Israeli couscous is made from toasted semolina flour (wheat flour) and is therefore not gluten-free. There are gluten-free options out there, which I have not tried.
Ingredients and Substitutions
Israeli couscous – They're chewy and tender and can be found in your supermarket's grains/rice aisle. Substitute with quinoa if you can't find it or want to try this recipe another way.
Cucumbers – Use either 3 small cucumbers or half of an English cucumber.
Radishes – Slice the radishes very thin for a subtle crispy bite.
Marinated artichokes – You can use plain artichoke hearts if preferred. The extra flavor goes a long way, though!
Fresh herbs – Dill, basil, and chives.
For the dressing:
Oil – Choose a light oil like extra virgin olive oil or avocado oil not to overpower this pearl couscous salad's light and refreshing flavor.
Honey – Adds a little sweetness, or you can use maple syrup.
Lemon – You'll use lemon juice and lemon zest.
Dijon mustard – Yellow mustard is also an option but a bit tangier.
Garlic – Fresh garlic is best, but jarred garlic will also work.
Salt and pepper, to taste.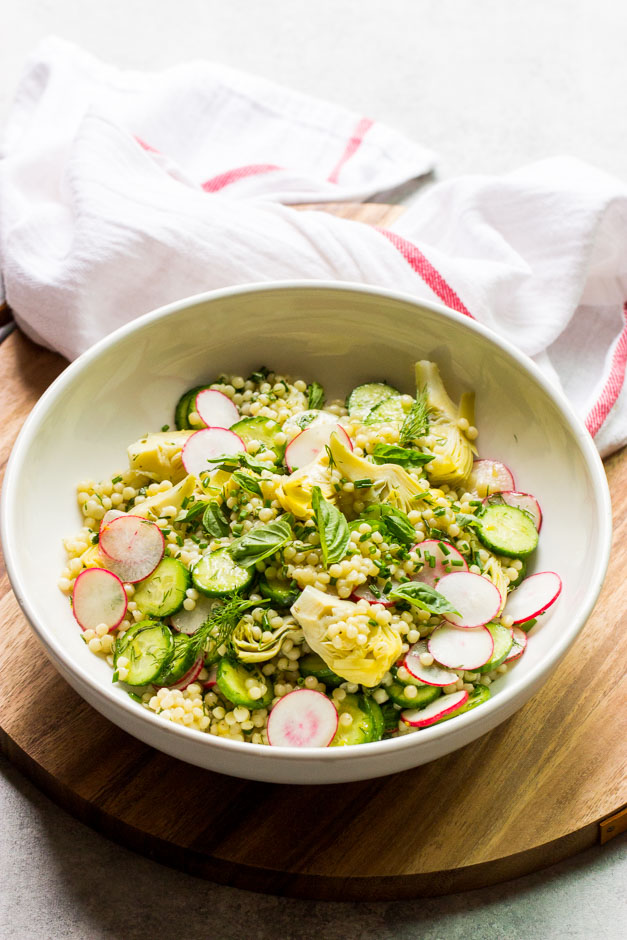 How to Make Israeli Couscous Salad
With only a few simple steps, this Israeli couscous salad comes together in a cinch! It's best served on the same day.
First, cook the couscous according to the package instructions. Fluff with a fork and transfer to a large salad bowl. Add the salad vegetables and herbs.
Next, prepare the salad dressing by whisking together the dressing ingredients. Season well with salt and pepper.
Lastly, pour the dressing over the salad while the couscous is warm. Toss, taste for salt and pepper, and chill for at least 30 minutes before serving.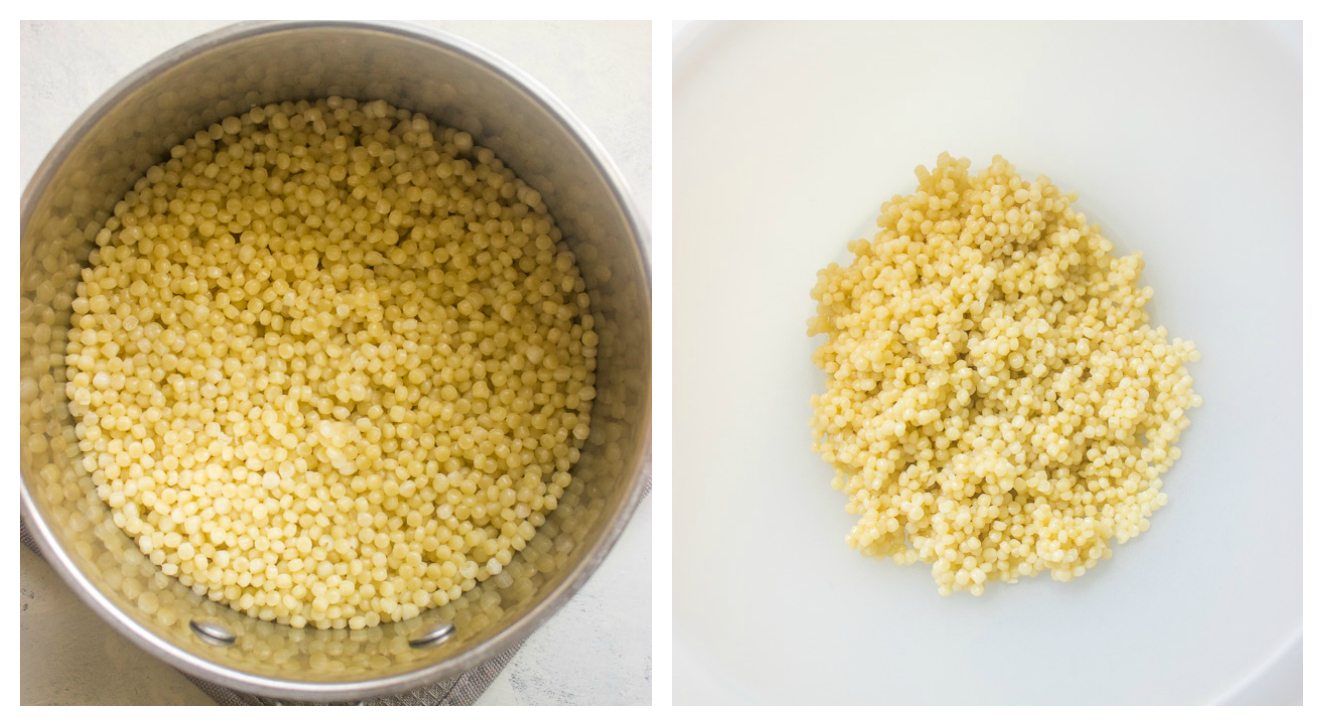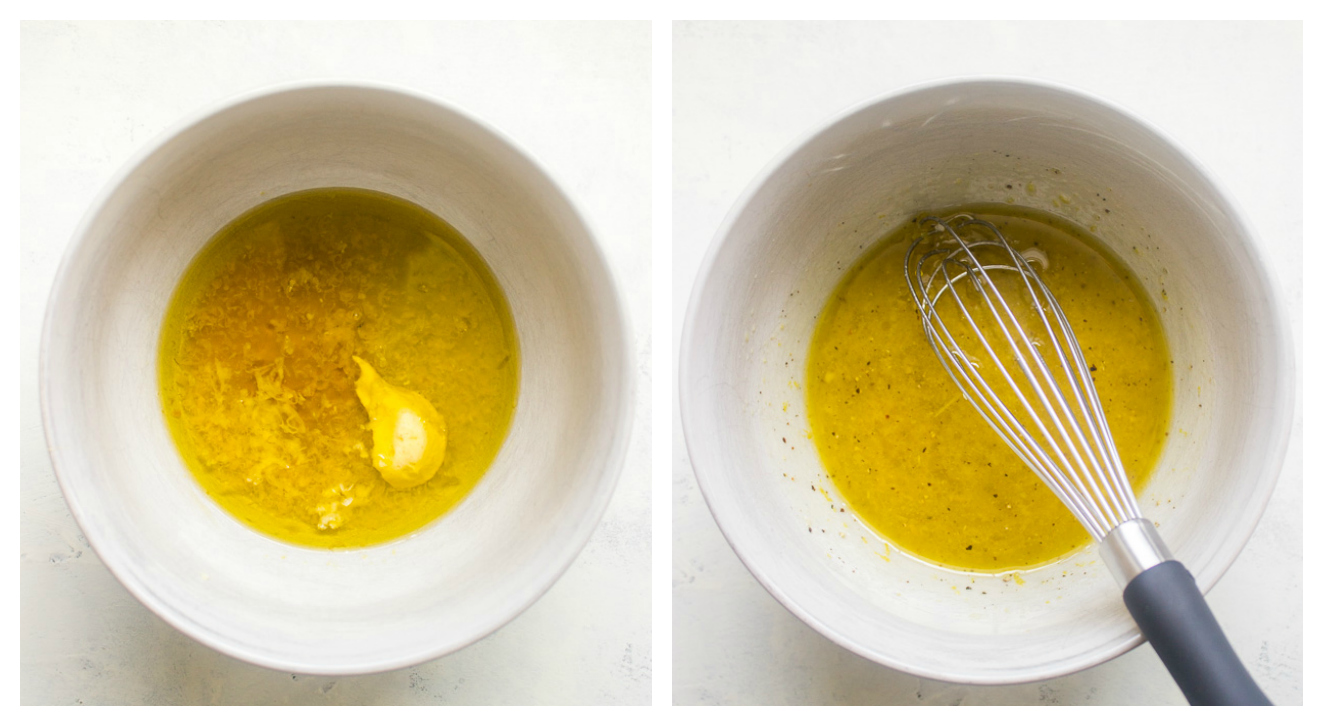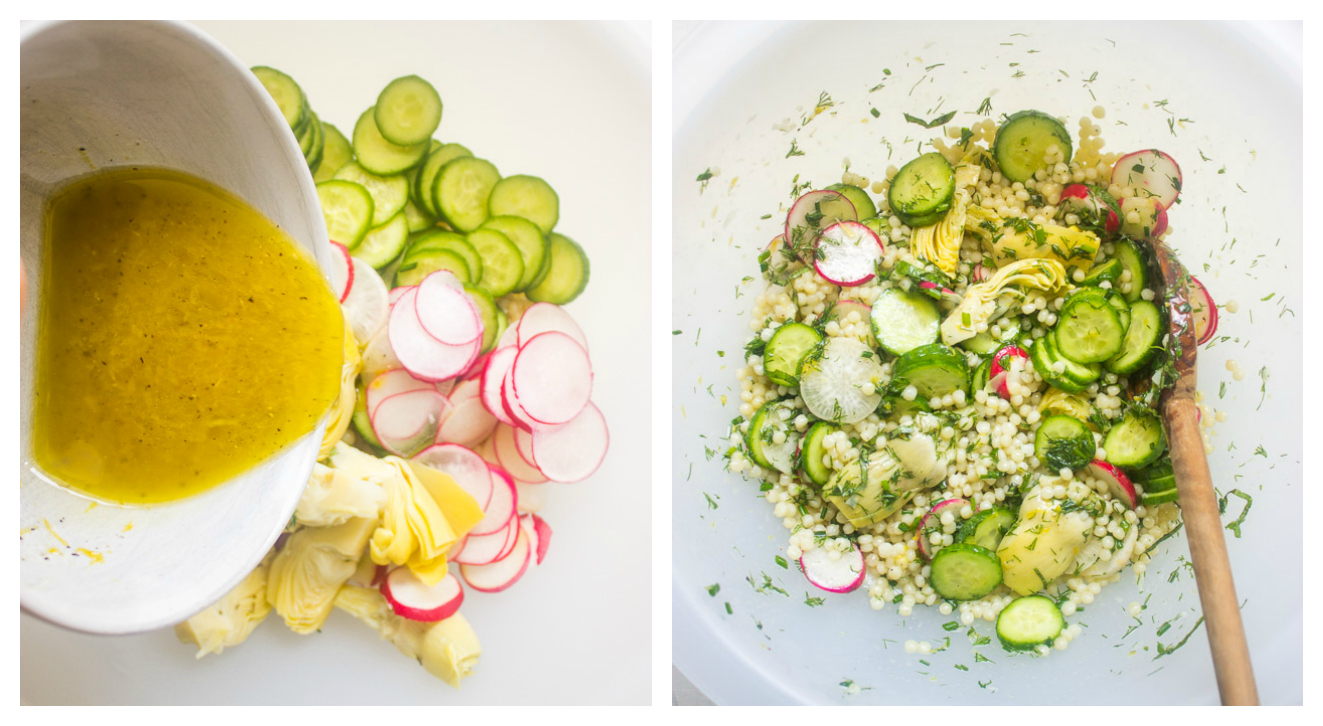 Recipe Tips
Allow the salad time to rest. Once you've mixed everything, pop the salad in the fridge for about 30 minutes. It's so good when chilled and allows the flavors to develop. 
Slice the veggies thinly. The cucumbers and radishes are intense flavors, so when you slice them thin, you get a balanced texture against the soft and chewy pearl couscous.
Add crumbled feta. After refrigerating this easy Israeli couscous salad, add about 1 cup of crumbled feta cheese. 
Make it ahead of time. As mentioned above, allowing the salad to chill first is ideal for the best flavor. You can also make it a day or two ahead of time and store it in the fridge. It'll be much more flavorful! Hold off on the fresh herbs until ready to serve.
Variations
Chicken Israeli Couscous Salad – This Israeli couscous salad pairs perfectly with chicken! Try adding my grilled chicken tenders on top for a complete meal. 
Chickpea Israeli Couscous Salad – Another protein option and a vegetarian-friendly pearl salad recipe is to add chickpeas. Add as is, or roast them in the oven or air fryer for a delicious crunch!
Spicy Pearl Couscous Salad – Add a little heat to this recipe by chopping up some jalapenos to toss into the salad or adding some spices like cayenne or red pepper flakes.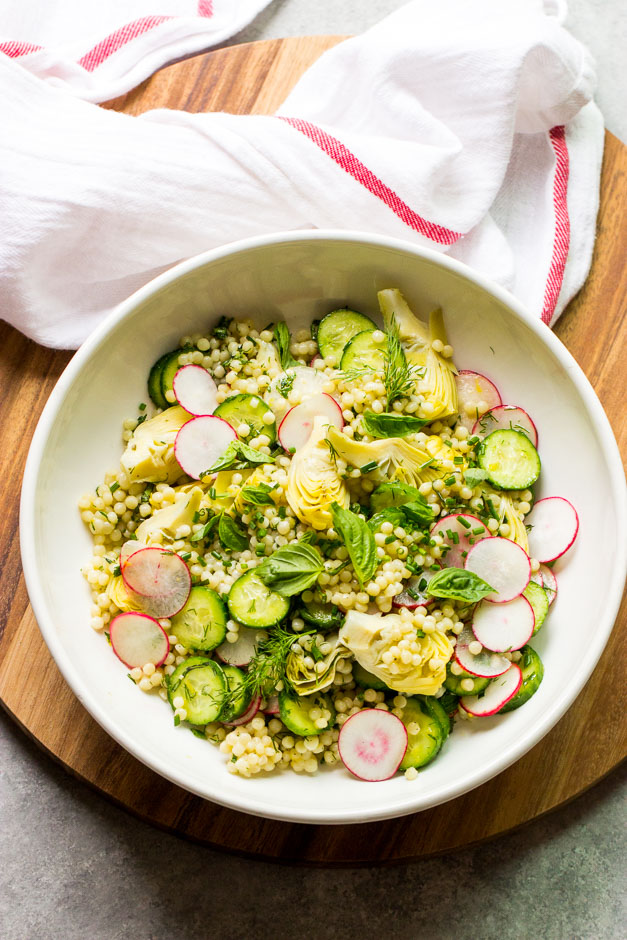 How to Serve
It's simple, nutritious, and perfect for a light meal or spring side dish. Try pairing it with main dishes, such as:
Storing Leftovers: Israeli couscous salad with artichoke hearts will last 4-5 days in the fridge. 
FAQs
Is Israeli couscous the same as regular couscous?
It's not. Israel couscous is made from semolina flour with a soft, chewy texture and is larger than regular couscous. It's a form of pasta!
Are you supposed to rinse Israeli couscous before cooking?
Nope! It's not necessary to rinse pearl couscous before cooking. It's not a grain like rice or quinoa and should be considered the same as pasta when cooking it. 
How long does it take to cook Israeli couscous?
Just like pasta, it only takes about 10 minutes to cook but should be fluffed up with a fork, similar to rice. 
Why is my Israeli couscous mushy?
This is common when too much liquid is added. Follow the direction on the pearl couscous packaging for the best results. 
Print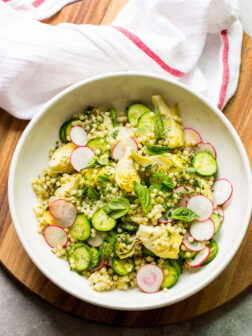 Israeli Couscous Salad
Author: Katya
Prep Time: 10 min
Cook Time: 15 min
Total Time: 25 minutes
Yield: 6 1x
Category: Salad
Method: Chopped
Cuisine: Mediterranean
---
Description
Incredibly fresh and loaded with spring vegetables, this Israeli couscous salad with marinated artichokes is the perfect salad for spring.
---
1 cup dry Israeli couscous
3 mini cucumbers or 1/2 English cucumber, thinly sliced
6–8 radishes, thinly sliced
1 (10 – 12 oz.) jar quartered marinated artichokes, drained
1/4 cup fresh dill, finely chopped
1/4 cup fresh basil, finely chopped
1/4 cup chives, finely chopped
Dressing
1/4 cup extra-virgin olive oil
1 Tbsp. honey
2 tsp. lemon zest
2 Tbsp. fresh lemon juice
1 tsp. Dijon mustard
1 small garlic clove, minced or pressed
Kosher salt and fresh black pepper
---
Instructions
Cook couscous according to package directions. Fluff lightly with a fork and transfer to a large salad bowl.
Add cucumbers, radishes, artichokes, and herbs to the warm couscous.
Pour dressing over the salad and toss to combine. Toss the salad while the couscous is still warm. It soaks up the flavors so much better when warm. Taste for salt and pepper.
Refrigerate, covered, for 30 minutes before serving.
Dressing
In a small bowl, whisk together the dressing ingredients until combined. Season with salt and pepper, to taste.
---
Notes
Couscous: Israeli couscous also goes by pearl couscous or Jerusalem couscous
Leftovers: This salad is best served on the same day. Leftovers refrigerate well, however, the veggies tend to get soft the longer the salad sits.
Nutrition
Serving Size:
Calories: 279
Sugar: 4.8 g
Sodium: 72.6 mg
Fat: 10 g
Carbohydrates: 42.8 g
Protein: 8.1 g
Cholesterol: 0 mg
Keywords: side, vegetables, spring, easy, Easter