7 tips on how to make the perfect risotto will have you in the kitchen in no time, making this creamy silky Italian comfort food! Loaded with asparagus, lemon, and plenty of parmesan. Delicious main or side dish.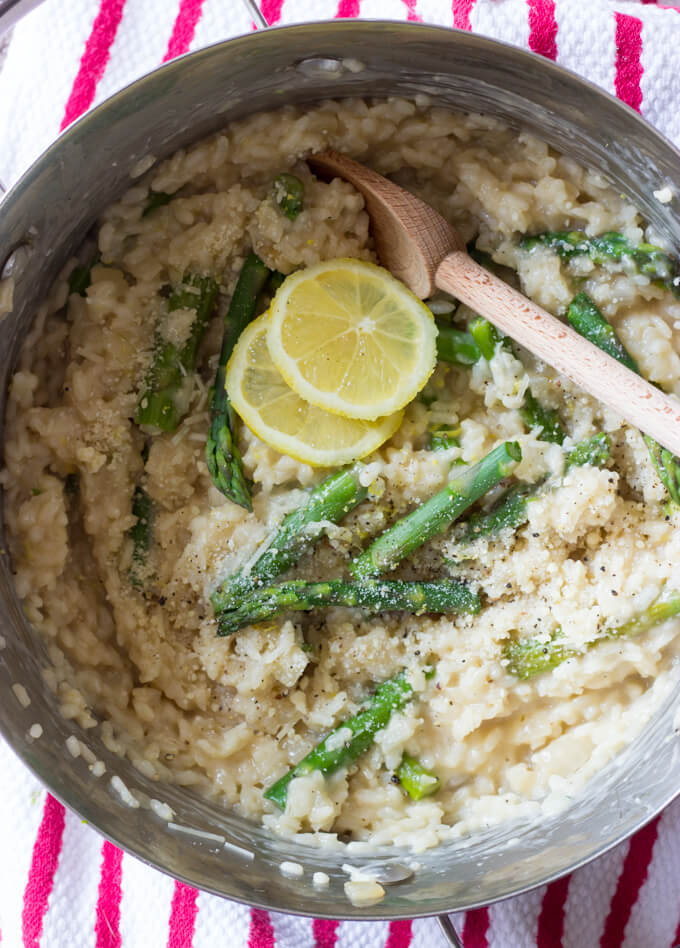 This post may contain affiliate links. Please read our disclosure policy.
So, I think I finally mastered the making of risotto. I'm by no means a professional but when you make risotto more times than you like to admit, you'll learn a thing or two! Let's just say we had a lot of risotto between last week and now. Like every day A LOT! Good thing the hubby doesn't mind leftovers and the kids well….don't always get a choice 🙂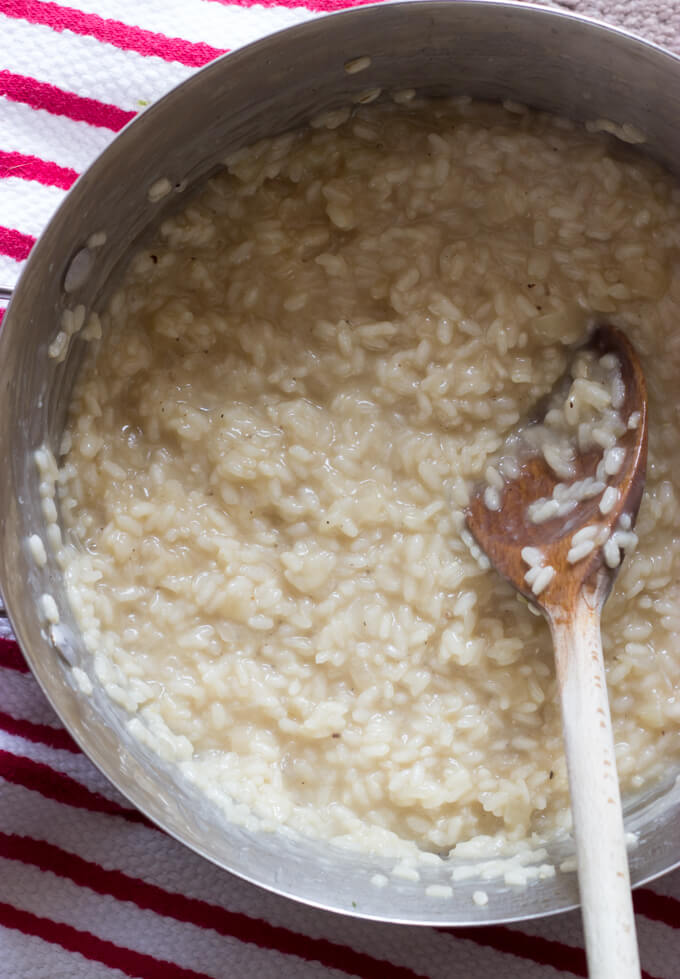 But making risotto is actually not complicated at all! It requires little bit of TLC and before you know it, you'll be enjoying a creamy, silky bowl of ultimate Italian comfort food in no time.
So today, I'm sharing a recipe for this Asparagus and Lemon Risotto + 7 tips on how to make the perfect risotto!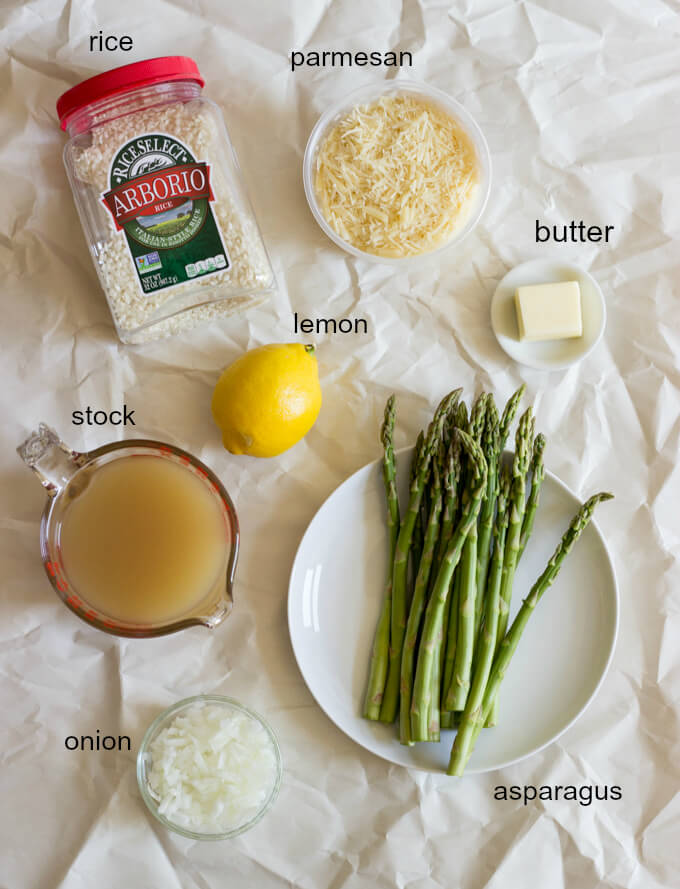 First though: What is risotto you might ask? It's simply an Italian dish of rice cooked in stock with other ingredients, such as vegetables and sometimes meat. Risotto is actually not so much of a dish but more of a technique, which I share below. The taste is creamy, silk, and honestly such a comfort food. Once you'll get a feel for making risotto, you will want to make it over and over again.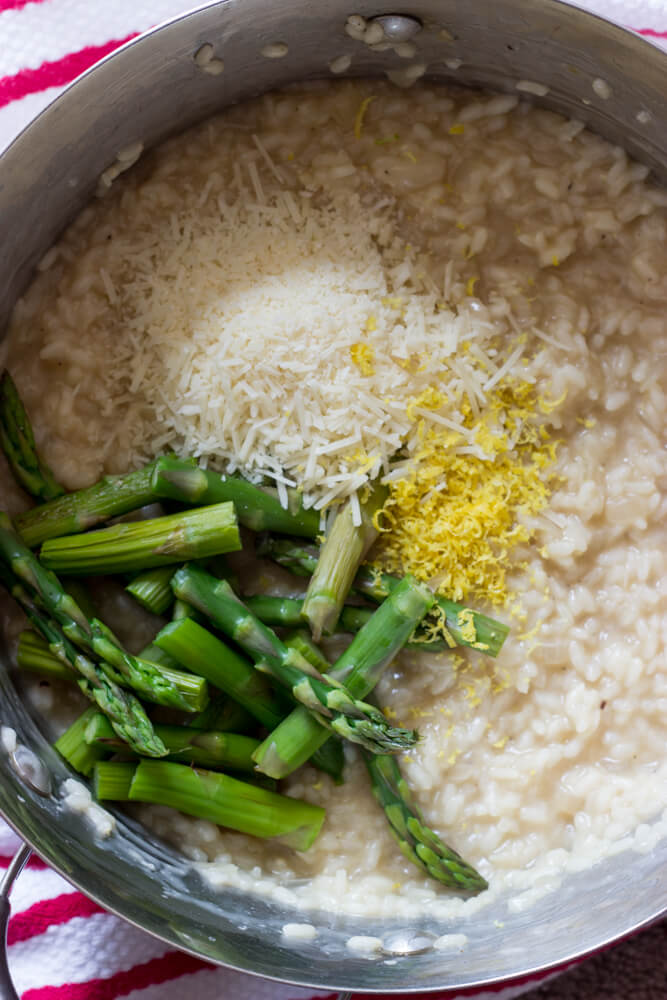 7 Tips on How to Make the Perfect Risotto:
RICE – type of rice MATTERS! Arborio rice is the most common rice of choice. It's short-grained and has a tendency to create a very thick sauce. Also no need to rinse the rise. You want all the starch.
PAN – if your pan is too wide, the rice will cook in a thin layer and won't be able to bump and grind enough to generate starch. I found that a 4-quart dutch oven works perfect for the amount of rice in this recipe.
PREP – prep everything before you begin cooking. Chop the onion, heat the stock, measure the parmesan, zest the lemon, etc. It makes the whole process much easier but more importantly risotto does not wait. It's perfect the second it is done!
STOCK – adding cold stock to the rice will briefly stop the cooking process and you don't want that. You want everything cooking at the same temperature. So, warm up the stock and keep at low heat, barely steaming. Add just enough to the rice to allow the rice to bump up against each other, creating that creamy starch. Wait until the rice absorbs all the stock to add some more.
STIRRING – risotto's creaminess comes from the starch generated when grains of rice rub against each other. Not stirring enough, will allow air into the risotto, which will cool it down and make it gluey. Also, the rice will stick to the bottom and burn. So keep on stirrin'.
HEAT – the rice should be at a medium simmer throughout the cooking. When you add stock to the rice, it should immediately begin to steam and barely simmer (for a sec).
END RESULT – saucy in texture and flow like lava if you tilt the plate is what you want in the end.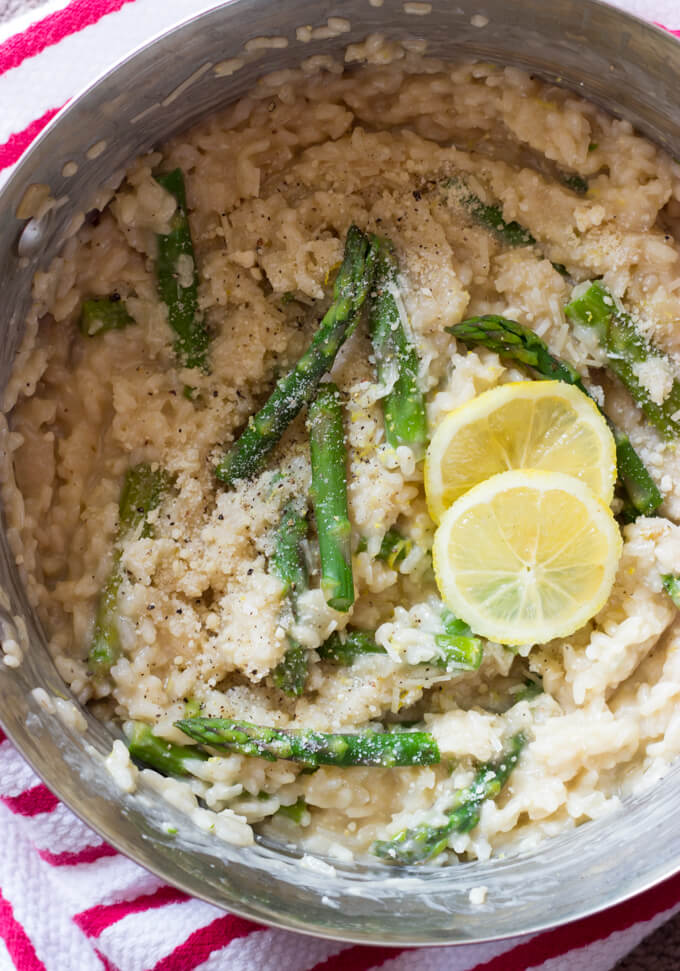 So, there you have it my friends. Tips for success + delicious risotto recipe, which by the way is the perfect spring dish. Asparagus + lemon zest totally make this dish! Now I challenge you to make your own risotto because I have faith in you my friends and when you do, please let me know ♥
Make it. Snap it. Show it. Instagram @littlebrokenblog or snapchat → littlebrokenblg
Print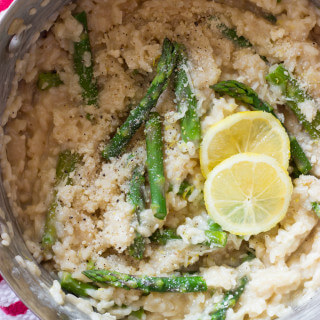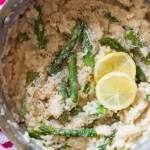 Asparagus and Lemon Risotto
Prep Time:

15 mins

Cook Time:

35 mins

Total Time:

50 mins

Yield:

4

-

6

as a side

1

x
---
1/2

pound fresh asparagus, trimmed + cut into

1

-inch pieces

1/3 cup

water

5 cups

chicken stock, divided

2 Tbsp

. unsalted butter

1

medium sweet onion, chopped

1 1/2 cups

arborio rice

1/2 cup

shredded Parmesan cheese
zest

1

medium lemon
salt and pepper
---
Instructions
In a 4-quart heavy duty dutch oven, bring water to a boil over medium high heat; add asparagus pieces, cover, and steam for 2-3 minutes or until crisp-tender. Remove immediately to a clean plate.
In a small saucepan, heat 4 1/2 cups of chicken broth over medium heat. Keep warm over low heat. It should be just barely steaming.
Meanwhile, reduce the heat to medium and in the same dutch oven melt butter. Add the onion and saute until soft, about 2-4 minutes. Add the arborio rice to the onion and stir to make sure each granule is coated with butter. Toast for 2-3 minutes, stirring frequently. You will hear a slight crackling noise.
Add the remaining 1/2 cup chicken stock and stir the rice until all of the stock is absorbed. Then start adding warm stock 1/2 cup at a time, stirring constantly after each addition. As soon as it appears that the rice has absorbed the stock, add in the next 1/2 cup of stock. In the meantime, do not stop stirring.
Continue adding stock until the rice no longer has a hard bite. Taste the rice when it gets puffy. If it still has a hard/firm bite to it, continue adding stock. This process will take approximately 20 minutes. At the end, you will have used most of the stock. You might have 1/4 cup or less of stock leftover but all depends on the brand of rice.
Risotto is ready when the rice is al dente (when it has a bit of chew) and is the consistency of thick porridge. If you run your spoon through the risotto, the risotto will flow slowly to fill in the space.
Once the risotto is ready, add the asparagus, lemon zest, and parmesan. Stir gently to combine. Remove from the heat and season with salt and pepper, to taste.
Serve immediately. The risotto will lose the creamy silkiness the longer it sits.
---