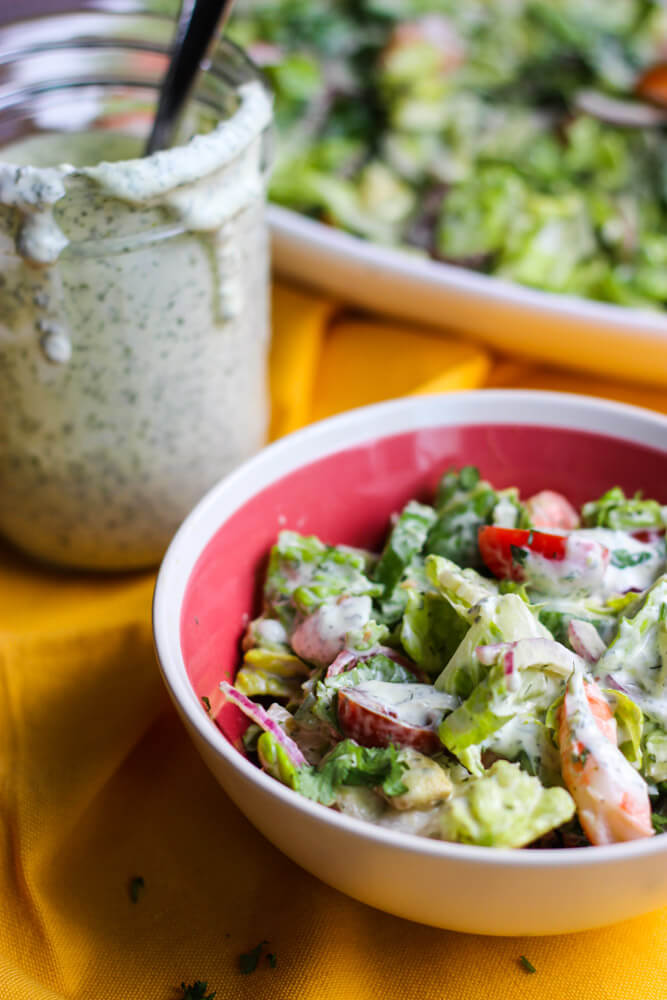 This post may contain affiliate links. Please read our disclosure policy.
Growing up, my parents had a ginormous vegetable garden and I.HATED.EVERYTHING.ABOUT.IT. Maybe because my daily chores consisted of pulling weeds or picking off berries of what seemed like never ending raspberry bushes. At age six, that seemed like a torture and I always wondered what was the point when you can go to a store and buy it all?
My parents could've but my mother was a very frugal woman. She sowed, gardened, baked, cooked, canned, made clothes, etc. At one point it was a way of providing for the family but certain things my parents carried on even when we moved to America. It was all about simple and clean type of living by having a vegetable garden and even chickens at one point. Oh, and don't forget drying of the clothes on a clothes line just because my mom loved the "smell of air dried clothes!" That was another torturous chore!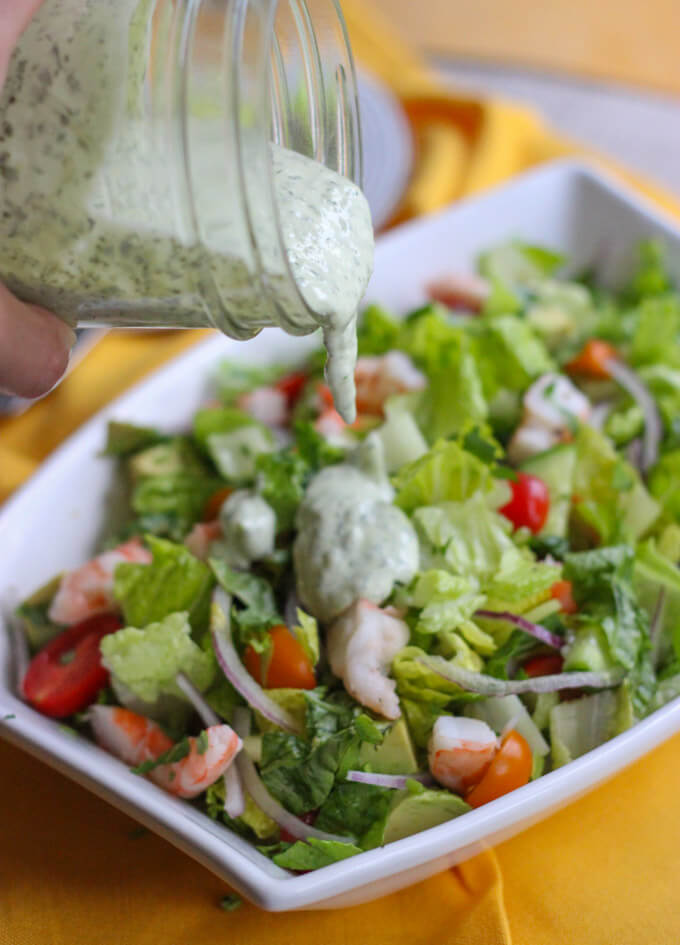 Nothing compares to a smell of freshly baked bread out of the oven or juicy, ripe tomato picked right off the vine. At age six, I didn't understand that "homemade" is so much better than store bought. Now I do and strive in every way to do the same for my family not because I have to but because I love to as it reminds me of where I came from and that simple is always better.
I grew up eating ton of different salads and vegetables. In the summer our all time favorite salad was cucumbers, tomatoes, and onions, with sunflower oil. Maybe because everything came from our garden or maybe because it was so quick and easy but either way it was delicious! Funny how we get nostalgia for certain foods and in my case there are a lot as I still make this salad every summer when I have access to farm produce.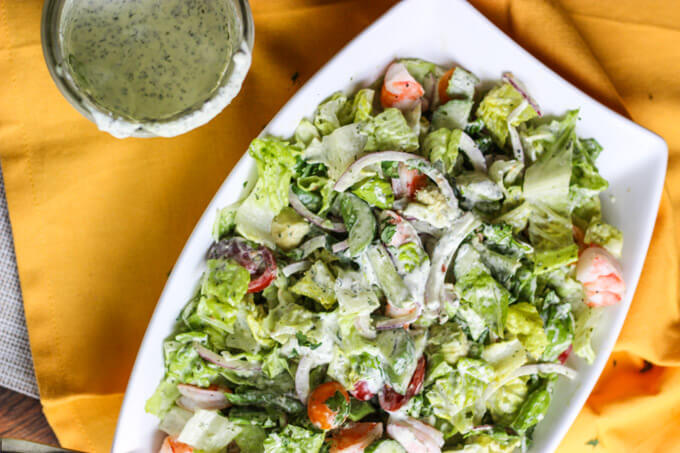 Today, salad is a must in my household, especially with dinner. Always fresh romaine, cucumbers, tomatoes, red onion, with little bit of fresh lemon juice and extra-virgin olive oil. Simple as that. I can live off of it. But even though my every day salad is simple I still love to experiment with different types of vinaigrettes and dressings (store bought is a no no) unless I'm desperate but that never happens 🙂
So this Creamy Cilantro Dressing is rich, creamy, citrusy, and fresh from the cilantro and dill. It definitely gives a simple salad a little makeover.
Avocado and Shrimp Chopped Salad is a combination of some of my favorite flavors: cucumbers, tomatoes, red onion, and avocado. I added sautéed shrimp to give a little bit of a protein boost. If you're not a seafood lover, grilled chicken would be another alternative.
Happy Monday!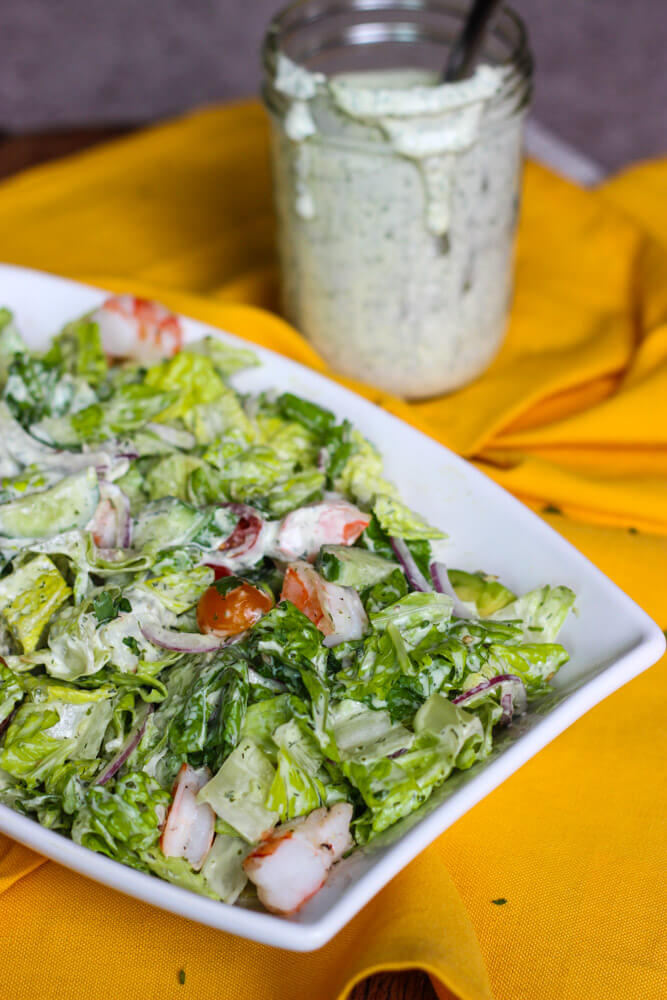 Print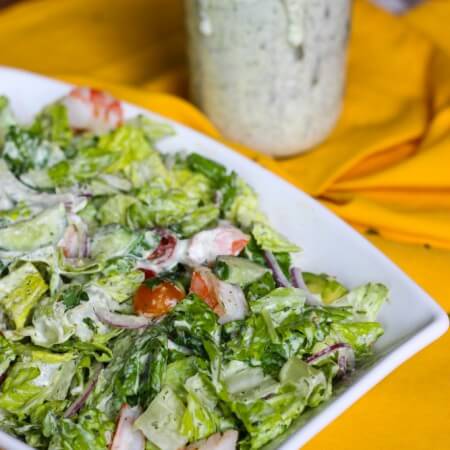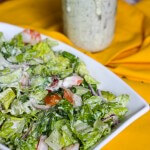 Avocado and Shrimp Chopped Salad with Creamy Cilantro Dressing
---
Scale
Ingredients
Dressing
3 Tbsp

. sour cream

2 Tbsp

. mayo

3 Tbsp

. extra-virgin olive oil

2 Tbsp

. cilantro, chopped

1 Tbsp

. dill, chopped

2

cloves garlic

1/4 tsp

. dry mustard

1/4 tsp

. sea salt
juice of

1

small lemon
Salad
1

lb. raw shrimp (21-25), peeled and deveined

4

–

6

cups romaine lettuce, chopped

1/2 cup

red onion, thinly sliced

2

baby cucumbers, halved and sliced

1 cup

assorted cherry tomatoes, halved (I used red, dark red, and orange)

1

avocado, diced
juice of

1/2

lemon
extra-virgin olive oil
salt & pepper
---
Instructions
Dressing
Place all dressing ingredients in a bowl of food processor and process until smooth.
Salad
Toss shrimp with oil just enough to coat, lemon juice, and lightly season with salt and pepper.
Add shrimp to a large skillet and saute over medium-high heat until pink, about 1-2 minutes per side. Transfer to a cutting board. Cool enough to handle and chop into bite-size pieces.
Combine lettuce, onion, tomatoes, cucumbers, and avocado in a large bowl. Add the shrimp and dressing; toss to coat. Adjust salt and pepper, if need to.
---