Grilled Orange Chicken
Grilled Orange Chicken is an Asian-inspired dish with chicken thighs, zesty marinade, and hot sauce. It's a tasty family favorite meal that can be paired with quick and easy summer side dishes.
What is Grilled Orange Chicken?
This Asian grilled chicken recipe is perfect for a busy weeknight meal made with a citrusy chicken marinade. 
Similar to our honey lime chicken thighs recipe, this sauce is made from scratch with orange juice, soy sauce, and a touch of hot sauce. Allowing the chicken to rest in the marinade overnight makes the chicken juicy, tender, and incredibly tender.
Chicken thighs work well because they absorb the flavors nicely and are perfect for grilling.
Ingredients
Here are the ingredients for this healthy homemade orange chicken.
Chicken thighs: Thighs are best for grilling since they stay juicy and don't dry out as quickly as chicken breasts.
Orange juice: Use pulp-free orange juice in the marinade.
Soy sauce: You can use low-sodium soy sauce if you'd prefer.
Olive oil: I also like using avocado oil for this marinade.
Garlic: Mince the garlic so it covers the most chicken while marinating.
Paprika: Paprika gives this chicken a sweet and peppery taste.
Hot sauce: Use your favorite hot sauce like Tobasco, Sriracha, or Cholula.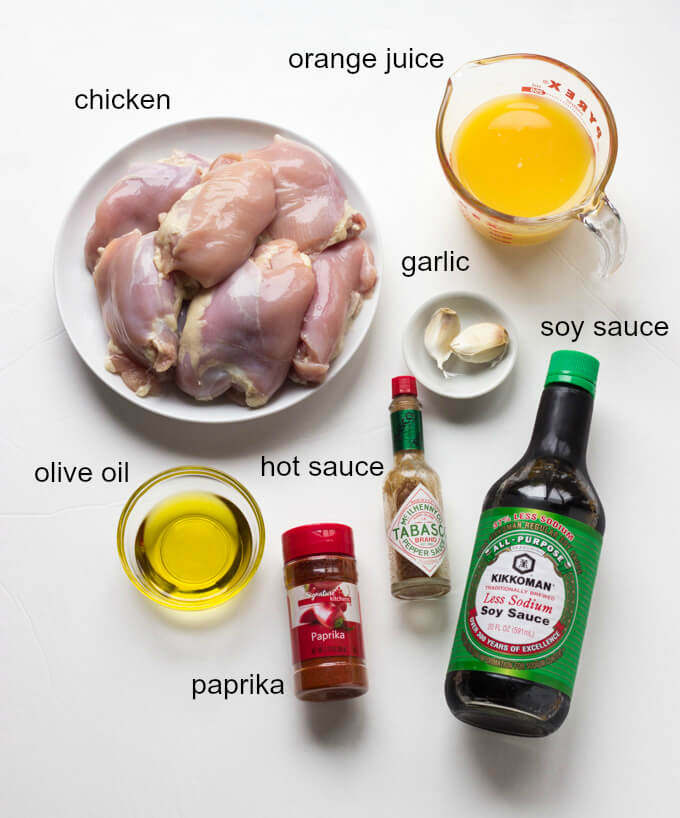 Other Kinds of Chicken to Use
This recipe uses chicken thighs, but you can also use chicken breasts, wings, or legs.
You can also make this dish into kabobs by slicing chicken breasts into two-inch pieces and putting them on a skewer to grill. This makes the chicken easier to eat, especially for kids.
To grill the chicken: Remove the chicken from the marinade and grill until cooked through, about 12-15 minutes. Discard the marinade.
Other Ways to Cook This Chicken
While it's easy and tasty to cook orange chicken on the grill, there are other ways you can cook it to get different flavors and textures.
Use the smoker to make your chicken smokey with a subtle citrus flavor.
Cook the chicken in a slow cooker to make it incredibly tender.
The instant pot is another excellent alternative. Be sure there is enough liquid in the pot, so it doesn't burn.
Cook the chicken on the stovetop by sautéing it first, then finish cooking in the oven. This ensures the outsides are crispy and the inside is moist and tender.
If it's too cold (or hot) outside to use the grill, you can use the air fryer instead. This will produce a crispy exterior and a tender interior.
A grill pan is another great option if you don't have an outside grill.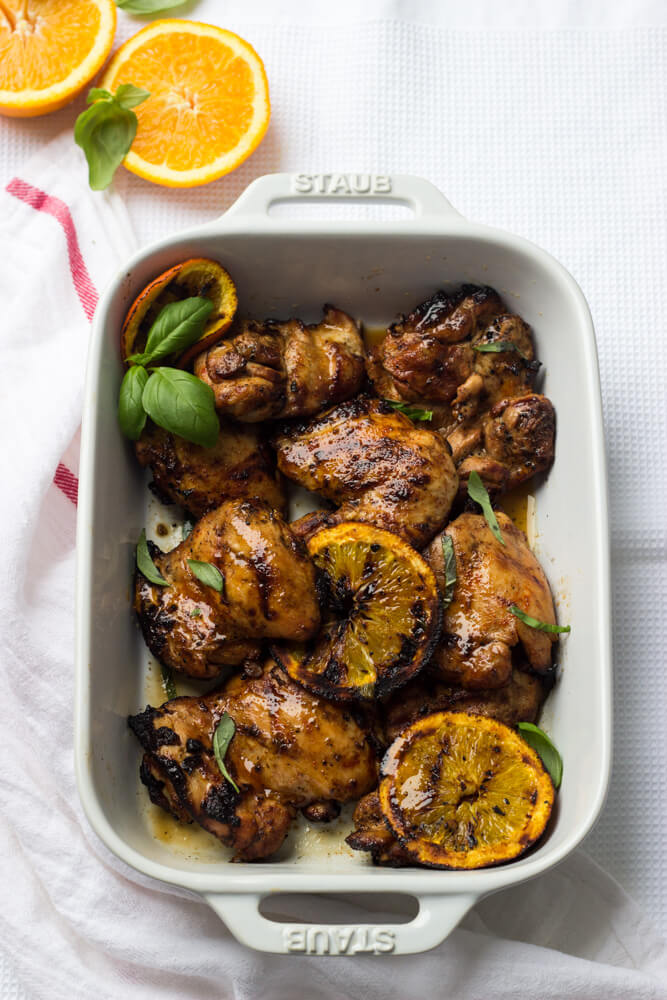 Recipe Variations
This chicken recipe is delicious as it is, but it's easily adaptable to fit your tastes and preferences. Here are some other options that you can use to make this grilled chicken.
Add these ingredients to the marinade for a different flavor or texture:
Dijon mustard gives this dish an extra tangy taste.
Ginger is an excellent complement to the other Asian flavors in this dish.
Rice vinegar balances the sweet flavor of the orange juice.
Curry powder gives this dish an Indian flair.
Crushed red pepper is a great substitute for hot sauce.
Honey adds a little extra sweetness to the chicken.
Orange zest really levels up the orange flavor.
Chili powder gives this dish a Mexican flavor profile.
To Store
If you have any leftover chicken, store it in an airtight container in the refrigerator for up to three days.
You can freeze this chicken after it's cooked, but it's even better to prep it ahead of time and freeze the ingredients in separate bags. Then, when you're ready to make it, you can thaw the bags and cook!
Simply defrost frozen chicken in the fridge overnight until it's thawed.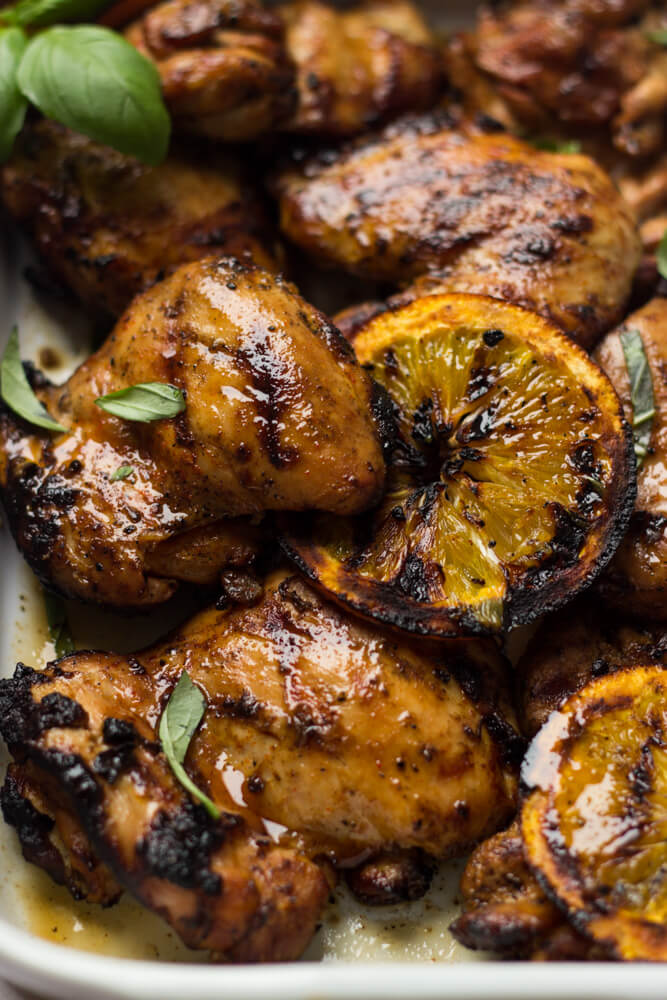 FAQs
Is orange sauce the same as duck sauce?
Orange sauce and duck sauce are the same in Chinese cooking, but this dish uses an oil-based marinade. 

This orange sauce is not the same as duck sauce. Duck sauce is made with cornstarch and is sweet and tangy, while this orange sauce is actually a marinade that the chicken sits in overnight.  
How long should I marinate orange chicken?
It's best to marinate chicken thighs overnight to give them plenty of time to soak up the flavors. 

If you're in a time crunch, marinate them for at least 30 minutes.
Is orange chicken spicy?
This grilled orange chicken recipe is not spicy at all. You can adjust the hot sauce to make it spicier. Use your favorite hot sauce or red chili flakes. 
More Grilled Chicken Recipes
Video: How to Make Grilled Orange Chicken
Print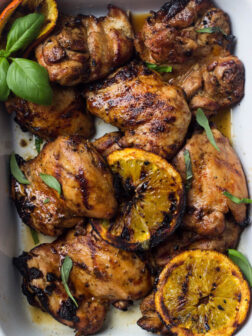 Grilled Orange Chicken Recipe
Author: Katya
Prep Time: 5 mins
Cook Time: 15 mins
Total Time: 20 mins
Yield: 4-6 1x
Category: Main
Method: Grill
Cuisine: American
---
Description
This grilled orange chicken is juicy and tender after being marinated in a simple yet flavorful orange marinade. It's a family favorite that never disappoints.
---
2 lbs. boneless, skinless, chicken thighs
1 cup orange juice, pulp free
1/2 cup low-sodium soy sauce
1/4 cup extra-virgin olive oil
2 medium cloves garlic, minced
1 Tbsp. paprika
A couple of dashes of hot pepper sauce
Black pepper, to taste
---
Instructions
For the marinade: In a medium bowl, whisk orange juice, soy sauce, olive oil, garlic, paprika, and hot pepper sauce. Add chicken and toss to coat. Cover tightly with plastic wrap and marinate at least 4 hours up to overnight in the refrigerator.
To cook the chicken: Pre-heat the grill on medium-high heat. Add chicken and grill until cooked through, about 12-15 minutes. Discard the marinade. Rest chicken for 5-7 minutes before serving.
---
Notes
Leftovers: Store leftover grilled chicken in an airtight container for up to 3 days.
Seasoning: I never add salt to this marinade as I find the chicken to be seasoned just enough from the soy sauce.
Nutrition
Serving Size: 1 chicken thigh
Calories: 301
Sugar: 4.1 g
Sodium: 1486.2 mg
Fat: 15.8 g
Carbohydrates: 6.7 g
Protein: 32.8 g
Cholesterol: 142 mg
Keywords: grilling, easy, chicken thighs
Recipe was originally published May 2016