Brioche French Toast
Brioche French Toast is a classic breakfast dish that's fluffy, golden, and oh-so-decadent. If you're a fan of sweet, buttery bread and warm maple syrup, you're in for a treat. It's easy to make and perfect for impressing your family or guests.
The Secret to Better French Toast? Brioche
So, you know how French toast is usually made by soaking bread in a mixture of milk and eggs, then frying until it's crispy and golden brown? Well, here we take it to the next level by using brioche – a fancy French pastry bread made with extra eggs and butter.
The result is similar to bread pudding where it soaks up a custard for a creamy texture on the inside and a slightly crunchy texture on the outside.
This upgrade results in the more luxurious Brioche French Toast – a richer, fluffier version of the classic dish. It's my go-to special breakfast when I want to add a touch of elegance to a special occasion like Easter brunch, Christmas morning, or Mother's Day.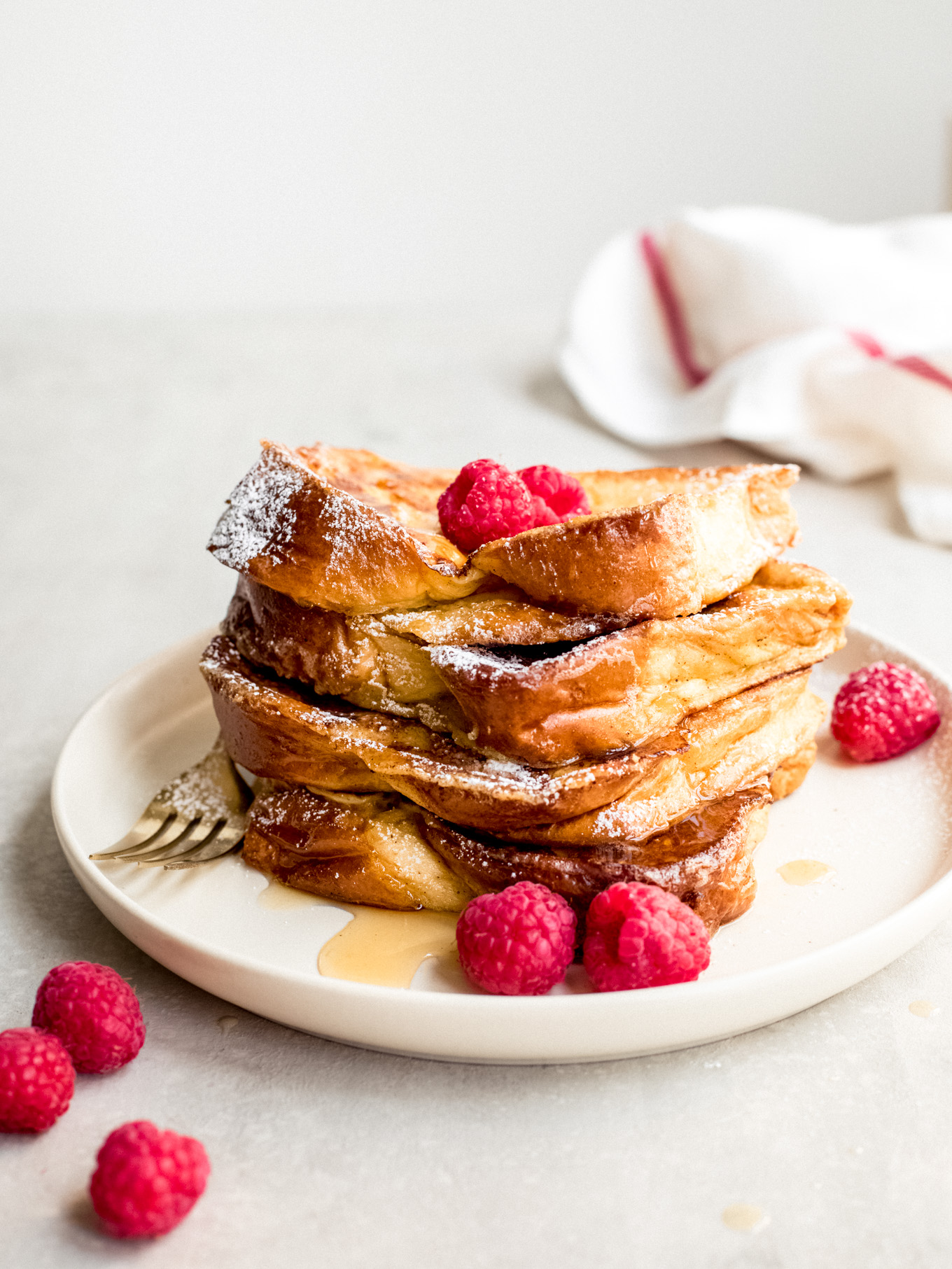 Ingredients
Everything you need to make Brioche French Toast recipe should be available at your local grocery store:
Brioche: It's like bread but fancier! It's made with extra eggs and butter, making it fluffier and more indulgent.
Large eggs: The glue that holds everything together! They give the French toast its structure and help it get all crispy and golden brown.
Heavy cream: Adds some extra creaminess and richness to the egg mixture.
Milk: Helps balance out the richness of the eggs and cream, so you can enjoy all the flavors without feeling overwhelmed.
Kosher salt: To balance out the sweetness.
Vanilla extract: Adds floral and warm taste to the French toast.
Cinnamon: A classic spice that adds a slight warmness.
Maple syrup: A deliciously sweet addition that gives the French toast a caramel-y flavor that goes perfectly with the rich brioche and eggs.
Butter: For cooking the French toast.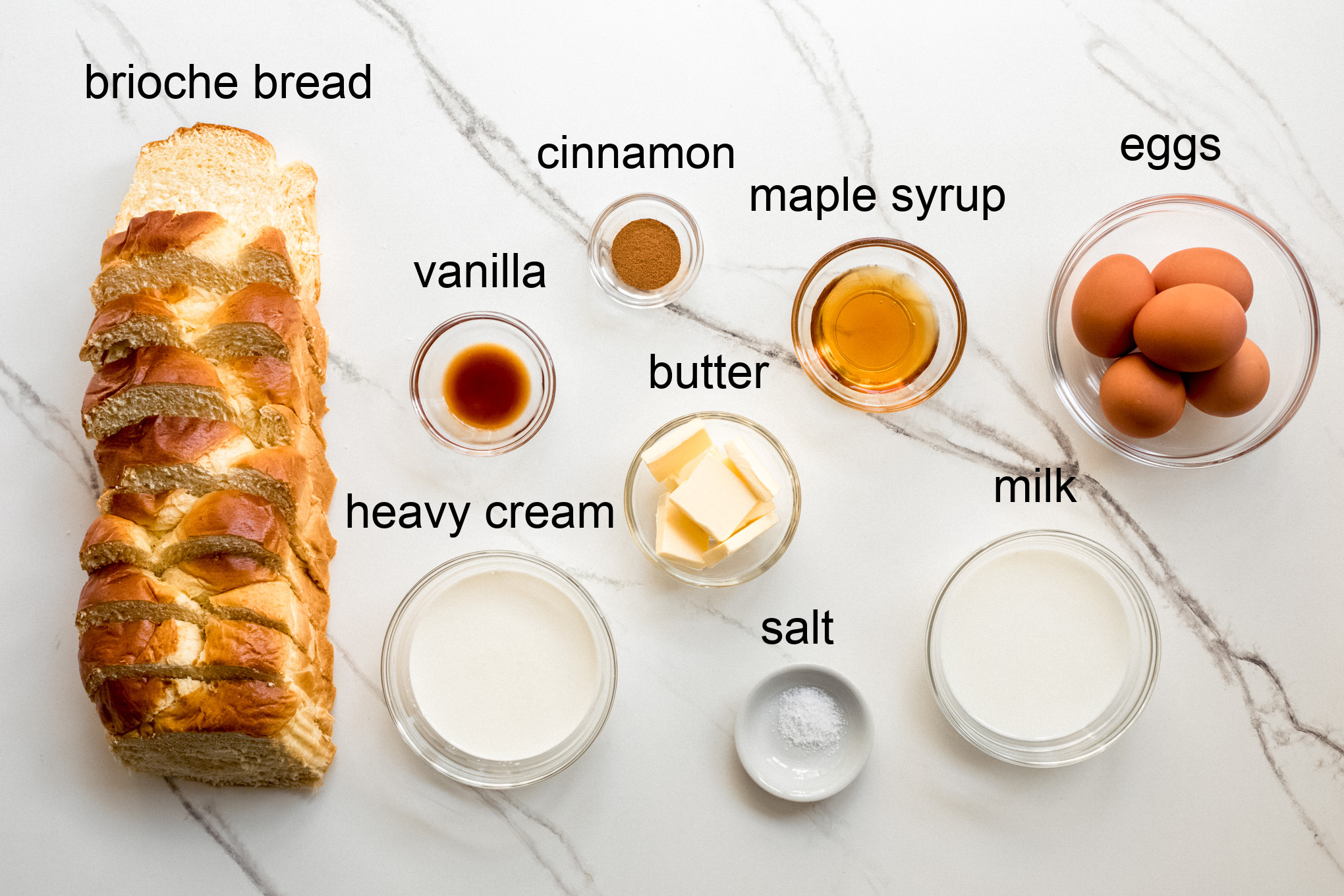 How to Make French Toast with Brioche Bread
With this easy French toast recipe, you'll be indulging in this luxurious breakfast treat in no time. Just follow these simple instructions, and refer to the recipe card below if you need more help.
Whisk eggs, cream, milk, salt, vanilla, cinnamon, and maple syrup in a large bowl.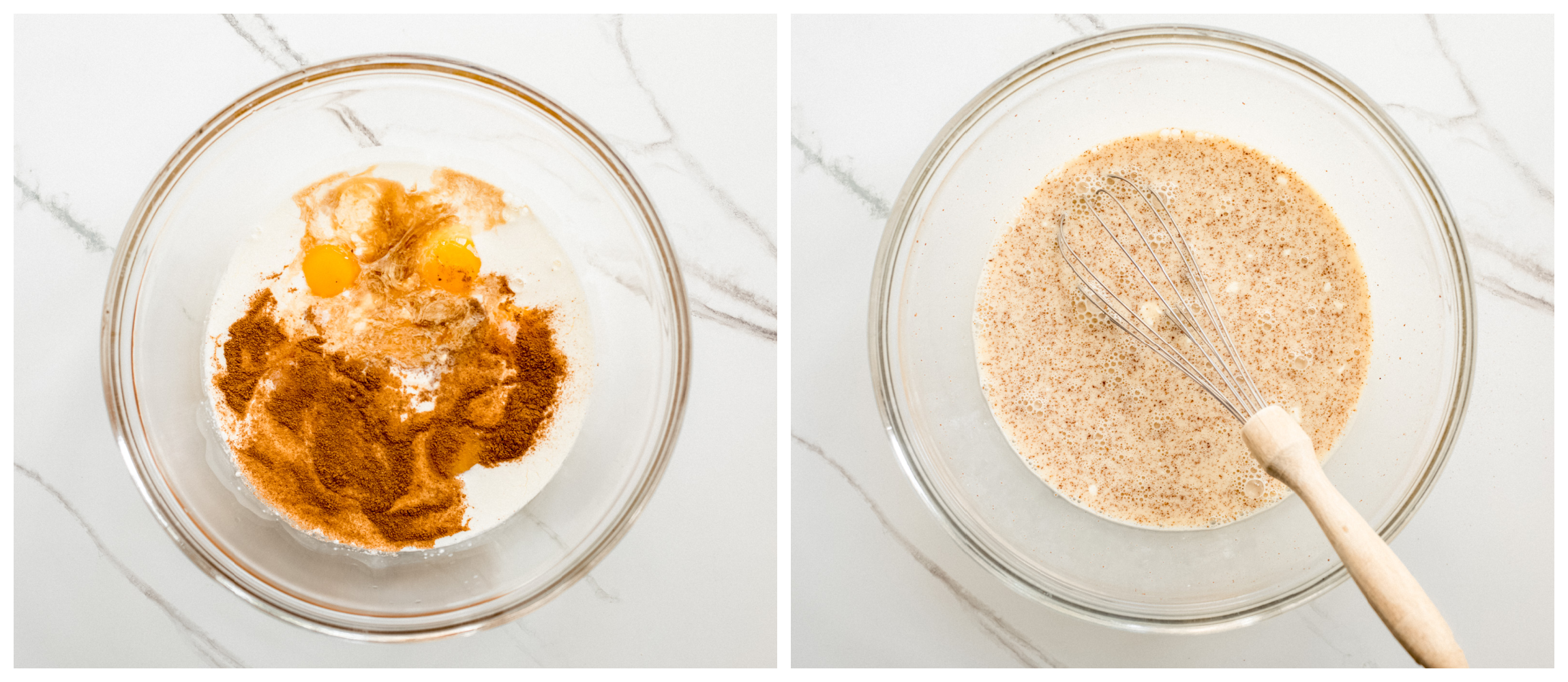 Dip a slice of brioche bread in the custard mixture. Soak for about 20 seconds on each side, and let the excess drip back into the bowl.
Prep Tip! How do you know when your brioche has soaked up enough of the egg custard? It should feel fully saturated but not falling apart, similar to a heavy wet sponge.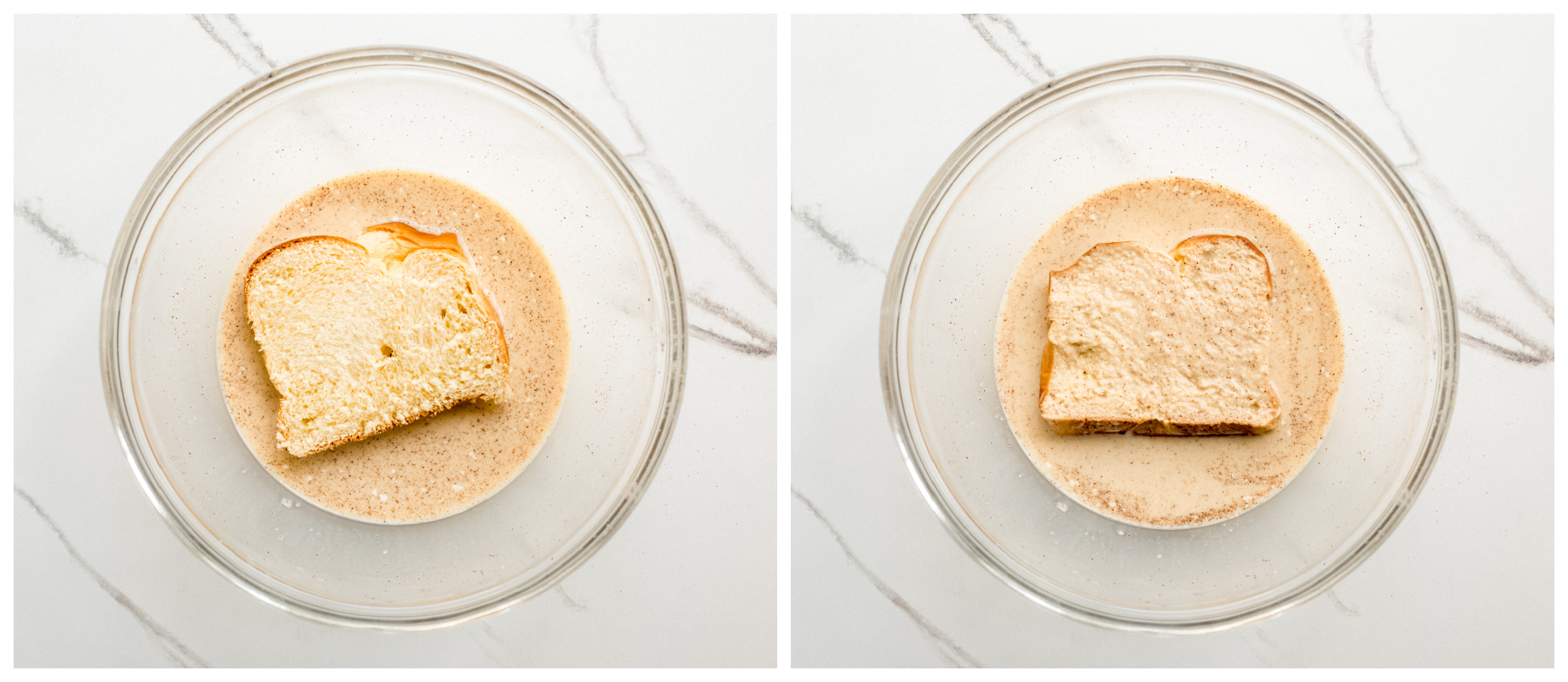 Melt butter in a skillet over medium heat and place the coated brioche in the hot skillet. Cook for 3-4 minutes on each side until golden brown. Transfer to a plate and repeat with the remaining slices.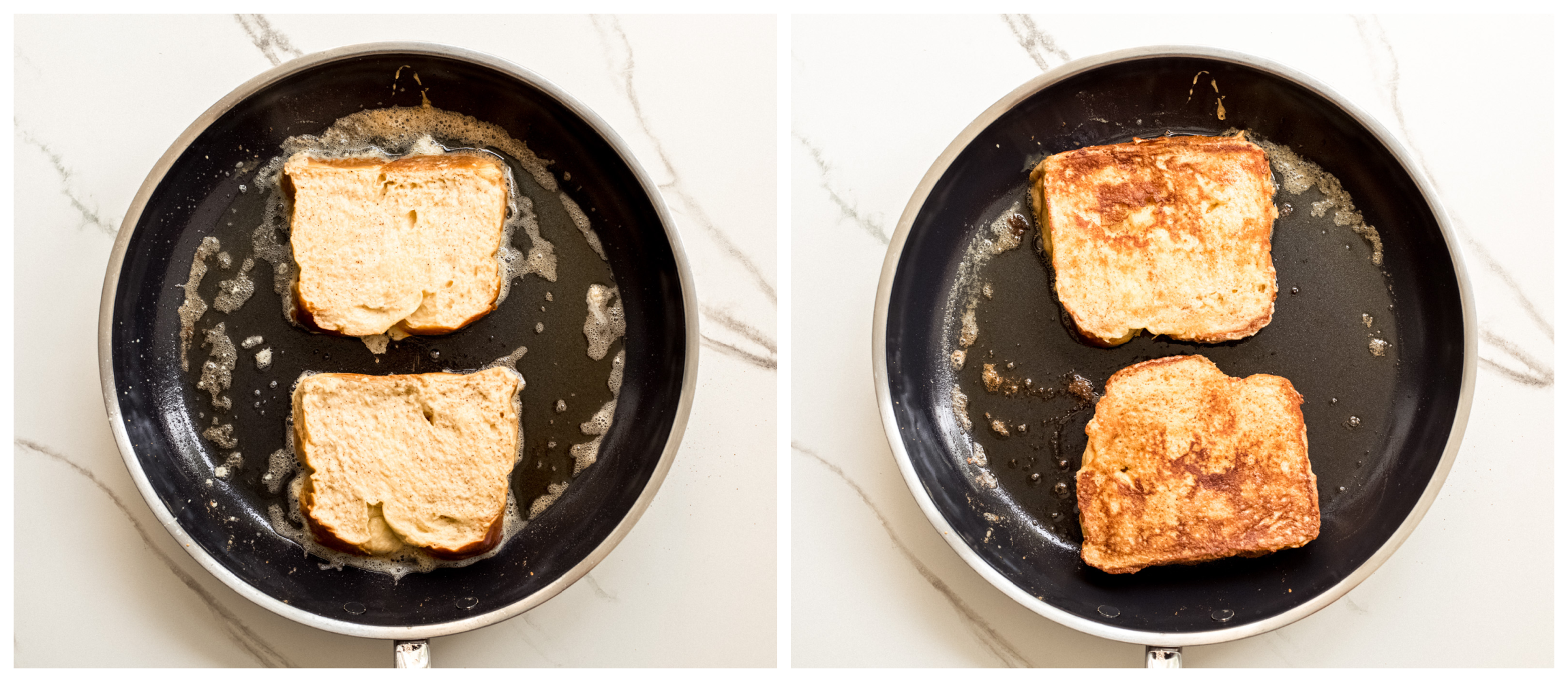 Serve with maple syrup and fresh berries and any other toppings of your choice.
How to Keep French Toast Warm
If you're making a large batch of French toast, you can keep your cooked slices warm by placing them on a baking sheet in a heated oven at around 250-275°F while you finish cooking the rest.
This'll keep the slices warm until you're ready to serve them all together.
Expert Tips
Here are some expert tips that are sure to take this easy French toast recipe to the next level:
Stale is the way to go: Use slightly stale brioche bread to get that fluffy texture. It soaks up the egg mixture like a sponge and won't fall apart like fresh bread.
Soak it up: Be sure to soak the bread in the egg mixture for at least 20 seconds on each side. This way, your bread will soak in 100% of that eggy goodness for a soft custardy center.
Don't be a crowd-pleaser: Cook 2-4 slices at a time to avoid overcrowding the pan – leave plenty of space between each slice. This way, you'll get the best texture with no sogginess.
Butter makes it better: Don't skimp on the butter! Add more as needed to the pan to get those crispy edges and that golden brown perfection. Also, make sure your butter is hot and foaming before you add brioche slices.
Half and half hack: No heavy cream or milk on hand? No worries! Substitute them with 1 cup of half and half for an equally creamy and delicious mix.
Say no to low-fat: The key to a thick custard mixture is using a combination of heavy cream and whole milk. I do not recommend using any lower-fat dairy alternatives in this recipe.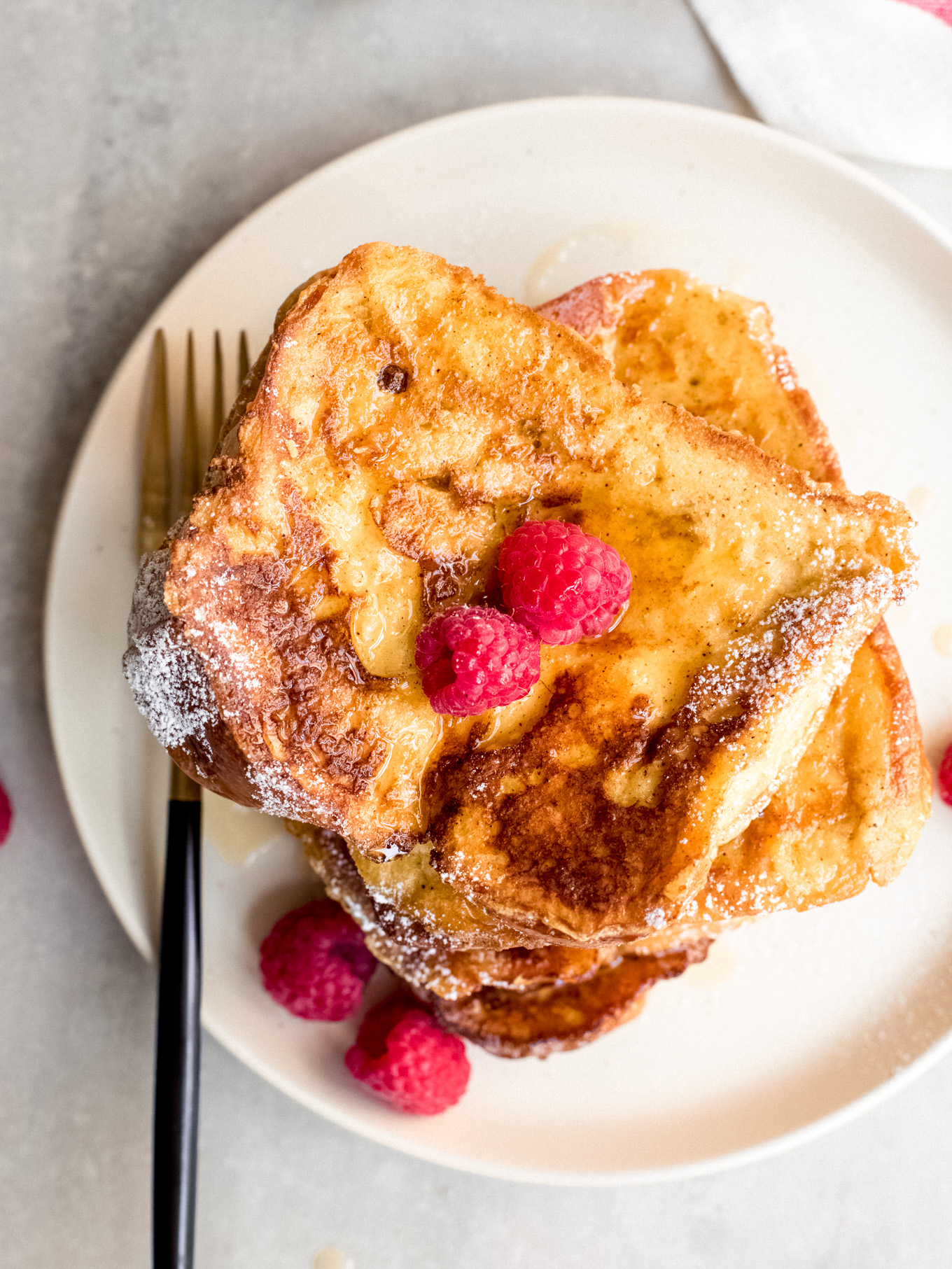 Serving Tip! If serving French toast with maple syrup, bring the syrup to room temperature or warm it before serving so it doesn't cool off your toast.
How to Serve
You've nailed the perfect French toast, now it's time to enjoy it to the fullest! Here are some suggestions for serving it up:
Maple Syrup: Classic and simple, a drizzle of maple syrup over your French toast is always a good idea. For an extra indulgent touch, try warming the syrup slightly before serving.
Nutella: Who doesn't love the combination of chocolate and hazelnut? A generous spread of Nutella is sure to satisfy any sweet tooth.
Berries: Fresh berries add a pop of color and flavor to your French toast. Try topping with sliced strawberries, blueberries, or raspberries, with a sprinkle of powdered sugar.
Caramelized Bananas: Simply cook sliced bananas in a mixture of butter and brown sugar until they're soft and gooey, then top your toast with this decadent mixture.
Powdered Sugar: Let your toasted brioche speak for itself – a dusting of powdered sugar is all you need. Simple, yet elegant.
Take these ideas as a starting point and make them your own! Fresh strawberries with chopped almonds and a sprinkle of cinnamon sugar? Nutella and sliced bananas with a sprinkle of sea salt? The possibilities are endless – have fun with it!
Frequently Asked Questions
Can I use regular bread?
Well, technically, you could. But let's be honest, brioche is the real star of the show here. It's got that rich, buttery texture that really takes French toast to the next level. 

You'll also find that it's much sturdier than the usual bread – so it can hold up to the egg mixture better, without turning too soggy.
How do I get it to be crispy on the outside and fluffy on the inside?
Let me break it down for you – the key to getting that perfectly crispy French toast is two-fold: using enough butter and frying it at the right temperature. 

It's important to make sure your butter is hot enough before adding the bread to the pan, or else you'll end up with a greasy mess. Look for those little bubbles in the butter to know it's ready, but don't let it burn! If you need to take the pan off the heat for a minute to cool down, go for it. 

As you're cooking, remember to add more butter as needed. Oh, and one more thing – don't be shy with the egg mixture! Make sure that bread is fully coated in the egg mixture for a soft custardy center.
How many slices will I get from a loaf of brioche?
A loaf of brioche that is about 14 ounces will usually give you about 8-9 (3/4″ to 1″ thick) slices. If you're feeling a little more indulgent, you might want to aim for thicker slices instead. Just keep in mind that thicker slices will take a bit longer to cook.
Why is my Brioche French Toast soggy?
There could be a few reasons for this. First off, you might be using brioche that's a little too fresh. Use stale brioche that's at least a day old – it'll hold together better.

Also, if your pan is too hot, the outside of the bread might cook too quickly while the inside stays soggy. Try lowering the heat a touch and see if that helps.
More Breakfast Ideas
Print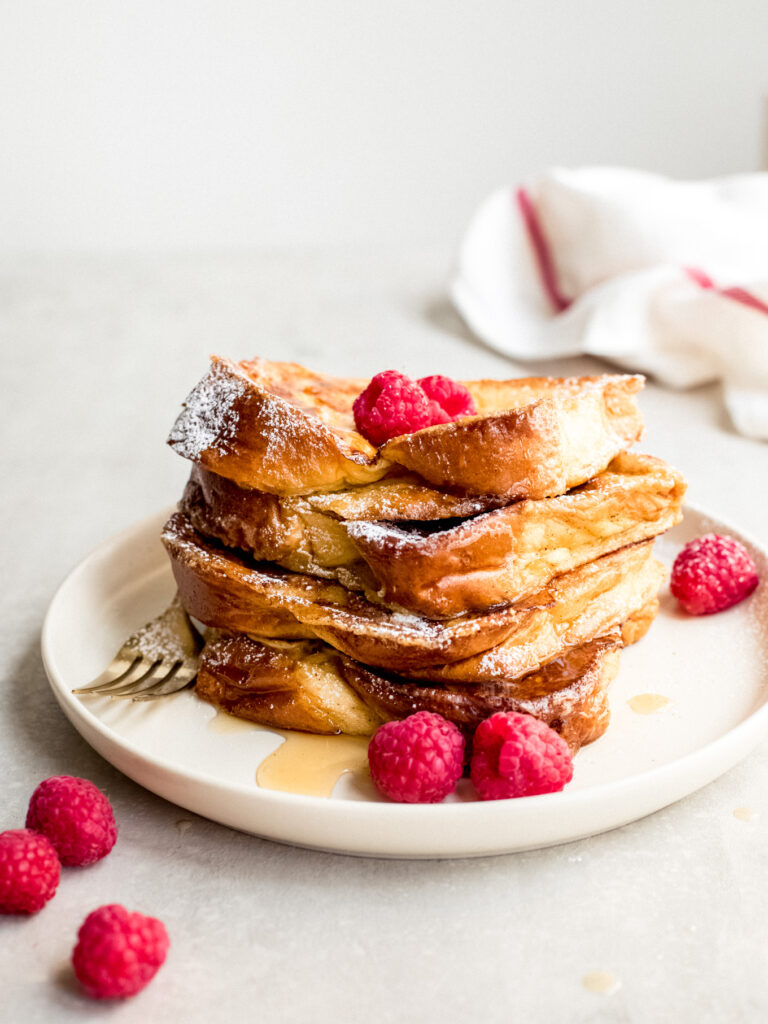 Brioche French Toast
Author: Katya
Prep Time: 15 min
Cook Time: 30 min
Total Time: 45 minutes
Yield: 6-8 1x
Category: Breakfast
Method: Stovetop
Cuisine: American
---
Description
Brioche French Toast is a classic breakfast dish that's fluffy, golden, and oh-so-decadent. If you're a fan of sweet, buttery bread and warm maple syrup, you're in for a treat. 
---
8–9 (3/4″ to 1″ thick) slices of brioche bread
5 large eggs
1/2 cup heavy cream
1/2 cup milk, preferably whole milk
1/4 tsp. kosher salt
2 tsp. vanilla extract
1 tsp. ground cinnamon
1 1/2 Tbsp. pure maple syrup
3–4 Tbsp. unsalted butter
---
Instructions
In a large bowl, combine the eggs, cream, milk, salt, vanilla, cinnamon, and maple syrup. Whisk the mixture until well blended. If you like, transfer to a shallow dish.
Melt about 2 tablespoons of butter in a large skillet over medium heat. You may need to lower the heat after the first batch if the toast begins to brown too quickly.
Working with 2-4 slices of brioche bread at a time or as many as you can fit into your skillet without touching. Dip each brioche slice in the egg mixture and allow to soak for about 20 seconds on each side.  It should feel heavy like a wet sponge but not a soaking wet sponge. Allow the excess to drip back into the bowl.
When the butter has melted and begins to foam, add the coated brioche to the pan. Cook for 3-4 minutes on each side or until golden brown. The first batch will require about 4 minutes on each side but as the pan gets hot the subsequent slices will require about 3 minutes on each side.
Transfer to a plate and repeat with the remaining brioche slices. Add more butter to the pan as needed. 
Serve with maple syrup and other toppings of choice, such as fresh berries, whipped cream, or powdered sugar.
---
Notes
Brioche Bread: Brioche is made with extra eggs and butter for a soft, lightly sweet, rich bread. It can be found at most grocery store bakeries. Buy a loaf and slice it yourself. Do not use pre-sliced bread as it will be too thin. I used a 14-ounce loaf for this recipe, which I was able to slice into 8-9 (3/4-inch thick) slices. Feel free to leave the ends or lightly trim them off. If possible, use stale bread.
Heavy Cream/Milk: You can substitute heavy cream and milk with 1 cup of half and half. I do not recommend lower-fat alternatives or plant-based milk, otherwise, your custard mixture will not be thick enough.
Keeping French Toast Warm: Preheat the oven to 250-275F and transfer the cooked French toast to a baking sheet in a single layer to keep warm in the oven as you cook the next batch.
Nutrition
Serving Size: 1 slice
Calories: 270
Sugar: 4.4 g
Sodium: 281.6 mg
Fat: 13 g
Carbohydrates: 27.9 g
Protein: 9.4 g
Cholesterol: 161.8 mg
Keywords: french toast, mother's day, brioche french toast