Chili with Rice
Creamy chicken chili with rice made with tender chicken thighs, white beans, and flavorful creamy broth, then served over cooked rice with fresh salsa and green onions.
Love comforting meals? Try our Turkey Quinoa Chili.
There is something about a big bowl of chili that warms your soul and tastebuds, and chili with rice is so comforting. It'll fill you up and offer some of the best flavors.
This white chili recipe has chicken, white beans, and a rich broth, then served over rice for a hearty meal. I love topping it with pico de gallo and fresh green onions for a crunchy, zesty bite.
I love a good chili, and I have a bunch of great recipes for you to try. Check out my Fall favorite chili recipes like this leftover turkey chili made with leftover turkey or a hearty pumpkin chili.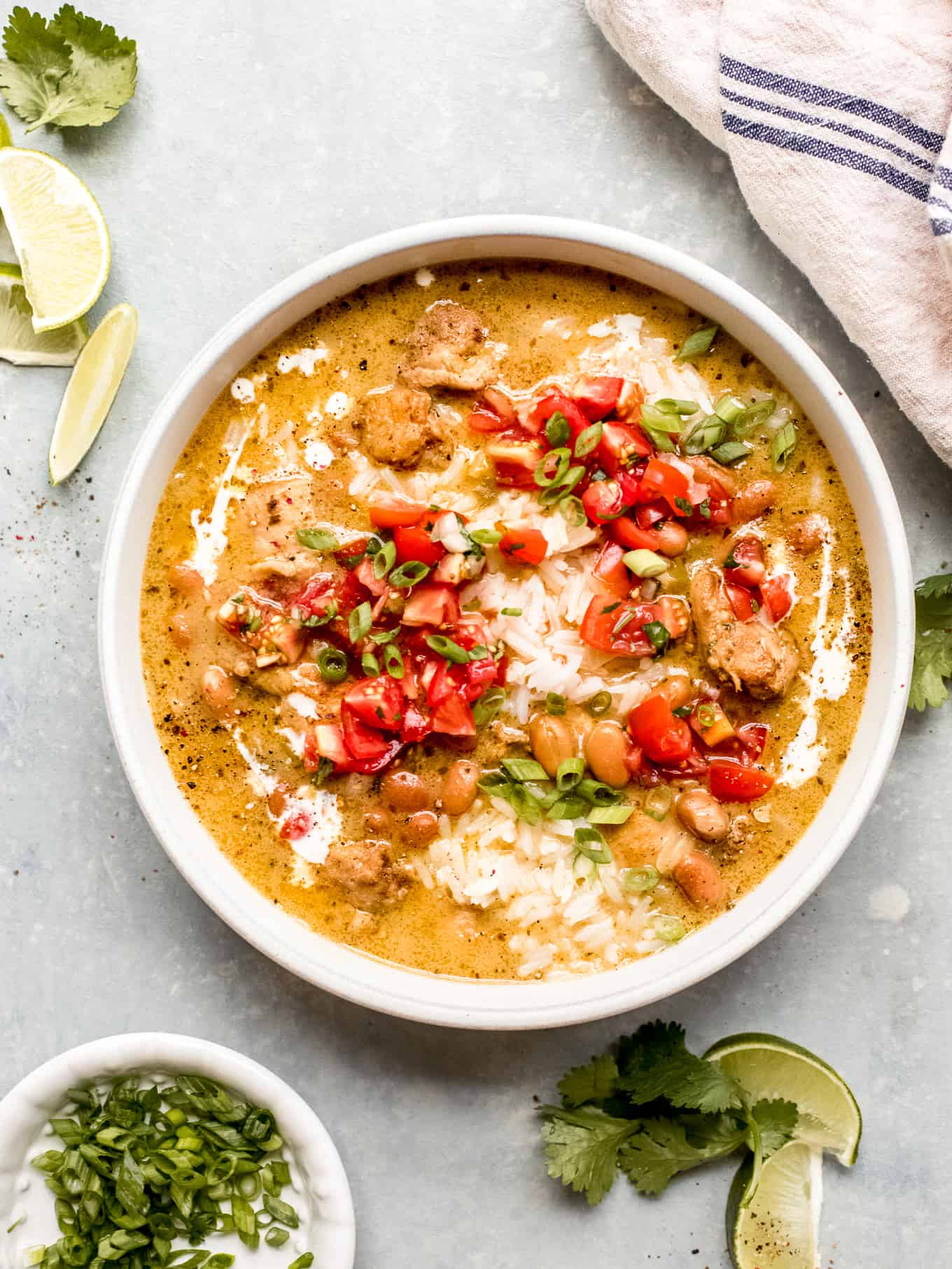 Why I Love Chicken Chili with Rice
It's a big bowl of comforting goodness – The spices with the rich, creamy sauce soak into the rice, infusing it with some great flavor.
One pot chili plus rice – Not to be deceiving, but this is a one-pot chili recipe with the rice made on the side.
Wholesome and hearty – It has all the best flavors of chili with a creamy sauce, tender chicken, and smooth beans and is made more robust by serving it over rice.
Freezer-friendly and great for leftovers – This chili is perfect for freezing to enjoy again for dinner on another day.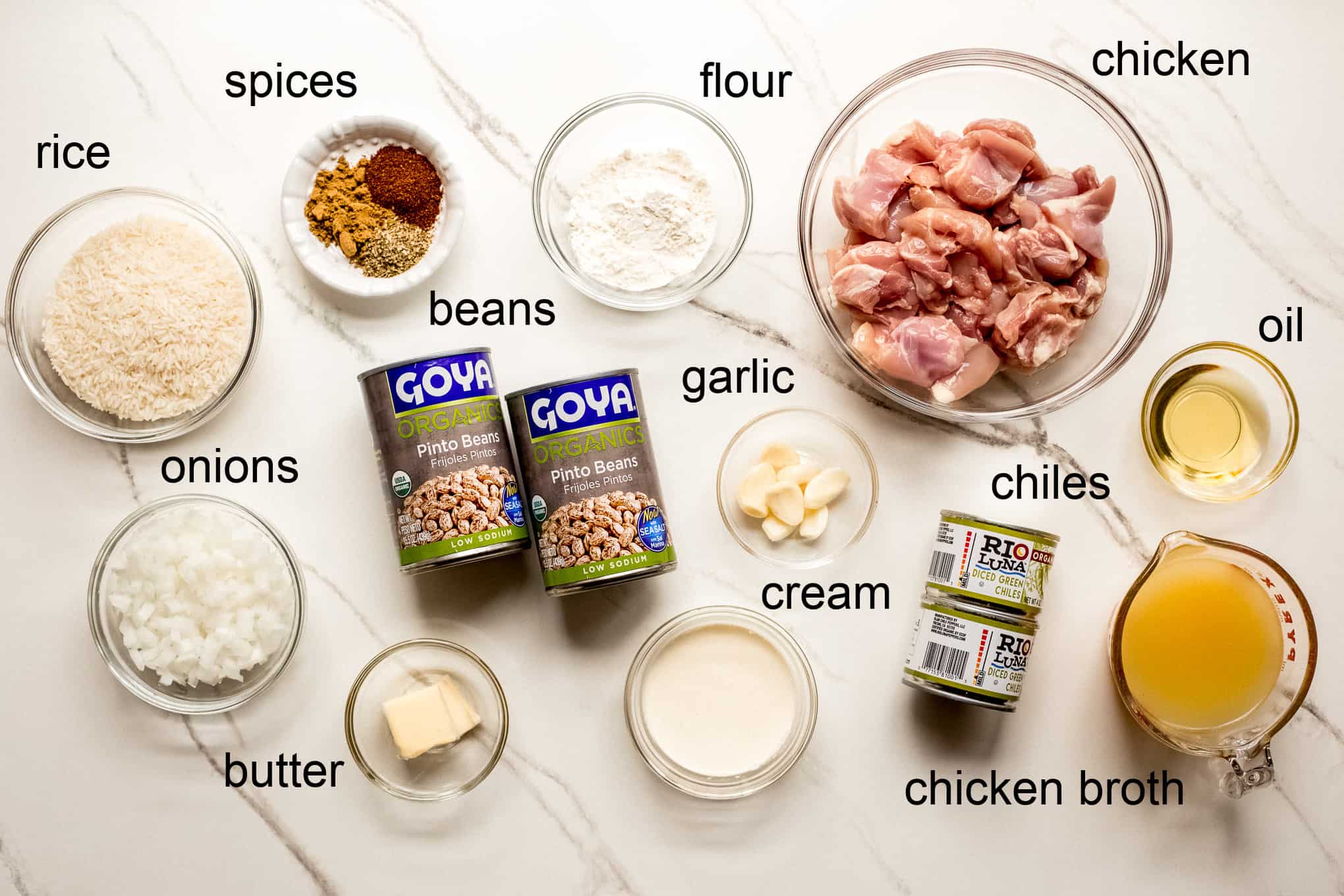 Ingredients
This chili recipe with white beans and chicken comes with simple ingredients for a super tasty meal.
Chicken – I like to use boneless chicken thighs as they do not dry out and the meat turns out incredibly tender.
Avocado oil – use whichever oil you prefer, just make sure it can handle high heat.
Butter – I like to use unsalted butter so I can control the salt.
Onions – sweet onions are milder, whereas yellow or red onions have a more robust flavor.
Garlic – this is easily one of my favorite aromatics for any recipe.
All-purpose flour – the flour helps thicken the sauce of the chili.
Canned chiles – Look for chiles that are mild and not hot.
Pinto beans – these beans have a creamy and nutty taste. They work great in chunky chili. Other options would be Great Northern or Navy beans.
Chicken broth – or you could also use vegetable stock.
Heavy cream – this gives you the best rich and savory chili. Substitute for half and half, coconut or nut milk, though some will not be as rich and creamy.
Seasonings – cumin, chili powder, oregano, salt, pepper
You'll also need white rice, pico de gallo, and sliced green onions for serving.
See the recipe card for quantities.
How to Make Chili with Rice
Chili is one of those recipes that you don't have to overthink and can enjoy the process of building flavors. Once it's all in the pot and simmering, all those yummy flavors combine to create a rich, deep chili broth.
Toss chicken with cumin, chili powder, salt, and pepper in a bowl.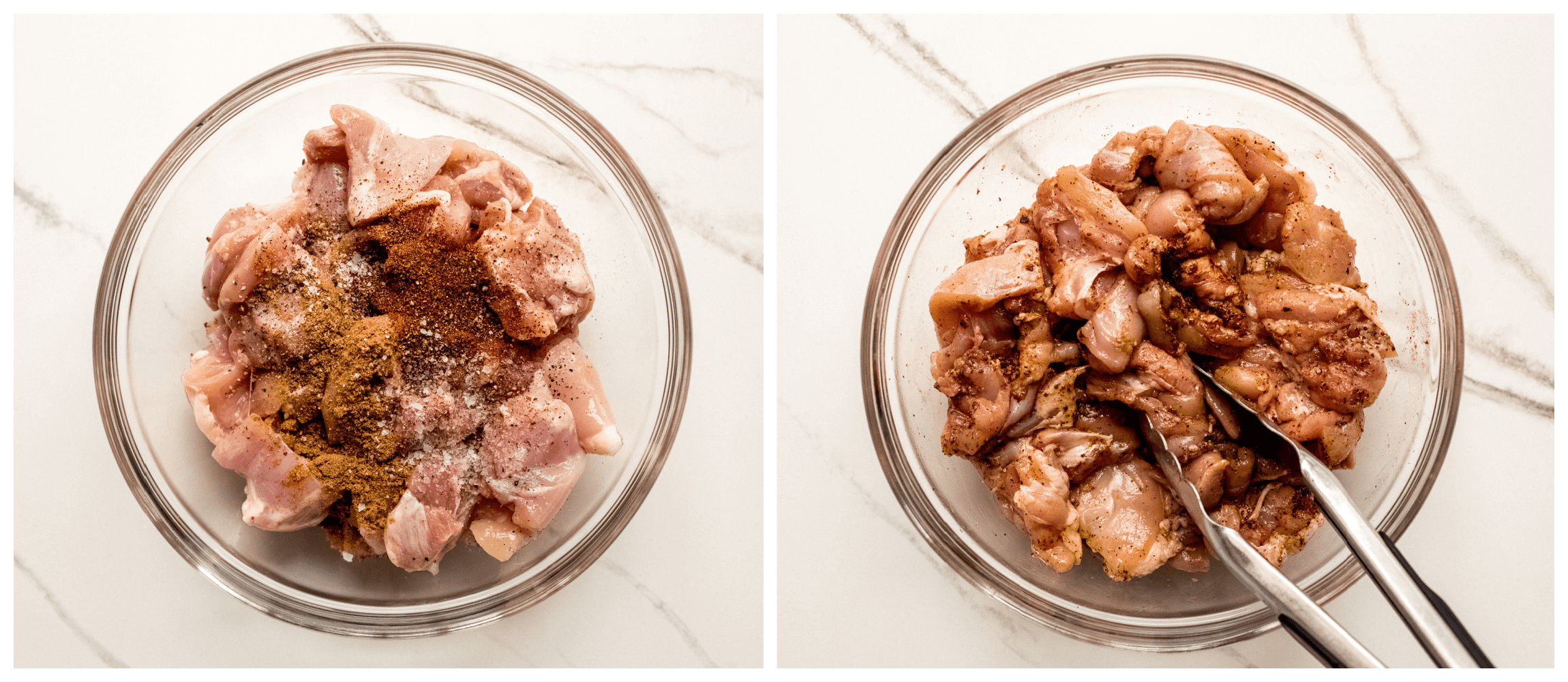 In a Dutch oven, heat oil until glistening. Add chicken and cook until golden brown on both sides. Remove and set aside.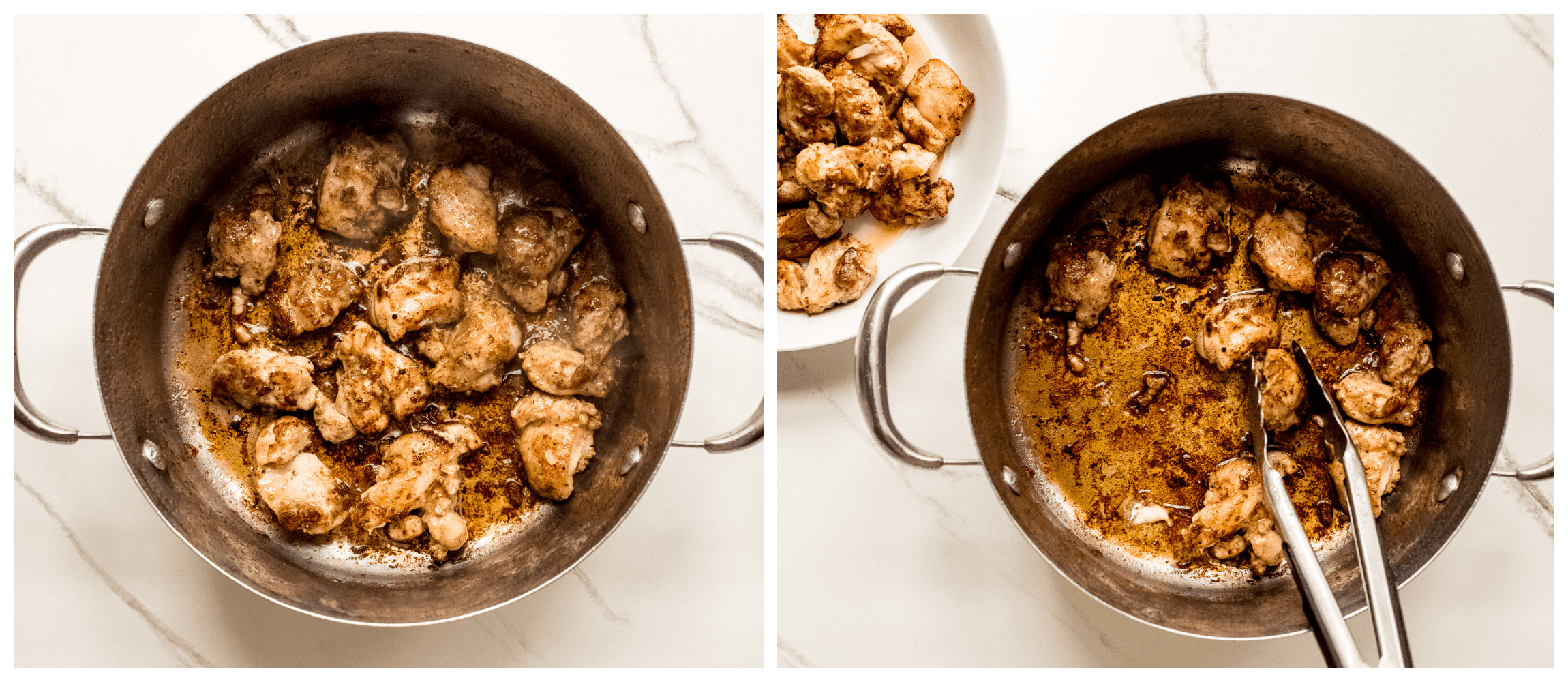 To the same pan, melt the butter and add the onions, cooking until soft. Add garlic, oregano, and remaining cumin, and cook until fragrant. Stir in the flour.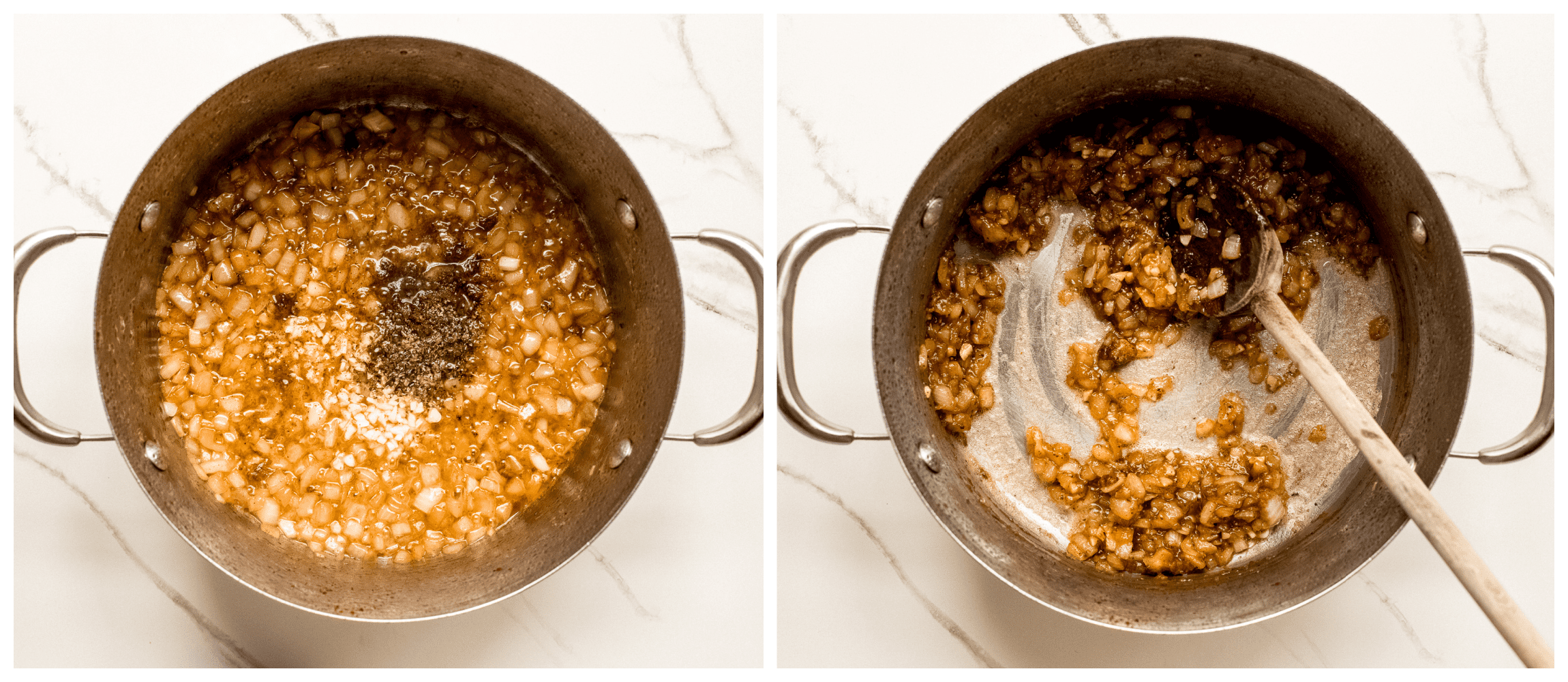 Add chiles, beans, broth, and cooked chicken. Cover partially and simmer for about 20 minutes. Add cream.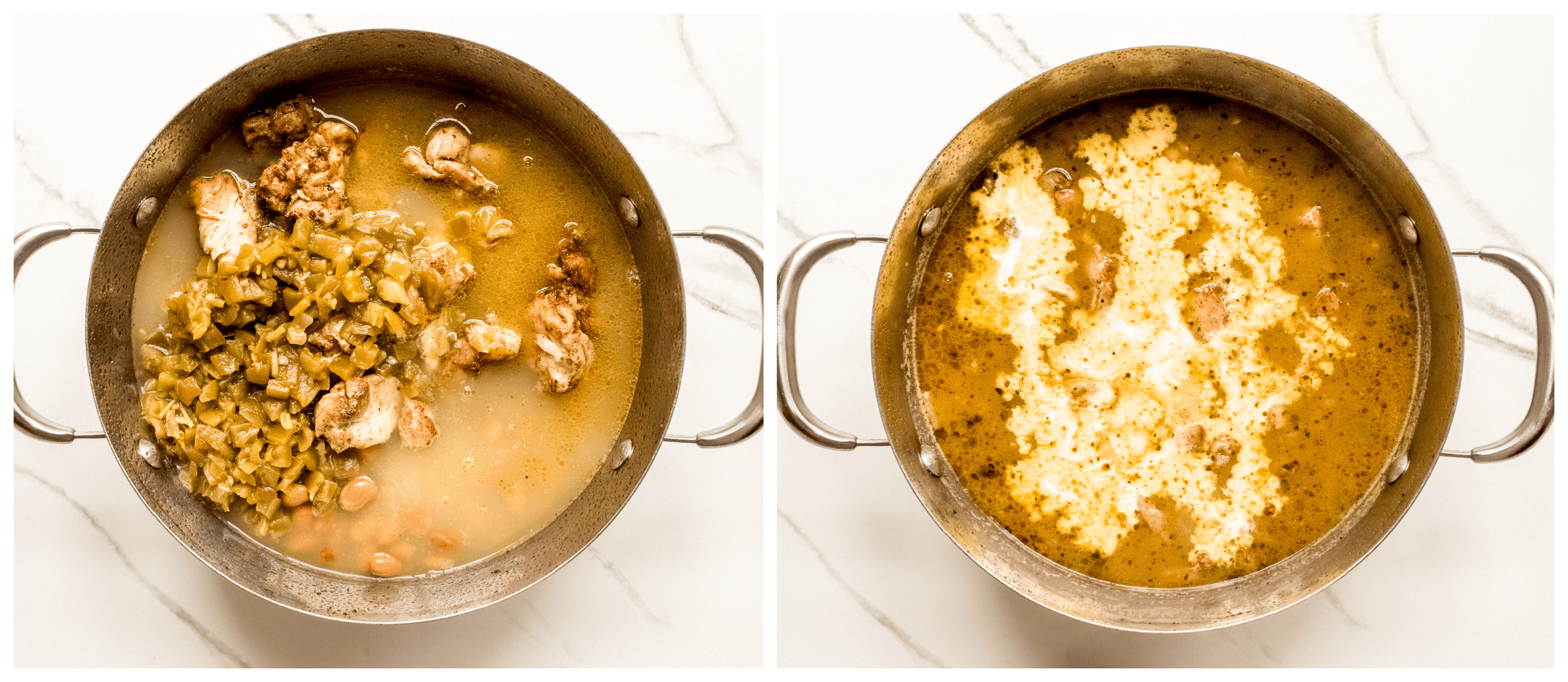 Meanwhile, cook the rice. Serve chili over rice with toppings of choice.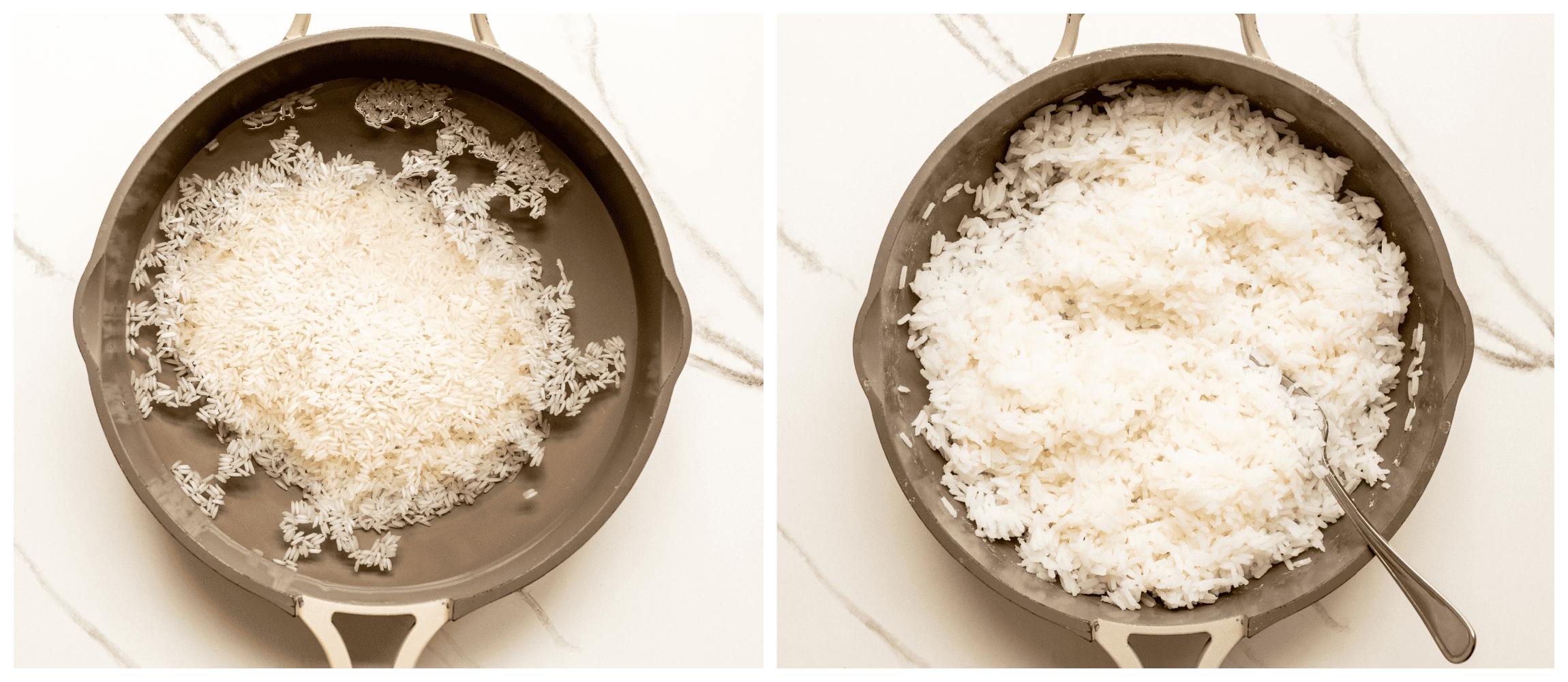 Recipe Tips
Make the best chili recipe with chicken, beans, and a savory sauce, and serve it over rice for a wholesome dish. Here are a few tips to help you cook one tasty chili!
Cook the rice separately from the chili. Can you cook rice in chili? Yes, you can, but you need to adjust the liquid, and the texture of rice may differ as it may absorb too much liquid. Serving it over rice preserves the texture of rice and allows for a rich broth.
Add extra vegetables! Try adding in some more veggies like corn, jalapenos, or peppers.
Make extra for leftovers. Like most chili recipes, the flavor keeps on building when you have leftovers. You can enjoy it for the next few days for lunch or dinner.
Use chicken thighs. For the best flavor and texture, I recommend using boneless, skinless chicken thighs for this recipe. If using chicken breast, adjust the cooking time so the breast does not overcook.
Chili Toppings
Don't get me wrong, this chili is hearty, full of flavor, and well-rounded when served over rice, but chili is all about layering flavors. So add and customize your toppings for this family's favorite chili recipe.
Pico de Gallo – an excellent addition for a crunchy texture and fresh solid flavors of onions and tomatoes.
Green onions – adds earthy onion flavor and a bright pop of color. You could also use red onion or yellow onion.
Cilantro – a fresh lemony herb flavor. You could add this to the rice while cooking to infuse the taste further.
Avocado – top with chopped avocado for a creamy, earthy addition. Or add a dollop of your favorite guacamole!
Lime juice – a zingy fresh burst of flavor.
Sour cream – sour cream adds a little tang and a lot of creaminess.
Shredded cheese – add mozzarella, pepper jack, or feta for a bolder cheese flavor.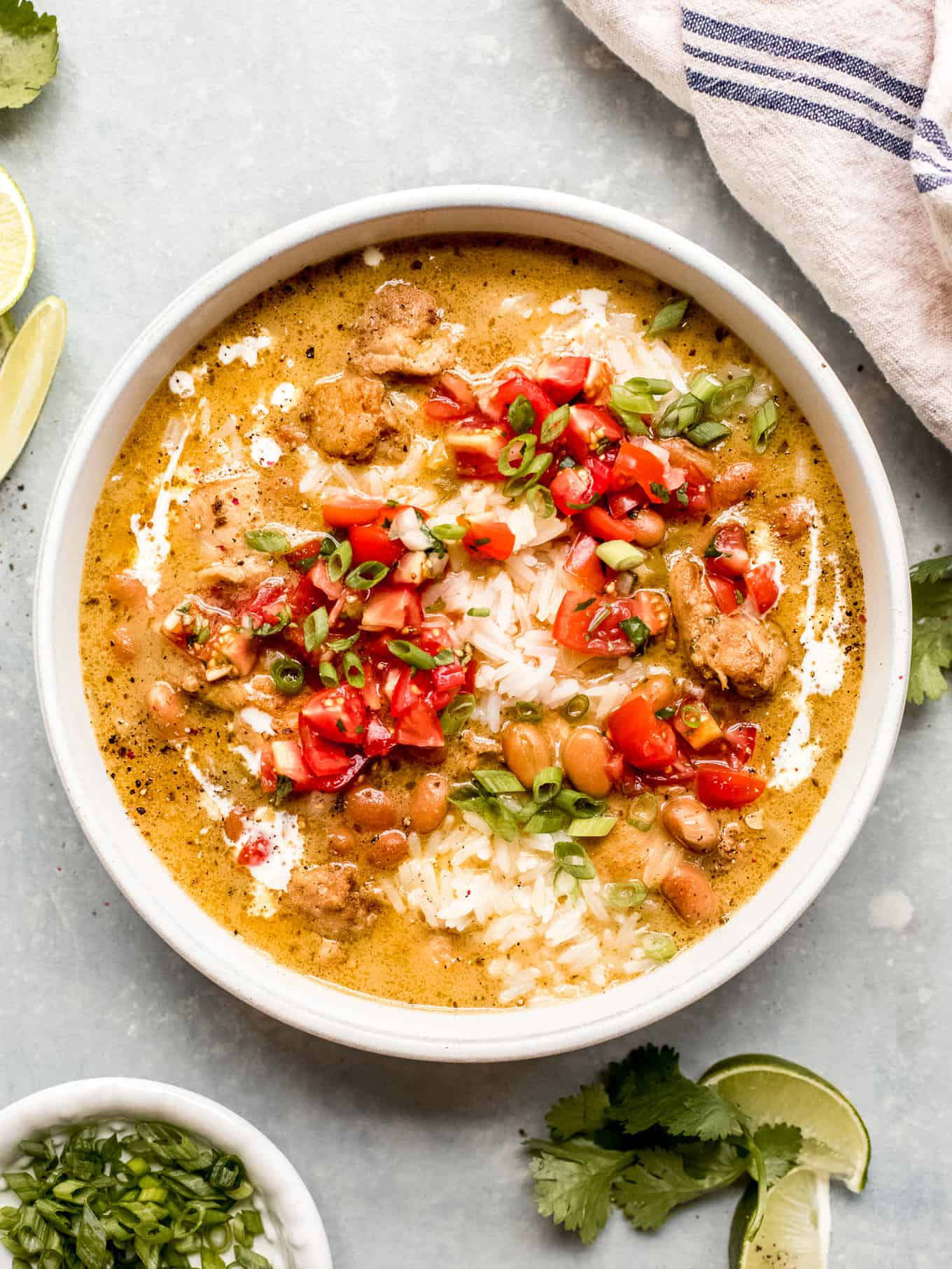 Serving Sides
Pair this white chili with rice and chicken to go with a side dish to make it a well-rounded meal.
How to Store
Leftovers: Store chili leftovers in an air-tight container for up to 3-5 days in the refrigerator. It is best to store the chili separately from the rice, whether stored in the fridge, for meal prep, or in the freezer.
Meal Prep: Divide the recipe into individual servings in meal prep containers to store in the refrigerator or freezer.
Freezing: Freeze for up to 3 months in a zip-top freezer bag or airtight container. Leave about 1 inch of space to allow for expansion from freezing. Defrost in the refrigerator overnight and reheat in the microwave or stovetop until heated thoroughly.
More Chili Recipes
Print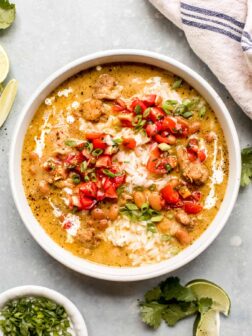 Chili with Rice
Author: Katya
Prep Time: 10 mins
Cook Time: 40 mins
Total Time: 50 mins
Yield: 8 1x
Category: Soup
Method: Simmer
Cuisine: Tex-Mex
---
Description
Creamy chili with rice is the ultimate cold weather meal! Made with tender chicken thighs, white beans, and flavorful creamy broth, then served over cooked rice with fresh pico de gallo and green onions.
---
1 1/2 lbs. boneless, skinless chicken thighs, cut into bite-size pieces
2 tsp. ground cumin, divided
1 1/2 tsp. chili powder
2–3 Tbsp. avocado oil
2 Tbsp. butter
1 medium onion, chopped
1 Tbsp. minced garlic
3/4 tsp. dried oregano
1/4 cup all-purpose flour
2 (4 oz.) cans diced chiles
2 (15 oz.) pinto beans, drained and rinsed
3 cups chicken broth
1/4 cup heavy cream
Fresh ground black pepper, to taste
To Serve
1 1/2 cups dry white rice
Green onions, thinly sliced
---
Instructions
In a large bowl, toss chicken with 1 1/2 tsp. cumin and chili powder. Season with salt and black pepper, to taste. 
Heat oil in a heavy-duty dutch oven, over medium-high heat. Add chicken and cook for 4-5 minutes or until golden brown, while stirring occasionally. Do not overcrowd the meat or it will steam out instead of brown. Cook in batches if need to. Remove to a plate with a slotted spoon or a pair of tongs.
Add butter and reduce the heat to a medium. Add onions and cook for 2-3 minutes or just until soft. Stir in garlic, oregano, and the remaining cumin. Cook for about 30 seconds or until fragrant.
Add flour and cook for about 1 minute, while stirring constantly.
Add chiles, beans, broth, and chicken. Season with salt and pepper, to taste. Bring to a simmer. Reduce heat to a medium-low and cook partially covered for 20 minutes, stirring occasionally. Taste for salt and pepper.
Add heavy cream and simmer for an additional 1-2 minutes or until slightly thickened. 
To Serve
In a saucepan, bring 3 cups of water and rice to a boil. Reduce heat to maintain a simmer and cook, covered, until all of the water is absorbed. Let the rice rest covered for about 5 minutes, then fluff with a fork.
Spoon about 1/2 cup of cooked rice into a bowl. Ladle about 1 cup of chili over the rice. Top with fresh pico de gallo and green onions. I also like to add chopped cilantro and lime wedges.
---
Notes
Leftovers: Store chili leftovers in an air-tight container for up to 3-5 days in the refrigerator. It is best to store the chili separately from the rice.
Nutrition
Serving Size: 1/2 cup cooked rice with 1 cup chili
Calories: 451
Sugar: 1.9 g
Sodium: 495.5 mg
Fat: 12.4 g
Carbohydrates: 56.1 g
Protein: 28 g
Cholesterol: 93.6 mg
Keywords: rice bowl, chili bowl, Super Bowl, fall
Originally published in January 2015. We have since retested, perfected, and updated the recipe.
You May Also Like…