White Chicken Chili with Apples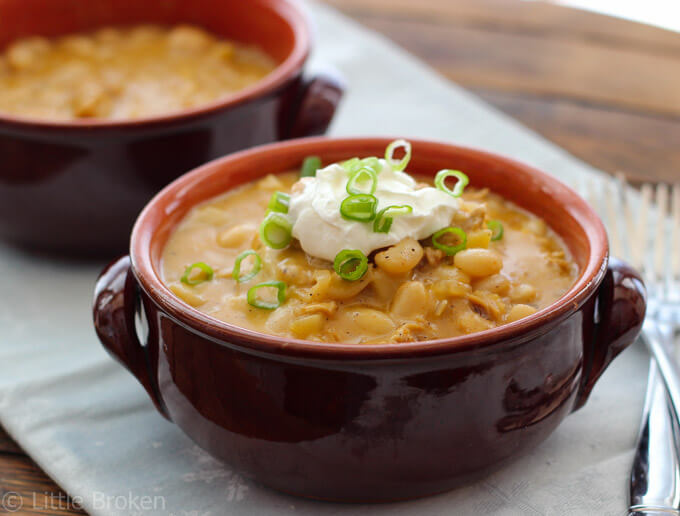 Happy Monday!
Oh, how I love Mondays! I feel it's a fresh start to a new week and another chance to do it all over again, whichever way we choose! So this week my goal is to get out of my winter cave and be more active.
This winter has been brutal. We got pounded with more snow than ever….or it seems like. I never realized how much I disliked cold winter weather until recently as I used to think I loved the changes of season, and I do but can totally skip this one.
I guess a girl can dream! Well, I've been in hibernation this winter and I'm not a home body AT ALL! But we're finally in the positive digits (yeay!) and even got into 50's and apparently 60's this upcoming week (gasp!).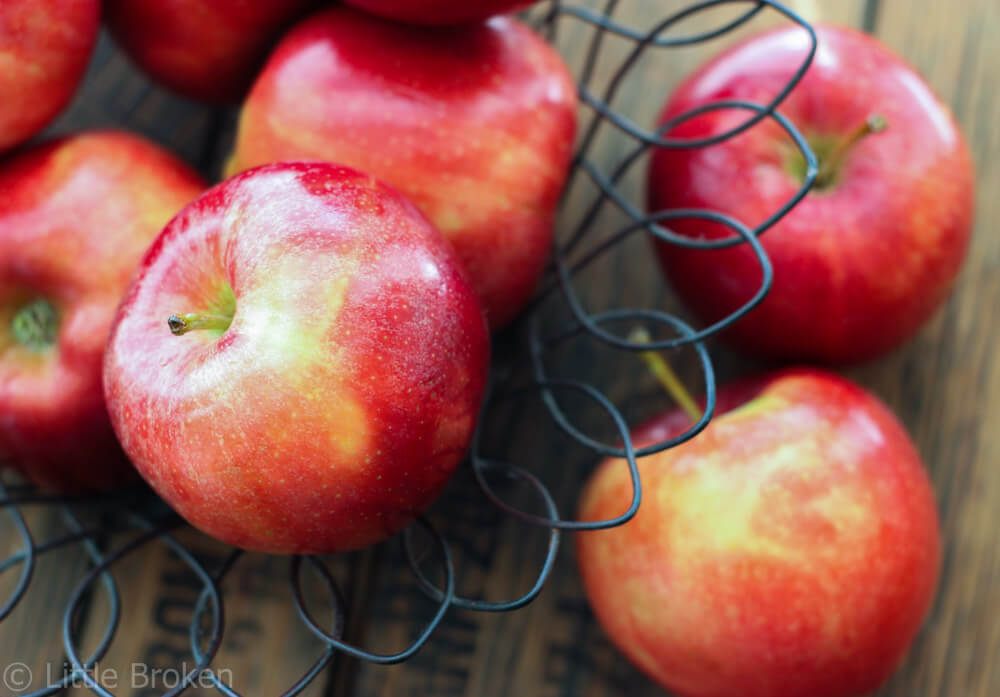 Even though first official day of spring is less than two weeks away, we still have patches of snow from last weekends winter storm and apparently more is in the forecast. I'm ready to be done with the S-word.
As well as the constant need to buy milk, bread and toilet paper. What is up with that anyways? One thing, I enjoy with cold weather is hearty food.
My family is big on soups and I always have some type of soup, chili, or stew stashed in my fridge.
I think growing up in a Russian household where it was very typical to start off a meal with some type of soup or borscht (traditional Russian dish), followed by second course has definitely rubbed off on me. But who doesn't love a hot bowl of hearty something on a cold day?!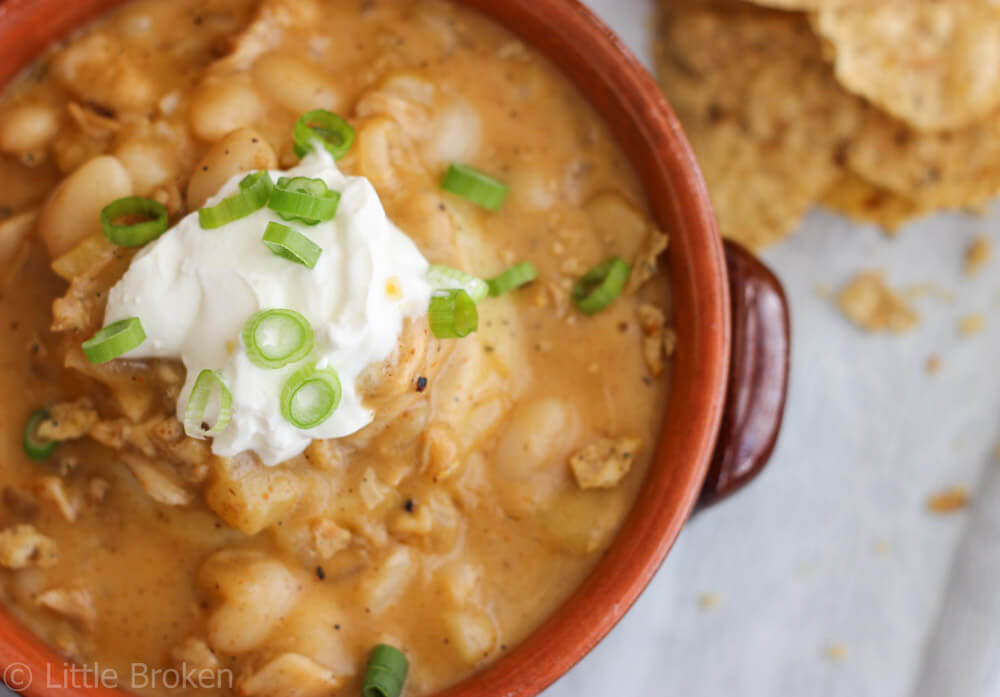 Since we're technically still in the winter season for couple more weeks, I wanted to share one of my family's favorites: White Chicken Chilli with Apples.
It's a recipe I found in a random magazine years ago that has become a reoccurring dish in our household.
It's very much loved by everyone in my house. My child gobbles it down every single time and hubby never fails to come back for seconds.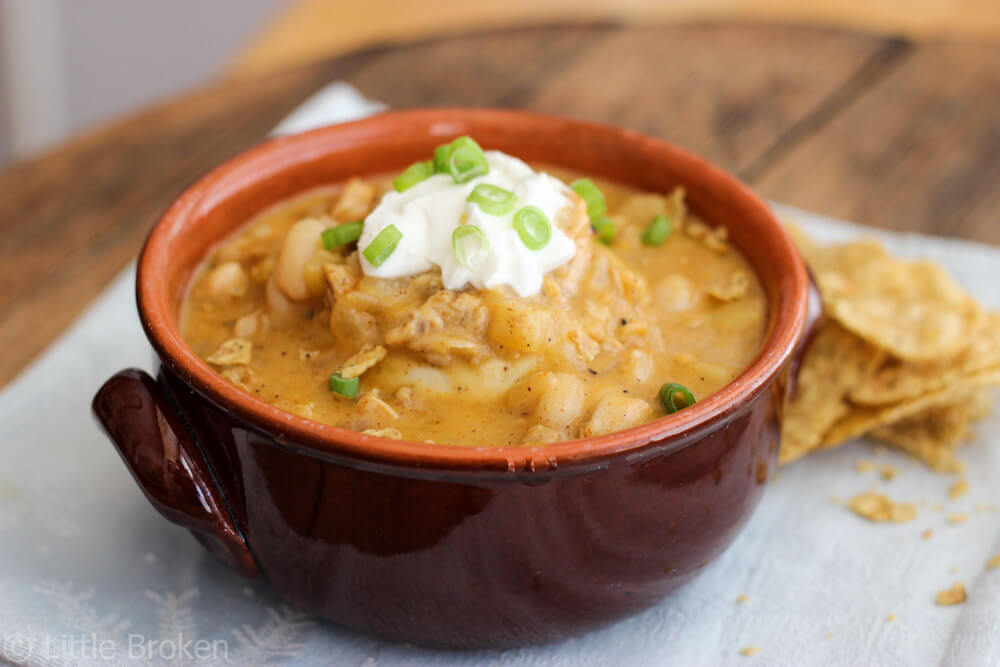 Mild sweetness of the apples with spicy chili flavors is the perfect combination and power of two opposites. I told you I have a crush on opposites 🙂
I used my own Homemade Chicken Stock that I previously made but store bought stock totally works!
Happy devouring! In the meantime, I'm going to enjoy my long romantic walks to the fridge until arrival of spring.
Print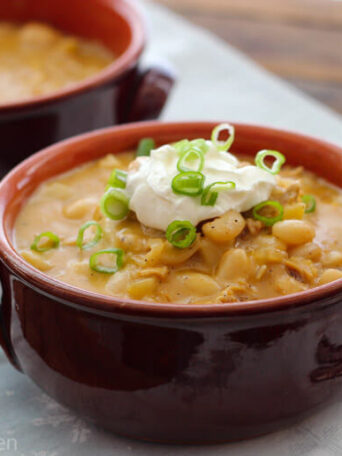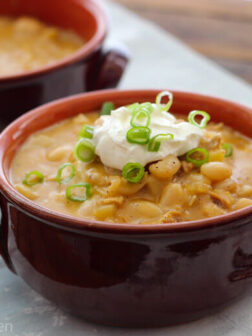 White Chicken Chili with Apples
Author: Katya
Prep Time: 12 mins
Cook Time: 30 mins
Total Time: 42 mins
Yield: 8 1x
Category: Soup
Method: Simmer
Cuisine: American
---
Description
White chicken chili with apples is the best comfort food! Truly once you try this chili with apples you'll be hooked.
---
1/4 cup olive oil, divided
1 1/2 – 2 pounds chicken tenders, cut into bite size pieces
4 tsp. chili powder
2 tsp. ground cumin
2 apples, peeled and cut into 1/2-inch cubes (use your favorite apples)
1 medium onion, chopped
4 Tbsp. unsalted butter
1/4 cup flour
2 – 2 1/4 cups chicken stock,
3/4 cup milk (I used full fat)
2 (15 oz.) cans pinto or white beans, drained and rinsed
2 cups shredded monterey or Mexican blend cheese (about 8 ounce bag)
salt and pepper
---
Instructions
In a large dutch oven, heat 2 tablespoons of olive oil over medium-high heat. Add chicken, chili powder, and cumin. Season with salt and pepper, to taste. Cook the chicken, stirring, until no longer pink, about 5 minutes. Transfer with a slotted spoon to a large bowl.
Add the remaining 2 tablespoons of olive oil to the pot. Add apples and onion. Cook, stirring, until softened. About 6-7 minutes. Transfer to the same bowl as the chicken.
In the same pot, melt the butter over medium-low heat. Whisk in the flour for 1 minute, and then whisk in 2 cups of chicken stock and milk, until thickened, about 3-4 minutes.
Stir in the chicken-apple mixture and beans, bring to a simmer. If the chili is too thick, add remaining 1/4 cup stock or as needed. Then stir in the cheese until melted.
Serve with your favorite toppings: sour cream, scallions, cilantro, fresh salsa, avocado, tortilla chips.
---
Notes
1/21/16: I've made few changes to the ingredient list and directions to make the recipe more simple and easy to follow. The taste stayed the same.
Nutrition
Serving Size:
Calories: 518
Sugar: 6.1 g
Sodium: 346.8 mg
Fat: 25.7 g
Carbohydrates: 35.3 g
Protein: 37.1 g
Cholesterol: 106.1 mg
Keywords: comfort food, fall, winter, one pot
You May Also Like…