Chicken Apple Chili
Your new weeknight favorite: Chicken Apple Chili! In just 30 minutes, you have a tasty meal brimming with hearty goodness – and the kids just love the apple twist.
Want more kid-friendly recipes? Try our Healthy Chicken Meatballs, Potato Corn Chowder, or Easy Kid Snacks.
Jump to:
Why I Love This Recipe
Sweat & Spicy – The apples bring a subtle sweetness that balances out the chili spices, similar to our Chicken and Butternut Squash Stew.
Speedy Meal – Ready in just over 30 minutes, it's a great recipe for those rushed weekday dinners.
Cozy & Filling – When the weather's cold, warm up with this chili as you can't have too many creamy chicken chili recipes.
Kid-Friendly – It's a kid's favorite chili that's not too spicy and full of fun apple chunks – and they can help make it, too!
Ingredients
Let's take a look at what goes into making this delicious Chicken Apple Chili recipe: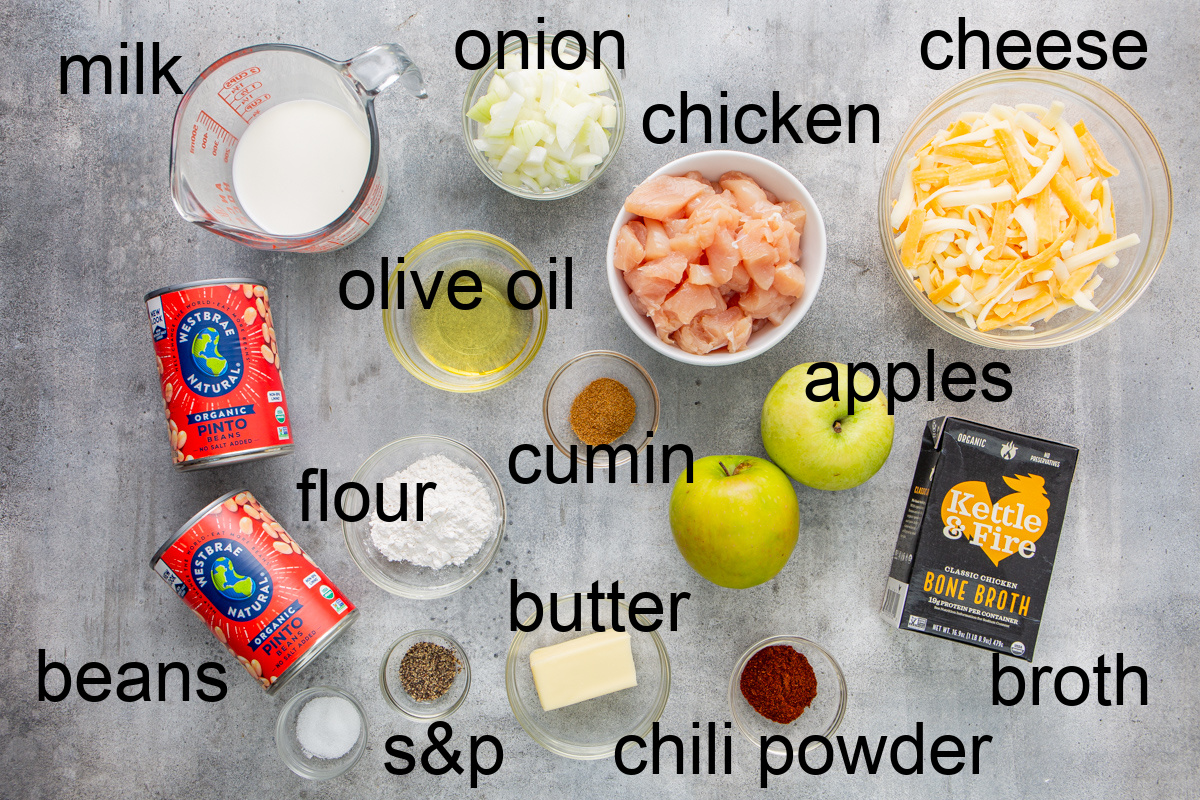 Chicken tenders: Cut into bite-size pieces so they cook quickly and evenly.
Apples: Use Granny Smith apples – their tartness works well with the other ingredients.
Pinto or white beans: Offer a nice texture contrast while being a great source of protein.
Onion: Adds depth and a touch of sweetness.
Chili powder: A slight bit of warmth for those cold days.
Ground cumin: A little earthy, a little spicy – a crucial ingredient. 
All-purpose flour: The thickening agent that gives our chili sauce a hearty, stew-like consistency.
Unsalted butter: Combined with the flour to make our sauce. 
Chicken stock: Adds more depth to our chili's flavor.
Milk: Brings a creamy, smooth texture.
Monterey or Mexican blend cheese: The final touch to really tie everything together.
See the recipe card for full information on ingredients and quantities.
Variations
Here's how to tailor this apple chicken chili recipe to your tastes:
Diary-free: Use almond milk and vegan butter sticks instead of regular milk and butter.
Gluten-free: Use cornstarch instead of wheat flour as a thickener.
Beans: Mix more types of beans for added texture and flavor. We like chickpeas and kidney beans.
Veg: Want more veggies? Toss in some colorful bell peppers or even nutrient-rich spinach or kale.
Meat: Try turkey for a leaner but just as tasty alternative.
Spice: For those who like it hot, add more chili powder.
How to Make
Just follow these simple instructions to make this easy chicken apple chili! Need more details? Scroll down to the recipe card.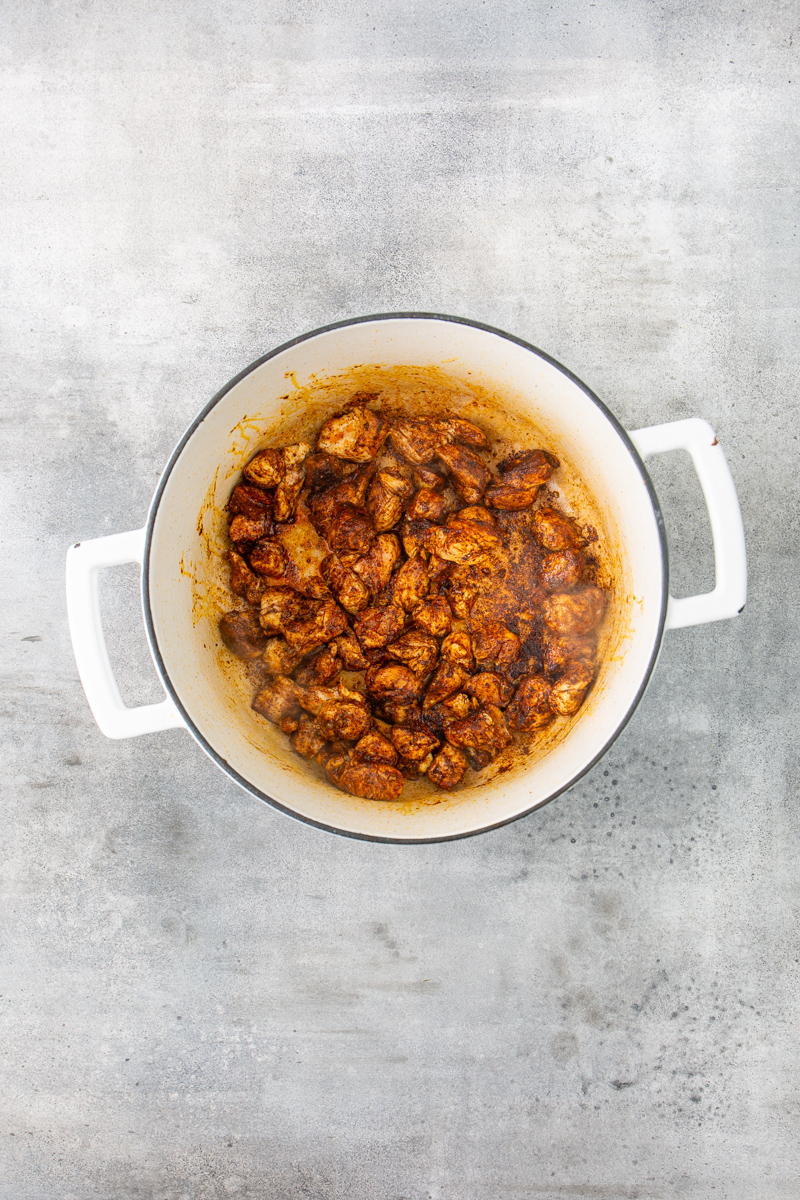 Step 1: Heat some olive oil in a large dutch-oven over medium-high heat. Add chicken, chili powder, and cumin. Cook until not pink (about 5 minutes), then move to a separate bowl.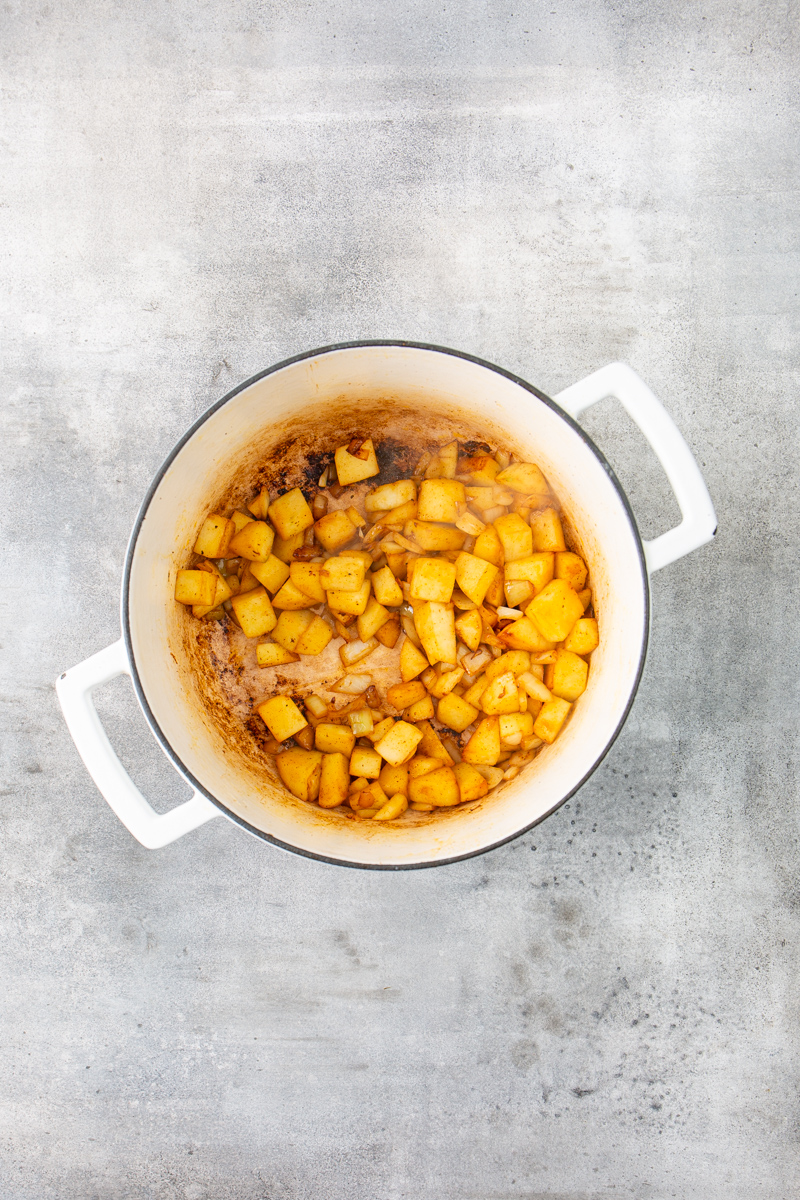 Step 2: In that same pot, add more olive oil. Add apples and onions, then cook until soft (6-7 minutes). Put in the bowl with the chicken.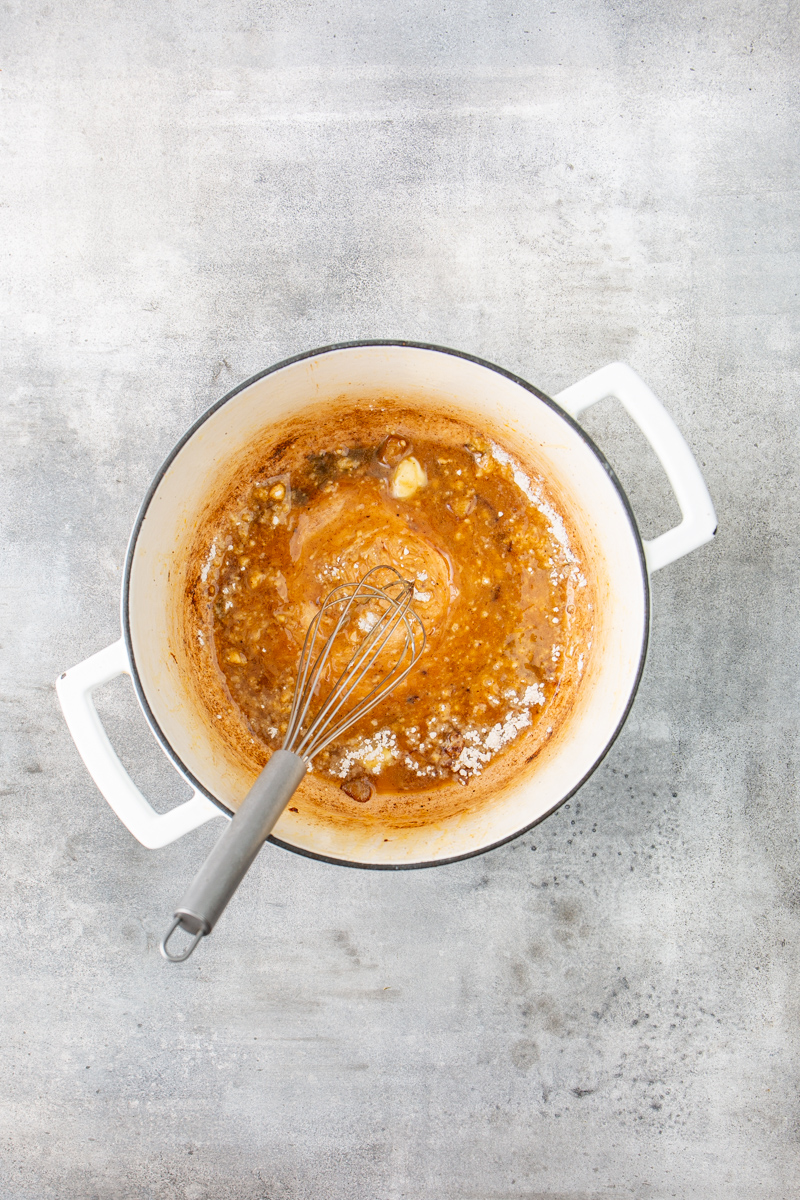 Step 3: Lower the heat to medium. Melt butter in the pot, then whisk in the flour until it's soaked up.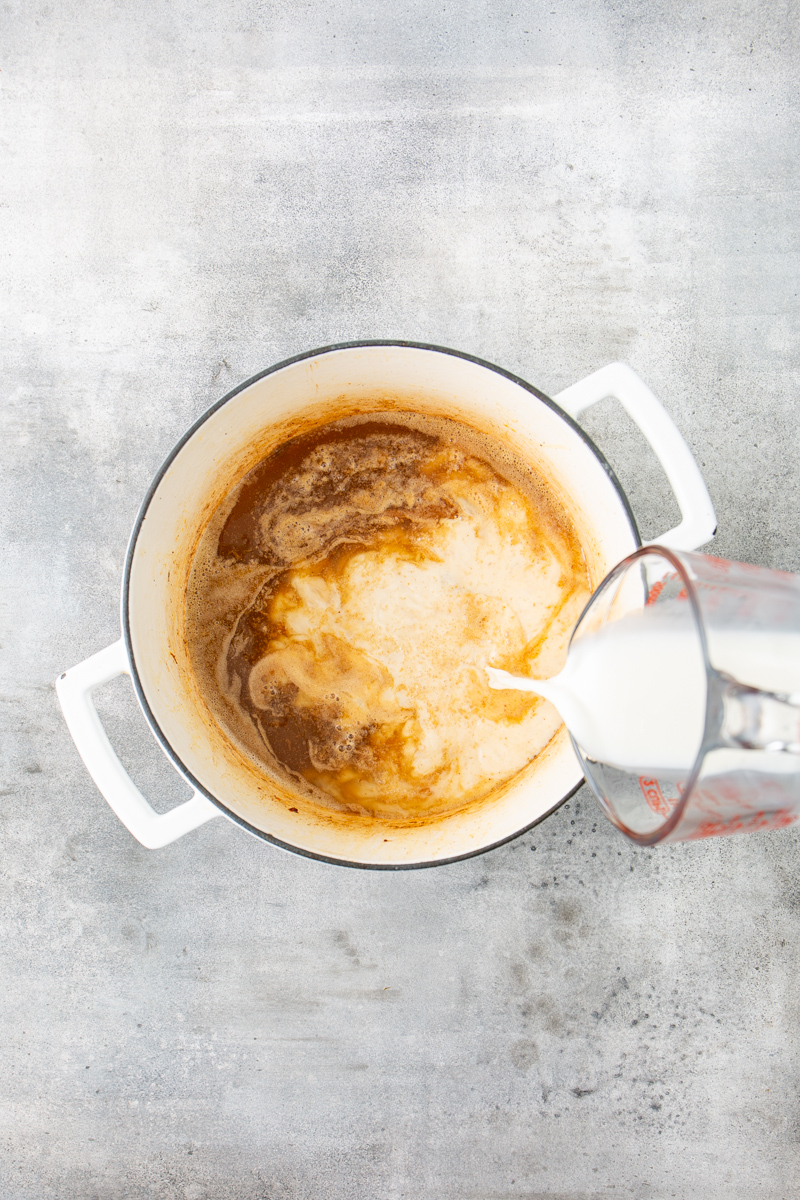 Step 4: Slowly add in 2 cups of chicken stock and milk while stirring. Cook until it thickens (1-2 minutes).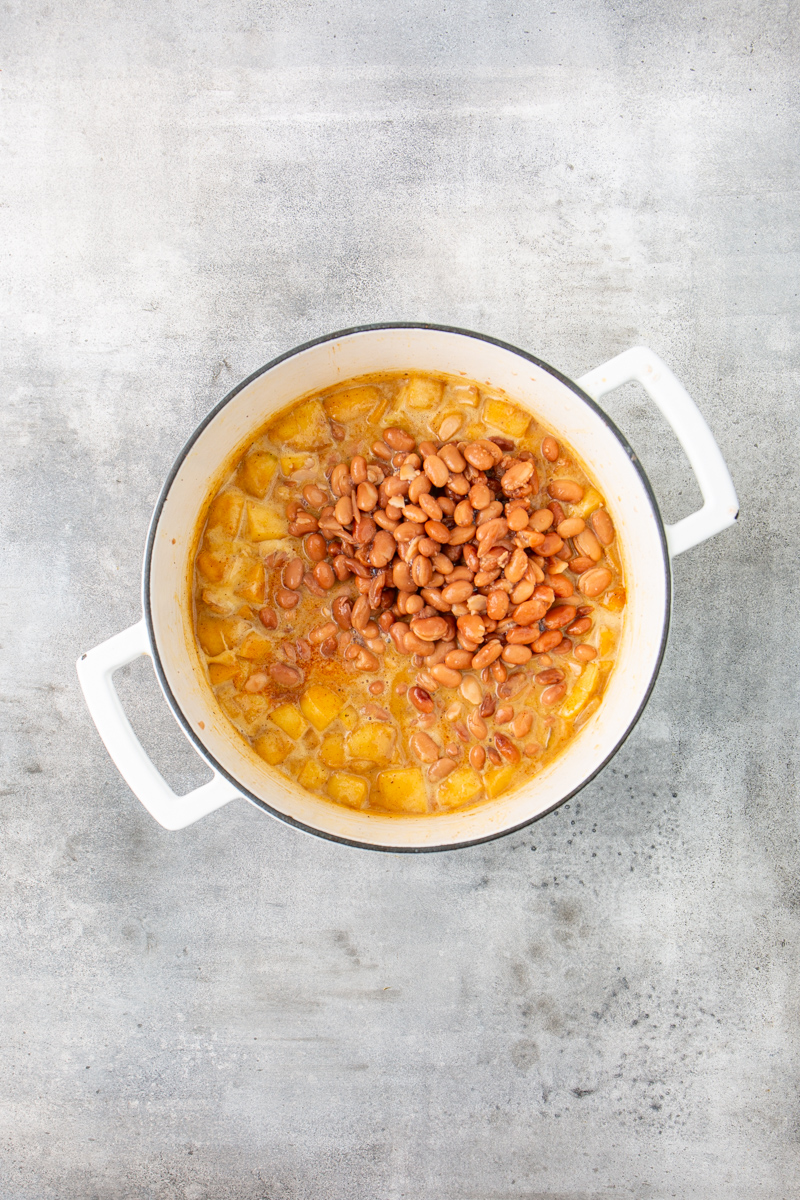 Step 5: Add chicken-apple mixture and beans. Season, then simmer until the chicken is fully cooked and the apples are tender. If it's too thick, add more stock.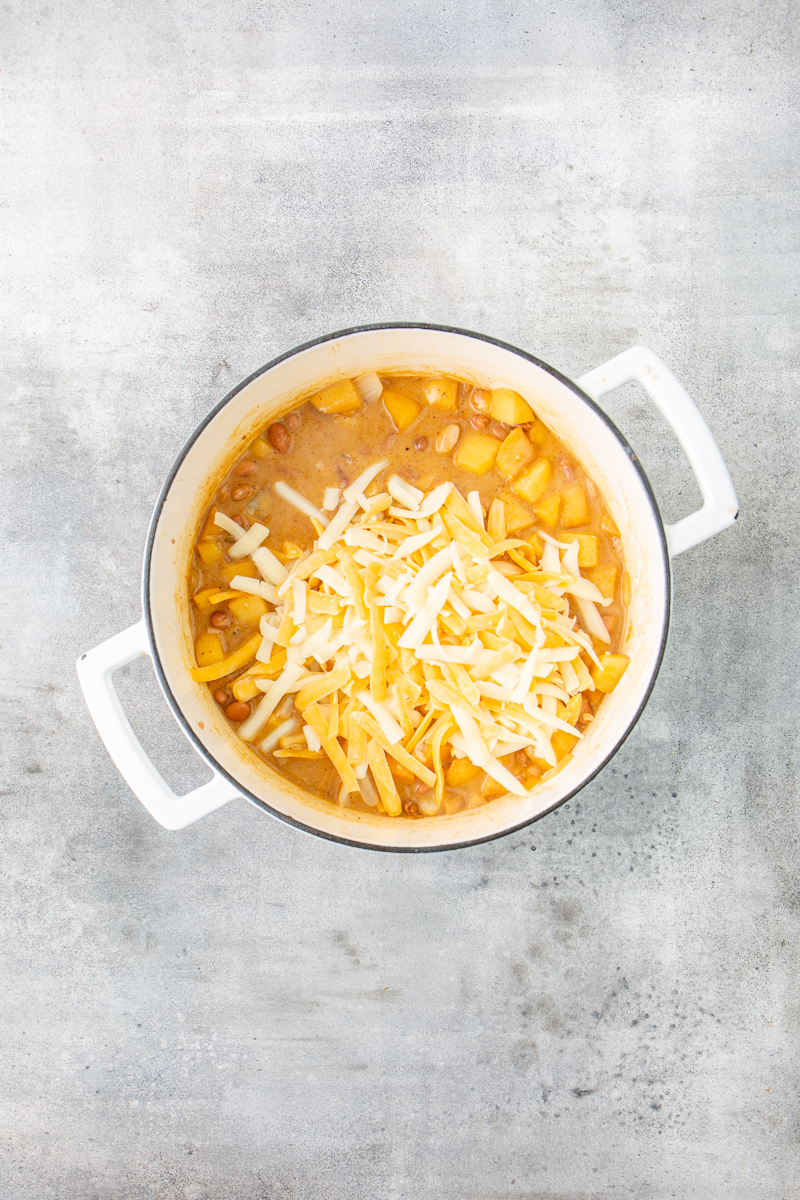 Step 6: Just before serving, stir in the cheese and add your favorite toppings.
Expert Tips
Get ready to make this mouthwatering chicken with chili – here are some expert tips to guide you:
Homemade Heaven: If you can, use homemade chicken stock. The added depth of flavor is totally worth the extra effort.
Get Zesty: Try adding a splash of lime juice near the end – it adds a refreshing zing and improves the other flavors.
Tender Loving: For juicier, more tender chicken, try marinating it. Our grilled chicken tenders recipe shows you how. 
Apple Picking: Choose apples that hold their shape when cooked, like Granny Smith apples or Honeycrisp, for the best texture.
Clean Beans: A quick rinse of your canned beans is important – it washes away the extra salt.
Cheese Please: Grate your own cheese for a smoother melt. Pre-shredded cheese can sometimes be a bit gritty.
The Best Chili Toppings
When serving apple chili – toppings make all the difference. Lay out a selection on the dinner table and let everyone build their perfect bowl – the kids will especially love it. 
Sour Cream: A dollop for a bit of creaminess or this delicious cilantro lime crema.
Scallions: For that fresh, green pop and a touch of sweetness.
Cilantro: A sprinkle brings a burst of herby freshness.
Fresh Salsa: A touch more spice with another layer of flavor.
Avocado: Creamy slices or a scoop of Chipotle guacamole makes everything better, am I right?
Tortilla Chips: Great for scooping or just for some added crunch.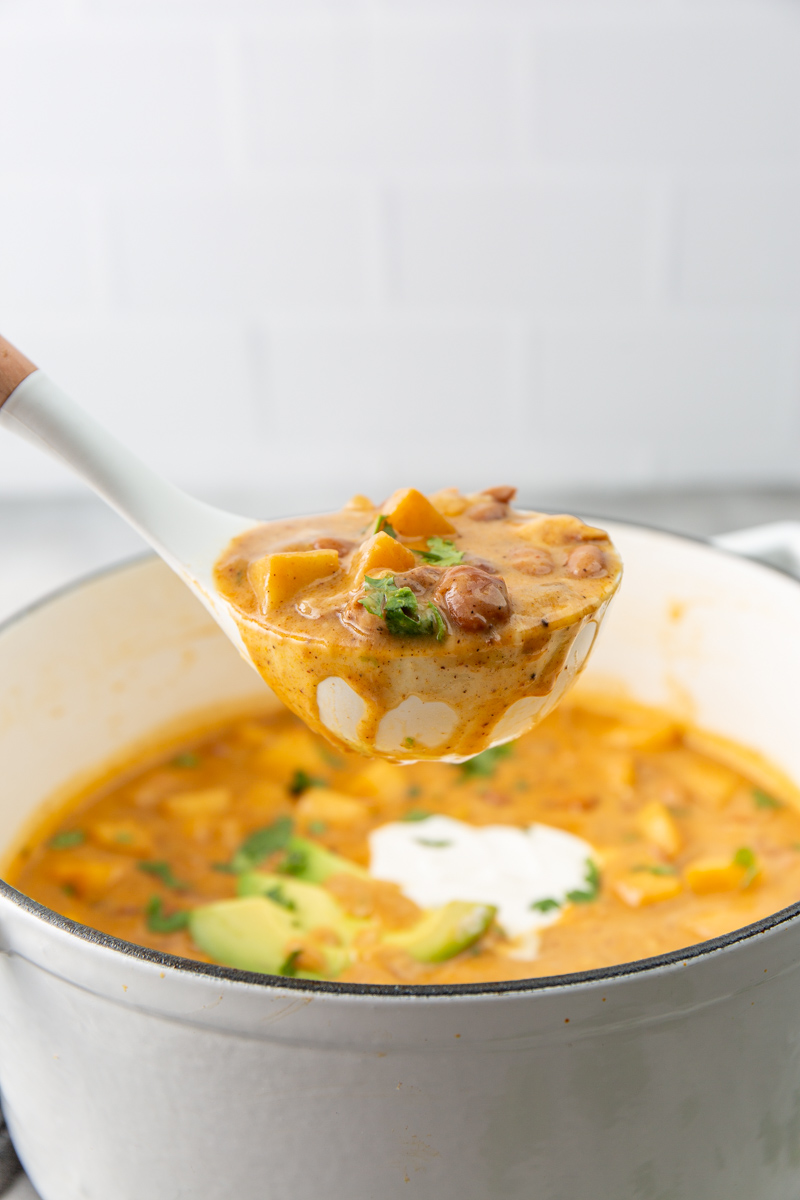 How Kids Can Help to Cook
This easy chicken chili recipe is an excellent way for kids to get their feet wet in the kitchen. Here are some ways they can help:
Kids aged 2-4: They can measure out the ingredients, wash the apples, and even help prepare the cilantro.
Kids aged 5-7: Besides the above, they can grate cheese, peel apples with a peeler, and rinse the beans.
Kids aged 8+: Older kids can cut the apples and chicken and even stir the pot as everything cooks.
Just make sure there's careful adult supervision throughout the process. You know your child's skill level best – so adapt these suggestions as you see fit!
Recipe FAQs
How long should I simmer chili?
The simmering time for chili can vary, but generally, you should aim for at least 30 minutes to an hour. 

This lets the flavors nicely meld together and allows the sauce to thicken. The longer you simmer, the more robust the flavors will become.
What is the secret to making good chili?
The key to making a great chili lies in the quality of your ingredients and the balance of flavors. 

Opt for free-range chicken, use freshly ground spices, and consider making homemade chicken broth for a richer, deeper flavor.

Always taste and fine-tune the spices as you go, and a final dash of lime juice can make all the other flavors pop.
Can I use a slow cooker to make chili?
If you've got time to spare, using a slow cooker is a great idea. The longer cooking time means the flavors will meld beautifully, and you can just set and forget it.

Try our Chicken Apple Chili slow cooker method: Add all your ingredients and cook on low for 6-8 hours, or high for 4-5 hours.
If you try Chicken Apple Chili or any other recipe on my website, please leave a star rating and let me know how you like the recipe in the comments below.
Print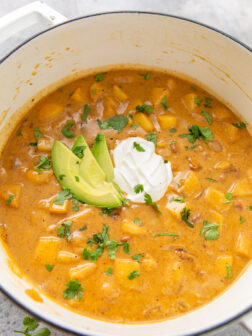 Chicken Apple Chili
Author: Katya
Prep Time: 12 mins
Cook Time: 30 mins
Total Time: 42 mins
Yield: 8 1x
Category: Soup
Method: Stovetop
Cuisine: American
---
Description
White chicken chili with apples is the best comfort food! Truly once you try this chili with apples you'll be hooked.
---
1/4 cup olive oil, divided
1 1/2 lbs. chicken tenders, cut into bite-size pieces
4 tsp. chili powder
2 tsp. ground cumin
2 apples, peeled and cut into 1/2-inch cubes (see notes)
1 medium onion, chopped
4 Tbsp. unsalted butter
1/4 cup all-purpose flour
2 – 2 1/4 cups homemade chicken stock or storebought
3/4 cup milk
2 (15 oz.) cans of pinto or white beans, drained and rinsed
2 cups shredded Monterey or Mexican blend cheese (about 8-ounce bag)
Kosher salt and pepper
---
Instructions
In a large dutch oven, heat 2 tablespoons of olive oil over medium-high heat. Add chicken, chili powder, and cumin. Season with salt and pepper, to taste. Cook the chicken, stirring, until no longer pink, about 5 minutes. Transfer with a slotted spoon to a large bowl.
Add the remaining 2 tablespoons of olive oil to the pot. Add apples and onions with a generous pinch of salt. Cook, stirring, until softened. About 6-7 minutes. Transfer to the same bowl as the chicken.
Reduce heat to medium and melt butter in the same pot. Whisk in the flour for about 1 minute or until absorbed, and then gradually whisk in 2 cups of chicken stock and milk, cook until thickened, about 1-2 minutes.
Stir in the chicken-apple mixture and beans. Season with salt and pepper, to taste. Bring to a simmer and cook for about 5 minutes or until chicken is cooked through and apples are tender.  If the chili is too thick, add the remaining 1/4 cup stock. Then gradually stir in the cheese until melted.
Serve with your favorite toppings: sour cream, scallions, cilantro, fresh tomato salsa, avocado, and tortilla chips.
---
Notes
Apples: I made this chili with a variety of different apples and I find that Granny Smith apples work the best. They are great all-around apples that are not too sweet. If you end up using a sweeter variety of apples such as Honeycrisp or Fuji, it will make your chili slightly sweeter.
Nutrition
Serving Size:
Calories: 518
Sugar: 6.1 g
Sodium: 346.8 mg
Fat: 25.7 g
Carbohydrates: 35.3 g
Protein: 37.1 g
Cholesterol: 106.1 mg
Keywords: comfort food, fall, winter, one pot
Recipe originally published March 2014 but since been updated with additional information and new images.