Lentil and Butternut Squash Chili
Warm up with a bowl of this hearty veggie chili. Packed with nutritional all-star lentils and fiber high butternut squash. This chunky and belly warming bowl of comfort food is perfect to enjoy throughout the week. It freezes well too!
There is nothing more I love on a crisp fall day than a bowl of hot hearty chili. We love chili in any shape or form.
We have a classic Lentil Chili, White Chicken Chili Rice Bowl and if you're feeling a little adventurous: White Chicken Chili with Apples. These are just a few of our favorites.

Can you blame me, though? A simmering pot of chili warms up any occasion.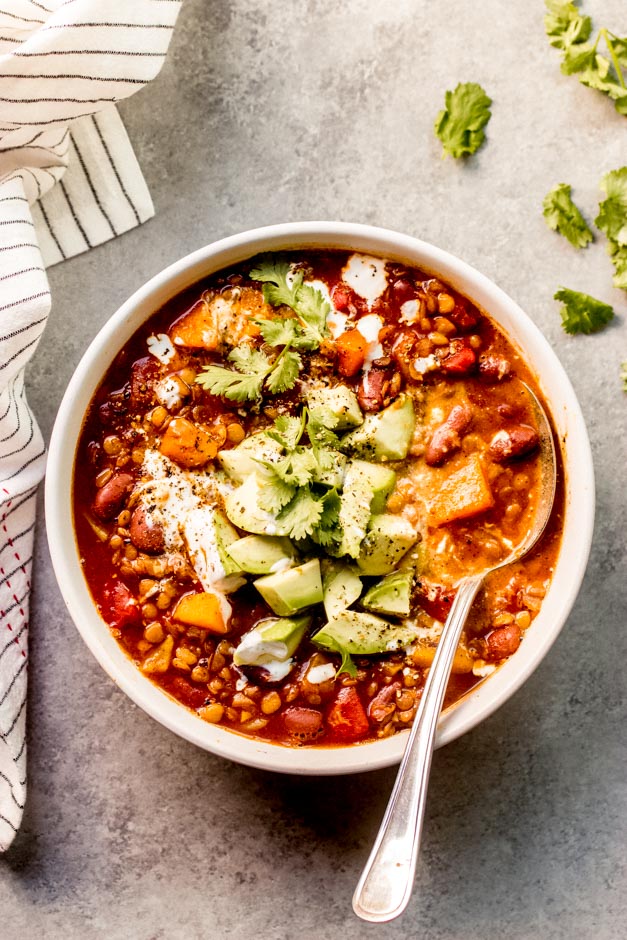 Reasons to Love This Chili:
This butternut squash chili with lentils is high in fiber and low in fat. It's hearty, chunky, and creamy. Made with a combination of fresh and canned ingredients, as well as spices and some pantry staple items.
Such as butternut squash, bell pepper, lentils, spices, canned tomatoes, stock, and beans. I love this recipe because it's so versatile. You can add your favorite chili add-ins for even more flavor.
Plus it stores in the fridge up to a week and freezes up to 3 months. So you can make a pot and enjoy it all week long.
What Are Lentils and How Do You Cook Them?
Before we get to the recipe. Let's talk about lentils. Because they're truly a nutritional all-star.
Lentils are edible legume. So they're in the same family as beans, peas, and chickpeas. Rich in fiber and high in plant-based protein. They're affordable and cook very easily.
They come in a variety of colors, such as brown, green, yellow, red or black. I like to stick to green and brown varieties of color. It's the most basic type of lentils and is easy to find at the grocery store.
Some recipes require you to soak lentils prior to cooking but for this butternut squash lentil chili, there is no need to soak them. They cook in about 20-30 minutes until tender.
And if you overcook them, not a problem. They might be a little mushy and to be honest, I personally prefer them that way in a chili recipe.
Ingredients for Butternut Squash Lentil Chili
What I love about this butternut squash and lentils chili is that it's made with a combination of easy-to-find fresh ingredients, canned ingredients, and pantry items.
Onion
Garlic
Yellow bell pepper
Lentils – brown or green
Spices – chili powder, cumin, oregano, bay leaf
Canned diced tomatoes
Chicken stock 0r veggie stock
Butternut squash
Beans – red kidney, black beans, or pinto beans
Pantry staples – olive oil, salt, pepper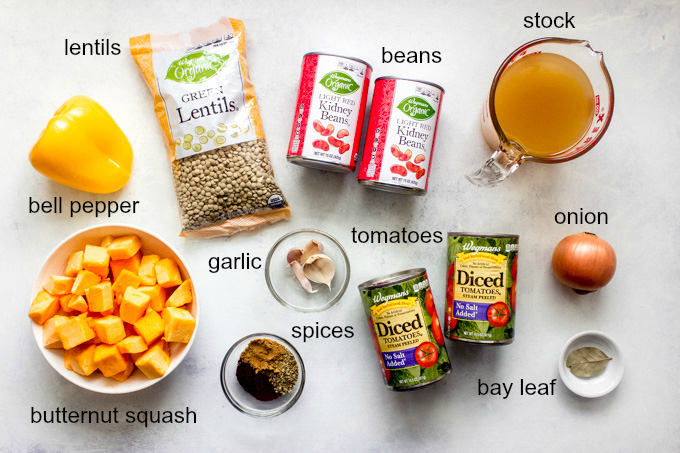 Chili Add-Ins:
You can add more flavor to your chili with these flavor-boosting add-ins.
diced green chiles
corn
fire-roasted tomatoes
fresh jalapeño
fresh lime juice
something smoky – smoked paprika or chipotle peppers in adobo sauce
chopped fresh cilantro
pinch of red chili flakes
How to Make Butternut Squash Chili Recipe
It's helpful to have all the ingredients measured, chopped, and rinsed before starting.
Also purchasing pre-chopped butternut squash will save time on prep, however, buying a whole squash and cutting it yourself is going to be fresher. See how I easily cut my butternut squash in this post.
To make the chili, you'll want to start off by cooking the onions and bell pepper until soft. Stir in garlic and cook just until fragrant. Add spices and lentils. Cook for a minute or so or until the flavors blend.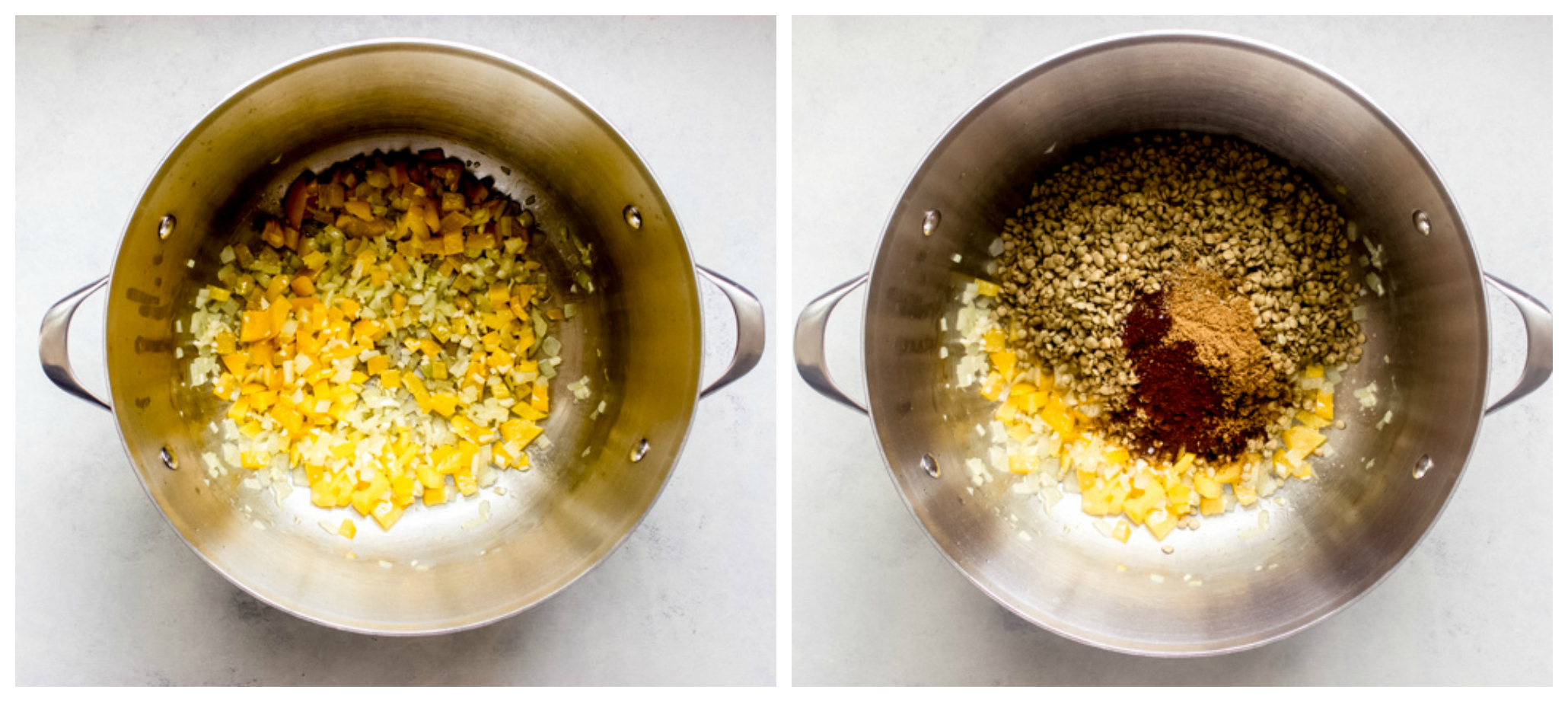 Add tomatoes, bay leaf, and broth. Simmer on low heat until lentils are soft around the edges but firm to bite.
Add butternut squash and continue to simmer for an additional 15 minutes or until the squash is knife tender. Stir in beans and cook just until heated through. Serve with toppings of choice.

Optional Toppings for Serving
I love just about anything spicy so I'm always adding something spicy to give my chili a kick. You can serve the chili as is or with any of the following toppings. TIP: create a toppings bar so everyone can add whatever they like.
Fresh cilantro
Green onions
Tortilla chips
Sour cream
Avocado
Shredded cheese
Red onions
Something spicy – red chili flakes, cayenne pepper, or thinly sliced jalapeño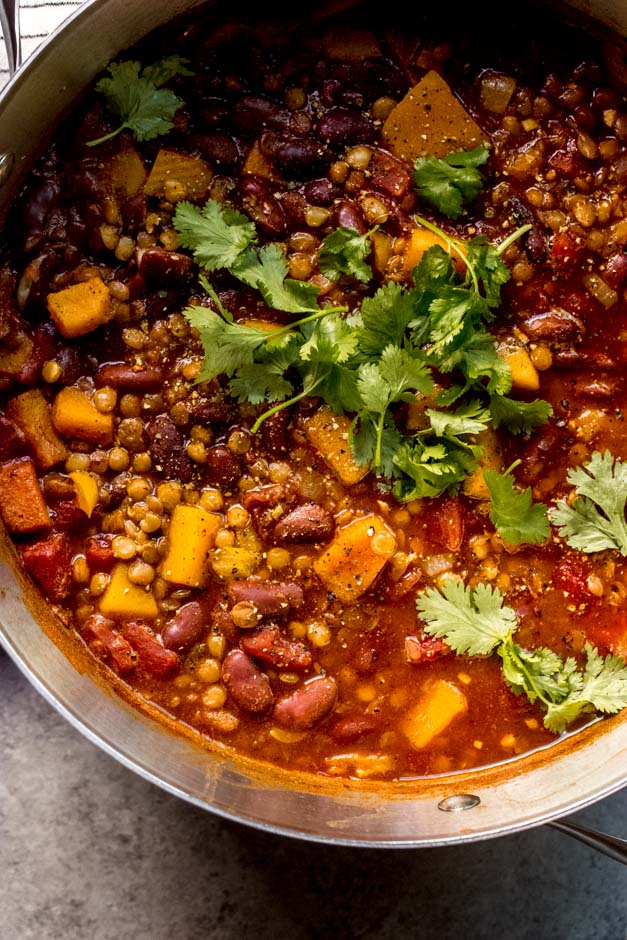 More Soup Recipes to Try:
Print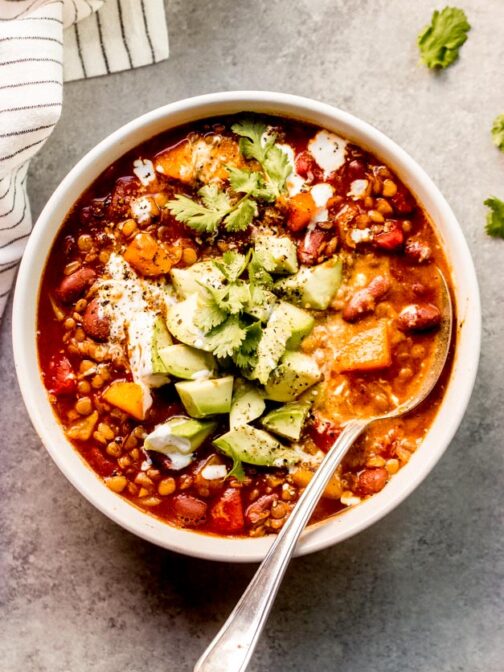 Lentil and Butternut Squash Chili
Author: Katya
Prep Time: 15 mins
Cook Time: 1 hour
Total Time: 1 hour 15 mins
Yield: 8–10 1x
Category: Soup
Method: Simmer
Cuisine: American
---
Description
Warm up with a bowl of this hearty veggie chili. Packed with nutritional all-star lentils and fiber high butternut squash.  It's so cozy and belly warming good.
---
2 Tbsp. olive oil
1 medium onion, chopped
4 garlic cloves, minced
1 large yellow bell pepper, chopped
2 cups dry lentils, rinsed
3 tsp. chili powder
2 tsp. cumin
2 tsp. oregano
2 (14.5 oz.) cans no-salt diced tomatoes
1 dry bay leaf
7 cups chicken stock or vegetable stock
3 cups cubed butternut squash
2 (15 oz.) cans red kidney beans, rinsed
Kosher salt and fresh black pepper
Optional for Serving:
Cilantro
Avocado
Red onions
Sour Cream
Something spicy
---
Instructions
In a 6-quart heavy duty stockpot or dutch oven, heat olive oil over medium heat. Add onions and bell pepper. Cook for 5-6 minutes or just until the vegetables begin to soften. Stir in garlic and cook for 30 seconds or until fragrant.
Add lentils, chili powder, cumin, and oregano. Season to taste with salt and pepper, and cook for about 1 minutes, stirring nonstop.
Add tomatoes, bay leaf and stock. Bring to a simmer, reduce heat to low and simmer partially covered for 15-20 minutes or until lentils are soft around the edges but firm to bite. Liquid will also slightly reduce.
Add butternut squash and continue to simmer for 15 minutes. You might also want to taste for salt here and add more, if needed.
Stir in beans and cook just until heated through, about 2-3 minutes. Check squash for doneness. It should be knife tender. Discard the bay leaf and serve with toppings of choice.
---
Notes
Lentils: I like to use brown or green varieties of lentils. They're the most basic type of lentils and easy to find at the store.
Tomatoes: I prefer to use no-salt diced tomatoes as I like to control the amount of salt I add to the chili. You can certaintly use salted tomatoes. Just watch how much salt you add.
Beans: Swap out red kidney beans for pinto or black beans.
Extra Add-Ins: This chili is very versatile and you can add more flavor with any of these add-ins: diced green chiles, corn, fire-roasted tomatoes, fresh jalapeño, and something smoky such as smoked paprika or chipotle peppers in adobo sauce.
Leftovers: Leftover chili can be refrigerated in an airtight container for up to 5 days.
Freezing Instructions: Transfer cooled chili to a freezer safe container or bag and freeze up to 3 months. Thaw overnight in the refrigerator, then reheat on the stovetop over medium heat.
Originally published October 2015
Nutrition
Serving Size:
Calories: 328
Sugar: 8.5 g
Sodium: 628.8 mg
Fat: 6.2 g
Carbohydrates: 51.6 g
Protein: 19.3 g
Cholesterol: 5 mg
Keywords: winter, tailgate, comfort food