Avocado Tuna Melt
These open-faced Avocado Tuna Melts are made with creamy avocado, cheddar cheese, chunky tuna, and whole-grain bread. Similar to our avocado tuna salad recipe — it's a healthy lunch that comes together with ease and has the best flavor with melty cheese and crispy, toasty bread. 
These avocado tuna melts will rock your world! They are so creamy, crunchy, and just melt in your mouth. Just minutes for a delicious, hot melty sandwich with all the best flavors.
Plus, we use just a tiny bit of mayo. Instead, they're made with creamy avocado and only two tablespoons of mayo, tangy Dijon mustard, and zesty fresh lemon juice. The avocado acts like "mayo" and adds all the delicious creaminess that we all love in a tuna melt.
Reasons to Love this Recipe
Healthy – There are a few reasons why this avocado tuna melt is a healthy choice for a quick lunch. It has avocado which is full of healthy fats meaning we're using less mayo, plus tuna is a healthy protein choice.
Easy – Just mix up the tuna salad, crisp up the bread, and build for a quick and easy lunch that's bursting with flavor.
Texture heaven – The toasty bread has the perfect crunch, the oozy, melted cheddar cheese, and the chunky tuna with smooth avocado dressing. You'll love how this comes tuna avocado melt recipe together!
Ingredients
You shouldn't have to look far to find these common pantry ingredients!
Tuna – Albacore tuna in water is the best choice for clean, fresh-tasting tuna. Tuna in oil is better for adding to salad instead of mixing into a tuna salad.
Avocado – Use a ripe avocado because it is more creamy and will blend beautifully into the dressing.
Cheese – Mild cheddar is super yummy melted over this easy tuna melt. Choose another good melting cheese if you prefer.
Dressing Ingredients
Mayonnaise, dijon mustard, and lemon juice
Red onion and fresh parsley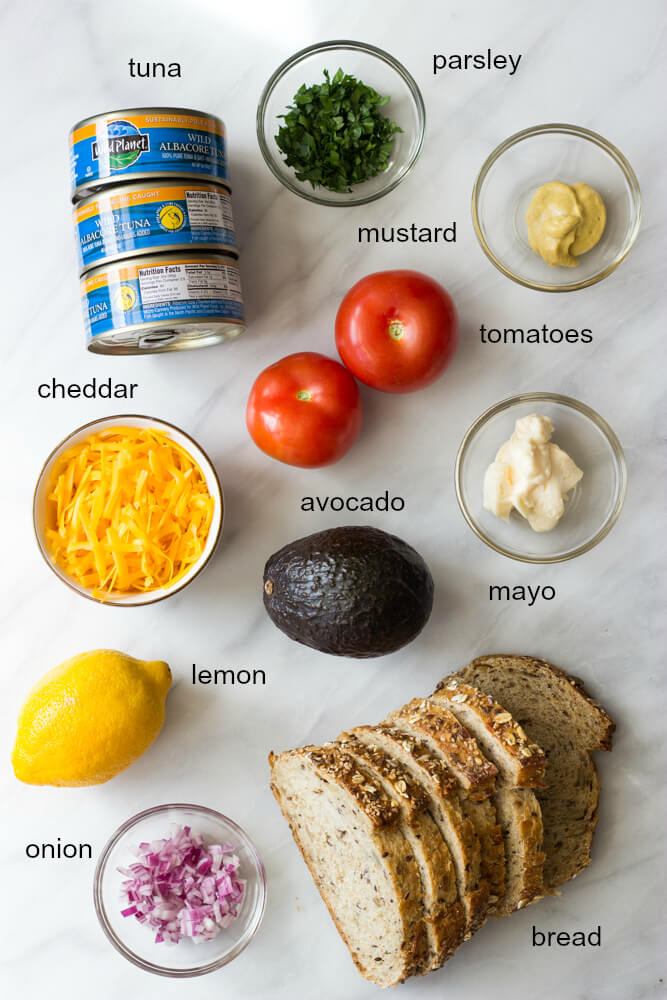 What bread is best with this melt?
This recipe is a perfect way to have a healthy meal, so using whole-grain bread is best. I love a hearty bread full of seeds and other grains.
What can I add to tuna salad for a melt?
This is a versatile recipe and is easy to add your favorite additions. Here are some ideas of what to add:
Celery
Capers
Pickles
Hot sauce
Jalapenos
Bacon
Tomato and lettuce
How to Make Avocado Tuna Melt
Preheat the oven and place sliced bread on a baking sheet lined with parchment paper. Halfway through baking, flip the bread.
In a medium bowl, combine tuna and avocado and mash with a fork. You want large chunks.
Add in the remaining ingredients and mix to combine.
Top each toast with the tuna mixture, tomato, and cheese. Broil until the cheese is melted.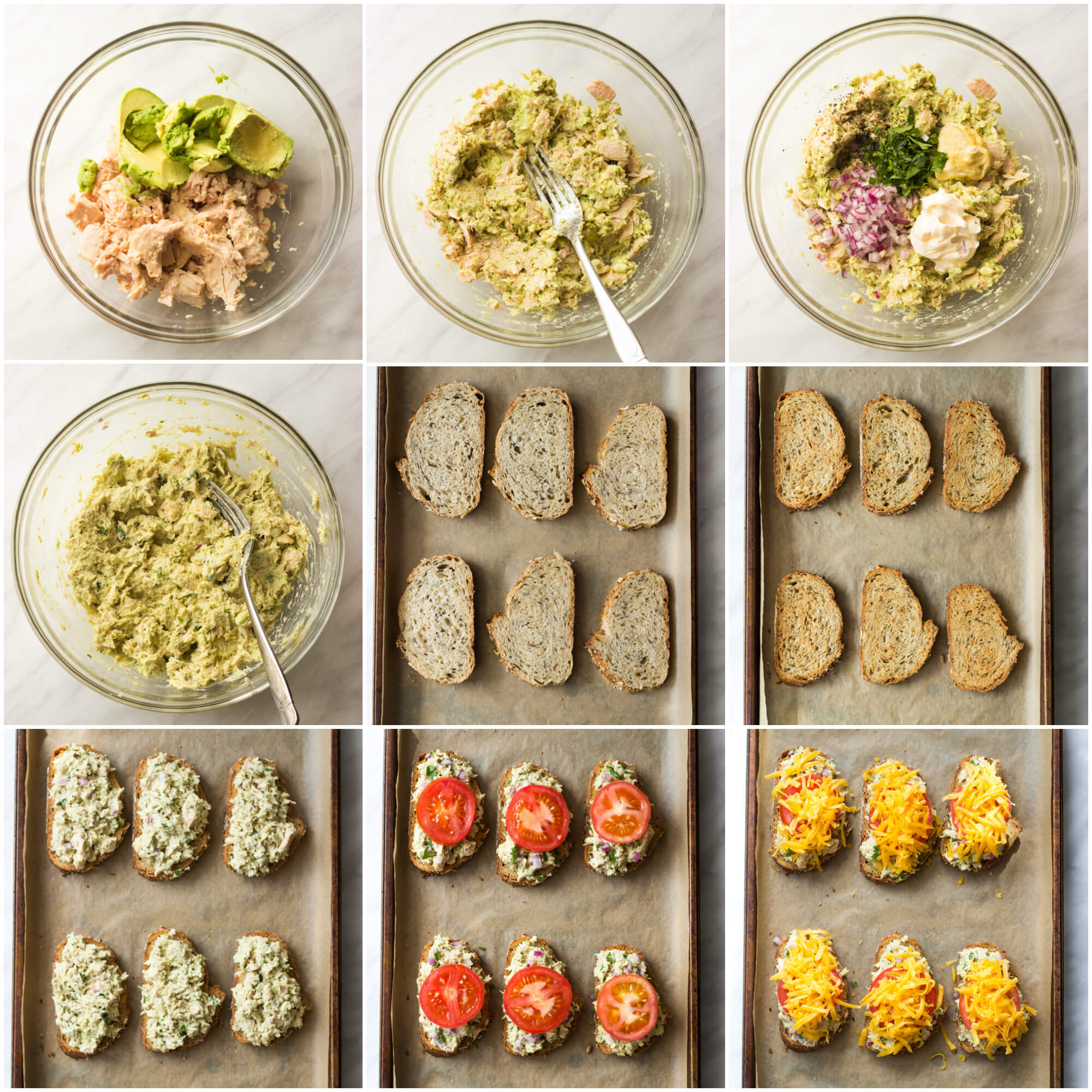 Recipe Variations
Low Carb – Skip the bread and served this chunky tuna and avocado melt on a big, thick slice of tomato. Place thick slices of tomato on a parchment-lined baking sheet and top with the avocado tuna salad and cheese. Heat through until the cheese is melted.
Switch out cheese – Try muenster for a smooth blended flavor of mild cheddar and mozzarella that melts beautifully.
Use chicken – Switch out the tuna for chicken. You can use freshly shredded or leftover chicken or canned chicken.
Recipe Tips
This tuna melt recipe made with avocado is deliciously melty and has the best texture. Here are a few tips when making this hot tuna salad sandwich.
Rinse tuna – this is absolutely NOT necessary. Simply drain the tuna before using it.
Use a ripe avocado – We want a creamy avocado and using them when they are ripe will give you just that. If not quite ripe, the avocado will be firm and not smush into the mix. Still good, but just not what we're looking for in this hot tuna melt sandwich.
No Mayo – If you want to skip the little bit of mayo that is in this recipe, try substituting for greek or plain yogurt.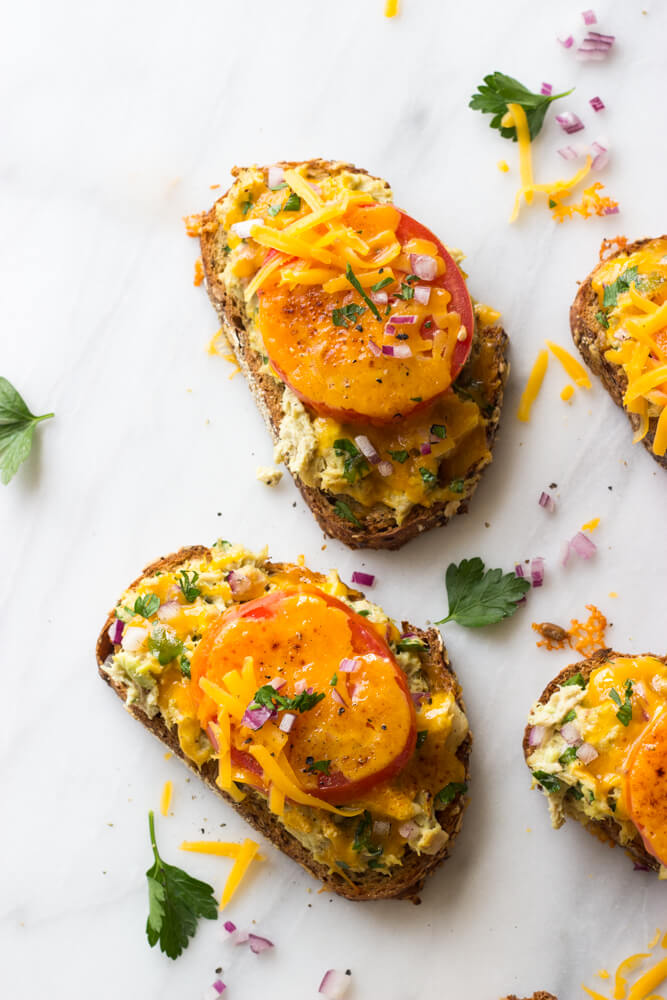 How to Serve
Enjoy this melty avocado tuna open-face sandwich for lunch or dinner. Here are a few sides that go well with this light, healthy melt.
How to Store
Store the tuna salad mix before heating it in an air-tight container for up to 3 days in the refrigerator. I do not recommend storing it after heating.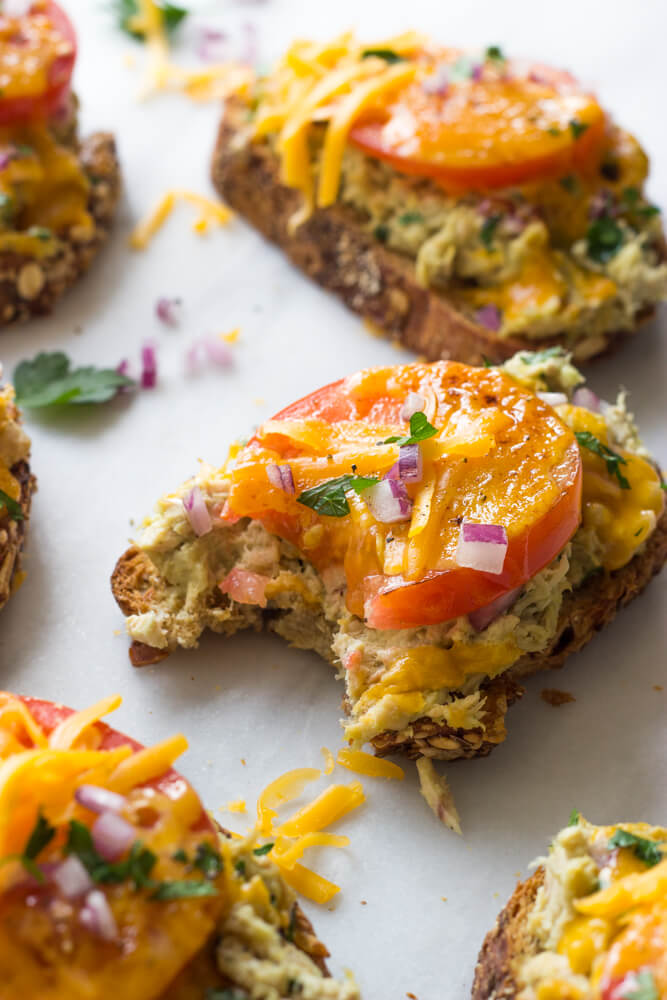 More Healthy Lunch Recipes
Print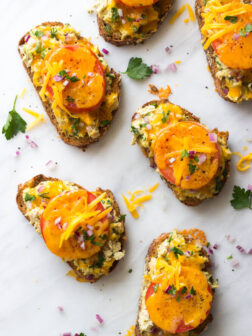 Avocado Tuna Melt Recipe
Author: Katya
Prep Time: 10 mins
Cook Time: 20 mins
Total Time: 30 mins
Yield: 6–8 generous size melts 1x
Category: Appetizer
Method: Chop
Cuisine: American
---
Description
These tuna melts are made with creamy avocado, wholesome cheddar cheese, and whole grain bread. Fraction of the calories and taste 100% amazing! 
---
3 (5 oz.) cans albacore tuna in water, drained
1 large ripe avocado, pitted
1 Tbsp. red onion, finely chopped
1–2 Tbsp. fresh parsley, finely chopped
2 Tbsp. mayonnaise
1 Tbsp. Dijon mustard
2 Tbsp. fresh lemon juice
6–8 slices crusty bakery style whole-grain bread
1–2 medium tomatoes, sliced
1 cup mild cheddar cheese, freshly grated
Kosher salt and black pepper, to taste
---
Instructions
Preheat the oven to 400 degrees F. Place bread slices on a parchment lined baking sheet and toast for 13-15 minutes until golden crisp, flipping halfway.
While the bread is toasting, add drained tuna and avocado to a bowl and mash with a fork breaking up any large chunks.
Add onion, parsley, mayonnaise, mustard, and lemon juice. Season with salt and pepper, to taste. Mix to combine.
Top each toast with tuna mixture, slice of tomato, and cheese. Broil for 3-4 minutes or until cheese has melted. Serve immediately.
---
Nutrition
Serving Size: 1 melt
Calories: 372
Sugar: 3.6 g
Sodium: 608.9 mg
Fat: 21 g
Carbohydrates: 18.2 g
Protein: 27.8 g
Cholesterol: 56.7 mg
Keywords: lunch, easy, healthy, seafood