Eggplant, Prosciutto and Pesto Pressed Sandwich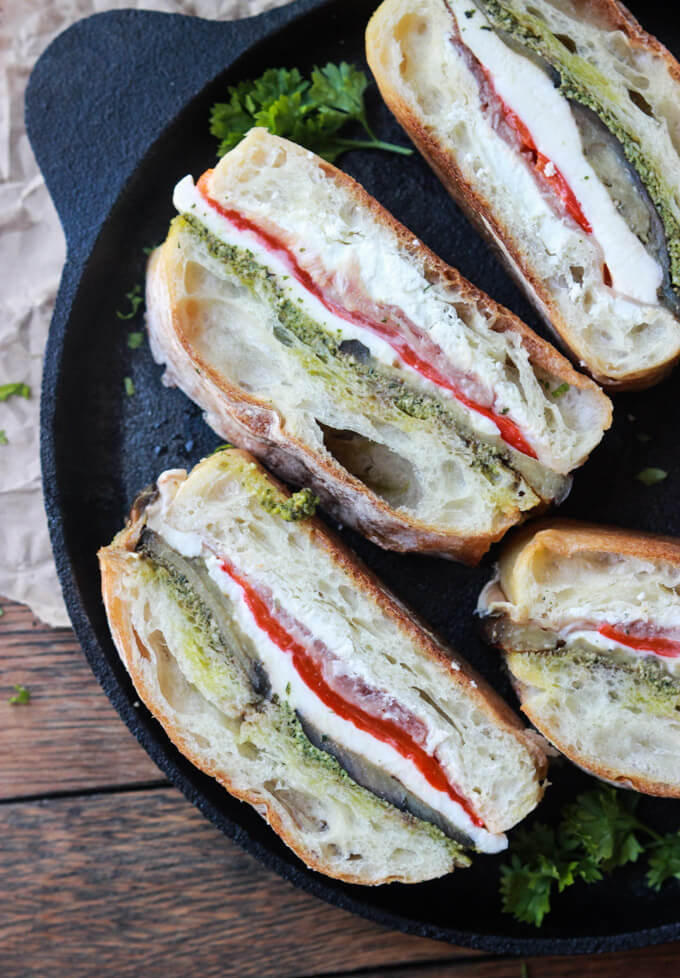 As you guys know, I like me a good salad any time, any day of the week. My hubby on the other hand is your typical guy and could not be any more different. He'll chose a sandwich any day of the week over a salad. And thing is he makes a mean sandwich. One of those that he makes up from top of his head that involves the most strangest ingredients and it comes out super delicious! Yeah one of those sandwiches. I can't do that. My mind just does not work that way in sandwich world. Now give me a salad and that's a different story.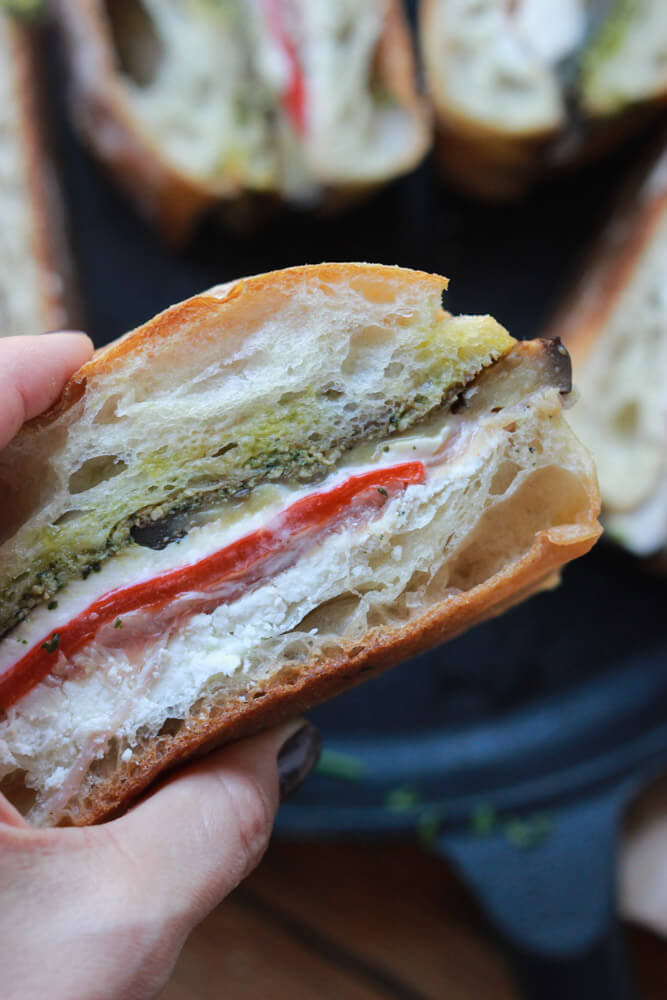 I on the other hand like my basics: turkey, swiss, mustard, lettuce, tomato and either fresh cucumber slices or avocado. And I'm happy. So when I whipped this Eggplant, Prosciutto and Pesto Pressed Sandwich….lets just say I won. End of story.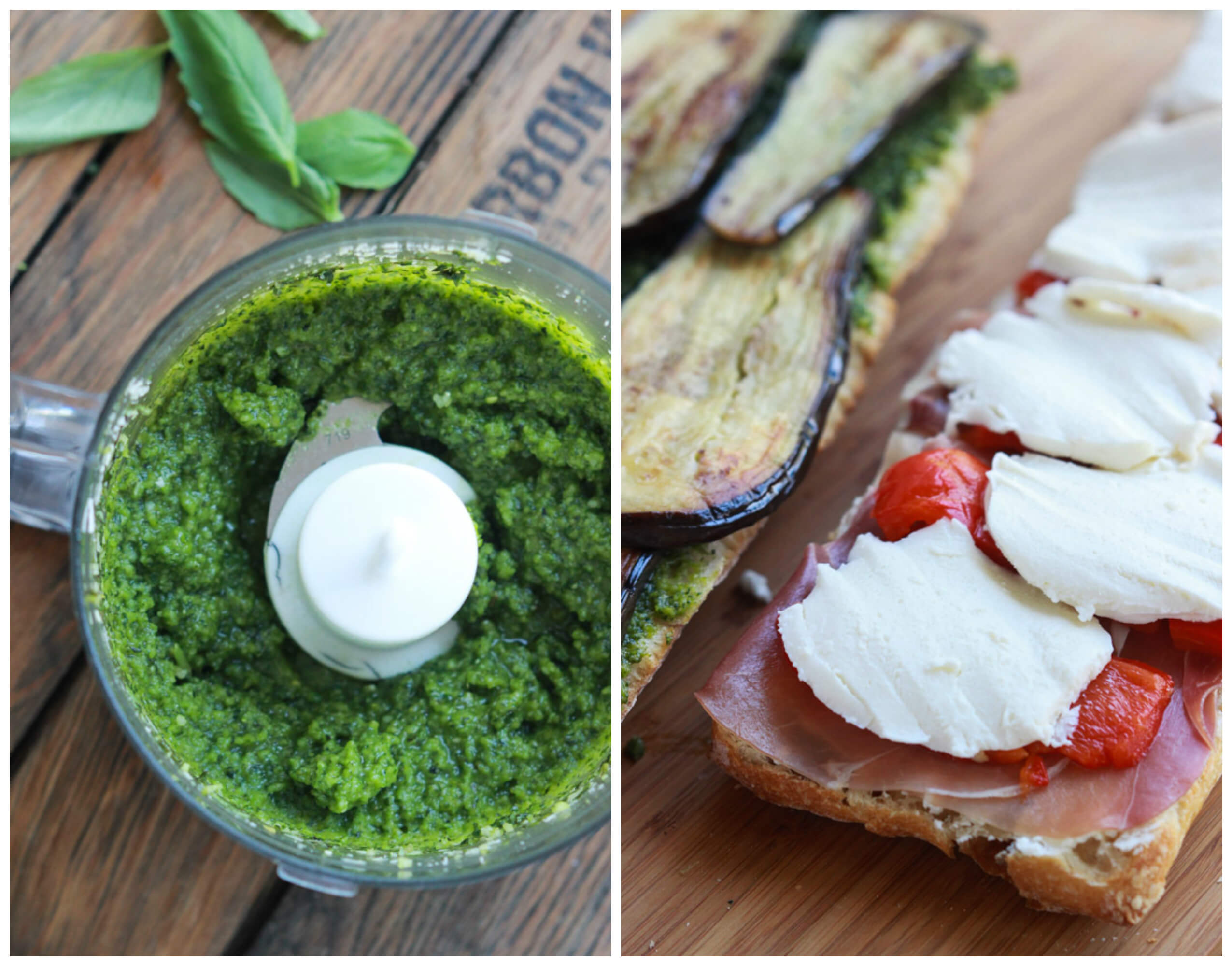 It all started with homemade pesto, which by the way I had leftovers with soup and naan bread the other day and it couldn't be any more garlicky, basil-y and fresh. Homemade pesto is the way to go! Five minutes and you're set. Then layers of prosciutto, roasted bell pepper, eggplant and fresh mozzarella piled on a freshly baked ciabatta loaf. Every single layer adds its own flavor and color.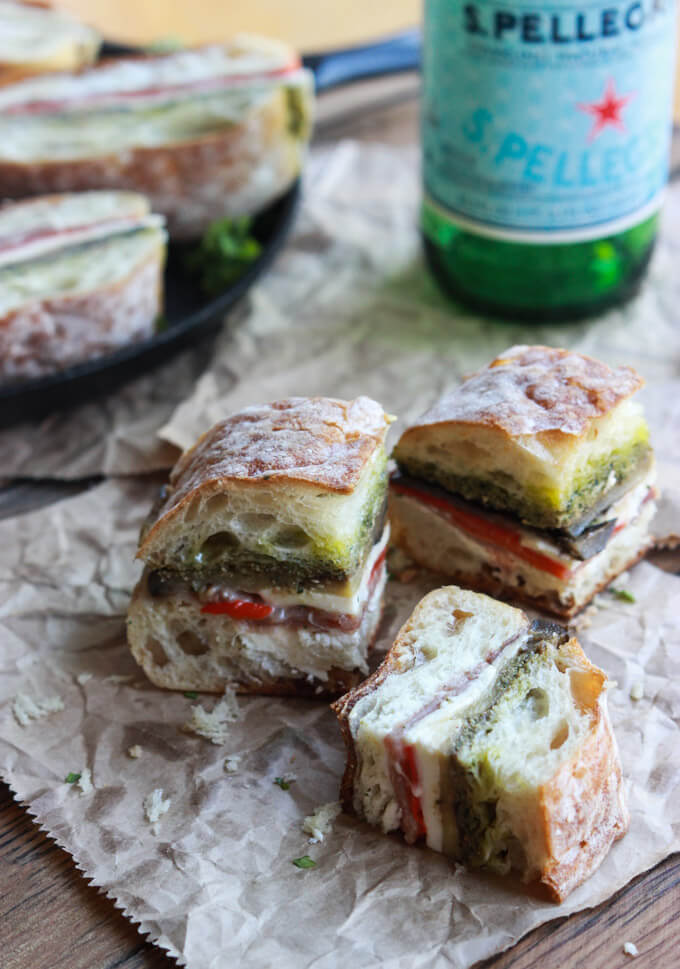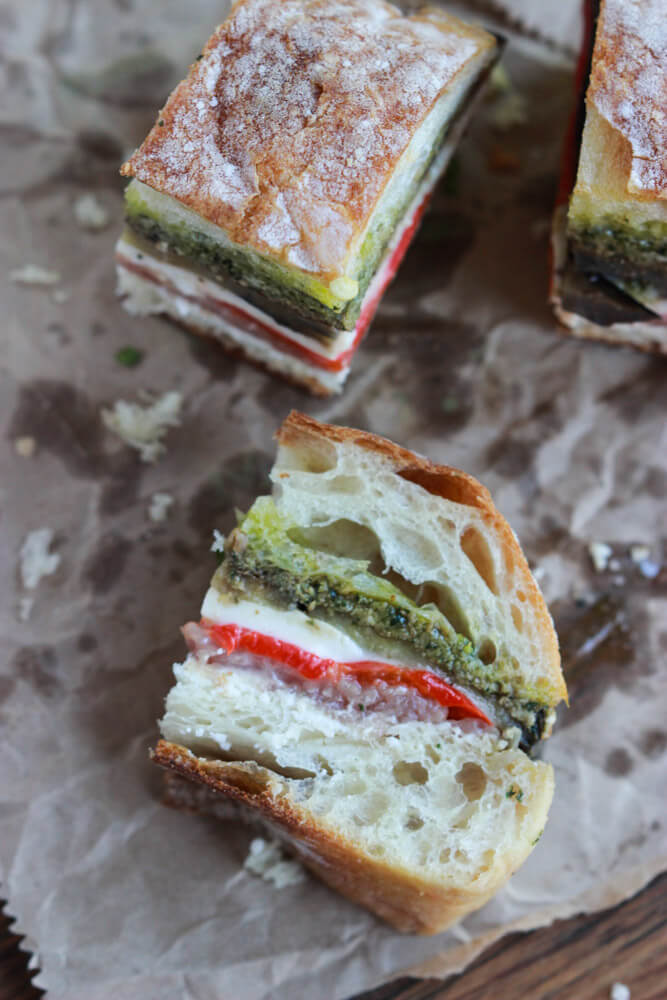 I love the idea of a pressed sandwich, especially with coarse bread like ciabatta. It kind of just brings all the flavors together and softens the sandwich a little. Slice it for individual lunch portions or cut them into squares to serve as finger food. Perfect for those football weekends.
Refrigerate the sandwich for at least two hours before serving or overnight. I would just go light on pesto when refrigerating overnight to avoid soggy bread. You can also play around with different layers, such as cucumber slices. They would go really well here for extra freshness and crunch!
Print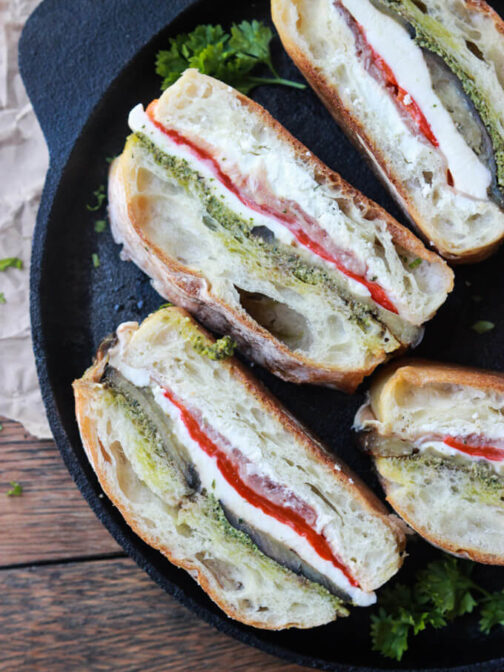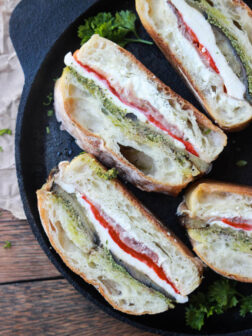 Eggplant, Prosciutto and Pesto Pressed Sandwich
Prep Time: 40 mins
Cook Time: 40 mins
Total Time: 1 hour 20 mins
Yield: 10 1x
---
Pesto
2 cups basil leaves
1/3 cup shredded Parmesan cheese
1/3 cup pine nuts
3 large cloves garlic, peeled
1/4 tsp. sea salt
1/4 cup extra-virgin olive oil
Sandwich
1 red bell pepper
1 medium eggplant, cut lengthwise into 1/4-inch thick slices
4 oz. soft goat cheese
8 oz. fresh mozzarella, sliced
4 oz. prosciutto, sliced
1 loaf of ciabatta bread, sliced in half lengthwise
olive oil
sea salt and fresh ground black pepper
---
Instructions
Pesto
In a food processor, combine the basil, Parmesan, pine nuts, garlic, and salt until well mixed. While the processor is running, slowly add the olive oil until the pesto is well combined. Set aside.
Sandwich
Preheat the oven to 425F.
Coat the bell pepper with olive oil and wrap loosely in foil. Place on a baking sheet and roast for 40 minutes or until charred and soft, turning occasionally. Once cool enough to handle, skin the bell pepper, remove the core and seeds and cut into 1-inch strips.
While the bell pepper is roasting, season the eggplant slices lightly with salt and pepper. Add thin layer of olive oil to a skillet and cook the eggplant over medium heat for 3-4 minutes on each side or until browned. Note: add oil to the skillet as needed. Remove on paper towel to drain.
Spread the pesto on one side of the ciabatta slice and goat cheese on the other. Layer on the prosciutto, red bell pepper, mozzarella, and eggplant.
Wrap the sandwich tightly in plastic wrap and refrigerate for at least 2 hours or overnight weighed down with a heavy object, such as milk carton, casserole dish, etc.
Cut the sandwich into slices or mini square sandwiches. Makes 10 sliced sandwiches or 20 mini square sandwiches.
---
Notes
Tip: to avoid soggy bread, go easy on the pesto if refrigerating the sandwich overnight.
**Time does not include the time it takes to refrigerate the sandwich**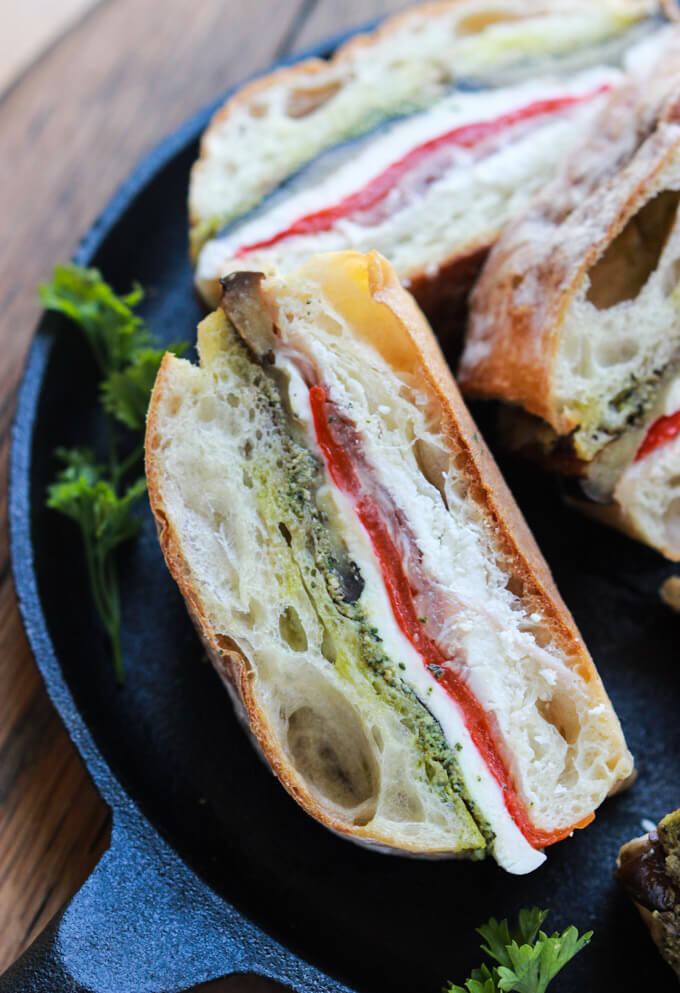 adapted with changes from Host the Toast