Italian Prosciutto Sandwich
This Italian Prosciutto Sandwich layers prosciutto, roasted red peppers, eggplant, and a blend of cheeses on ciabatta bread with pesto before wrapping and pressing overnight.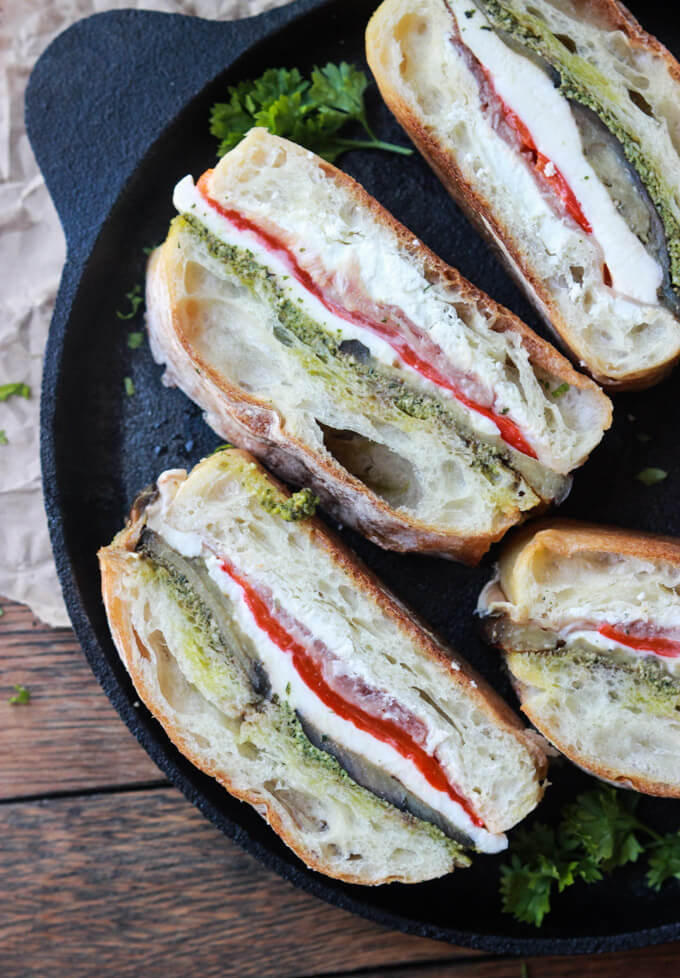 Jump to:
Sandwiches are so fun to make, especially when adding your own flavors and ingredients. We're no strangers to sandwiches, everything from turkey Cuban sandwich to heirloom tomato sandwich –we love!
This prosciutto sandwich is over the top with homemade pesto sauce, freshly roasted bell peppers, and pan-cooked eggplant planks.
The bread is chewy, and the pesto is fresh and herby, making this an irresistible recipe you won't want to pass up. Of course, you could always use store-bought ingredients, but fresh is the way for a true show-stopper!
Are you looking for more sandwich recipes for lunch or an appetizer for a party platter? You'll love our veggie-loaded hummus sandwich!
Reasons to Love This Recipe
A sandwich built for sharing. You put in all the work, so why not share this sandwich at gatherings, picnics, or as a tasty lunch for the family? After the overnight press, you can cut it into small sandwiches, enough to feed a crowd!
Fresh ingredients. This Italian sandwich introduces freshly made ingredients for something extraordinary. It may take a little more effort, but it's well worth it!
Customizable. You can follow this sandwich recipe to a T or switch up the meat, cheese, bread, and veggies to fit what you have on hand or to experiment with new flavor combinations. Just follow the same process and layer with your favorites!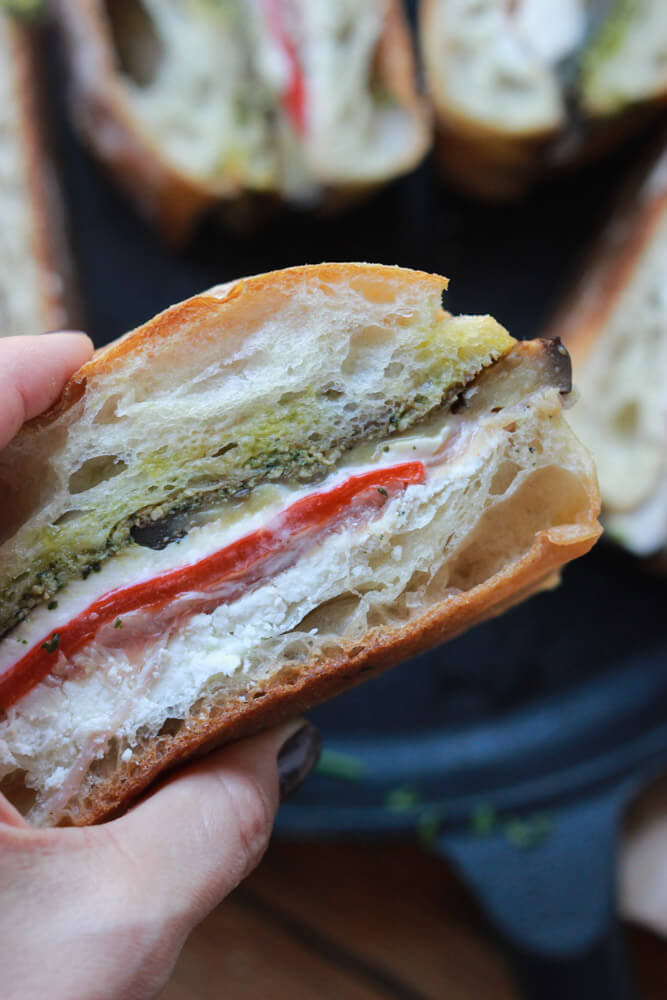 Ingredients + Substitutions
This isn't an average sandwich–it's way more than that! Prosciutto Italian sandwich combine the best ingredients, from the pesto to the deli meat.
For the Homemade Pesto Sauce
Basil: This is the classic pesto herb, but you can use any you like. It'll change the flavor, but who doesn't love an herbaceous sauce?
Parmesan cheese: Freshly grated parmesan is best.
Pine nuts: You could also use another nut, like walnuts or almonds.
Garlic, salt, and oil: The finishing elements for flavoring the pesto and carrying the ingredients.
For the Sandwich
Roasted red bell pepper: I love roasting my peppers; if you have the time, I recommend doing the same. Alternatively, you could purchase a jar of roasted red peppers. Just make sure to soak up the extra liquid, so it doesn't make the bread soggy and mushy.
Eggplant: Cut into long planks and cook in a pan with olive oil to soften.
Cheese: I use a combination of goat cheese for spreading onto the bread and mozzarella cheese for that nice thick layer of cheese.
Prosciutto: Talk about an elevated sandwich! Italian deli meat like prosciutto adds a unique layer of salty ham. Still, you could also use regular sliced ham, pepperoni, salami, or a combination of them to make your sandwich.
Italian bread: Ciabatta bread is the most amazing soft and chewy bread and holds up to the pesto and toppings. Plus you can get really nice thick slices. You could also use other Italian bread that is hearty and soft inside but has a crisp shell.
Olive oil: Just a pit to help cook the eggplant in a skillet.
Salt and pepper, to taste.
See the recipe card for quantities.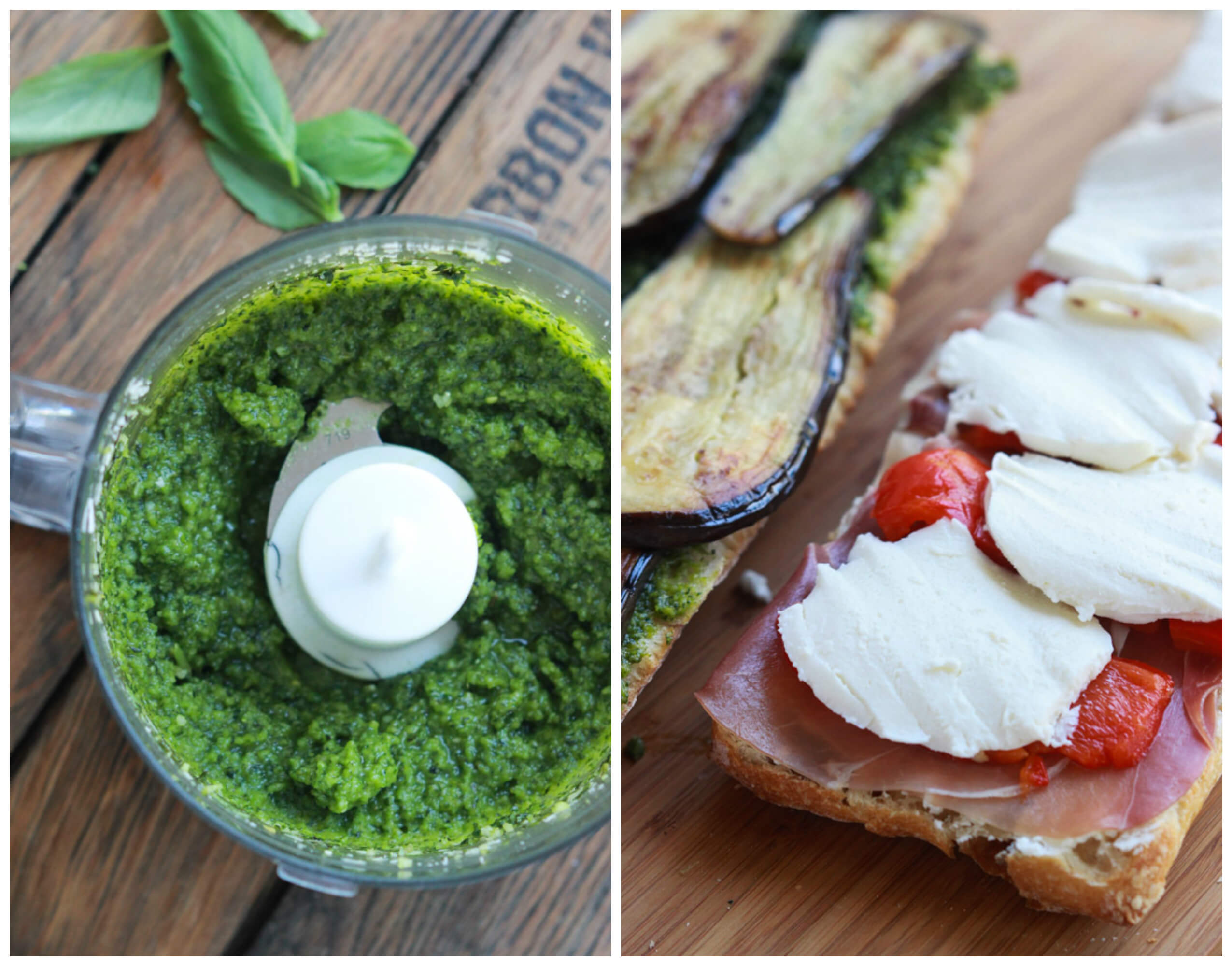 Step-by-Step Instructions
I make a few of my ingredients from scratch for my take on this delectable deli sandwich. If you want to make this a little quicker, use storebought pesto and roasted red peppers.
How to Make Homemade Pesto
Add the fresh basil leaves or herbs to a food processor with parmesan, nuts, garlic, and salt. 
Begin to process the pesto and slowly drizzle in the oil until everything is blended.
How to Roast Red Bell Peppers
Rub oil all over the whole bell pepper and loosely wrap in foil. You'll roast the pepper until the skin is charred and soft, flipping once or twice.
Once finished, wait until the pepper is cool enough to handle to peel the skin off and remove the core and seeds.
Cut the pepper into strips and set it on paper towels to remove any extra moisture.
How to Cook Eggplant in a Pan
While the pepper is roasting, slice the eggplant lengthwise into planks and season.
Heat a skillet with oil and briefly cook the eggplant for a few minutes on each side until softened and browned. You may need to add more oil, but once it is cooked, you can set it on a paper towel to absorb the extra oil.
Assemble
Cut the ciabatta bread lengthwise and open with the cut side up. Spread the pesto on one side and the soft goat cheese on the other.
Layer the remaining ingredients on the pesto side, starting with slices of prosciutto, then sliced peppers, fresh mozzarella, and eggplant. Add the goat cheese side on top and wrap the entire sandwich tightly with plastic wrap.
Clear a spot in the fridge and leave enough room for whatever heavy object you use for pressing. Allow the sandwich to press for up to 24 hours for the best results.
For serving, cut it into larger pieces or mini square sandwiches.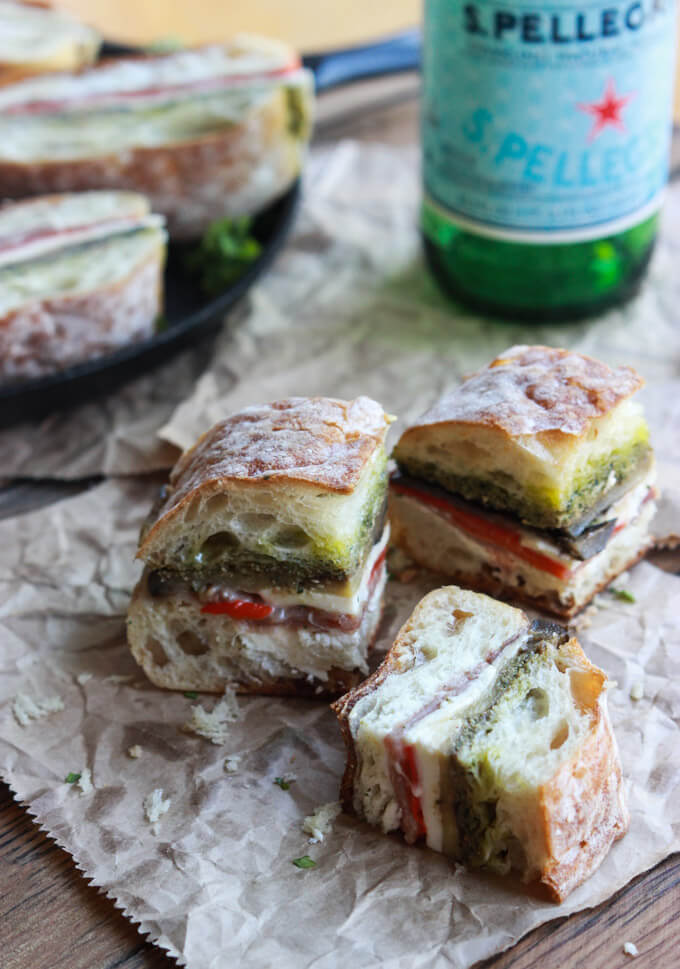 Recipe Tips
Want to make a mouth-watering Italian prosciutto sandwich that's perfect every time? These tips help you get it right on the first try.
Add a light, even layer of pesto. It's important to add only a little pesto when assembling ahead of time and pressing it, as it can cause the bread to become soggy. Instead, use only enough pesto to bring the sandwich together, and serve extra pesto on the side to add more.
Cover the sandwich well. Wrapping the sandwich tightly with plastic wrap is crucial to keeping all the layers together as it chills and makes it easier to cut cleanly.
Serve warm. If you prefer a hot sandwich, there are a couple of ways to achieve it with this recipe. One option is to follow the cold overnight pressing method, then heat the sandwich in the oven or a skillet until it's heated through. Another option is to skip the overnight pressing and use a panini press right after making the sandwich, being careful not to press too much and squeeze out the ingredients. Either way, the result will be a warm, delicious Italian-pressed sandwich with melted cheese and crisp bread. Enjoy!
How to Serve
Serve this sandwich along with these delicious side dishes: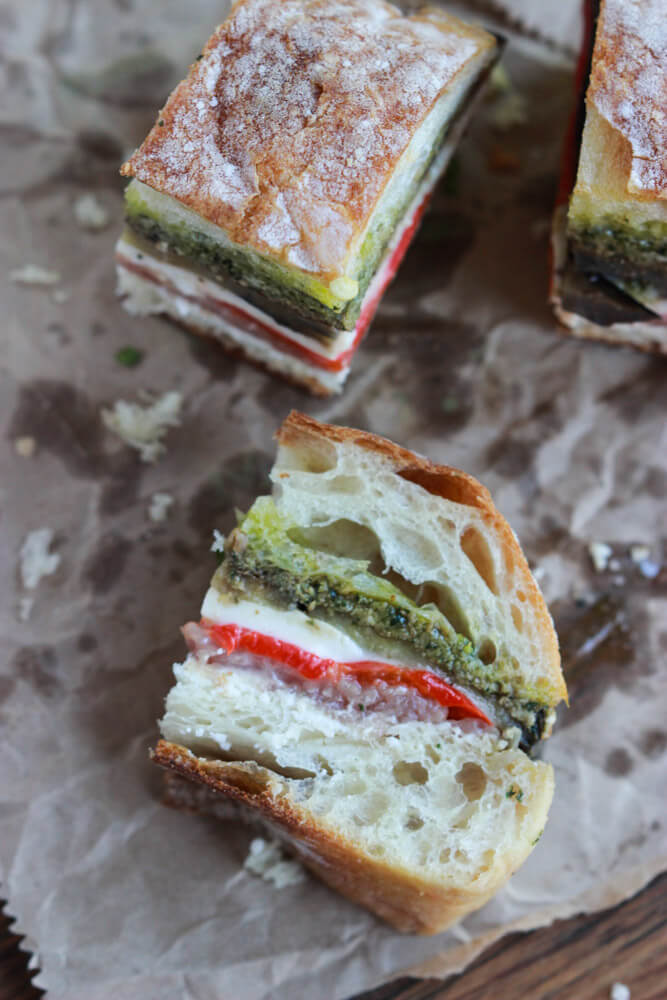 To Store: Store in the fridge for up to 3 days, tightly wrapped.
Recipe FAQs
Can I use storebought pesto?
Yes, substituting store-bought pesto for homemade is a simple option. I recommend using a slotted spoon or fork to scoop the pesto out of the container, allowing excess oil to drain as it may be excessively oily.

What can I use instead of goat cheese?
Because we're spreading goat cheese on the bread, try a different kind of spreadable cheese, such as cream cheese. It isn't as tangy as goat cheese, but a decent substitute. Alternatively, you could try using some slices of provolone cheese instead.

Print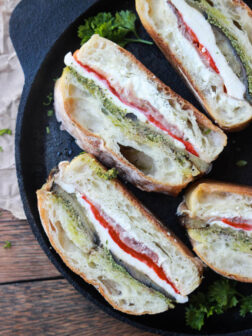 Italian Prosciutto Sandwich
Author: Katya
Prep Time: 40 mins
Cook Time: 40 mins
Total Time: 1 hour 20 mins
Yield: 10 1x
Category: Sandwich
Method: No-Cook
Cuisine: Italian
---
Description
Delicious pressed sandwich with pesto, eggplant, goat cheese, mozzarella, and prosciutto on ciabatta bread.
---
Pesto
2 cups basil leaves
1/3 cup shredded Parmesan cheese
1/3 cup pine nuts
3 large cloves garlic
1/4 tsp. kosher salt
1/4 cup extra-virgin olive oil
Sandwich
1 red bell pepper
1 medium eggplant, cut lengthwise into 1/4-inch thick slices
4 oz. soft goat cheese
8 oz. fresh mozzarella, sliced
4 oz. prosciutto
1 loaf of ciabatta bread, sliced in half lengthwise
Olive oil
Kosher salt and fresh ground black pepper
---
Instructions
Pesto
In a food processor, combine the basil, Parmesan, pine nuts, garlic, and salt until well mixed. While the processor is running, slowly add the olive oil until the pesto is well combined. Set aside.
Sandwich
Preheat the oven to 425F.
Coat the bell pepper with olive oil and wrap loosely in foil. Place on a baking sheet and roast for 40 minutes or until charred and soft, turning occasionally. Once cool enough to handle, skin the bell pepper, remove the core and seeds and cut into 1-inch strips.
While the bell pepper is roasting, season the eggplant slices lightly with salt and pepper. Add thin layer of olive oil to a skillet and cook the eggplant over medium heat for 3-4 minutes on each side or until browned. Note: add oil to the skillet as needed. Remove on paper towel to drain.
Spread the pesto on one side of the ciabatta slice and goat cheese on the other. Layer on the prosciutto, red bell pepper, mozzarella, and eggplant.
Wrap the sandwich tightly in plastic wrap and refrigerate for at least 2 hours or overnight weighed down with a heavy object, such as milk carton, casserole dish, etc.
Cut the sandwich into slices or mini square sandwiches. Makes 10 sliced sandwiches or 20 mini square sandwiches.
---
Notes
Pesto: To avoid soggy bread, go easy on the pesto if refrigerating the sandwich overnight.
Leftovers: Store leftover sandwich, covered, in the refrigerator for up to 3 days.
Nutrition
Serving Size:
Calories: 222
Sugar: 1.1 g
Sodium: 515 mg
Fat: 16.4 g
Carbohydrates: 5.6 g
Protein: 14.6 g
Cholesterol: 17.5 mg
Keywords: sandwich, picnic, spring
adapted with changes from Host the Toast