Crockpot Cuban Pork with Beans and Fresh Tomato Salsa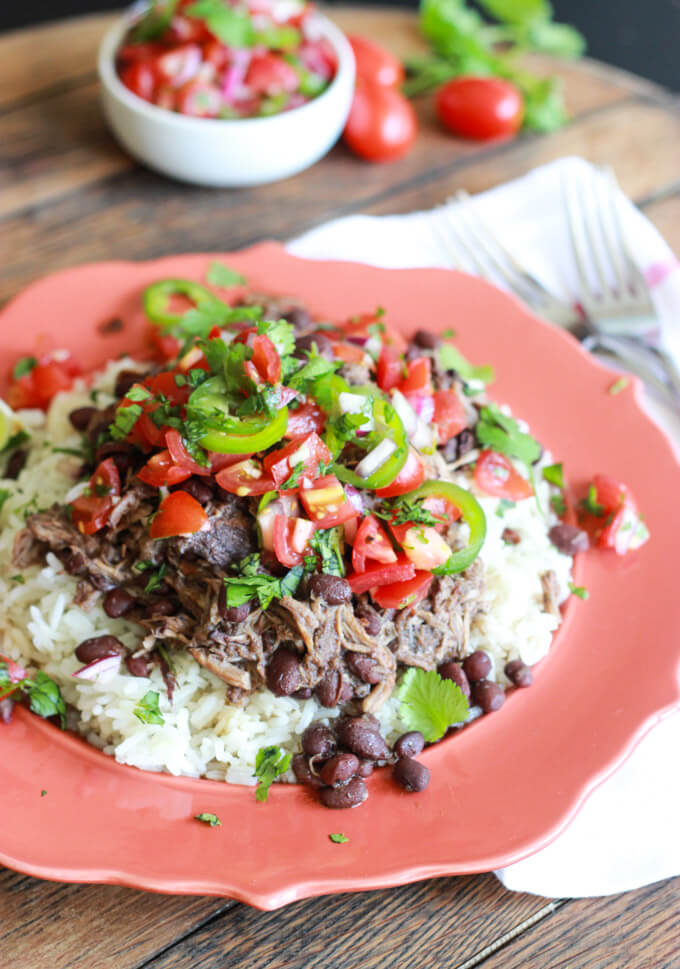 Crockpot meals are the best: all day cooking without cooking, one-step preparation and easy clean up.
Personally I love the fact when you come home from a long work day, you have a hot meal waiting for you. I abuse my crockpot when my schedule is hectic and over time collected number of recipes that my family now enjoys. Chili and Pork with Beans are my top two favorites.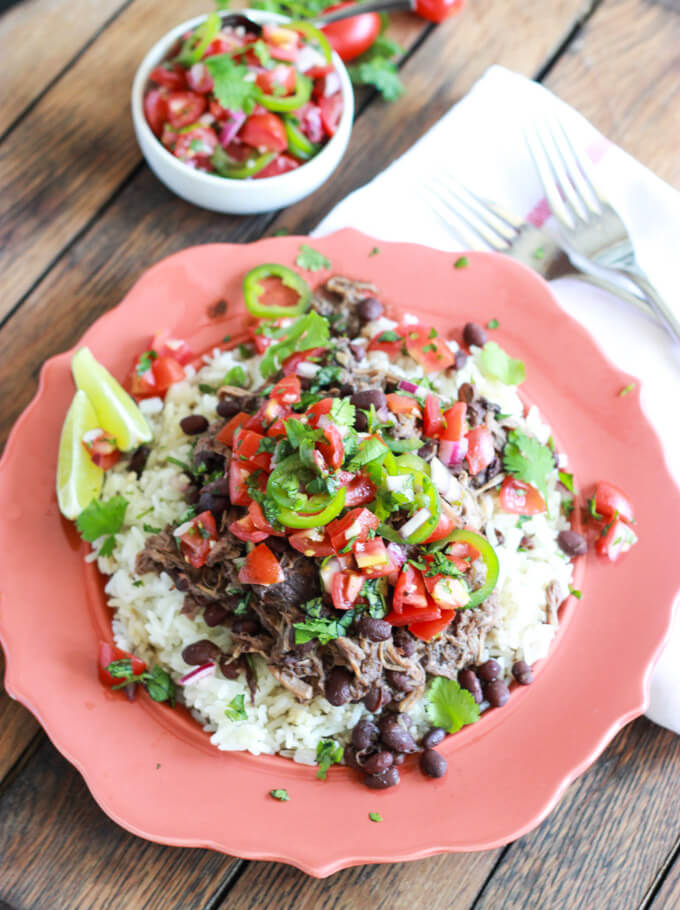 Pork with Beans is such a versatile dish. Serve it with rice, salad greens, breakfast eggs or make nachos, burritos, sandwiches. List goes on.  There is something for everyone!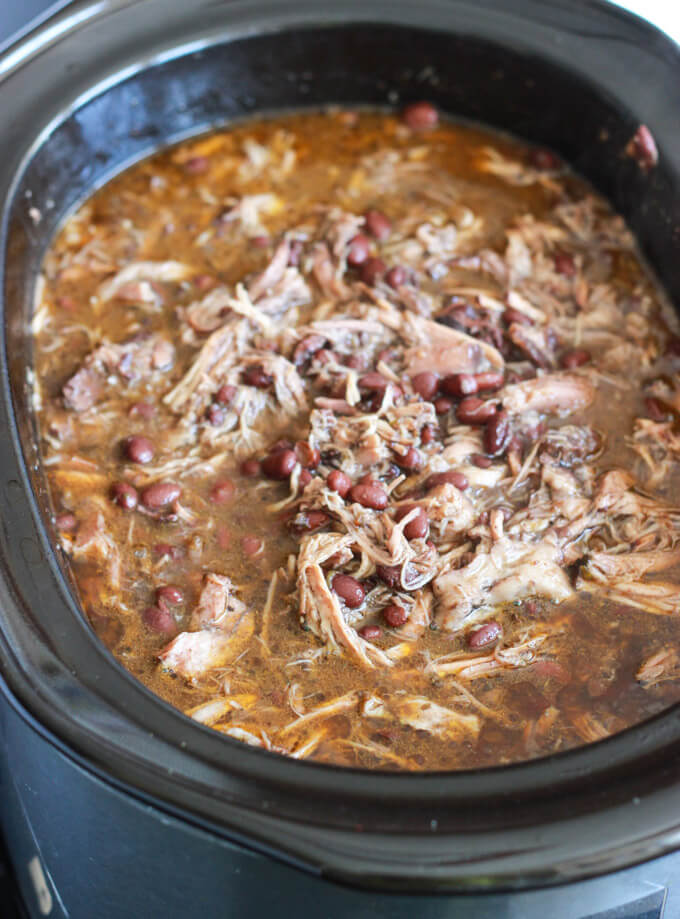 My personal favorite is pork with beans on the side with my scrambled eggs and fresh tomato salsa. Very fulfilling and hearty meal. Always a crowd pleaser. I also love to freeze a batch for later use. I mean there are so many possibilities with this simple yet delicious and flavorful dish.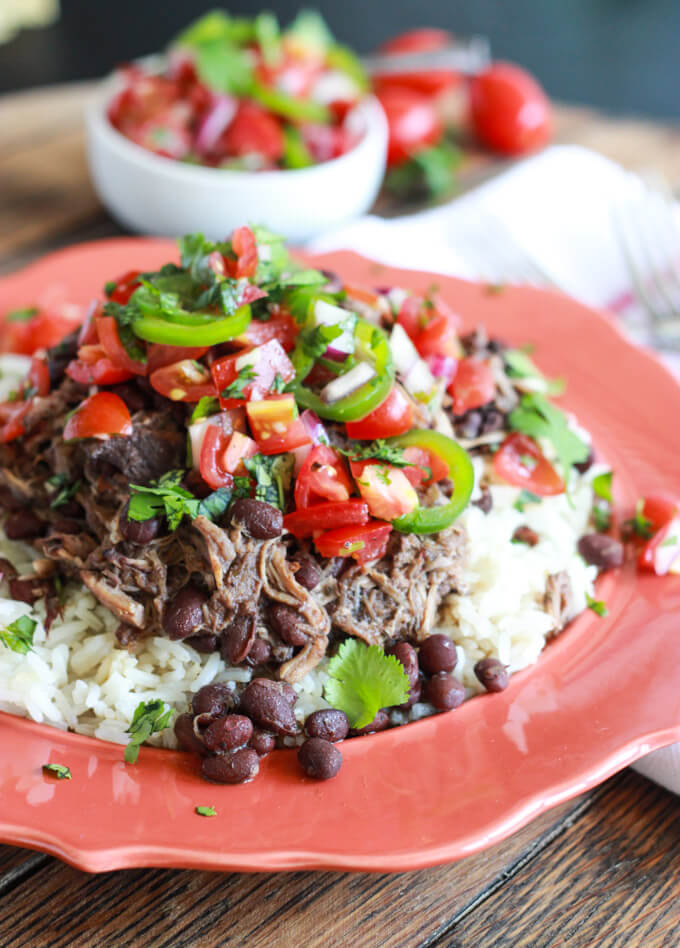 Print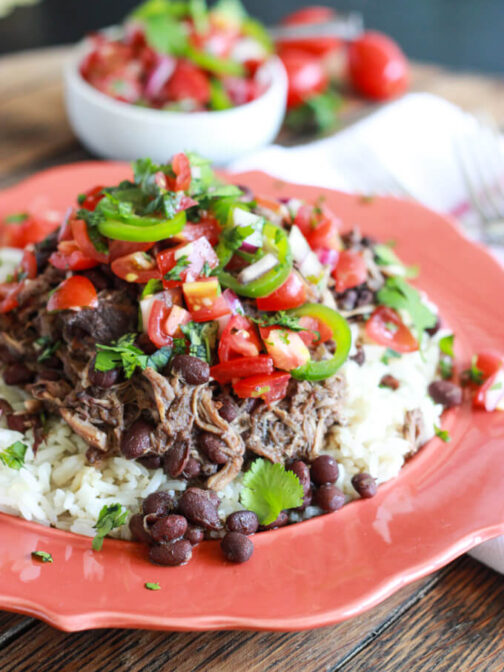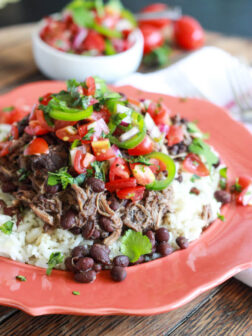 Crockpot Cuban Pork with Beans and Fresh Tomato Salsa
---
Pork with Beans
2 3/4 cups store bought chicken stock or use my Homemade Chicken Stock recipe to make your own
1 cup orange juice
1/2 cup chopped cilantro
1 medium orange, quartered
1 1/4 tsp. salt, divided
1 1/4 tsp. freshly ground black pepper, divided
4 slices bacon, chopped
1 (2 1/2 lbs.) bone-in pork shoulder
1 lb. dried black beans
2 cups chopped onion
6 garlic cloves, crushed
2 Tbsp. dry oregano leaves
2 tsp. paprika
2 tsp. ground cumin
1 1/2 tsp. crushed red pepper
1 bay leaf
Tomato Salsa
1 1/2 cups chopped tomato
1 jalapeno pepper, seeded and thinly sliced
3 garlic cloves, chopped
1/4 cup chopped red onion
1/4 cup chopped fresh cilantro
1 Tbsp. extra-virgin olive oil
1 Tbsp. lime juice
salt & pepper
---
Instructions
Combine the first 4 ingredients in a food processor and process until smooth. Stir in 3/4 teaspoon salt and 3/4 teaspoon black pepper.
Place bacon in a large skillet over medium heat; cook until crisp, about 5-6 minutes. Remove with slotted spoon, leaving the drippings in the skillet. Place the bacon in a slow cooker.
Sprinkle pork with 1/2 teaspoon salt and 1/2 teaspoon black pepper. Turn the skillet up to medium-hight heat and add pork to the drippings in the skillet; cook 8 minutes, turning to brown on all sides. Add pork to the slow cooker. Pour uncooked beans around the pork.
Return skillet to medium-high heat. Add onion and garlic; saute for 3 minutes. Add oregano, paprika, cumin, and crushed red pepper; saute 1 minute. Add orange mixture and bay leaf to pan; bring to a boil and cook 1 minute, scraping browned bits. Pour onion mixture over pork. Cover and cook on low for 8 hours or until pork is very tender and beans are done.
Shred pork; discard bones and bay leaf. Taste for seasoning and add additional salt and pepper, if desired.
In a small bowl, combine tomato, jalapeno, garlic, red onion, cilantro, olive oil, and lime juice. Season with salt and pepper according to taste.
Options for serving (1) rice, pork and salsa bowl (2) pork and salsa over chopped crispy romaine (3) rice, pork and salsa burrito (4) eggs, pork and salsa breakfast bowl
---