Mexican White Rice
Tender fluffy jasmine rice with carrots, corn, peas, and a little bit of cayenne pepper. It's our version of Mexican white rice recipe. It's so simple to make and goes with everything!
Rice Recipe That Goes with Everything!
Finally sharing my momma's Mexican rice recipe. It's a great side dish that will round out your Mexican-themed meals or anything that requires a quick side dish.
It's not your traditional Mexican rice recipe. Instead, this rice recipe is something my mom basically put together on a whim and called it Mexican rice for its spicy flavor. Over the years, it has become a staple in our household
Made With Only 6-Ingredients
It's super easy to make with simple ingredients. Plus you can customize this rice dish with your favorite vegetables or additional add-ins. Here's what you'll need to make this Mexican white rice recipe:
JASMINE RICE: I love this long-grain variety of fragrant rice. Known for its floral and buttery scent, it's more flavorful and softer than most white rice and makes the perfect Mexican rice.
KOSHER SALT: The key to delicious rice is to season the rice before it is done cooking and not after. So the best way to do that is to simply season the water with kosher salt.
OLIVE OIL: Stirring in a little oil adds richness and prevents the rice from clumping together.
WHITE ONION: Sautéed onions add a subtle layer of savory flavor to the rice. A great substitute for white onion is red onion or shallots. Both are milder alternatives.
FROZEN VEGETABLES: Frozen vegetables are a quick way to add some nutrition to the rice. I love frozen vegetables for their quick cooking time. A combination of carrots, corn, and peas is always a favorite among adults and kids. But feel free to change up the vegetables to suit your taste.
CAYENNE PEPPER: Cayenne pepper gives the rice some heat. You only need a 1/4 teaspoon to taste it too!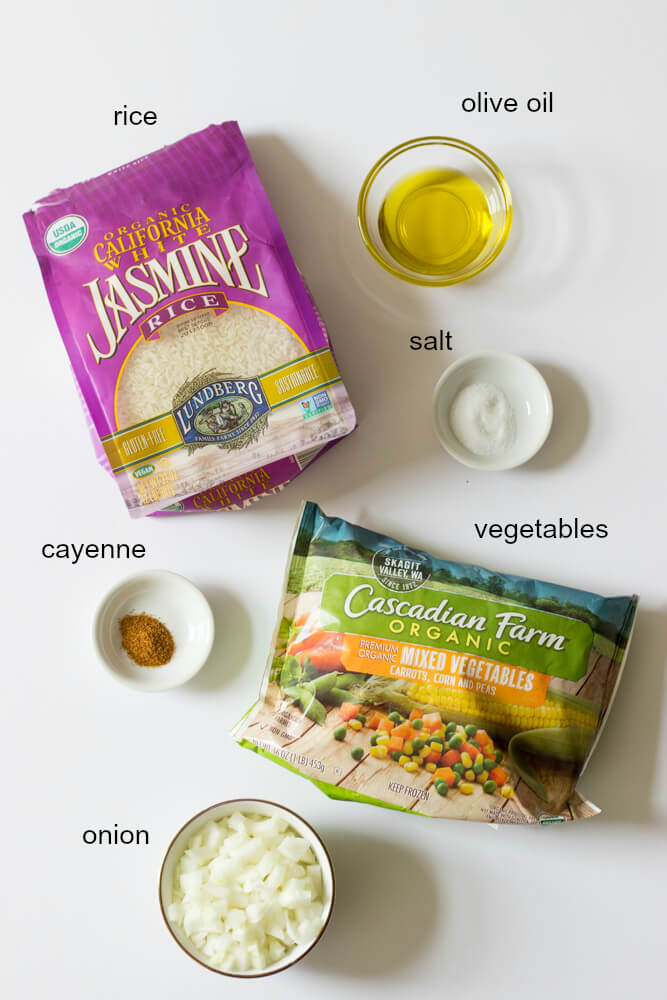 How to Make Mexican White Rice
Rinse and Cook the Rice: The key to this recipe is perfect fluffy rice and the way I like to achieve this is by rinsing the rice first under cold water and then cooking undisturbed with salt and a little bit of oil.
Cook the Vegetables: While the rice is cooking, sauté the onions in olive oil until translucent. Stir in frozen vegetables and cook until tender, about 3-4 minutes.
Combine Together: After the rice is done, let it rest for about 10 minutes before adding to the vegetable mixture with cayenne pepper. Taste the rice for salt before serving.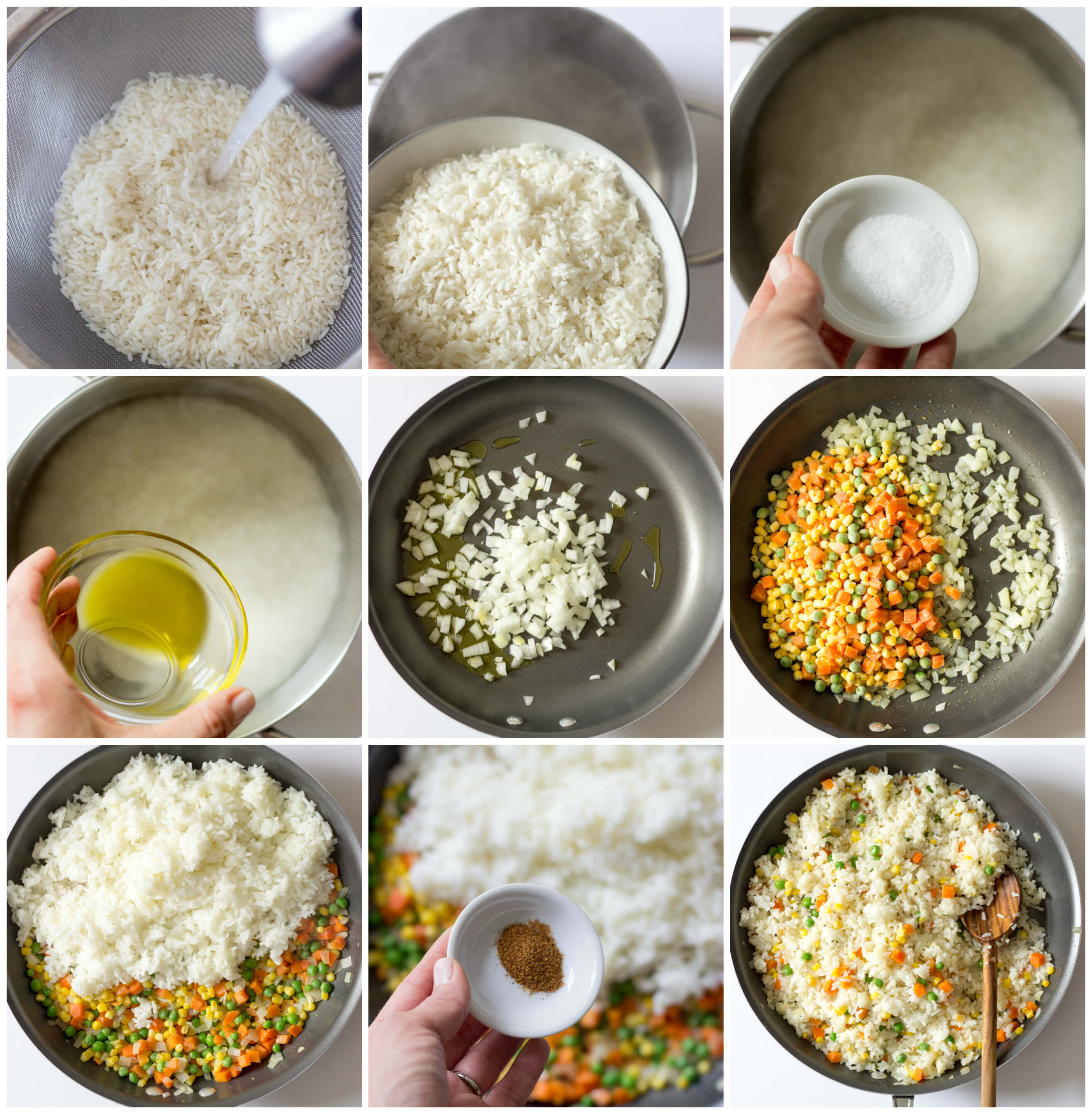 More Ways to Add Flavor to Rice
If you like to add a little extra oomph to this Mexican white rice with vegetables here are some great easy ways to do that:
Toast the rice in little butter or olive oil before cooking in water.
Cook the rice in chicken or vegetable broth.
Add ground cumin, minced garlic, or bay leaf.
Craving more veggies? Try stirring in sautéed spinach or bell peppers.
Finish the rice with fresh herbs such as cilantro or parsley
Important Notes & Tips
This recipe is designed specifically for jasmine rice. If you choose a different variety of rice, you will need to adjust the cooking times and method.
Season the rice well. It's really important to season the water that the rice is going to be cooking in and not after the rice is done cooking. I found that 3/4 teaspoon of salt was the perfect ratio for the amount of rice and water. Taste the rice for salt before serving.
Rinse the rice. Rinsing the rice removes the surface starch that otherwise causes the rice to clump together or get gummy as it cooks. Rinse the rice under cold water until the water runs clear. You can use a bowl or a fine-mesh strainer.
Perfect water to rice ratio: Another contributing factor to mushy rice has to do with rice to water ratio. Not to mention the brand of rice you use, the type of pot, and the way the lid fits all affect how the rice cooks.
The perfect ratio for this recipe is 1 1/2 cups jasmine rice to 2 3/4 cups water. You'll need a 2-quart saucepan with a tight-fitting lid for cooking the rice.
Leave the rice alone. When you add the rice to the simmering water, give it one or two quick stirs and then avoid stirring it. Stirring rice can release starches and make it sticky.
And after the rice has absorbed all of the water and is tender, remove it from heat and let it rest for 10 minutes with the lid on, undisturbed.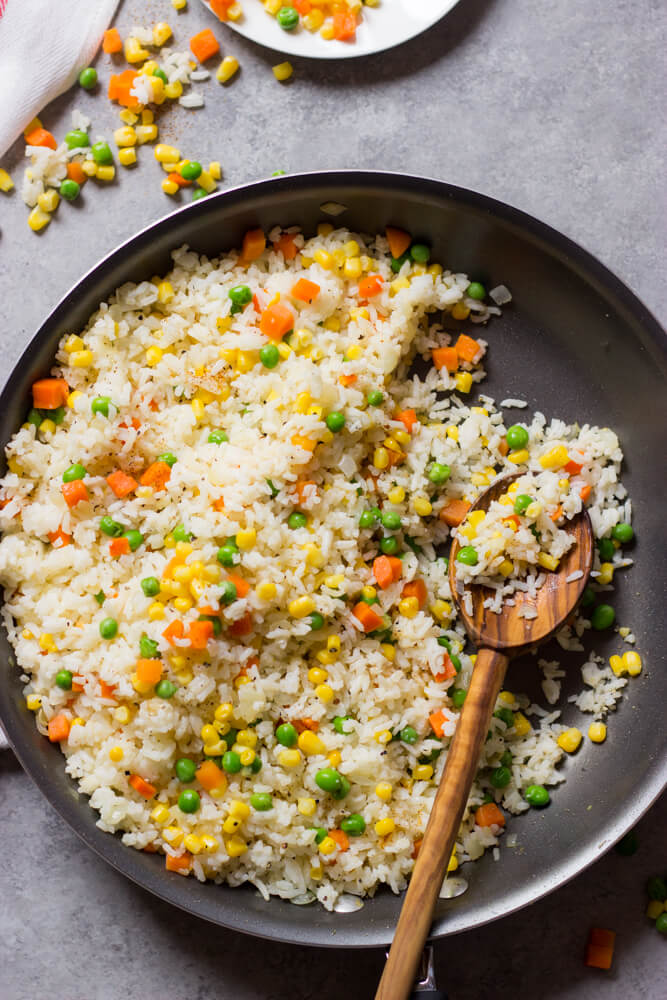 Serving Suggestions
Mexican white rice goes great with Mexican themed meals or just about anything that requires an easy side dish. Here are some serving ideas.
Make Burrito Bowls – serve the rice with any of the following:
Serve as a Side Dish – here are some entrées that would go well with Mexican rice:
Love rice dishes? Try our Mexican Beans and Rice, Cilantro Rice, Cauliflower Rice Pilaf, or Pineapple Rice.
Print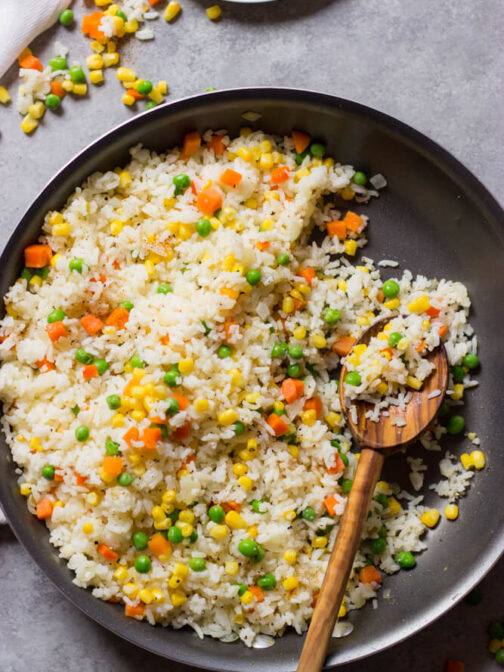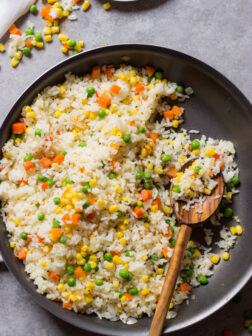 Mexican White Rice
Author: Katya
Prep Time: 12 mins
Cook Time: 30 mins
Total Time: 42 mins
Yield: 8 1x
Category: Side
Method: Simmer
Cuisine: Mexican
---
Description
Tender fluffy jasmine rice with carrots, corn, peas, and a little bit of cayenne pepper. It's our version of Mexican white rice recipe. It's so simple to make and goes with everything!
---
1 1/2 cups dry jasmine rice
2 3/4 cups water
3/4 tsp. kosher salt, plus extra to taste
3 Tbsp. extra-virgin olive oil, divided
1 cup chopped white onion
2 cups frozen vegetable mix (carrots, corn and peas)
1/4 tsp. cayenne pepper
---
Instructions
Place the rice into a fine-mesh strainer and rinse under cold water until the water runs clear.
Add water to a 2-quart saucepan and bring to a boil. When the water has come to a boil, stir in rice, salt, 1 tablespoon of oil, and bring it back to a gentle simmer. Give the rice one quick stir, cover with a tight-fitting lid, and reduce the heat to low. Simmer for 15-18 minutes undisturbed or until all of the water is absorbed and the rice is tender.
Remove from heat with the lid on and let rest for 10 minutes.
While the rice is resting start on the veggies. Heat the remaining 2 tablespoons of oil in a large non-stick pan over medium heat. Add onions and cook, stirring occasionally, until translucent, about 3-4 minutes. Stir in frozen veggies, and cook, stirring occasionally, until vegetables are tender, about 3-4 minutes.
Remove the skillet from the heat and stir in cooked rice and cayenne pepper. Taste for salt before serving.
---
Notes
Cooking Tip: The key to this rice is not overcooking the rice. You want tender fluffy rice. At around 15 minutes start checking the rice. When done, the rice will be firm but tender, and no longer crunchy. See blog post for entire list of cooking tips & tricks.
Leftovers: Leftover rice will last in the refrigerator for up to 4-5 days in an airtight container. Reheat leftovers over medium heat in a non-stick skillet until warm, stirring frequently.
Nutrition
Serving Size:
Calories: 128
Sugar: 2.3 g
Sodium: 136.3 mg
Fat: 5.4 g
Carbohydrates: 17.8 g
Protein: 2.4 g
Cholesterol: 0 mg
Keywords: mexican jasmine rice, rice and vegetables, easy side dish