Vegetable Orzo
Fire up the grill for this creamy vegetable orzo pasta dish with grilled asparagus, eggplant, and zucchini. The orzo is cooked with cream and parmesan that is topped with grilled vegetables in a lemon vinaigrette.
Summer offers an abundance of seasonal vegetables and this creamy orzo with grilled vegetables recipe is the perfect way to use these veggies!
Add this dish to your weeknight meal plan, or for summer cookouts and BBQs. It pairs well with Grilled Shrimp with Garlic or Chicken Caprese. And if you're already grilling, then these Caprese Stuffed Portobello Mushrooms would be a tasty addition.
Reasons to Love this Grilled Veggies with Orzo
Lemon and herb grilled vegetables served over creamy orzo pasta will be an attention-getter at gatherings and a great way to win over family at dinner. The vegetables are tossed in a lemon vinaigrette and are so tasty with the creamy orzo with parmesan. 
Summer recipe – Choosing vegetables in season guarantees the best flavor and nutrition! The creamy orzo pasta withstands well on its own, but adding these hearty grilled summer vegetables is so tasty.
Creamy – This orzo pasta is delicate and adding in the half and half, butter, and parmesan creates a thick creamy sauce.
Lunch meal plan – If you're grilling up vegetables and making parmesan orzo pasta, make a little bit extra for lunch. It's so tasty and reheats well.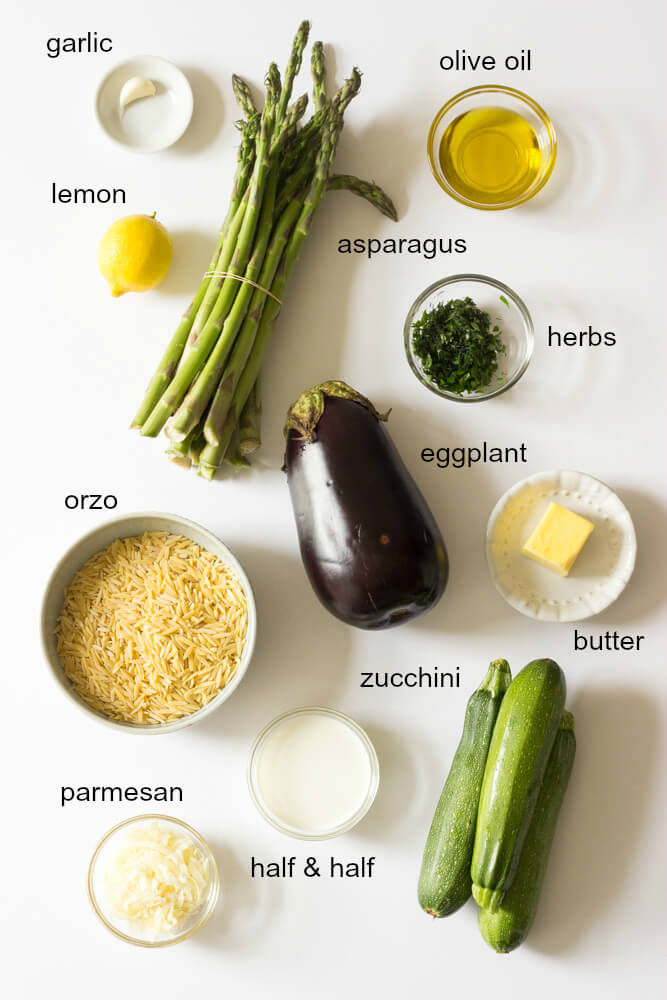 Ingredients
These veggies are interchangeable but were selected for this orzo vegetable dish because they are hearty and match the flavors of creamy orzo and the bright lemon garlic and herb vinaigrette.
Vegetables
Eggplant – slice the eggplant lengthwise into 1-inch thick planks. No need to peel the skin as it helps to hold the shape.
Zucchini – cut the zucchini in half, lengthwise.
Asparagus – trim the ends of the asparagus and keep the length.
Orzo pasta
Dry orzo – orzo is so creamy and delicious, and always a winner with little ones too!
Unsalted butter – butter will provide flavor. I do not recommend a substitute.
Half and half – or heavy cream will work as well.
Parmesan cheese – grate the cheese yourself for the best flavor.
Vinaigrette
Olive oil – or avocado oil.
Lemon – juice, and zest.
Garlic – for best flavor, use fresh garlic.
Fresh herbs – dill, cilantro, and basil.
See the recipe card for quantities.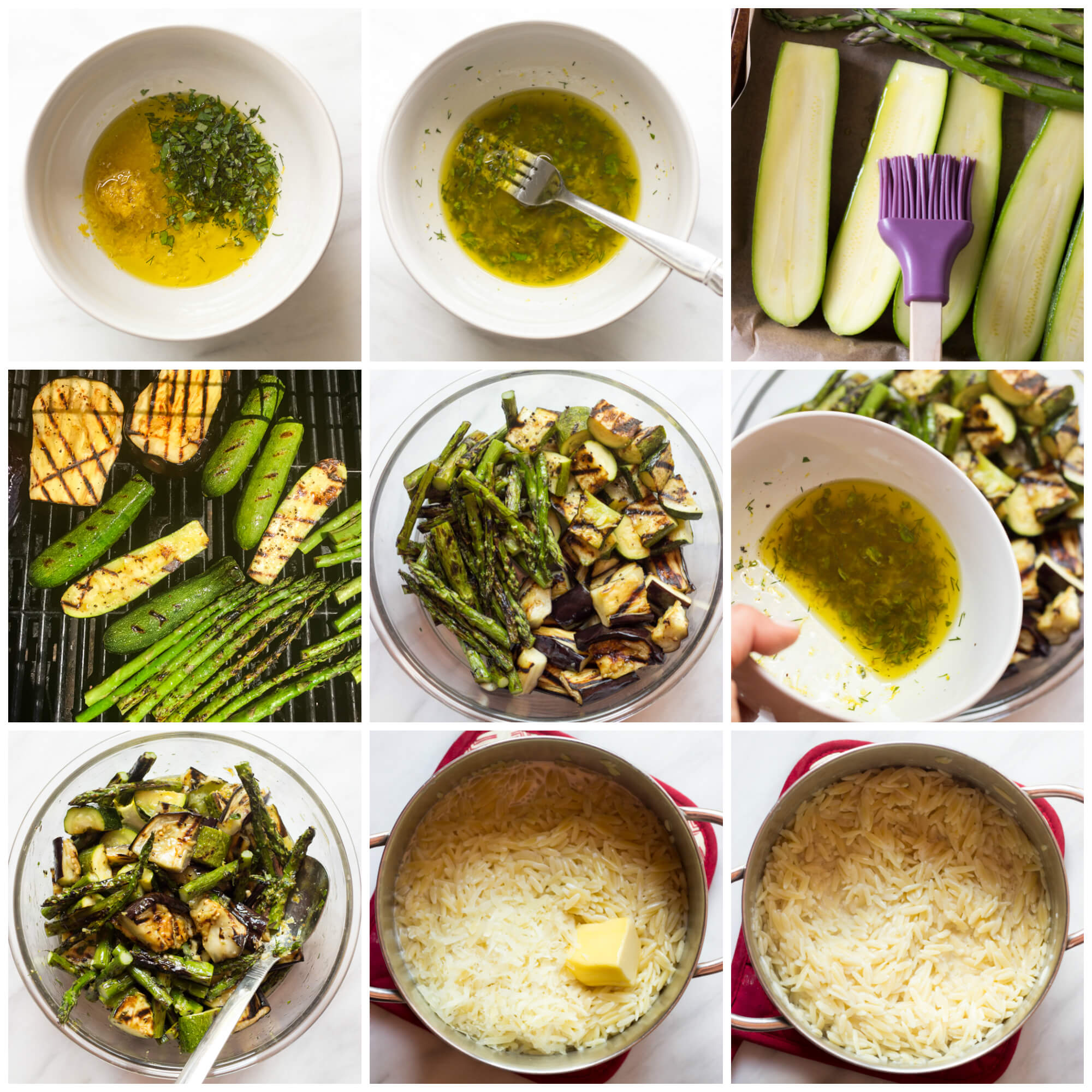 How to Make Vegetable Orzo
This summer vegetable orzo not only has the best flavor but is easy to make. Grilling vegetables is a fun way to cook and pairs so well with the parmesan orzo.
Vegetables
Prepare the vinaigrette by whisking together the olive oil, lemon zest, garlic, herbs, and lemon juice. Set aside.
Brush eggplant, zucchini, and asparagus with olive oil. Grill until tender.
Remove from the grill, cool slightly, and chop the vegetables into bite-size pieces. Toss with vinaigrette.
Orzo
Cook orzo according to package directions.
Return to pot and stir in butter, half and half, and Parmesan. Serve vegetables over orzo.
Recipe Tips
Here are a few tips to make this grilled vegetable orzo even easier.
Stovetop – To make grilled vegetables on the stovetop, use a grill pan and heat to medium-high. Brush the pan with oil and place the veggies, cooking for 3-4 minutes on each side, or until tender.
Make-ahead – The orzo can be prepared ahead of time and the grilled vegetables added when ready to serve. Also, the vinaigrette can be made in advance and stored in the refrigerator until ready to use, or 2 days.
Vinaigrette – The key to this dish is to toss the veggies with the vinaigrette while they're still warm so that way they soak up all the good flavor.
Zesting – when zesting a lemon make sure to only get the yellow part of the skin and not the white or the vinaigrette will be bitter.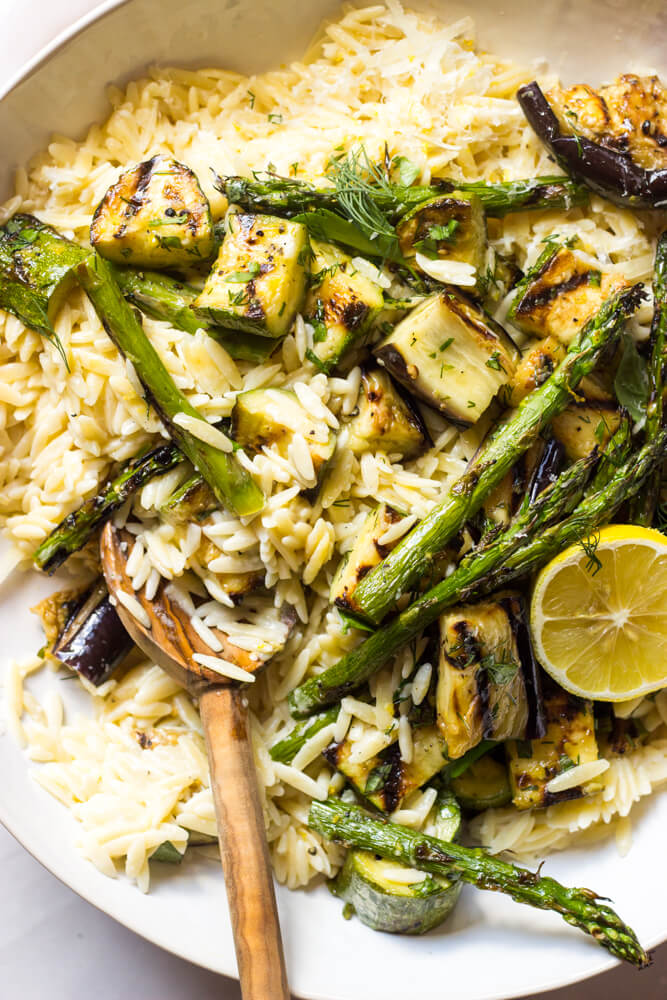 Substitutions
This orzo with asparagus, zucchini and eggplant is so delicious as is. But if you need to make substitutions, here are a few ideas.
Vegetables – This medley of zucchini, eggplant, and asparagus is a beautiful blend of summer vegetables. Switch out any of the vegetables such as summer yellow squash, thick grilled tomatoes slices, or cauliflower.
Cream – For the orzo, instead of using half and half, try substituting for coconut milk. It is rich and creamy with a light coconut flavor. It will add a depth of flavor to your orzo and pair well with the fresh grilled vegetables and herbs.
Parmesan – Use crumble feta instead of parmesan, or another strong cheese.
Variations
Pasta salad sides are the best for cookouts and BBQ's. Though, there's no reason to wait for grilling season when you can enjoy orzo pasta with vegetables any time and with plenty of variations to try.
Lemon Orzo with Grilled Vegetables – Make the recipe the same, but instead of adding the cream, use lemon juice and olive oil for the orzo dressing.
Lemon Orzo Pasta Salad – With some veggie swaps and delicious lemon dressing, this orzo dish becomes a cold pasta salad.
Grilled Butternut Squash Stuffed with Orzo – Switch your vegetables to a butternut squash. Split the squash in half and remove the seeds. Coat with oil and seasoning. Grill until tender with some charring. Fill the butternut squash with the creamy orzo and chunks of grilled chicken.
Spinach Artichoke Orzo Salad – Fresh veggies cooked with soft orzo for another summertime side dish idea.
Another idea is this Caprese Orzo Pasta Salad recipe. More veggies, a tangy balsamic glaze, balls of mozzarella, and fresh cucumbers.
Storage
Store leftovers in an air-tight container for up to 3 days in the refrigerator. Reheat orzo with a splash of milk or cream.
More Summer Recipes
Print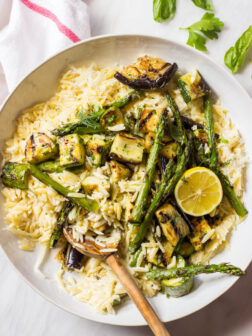 Vegetable Orzo
Author: Katya
Prep Time: 20 mins
Cook Time: 10 mins
Total Time: 30 mins
Yield: 6–8 as side 1x
Category: Side
Method: Grilled
Cuisine: American
---
Description
Grilled summer vegetables tossed in a simple vinaigrette and served over creamy orzo. 
---
Vinaigrette
2 Tbsp. extra-virgin olive oil, plus extra for brushing veggies
1 Tbsp. lemon zest
1 small clove of garlic, pressed or grated with microplane
1 Tbsp. fresh minced herbs (I used combo of dill, cilantro, basil)
2 tsp. fresh lemon juice
Kosher salt and fresh black pepper
Vegetables
1 lb. eggplant, sliced lengthwise into 1-inch thick planks
1 lb. zucchini, halved lengthwise
1 lb. asparagus, ends trimmed
Orzo
2 cups dry orzo
2 Tbsp. unsalted butter
1/2 – 2/3 cup half and half
1/3 cup grated Parmesan cheese
---
Instructions
Preheat an outdoor gas grill over medium-high heat.
Vinaigrette: Prepare the vinaigrette by whisking together the olive oil, lemon zest, garlic, herbs, and lemon juice. Season with salt and pepper to taste; set aside.
Vegetables: Brush both sides of eggplant, zucchini and asparagus with olive oil. Season with salt and pepper, to taste.
Grill eggplant and zucchini, covered, for 4 minutes, then flip to the other side. Add asparagus and continue to grill all veggies, covered, for additional 4 minutes.
Remove from the grill and cool enough to handle. Chop the vegetables and toss with vinaigrette while warm. Taste for salt and pepper. Cover and keep warm.
Cook orzo in salted water according to package directions; drain. Return to pot and stir in butter, half and half, and Parmesan. It should have a creamy consistency. Feel free to add more cream as needed. Taste for salt and pepper before serving. Serve grilled vegetables over orzo.
---
Notes
Lemon: When zesting a lemon make sure to only get the yellow part of the skin and not the white or the vinaigrette will be bitter.
Orzo: Orzo is a form of short-cut pasta, shaped like large rice, and can be found in the pasta aisle.
Leftovers: Store leftovers in an airtight container for up to 3 days. It's best to store orzo and vegetables separately as it will make reheating easier. If orzo is too dry, add a splash of cream or milk when reheating. 
Recipe originally published June 2017
Nutrition
Serving Size: 1/2 cup orzo, plus vegetables
Calories: 232
Sugar: 5 g
Sodium: 70.8 mg
Fat: 9.5 g
Carbohydrates: 30.4 g
Protein: 7.8 g
Cholesterol: 15.3 mg
Keywords: summer, pasta, meatless