Potato Perogies
Potato perogies recipe with mashed potatoes, bacon, and dill filling. Enjoy them with sour cream or caramelized onions.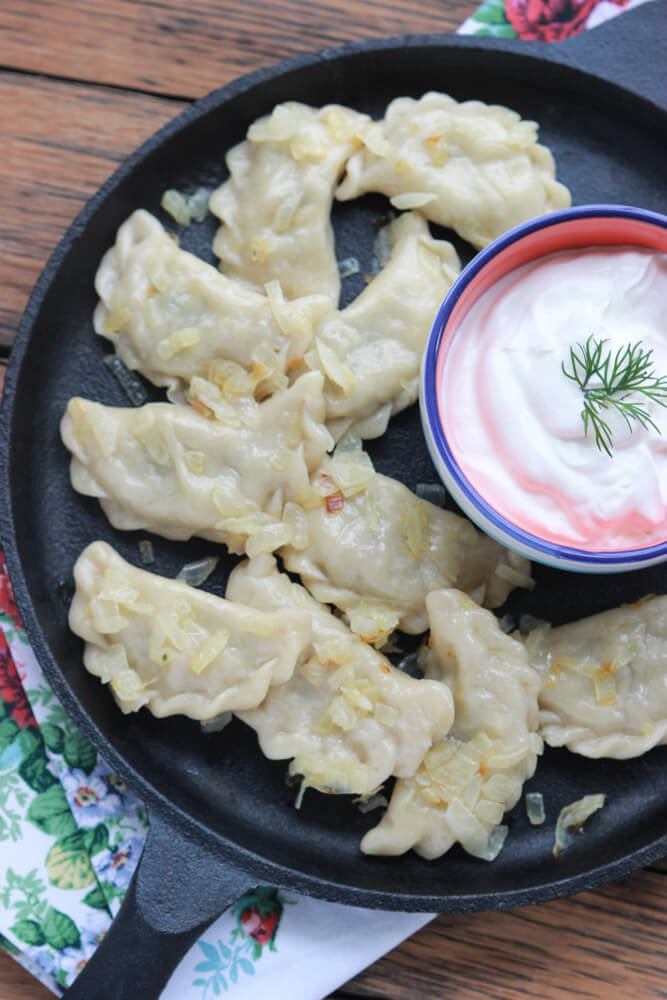 Happy Sunday friends! I've been on somewhat of hiatus this week but not by choice.
I love and hate routine. I definitely love it during the weekdays but hate it on weekends. I like to get my thrill on once in a while and do something unplanned and unexpected but during weekdays, I do enjoy my alone time whether that's having a cup of coffee early in the morning, hitting the gym or simply cooking.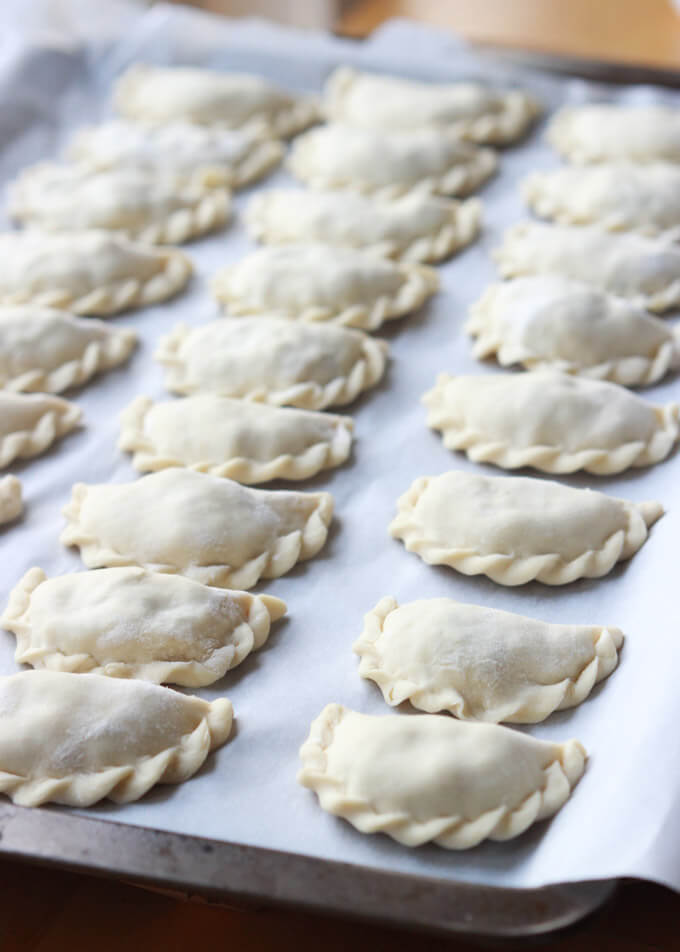 My week was anything but the above. Between chaperoning my kiddos class to taking care of sick hubby to spending more than usual days at the office. Let's just say my coffee, gym, and kitchen were on hold. Weeks like that my freezer comes in handy but only if it's stocked and most of the time, it's not. I'm not a huge frozen food person unless it's homemade. So I changed that this past week.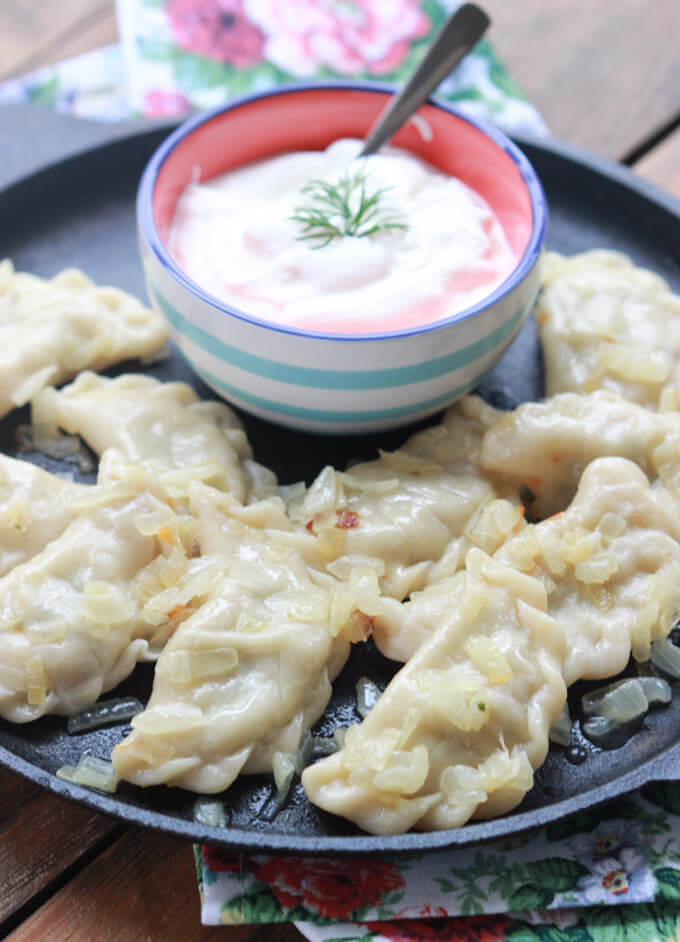 Potato perogies recipe are super freezer friendly and perfect for busy weeknights. I grew up eating Vareniki so they are my Russian comfort food, especially with a filling like potatoes. They are super similar or maybe even identical to perogies.
Super easy to make with only 3 ingredients for the dough and 4 for the filling. It's a perfect meal to make over the weekend with the whole family as it's a little time-consuming but the outcome is multiple homemade meals stocked in your freezer! Get the kids involved, whether with rolling the dough, cutting out the circles, or sealing the vareniki. The more the merrier! Plus what kid doesn't enjoy playing with raw dough?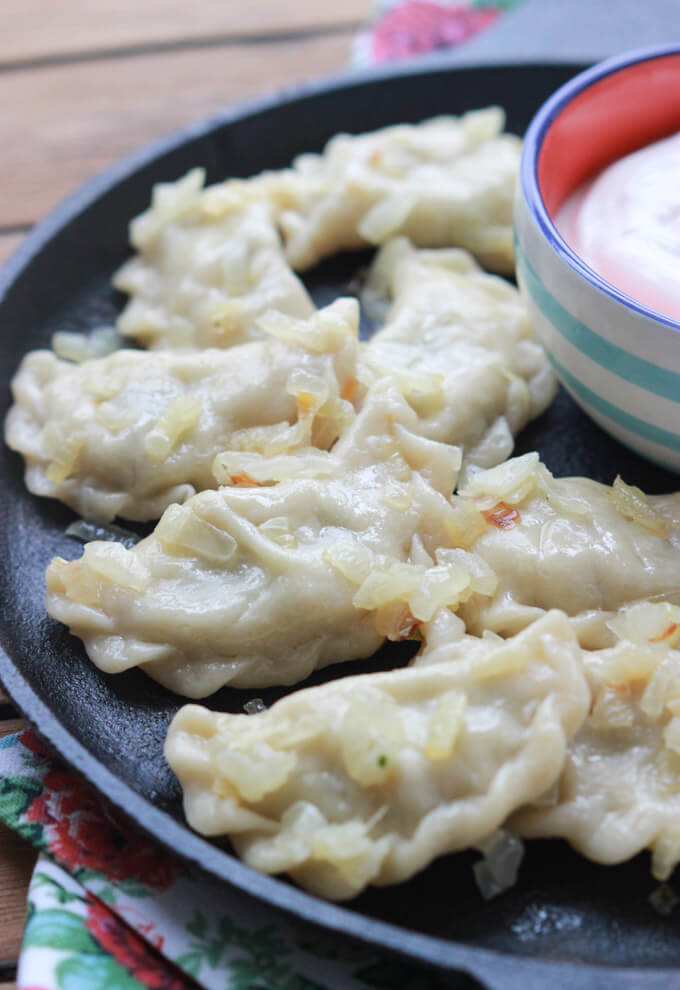 I love the simplicity of this dough: flour + salt + water. Super simple but still very light and soft. You can prep the potato filling a day in advance and store in the refrigerator and if you're like me, you wont be able to resist not having a spoonful of it. Because hot mashed potatoes combined with caramelized onion and crispy bacon can be a meal on its own.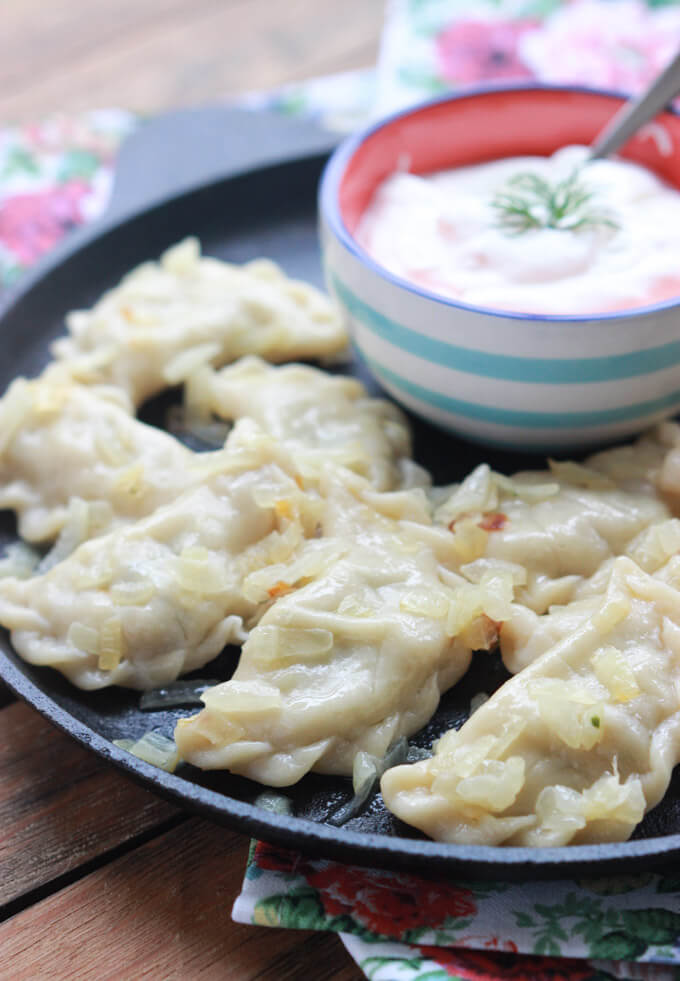 Serve them with a big spoonful of sour cream or saute onion in butter and serve it a top of the vareniki. Both ways are super good!
Print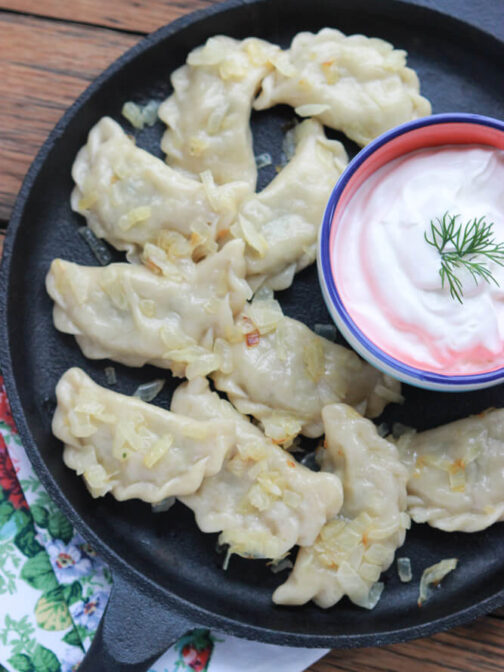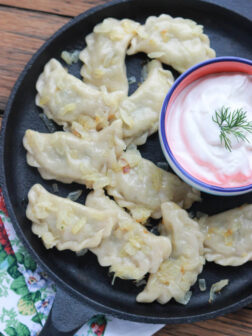 Potato Perogies
Author: Katya
Prep Time: 1 hour 45 mins
Cook Time: 5 mins
Total Time: 1 hour 50 mins
Yield: 60 vareniki 1x
Category: Main
Method: Boiled
Cuisine: Russian
---
Description
Tender perogies with potato, bacon, and dill filling. Enjoy them with sour cream or caramelized onions.
---
Dough
4 cups all-purpose flour
1/2 tsp. kosher salt
1 1/2 cups cold water
Filling
4 medium russet potatoes, peeled and cubed
1 medium onion, chopped
10 bacon strips, chopped
1/2 cup chopped fresh dill
To Serve
Caramelized onions
Sour cream
---
Instructions
Dough
In a large bowl, sift together the flour and salt. Add water and mix with wooden spoon. Then using your hands knead the dough until it all comes together and flour is thoroughly incorporated and smooth. (This step does not take long, it's just a matter of combining all the ingredients together with your hands and forming a dough ball).
Cover the dough and refrigerate for 30 minutes.
Filling
Cook the potatoes in salted water until fork tender. Drain and mash; set aside.
In a large skillet cook the bacon over medium heat. When it just starts to brown, add the chopped onion; continue cooking until the onion is slightly caramelized and bacon is fully cooked.
Add the onion and bacon mixture to the mashed potatoes, including the pan grease. Add the chopped dill and mix until all the ingredients are combined. Season with salt and pepper to taste.
To Make the Vareniki
Divide the dough into two balls. On a floured surface, roll out first ball of dough to 1/4 inch thickness. Keep the other ball of dough covered. Cut out 3 inch circles using a drinking glass or round cookie cutter.
Spoon the potato filling into the center (about 1 tablespoon). Fold the circles into half-circles, and press to seal the edges. You can leave them as is or create a scalloped edge as seen in my recipe for Vareniki with Cherries.. Proceed with the second dough ball.
Place the vareniki on a parchment lined cookie sheet and freeze overnight; transfer the frozen vareniki to a ziploc bag and store in the freezer up to 3 months.
To cook the vareniki: bring a large pot of water to a boil; add the vareniki and cook for about 5 minutes for frozen and about 3 minutes for fresh. They are done when they float to the top. Drain and serve with caramelized onions and sour cream.
---
Notes
Caramelized Onions: To make caramelized onions, melt 2 tablespoons butter in a heavy-bottom skillet, such as cast-iron or stainless steel. Add chopped medium onion to the pan. Cook over medium-low heat until deep golden in color. If there's a lot of buildup on the bottom of the pan, deglaze with a splash of balsamic vinegar.
Nutrition
Serving Size: 5 perogies
Calories: 309
Sugar: 1.2 g
Sodium: 212.3 mg
Fat: 9.7 g
Carbohydrates: 45.8 g
Protein: 8.9 g
Cholesterol: 15.4 mg
Keywords: perogies, potato dumplings