Pasta with Spinach and Tomatoes
Easy summer pasta with spinach and tomatoes is a quick meal made with fresh ingredients in about 30-minutes!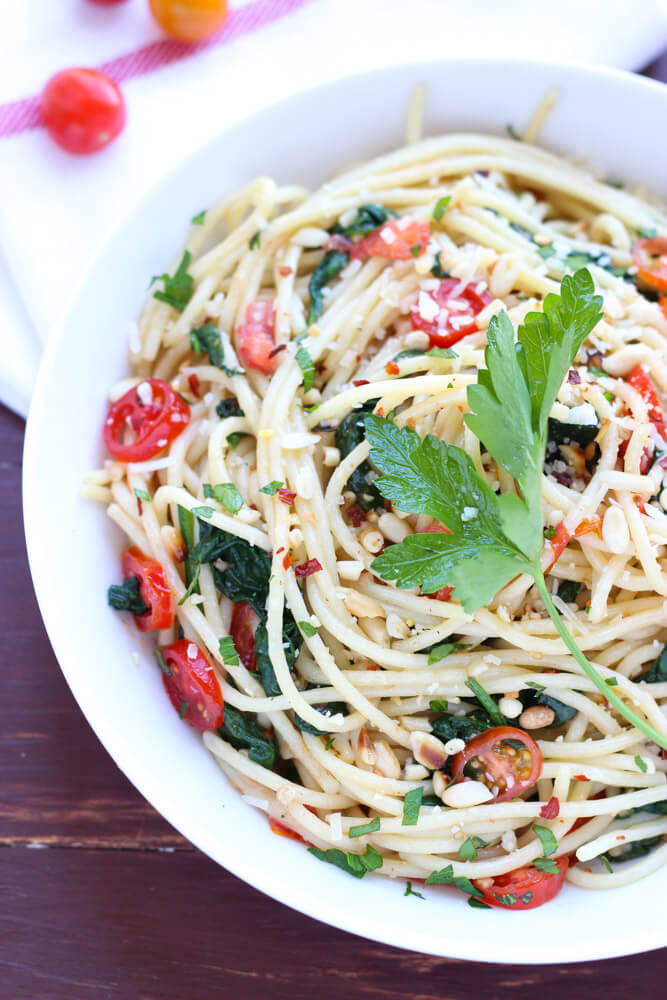 Have dinner on the table in 30 minutes with this easy pasta with spinach and tomatoes recipe. This quick pasta dish is meatless and has amazing flavors made from fresh tomatoes, red pepper flakes, garlic, and pine nuts.
It's tossed in a light olive oil sauce infused with garlic and lemon juice which is a great option for warmer weather. Serve by itself, paired with a salad, or add a meat option.
These hot summer days welcome recipes with bright flavors that are easy to make. This pasta with homemade pesto is another recipe that is ideal for warmer weather.
Reasons to Love Spinach Tomato Pasta
Perfect for Summer – The fresh produce and bright flavors are complimentary to warm weather, especially after a long hot summer day.

Quick! – This pasta dinner is ready in under 30 minutes without any extra prep required. 

Fresh Ingredients – Fresh spinach, grape tomatoes, garlic, lemon juice, and parsley make this pasta dish elegant, delicate, and oh-so-tasty!

One Pot Pasta – Skip using multiple pans and make the sauce in the same pot as the noodles after they are done cooking. Then, toss the spaghetti into the sauce with spinach, cheese, and tomatoes.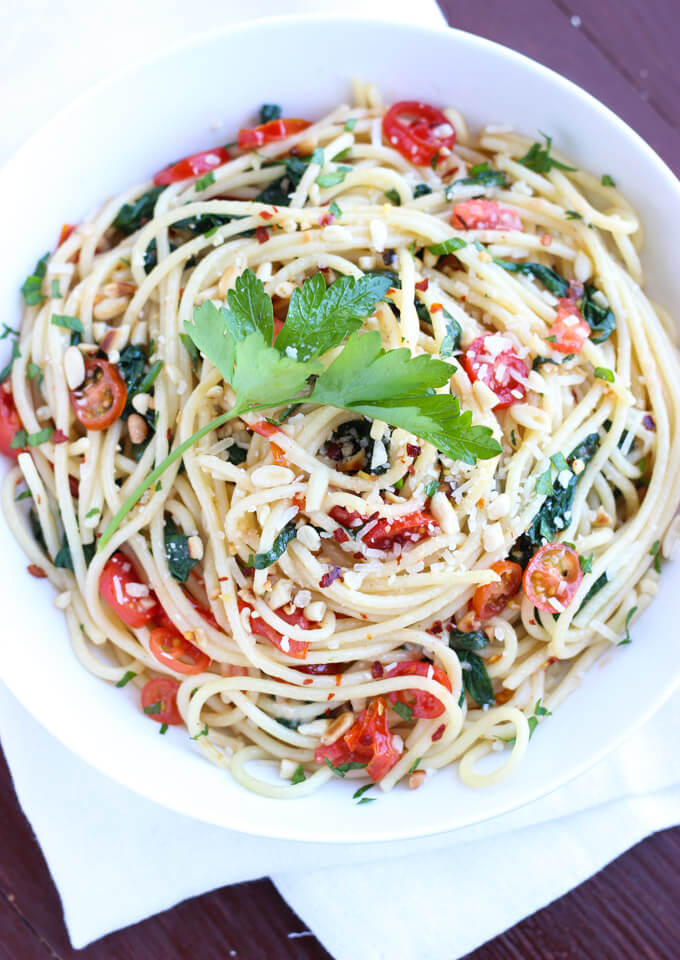 Ingredients
This 30-minute meal is so simple with just a few ingredients and has ample flavor! This recipe keeps the pasta light by using olive oil instead of butter and the freshest components.
Dry spaghetti – or another long noodle like linguine.
Olive oil – If you prefer, avocado oil can be used instead.
Garlic – use fresh garlic for the best flavor.
Spinach – baby spinach is a little more tender than regular spinach, but you can use either one.
Grape tomatoes – the tomatoes are tossed in last for a fresh, raw tomato flavor.
Parmigiano-Reggiano cheese – Use grated cheese instead of shredded so it doesn't clump together when added to the warm pasta.
Pine nuts – adding chopped pine nuts add a nutty crunch to the pasta.
Lemon juice -Freshly squeezed lemon juice is used to help take the bitter flavor out of the spinach. Plus, tomatoes, pasta, and lemon juice is an incredible flavor combination.
Seasoning – red pepper flakes, parsley, salt, and pepper.
See the recipe card for quantities.
How to Make Pasta with Spinach and Tomatoes
There are just a few steps to making this pasta dinner recipe.
Cook pasta according to package. Drain and set aside.
Add olive oil to a hot large non-stick skillet and cook the garlic until fragrant, about 30 seconds.
Add the spinach and sauté until wilted, about 5 minutes. Squeeze in fresh lemon juice.
Sprinkle in red pepper flakes, salt, and pepper to taste. Remove from heat.
Add the cooked pasta, tomatoes, cheese, and pine nuts, tossing to combine.
Garnish with fresh parsley.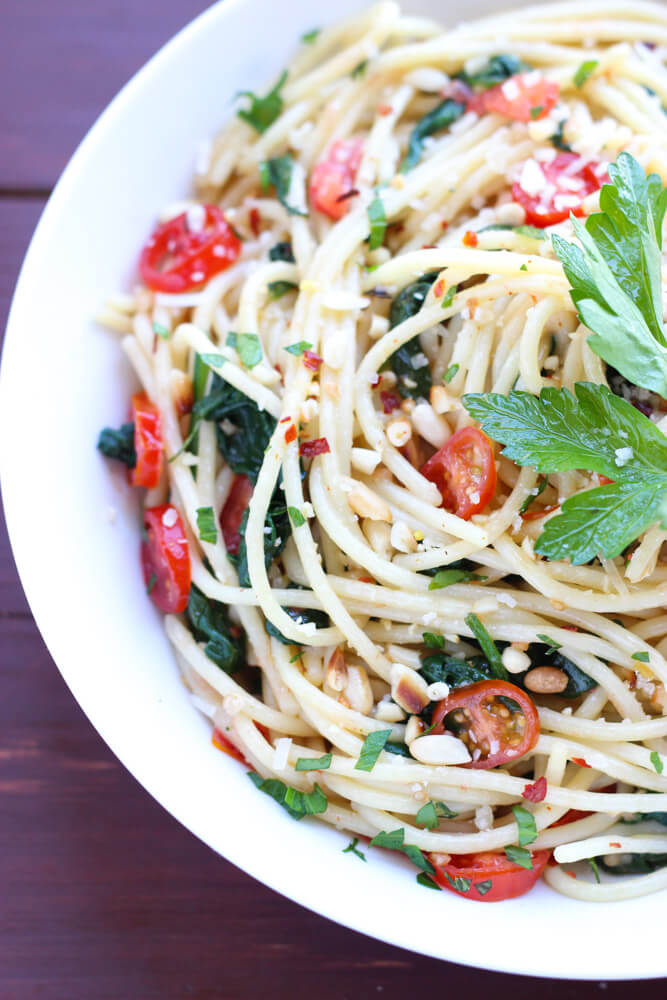 Tips and Substitutions
This beautifully colored vegetarian spinach pasta with grape tomatoes is hearty from the noodles and also a very light dinner option. Crazy combination, but it works! Here are a few tips for a delicious pasta recipe.
Cook the tomatoes – If preferred, cook down in the pan for a few minutes. You won't have the same burst of freshness as uncooked tomatoes, but they will still be just as tasty.

Use a different tomato – Switch out the grape tomatoes for cherry tomatoes. Cherry tomatoes will be juicier than the latter, but still great for fresh tomato pasta.

Toast pine nuts – Step it up a notch by toasting the pine nuts first. This deepens their flavor and only takes a minute to do.

Choose your pasta – You can use spaghetti noodles or another long thin pasta, penne, or farfalle for this spinach and tomato pasta recipe.

Pasta recipes are so versatile that you can really get creative and add in or substitute flavors to fit your needs. This vegetarian pasta is perfect just the way it is, but don't hold back on making it your own!
How to Serve
Enjoy a plate of this tomato and spinach spaghetti by itself as a wholesome vegetarian dinner. You can also pair it with a side or add meat to it if you'd like. Here are a few ideas:
How to Store
Store leftovers in an air-tight container for up to 3 days in the refrigerator. Reheat on the stovetop with a splash of chicken broth or white wine.
More Pasta Recipes
Print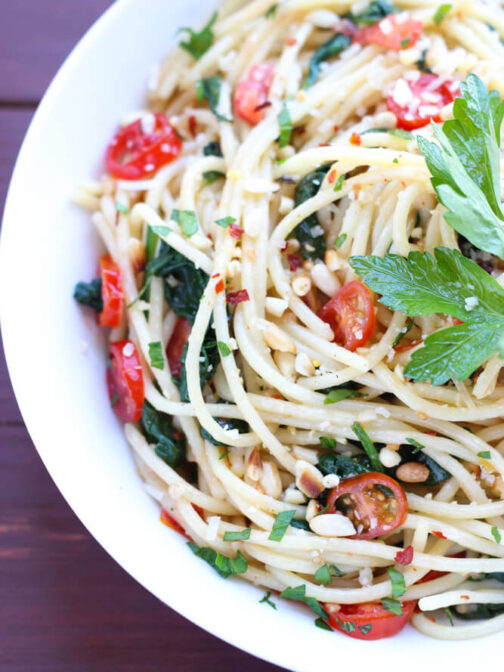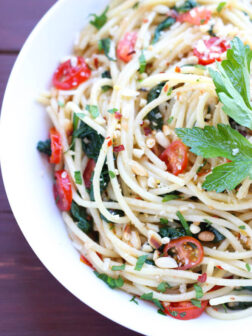 Pasta with Spinach and Tomatoes
Author: Katya
Prep Time: 10 min
Cook Time: 30 mins
Total Time: 30 mins
Yield: 4-6 1x
Category: Main
Method: Simmer
Cuisine: Italian
---
Description
Easy 30-minute pasta dish with baby spinach and fresh tomatoes. It's so light, yet flavorful meatless meal to make in the warmer months.
---
1/2 lb. (about 8-10 oz) spaghetti
3 Tbsp. olive oil
3 garlic cloves, minced
6 oz. bag fresh spinach leaves
1/4 tsp. red pepper flakes
1 cup grape tomatoes, sliced
1/3 cup freshly grated Parmigiano-Reggiano cheese (you want to use grated and not shredded cheese or you will have lumps of melted cheese)
2 Tbsp. pine nuts, roughly chopped
squeeze of fresh lemon juice
fresh chopped parsley
sea salt and fresh ground black pepper
---
Instructions
Cook spaghetti according to package directions.
Heat a large non-stick skillet or dutch oven over medium heat, add olive oil and garlic; cook for 30 seconds or just until fragrant.
Add spinach and saute, stirring occasionally, until the spinach is wilted, about 5 minutes. Add squeeze of fresh lemon juice to get rid of bitterness in cooked spinach. Sprinkle red pepper flakes and season with salt according to taste. Remove from heat.
Toss drained pasta with spinach. Add tomatoes, cheese, and pine nuts; toss to combine. Season with additional salt and pepper as needed. Sprinkle with fresh chopped parsley and serve immediately.
---
Nutrition
Serving Size:
Calories: 333
Sugar: 1.1 g
Sodium: 259.2 mg
Fat: 17.5 g
Carbohydrates: 30.3 g
Protein: 15.7 g
Cholesterol: 9.6 mg
Keywords: easy, pasta, meatless,
You May Also Like…