Pasta with Spinach and Tomatoes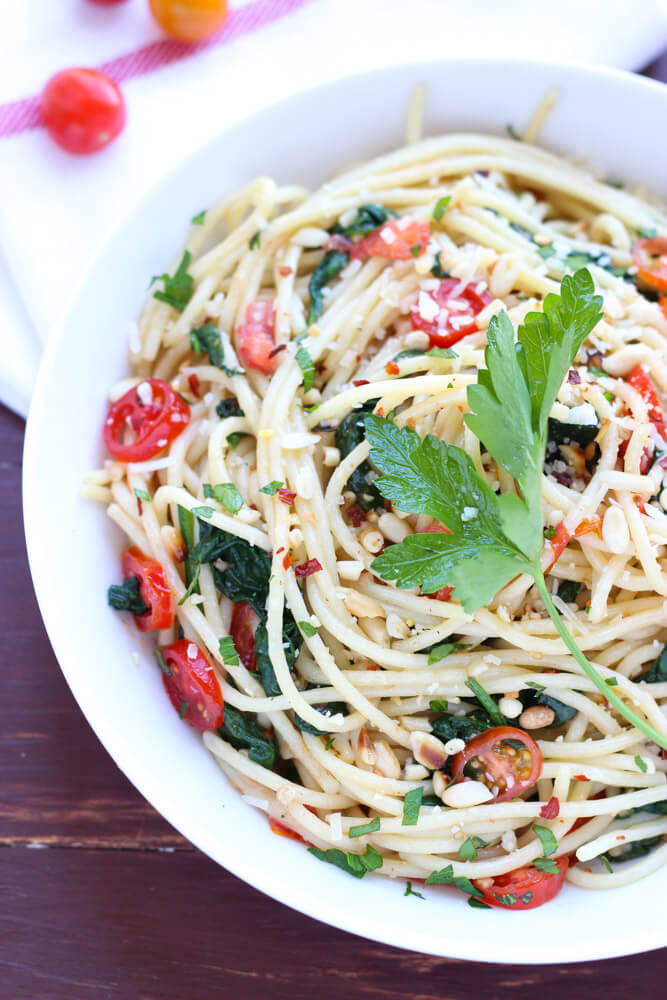 Do you guys like pasta? I'm somewhat in between.
I used to love, love pasta back in my earlier dating my hubby days (which were also my high school years – yeah I know….I started early). We had a thing every Friday night, where we would go to dinner at Ruby Tuesdays and I always order Chicken Alfredo Pasta. Why such an obsession with pasta, you may ask? Well probably because growing up, we hardly ate pasta and as I got older I discovered pasta dishes that I never knew existed. It was all new to me. And you know how new things work? You must take it to an extreme and over do it. Or it doesn't feel like new. Exactly what I did.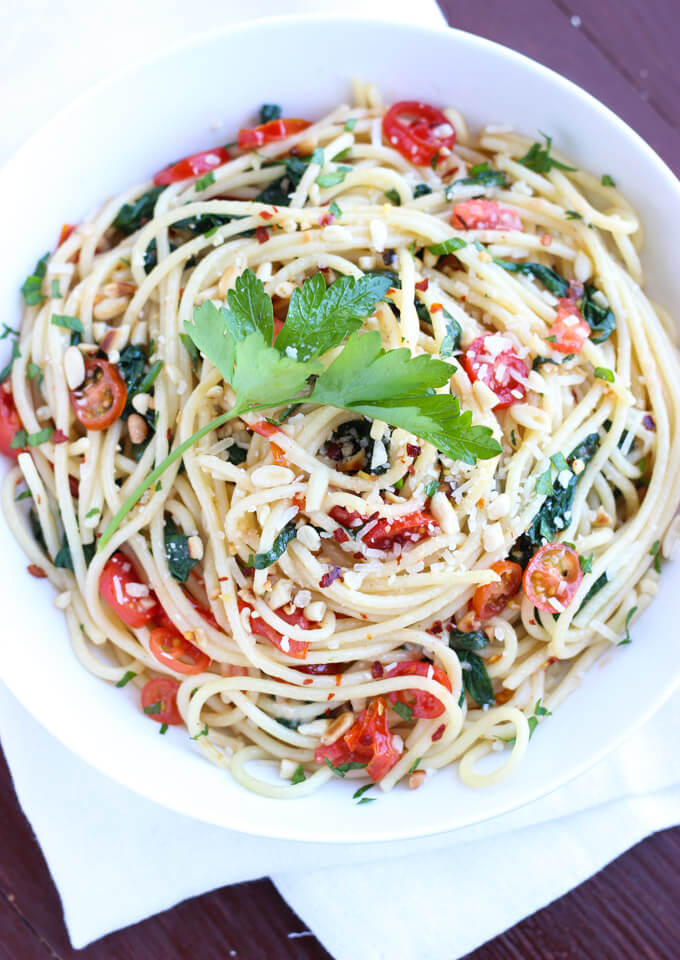 Now, we're wiser and older and don't eat pasta. Not really. Maybe just older. We actually do eat pasta but very rarely. It's one of those meals that a little goes a long way and I can't do little. I have no control over little portions. I eat A LOT. I honestly do. I partially blame my mom as she made us clean our plates growing up, which apparently stuck with me and now I have zero will power to walk away from partially done dinner.
So big, hearty pasta dishes are just no good in my household. I usually go with something a little lighter with good for you ingredients. And mac and cheese. That's always good.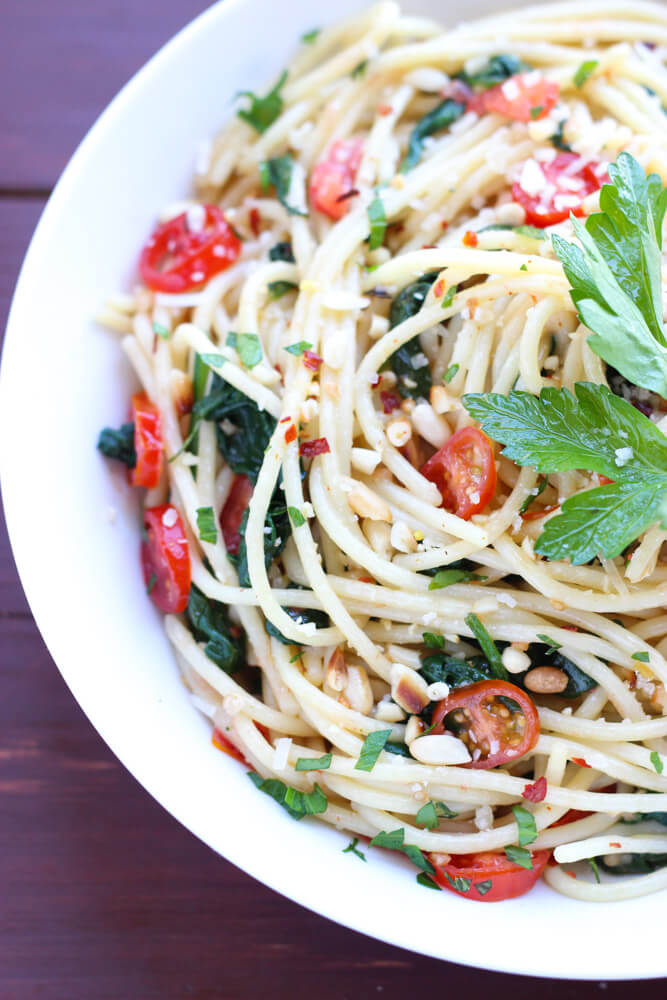 My secret to tasty, lighter pasta dishes when using little or no butter is to pack them up real good with spices and fresh herbs. Pasta with Spinach and Fresh Tomatoes is one of those meals. Simple, clean ingredients, combined with hot cooked pasta without compromising the delicious hearty taste.
I used olive oil to saute the spinach, instead of butter and packed it up with plenty of red pepper flakes, pine nuts, freshly grated Parmigiano-Reggiano cheese and fresh chopped parsley. That's tasty, vibrant, meatless, and perfect for really any day of the week meal.
Love you mom 🙂
Print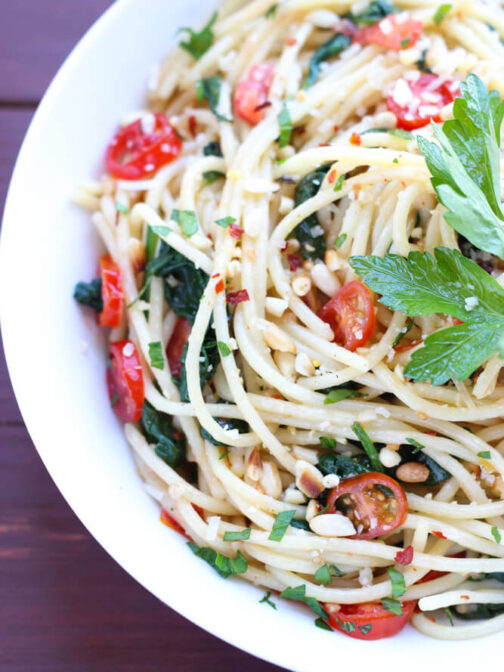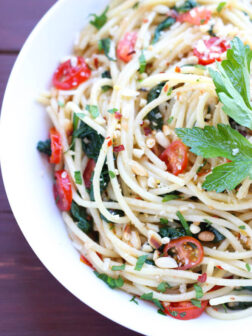 Pasta with Spinach and Tomatoes
Author: Katya
Prep Time: 10 min
Cook Time: 30 mins
Total Time: 30 mins
Yield: 4-6 1x
Category: Main
Method: Simmer
Cuisine: Italian
---
Description
Easy 30-minute pasta dish with baby spinach and fresh tomatoes. It's so light, yet flavorful meatless meal to make in the warmer months.
---
1/2 lb. (about 8-10 oz) spaghetti
3 Tbsp. olive oil
3 garlic cloves, minced
6 oz. bag fresh spinach leaves
1/4 tsp. red pepper flakes
1 cup grape tomatoes, sliced
1/3 cup freshly grated Parmigiano-Reggiano cheese (you want to use grated and not shredded cheese or you will have lumps of melted cheese)
2 Tbsp. pine nuts, roughly chopped
squeeze of fresh lemon juice
fresh chopped parsley
sea salt and fresh ground black pepper
---
Instructions
Cook spaghetti according to package directions.
Heat a large non-stick skillet or dutch oven over medium heat, add olive oil and garlic; cook for 30 seconds or just until fragrant.
Add spinach and saute, stirring occasionally, until the spinach is wilted, about 5 minutes. Add squeeze of fresh lemon juice to get rid of bitterness in cooked spinach. Sprinkle red pepper flakes and season with salt according to taste. Remove from heat.
Toss drained pasta with spinach. Add tomatoes, cheese, and pine nuts; toss to combine. Season with additional salt and pepper as needed. Sprinkle with fresh chopped parsley and serve immediately.
---
Nutrition
Serving Size:
Calories: 333
Sugar: 1.1 g
Sodium: 259.2 mg
Fat: 17.5 g
Carbohydrates: 30.3 g
Protein: 15.7 g
Cholesterol: 9.6 mg
Keywords: easy, pasta, meatless,