Chicken Pesto Pasta Salad
Chicken Pesto Pasta Salad is a fresh summery dish perfect for serving at backyard parties or luncheons. The bright and flavorful pesto pairs wonderfully with fresh tomatoes, mozzarella, basil, and pasta.
What is chicken pesto pasta salad?
This pesto chicken pasta recipe can be made with our homemade pesto recipe for a straight-from-the-garden flavor. It's a great salad to bring to potlucks, meal prep, and enjoy during the hot summer months, along with our icebox cake.
This salad is quick to make, and it's really versatile too, there are options to change up the protein and veggies.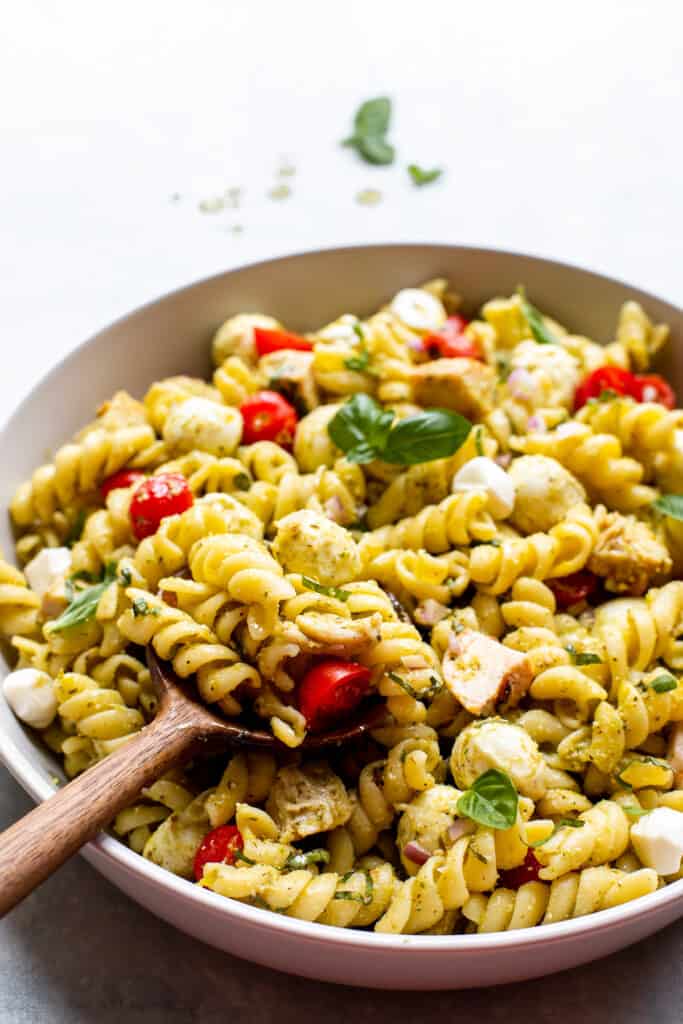 The best type of chicken to use
You can use chopped, shredded, or store-bought rotisserie chicken for this salad. Chicken breast or thigh meat both taste amazing so it's up to you which you'd like to add.
Chopped chicken: To make chopped chicken, saute or grill breasts or thighs until cooked through. Allow it to rest for five minutes, slice the chicken into strips, then chop it into one-inch pieces.
Shredded chicken: Poaching is a great way to make flavorful shredded chicken. To do this, simmer your chicken pieces in a pot filled with chicken stock until just cooked through.
Check for doneness by pulling the chicken apart in the middle and looking for any pink spots or raw meat. Once the meat is white all the way through, pull it out and let it sit in a bowl until it's cool enough to shred.
Rotisserie chicken: If you don't have time to make the chicken at home or you just like the convenience of picking up a roasted chicken from the store, you can use a rotisserie chicken.
Shred the chicken with your fingers and chop any pieces too large to eat in a single bite.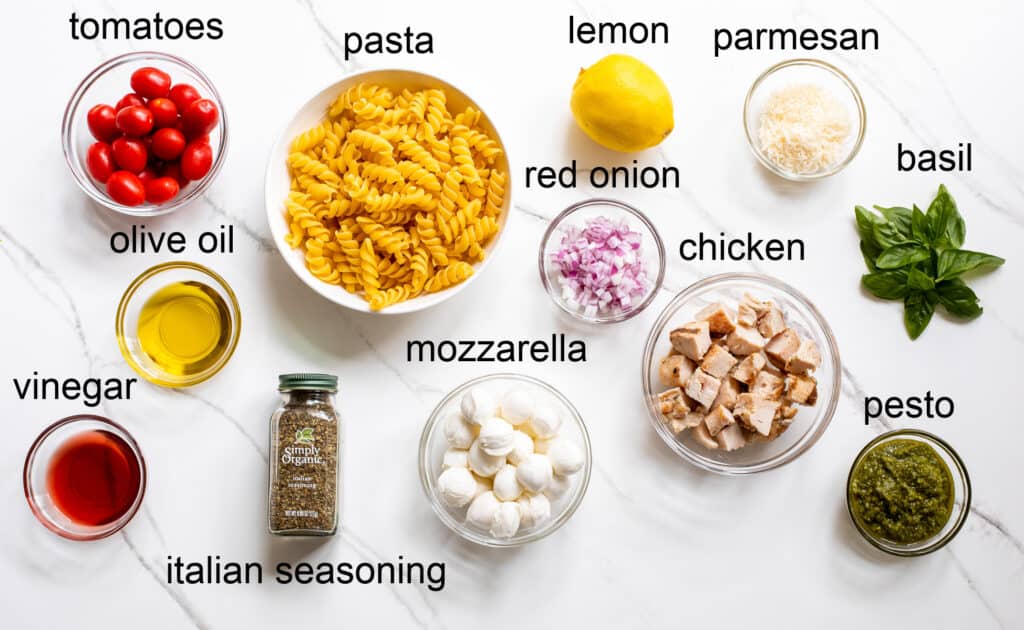 Ingredients
For best flavor, use in-season ingredients and make basil pesto from scratch.
Pasta: Use short-cut pasta such as fusilli, penne, or similar.
Chicken: Leftover or rotisserie chicken works great here.
Tomatoes: I like cherry tomatoes for their sweetness. Grape tomatoes can be used instead.
Mozzarella: Fresh mozzarella balls in brine, either cherry size or pearls.
Red onion: Red onion or for a more mild taste use shallots.
Fresh basil: Chopped or chiffonade.
Parmesan: For best flavor, use freshly grated Parmesan.
Basil Pesto: Use homemade pesto or store-bought.
Olive oil: Avocado oil can be used instead.
Red wine vinegar: Can be substituted with apple cider vinegar.
Italian seasoning: Adds an extra punch of flavor.
Lemon: Zest and juice from about one lemon.
How to make chicken pesto pasta salad
The steps to make this salad are simple. Just make sure to give the salad time to chill before serving.
Cook pasta: Boil the pasta in a pot of water until it's cooked al dente. Rinse under cold water and drain.
Make the dressing: Whisk together the pesto, oil, vinegar, Italian seasoning, lemon zest, and juice.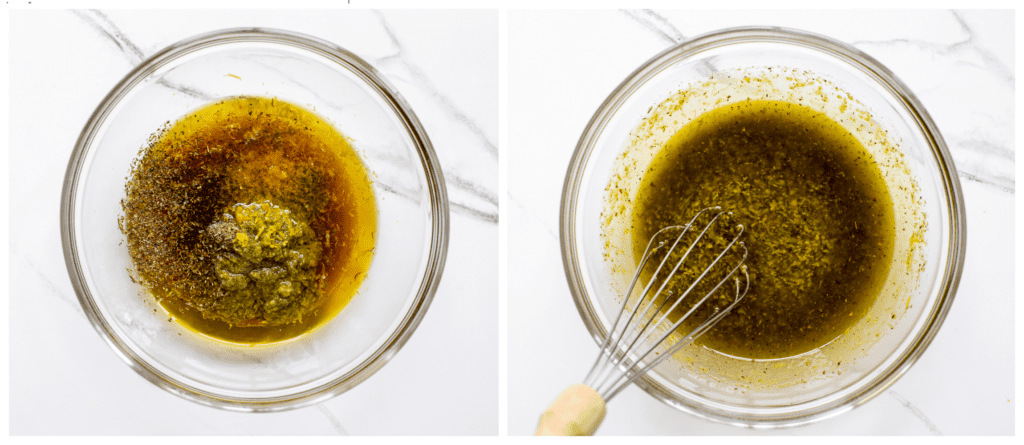 Combine: To a large bowl, add cooked pasta, chicken, tomatoes, mozzarella, onion, basil, and Parmesan. Drizzle the dressing over the top, and toss to combine.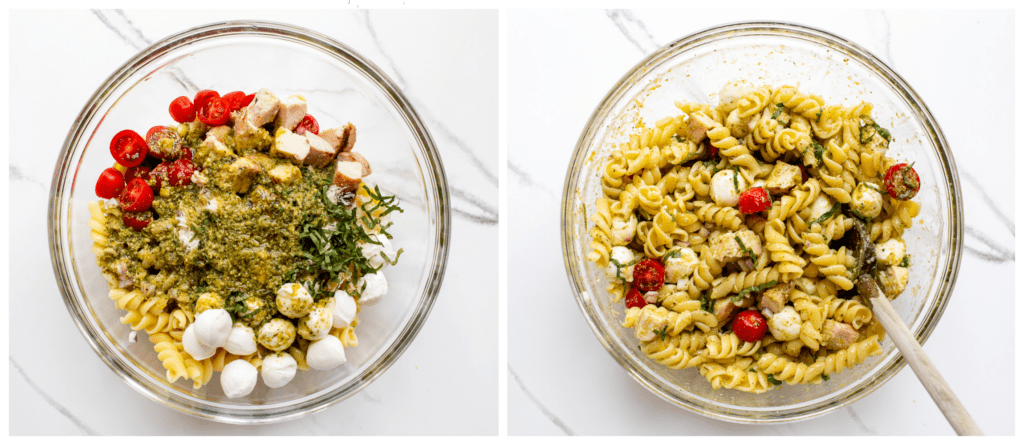 Other veggies to add
This pesto pasta recipe is made with simple veggies, but feel free to add more vegetables. Here are some tasty options:
Marinated artichokes
Grilled or roasted asparagus
Raw or cooked broccoli
Roasted red peppers
Sun-dried tomatoes
Cucumbers
Bell peppers
Spinach
Arugula
Recipe Tips
Here are some tips and tricks to help you make the best pasta salad:
Pesto: Make your own homemade pesto with garden basil.
Mozzarella: Fresh mozzarella balls, either "cherry size" or "pearls" work great in this recipe. If you can't find either one of them, simply use any fresh mozzarella. Just chop it up into bite-size pieces.
Cooking pasta: Cook pasta until it's cooked all through but still a little hard (al dente). It will continue to cook when you take it out of the pot and absorb liquid from the dressing.
Types of pasta: This recipe uses fusilli, but you can substitute penne, shells, rotini, farfalle, or elbow macaroni.
Spicy: Add red pepper flakes to your pasta to kick up the spice.
Chill the salad: Refrigerate the salad for at least 1 hour before serving to allow all the flavors to meld together.
How to serve
Pasta salads are usually served as a side dish but this one is packed with protein so it's very satisfying for lunch, dinner, or any summer gathering.
If you're serving it as a side dish pair it with Jalapeno Turkey Burgers, Grilled Orange Chicken, Cilantro Lime Chicken Sliders, Yogurt Marinated Chicken Kebabs, or BBQ Chicken Sliders.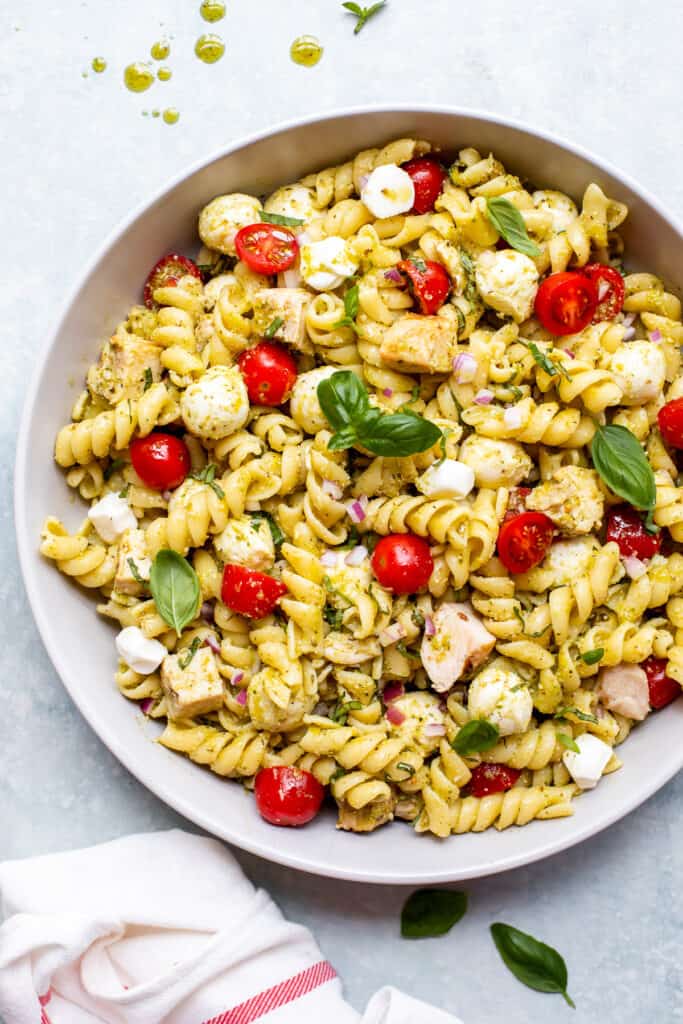 How to store
To refrigerate: Leftover pasta salad can be kept in an airtight container in the refrigerator for up to 4 days.
Before serving, you may want to add a little pesto, olive oil, or lemon juice to freshen up the salad.
To freeze: Pasta doesn't do well with freezing, so it's not recommended that you freeze leftovers.
To meal prep: You can easily prep this salad and have it ready to go in advance. Add the pasta, vegetables, and chicken to a bowl and cover with plastic wrap.
When you're ready to serve it, stir in the pesto dressing.
Frequently Asked Questions
Do you add pesto to hot or cold pasta?
When you add fresh pesto to pasta, the pasta should be cool or cold first. Hot pasta will heat up the pesto, which will oxidize and turn black. 
What cheese goes best with pesto salad?
Besides mozzarella and Parmesan cheese, try feta cheese, provolone cheese, or cheddar cheese.
How do I keep pasta salad from drying out?
Pasta absorbs liquid, so the best way to keep pasta salad from drying out is to use an oil-based dressing or add the dressing right before serving. Also, make sure to rinse the pasta under cold water before tossing it with the dressing.
More Summer Salads
Got leftover pesto? Try these recipes: Pesto Pasta or Turkey Pesto Meatballs or Shrimp Pesto Pasta.
Print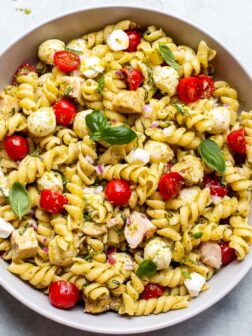 Chicken Pesto Pasta Salad
Author: Katya
Prep Time: 15 min
Cook Time: 10 min
Total Time: 25 minutes
Yield: 4-6 1x
Category: Main
Method: Chop
Cuisine: American
---
Description
Chicken Pesto Pasta Salad is a fresh summery dish perfect for serving at backyard parties or luncheons. 
---
10 oz. dry fusilli pasta, or similar
1 cup diced cooked chicken
6 oz. cherry or grape tomatoes, halved
8 oz. fresh mozzarella balls, cherry size or pearls
2 Tbsp. minced red onion
1/4 cup grated Parmesan cheese
1/4 cup basil, chopped or chiffonade
Dressing
1/2 cup basil pesto
1/2 cup olive oil
2 Tbsp. red wine vinegar
1 tsp. Italian seasoning
2 Tbsp. fresh lemon juice, plus more to taste
Zest 1 lemon
Kosher salt and black pepper
---
Instructions
Cook pasta al dente in salted water according to package directions. Drain, rinse under cold water, drain again, and add to a large bowl.
To the pasta, add chicken, tomatoes, mozzarella, onions, Parmesan, and basil
Whisk together the pesto, olive oil, vinegar, Italian seasoning, lemon juice, and zest. Season with salt and pepper to taste.
Pour the dressing over the salad and toss to combine. Cover and refrigerate for at least 1 hour before serving. Taste for salt and acidity before serving. To brighten up the salad, add more lemon juice. This recipe makes 4 generous servings or 6 smaller side servings.
---
Notes
Storing & Serving Leftovers: Store leftovers in an airtight container for up to 4 days. Pasta will soak up the dressing the longer it sits. To freshen up the salad, add a little olive oil, pesto, or lemon juice just before serving. 
Recipe originally published March 2015.
Nutrition
Serving Size: 1 cup
Calories: 520
Sugar: 4.2 g
Sodium: 259.2 mg
Fat: 32.2 g
Carbohydrates: 42.3 g
Protein: 16.6 g
Cholesterol: 22 mg
Keywords: easy, BBQ, summer