Spinach and Sun-Dried Tomato Pasta
Flavor loaded 20-minute pasta with sun-dried tomato pesto and fresh baby spinach is SO easy to make!
The best part you don't need much more to serve this pasta dish. Toss your favorite house salad with Greek salad dressing and you have yourself the perfect meatless dinner.
This 20-minute sun-dried tomato pasta recipe is made for busy weeknights!
It all starts with four ingredient sun-dried tomato pesto made in a food processor and then combined with hot Gemelli pasta. Also, fresh baby spinach and creamy Parmesan cheese get added in.
It's heaven in a bowl. It truly is. Serve it with a huge chopped salad and you've got dinner in no time. Plus it makes tasty leftovers for lunch.
Ingredients
You just need 7 ingredients total and you're good to go:
Pasta – I like using Gemelli cut pasta but any short-cut pasta will work. 
Sun-Dried Tomatoes – For this recipe, you'll need sun-dried tomatoes packed in oil.
Garlic – Use fresh peeled garlic.
Fresh basil – Fresh basil makes the best pesto. Feel free to use arugula instead. See below for more pesto variations.
Red pepper flakes – Just a 1/4 teaspoon is enough to balance out the sweetness and add a touch of heat to the pesto.
Baby spinach – I like using fresh baby spinach for this recipe.
Parmesan cheese – Freshly grated Parmesan cheese is the way to go.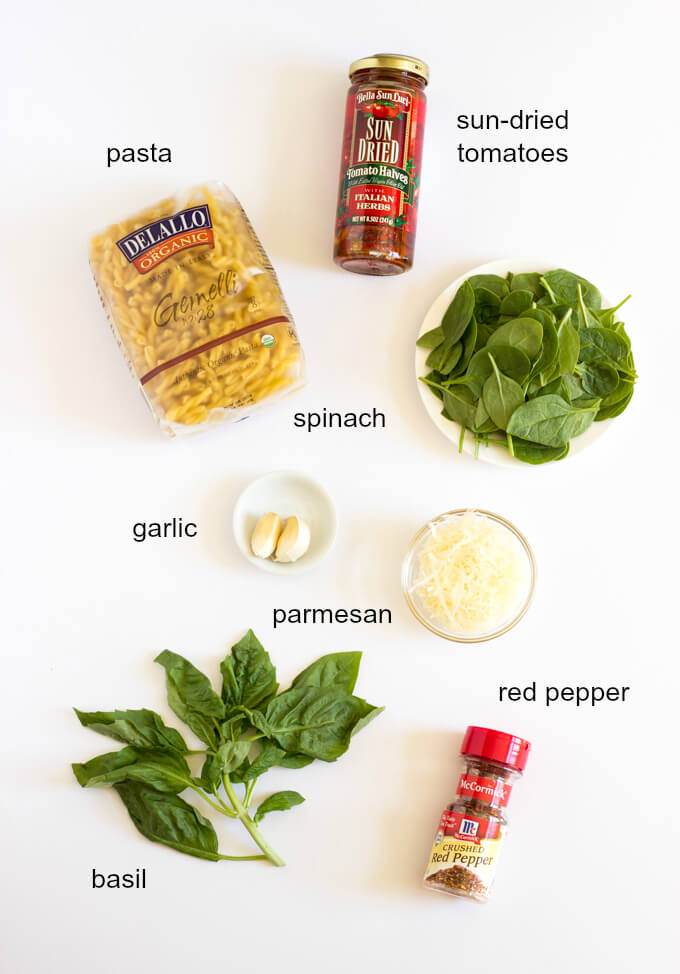 Different Ways to Make Pesto
Think beyond basil and Parmesan cheese. The best part about pesto is that it can be made a variety of ways. 
Greens: Instead of basil, try adding tender greens such as arugula, parsley, or mint.
Cheese: Pecorino Romano, aged Asiago, or manchego cheese are all hard and salty cheeses suitable for pesto.
Nuts: Add in your favorite nuts, such as almonds, pumpkin seeds, or pine nuts. Just make sure to buy roasted nuts or roast them yourself. It'll add delicious rich flavor to the pesto.
Few Other Things: Fresh lemon juice, lemon zest, or balsamic vinegar is great for brightening up the pesto. Also to switch up the flavors, consider adding jarred artichokes or olives.
How to Make Sun-Dried Tomato and Spinach Pasta
You'll need a food processor or high-powered blender for the pesto and a large pot for cooking the pasta.
Step 1: Before you get going on the pesto, cook the pasta. Read the back of the box for specific directions. But basically, you'll want to cook the pasta in salted water until al dente. Cooking time will depend on the type of pasta used.
Step 2: While the pasta is cooking, make the pesto. To start, pulse the sun-dried tomatoes and oil in a food processor until they're chopped small. Then add the fresh basil, garlic, red pepper flakes, salt, and pepper, and pulse until the mixture is thick and has a paste-like consistency. You may need to scrape down the sides with a rubber spatula a few times to incorporate all the ingredients into the pesto.
Step 3: When pasta is ready, reserve 1 cup of cooking liquid and drain the rest.
Step 4: Return the pasta back to heat and add spinach, sun-dried tomato pesto, and reserved cooking liquid. Stir until the spinach has wilted. Add Parmesan cheese and taste for salt and pepper. Serve with additional Parmesan cheese and fresh basil.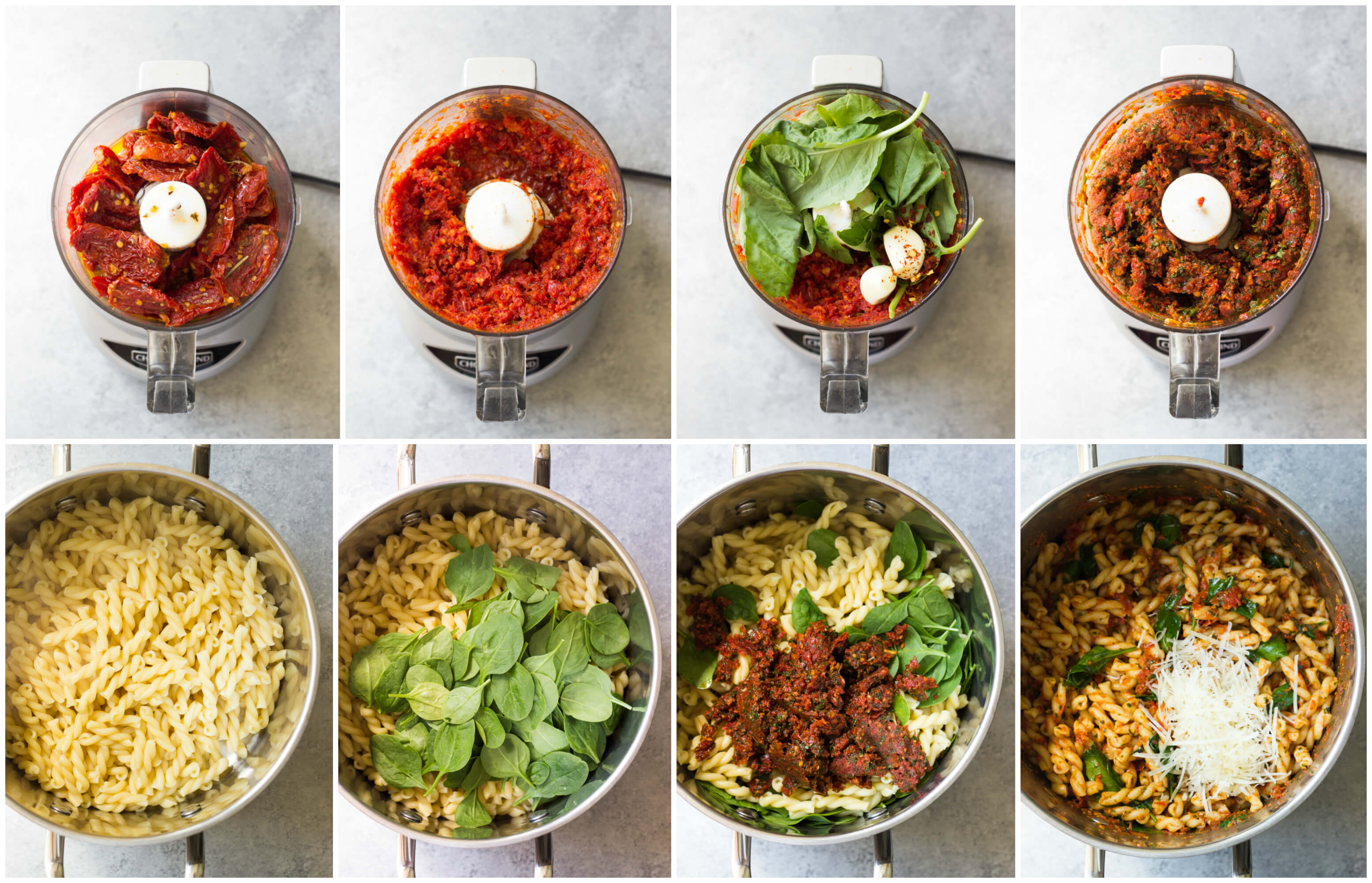 Pasta Mix-In Ideas
Once you have this recipe down, you can spruce it up even further with these additional mix-ins:
Chicken – any type of chicken works!
Garlic breadcrumbs – just like here
Something creamy – a splash of half and half or cream cheese
Veggies – mushrooms or broccolini
White beans 
Recipe Tips
These tips and tricks will help you make the best tomato and spinach pesto pasta.
Add pasta water. Save some of the pasta water to add to the pan of pasta and pesto to thin it out.
Don't overcook the pasta. Cook the pasta until it's no longer crunchy in the center (al dente) and then drain. You don't want it to get mushy at all, but rather, still have a bit of a bite.
Try different cheese. A combination of Parmesan cheese and romano cheese tastes amazing in pesto.
Use baby spinach. Use fresh baby spinach rather than full-grown spinach. It's more tender and wilts better in this dish.
Switch out the pasta water. Replace the pasta water with chicken broth, vegetable broth, or a splash of white wine.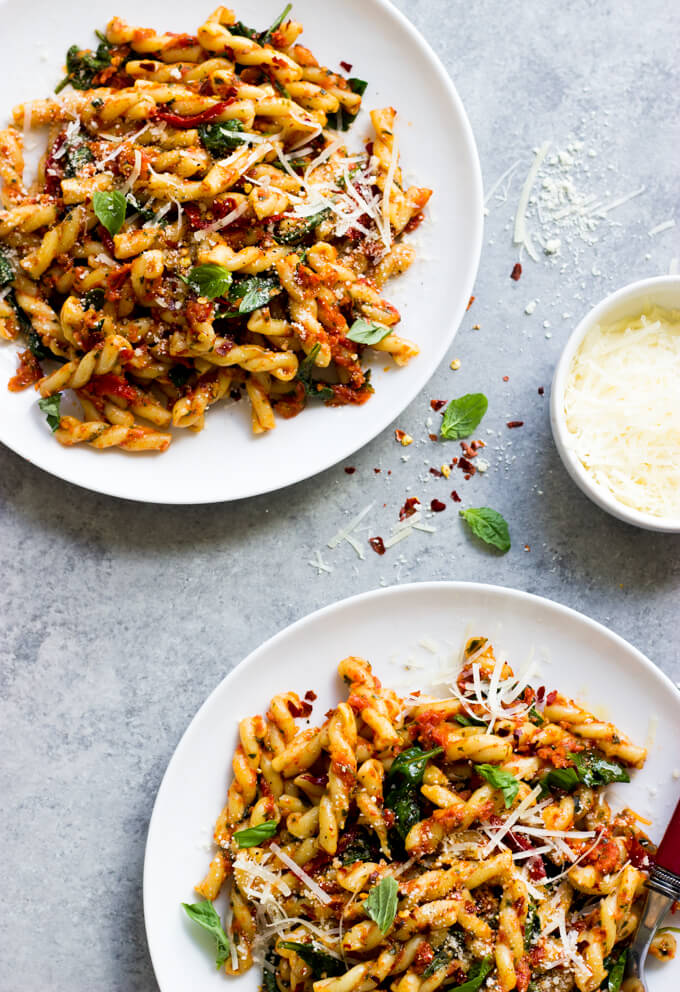 How Do You Reheat Pesto Pasta?
It is best to warm up pasta on the stovetop with little water, chicken broth, or even white wine. Simply add cold pasta to a saucepan or sauté pan with the liquid of choice and stir until warmed through.
Leftover pasta with pesto that is properly stored, will last for 3 to 5 days in the refrigerator.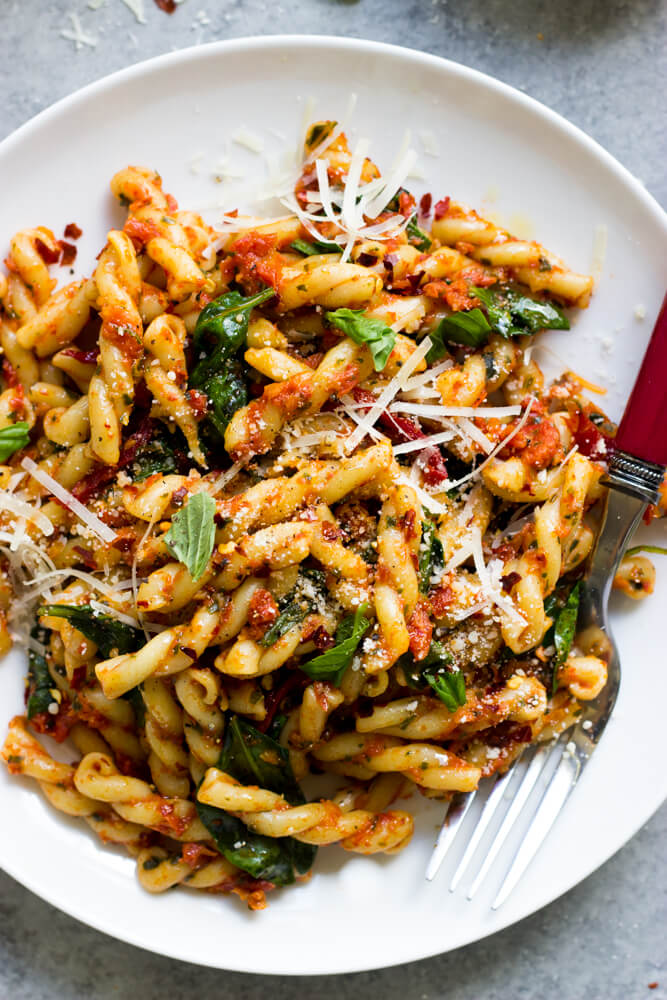 Video: How to Make Sun-Dried Tomato Pasta with Spinach
FAQs
What kind of pasta is best for this dish?
This one-pot pasta recipe uses Gemelli pasta, but you can use your favorite pasta like rigatoni, penne, or mini farfalle.
Can I use store-bought pesto sauce for tomato and spinach pasta? 
This easy pasta recipe includes the process to make sun-dried tomato pesto in just a few minutes. If you'd rather buy it from the store, or you already have some in your pantry, you can use that instead.
Is this sun-dried tomato and spinach pasta spicy? 
This recipe uses red pepper flakes in the sauce which makes gives it a little bite. You can make it more or less spicy by adding more chili flakes or leaving them out altogether.  
You May Also Like…
Print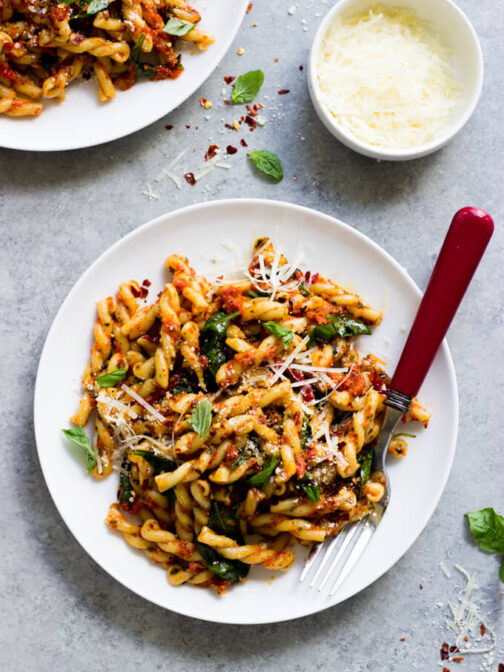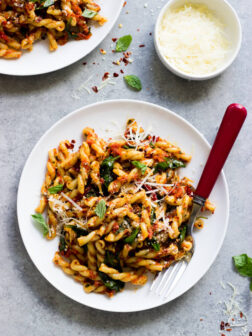 Spinach and Sun-Dried Tomato Pasta
Author: Katya
Prep Time: 5 mins
Cook Time: 15 mins
Total Time: 20 mins
Yield: 8 1x
Category: Main
Method: Simmer
Cuisine: Italian
---
Description
Flavor loaded 20-minute pasta with sun-dried tomato pesto and fresh baby spinach is SO easy to make! It makes the perfect meatless dinner or quick side dish for those busy back to school nights.
---
16 oz. gemelli or other short shaped pasta
1 (8.5 oz.) jar oil packed sun-dried tomatoes
2 garlic cloves
1 cup fresh basil leaves, packed, plus more for garnish
1/4 tsp. red pepper flakes
1 1/2 cups fresh baby spinach, packed
1/4 cup grated Parmesan cheese, plus more for serving
Kosher salt and fresh ground black pepper
---
Instructions
Cook pasta in salted water according to package directions until al dente.
While the pasta is cooking, in a bowl of a food processor, pulse the tomatoes and their oil until finely chopped. Add garlic, basil, and red pepper flakes. Season with salt and pepper to taste. Pulse until the mixture resembles paste like consistency. It will be thick and you may have to stop the food processor to scrape down the sides.
Drain the pasta, reserving 1 cup of the cooking water. Return the pasta to the heat and stir in the spinach, sun-dried tomato pesto, and reserved cooking water. Stir until the spinach has wilted. Then add the Parmesan cheese. Taste for salt and pepper.
Serve with sprinkle of chopped basil and more Parmesan, if desired.
---
Notes
Pesto: Pesto can also be made in a high-powdered blender. You will just have to stop and scrape down sides few times.
Leftovers: Leftover pasta stored in an airtight container will last for 3 to 5 days in the refrigerator. Reheat on the stovetop over medium-low heat with little water, chicken broth, or white wine.
Nutrition
Serving Size: 1 cup
Calories: 243
Sugar: 4.1 g
Sodium: 57.8 mg
Fat: 1.8 g
Carbohydrates: 47.2 g
Protein: 9.7 g
Cholesterol: 1.8 mg
Keywords: easy, quick, family friendly