Chocolate Raspberry-Caramel Thumbprints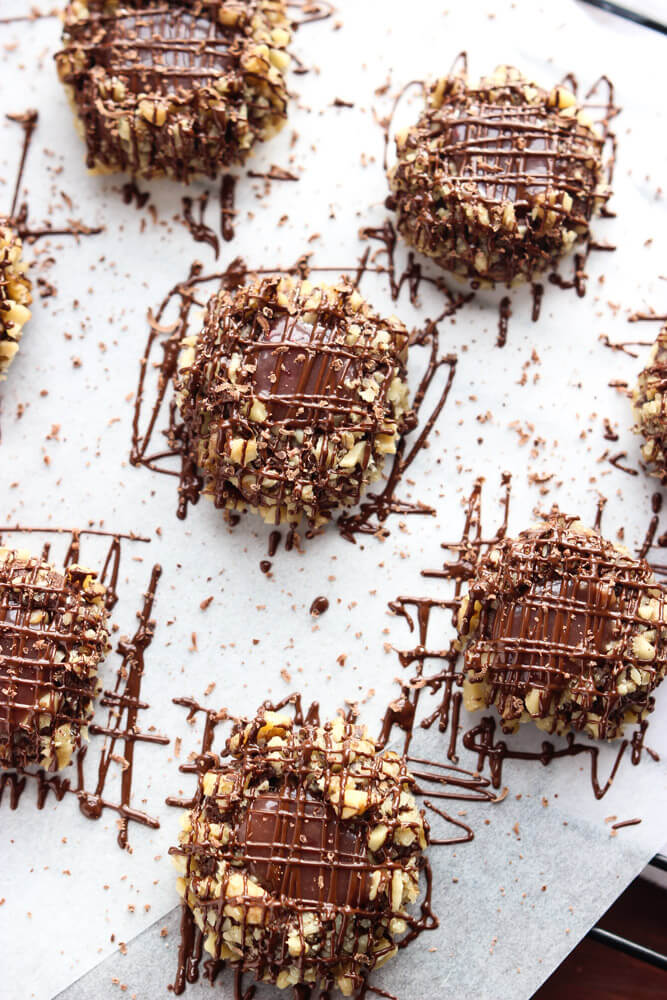 This cookie recipe you just can't do without! Seasonal favorite that should be added to your cookie rotation. Chocolate cookie coated in toasted walnuts with tastiest raspberry-caramel filling and drizzled with smooth chocolate. These cookies are anything but ordinary! Super soft, nutty, and raspberry sweet. I love that they are small, very sophisticated/gourmet looking and can be prepared days in advance.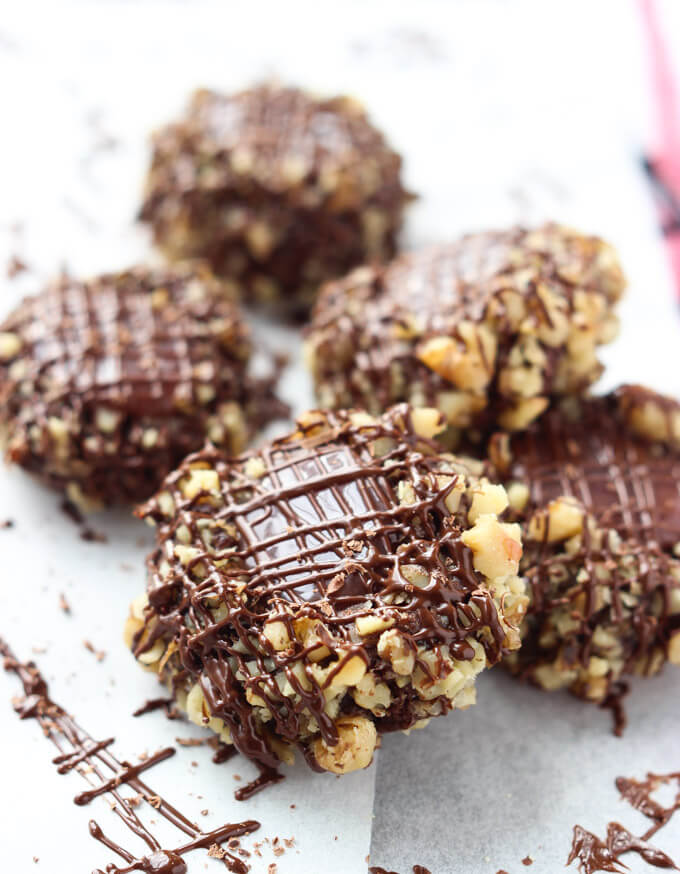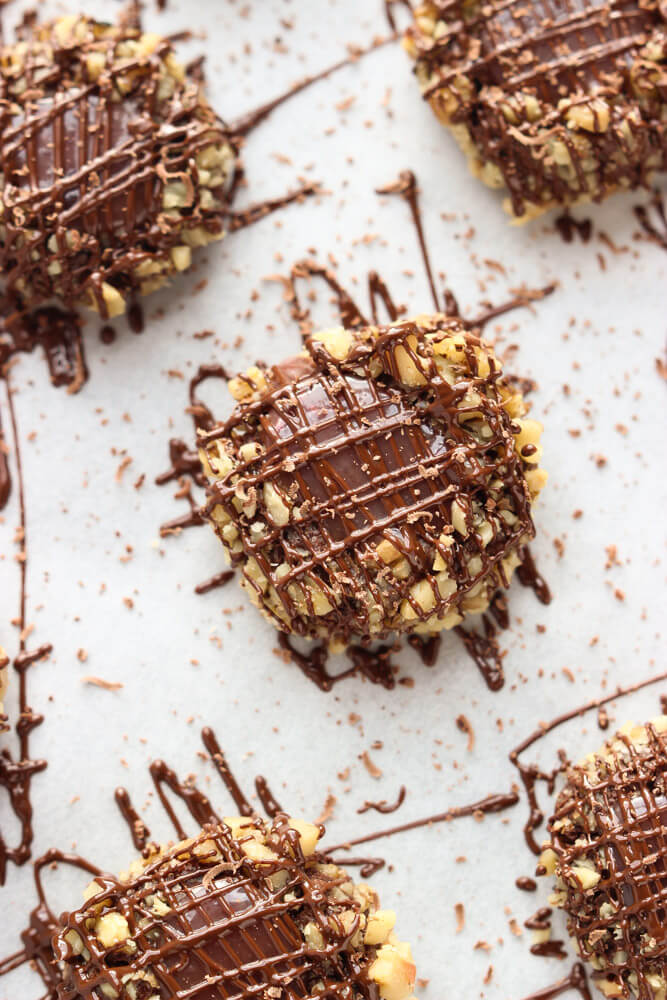 Earlier in the year I made a batch for a co-worker who sends care packages to our soldiers in Iraq and we got so much great feedback that I made another batch to send as gifts to family and friends this year. They travel well and are perfect for gift giving, whether traveling almost 10K miles or just down the street to a friendly neighbors house, these are sure to be a holiday pleaser.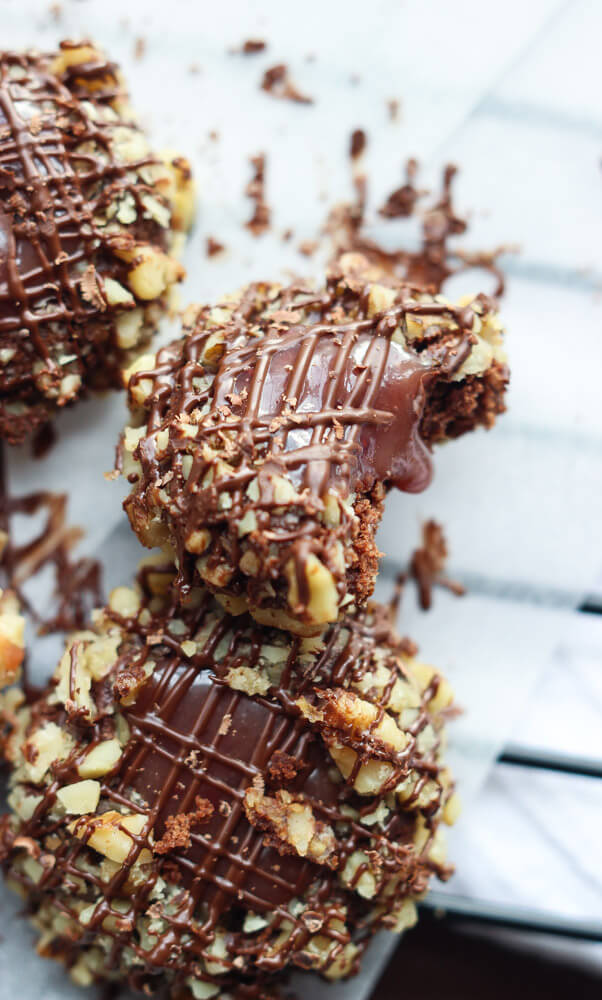 Enjoy!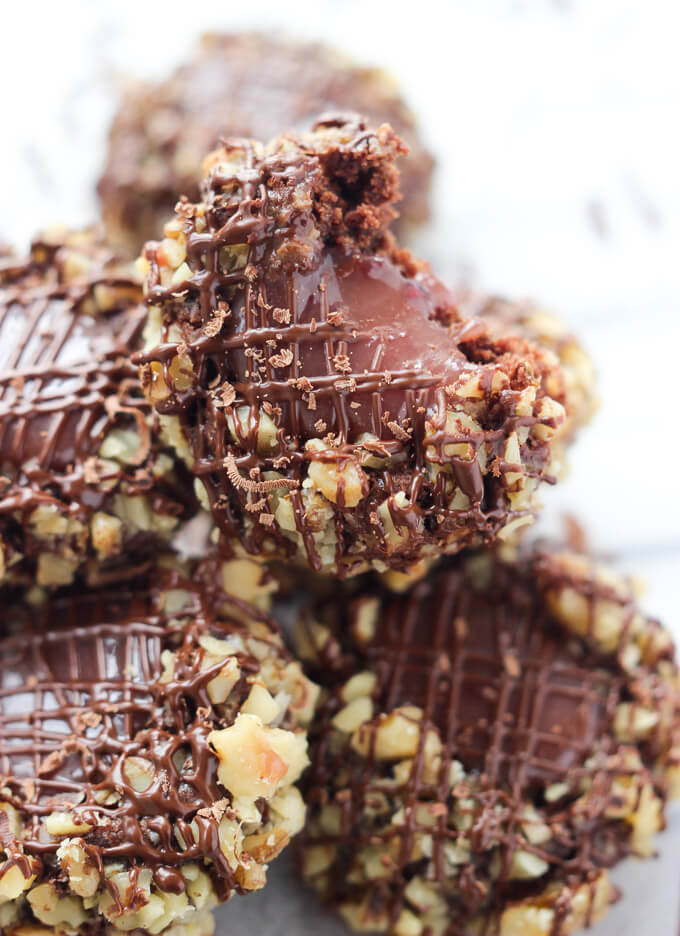 Print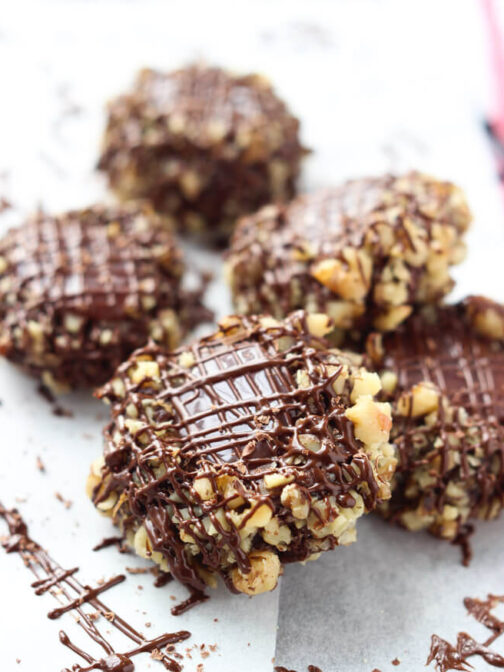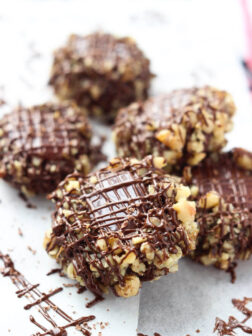 Chocolate Raspberry-Caramel Thumbprints
Prep Time: 45 mins
Cook Time: 12 mins
Total Time: 57 mins
Yield: 24 cookies 1x
---
1 cup all-purpose flour
1/3 cup unsweetened cocoa powder
1/4 tsp. salt
1/2 cup unsalted butter, at room temperature
1/3 cup granulated sugar
1/3 cup brown sugar, packed
1 large egg, white and yolk separated
1 1/2 tsp. vanilla
2 Tbsp. milk
1 1/4 cup walnuts, finely chopped
10 soft caramels, unwrapped
2 Tbsp. heavy whipping cream
2 1/2 Tbsp. raspberry preserves
1/2 cup semi-sweet chocolate chips
1 tsp. shortening
---
Instructions
In a medium bowl, combine the flour, cocoa, and salt; set aside.
In a large bowl, beat butter, granulated sugar and brown sugar with a hand held mixer, until combined. Beat in egg yolk (refrigerate the egg white until ready to use), vanilla, and milk until combined. Add flour mixture on low speed. Form dough into a ball; cover with plastic wrap and chill in the refrigerator for 45 minutes up to 1 hour or until dough is easy to handle.
Preheat the oven to 350F.
Lightly spray a cookie sheet with cooking spray; set aside.
Remove the egg white from the refrigerator and whisk until frothy. Place chopped walnuts into a separate bowl.
Shape dough into 1-inch balls. Roll balls in egg white, then in walnuts to coat. Place balls 1-inch apart on the prepare cookie sheet. Make a deep indentation with your thumb in the center of each ball.
Bake for 10-12 minutes. Remove from the oven and using the bottom of a rounded 1/4 measuring spoon, gently press down on existing indentation. Transfer to a wire rack to cool completely.
In a small microwave safe bowl, microwave caramels and whipping cream on high for approximately 1 1/2 minutes or until melted and smooth, stirring every 30 seconds. Stir in raspberry preserves.
Spoon raspberry-caramel filling into the indentation of each cookie.
In a microwave safe bowl, microwave semi-sweet chocolate and shortening on high for 1 1/2 minutes or until smooth, stirring every 30 seconds. Drizzle the chocolate over the cookies with a spoon or ziplog bag with tip of corner cut off. Let stand until set.
---