Dark Chocolate Cranberry Almond Biscotti
Get your pot of coffee ready…these perfect holiday cookies are an ultimate companion to hot cup of joe. Dunkable, crunchy, packed with almonds and cranberries, then dipped in dark rich chocolate. So addicting and full of flavor!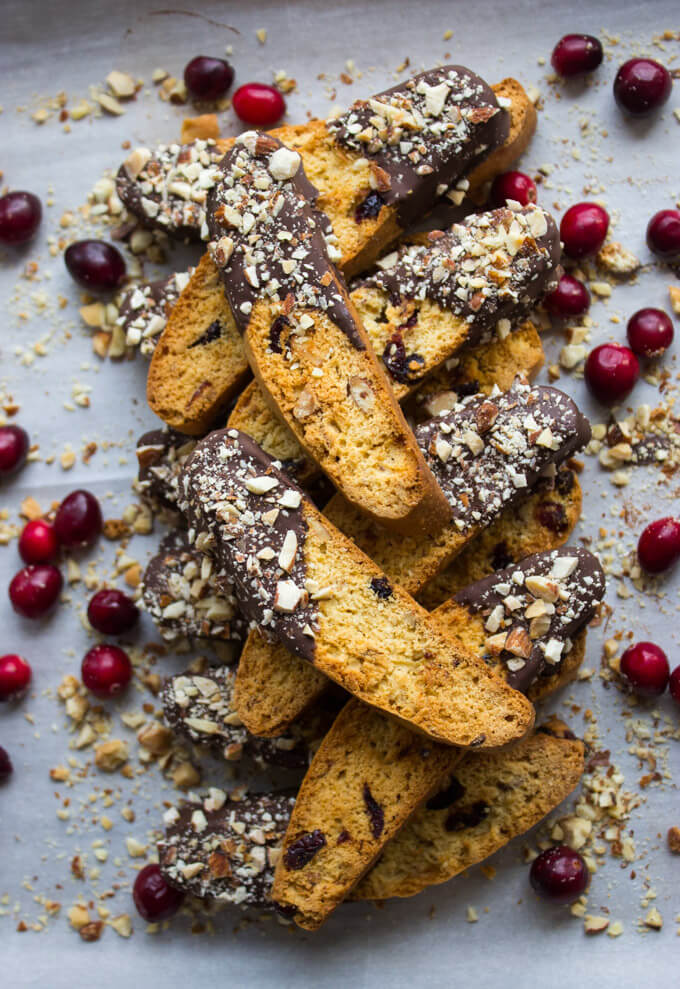 Disclaimer: Today I am using Bada Bing Bada Boom Dark Dipping and Coating Chocolate that was sent to me from Chocoley. As always, recipe and opinions are my own.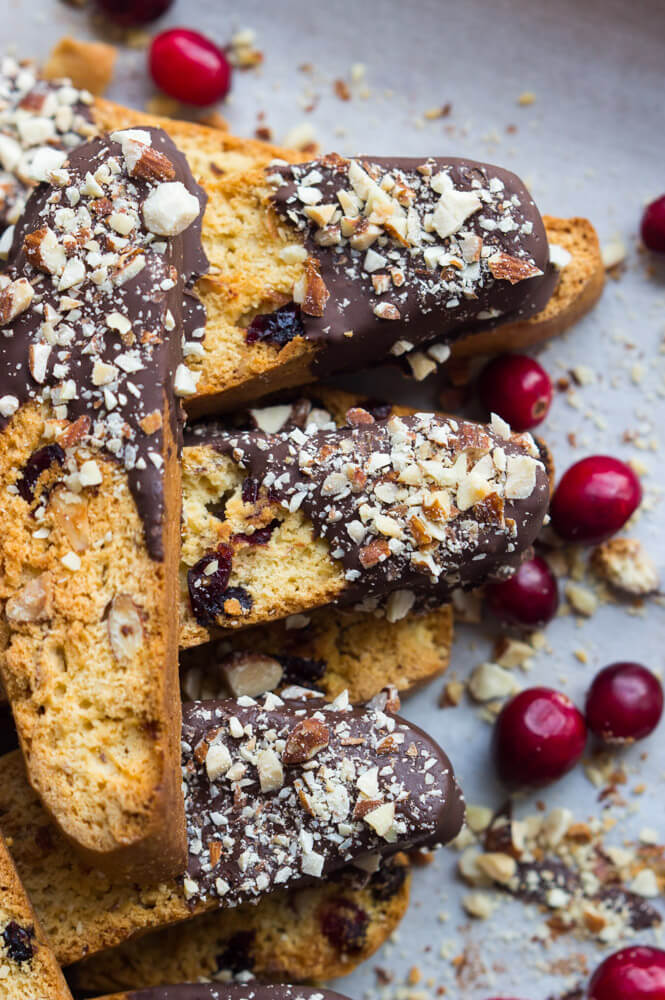 Crunchy, chocolatey and perfect blend of sweet and tart, these coffee-pairing cookies are a must weekend baking project. I got to say, I am completely hooked on making biscotti now. My sister gave me the idea as she went on and on about how much she loves biscotti with coffee. I always imagined biscotti is sooo complicated to make and something I would rather pass on baking at home. But so not true! Biscotti is actually not complicated at all and will surely impress your guests and your sista 🙂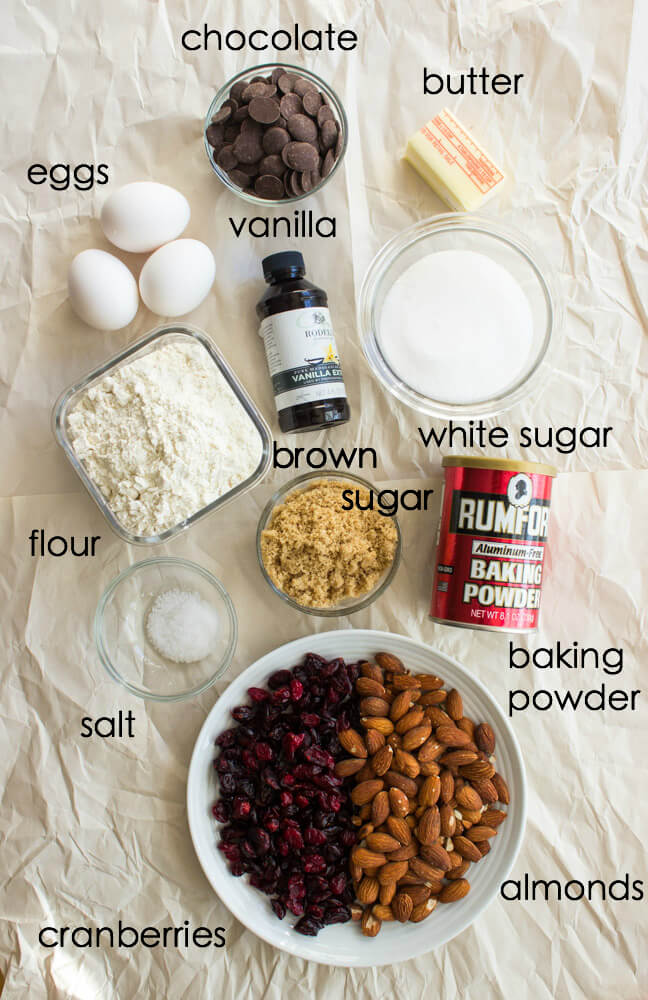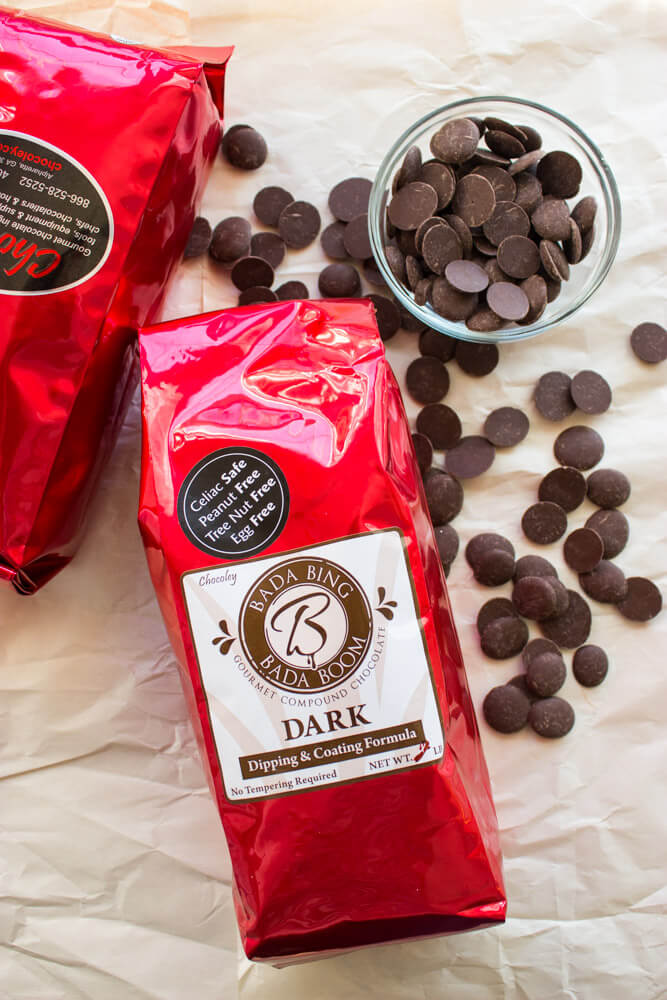 Biscotti simply means small, crisp rectangular twice-baked cookies typically containing nuts, made originally in Italy. But we're Americanizing our biscotti today and adding dried sweet cranberries, crunchy almonds, and then dunking them in dark rich chocolate. I mean…doesn't that sound absolutely coffee perfect? Best part, you can play around with SO many different flavors! Everything from fruit, nuts, chocolate, candy, and coffee.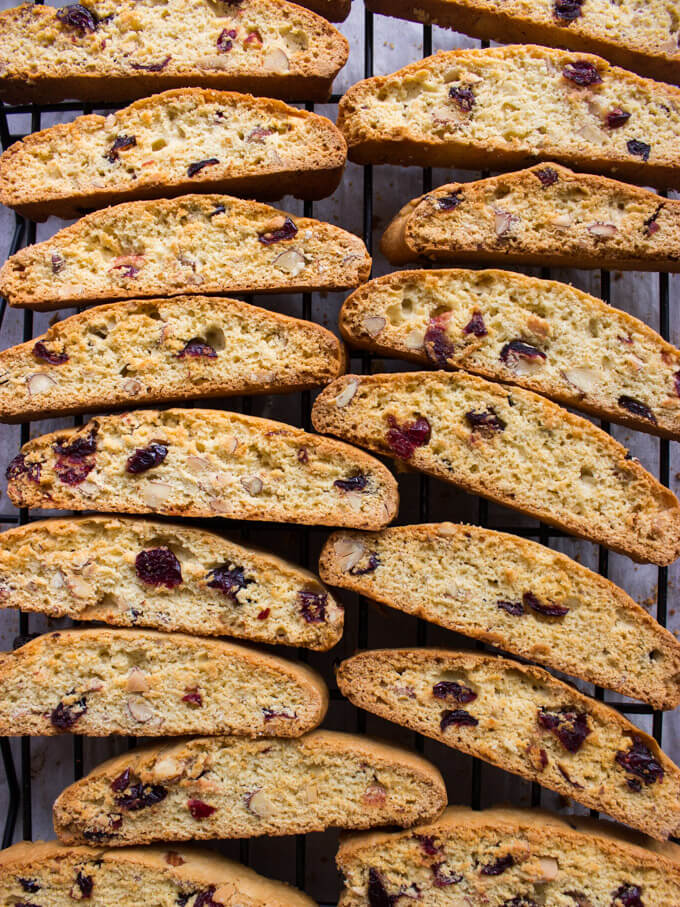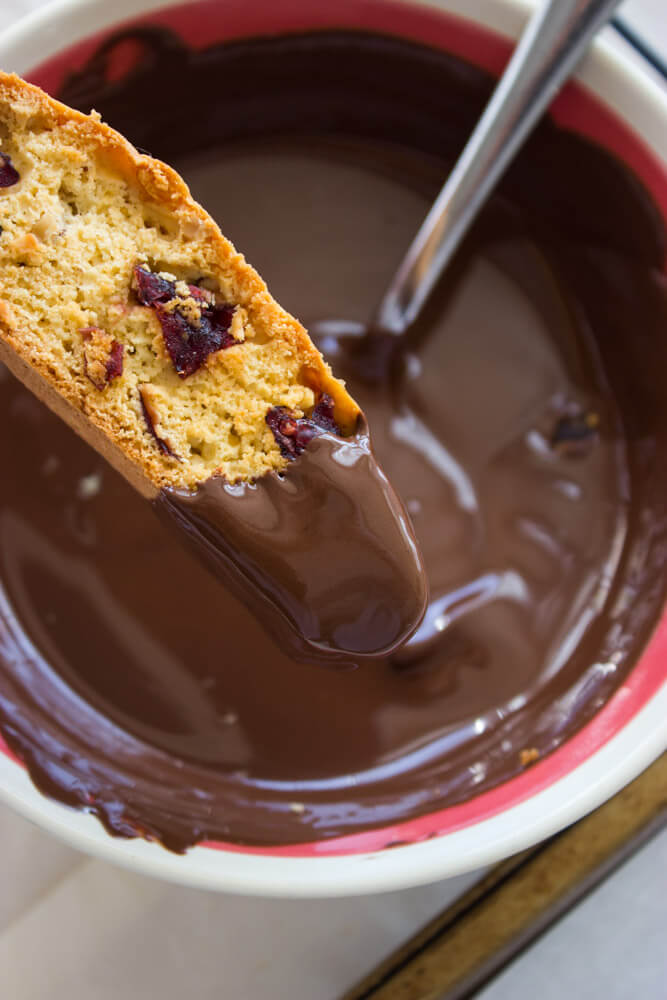 First, you start off by making the dough, which is nothing complicated, just butter, sugar, baking powder, vanilla, eggs, salt, and flour. Then you stir in your flavors, in our case it's the cranberries and almonds. Divide the dough in half and form each half into a log. Bake the logs for about 25 minutes in 350F oven until golden crisp around the edges and soft in the center. Cool a bit then slice into 1/2 – inch thick slices. Place back on the baking sheet and finish baking until crunchy. Don't worry if your biscotti is somewhat soft, as it cools it will become crunchy. Then the best part…dunk in melty dark chocolate, sprinkle almonds and eat away.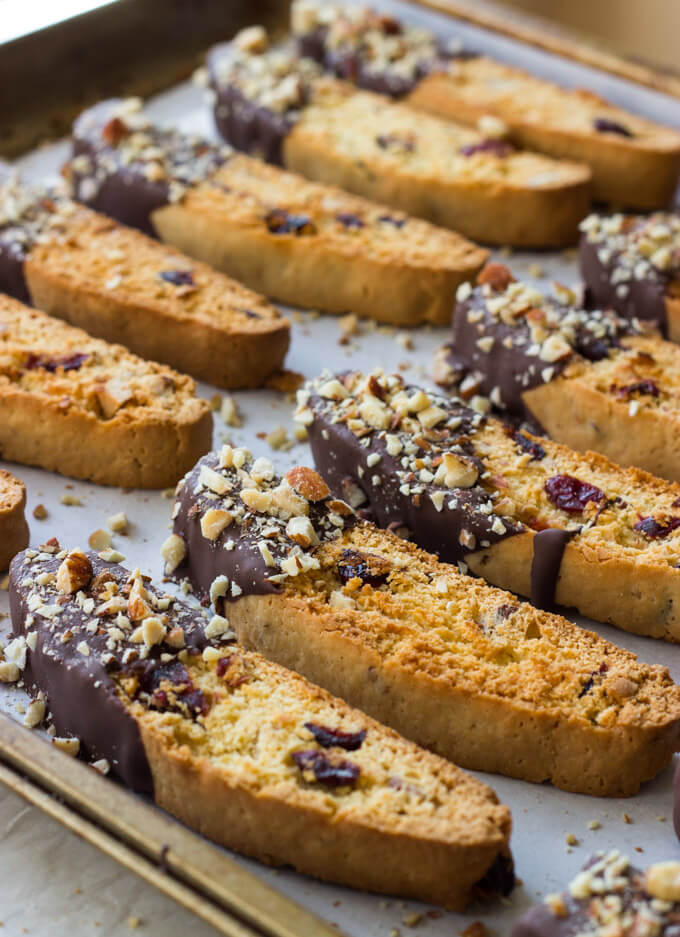 You will find a lot of information online about how long you can store the biscotti. Everything from 3 days up to several weeks. I personally found that one week is a good number. After week one, biscotti begins to taste a bit stale. Large ziploc bag or an airtight container work great for storing.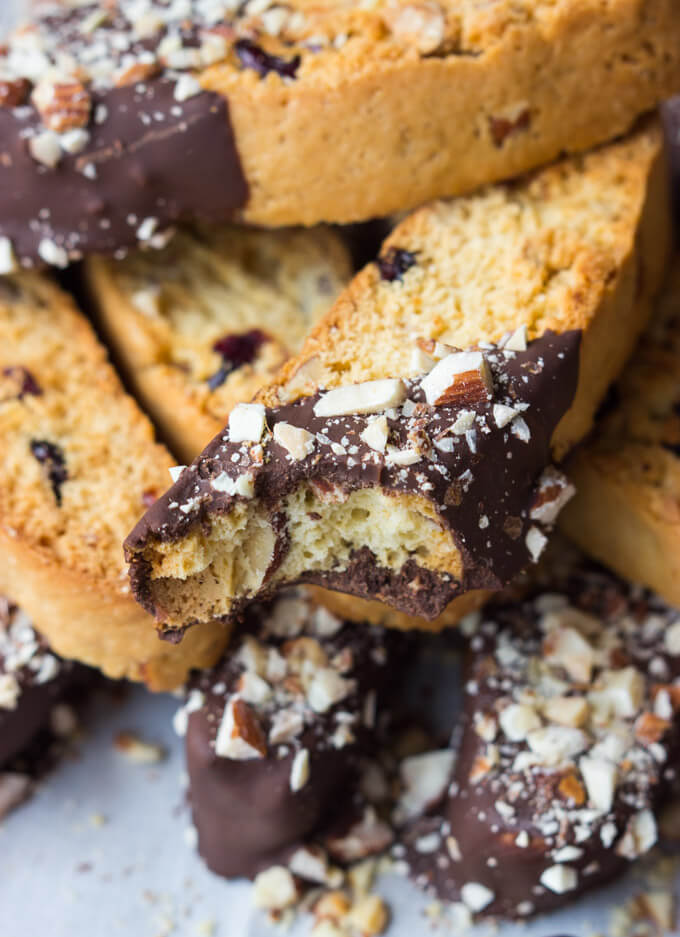 Print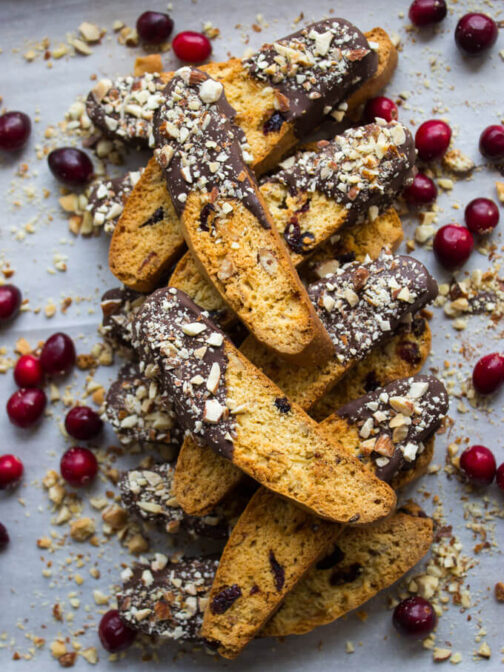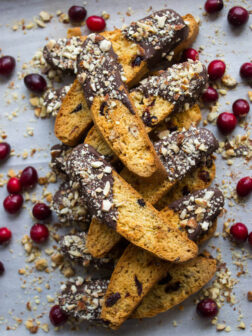 Dark Chocolate Cranberry Almond Biscotti
Prep Time: 50 mins
Cook Time: 43 mins
Total Time: 1 hour 33 mins
Yield: 28 cookies 1x
---
1/4 cup butter, at room temperature
1/2 cup granulated sugar
1/2 cup packed brown sugar
2 1/2 tsp. baking powder
1/8 tsp. salt
3 eggs
1 tsp. vanilla
2 3/4 cups all-purpose flour
1/2 cup whole roasted, unsalted almonds, roughly chopped
1/2 cup dried cranberries
Chocolate Coating
8 oz. dark chocolate morsels or roughly chopped dark chocolate bar
1/4 cup whole roasted, unsalted almonds, finely chopped
---
Instructions
Preheat oven to 350F. Line a large baking sheet with parchment and lightly spray with non-stick spray. Set aside.
In a large mixing bowl, beat butter with an electric mixer until creamy. Add granulated sugar, brown sugar, baking powder, and salt. Beat until combined, scraping sides of bowl. Beat in eggs and vanilla until combined. Then gradually beat in flour. Dough will be thick and sticky. With a wooden spoon, fold in almonds and cranberries.
Divide dough in half. Shape each half into an 8-inch roll. Place rolls 5 inches apart on the prepared baking sheet. Pat down the dough until 1/2-inch thick.
Bake for 25 minutes or until tops are golden and centers are firm. Remove from the oven, but do not turn off the oven.
Allow to cool for 10 minutes or until cool enough to handle. Transfer baked loaves to a cutting board and using a serrated knife, cut loaves into 1/2 inch thick slices. Place slices cut sides upright on the baking sheet. You may need a second sheet to fit them all.
Return to the oven to continue baking for 8-9 minutes. Turn slices over; bake for 8-9 minutes more. Cookies will be slightly soft in the center with crisp edges. As the cookies cool, they become crunchy. Transfer to a wire rack to cool completely before dipping in chocolate.
Chocolate Coating
Place chocolate in shallow microwave safe bowl and melt in 15 second increments, stirring after each increment until completely melted and smooth.
Dip bottom half of cookies into melted chocolate, letting excess drip back into bowl. Place cookies flat on a parchment lined baking sheet and immediately sprinkle with chopped almonds. Allow the chocolate to set completely at room temperature (about 45 min) before storing in airtight container.
---