Date Coconut Balls
These date coconut balls are quick, easy, and require no baking! Not to mention they're made up of only 3-ingredients: dates, almond butter, and coconut.
I love making these date coconut balls around Christmas because they look like frosty snowballs. They make the prettiest addition to any cookie box paired with other homemade treats.
Plus, they're perfect for snacking on or pairing with a cup of hot tea. These coconut date balls will surely satisfy a unique craving!
Why I Love This No-Bake Coconut Date Recipe
Made right in a food processor – After processing the dates into a paste with almond butter, you can scoop out little balls straight from the bowl before rolling in shredded coconut. A high-speed blender should work if you don't have a food processor.
3 simple ingredients – Just dates, almond butter, and unsweetened shredded coconut.
Fun to make – After whirling the ingredients into a thick crumby paste, dig right in and form into little balls. You can use a small cookie scoop or your hands before rolling them in the coconut. This is fun to do by yourself or with the kids!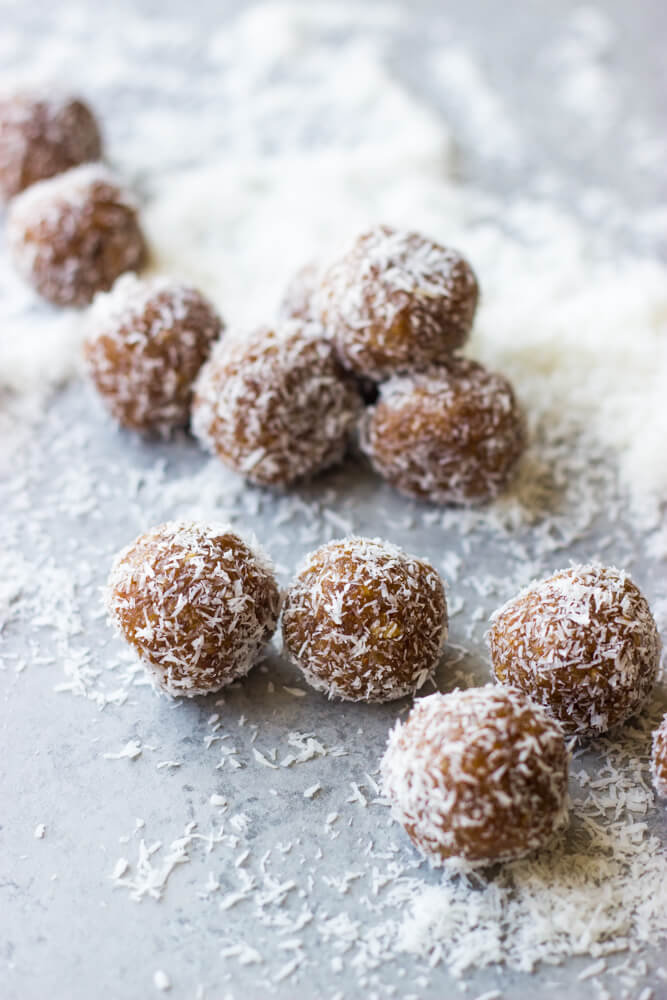 Ingredients + Substitutions
Simple. That's what we're looking for in these chewy, nutty date balls, and with just 3 ingredients, this snack is a winner.
Dates – I used Deglet Noor dates for this recipe. Medjool dates can also be used. Just make sure to take the pit out.
Almond butter – I always buy almond butter with only one ingredient: almonds. I would recommend the same for this recipe. You don't want anything with salt, oil, or added sugar. Feel free to swap out the almond butter for other nut butter such as cashew or peanut butter.
Coconut – I like unsweetened shredded coconut, as the dates provide enough sweetness. The chewy coconut adds a great texture to the smooth date filling. It also makes for a festive winter treat as it resembles a snow-covered ball.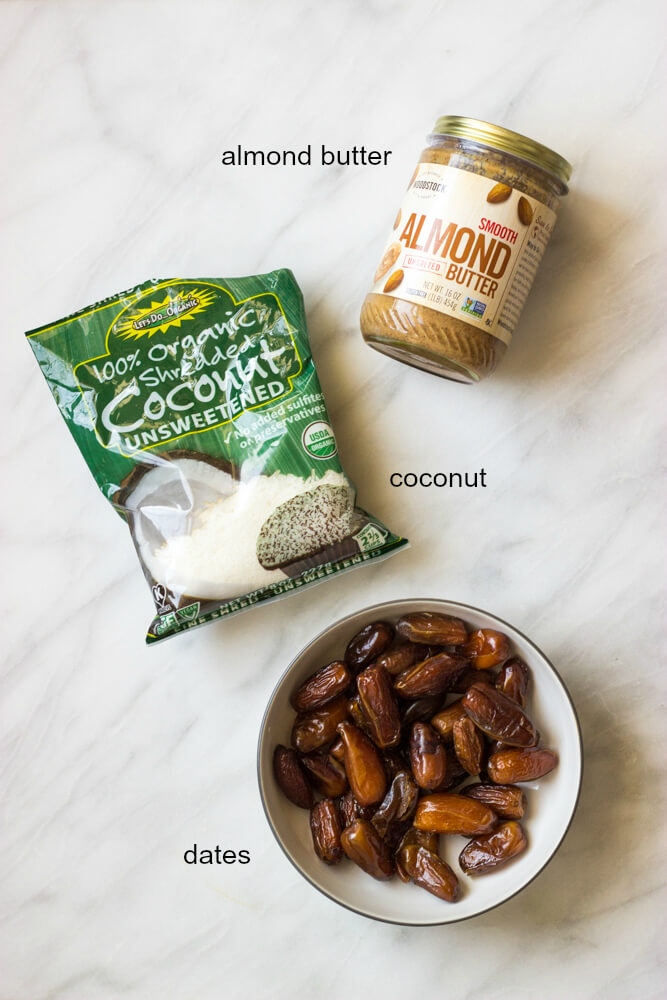 How to Make Date Coconut Balls
Start by pulsing dates until they resemble a large crumb-like consistency.
Add almond butter and continue to pulse until the mixture resembles a thick paste. If you find your mixture not coming together or a little dry, try adding a small splash of water.
Form the mixture into 1-inch or so balls and roll in the shredded coconut. Store in an airtight container at room temperature, away from heat.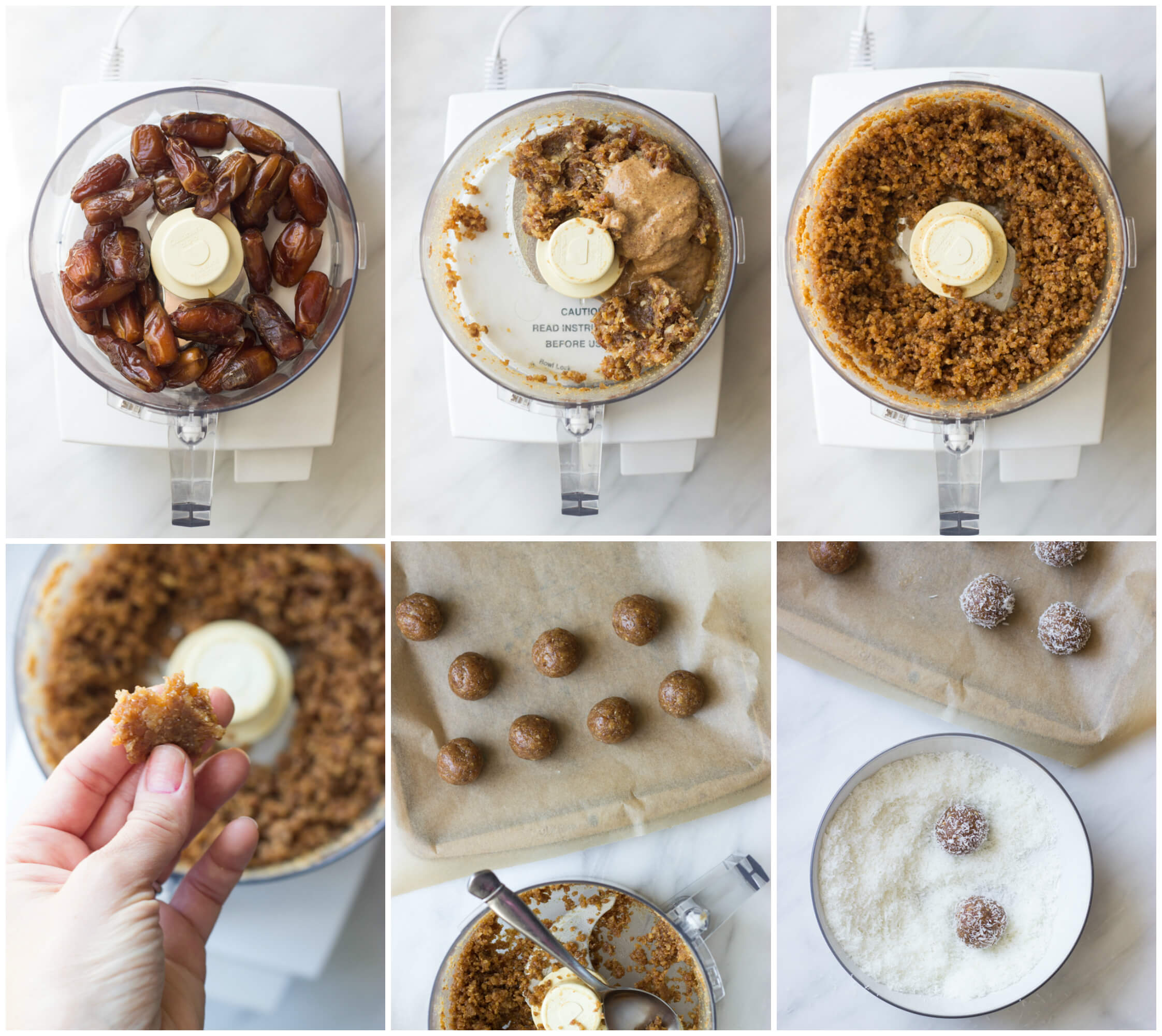 Recipe Tips and Variations
These 3 ingredient coconut balls are already super easy to make and so yummy, but you can switch up a few things for more snacking options. It's a recipe that will never get old because there's so much potential to create more varieties!
Add a little crunch – The texture of these almond butter date balls is similar to peanut butter fudge. You can stir some add-ins for more texture, such as rice crispies or chopped nuts. You could also add in various seeds, such as chia seeds, flax seeds, or pepitas, after blending the date mixture by folding them in with a spatula.
Toast the coconut – Before coating the date balls, toast the shredded coconut first. Line a baking sheet with parchment paper and spread the coconut evenly. Place in a preheated 350-degree oven for a few minutes, occasionally stirring for even cooking. Once cooled, roll the almond butter date balls into the toasted coconut for a scrumptious, toasty, nutty flavor.
Add liquid if the mixture is too dry – If the texture is too crumbly and not very paste-like, you can add a little more almond butter or maple syrup to develop the mixture better.
Make more decadent – Sure, these start as a healthy snack option, but you can go all out and add chocolate chips, butterscotch pieces, or dried fruits.
Spice it up – Add some aromatic spices such as cinnamon, nutmeg, pumpkin pie spice, or a pinch of cayenne for some heat.
Switch out the coconut – Try rolling the date balls in crushed peppermint canes, sprinkles, or finely chopped nuts.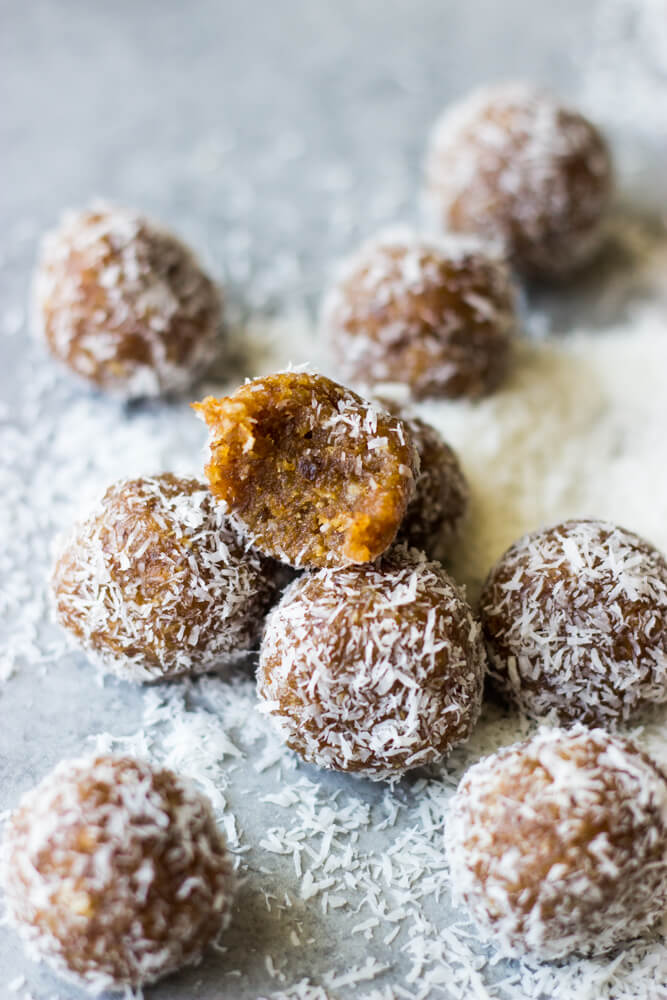 How to Store Date Balls
On the counter: Store covered on the counter for about 4-5 days.
In the refrigerator: Store leftovers in an airtight container for up to two weeks in the refrigerator.
In the freezer: To freeze date balls, place the tray in the freezer until the coconut date balls are solid, then transfer them to a freezer-safe container or bag. Thaw overnight in the refrigerator before eating.

FAQs
How far in advance can I make coconut date balls?
Date balls coated in coconut can be made up to two weeks in advance when stored in the fridge. If need to, separate each layer with parchment paper to keep them from sticking together while stored.
Do date balls need to be refrigerated?
You can keep date balls on the counter for a few days as long as they stay covered and away from heat.
Do you need to soak dates before blending?
If the dates are fresh and soft, then there's no need to soak them. However, if your dates are older and more on the hard side, then soak them in warm water for about 10 minutes. This helps soften the dates so they blend easier.
More Treat Recipes
Print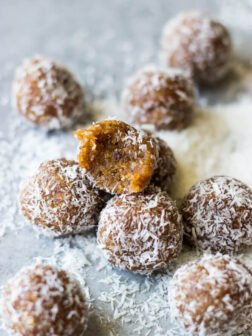 Date Coconut Balls
Author: Katya
Prep Time: 20 mins
Total Time: 20 mins
Yield: 24 balls 1x
Category: Dessert
Method: No Bake
Cuisine: American
---
Description
These coconut date bites are quick, easy, and require no baking! Not to mention they're made up of only 3-ingredients: dates, almond butter, and coconut.
---
2 1/2 cups dried dates, pitted
4 Tbsp. creamy almond butter, unsalted
1/4 cup shredded coconut, unsweetened
---
Instructions
Add dates to a bowl of a food processor and pulse until large crumb like consistency. If the mixture turns into one large ball, use your fingers or a spoon to pat it down.
Add almond butter and continue to pulse until small crumbs/thick paste is formed. If the mixture is not coming together or a little dry, add the smallest splash of water and then continue to pulse.
Form the mixture into 1 1/4 inch balls and place on a parchment-lined sheet pan.
Add coconut into a small shallow bowl and roll the date balls in the coconut.
Store in an airtight container at room temperature, away from heat, for up to 5 days or refrigerate for up to 2 weeks.
---
Notes
Dates: There is no need to soak the dates first, unless they are really dry and hard, then soak in warm water for about 10 minutes.
Almond Butter: It's best to use almond butter without any added sugars, oils, or salt for this recipe.
Nutrition
Serving Size: 3 balls
Calories: 311
Sugar: 60.3 g
Sodium: 2.1 mg
Fat: 5.8 g
Carbohydrates: 69.5 g
Protein: 3.4 g
Cholesterol: 0 mg
Keywords: healthy, sweet, easy, on the go, snack
Recipe originally published March 2017