Walnut Crescent Cookies
These walnut crescent cookies are a treat — filled with nuts and jam. If you love these type of cookies, try our fig cookies recipe.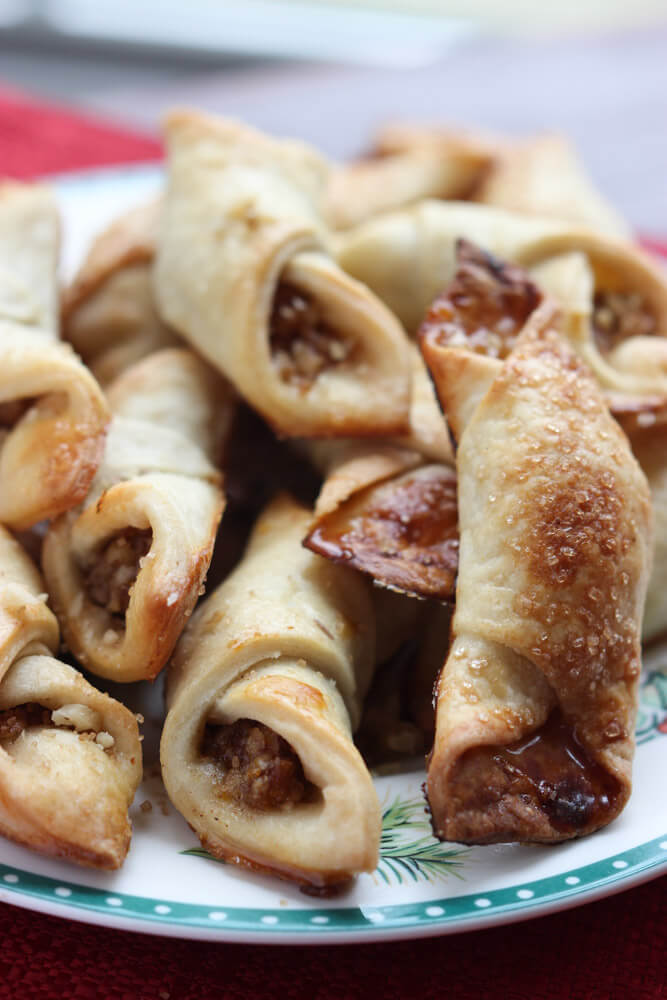 Happy weekend friends! Are you glad it's Saturday? Because I sure am. This week has been one of those weeks where I need a whole week to recover. With us traveling last weekend and jumping right into a new work/school week has been insane! On top of the norm, there's the holiday pressure now. You know, planning, shopping, get togethers, cooking, etc. Today is another busy day in our house. We are traveling to VA to attend a family wedding for one day.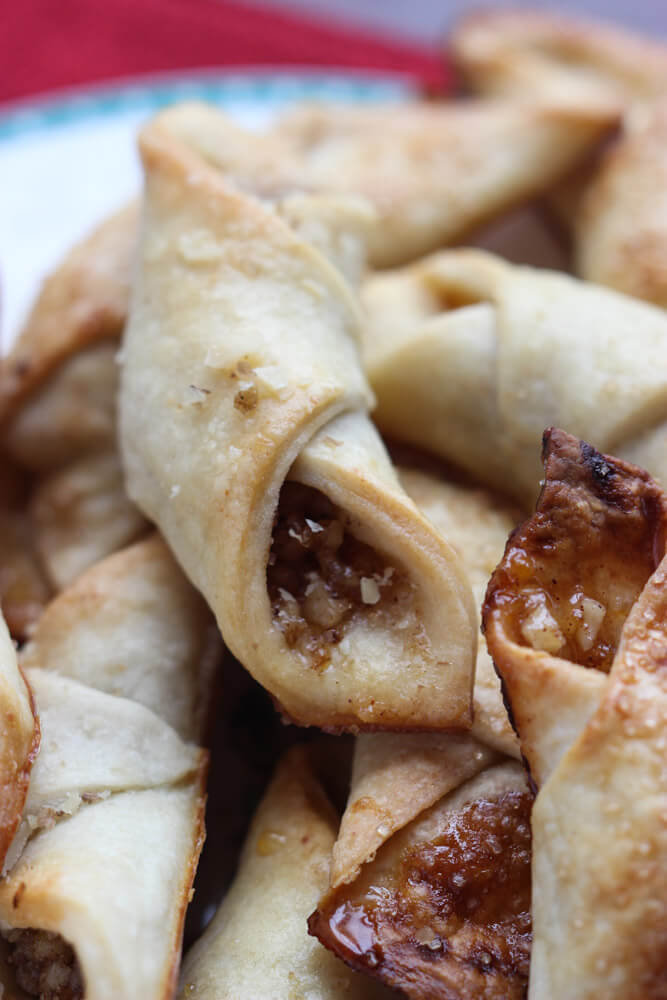 The whole month is pretty much like this. Every weekend something going on, somewhere to go but I'm not complaining, I just need a day of rest and I'll be a cucumber. There's a Russian expression used to describe someone who is lively – "kak ogurchik", meaning crisp, well rested, and cheerful. So, I want to be a cucumber instead of an over ripe tomato 🙂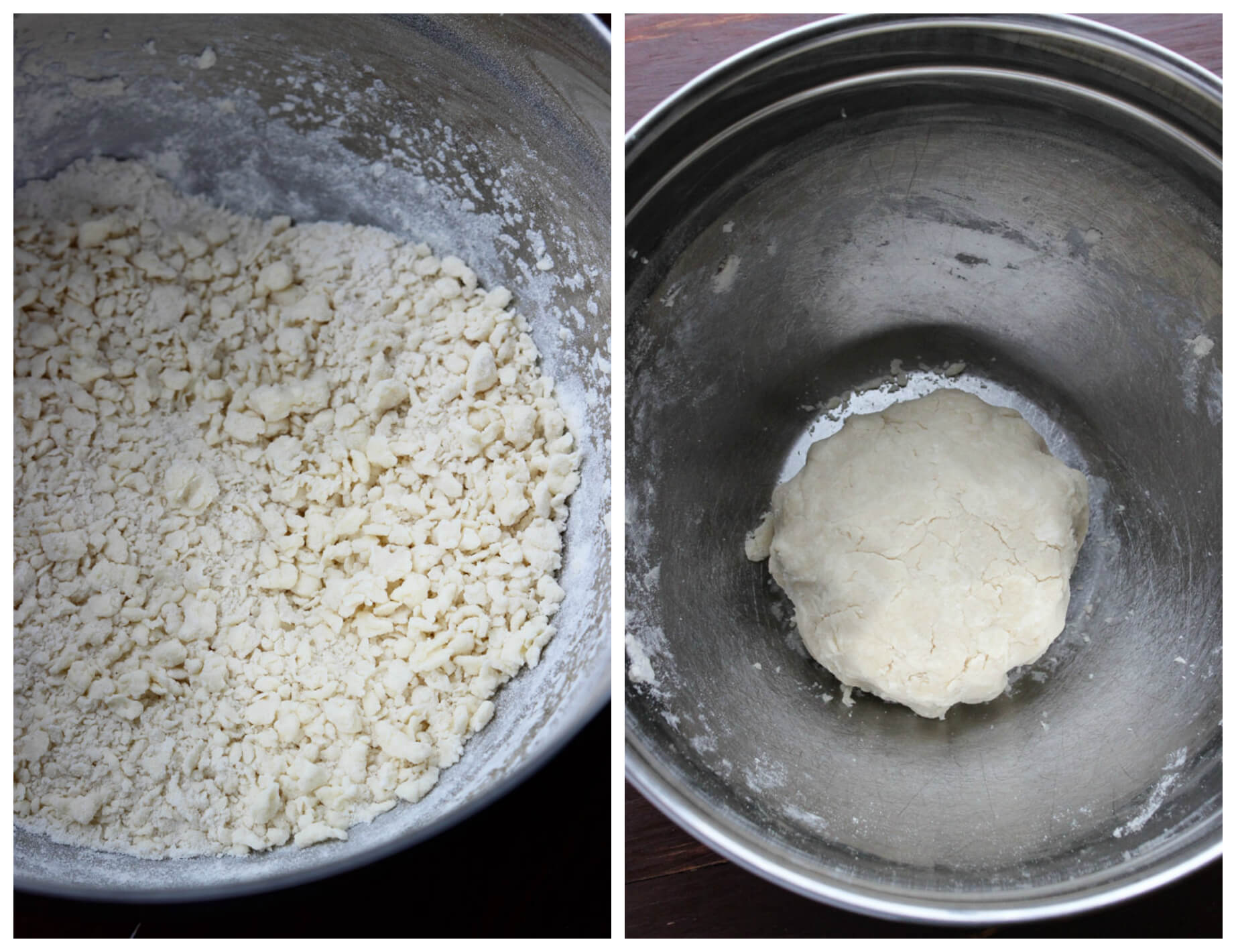 But let's do cookies first! Everything is better with a little sugar, right?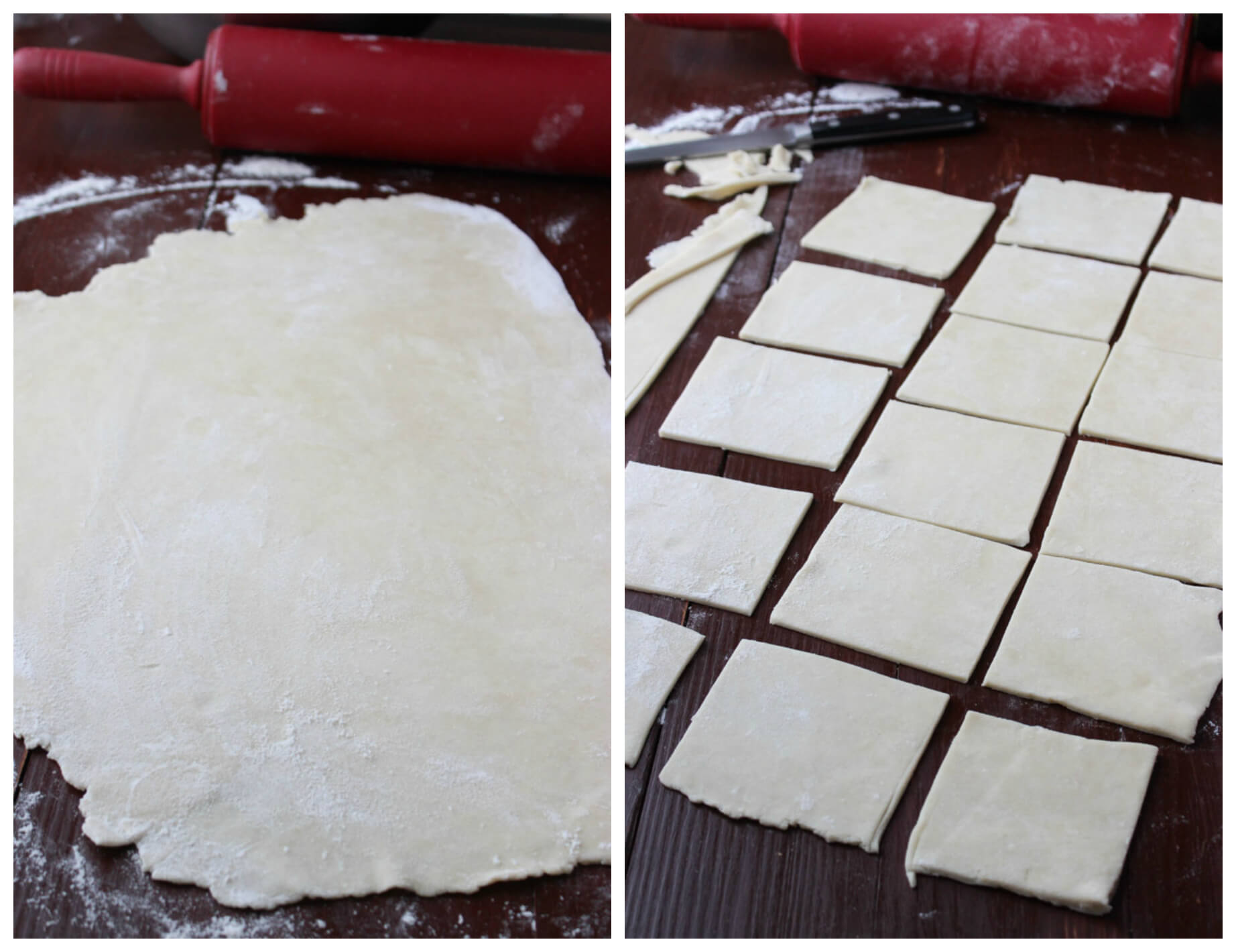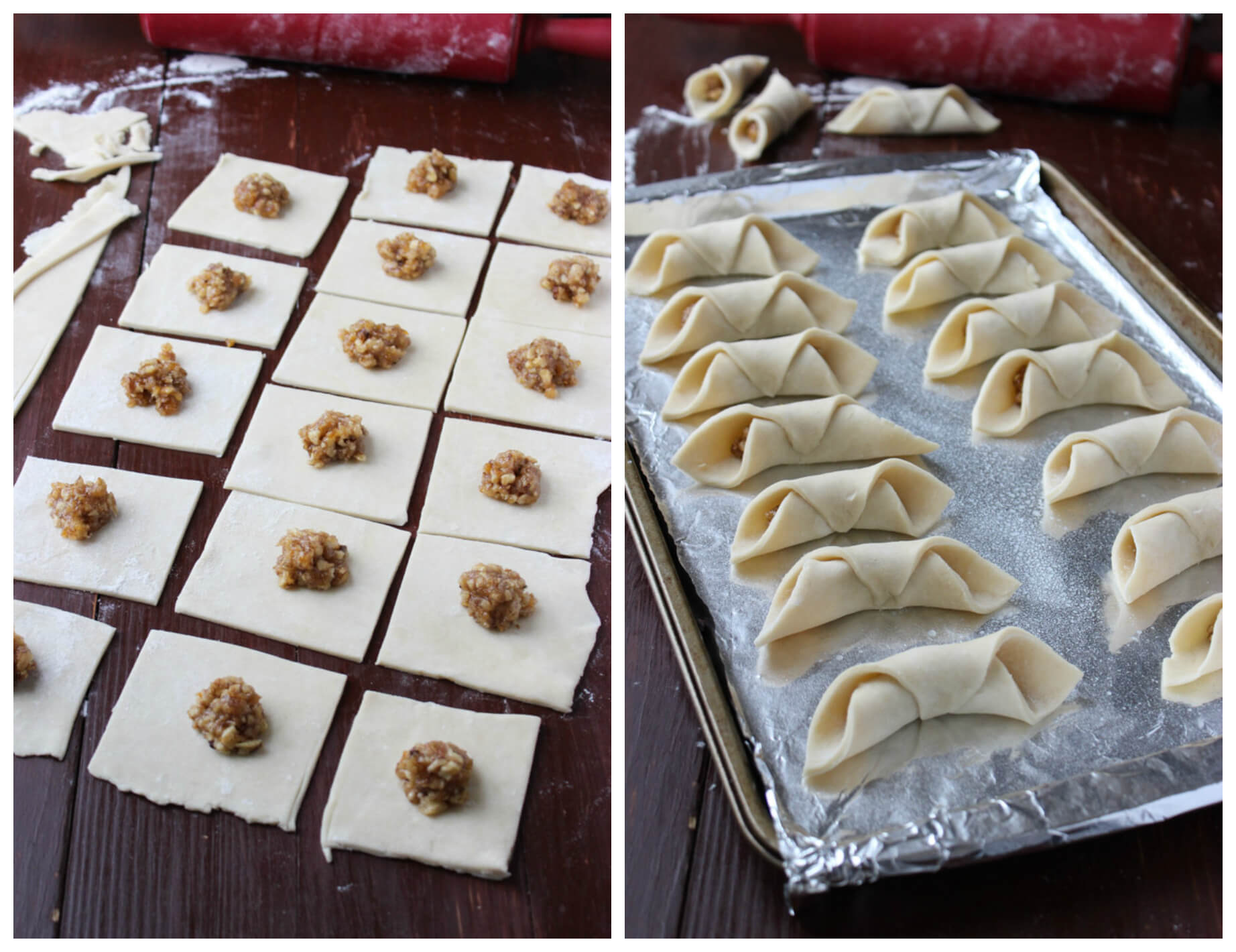 Walnut Crescents are another holiday favorite to add to your rotation of baking. These remind me of something my mom used to make around the holidays but with a poppyseed filling and sometimes with nuts or dry fruit. These are flaky, tender pastry dough filled with chopped walnuts, sugar, peach preserves, orange zest, and cinnamon. Sprinkled with raw cane sugar and baked until perfection! You can use any type of preserves you like. I had peach on hand and it was perfecto with the cinnamon and orange zest. You can also sprinkle these with powdered sugar for a pretty presentation.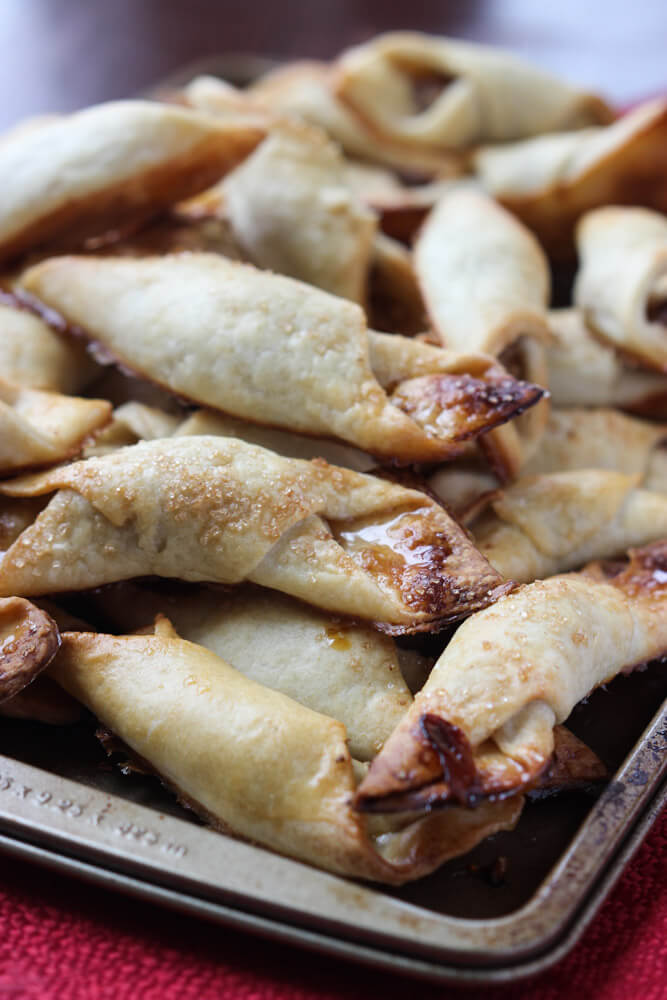 I took a tray to work this past week and they were gone in no time, of course. So, whether you're enjoying a bite with your morning coffee, treating your co-worker or hosting a holiday party, these make a pretty and tasty presentation.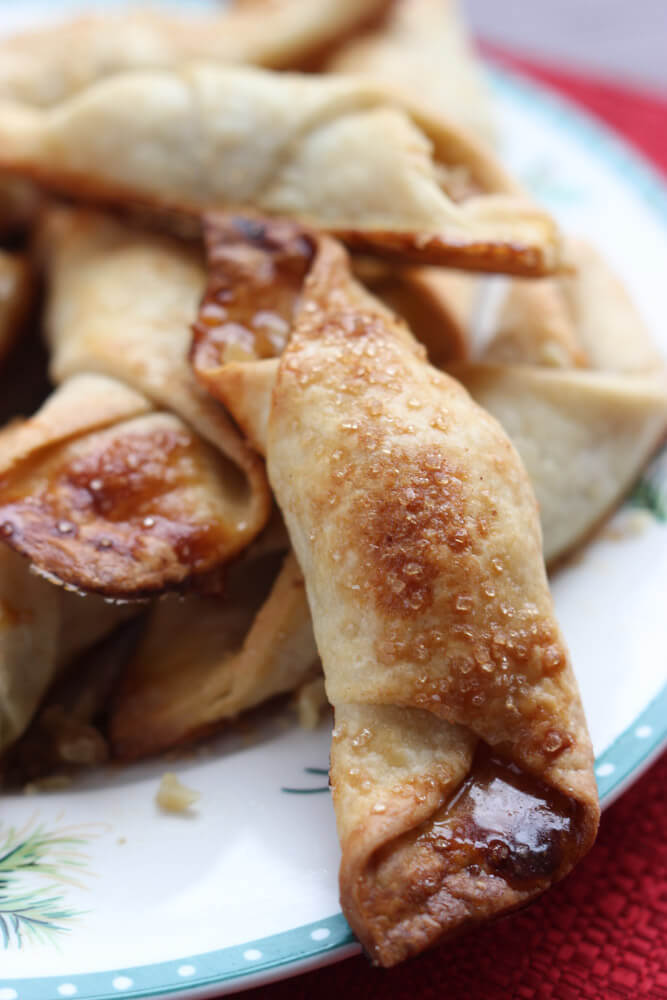 Print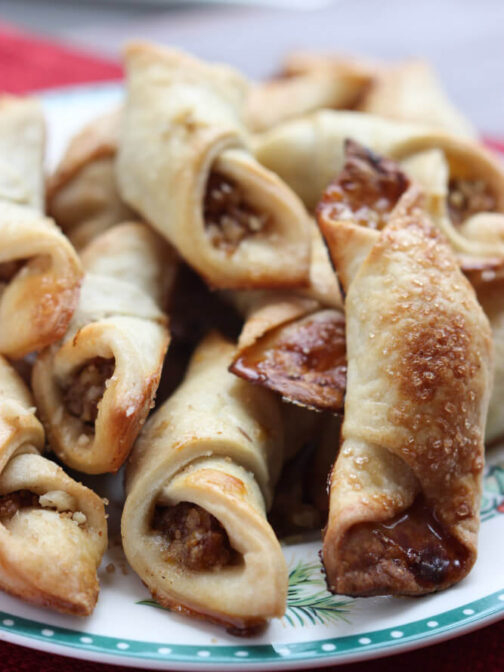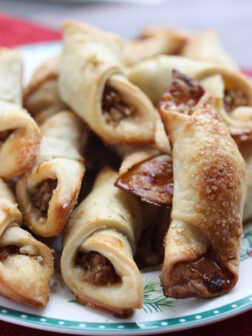 Walnut Crescent Cookies
Author: Katya
Prep Time: 45 mins
Cook Time: 20 mins
Total Time: 1 hour 5 mins
Yield: 20 cookies 1x
Category: Dessert
Method: Baked
Cuisine: American
---
Description
Flaky walnut crescent cookies wrapped around a delicious citrus filling!
---
1/2 cup butter, at room temperature
1/2 cup ricotta cheese (I used whole milk)
1/4 tsp. salt
1 1/2 cup all-purpose flour
1/2 cup walnuts, toasted and chopped
1/3 cup granulated sugar
2 Tbsp. peach preserves
1/2 tsp. orange zest, chopped
1/4 tsp. ground cinnamon
1 egg
raw cane sugar, optional
---
Instructions
In a large mixing bowl, beat butter, ricotta, and salt with hand held mixer until smooth. Gradually add flour on low speed until combined. Dough will be very crumbly. Using your hands, form the dough into a ball. Cover and refrigerate for no more than 1 hour.
Preheat the oven to 375F. Lightly spray baking sheet with non-stick cooking spray.
On a lightly floured surface, roll out the dough into a square, until 1/2-inch thick (it does not have to be a perfect square). Trim the uneven edges with scissors or a knife.
Cut the dough into 3-inch wide strips and then cut the strips into 3-inch squares. You can use a rolling pin to even out the individual dough squares if you find them imperfect or thicker than you want.
In a small bowl, combine the walnuts, sugar, peach preserves, orange zest, and cinnamon.
Spoon 1 rounded teaspoon of the filling into the center of each square. (If you find you have leftover filling, go back and fill in the squares with the rest of the filling.) Fold two opposite corners to the center, overlapping and pressing to seal (moisten the tips of dough with water to seal, if necessary).
Place on the prepared cookie sheet, curving slightly into crescents.
In a small bowl, whisk together the egg and 1 tablespoon water until frothy; brush cookies lightly with egg mixture. Sprinkle with raw cane sugar (optional).
Bake 15-20 minutes or until golden. Transfer to a wire rack to cool.
---
Notes
adapted with changes from Better Homes and Garden magazine, "100 Best Cookies" 2014
Nutrition
Serving Size: 1 cookie
Calories: 128
Sugar: 4.6 g
Sodium: 39.4 mg
Fat: 7.6 g
Carbohydrates: 12.7 g
Protein: 2.5 g
Cholesterol: 24.7 mg
Keywords: pastry, cookies, christmas