Peanut Butter Clusters
Only four ingredients to make these no-bake peanut butter clusters. Made with almonds, dark chocolate, creamy peanut butter, and a sprinkle of sea salt.
These little bundles of almonds, chocolate, and peanut butter require no baking and only four ingredients! They're SO easy to make and make perfect little treats for anyone.
These tasty peanut butter clusters are also perfect for snacking on throughout the day, adding to lunchboxes, or tossing into a granola mix.
If you like chocolate candied nuts, you've got to try my chocolate almond bark or no-bake chocolate oat bars! They are perfect bite-sized snacks, just like these peanut butter almond clusters.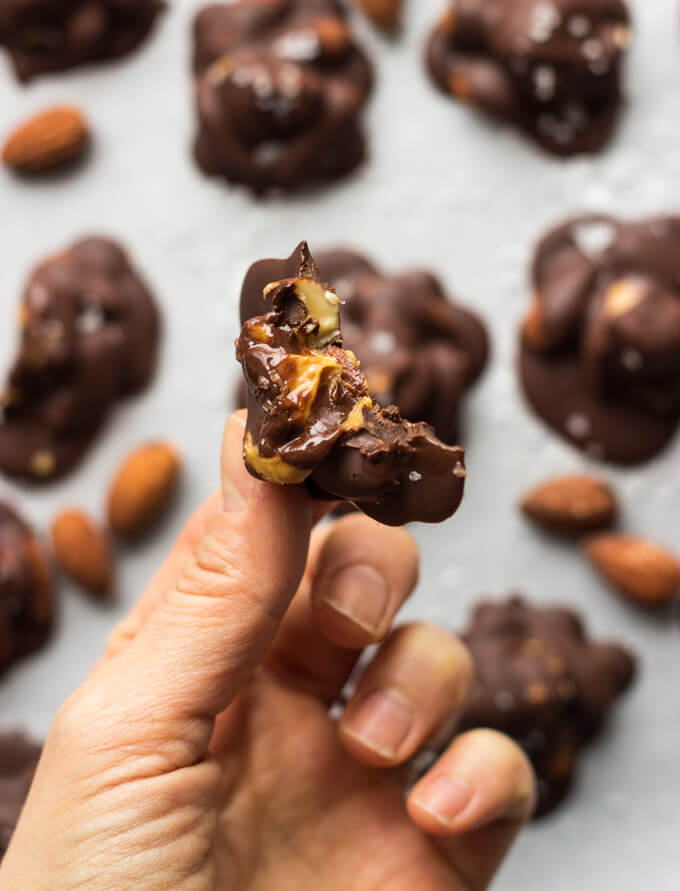 Reasons to Love Chocolate Peanut Butter Clusters
Sweet and salty crunch – The almonds are roasted and give you a delicious toasty crunch with the addition of sea salt for that irresistible sweet and salty combo.
Creamy peanut butter and chocolate – A dollop of peanut butter underneath smooth dark chocolate delivers three layers of flavors and textures.
Great for gifting – I love making Christmas treats to share with friends and family. You can pack a few different sweets for giftings, such as my chocolate-covered pretzels and frosted coconut balls.
Perfect snack – The combination of peanut butter, almonds, and dark chocolate pack a nice punch of protein for a little energy boost to keep you going throughout the day.
Ingredients
Just 4 simple ingredients make these no-bake peanut butter clusters. Having quick and easy snack recipes like this one are more appealing when you don't have to hunt down the ingredients!
Whole almonds – This recipe uses unsalted whole roasted almonds for a hassle-free snack. You could purchase raw almonds and roast them yourself.
Dark chocolate – Choose a good quality dark chocolate for the best results. I like to use bar chocolate and chop it into chunks before melting. Dark chocolate pairs perfectly with almonds, but other chocolates would work too.
Peanut butter – I use creamy peanut butter for this almond cluster recipe. Pop in the microwave for a few seconds for easier handling. You want it to be soft but not runny.
Sea Salt – A sprinkle of salt rounds these peanut butter clusters out for a delicious balance of sweet and nutty flavors.
See the recipe card for quantities.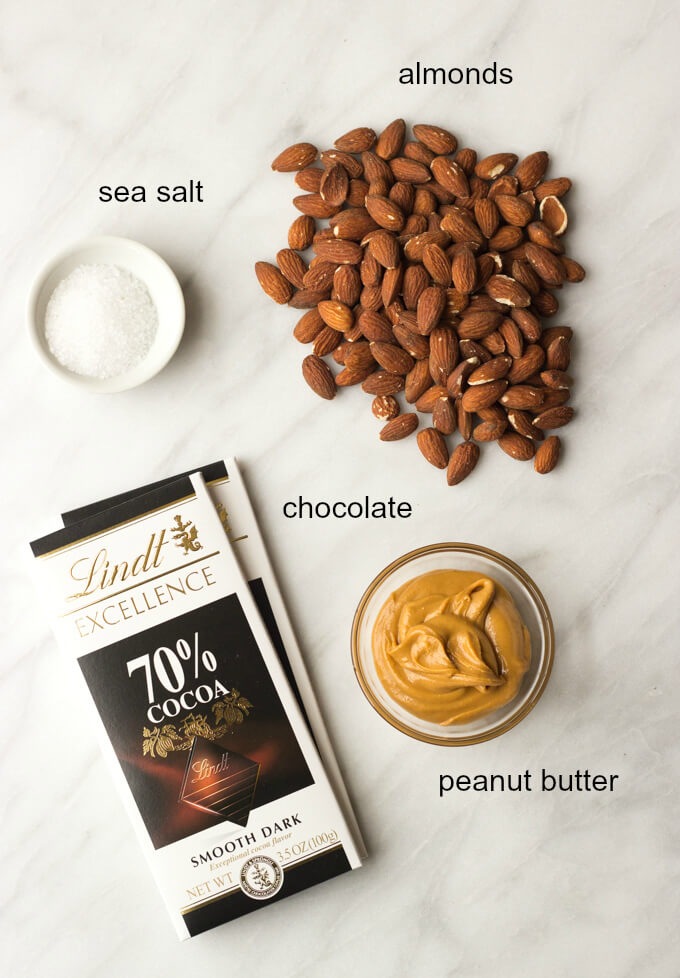 How to Make Peanut Butter Clusters
Just a few simple steps bring these peanut butter clusters together for a crave-worthy snack.
Create little clusters out of the almonds on a lined baking sheet. Top each cluster with a small dollop of peanut butter.
Really soft, smooth, and creamy peanut butter works the best. If need to, microwave the peanut butter. It should easily slide off a spoon.
In a microwave or using a double boiler, melt the chocolate until smooth. Spoon over each cluster. Add a sprinkle of coarse sea salt and then allow the clusters to set.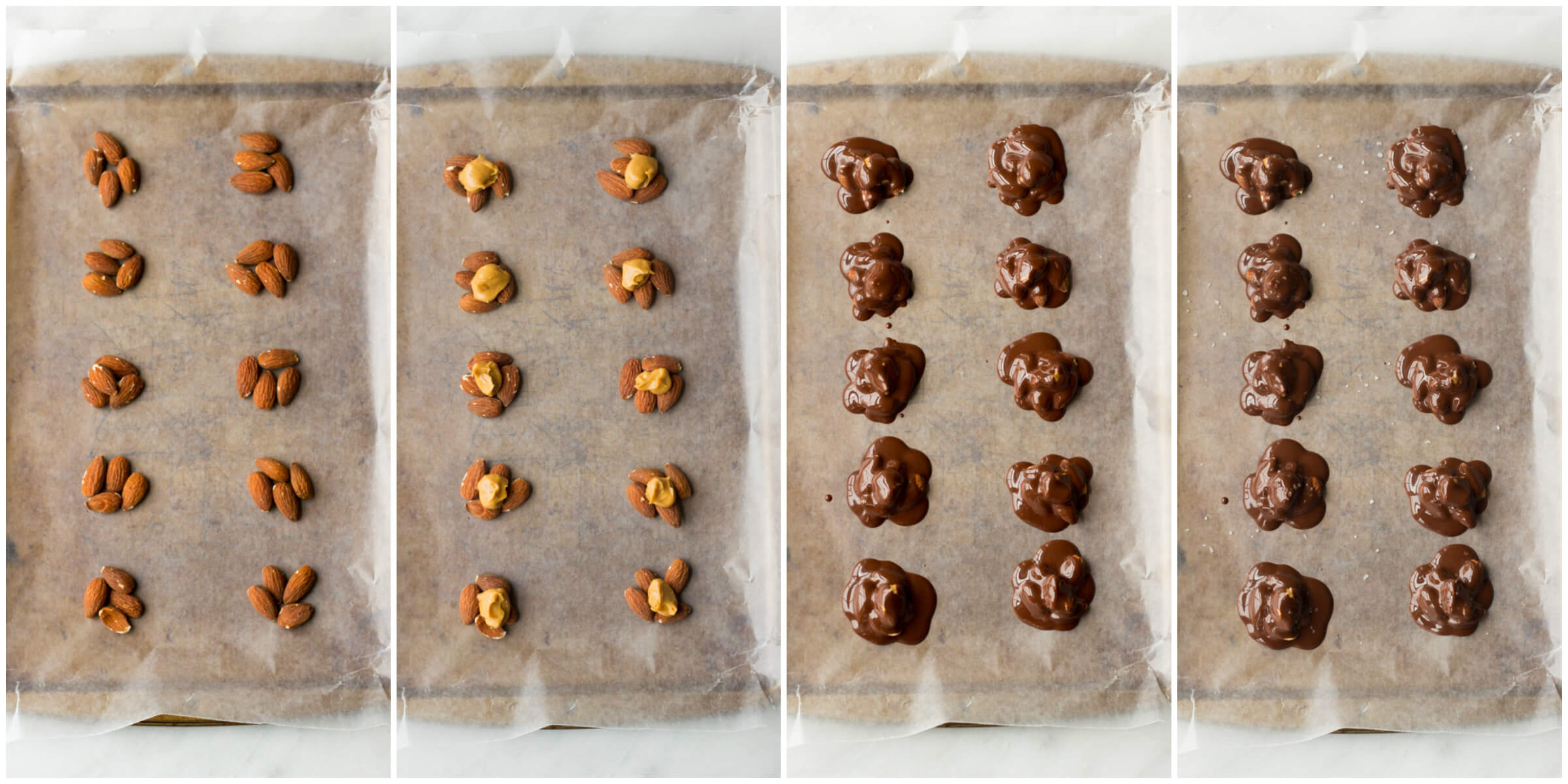 Recipe Tips + Substitutions
This treat recipe is already pretty simple and delicious, but there's always more you can do to make it just as tasty, if not more so.
Switch up the nuts – Change the almonds for another nut, like roasted peanuts, walnuts, or macadamia nuts. You'll have a variety of chocolate-covered bites to try.
Use another nut butter – Just like switching the nuts, use another nut butter like cashew butter or almond butter instead of peanut butter. You'll have a creamy, crunchy, sweet, and salty snack with new variations.
Add something extra – Before spooning the chocolate over the nuts and peanut butter, place one or two mini marshmallows on top. You could also spoon a dab of caramel in there, too.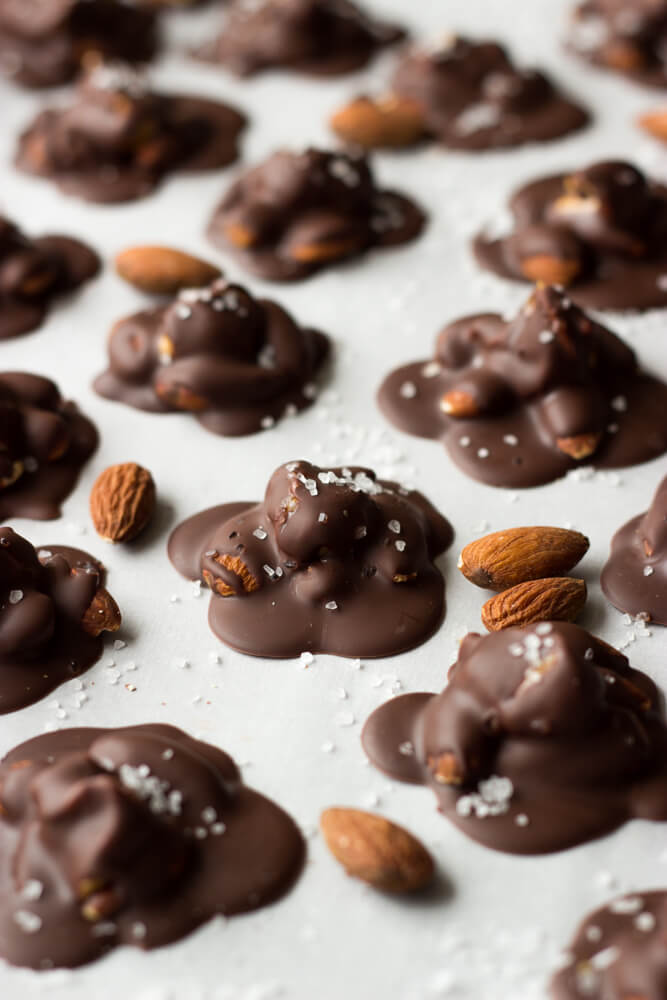 Storage
After the chocolate hardens, keep the peanut butter clusters refrigerated or the chocolate will soften. Store in a closed container for up to 4 weeks.
More Recipes to Try
Print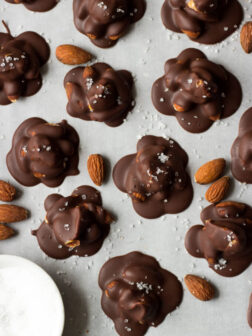 Peanut Butter Clusters
Author: Katya
Prep Time: 30 mins
Total Time: 30 mins
Yield: about 36 clusters 1x
Category: Dessert
Method: No-Bake
Cuisine: American
---
Description
Only four ingredients to make these no-bake peanut butter and chocolate clusters. Made with almonds, dark chocolate, creamy peanut butter, and a sprinkle of sea salt. 
---
1 cup roasted and unsalted whole almonds
7–8 oz. good quality dark chocolate, coarsely chopped
Creamy peanut butter
Coarse sea salt
---
Instructions
Line several large baking sheets with parchment or wax paper.
Create small clusters out of the almonds on the lined baking sheet. I used about 4 almonds per cluster.
Top each cluster with a small dollop of about 1/2 teaspoon of peanut butter.
Melt the chocolate in a double boiler or microwave until smooth.
Spoon the melted chocolate over each cluster covering the nuts and peanut butter. Sprinkle lightly with sea salt. Place the baking sheets in the refrigerator to allow the chocolate to set, anywhere from 10-20 or so minutes. Transfer to an airtight container and store in the refrigerator for up to 4 weeks.
---
Notes
Peanut Butter: Peanut butter should be soft but not runny where it easily slides off a spoon. If need to, microwave for 10-20 seconds or until soft.
Nutrition
Serving Size: 2 clusters
Calories: 144
Sugar: 7.4 g
Sodium: 117.3 mg
Fat: 10.8 g
Carbohydrates: 10.4 g
Protein: 4.1 g
Cholesterol: 0 mg
Keywords: no bake, treats, christmas