Peanut Butter and Chocolate Almond Clusters with Sea Salt
Only four ingredients to make these no-bake peanut butter and chocolate clusters. Made with wholesome almonds, dark chocolate, creamy peanut butter and sprinkle of sea salt.
Now that the Thanksgiving is over we're jumping straight to Christmas. I don't know about you guys but I love to bake around Christmas time and gift baked goods as presents. My all time favorite is biscotti. Last year was the first year I made biscotti and it was a hit! I'm planning on repeating same this year but also throwing these peanut butter + chocolate clusters in to the mix.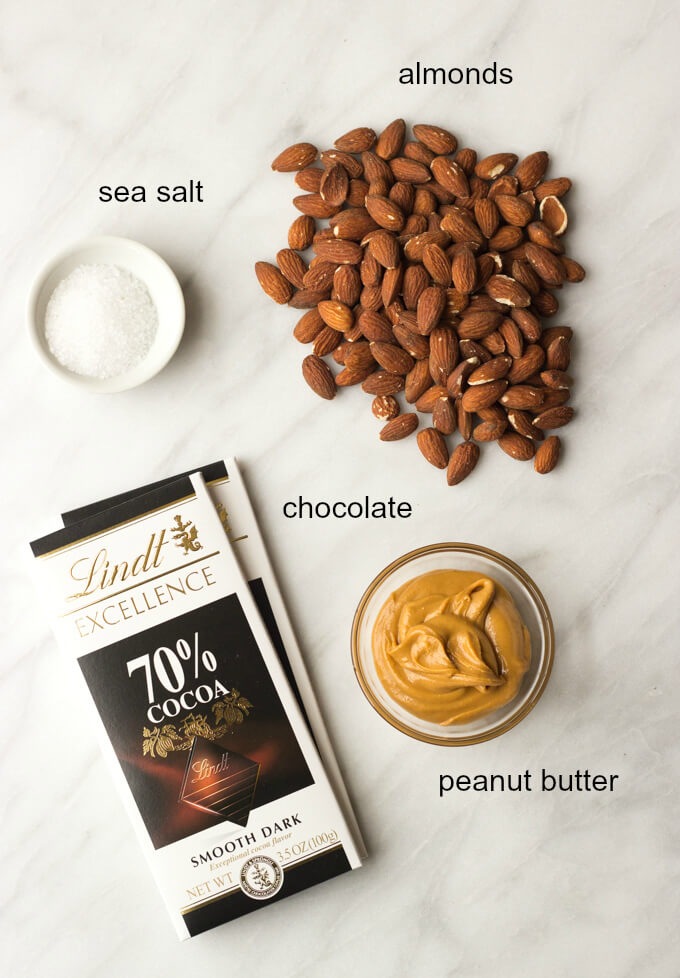 These little bundles of almonds, chocolate, and peanut butter require no baking and only FOUR ingredients! They're SO easy to make and are perfect little treats for anyone.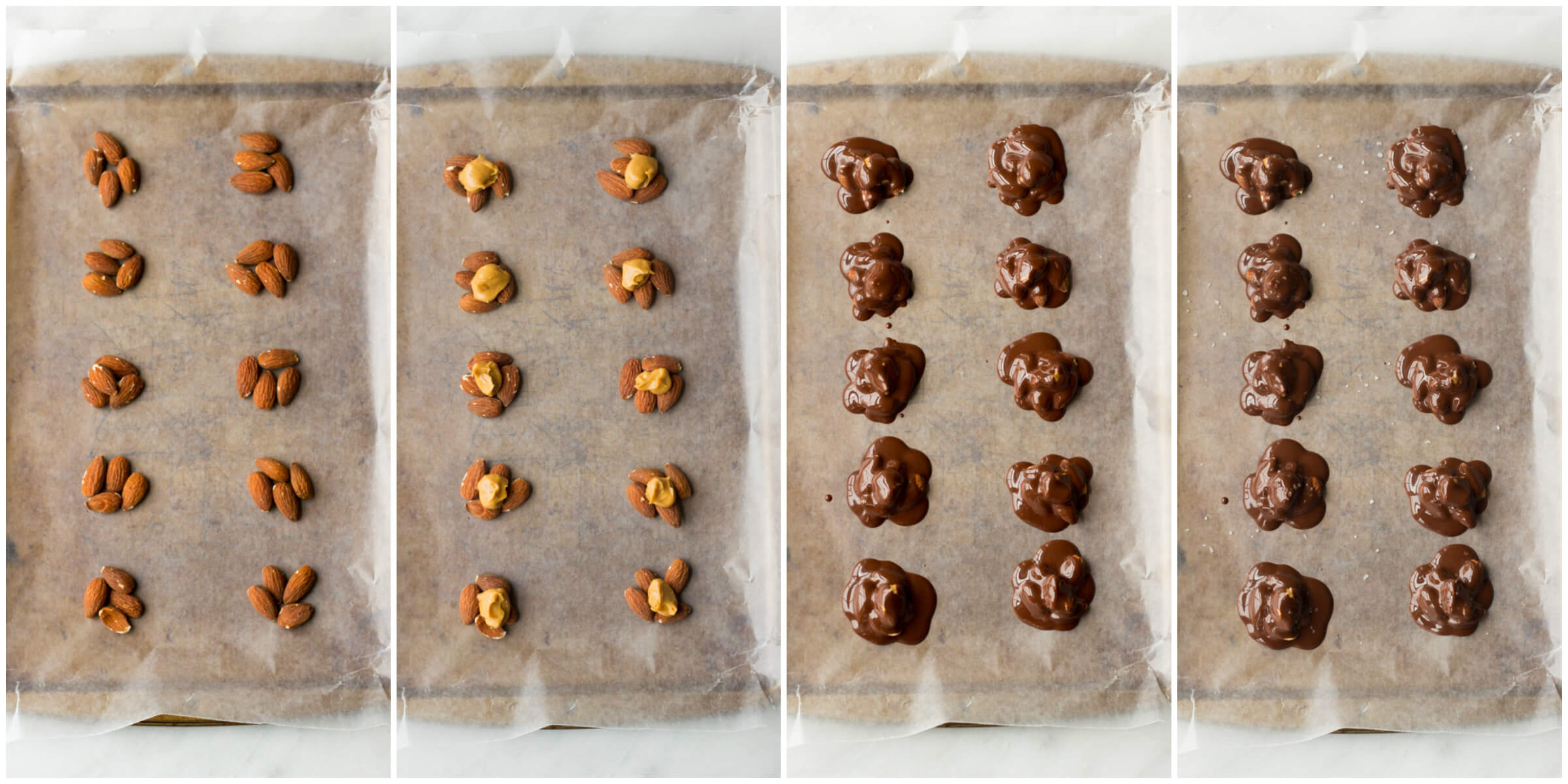 You start off with roasted and unsalted almonds. Create little clusters out of the almonds on a lined baking sheet. Then top each cluster with a small dollop of peanut butter. I used really soft, smooth + creamy peanut butter. It works the best. If need to, you can pop your peanut butter into a microwave to soften. It should easily slide off a spoon. Using a double boiler, melt the chocolate until smooth and spoon over each cluster. Lastly, finish off with a sprinkle of coarse sea salt and then allow the clusters to set. I popped the baking sheets into a fridge for about 10-15 minutes and once the chocolate hardened, I removed the clusters into an airtight container. You want to keep them refrigerated or the chocolate will soften.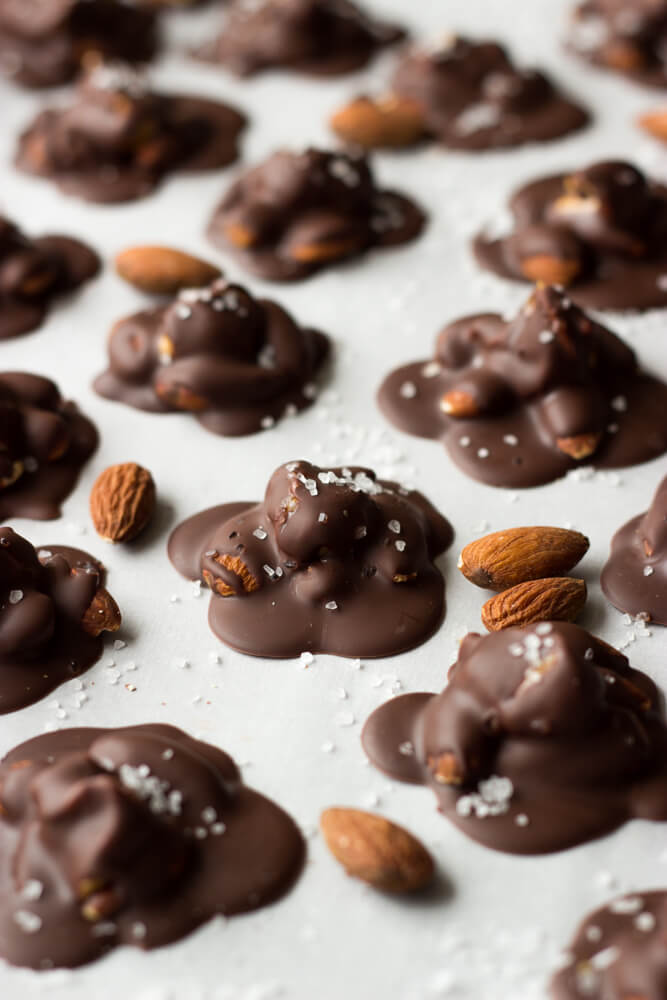 What I love about these is the sweet and salty combo with every bite. Not to mention that creamy peanut butter in the center. It's everything!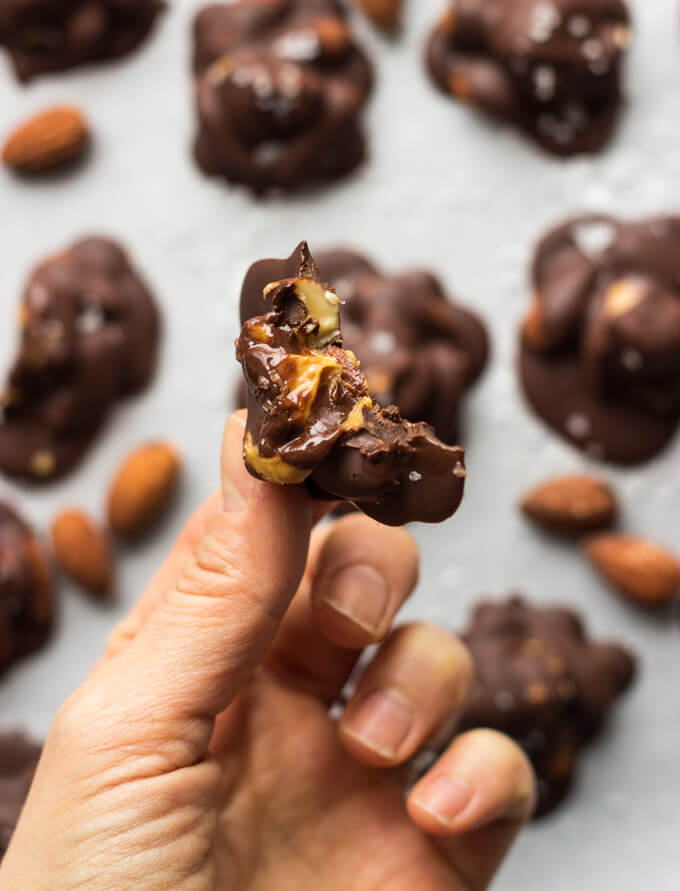 Make it. Snap it. Show it. Instagram @littlebrokenblog or snapchat → littlebrokenblg
Print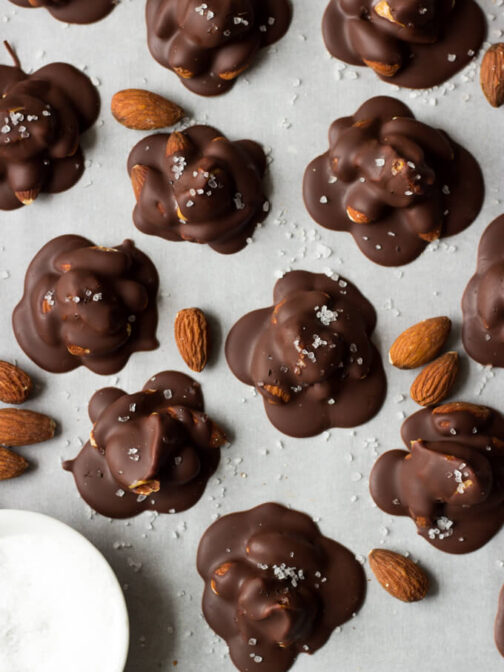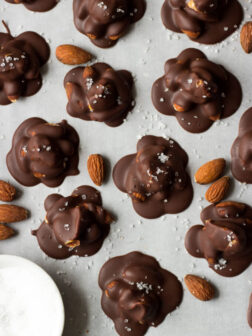 Peanut Butter and Chocolate Almond Clusters with Sea Salt
Prep Time: 30 mins
Total Time: 30 mins
Yield: about 36 clusters 1x
---
1 cup roasted and unsalted whole almonds
7–8 oz. good quality dark chocolate, coarsely chopped
creamy peanut butter*
coarse sea salt
---
Instructions
Line several large baking sheets with parchment or wax paper.
Create small clusters out of the almonds on the lined baking sheet. I used about 4 almonds per cluster.
Top each cluster with a small dollop (about 1/2 teaspoon) of peanut butter.
Melt the chocolate in a double boiler or the microwave until smooth.
Spoon the melted chocolate over each cluster covering the nuts and peanut butter. Sprinkle lightly with sea salt and place the baking sheets in the refrigerator to allow the chocolate to set, anywhere from 10-20 or so minutes.
Store in an airtight container in the refrigerator for up to 4 weeks.
---
Notes
*Peanut butter should be soft but not runny where it easily slides off a spoon. If need to, use a microwave to soften.