These chocolate-covered pretzels are easy to make and make great Christmas gifts!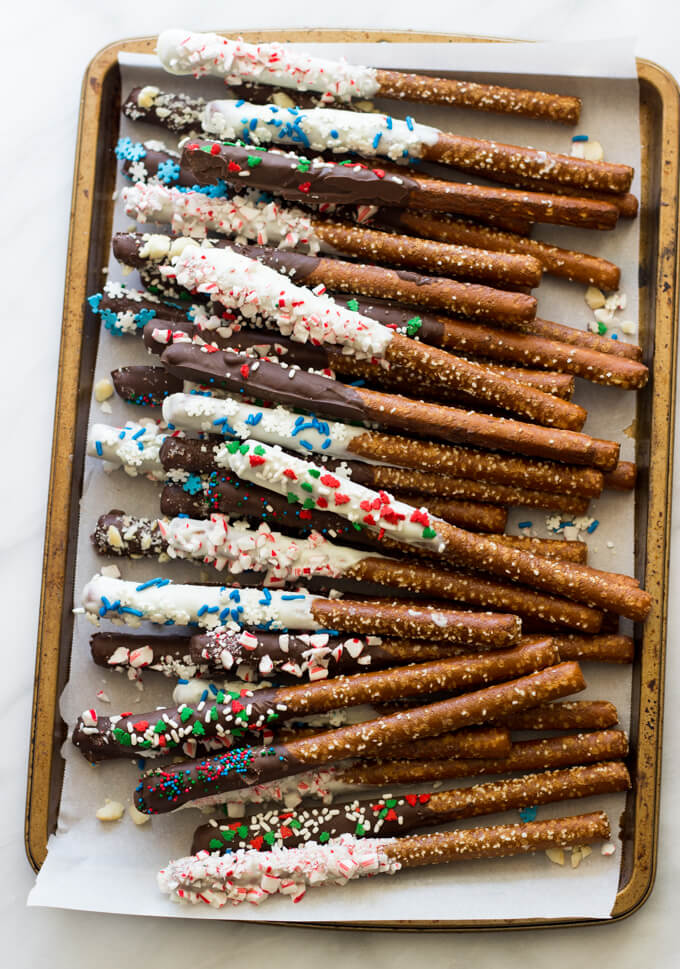 This post may contain affiliate links. Please read our disclosure policy.
So excited to share these super easy chocolate-covered pretzels! They are a yummy combo of sweet-and-salty that make perfect little Christmas gifts. We are giving these away to all of our teachers and neighbors. I thought they were fun, inexpensive, and very kid approved.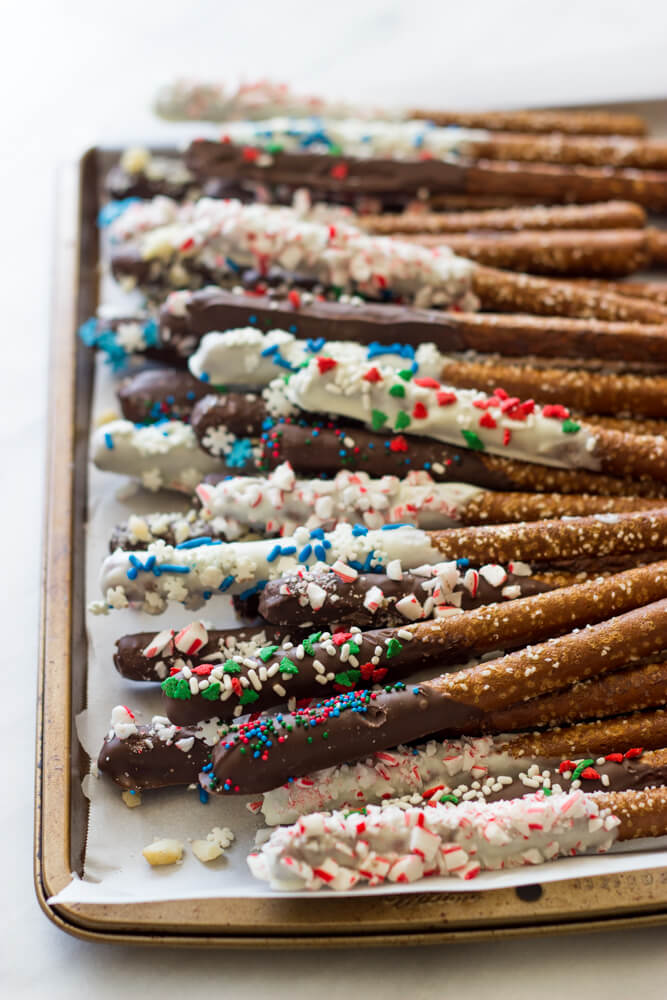 All you need is old-fashioned large pretzel rods. I found them in the same aisle as the pretzels and chips. Then you need some chocolate of your choice. You can do dark, semi-sweet, or white. I used dark and white Ghirardelli melting wafers, which were super easy to use. Regular chocolate chips would work as well.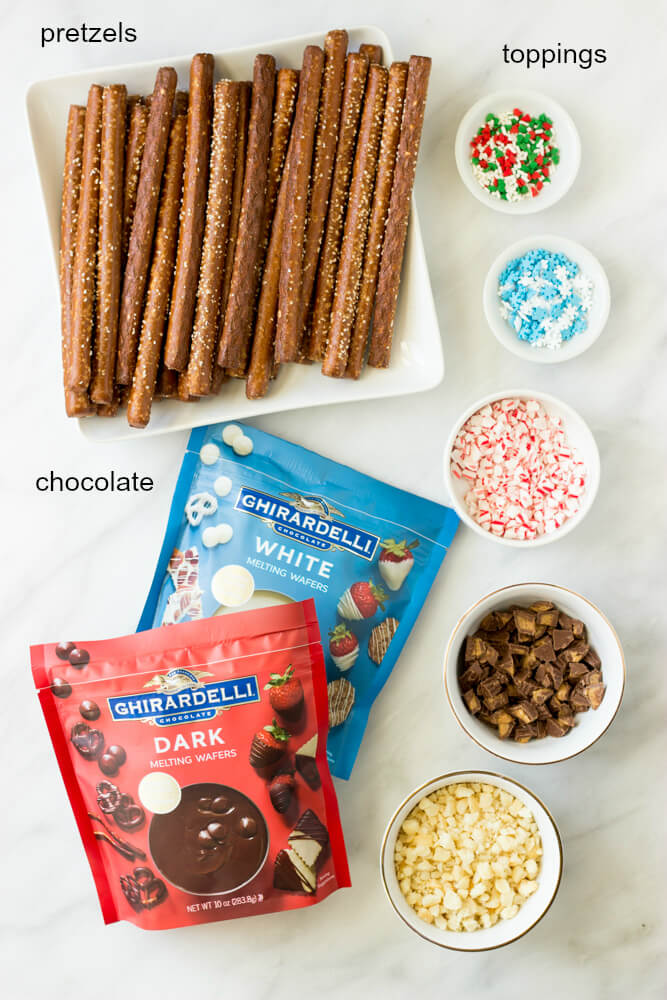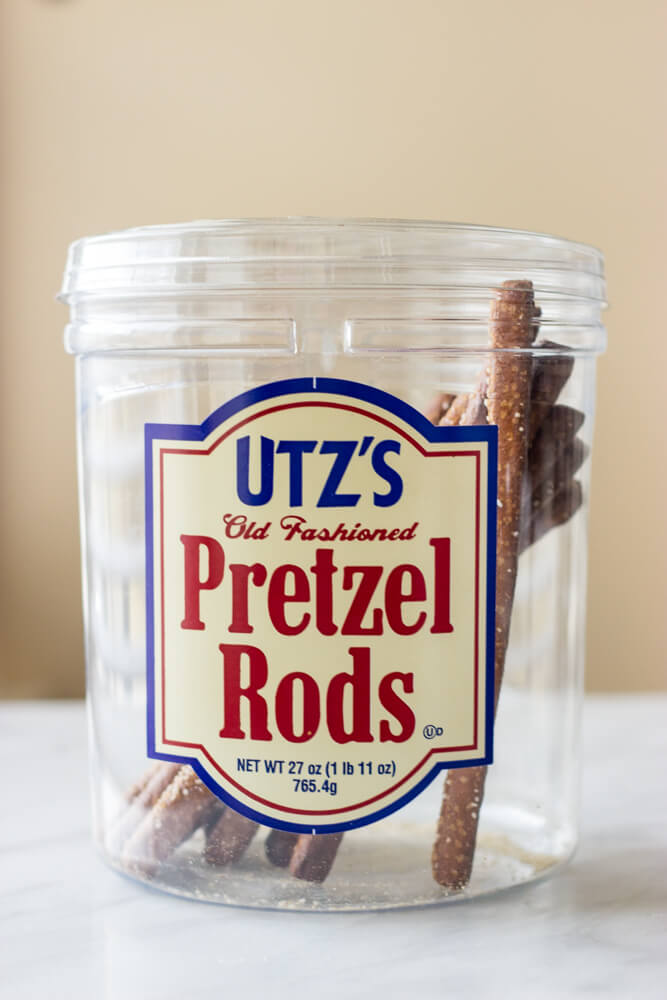 Melt the chocolate, dip the pretzel rod and place on a parchment lined baking sheet. I found that a tall narrow glass works great for dipping. Sprinkle on all of the toppings that you want and let them set completely. I used finely chopped macadamia nuts, decorative sprinkles, crushed candy canes, and chopped mini Reese's peanut butter cups. You can also do coconut, crushed cookies, any other type of nuts or candy of choice.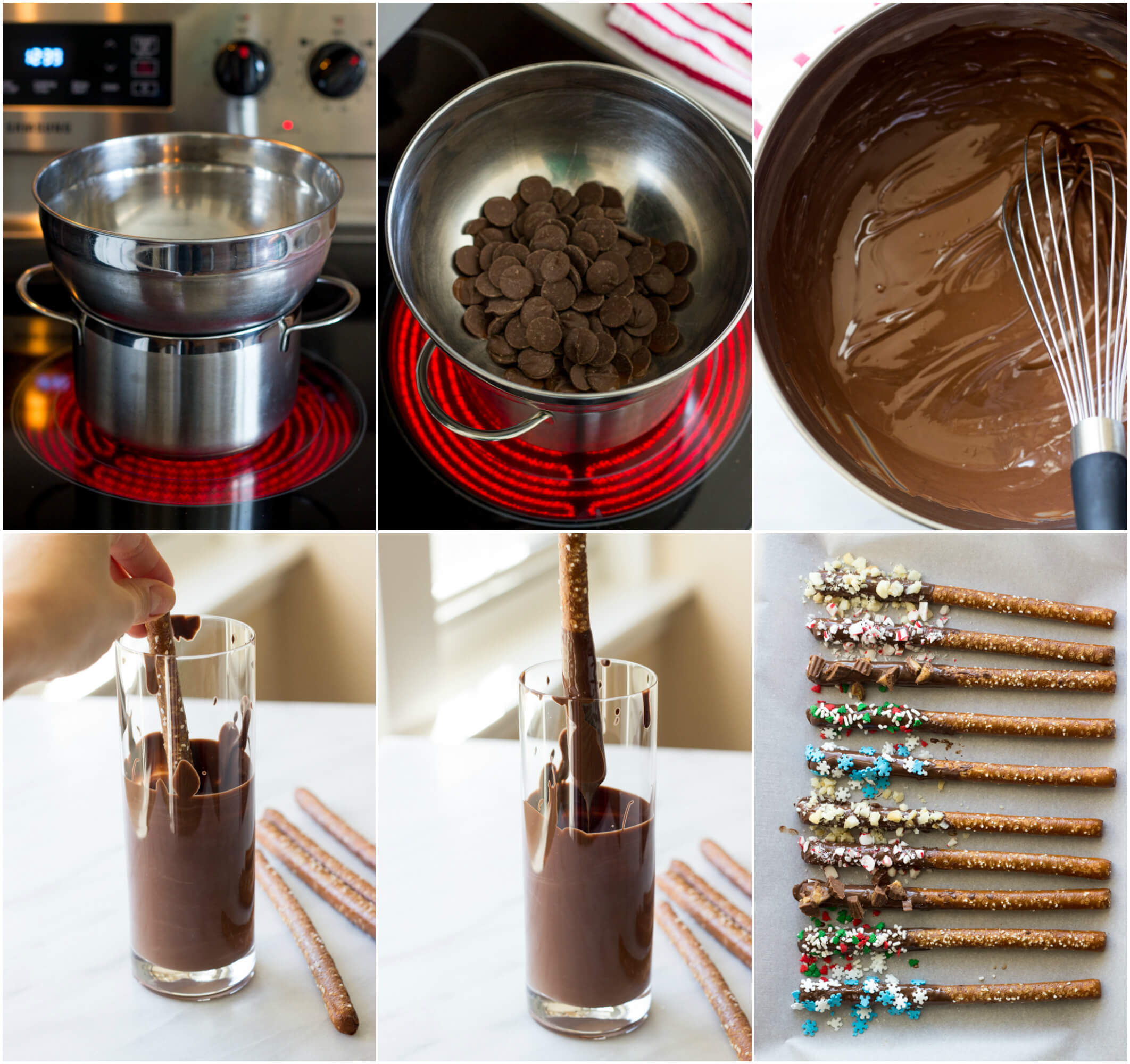 To store these, let them set completely and then transfer to a clean parchment lined baking sheet and cover tightly with aluminum foil. Keep away from heat or direct light. I think a large ziploc bag would also work great for storage. Just don't overcrowd them too much.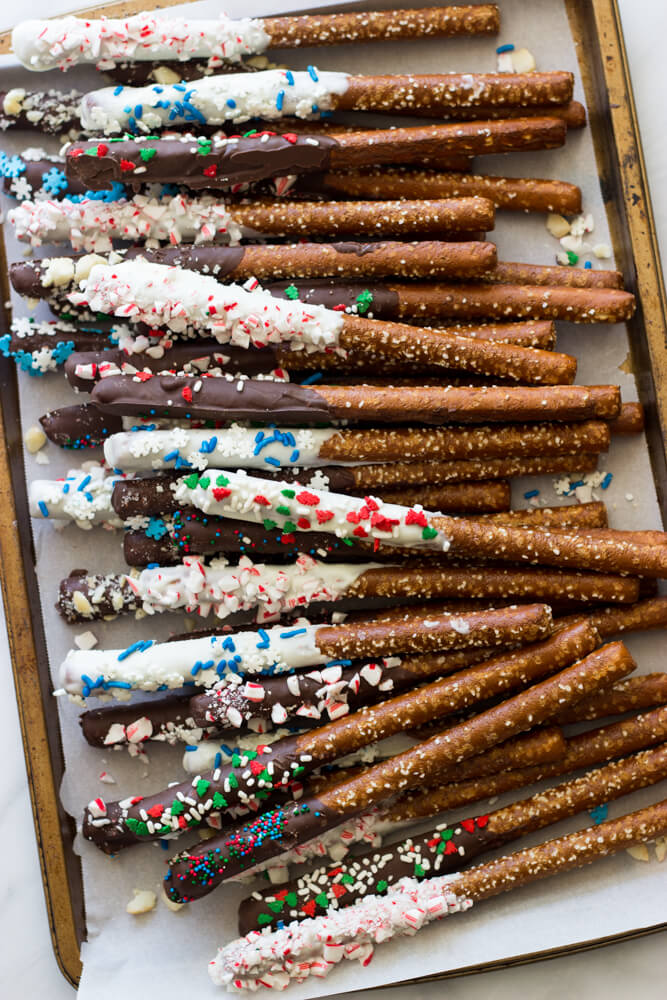 Make it. Snap it. Show it. Instagram @littlebrokenblog or snapchat → littlebrokenblg
Print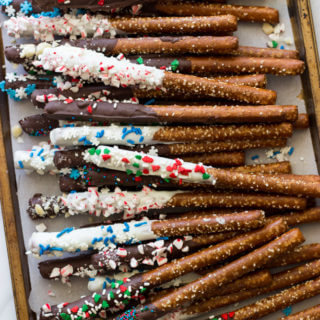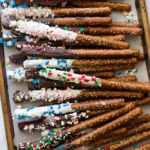 Christmas Chocolate Covered Pretzels
Prep Time:

30 mins

Cook Time:

5 mins

Total Time:

35 mins
---
old-fashioned large pretzel rods
semi-sweet, dark, or white chocolate*
finely chopped nuts (I used macadamia nuts)
decorative sprinkles
crushed candy canes
chocolate candy, finely chopped (I used mini Reese's PB cups)
---
Instructions
Melt chocolate in a double boiler over medium heat on stove top. You can also melt the chocolate in the microwave in 30 second intervals, stirring in between, until the chocolate is completely melted.
Carefully transfer the chocolate into a tall narrow glass or mason jar.
Quickly dip pretzels in chocolate allowing the excess to drip off. Place dipped pretzels on parchment lined cookie sheet and sprinkle with desired toppings. Let stand at room temperature until completely set.
To store, transfer to a clean, parchment lined baking sheet and cover tightly with aluminum foil. Store at room temperature, away from heat or direct light.
---
Notes
*You can use melting wafers or chocolate chips.
**There are no exact measurements for this recipe. You can make as little or as much as you like. To give you an idea, 10 oz. bag of chocolate wafers, melted, will yield approximately 40 chocolate dipped rods.
I'm not including nutrition info on this one, just because it will greatly vary on the amount and type of ingredients