Christmas Cake Pops (How To Without Cake Pop Baking Pan)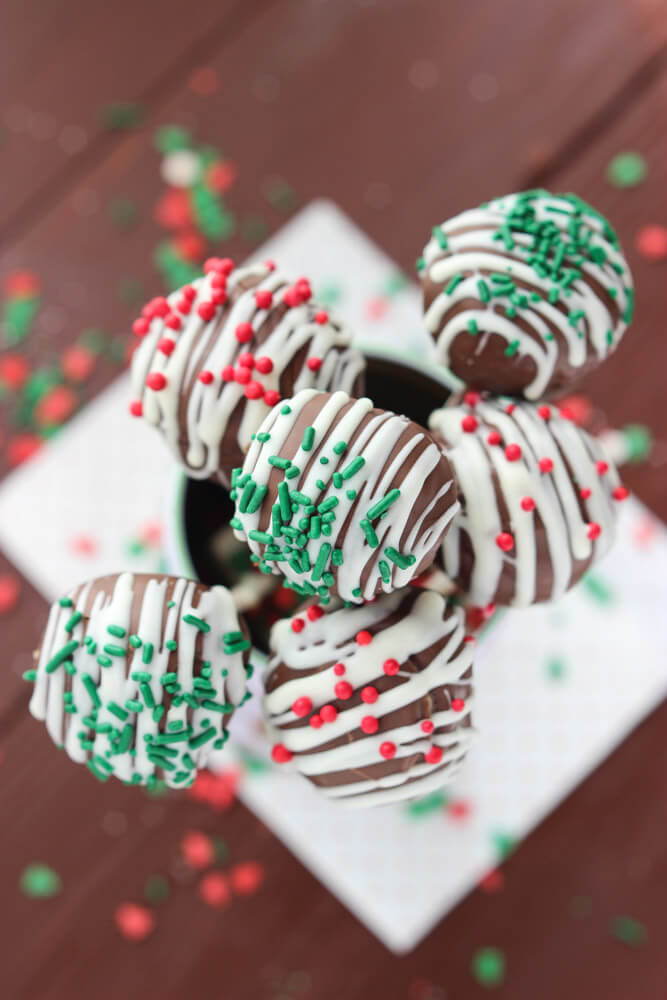 Happy Monday friends!
I save the best for the last. This is it. The finale of my 12 Days of Christmas! Not going to lie, it was a lot of hard work, way too much consumption of sugar but in the end, it was definitely worth it. Your sweet comments and positive feedback made this all so much better. So THANK YOU for sticking with me as I took on this crazy baking challenge. Until next year…maybe?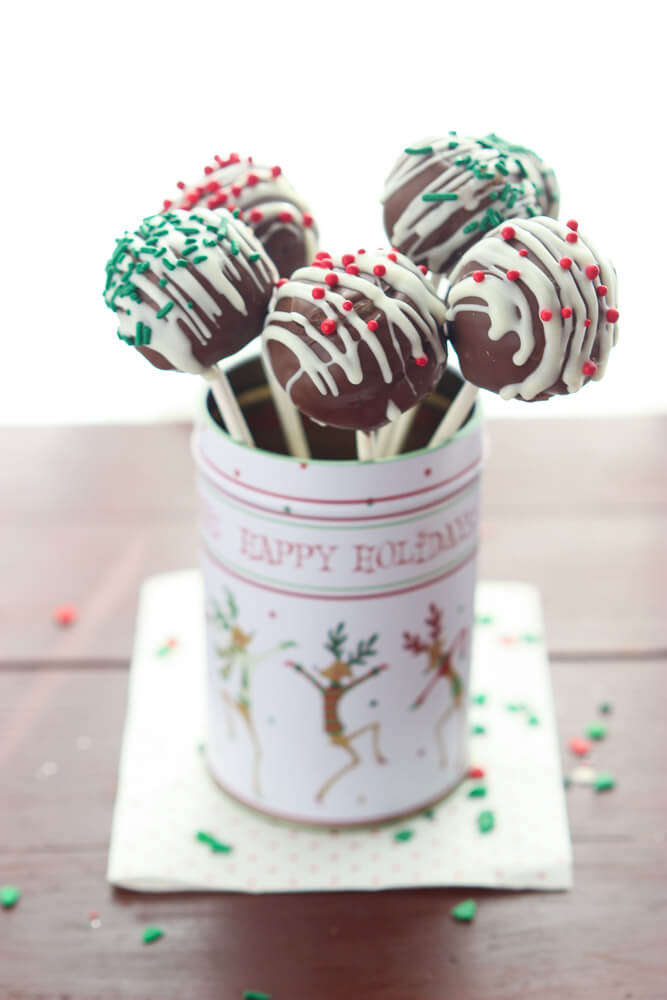 So, these cake pops have been on my mind for a while now. My sister-in-law made these adorable girlie cake pops for her 7 year olds birthday and since then I've been playing around with the idea of making my own. What caught my attention was the fact that she made the cake pops ALL by hand and no special baking pans were involved. It's probably a little more work than going the baking pan route but if you're like me and always try to minimize kitchen clutter because God knows there's never enough room, then this is the way to go.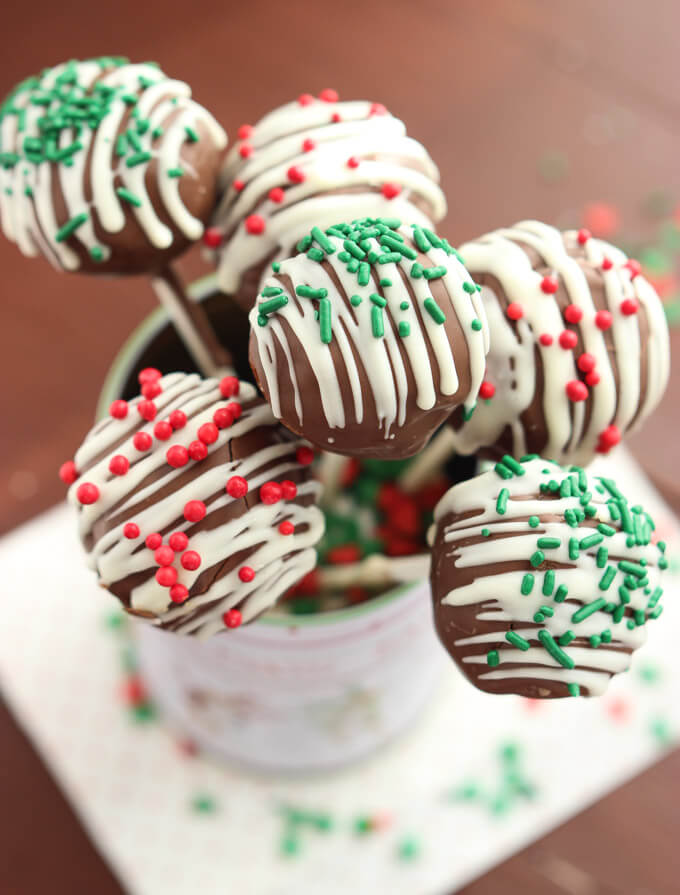 The success of these cake pops all lies in the cake mixture. If it's too soft the cake pops wont work. So my suggestion is to follow the time directions in the recipe and then just see for yourself whether you need to chill the cake mixture a little longer or not. You will be able to tell quickly if the cake mixture is too soft as the cake sticks wont hold up and your cake ball will fall off.
I used my sister-in-law's cake batter recipe, which is a straight forward white cake batter except that it's a little moist than the traditional white cakes. If you want chocolate cake pops, just add about 3/4 cup of unsweetened cocoa powder to the batter.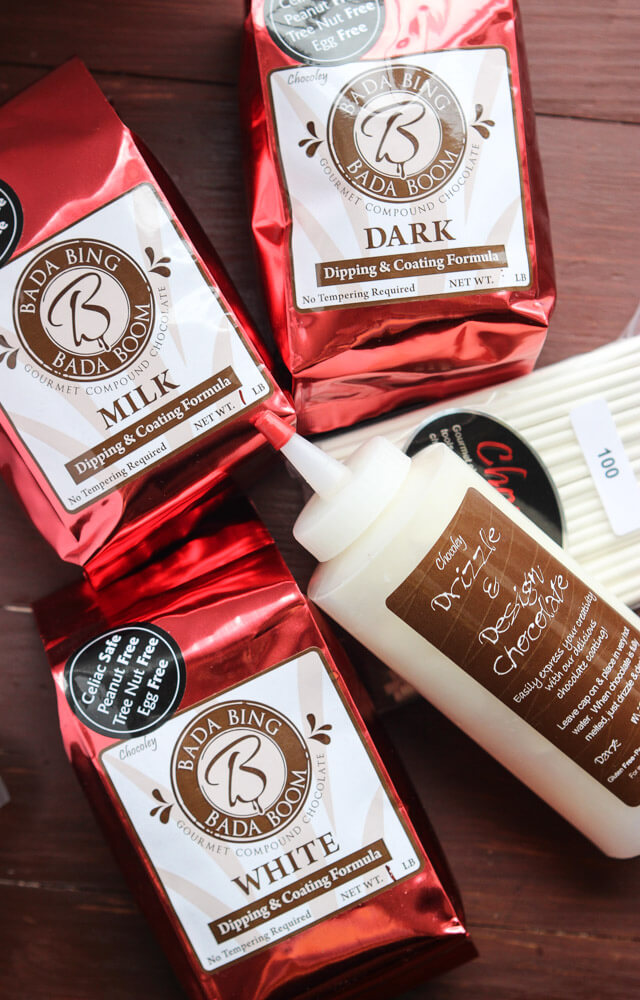 As far as the dipping chocolate, I found that candy/chocolate melts are probably the easiest to work with as they melt easy and set quickly. I previously used Wilton's candy melts that can be found at Michaels Craft Store but this time around I used these* Milk Chocolates by Chocoley. It's an online candy making and chocolate company that reached out to me to see if I wanted to try their chocolates and of course I couldn't say no to chocolate! Super easy to melt just like the candy melts. My favorite part was the Drizzle and Design Chocolate that comes in a bottle with a tip and all you have to do is set it in hot water bath until smooth and then it's ready to use. So there's no extra bags or mess. That's one product I would consider using again!
You can decorate the cake pops in any way you like. In my opinion you can't go wrong with festive sprinkles for any occasion.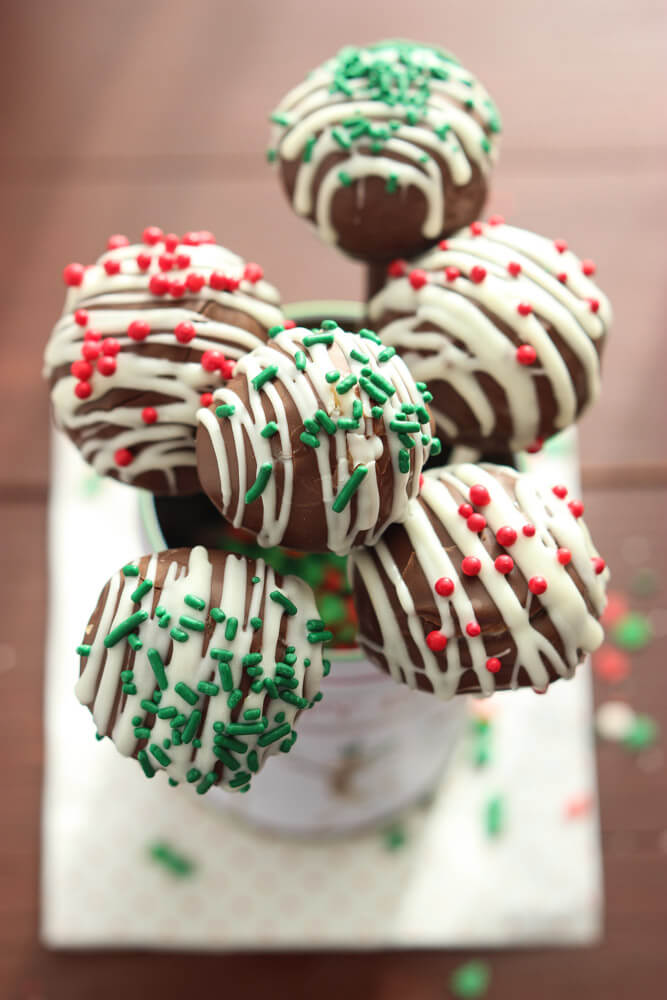 More Holiday Treats
Print Christmas Cake Pops
Author: Katya
Prep Time: 2 hours 30 mins
Cook Time: 25 mins
Total Time: 2 hours 55 mins
Yield: 50–55 cake pops 1x
Category: Dessert
Method: Baked
Cuisine: American
---
Description
Festive Christmas cake pops made entirely without a pan!
---
2 cups all-purpose flour
2 cups granulated sugar
1 tsp. baking soda
3 eggs
1 cup buttermilk
1 cup water, room temperature
2/3 cup vegetable oil
1/2 cup unsalted butter, at room temperature
1 (14 oz.) can sweetened condensed milk
1 (16 oz). bag chocolate candy melts
1/2 cup white chocolate chips (you may require little less or more depending on design)
1 tsp. shortening
Christmas sprinkles
Special tools: cake pop sticks, 4-12X4 styrofoam blocks
---
Instructions
Preheat the oven on 350F.
Butter 9X13 (rectangular) cake pan.
In a medium bowl, combine the flour, sugar, and baking soda; set aside.
In a large bowl, mix the eggs, buttermilk, water, and vegetable oil with a wooden spoon until combined. Gradually whisk in the flour mixture.
Transfer the cake batter to the prepared cake pan and bake 20-25 minutes or until a toothpick inserted in the middle comes out clean. Cool the cake in the pan on a wire rack.
In a medium bowl, cream the butter with a hand held mixer on medium speed until smooth. Add the condensed milk and beat to combine.
Cut the cake into any small size pieces (while it is still in the pan). Transfer the cake pieces to a large mixing bowl and with hands, crumble the cake pieces into small crumbs. Note: cake will be moist and sticky.
Add the condensed mixture to the cake crumbs and mix to combine. Cover the bowl with plastic wrap and chill in the refrigerator for 1 hour.
Line two large baking sheets with parchment paper. Using your hands or a small cookie batter scoop, make 1-1 1/2 inch balls out of the cake batter and placing on the prepared cookie sheet in a single layer. Chill the cake balls in the refrigerator for 2 hours.
Insert the pop sticks halfway into the cake balls. Note: you want to make sure not to poke through the opposite end of the cake ball or your cake pops will not hold on. Chill in the freezer for 30 minutes.
In a deep microwave safe bowl, microwave half of the candy melts for about 1 1/2 minutes or until smooth, stirring every 30 seconds. Note: I found that working with batches of melted chocolate melts is much easier than melting the whole bag at once. So you can melt remaining chocolate as needed.
Dip each cake pop in the chocolate, coating evenly and letting the extra chocolate to drip back in the bowl. Insert the cake pops in the styrofoam block to set. Repeat with the remaining cake pops.
To decorate: melt the semi-sweet chocolate chips with shortening in a microwave safe bowl until smooth, stirring every 30 seconds (about 1 1/2 minutes total).
Place the chocolate into a small ziplock bag with the tip cut off and drizzle over the cake pops. Immediately cover with decorative sprinkles. Let stand at room temperature until set.
Remove from the styrofoam block and enjoy!
---
Notes
(1) If you find that your cake pops are too soft or that the stick is not staying in, pop them in the refrigerator or freezer for a bit longer.
(2) To make chocolate cake pops, add 3/4 cup of unsweetened cocoa powder to the batter.
(3) Total time does not take into consideration the time it takes to chill the cake mixture and pops.
Nutrition
Serving Size: 1 cake pop
Calories: 110
Sugar: 9.7 g
Sodium: 37.7 mg
Fat: 5.9 g
Carbohydrates: 13.5 g
Protein: 1.2 g
Cholesterol: 17.2 mg
Keywords: cake pop, christmas, treats