Pineapple Shrimp Fried Rice
Add some excitement to your dinner routine with Pineapple Shrimp Fried Rice! With succulent shrimp, tangy pineapple chunks, and a medley of colorful veggies, it's a delightful mix of sweet and savory in every bite!
Jump to:
Sweet and Savory Goodness
Our Pineapple Shrimp Fried Rice recipe brings together juicy shrimp, sweet pineapple, and delicious egg-fried rice in a perfect harmony of sweet and savory flavors.
It's not only delicious but also a healthy and well-balanced meal – packed with protein from the shrimp, and plenty of nutrients from the variety of vegetables.
And the best part? It's really easy to make and it's great for those busy weeknights paired with our Asian green beans when you need something tasty and satisfying on the table fast.
Low carb option! Try our chicken cabbage stir fry — protein-packed stir fry ready in about 20 minutes with ground chicken, coleslaw mix, scrambled egg, and frozen veggies. It's our version of low-carb "fried rice".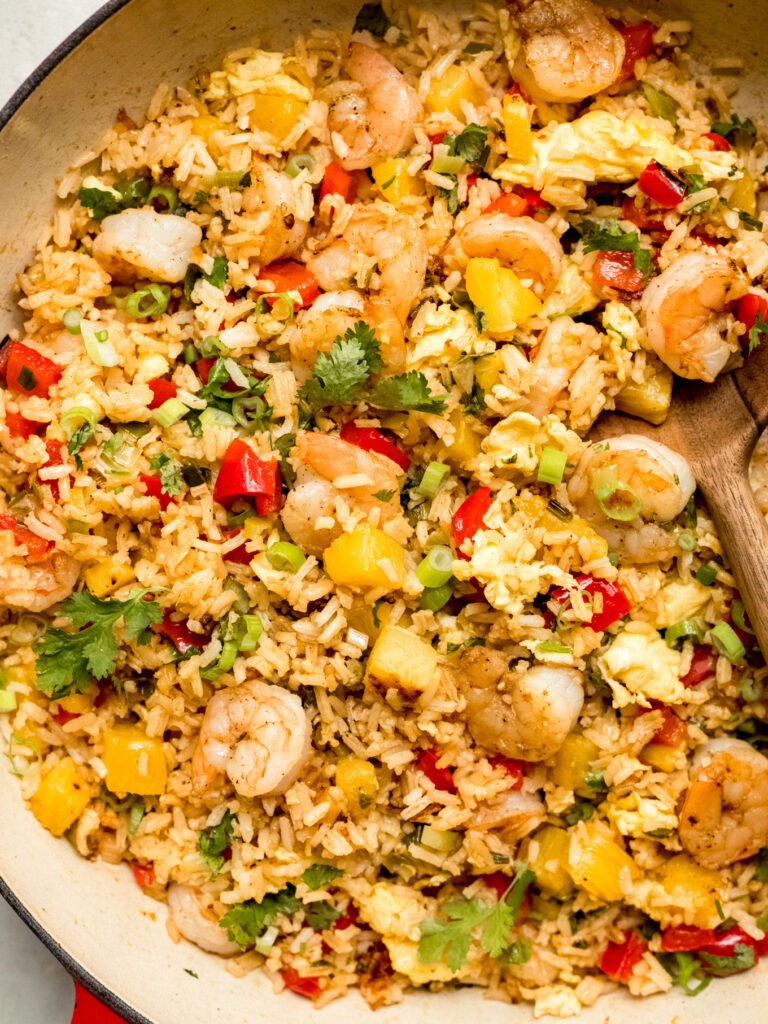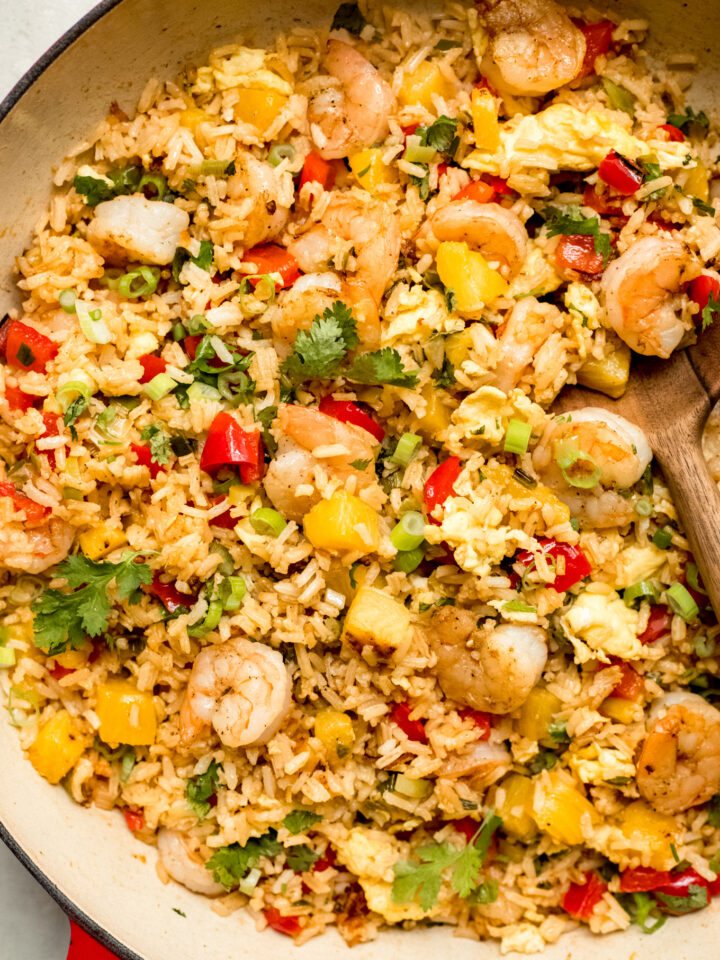 Ingredients
Here are the ingredients that make this fried rice recipe shine! Take a trip to your local grocery store and pick up: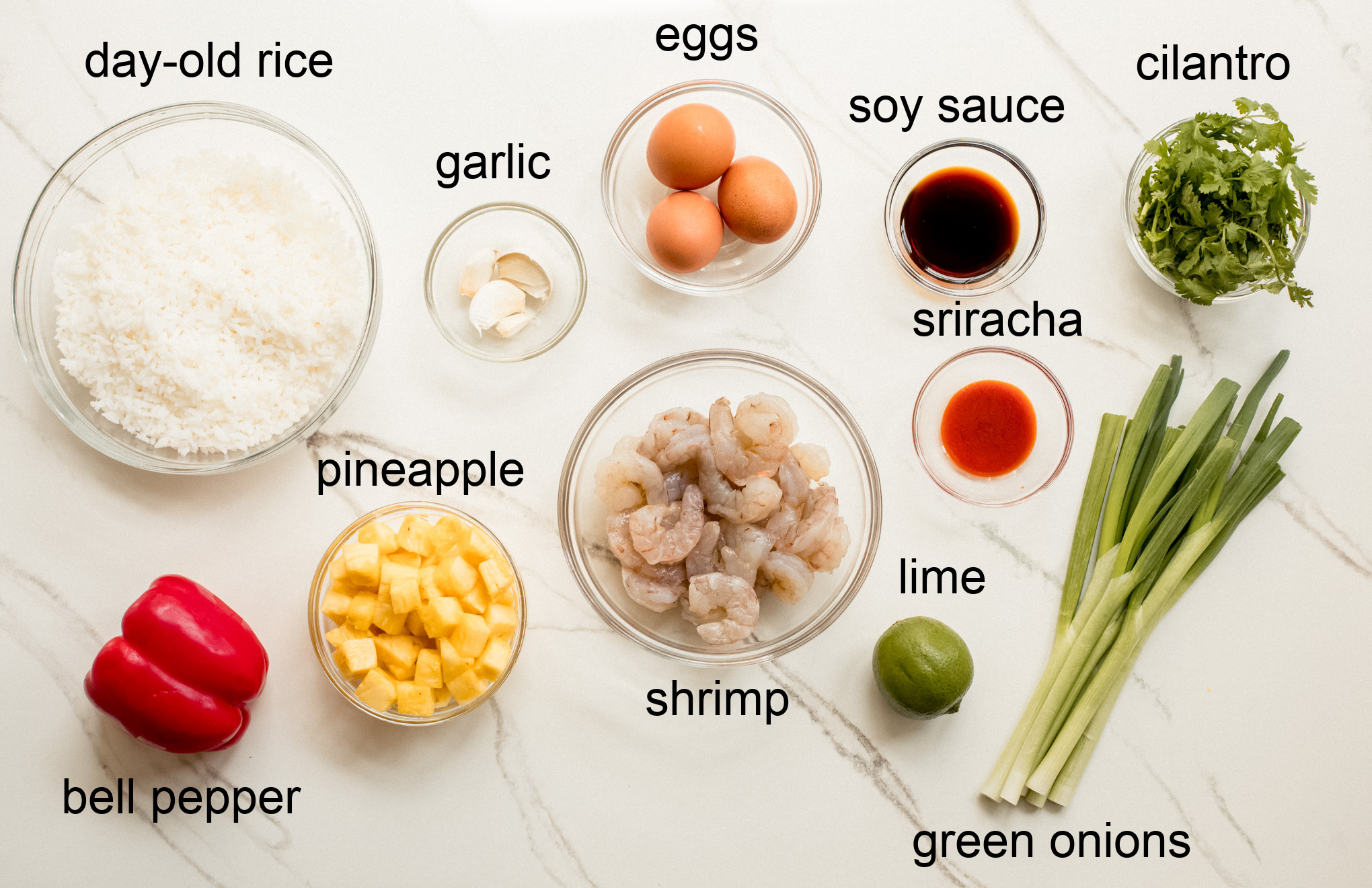 Jumbo shrimp: Beautifully cooked fresh shrimp – what could be better? Buy larger shrimp – they're easier to prepare and cook – and provide a more satisfying bite.
Fresh pineapple: Adds sweetness to contrast the other savory flavors. Use freshly chopped pineapple for a juicier and more vibrant taste.
Day-old rice: Get the perfect texture by using leftover rice that's a day old – fresh rice tends to become mushy when fried.
Eggs: Boost the protein and richness of your fried rice.
Red bell pepper: Brings a refreshing crunch and a splash of color to your fried rice dish.
Green onion: These little green guys add a mild onion flavor and a burst of freshness to every forkful.
Garlic: This aromatic ingredient adds depth and savory goodness to our fried rice.
Soy sauce: This umami-packed sauce ties all the flavors together.
Sriracha: Spice things up with a dash of this famous sauce. The heat and tanginess add an exciting kick. You can also use chili garlic sauce.
Lime: Squeeze in some zesty goodness to wake up the flavors of your dish.
Cilantro: Brings a burst of green freshness with a herbaceous note.
Avocado oil: As well as having a delightful light and buttery flavor, its high smoke point is perfect for stir-frying.
See the recipe card for full information on ingredients and quantities.
Make It Your Own
Let's get those creative juices flowing and make this easy rice dish truly your own! Here are some fun ways to personalize it:
Spice it up: If you're all about that fiery flavor, throw in some diced jalapeños or red pepper flakes to give it a little kick.
Island vibes: Give your dish a Caribbean vibe by using jerk seasoning on the shrimp and adding diced mango alongside the pineapple.
Thai taste: Take a trip to Thailand by adding a splash of fish sauce, some fragrant Thai basil, and a squeeze of zesty lime juice.
Curry delight: Fancy an Indian-inspired twist? Sprinkle in some curry powder or add a bit of curry paste, and don't forget to throw in a handful of peas and raisins.
How to Make Shrimp and Pineapple Fried Rice
Follow these simple steps to make your own pineapple fried rice in no time. Need some help? Check out the recipe card below for detailed instructions.
Heat oil in a non-stick skillet or large wok. Cook scrambled eggs, then transfer them to a plate. Increase heat, add oil, and add the shrimp. Cook for 1 minute per side. Transfer to a plate.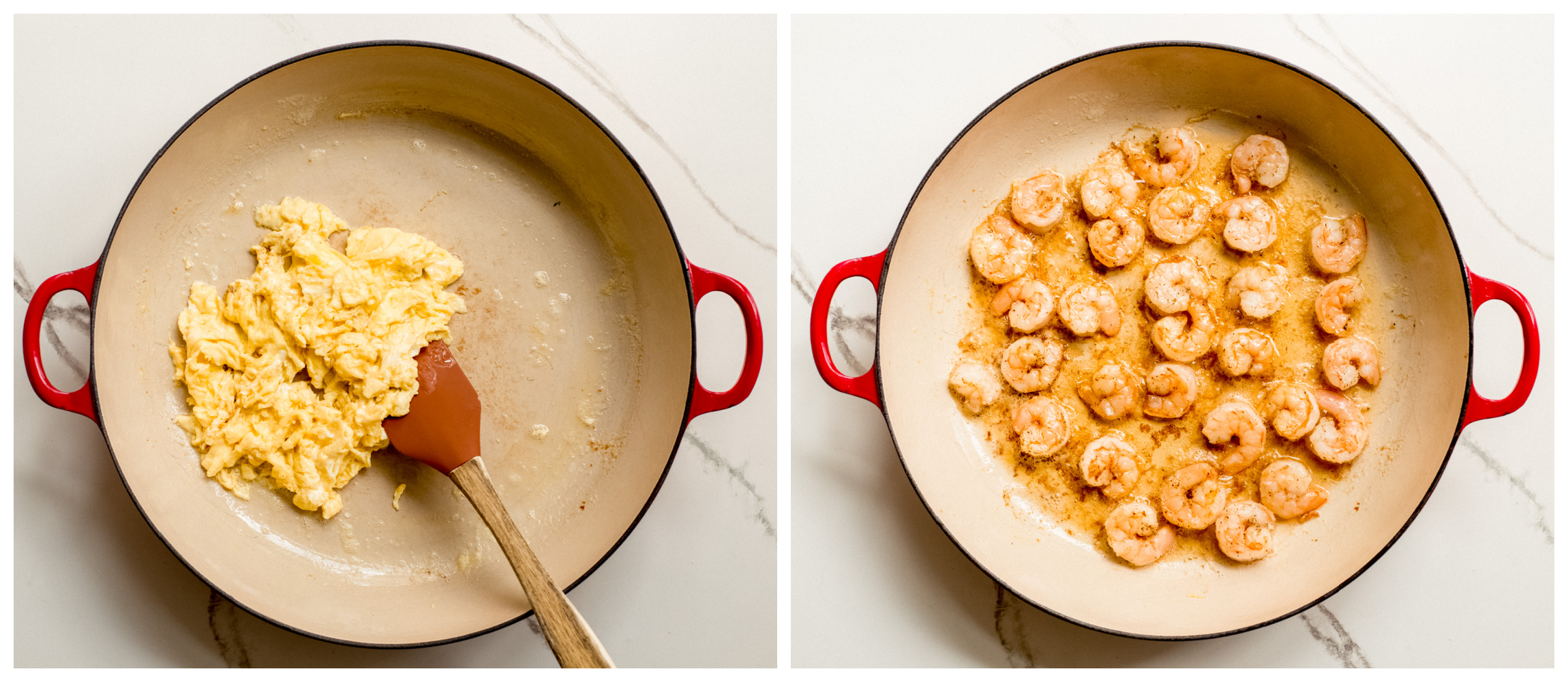 Add pineapple and bell peppers. Cook for 5 minutes. Stir in green onions and garlic, and cook until fragrant.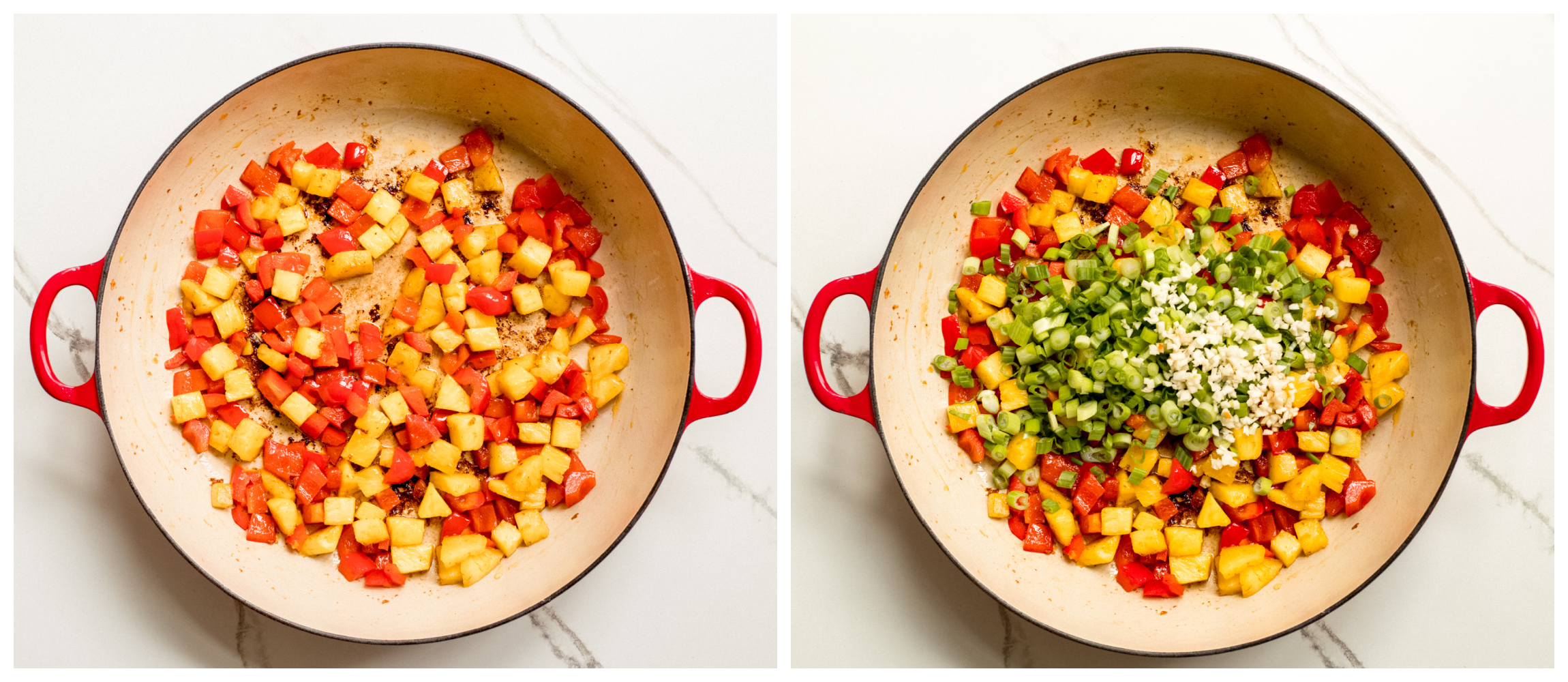 Stir in rice, breaking it up with a spoon. Add soy sauce and Sriracha.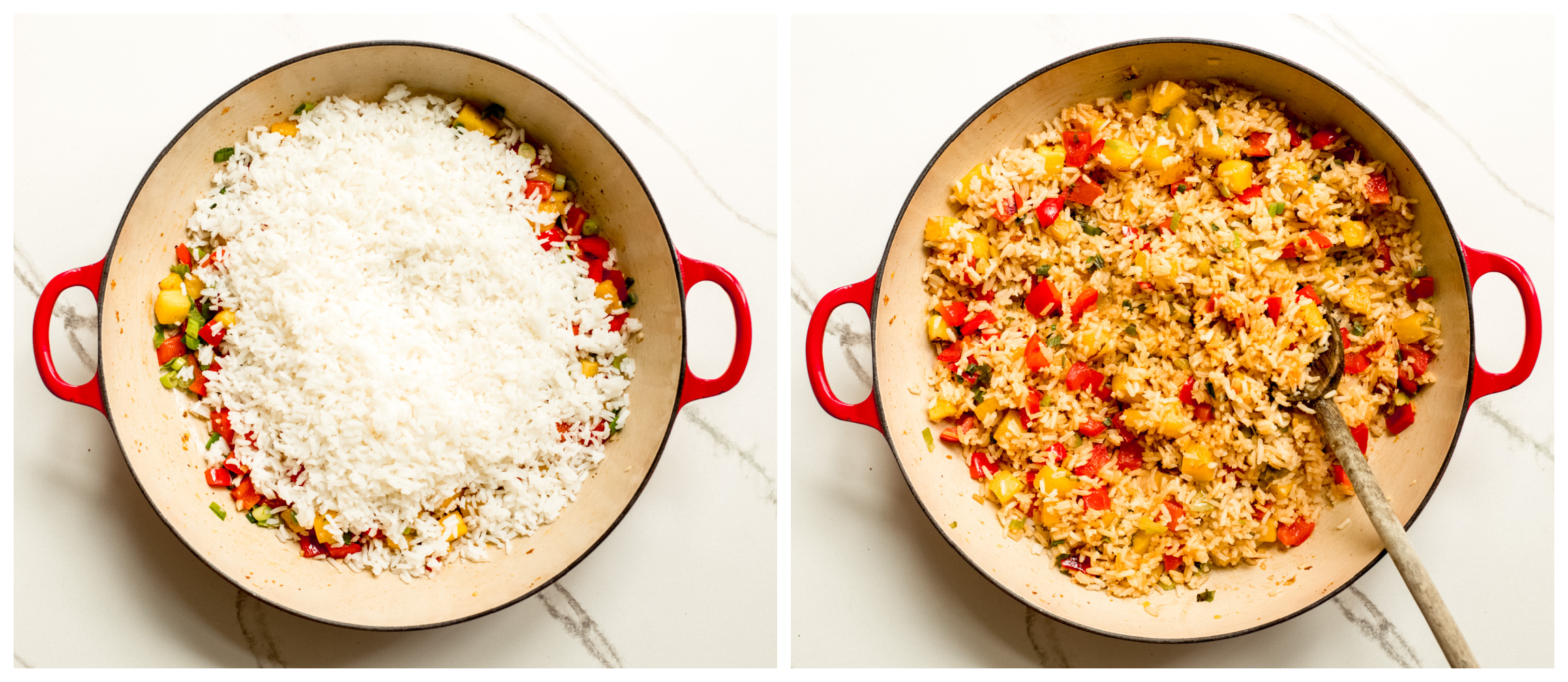 Add scrambled eggs, shrimp, lime juice, and cilantro. Adjust seasoning to taste.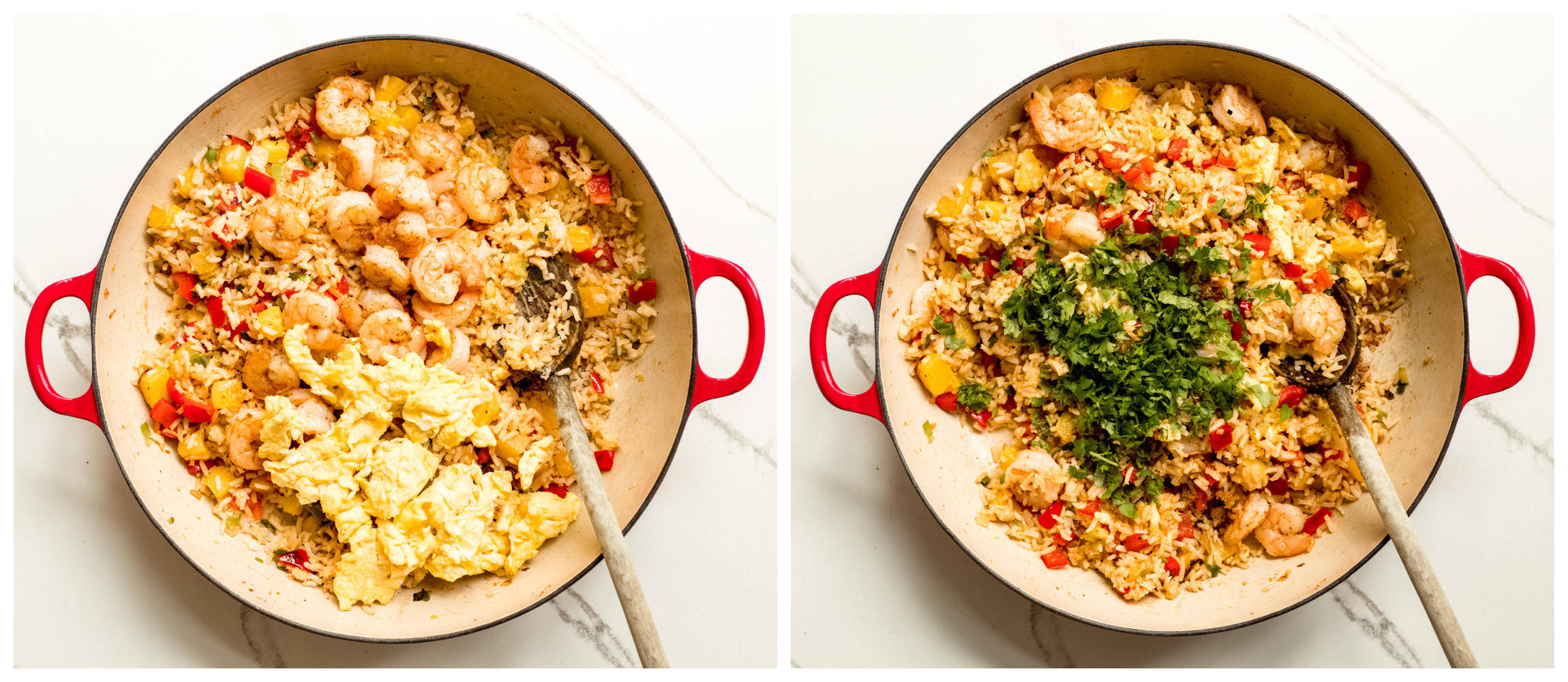 Expert Tips
Take your fried rice dish to the next level with our expert tips:
The right rice: Say goodbye to sticky and clumpy rice! When it comes to stir-fry recipes, chilled day-old rice is your secret weapon. It's dried out and much easier to work with. Plus it guarantees a fluffier texture!
Hot and fast: Want that perfect sear on your shrimp? Here's the trick: Make sure your pan is sizzling hot before adding them in – they'll caramelize properly to lock in those flavors.
A squeeze of lime: Right before serving, give your dish a zesty boost by squeezing some fresh lime juice over it. This'll make all the flavors pop.
Garnish with flair: Don't forget the final touch! Sprinkle some chopped cilantro, green onions, or add a drizzle of sesame oil on top to finish – your dish will look a bit more impressive.
Pineapple pizzazz: Take it a step further and serve your pineapple fried rice in a hollowed-out pineapple. This tropical touch is sure to wow your guests.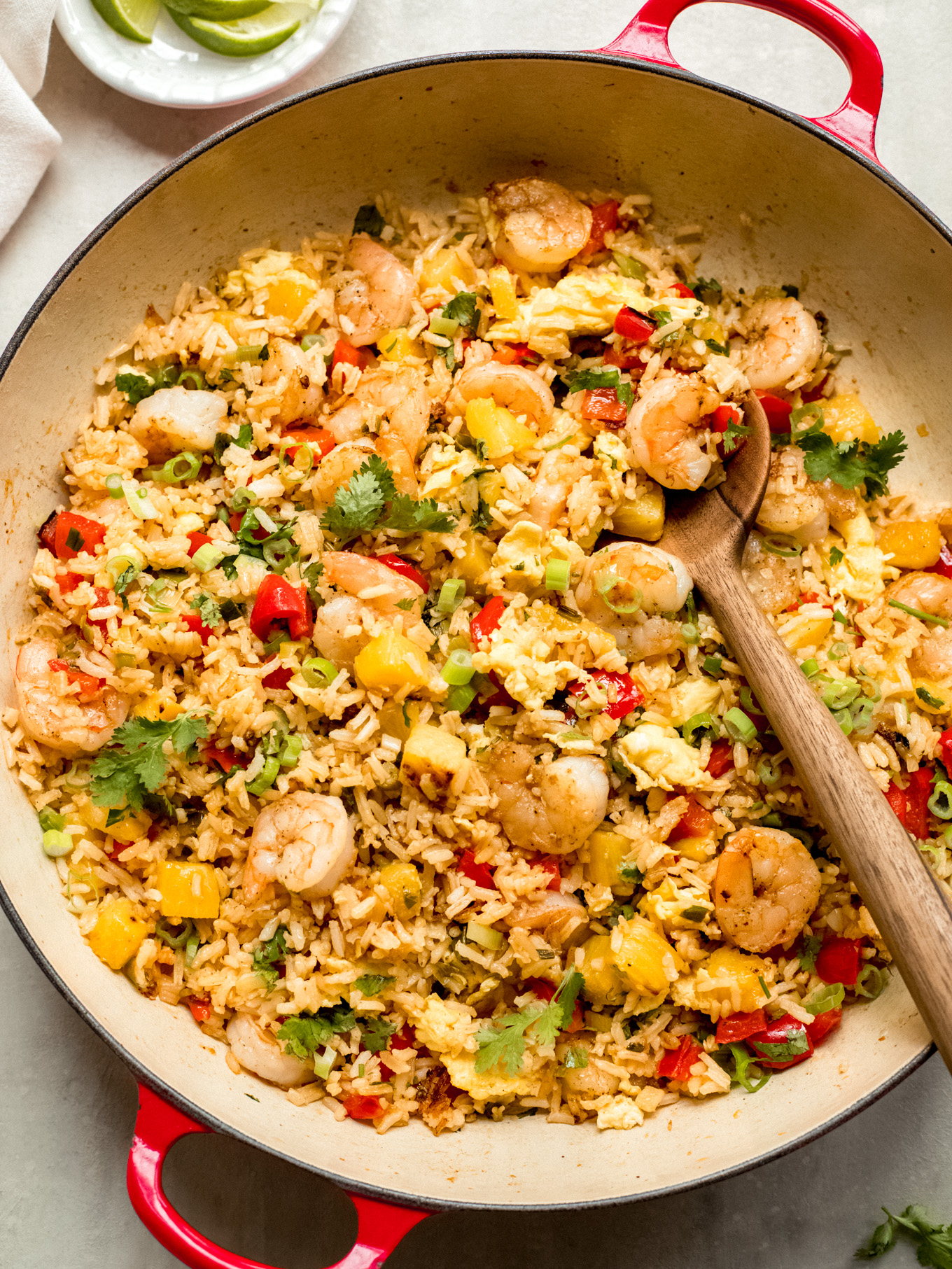 Side Dishes
When it comes to serving fried rice with shrimp, there are plenty of fantastic side dishes to choose from:
Recipe FAQs
Can I substitute the shrimp with another protein?
Absolutely! Pineapple Shrimp Fried Rice is super versatile, so feel free to mix things up!

Swap out the shrimp for some chicken or tofu, or load it up with extra veggies to keep it vegetarian.
Just remember to keep an eye on the cooking time to make sure your protein is cooked through. 
Can I use canned pineapple instead of fresh?
Yes, if you don't have fresh pineapple at hand, canned pineapple can work if you're in a pinch.

But do try to get fresh pineapple – it's just so much better than its canned counterpart. 

If you have to use canned, just remember to give it a good drain before adding it to your fried rice. We want to avoid any extra liquid messing with the texture of our dish.
Can I use freshly cooked rice instead of day-old rice?
Absolutely! If you don't have day-old rice on hand, feel free to use freshly cooked rice. Just make sure to let it cool down and dry out for a bit before using it in the recipe. 

This will help stop the grains from sticking together and becoming mushy. So go ahead and cook up that rice, let it cool off, and you're good to go! 
Can I use brown rice instead of white rice?
Yes! While we use white rice in our recipe, you can easily swap it out with brown rice if you want to go healthier.

Brown rice brings a slightly nutty flavor and packs in more fiber and nutrients. Just keep in mind that it takes a little extra time to cook.
If you tried this Pineapple Shrimp Fried Rice Recipe or any other recipe on my website, please leave a 🌟 star rating and let me know how you like it in the 📝 comments below.
Print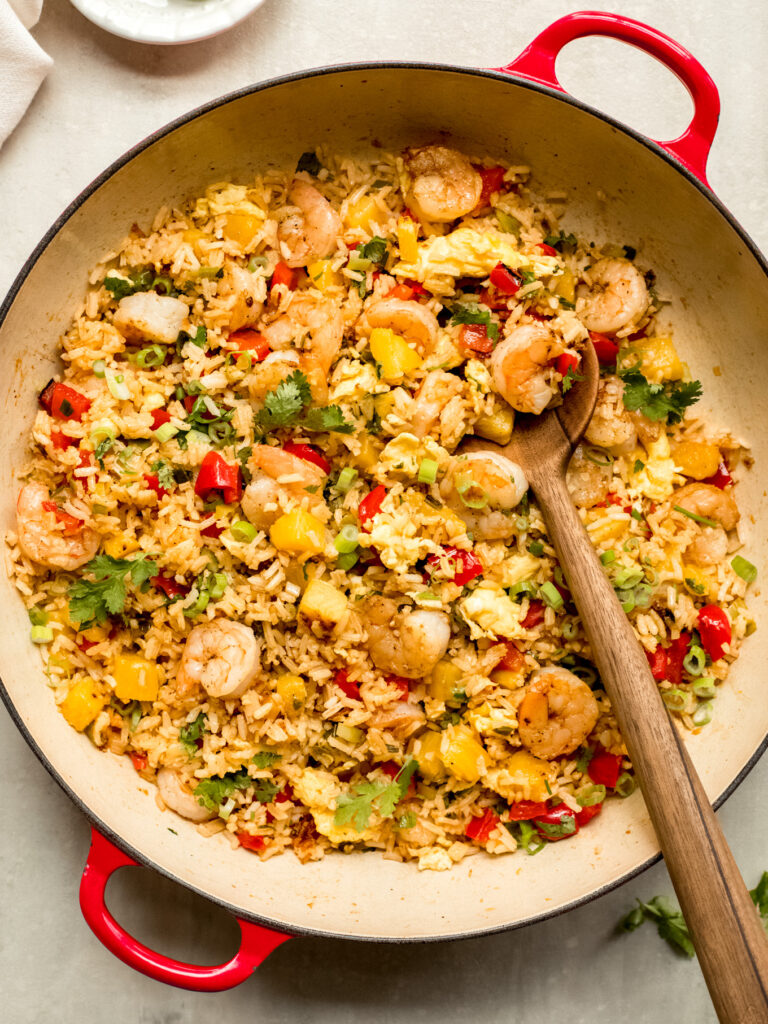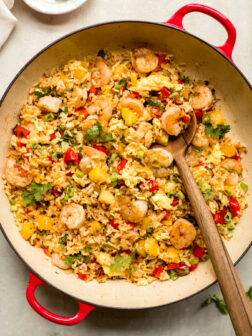 Pineapple Shrimp Fried Rice Recipe
Author: Katya
Prep Time: 20 min
Cook Time: 25 min
Total Time: 45 minutes
Yield: 6 1x
Category: Main
Method: Stovetop
Cuisine: Thai
---
Description
Add some excitement to your dinner routine with Pineapple Shrimp Fried Rice! With succulent shrimp, tangy pineapple chunks, and a medley of colorful veggies, it's a delightful mix of sweet and savory in every bite!
---
3–4 Tbsp. avocado oil or other high-heat oil
3 large eggs, beaten
1 lb. (26-30 count) shrimp, peeled and deveined
2 cups chopped fresh pineapple
1 red bell pepper, diced
1 cup chopped green onions, white and green parts
3 garlic cloves, minced
4 cups chilled day-old rice
2–3 Tbsp. soy sauce, plus more to taste
2–3 tsp. Sriracha, plus more to taste
1 lime, juiced
Chopped fresh cilantro, to taste
Kosher salt and fresh black pepper
Sesame oil, optional
---
Instructions
In a large bowl, toss the shrimp with 1/4 teaspoon salt and 1/4 tsp. black pepper. Set aside.
In a large non-stick skillet or a large wok heat 1 tablespoon of oil over medium heat. Add the whisked eggs and cook, stirring, until the eggs are scrambled and lightly set. Transfer to a plate and if necessary, wipe the skillet with a paper towel.
Increase the heat to a medium-high and add 2-3 tablespoons of oil. When the oil is hot, add the shrimp to the pan in a single layer. It should immediately sizzle on contact. Make sure not to overcrowd the shrimp. Cook for 1 minute per side. Transfer to a plate.
Add pineapple and bell peppers and cook undisturbed for 3 minutes. If necessary, add more oil to the pan. Stir the pineapple mixture and continue cooking for an additional 2 minutes. The pineapple should be caramelized and the peppers tender. Add green onions and garlic. Cook, stirring, until fragrant, about 30 seconds. 
Stir in rice and cook for about 1-2 minutes until heated through, while breaking up the rice with a spoon. Add soy sauce and Sriracha. Taste and season with salt and pepper as needed.
Stir in scrambled eggs and shrimp. Squeeze 1/2 lime juice over the rice and add chopped cilantro. Taste and if necessary, add more soy sauce, Sriracha, or lime juice.  Optional, add 1-2 teaspoons of sesame oil over the rice right before serving. 
---
Notes
Shrimp: I tested this recipe with jumbo and extra-large shrimp. If you use anything smaller, keep an eye on your shrimp so it doesn't overcook.
Pineapple: For best flavor, use fresh ripe pineapple. It will be much sweeter tasting than canned.
Rice: Leftover rice or day-old rice is best to use since it's dried out. Fresh rice will turn out mushy or soggy due to having too much moisture.
Leftovers: Refrigerate leftovers in an airtight container for up to 3-4 days.
Nutrition
Serving Size: 1/6
Calories: 393
Sugar: 7.7 g
Sodium: 306.8 mg
Fat: 12.6 g
Carbohydrates: 47.5 g
Protein: 22.6 g
Cholesterol: 214.6 mg
Keywords: fried rice, shrimp fried rice, thai rice