Healthy Turkey Stuffed Peppers
Stuffed bell peppers with ground turkey, turkey sausage, corn, black beans, salsa, spices, and fresh cilantro. Healthy and flavorful dinner for the whole family to enjoy!
Stuffed peppers are what dinner dreams are made of. They can be filled with any combination of starches, meat, beans, and sauces. Every time I make them I'm reminded of how they make the best dinner.
They are easy to customize, incredibly tasty, and a total crowd-pleaser. It's also one of those dishes that can be prepped ahead of time, so all you have to do is pop them into the oven when it's close to dinnertime.
Today, I'm sharing these Mexican-themed healthy turkey stuffed peppers with lean ground turkey, turkey sausage, corn, beans, and spices. The bell peppers require no special prep. You simply take the core out and add the filling and then steam-bake until tender.
Try serving them with a side salad such as Mexican Corn Salad for a hearty weeknight dinner. Or create a toppings bar with crema, salsa, guacamole and let everyone add what they like.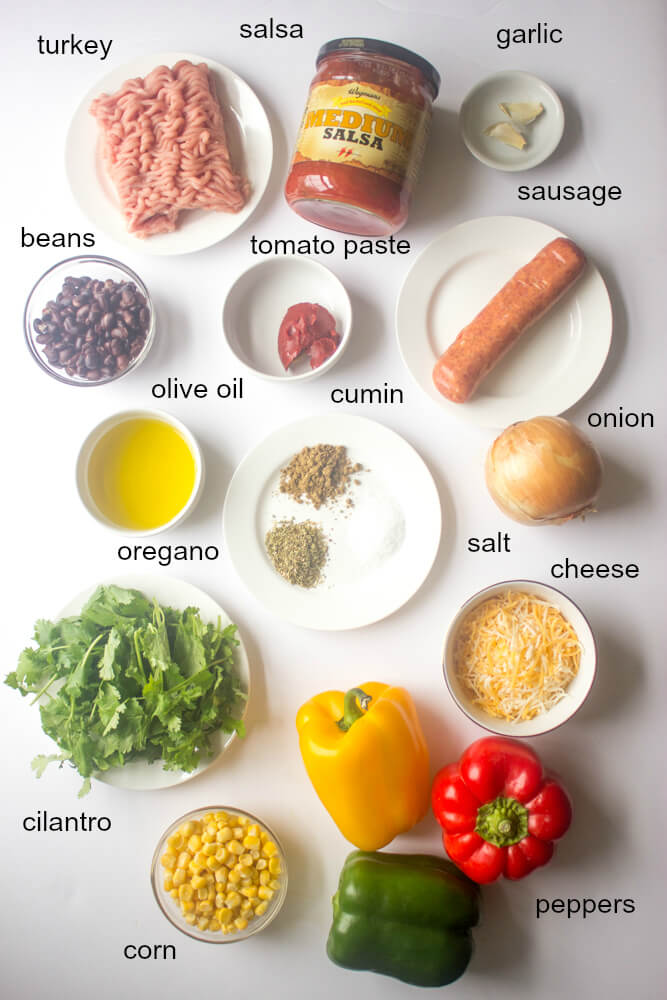 How to Make Healthy Turkey Stuffed Peppers
NO NEED TO BOIL PEPPERS FIRST.
Do you have to boil peppers before stuffing them? No. They will steam-bake in the oven. Simply halve your peppers from top to bottom, cutting right down through the stems. Remove the seeds and membranes. I love using pepper halves instead of the entire pepper. It cooks faster and the serving size is perfect.
COOK THE MEAT BEFORE FILLING.
Do you cook the meat before stuffing the peppers? Yes. Browned meat is much more flavorful when it's been seasoned and cooked first. Sauté the onions and garlic. Brown the ground turkey and sausage. Add salsa, spices, beans, and corn. It's that easy!
STUFF THE PEPPERS.
Before stuffing the peppers with the filling make sure to generously season the inside of the peppers with salt and pepper. Fill each pepper half with the turkey mixture and top with cheese. This recipe makes 6 pepper halves.
STEAM-BAKE STUFFED PEPPERS.
To make sure the peppers steam and cook all the way through, put a little bit of water in the baking dish, then cover everything up tightly with foil. How do you keep peppers from falling over? Use a baking dish that snugly fits the pepper halves. They will shrink as they cook.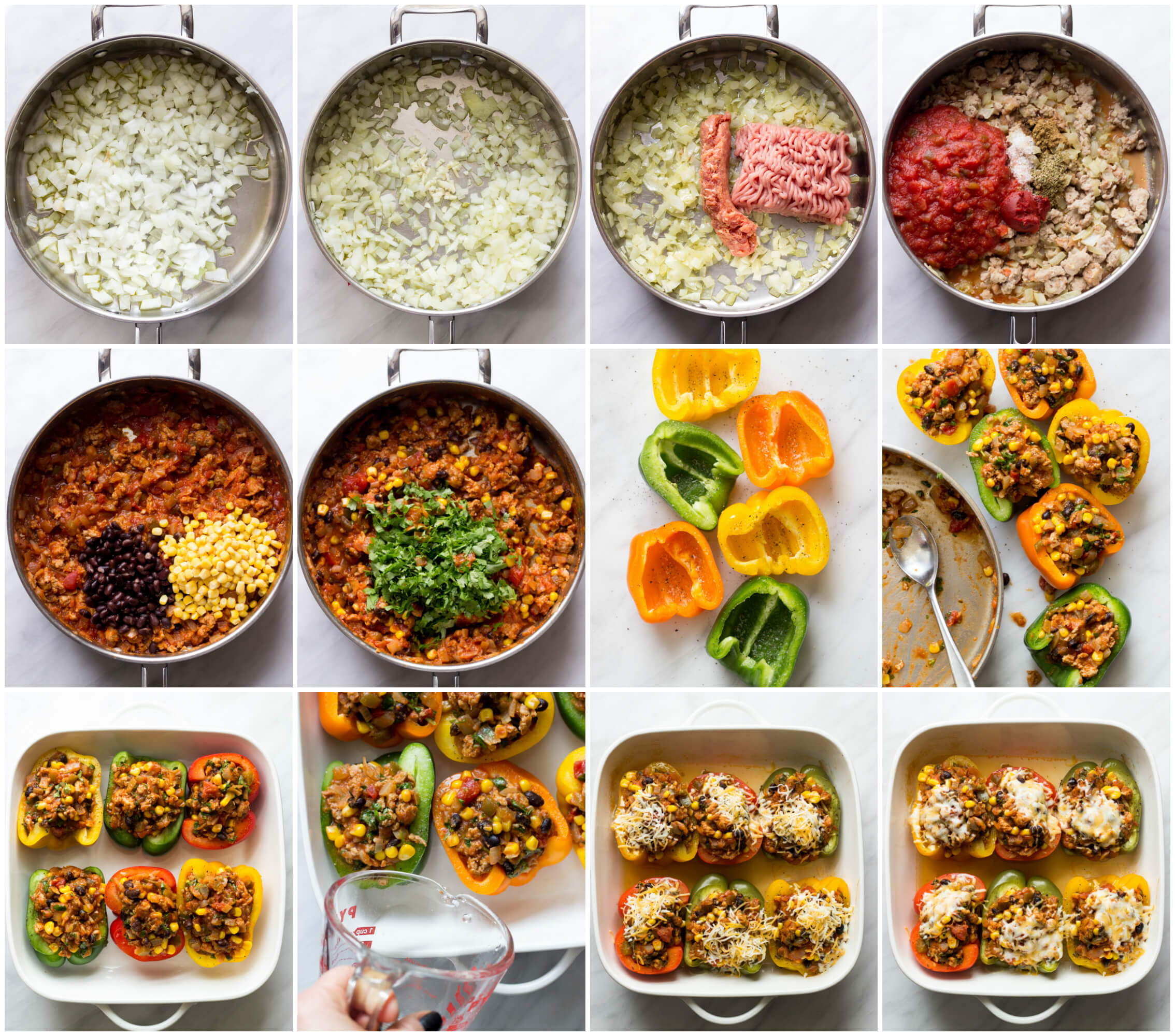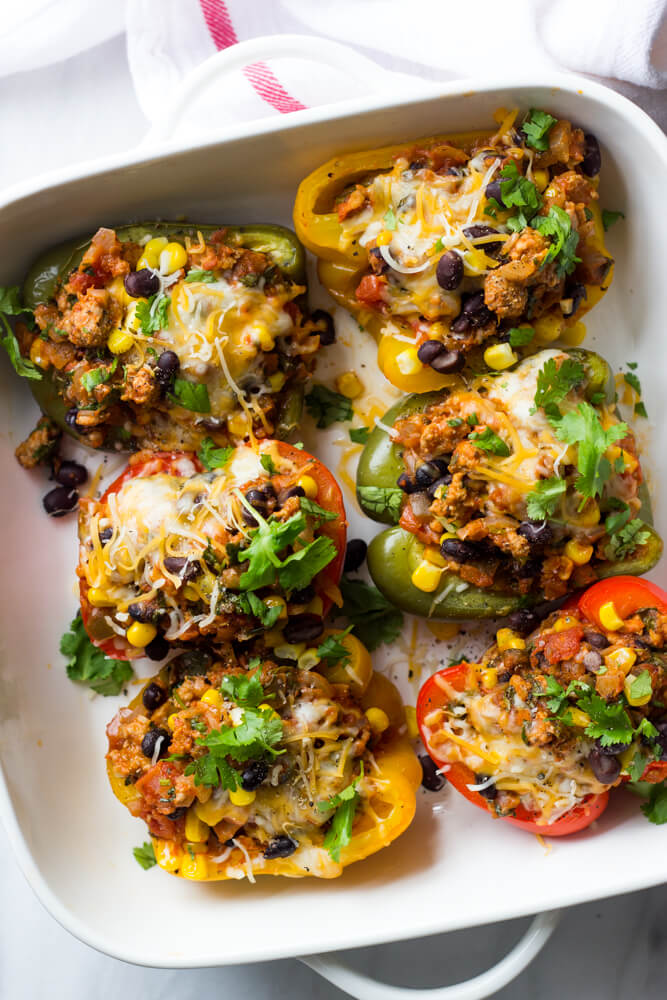 Leftovers/Reheating
Leftover peppers can be stored in an airtight container in the refrigerator for up to 4 days. Reheat either in the oven or in the microwave. To reheat in the oven, bake the peppers in a covered dish at 350 F for 15-20 minutes or until heated through.
Cooked stuffed peppers can also be frozen in a freezer-safe container for up to 3 months. Thaw out in the refrigerator overnight and reheat in the oven at 350 F for 15-20 minutes.
More Stuffed Vegetable Recipes
Print