No Bake Chocolate Oat Bars
These No-Bake Chocolate Oat Bars are the perfect chewy, chocolatey dessert. There's no baking involved in making this delicious treat.
This no-bake chocolate oat bar recipe is the perfect answer to satisfy your sweet tooth without going overboard on sugar. The combination of old-fashioned oat, almond butter, honey, almonds, chocolate chips, and cranberries is crunchy, chewy, sweet, and salty all in one bite!
You can easily make a double batch and freeze half so you can have some ready to eat at any time. If this is your first time making a no-bake dessert, you're in for a treat!
Why Are These Bars No-Bake?
This delicious treat is easy to make with wholesome ingredients and there's no baking involved!
This is a great option when you don't want to turn on the oven to make something sweet or don't want a lot of cleanup.
Melting the butter, almond butter, and honey before combining them with the other ingredients helps it all stick together. When you pour the chocolate mixture into a baking dish and allow it to sit overnight in the refrigerator, the dessert hardens and the oats soften and set into the perfect healthy treat.
After the oat mixture is set, remove the pan from the refrigerator, pull the square out of the pan with parchment paper, and cut it into equal squares.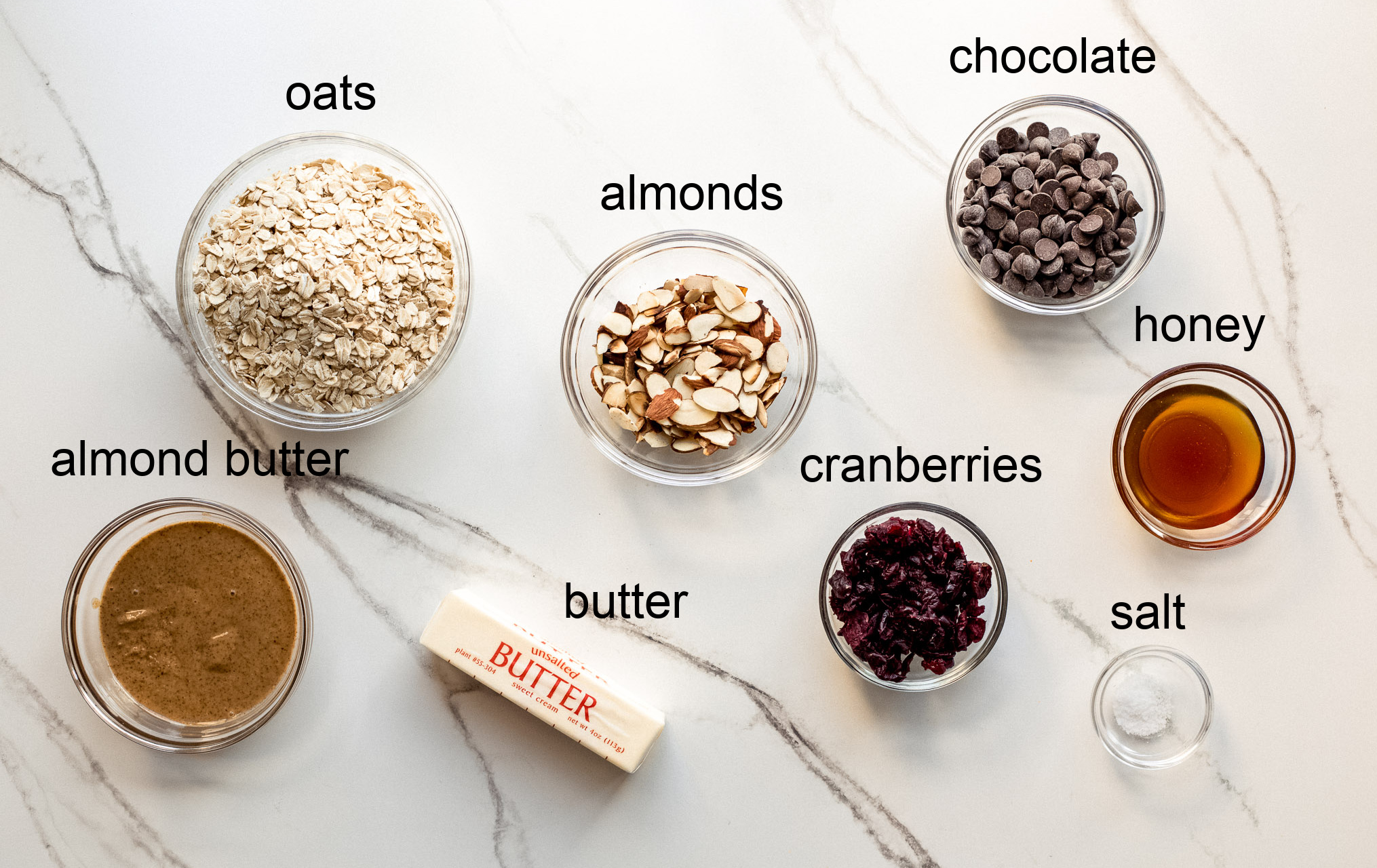 Ingredients
The simple ingredients for these layer bars are easy to find at local grocery stores or you may already have them in your pantry at home.
Almond butter – Fresh almond butter is creamy and wonderfully nutty. You can substitute other nut butter if you'd like.
Honey – Use locally sourced honey if you can find it. It has the best flavor and you get to support local bees.
Butter – Unsalted butter allows you to add the salt separately. This ensures you add just the right amount and the dessert isn't overly salty.
Old-fashioned oats – These are chewy and perfect for no-bake bars because they hold together under heat and refrigeration.
Almonds – Sliced toasted almonds add texture and an added nutty flavor to these bars.
Chocolate chips – Semi-sweet chocolate chips are melty and delicious. You can stir in the chips or melt them first.
Cranberries – Chewy cranberries are a sweet surprise and add another level of sweetness.
Salt – A little kosher salt helps balance the sweetness of the chocolate, honey, and cranberries. You can also use sea salt if you'd like.
How to Make No Bake Chocolate Oat Bars
The steps to make this delicious granola bar recipe are simple. You can easily combine the ingredients and get them in the fridge to set in just a few minutes.
In a small saucepan, melt almond butter, honey, and butter together with salt.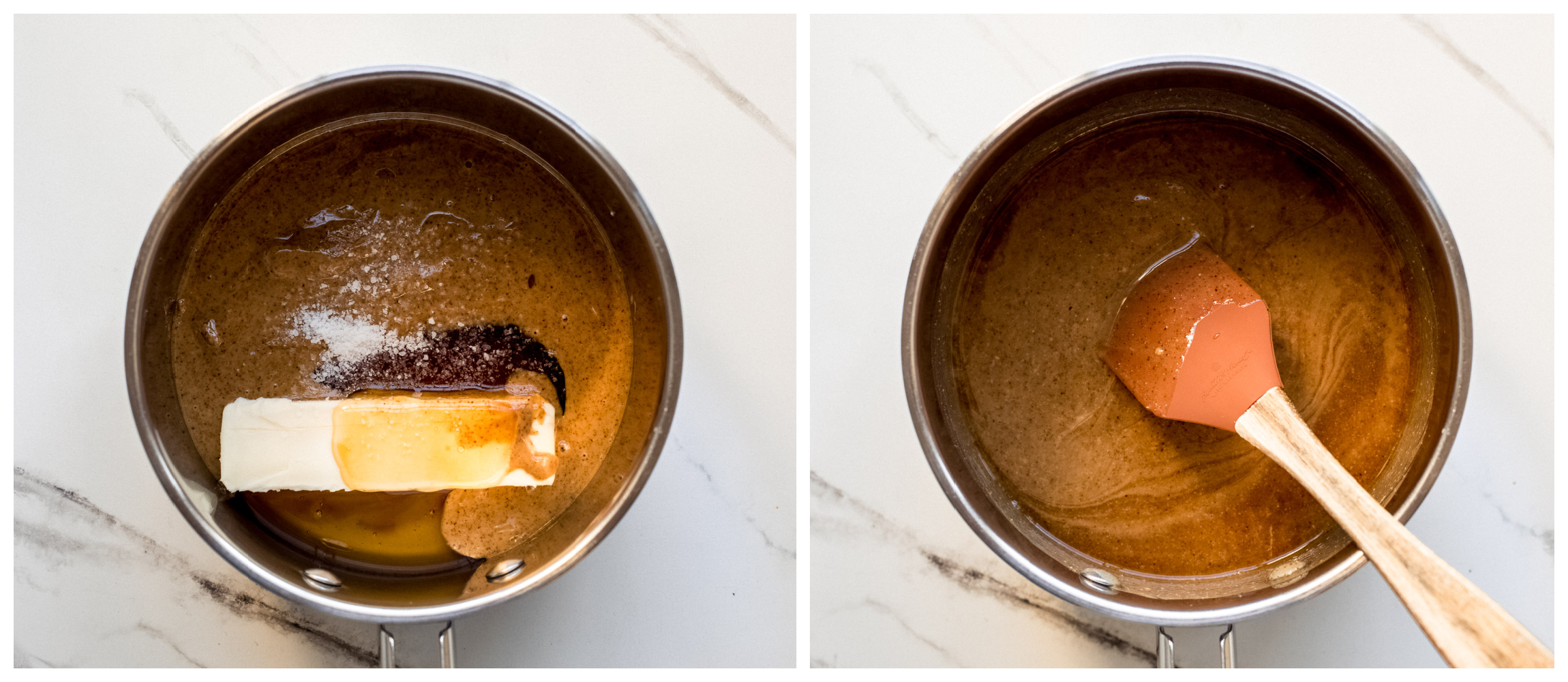 Remove from the heat and pour over oats, almonds, chocolate, and cranberries. Stir until the chocolate is completely melted.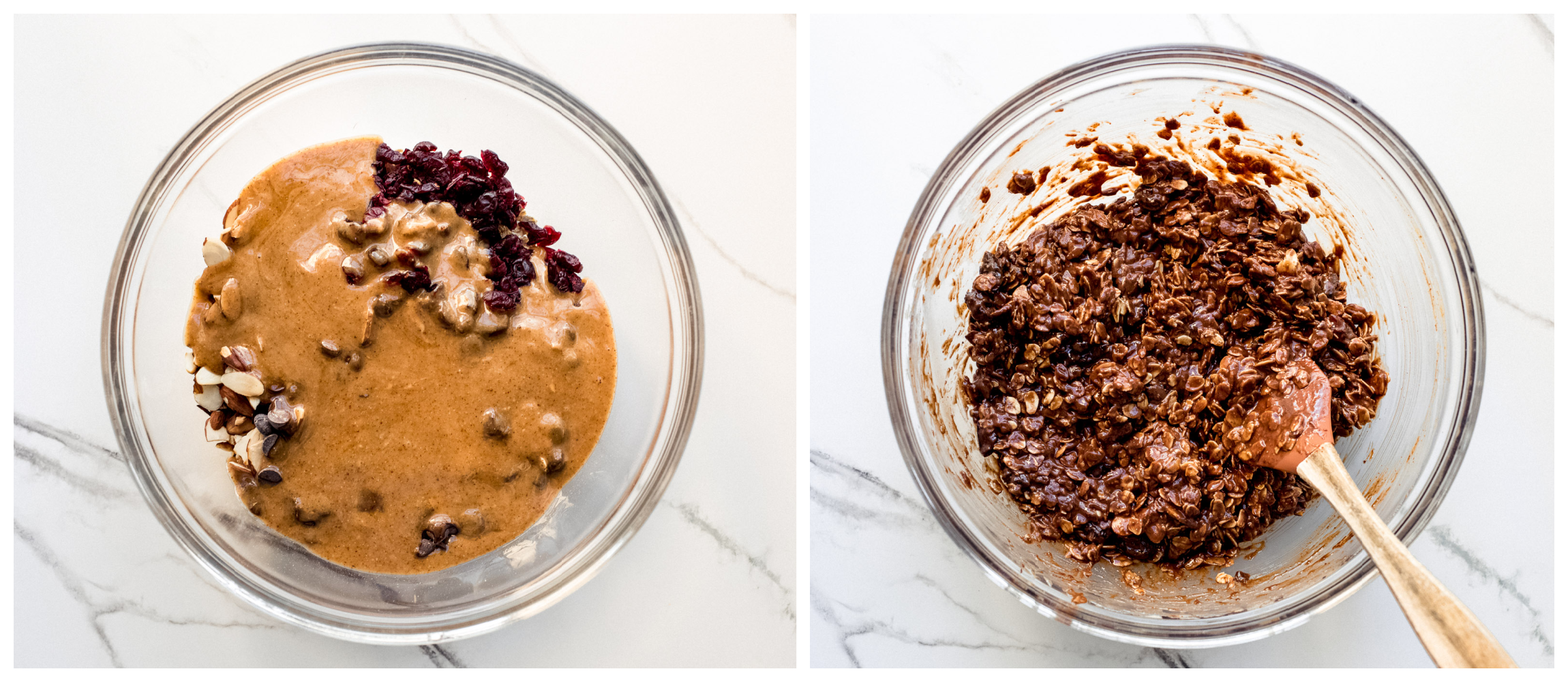 Transfer into an 8X8 square baking pan. Cover and refrigerate overnight. Cut into squares and serve.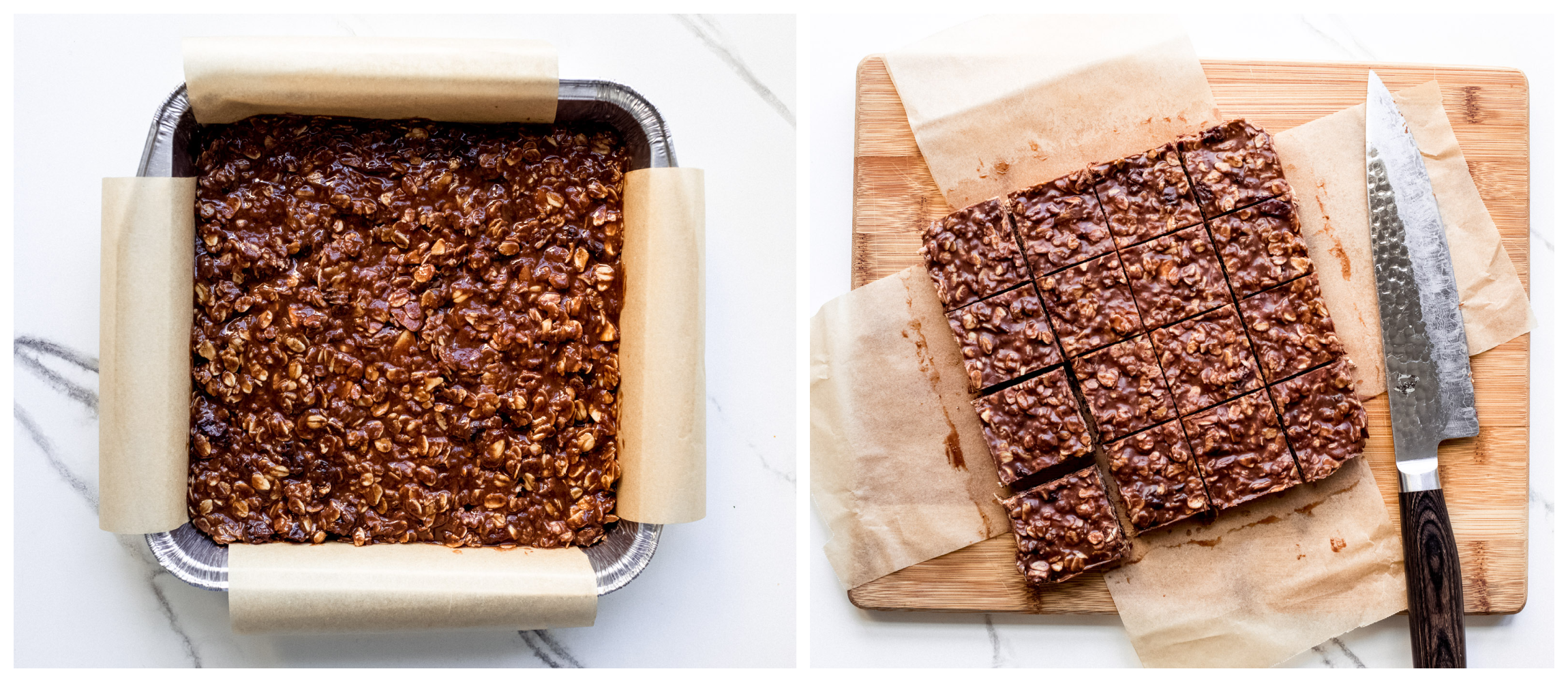 Recipe Tips
Here are some tips and tricks to help you make these no-bake treats.
Refrigerate for at least 2 hours. Refrigerating the bars for at least a few hours before cutting and serving is necessary to allow them to be properly set. If you don't, they will be crumbly and fall apart. But they'll still be delicious!
Toast the almonds. Toast the almonds in the oven until they're slightly roasted and cool before combining them with the other ingredients for a rich nutty flavor. Or skip it altogether and buy toasted almonds.
Switch up the chocolate. If you'd like these bars to be slightly less chocolatey, use dark chocolate chips which don't melt as much and won't spread throughout the bars.
Don't skip the parchment paper. Lay parchment paper or wax paper in the baking dish, covering the sides, to make it easier to lift out of the pan after refrigerating.
Use the right pan. Use a square pan, ideally 8×8 so the bars are taller. If you use a larger rectangular pan, they'll be shorter and smaller when cut.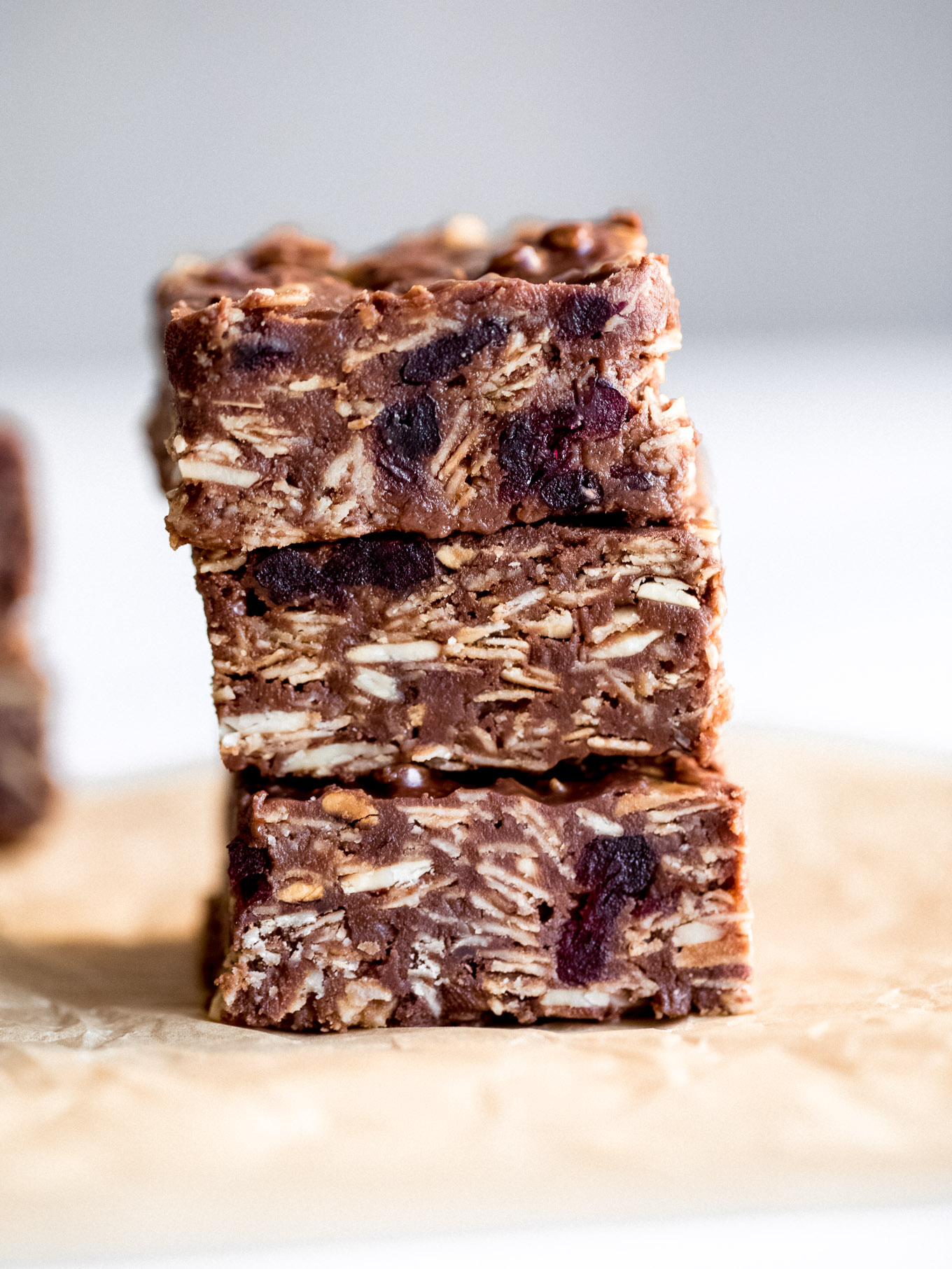 Variations
These delicious chocolate and oat bars are easily adaptable and can be changed based on what you like best. Here are some options to get started.
Nut butter. Substitute natural peanut butter, cashew butter, or sunflower seed butter for the almond butter if you prefer.
Nuts. Use chopped walnuts, pecans, or peanuts in place of the almonds for that crunchy texture.
Sweetener. Substitute maple syrup, coconut sugar, or brown sugar for the honey if you'd like to try a different sweetener.
Dried fruit. Instead of raisins, you can use raisins, dried chopped figs, or dates. They are all chewy and sweet and perfect in this oat treat.
Add a sprinkle of salt! Sprinkle flaky sea salt over the top of the chocolate in this no-bake dessert for a lovely balance of salty and sweet. We love this flaky salt.
Storing Tips
Refrigerate: Store these no-bake chocolate oatmeal bars in an airtight container in the refrigerator for up to 5 days.
Freeze: Freeze the cut bars in a plastic container or freezer bag for up to three months. This is an excellent way to make these sweet treats ahead of time. When you're ready for a snack, pull one or a couple out of the freezer, let them thaw on the counter or the refrigerator, and enjoy.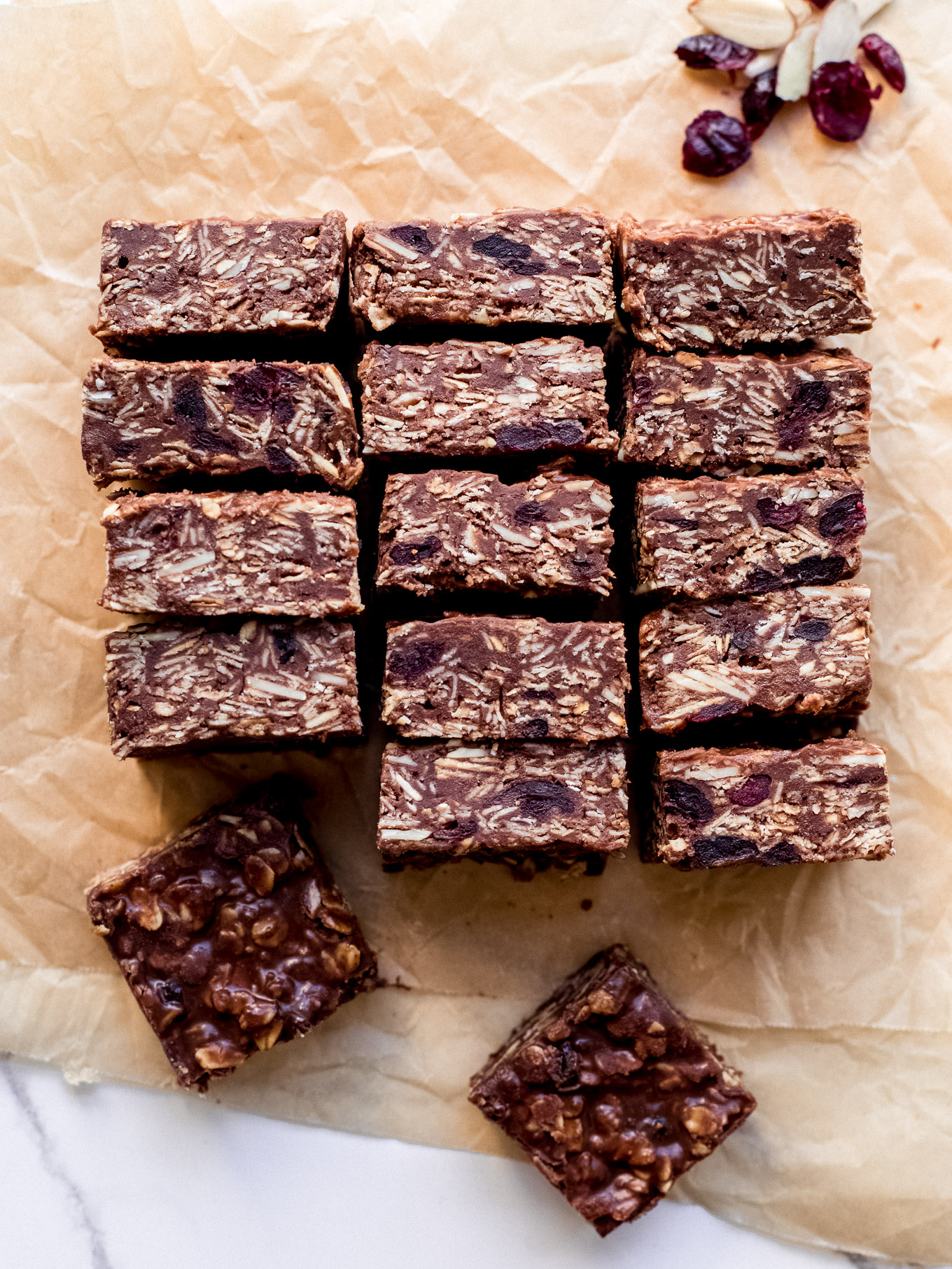 FAQs
Can I use quick oats instead of old-fashioned oats in these no-bake bars?
No, quick oats fall apart more easily and are best suited for making oatmeal. Use old-fashioned rolled oats for the best results. They are chewier and better for this type of recipe.
What kind of chocolate is best for no-bake chocolate oat bars? 
Use semi-sweet or bittersweet chocolate chips for this recipe. They melt the best and will spread throughout the bars making them wonderfully chocolatey.  
Are these chocolate no-bake bars gluten-free? 
Yes, these bars can be gluten-free if you make sure to use gluten-free oats.
More Easy Treats
Print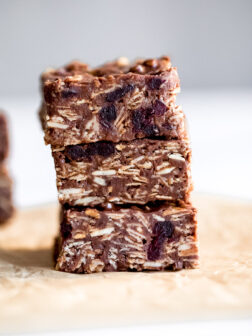 No Bake Chocolate Oat Bars
Author: Katya
Prep Time: 15 mins
Cook Time: 5 mins
Total Time: 20 mins
Yield: 16 square bars 1x
Category: Dessert
Method: No-Bake
Cuisine: American
---
Description
Simple and delicious no bake chocolate oat bars made with mostly pantry ingredients. They make a great treat or snack on the go!
---
1 cup smooth almond butter, with no added sugar
1/3 cup honey or maple syrup
1 stick (8 Tbsp.) unsalted butter
1/2 tsp. kosher salt
2 cups rolled old-fashioned oats
1/2 cup sliced toasted almonds
4 oz. semi-sweet or dark chocolate chips, about 3/4 cups
1/2 cup dried cranberries or raisins
Cooking spray
---
Instructions
In a small saucepan, combine almond butter, honey, butter, and salt. Heat over medium heat, until melted and smooth, stirring frequently.
In a large bowl, combine oats, almonds, chocolate chips, and cranberries. Pour the almond butter mixture over the oats, and mix until the chocolate melts.
Line 8X8 inch square baking pan with parchment paper, leaving extra parchment on the sides. Spray with cooking spray.
Pour the oat mixture into the prepared pan, patting down with a rubber spatula. Cover and refrigerate overnight.
Use the parchment to remove the oat bars from the pan. Cut into 16 squares and serve.
---
Notes
Store these bars in an airtight container in the refrigerator for up to 5 days.
Nutrition
Serving Size: 1 square bar
Calories: 308
Sugar: 16.4 g
Sodium: 75.1 mg
Fat: 19.7 g
Carbohydrates: 28.6 g
Protein: 6.5 g
Cholesterol: 15.2 mg
Keywords: easy, no bake, oat bars
Recipe originally published September 2014.
You May Also Like…