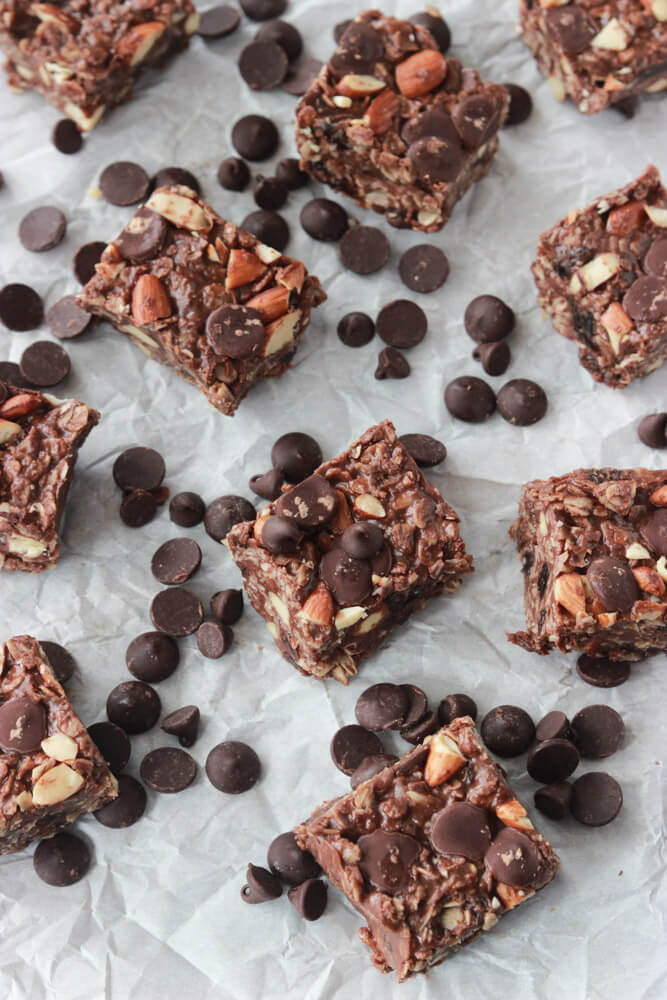 This post may contain affiliate links. Please read our disclosure policy.
When we moved to American I was 7 and it was a complete culture shock seeing the amount of junk food that was available everywhere. Especially at school seeing all the kids eat things like rolls up, pop tarts, Doritos, pizza, oreos, while I got stuck with homemade lunches that consisted of Russian foods that looked "weird" compared to your typical American lunch. I hated that so much and always wished my mom would buy us all the cool snacks we saw on tv. But no, we got stuck with homemade food. Believe it or not it was only couple years ago that I tried a pop tart for the first time EVER! I know, right? BTW I did not like it.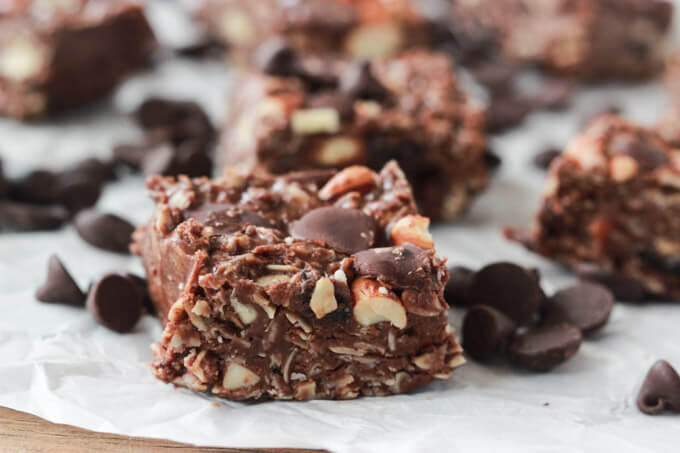 As an adult now, I really do appreciate the healthy eating habits my parents instilled in me and now I've become my mom. Wah..wah.
Let's pause for a second…
No one wants to hear that, right? I sure didn't expect it until one day, my hubby says "you're just like your mom." I had to process that for couple days.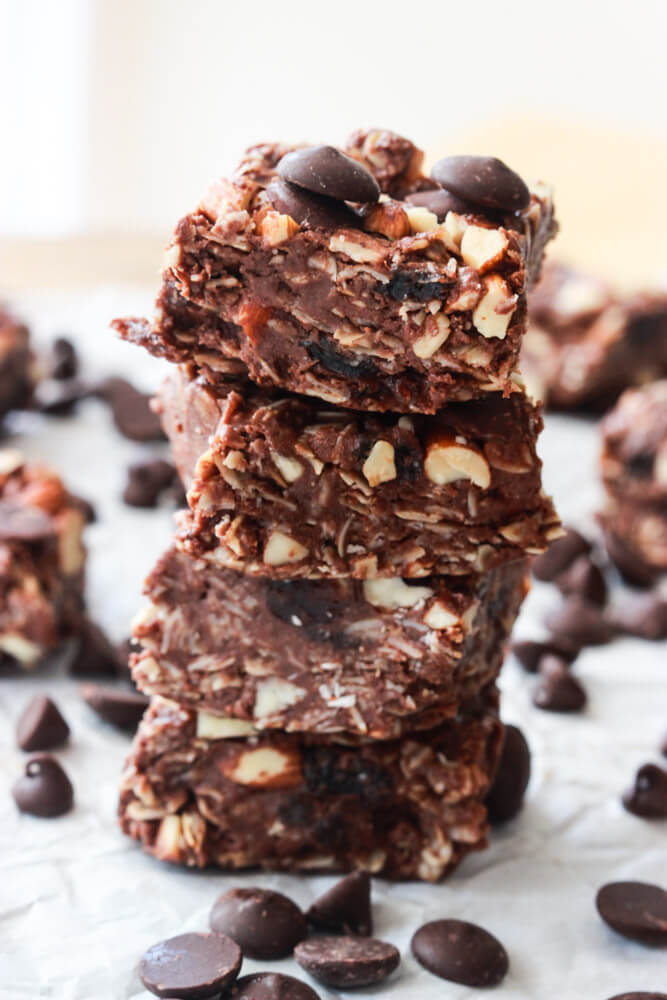 I love my mom SO much and our personalities could not be any different but in so many ways I am just like her. For example, now I'm the parent that constantly says not to junk food when my child picks up everything bagged or boxed at the grocery store. It takes me back right to my childhood days.
Now, I'm not a complete health freak but I do read my labels and buy organic 80% of the time and avoid anything that can be eaten from a bag, besides vegetables and do let my child enjoy his chips, ice cream or whatever else his little heart desires once in a while but for the most part, I try to pack healthy lunches and cook healthy dinners.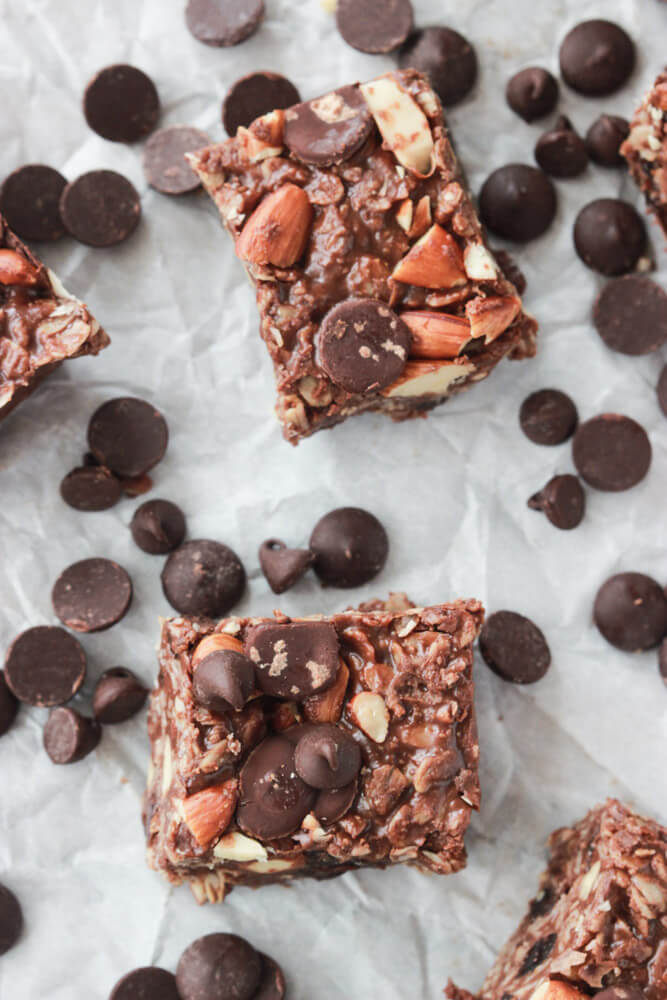 So with that said, I pretty much avoid breakfast bar isle at the grocery store as I have yet to come across anything that doesn't have foreign ingredients that I can't pronounce. So when I came across these No-Bake Chocolate Almond Oat Bars in Martha Stewart Living, September 2014 issue they reminded me of a breakfast bar but with A LOT of chocolate and actual real ingredients that I know! I would have these more for a dessert than breakfast but if you're a lover of chocolate for breakfast then go for it. They are perfect!
They are packed with ton of oats, almonds, almond butter (have you tried Justin's ?!- oh my it is to die for!), honey, chocolate, and raisins. I love the idea that they are no bake and hardly any time to make. They're super nutty, grainy, sweet and just perfect with glass of milk or cup of hot tea. I cut mine super tiny and packed a couple in my son's lunch, which he really enjoyed as a little treat to his "boring healthy" lunch.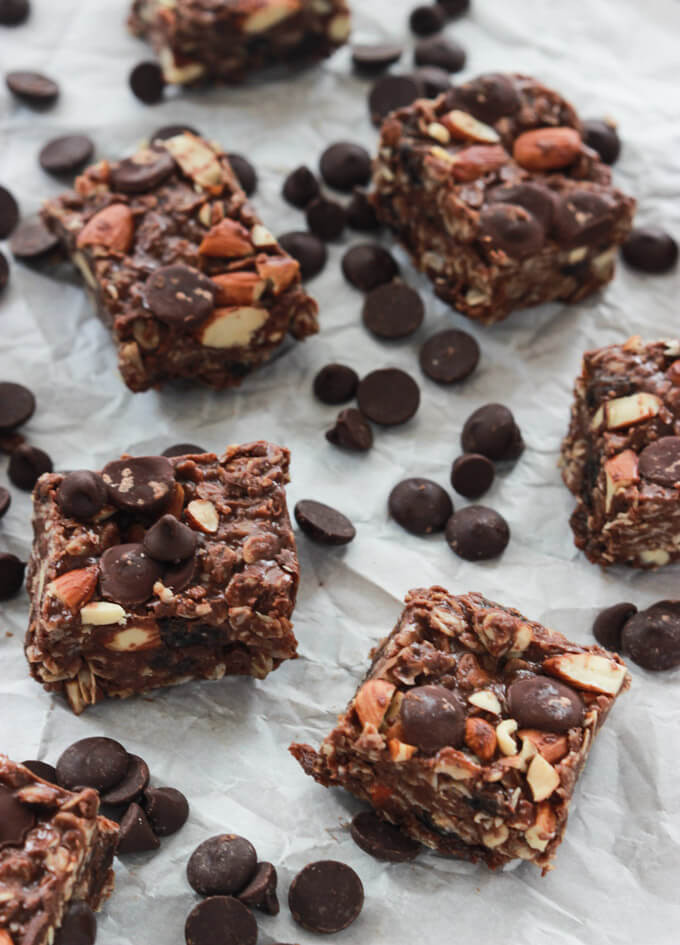 Cheers!
Print No-Bake Chocolate Almond Oat Bars
Prep Time:

10 mins

Cook Time:

6 mins

Total Time:

16 mins

Yield:

16

square bars

1

x
---
1 cup

smooth almond butter

1/3 cup

honey

1

stick unsalted butter

2 cups

rolled old-fashioned oats

1/2 cup

chopped toasted almonds

6 oz

. bittersweet chocolate chips (I used Ghirardelli brand)

3/4 cup

raisins

1/2 tsp

. coarse salt
cooking spray
---
Instructions
In a small saucepan, melt almond butter, honey, and butter over medium heat, stirring frequently.
Remove from heat and add the remaining ingredients, mixing until the chocolate melts.
Line 8X8 inch square baking pan with parchment paper, leaving extra parchment on the sides. Spray with cooking spray.
Pour the mixture into the prepared pan. Cover and refrigerate in the refrigerator overnight.
Use the parchment to remove the chocolate from the pan. Cut into squares and serve.
---