Raspberry Brownies
These raspberry brownies are a chocolate lovers dream! There's nothing better than the combination of rich chocolate and tangy raspberries all baked together in one easy dessert.
What are Raspberry Brownies?
These rich chocolate brownies would be great on their own, but the addition of fresh raspberries takes them to the next level.
The tangy raspberry flavor, creamy cheesecake, and dark chocolate are the perfect combination for the ultimate dessert. These are hands-down the best brownies you'll ever taste!
Ingredients
These simple ingredients can be found at your local grocery store if you don't already have them in your kitchen at home.
Cocoa powder – Quality cocoa powder will give these brownies a deep flavor.
Flour – All-purpose flour works great here.
Kosher salt – A little salt balances the richness of the brownies.
Eggs – Use large, room-temperature eggs.
Butter – Melt and cool the butter before using.
Vanilla extract – Pure vanilla extract is best.
Granulated sugar – Level the sugar with a knife.
Brown sugar – Pack the brown sugar tightly in the measuring cup before leveling.
Raspberry puree – Fresh berries are best for making the puree.
Cream cheese – Ensure the cream cheese is softened before combining.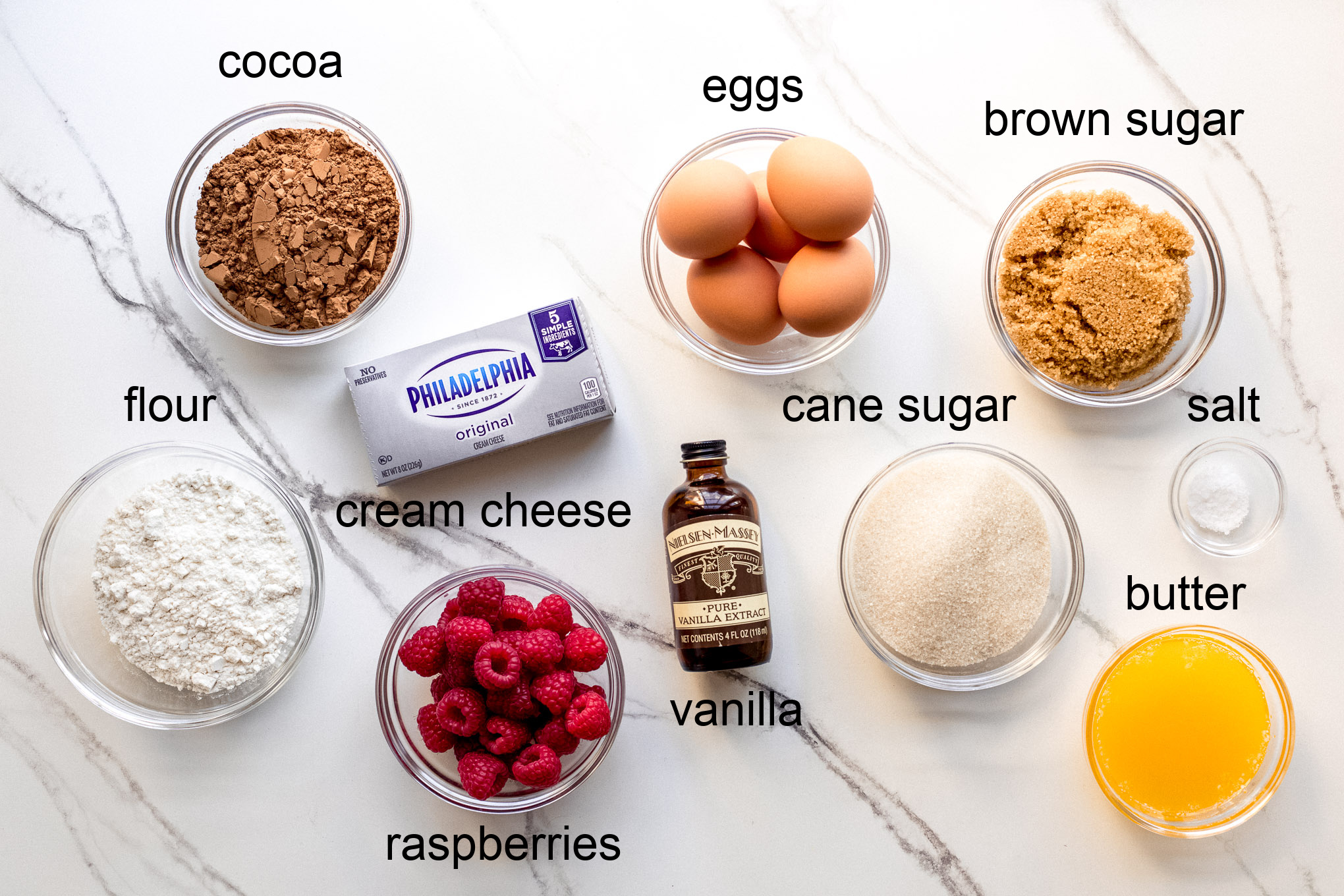 How to Make Raspberry Brownies
The steps to make these fudgy raspberry brownies are super simple! See the recipe card below for a full description.
In a mixing bowl, beat together the sugars with melted butter. Then add eggs and vanilla.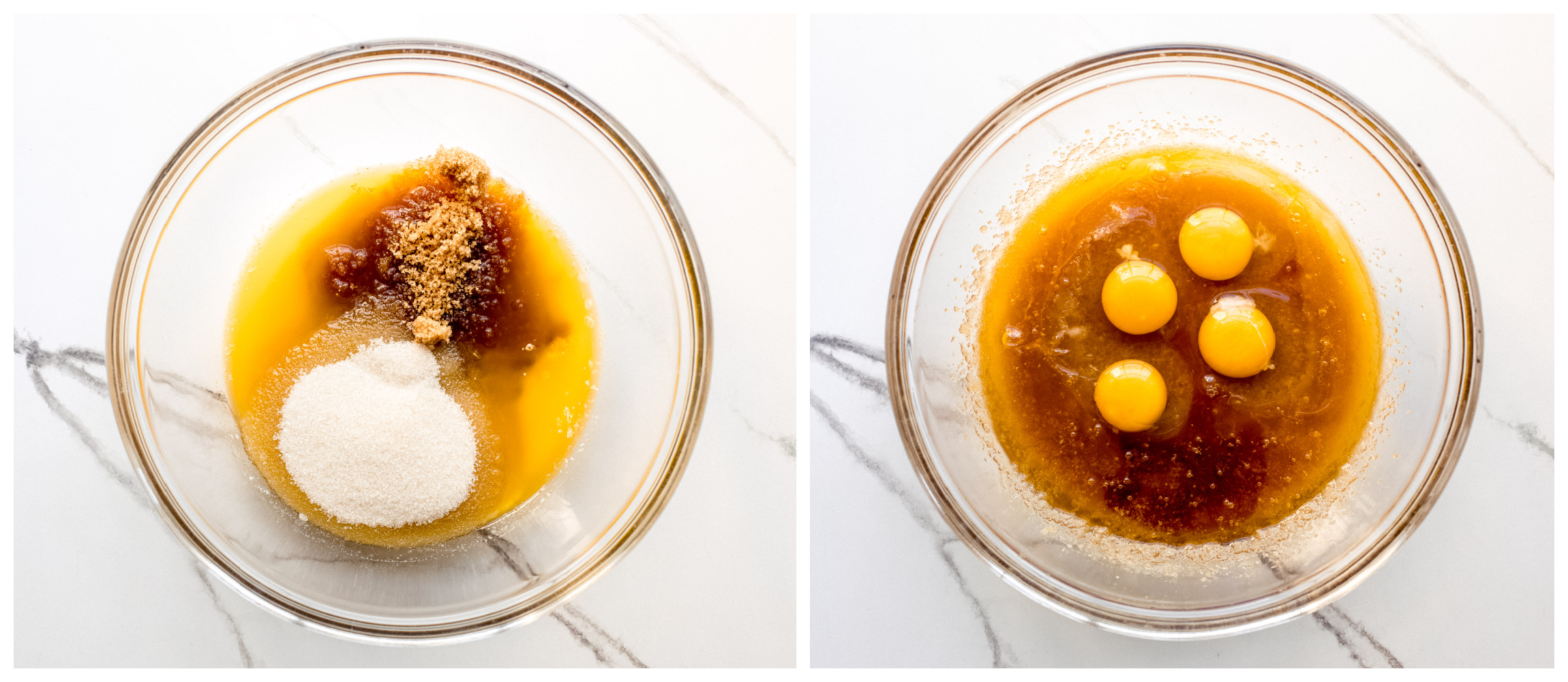 Whisk together the cocoa powder, flour, and salt, and add to the wet ingredients.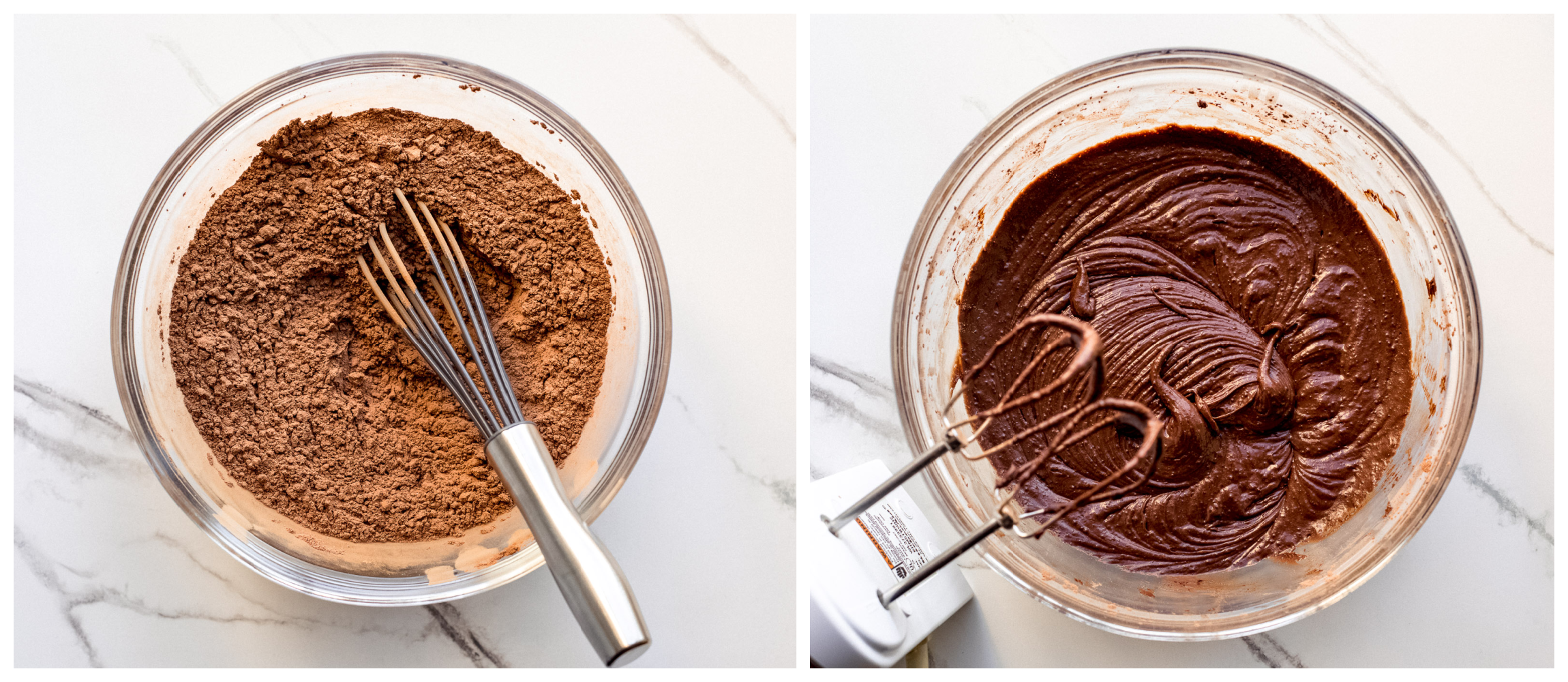 Make the raspberry puree in a food processor.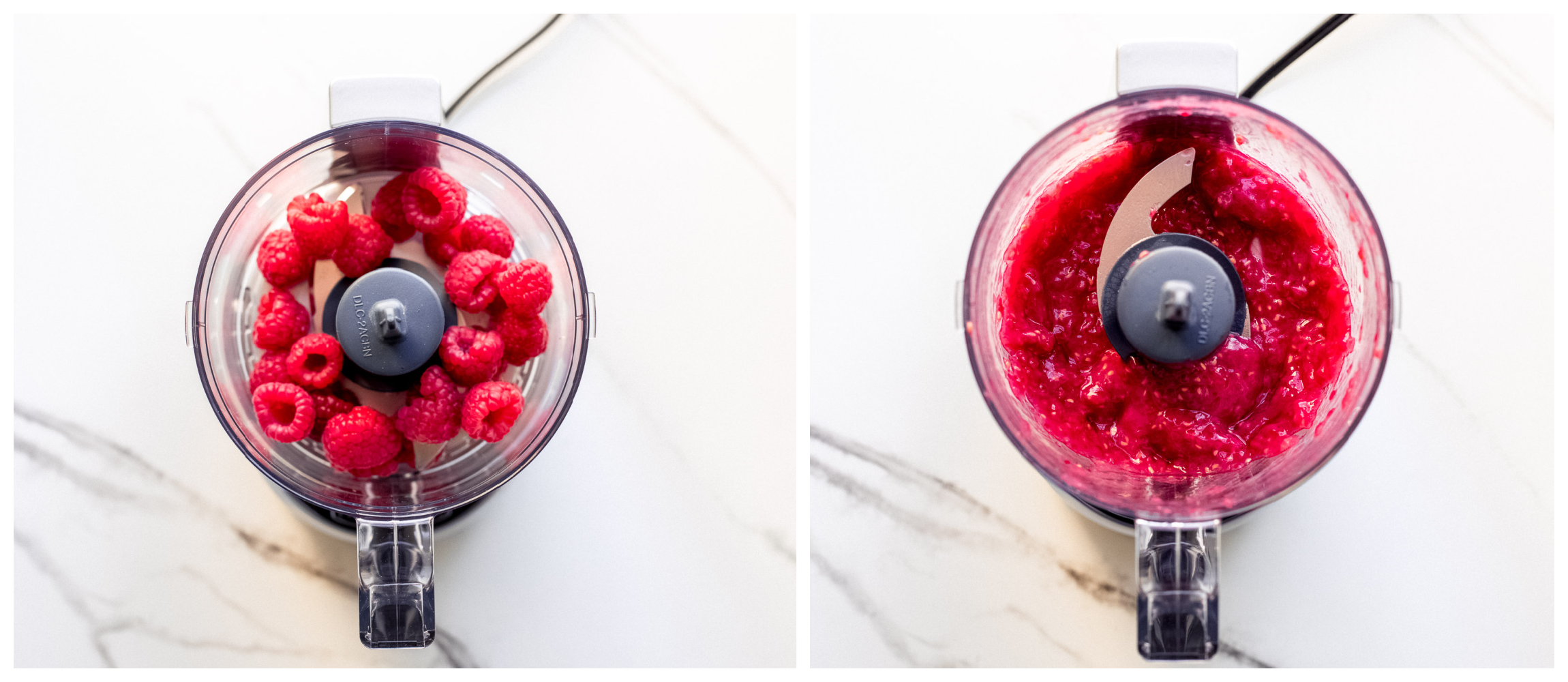 In a separate bowl, beat cream cheese until smooth and creamy. Add in the sugar, egg, vanilla, salt, and flour.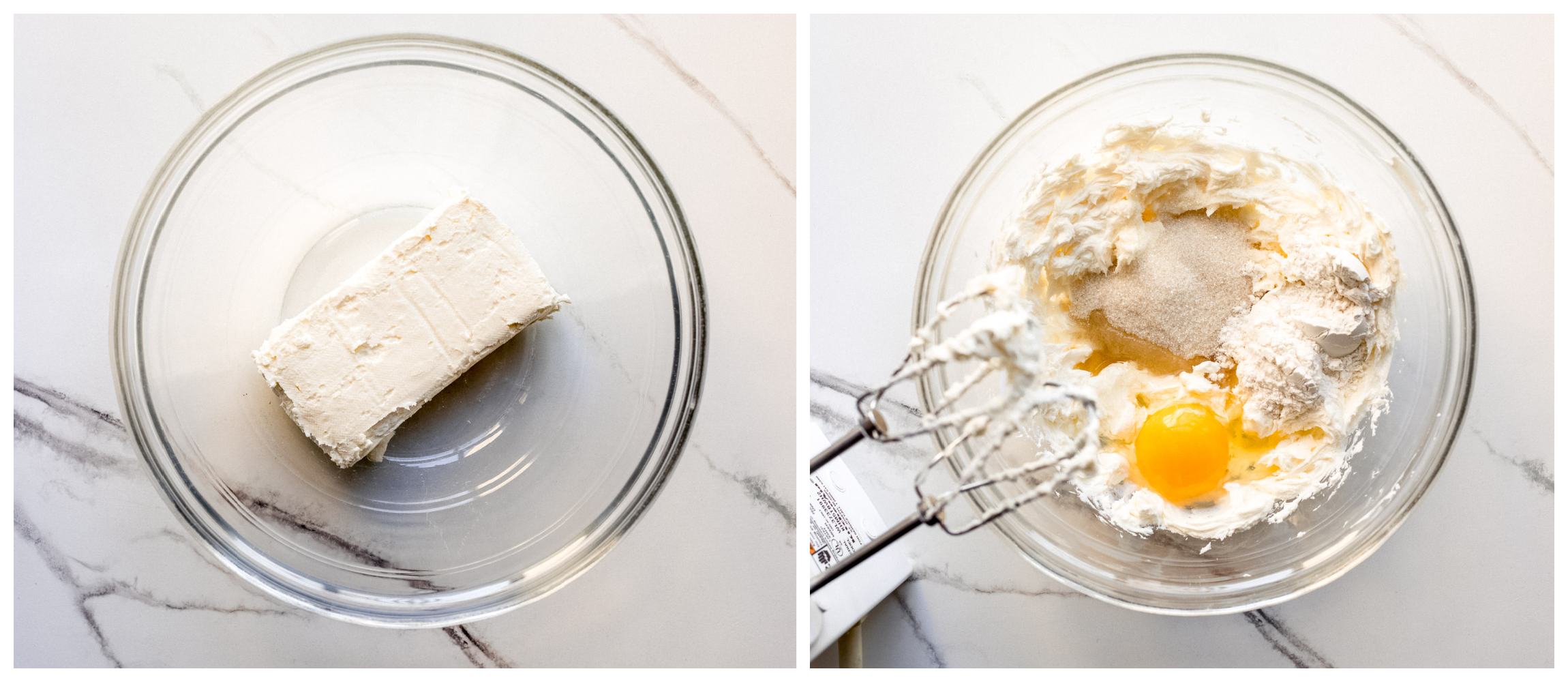 Stir in the raspberry puree into the cheesecake batter.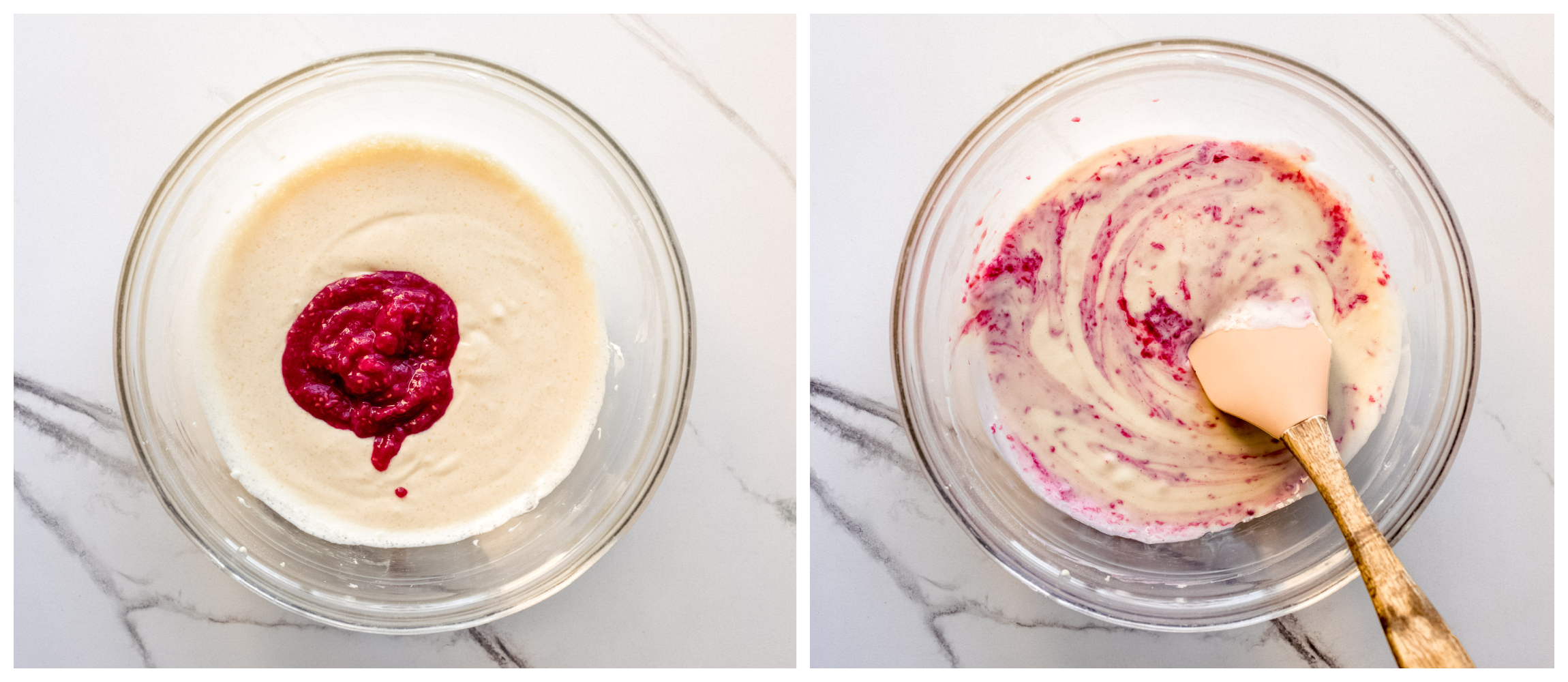 Pour the brownie batter into a 9X13 pan, reserving 1/2 cup, then pour the cheesecake layer over the top. Add dollops of the rest of the brownie batter on top of the cheesecake.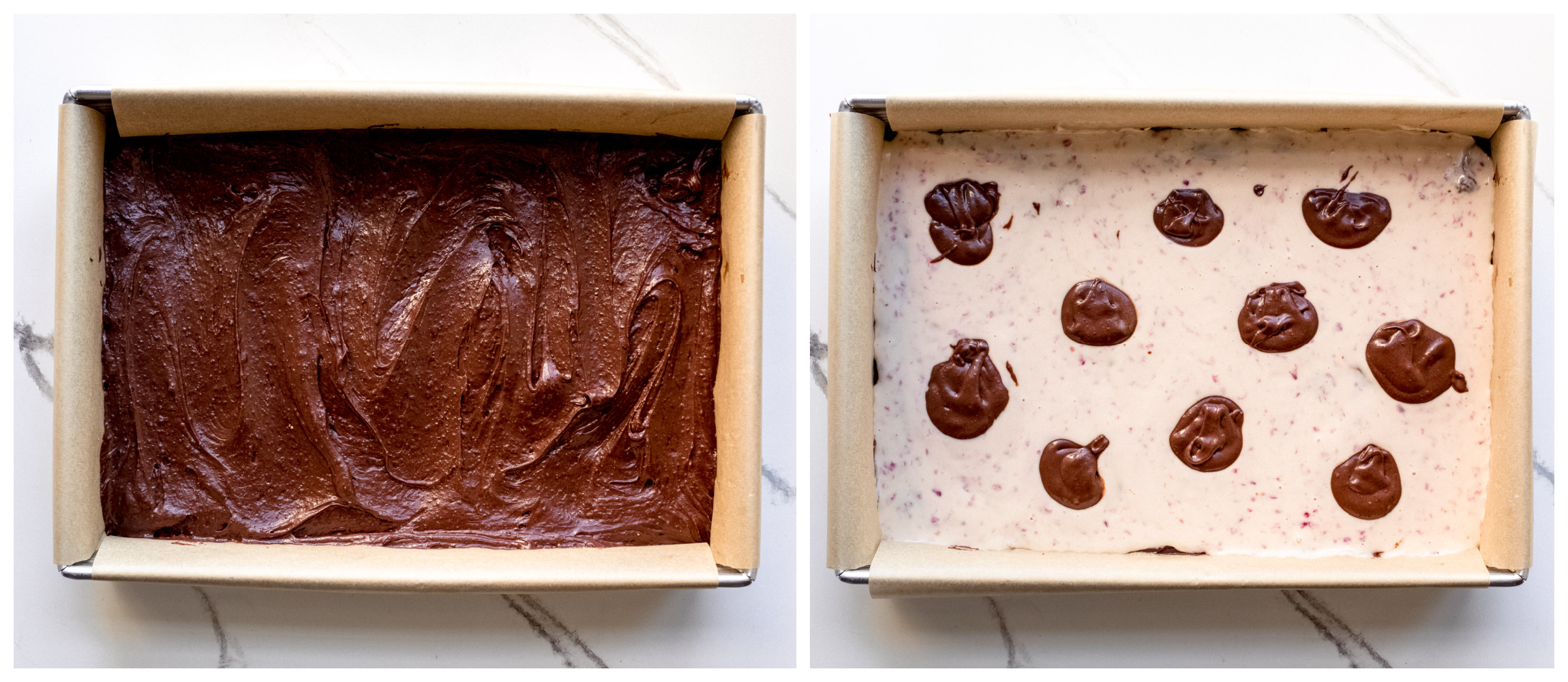 Make a swirl pattern with a knife and press fresh raspberries into the top if desired.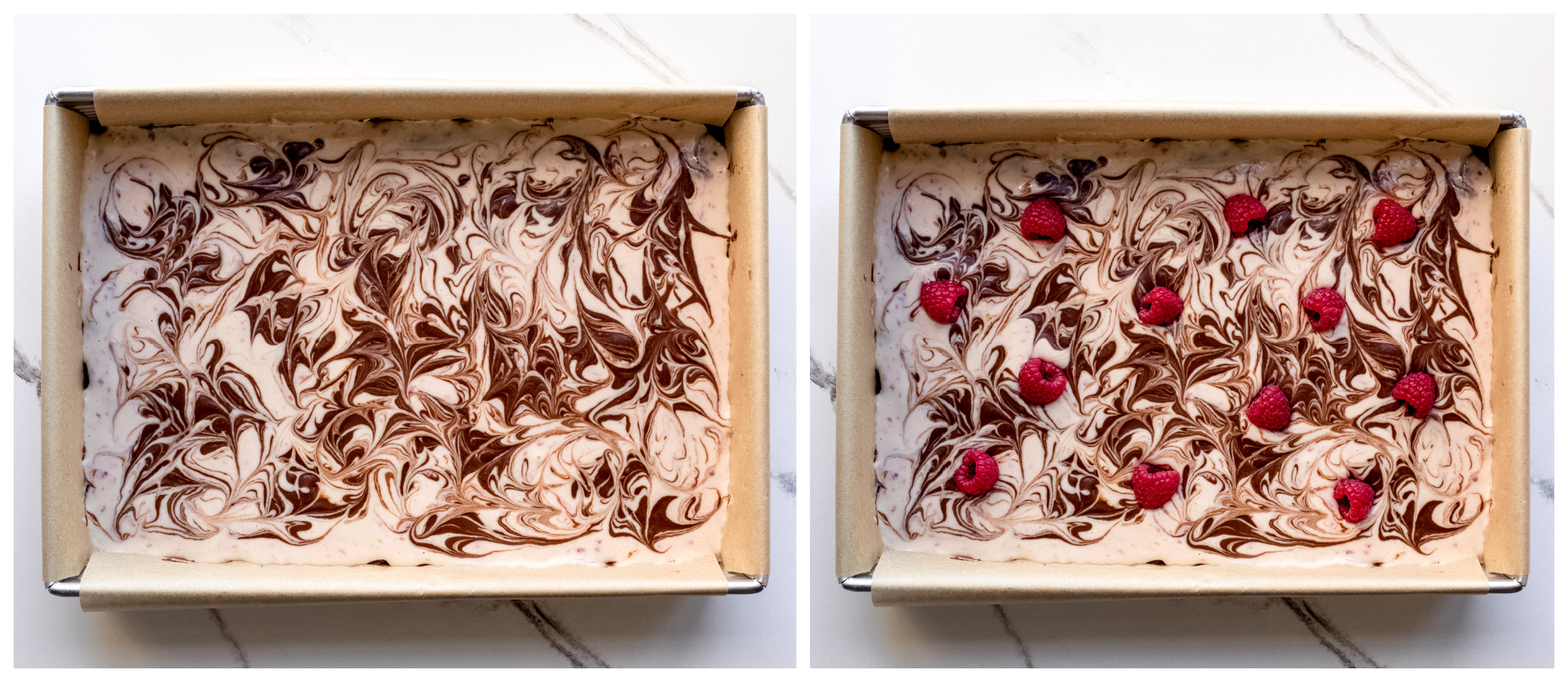 Bake at 350F for 30-40 minutes. Cool in the pan. Cut them into squares, and enjoy.
How to Tell When Brownies are Done Baking
Although it would be great if we could just put a pan of brownies in the oven, set the time, and pull them out when the timer dings and get perfectly cooked brownies, this often isn't the case. This is because there are varying factors that affect how your oven cooks even day to day.
Use a toothpick to check. In order to make sure the brownies are cooked perfectly, you can use a toothpick or wooden baking stick to check.
For fudgier brownies. The center of the brownies should no longer giggle and set to the touch. To check for doneness, insert the toothpick into the center of the brownies, the toothpick should come out dirty with crumbs on it but not be covered with wet batter.
For firmer brownies. The toothpick should come out almost clean but with a few moist crumbs clinging to the stick. You also don't want the stick to be completely dry either.
Brownies continue to bake out of the oven. Remember brownies continue to cook slightly after you take them out of the oven so you don't want them overcooked when you take them out of the oven.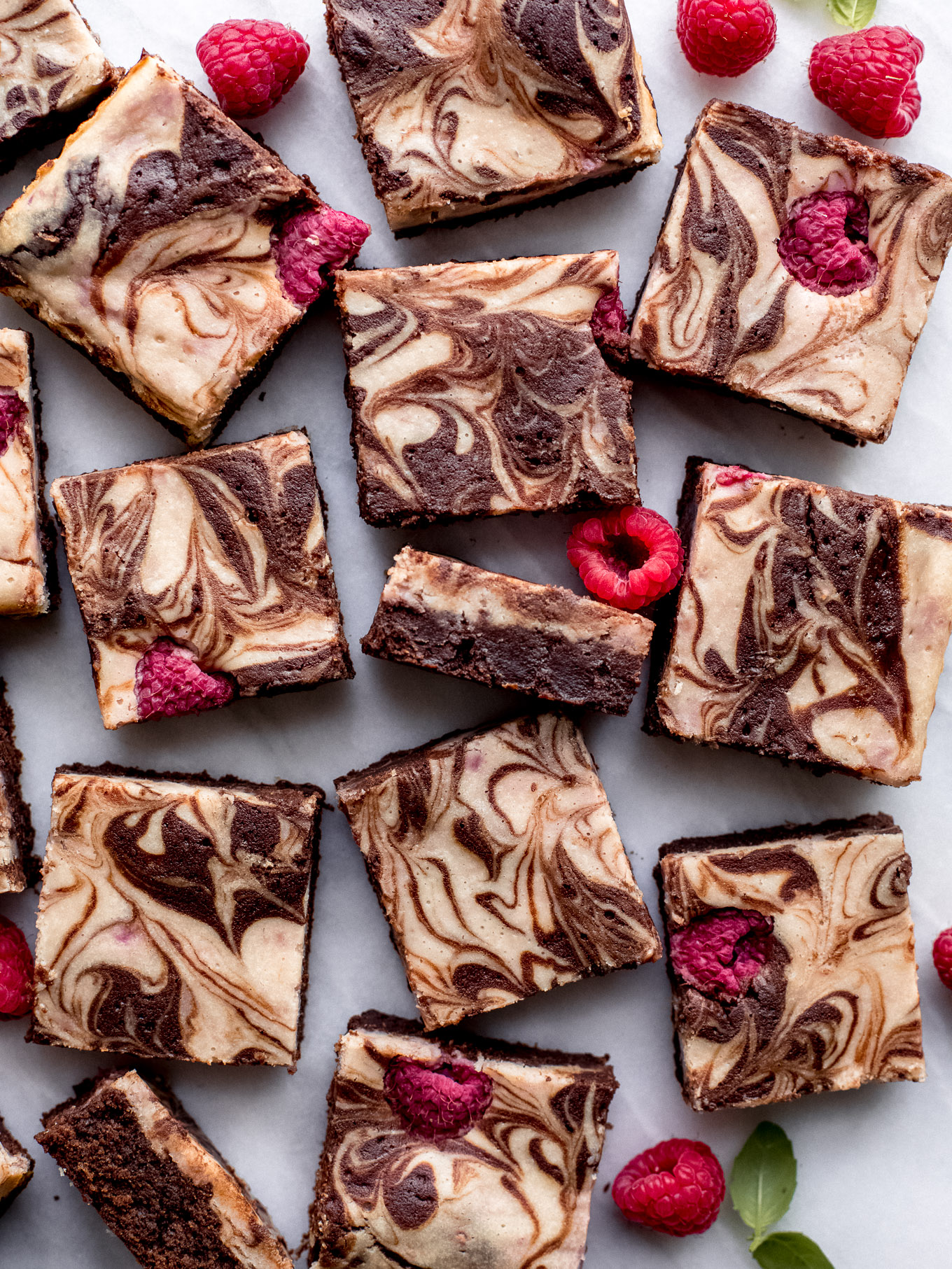 Recipe Tips
Here are some tips and tricks to help you make the best chocolate raspberry brownies.
Add fresh raspberries. Feel free to scatter fresh raspberries over the top of the batter before baking. The tartness of the raspberries pairs so well with the rich chocolate brownies.
Make sure to cool all the way! Allow the brownies to cool completely to room temperature or about 1 hour before cutting otherwise they'll crumble and won't hold together well.
Garnish. Sift confectioner's sugar over the top after they've cooled for a beautiful presentation.
Serve as many as 24. Cut them into 12-16 large squares or 24 small squares.
Variations
This chocolate dessert is easy to make changes to if you prefer. Here are some ideas to get you started.
Use other berries. Instead of fresh raspberries, you can use raspberry jam or other favorite berry jam or fruit, such as strawberries or blackberries.
Add caramel sauce. Substitute the raspberries for caramel sauce for an extra gooey dessert.
Sprinkle in some cinnamon. The sweet and woody taste of cinnamon pairs exceptionally well with chocolate.
Add toasted nuts. Crushed walnuts, almonds, or pecans.
For extra rich taste. Toss in a few dark chocolate chips for an even more chocolatey flavor.
How to Serve
Serve these rich and delicious brownies on their own with a sprinkle of confectioners' sugar for a special occasion like Valentine's Day, after-dinner dessert, or for an afternoon snack.
You can also transform your brownies with the addition of toppings. Here are a few of our favorites:
Ice cream
Whipped cream
Chopped nuts
Fruit syrup
Caramel sauce
Storing Tips
Refrigerate: Store these raspberry chocolate brownies in an airtight container in the refrigerator for up to five days.
Freeze: These brownies are also great to freeze! Once they've cooled and been cut, place them in a large freezer bag and lay them flat in the freezer for up to three months.
To thaw, place a couple of brownies in another container or bag in the fridge overnight or until thawed all the way through.
FAQs
How long does it take to cook raspberry brownies? 
These brownies only take about 30-40 minutes to bake in the oven. Be sure to check before pulling them out of the oven to ensure they're cooked properly.  
Are these brownies more cakey or fudgy?
This raspberry brownie recipe is fudgy and pairs wonderfully with the creamy cheesecake layer! For firmer brownies, simply bake them a little longer.
Can I make raspberry brownies ahead of time?
You can certainly make the brownies up to a day ahead of when you need them. It might even be best to make them a little ahead of time since they need to cool completely before cutting.
More Berry Desserts
Print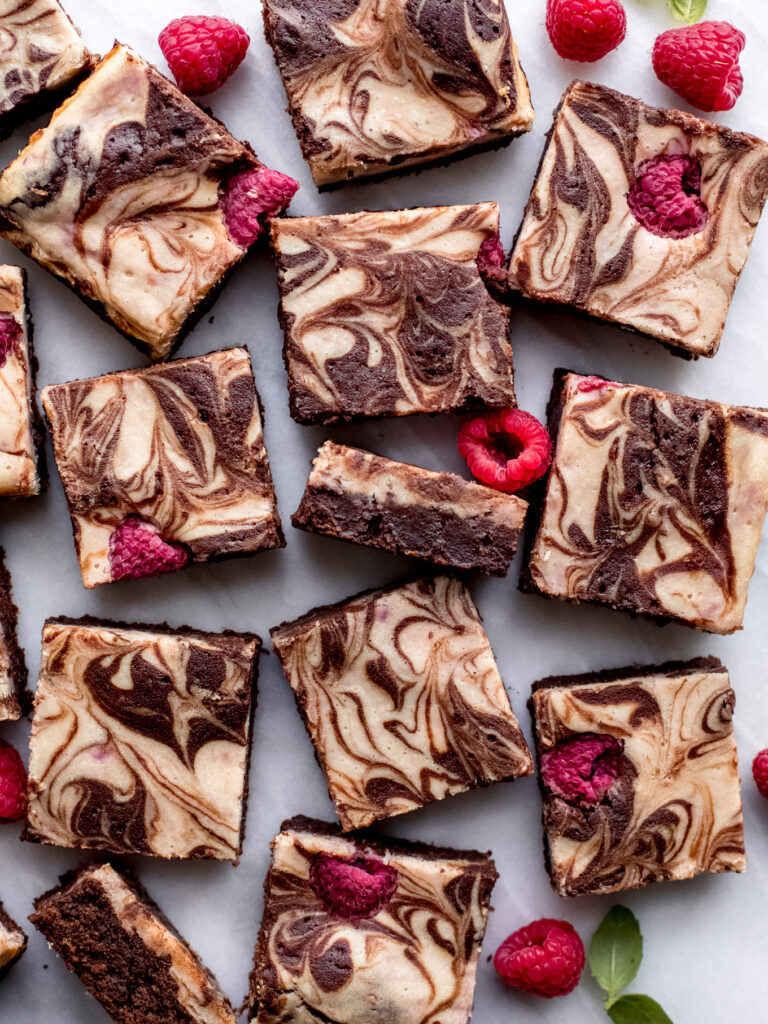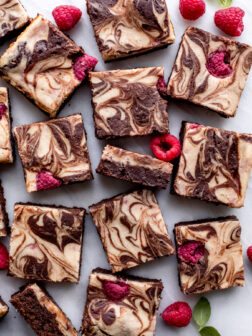 Raspberry Brownies
Author: Katya
Prep Time: 35 mins
Cook Time: 45 mins
Total Time: 1 hour 20 mins
Yield: 24 squares 1x
Category: Dessert
Method: Baked
Cuisine: American
---
Description
These raspberry brownies are a chocolate lovers dream! There's nothing better than the combination of rich chocolate and tangy raspberries all baked together in one easy dessert.
---
Brownie Layer
1 cup unsalted butter, melted and cooled
1 cup cane or granulated sugar
1 cup packed brown sugar
4 large eggs
2 tsp. pure vanilla extract
3/4 cup all-purpose flour, spooned and leveled
1 cup unsweetened natural or dutch-process cocoa powder
1/2 tsp. kosher salt
Raspberry Layer
1/4 cup fresh raspberry puree, about 3 oz. fresh whole raspberries
8 oz. block cream cheese, at room temperature
1/3 cup cane or granulated sugar
1 large egg
1/2 tsp. pure vanilla extract
1/4 tsp. kosher salt
3 Tbsp. all-purpose flour
Optional, for garnish
Fresh raspberries
Confectioners' sugar
---
Instructions
Preheat the oven to 350 degrees F. Line the bottom and sides of a 9X13 pan with parchment paper, leaving an overhang on the sides to lift the finished brownies out.
Brownie Layer
To a large mixing bowl, add melted butter, cane sugar, and brown sugar. Beat with an electric mixer until well combined. 
Add eggs and vanilla. Beat until light and fluffy, about 2-3 minutes.
In a separate bowl, whisk together the flour, cocoa powder, and salt. Add to the wet ingredients and beat on low speed, just until combined, scraping down the sides as needed. Make sure not to overmix.
Raspberry Layer
Add fresh raspberries to a food processor and pulse until puree-like consistency. Alternatively, if you don't have a food processor, add raspberries to a bowl and mash with the back of a fork until puree consistency.
Add softened cream cheese to a mixing bowl and beat with an electric mixer until smooth and creamy, scraping down the sides as needed.
Add sugar, egg, vanilla, salt, and flour. Beat until light and smooth. With a rubber spatula, fold in the raspberry puree.
To Assemble
Reserve about 1/2 cup of the brownie batter in a small bowl and pour the rest of the batter into the prepared pan, smoothing the top out as evenly as possible. Add the raspberry layer on top.
Mix the reserved brownie batter with a tablespoon of water until slightly thinned out. Dollop the thinned-out batter on top of the cheesecake layer. Use a knife or a skewer to glide through the layers to create a swirl pattern. Optional, scatter some fresh raspberries over the top.
Bake for 30-35 minutes for fudgier brownies (if testing with a toothpick, it should come out dirty with crumbs on it) or 37-40 minutes for firmer brownies (or until the toothpick comes out clean). Brownies will continue to bake in the hot pan after removed from oven.
Cool brownies in the pan for about 15-20 minutes. Then lift the brownies out of the pan as a whole using the parchment overhang on the sides and cool on a wire rack for at least 1 hour. Do not try to cut the brownies while still warm or they will crumble. Once cooled, cut into squares with a sharp knife. For extra neat squares, wipe the knife clean between each cut. Optional, sprinkle with confectioners' sugar before serving.
---
Notes
Raspberries: Feel free to use fresh strawberries or blackberries instead. This can also be made with berry or other fruit jam. Jam is sweeter than fresh berries so the cheesecake layer will not have the same tartness.
Few more notes: Do not overmix your batter after you add in the cocoa mixture. A few small lumps are okay. If you prefer fudgier brownies, start checking for doneness at 25 minutes. Remember brownies will continue to cook slightly more after you take them out of the oven. Bake brownies on the middle rack.
Nutrition
Serving Size: 1 square
Calories: 227
Sugar: 21.3 g
Sodium: 88.6 mg
Fat: 12.4 g
Carbohydrates: 28 g
Protein: 3.1 g
Cholesterol: 68.6 mg
Keywords: brownies, holiday, chocolate
Recipe originally published and adapted with changes from Bakers Royale in July 2014.
You May Also Like…