Avocado Pizza
Avocado Pizza on a crispy puff pastry crust with fresh tomatoes, avocado chunks, and the most delicious sauce!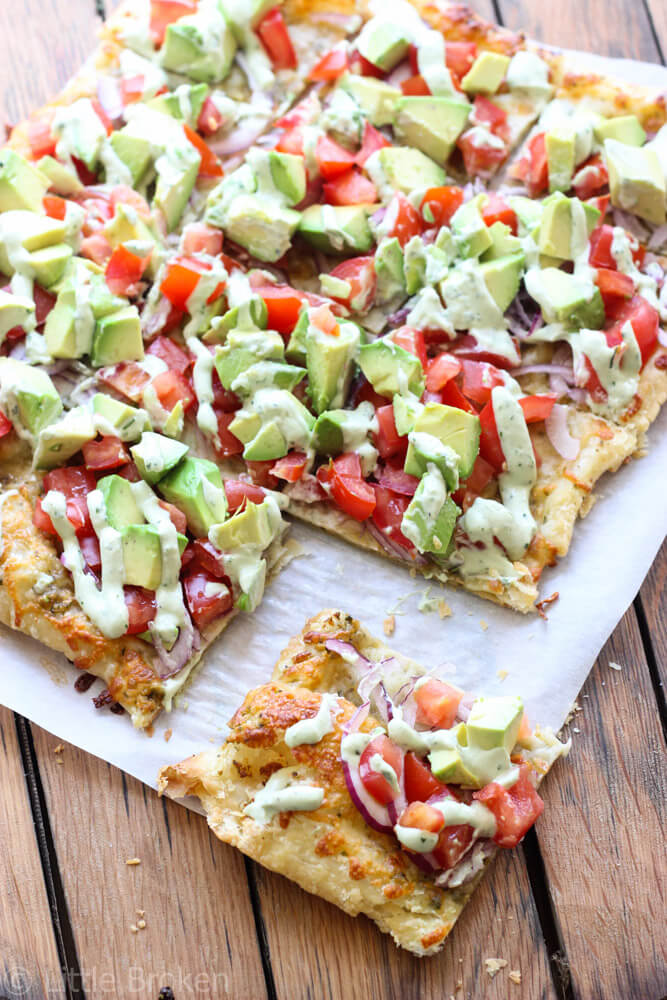 Enjoy this Avocado Pizza with pesto pizza sauce for a vibrant flavor profile that's satisfying and delicious. Once baked, it's topped with freshly chopped vegetables and a creamy avocado sauce.
The pizza crust is made from puff pastry for that light, crispy, and flaky texture.
The homemade pesto sauce for this pizza is a pleasant unique change up to traditional pizza and adds a burst of earthy goodness. Save this pesto recipe for later to use on pesto pasta, crudite platter, and hummus veggie sandwich.
Reasons to Love this Avocado Pizza Recipe
Easy – The sauces are super easy to make. Just blend them in a food processor or high-speed blender. And because we're using premade puff pastry, once baked just add your toppings and enjoy!
Fresh – The pesto pizza sauce and avocado cream are made with fresh produce and other ingredients for the best flavor and earthy goodness.
Light – This vegetarian pizza recipe with pesto has all the best wholesome ingredients without weighing you down.
FLAVOR – Pesto has a defining taste and when combined with fresh vegetables and creamy avocado cream sauce, you'll undoubtedly fall in love with the flavor!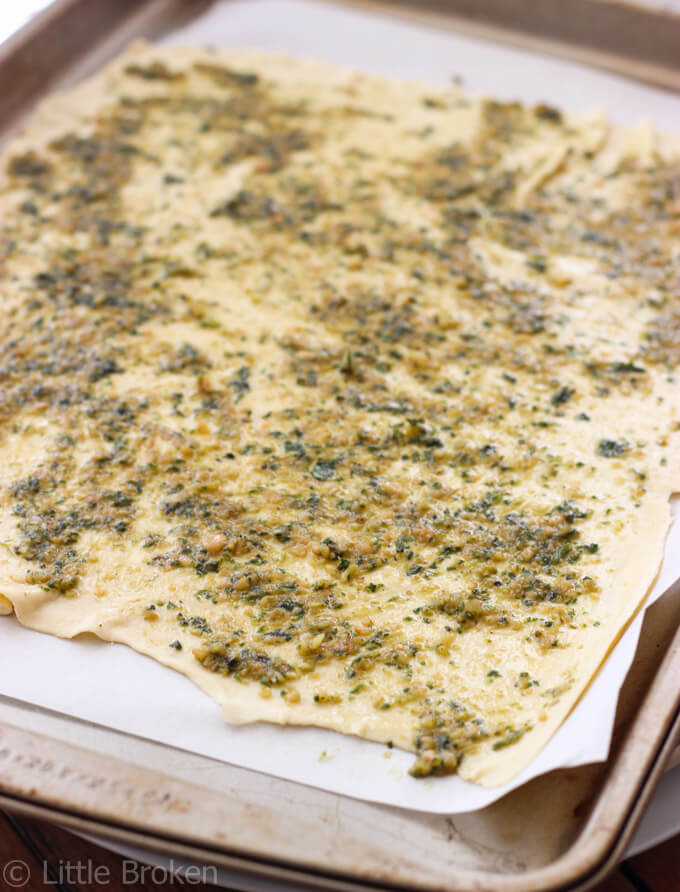 Ingredients
This puff pastry pizza recipe is easy to make, though because we're making the pesto sauce and avocado sauce homemade, and there's a large ingredient list. What's great about making sauces from scratch is you can use them for more than one meal!
Pizza Crust – Puff pastry is flaky and light, and when rolled it has the best texture that holds up to the pesto and chopped vegetables.
Pesto – For this pizza pesto, we use chopped cashews instead of pinenuts. This pesto sauce has a few unique ingredients for a fresh, herby sauce with cilantro, garlic, and green onions with a slight tangy sweetness.
Avocado sauce – Creamy and full of fresh herbs, this sauce is smooth and adds the best flavor to this pesto vegetable pizza recipe.
See the recipe card for quantities and a full list of sauce ingredients.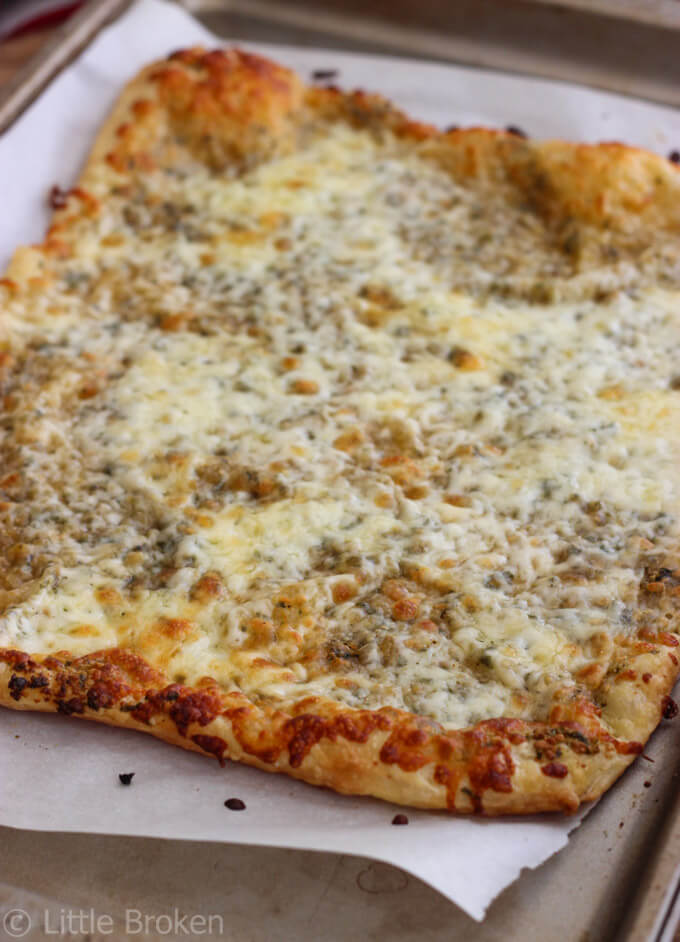 How to Make Pesto Avocado Pizza
Once the sauces are made, this pizza with pesto and avocado comes together quickly.
Preheat the oven and line your baking sheet with parchment paper. You can also use a pizza stone.
Make Pesto – Add pesto ingredients to a food processor and blend until well combined. Scrape down sides to ensure all ingredients are incorporated.
Prepare Pizza – Roll out the puff pastry to about ¼" thick and pierce with a fork. Transfer the puff pastry pizza dough to the baking sheet.
Take the pesto sauce and spread over the puff pastry evenly and then topped with cheese. Bake the pesto pizza for 10 minutes or until the edges are golden and crisp.
Make Avocado Sauce – While baking, make the avocado sauce by adding all the ingredients to the food processor, scraping sides until all well combined and smooth.
Add Toppings – Remove the pizza from the oven and top with chopped red onions, tomatoes, avocado, and as much avocado sauce as you like!
Extra Avocado Sauce? Save any extra avocado sauce to use on top of another recipe like these Chicken and Rice Mexican Bowls or my favorite, Chipotle Chicken Tacos.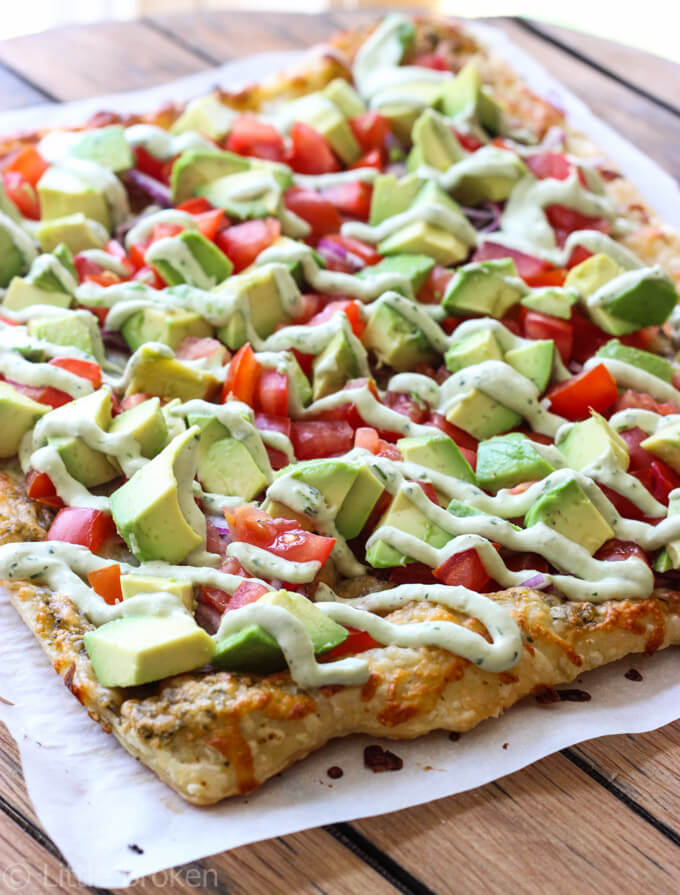 Substitutions
This pizza recipe with avocados is pretty simple and it's also easy to change up a few things to fit your taste.
Pesto – Use store-bought pesto when you want to make this avocado pizza but are running short on time.
Crust – The puff pastry has such an amazing texture that compliments the flavors of the avocado and pesto, but you could also use regular pizza dough or even flatbread. For a pesto flatbread pizza, bake just until the cheese has melted.
Toppings – Switch out or add additional toppings to make this avocado and pesto pizza your own.
Variations and Additions
Avocado pizza is a crowd-pleaser as you can switch up the toppings to make it unique for everyone. While we make this with avocado, red onions, and tomatoes on top, try one of these pizza variations:
Pizza Salad – Add some crisp chopped romaine or spring mix on top for a crunchy bite.
Roasted Vegetables – Add roasted cauliflower as a topping to this avocado pizza with pesto, or any other roasted vegetables you like.
Protein – This pizza with pesto sauce has a lovely balance of flavors, but feel free to add your favorite protein to make this pizza more filling. Sliced chicken breast would be perfect or using leftovers from this Roasted Chicken recipe.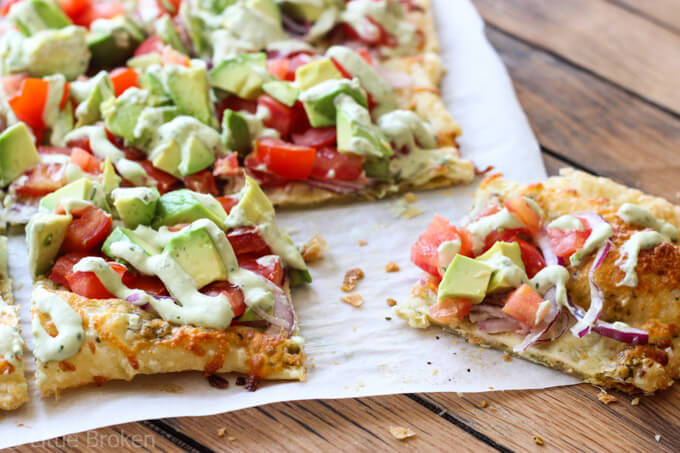 More Pesto Recipes
Print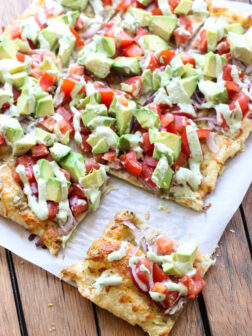 Avocado Pizza Recipe
Author: Katya
Prep Time: 40 mins
Cook Time: 10 mins
Total Time: 50 mins
Yield: 6 1x
Category: Main
Method: Baked
Cuisine: American
---
Description
Avocado pizza with fresh tomatoes, avocado chunks, and the most delicious sauce!
---
Pizza Pesto
3 tsp. white vinegar
1 tsp. balsamic vinegar
1/2 tsp. lemon juice
1/2 tsp. honey
1/8 tsp. turmeric
1/4 tsp. paprika
1/2 cup chopped cashews
2/3 cup fresh cilantro, roughly chopped
2 garlic cloves
2 green onions, roughly chopped
1/2 Tbsp. sugar
1 tsp. black pepper
1 tsp. ground cumin
1/4 cup olive oil
Avocado Sauce
1/2 cup mayonnaise
1/2 cup sour cream
2 Tbsp. milk
1 green onion, roughly chopped
2 garlic cloves
1/2 cup cilantro, roughly chopped
1 ripe avocado
A squeeze of fresh lemon juice
Kosher salt and black pepper
Pizza Toppings
1 sheet of puff pastry, thawed overnight in a refrigerator
1 1/3 cups shredded Italian Five Cheese blend
2 medium tomatoes, seeded, cored, and diced 1/2 inch
1–2 firm-ripe avocados, cubed 1/2 inch
1/2 medium red onion, thinly sliced
---
Instructions
Pizza Pesto
Combine all ingredients in a food processor and pulse until smooth, scraping down the sides as needed.
Avocado Sauce
Combine all ingredients in a food processor and pulse until smooth. You may need to stop the food processor and scrape the sides to blend all ingredients well.
Assembling Pizza
Preheat the oven to 400F.
Roll out puff pastry on a floured surface 1/4″ thick (it does not have to be perfectly round). Pierce the puff pasty with a fork to prevent bubbling and transfer to a parchment lined baking sheet or pizza stone.
Spread the pizza pesto evenly over the puff pasty and sprinkle with cheese. Bake in the oven for 10 minutes or until golden crisp around the edges.
Remove the puff pasty from the oven and set aside to cool slightly. Then layer on the diced tomatoes, avocado, and red onions.
Drizzle with avocado sauce as much as you like. Slice into 12 squares and serve immediately.
---
Notes
Puff Pastry: I used Pepperidge Farm Puff Pastry Sheets from 17.3 oz/1.1 lbs. pkg. which has two sheets but I only used one.
Substitutions: See post for all substitutions.
Leftover Sauce: The ingredients listed are for one pizza, except for Pizza Pesto and Avocado Sauce, which makes enough for a second pizza. Double up on the pizza toppings to make a second pizza and use the second sheet of puff pastry.
Nutrition
Serving Size: 2 squares
Calories: 594
Sugar: 4.5 g
Sodium: 481.8 mg
Fat: 46.6 g
Carbohydrates: 33.3 g
Protein: 14.2 g
Cholesterol: 20.1 mg
Keywords: pizza, avocado, puff pastry