Strawberry Chia Pudding
Strawberry Chia Pudding is a delicious homemade breakfast, snack, or dessert recipe. It's easy to make with fresh strawberries, chia seeds, milk, and maple syrup.
What is Strawberry Chia Pudding?
This cool treat is made by combining the ingredients and allowing the mixture to sit in the fridge for at least two hours for the chia seeds to absorb the moisture.
There's no cooking required for this chia seed pudding, and it can be made with different kinds of milk and easily adapted for a vegan or dairy-free diet.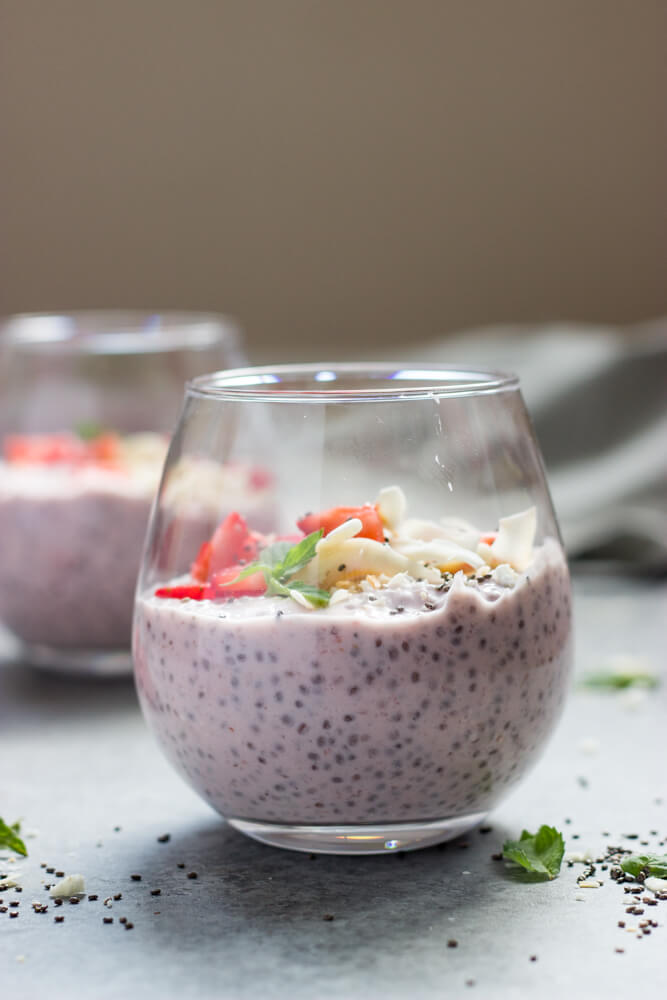 Ingredients
Here are the ingredients for this chia pudding recipe. You can make substitutions from here based on your wants or needs.
Whole Milk: Whole milk has the highest fat content and is best for creating a pudding.
Greek yogurt: Whole milk plain Greek yogurt is thick, creamy, and tangy.
Maple syrup: A little bit of maple syrup adds sweetness. Honey can be used instead.
Vanilla extract: Use pure vanilla extract if at all possible. It has the best flavor.
Salt: A tiny bit of salt enhances the flavors of the other ingredients.
Chia seeds: A quarter cup of chia seeds goes a long way since they swell in the yogurt.
Strawberries: For best flavor, use fresh strawberries.
Coconut flakes: Unsweetened, dried coconut chips add the perfect texture.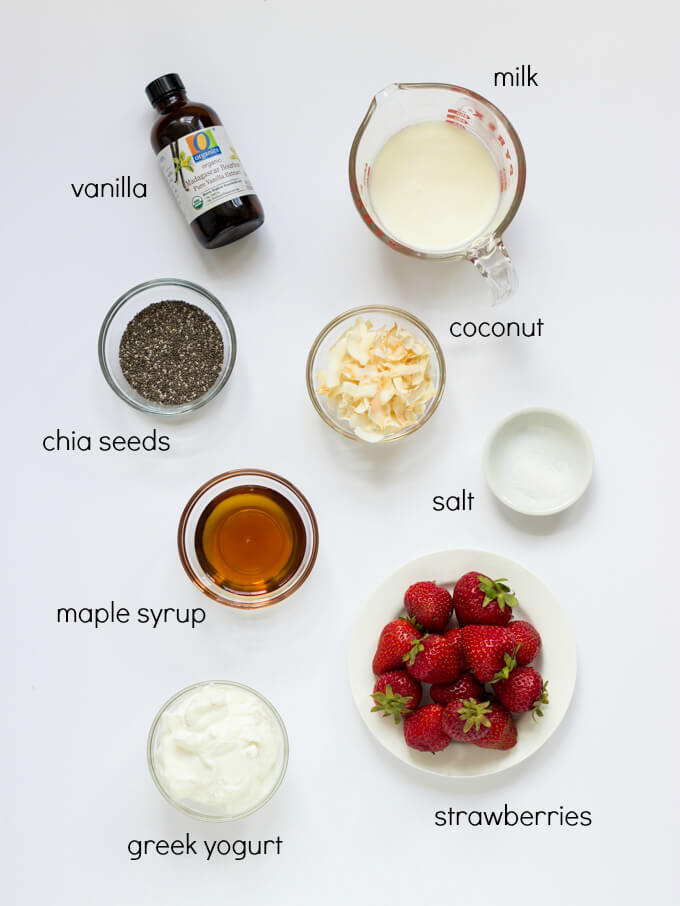 How to Make Strawberry Chia Pudding
There are only a couple of steps to make this gluten-free recipe from scratch.
Step 1: Combine the milk, yogurt, vanilla, chia seeds, maple syrup, and salt in a bowl.
Step 2: Puree the strawberries and add them to the yogurt mixture.
Step 3: Cover and refrigerate for at least two hours up to overnight.
Step 4: Top the pudding with freshly sliced strawberries and coconut chips, and enjoy.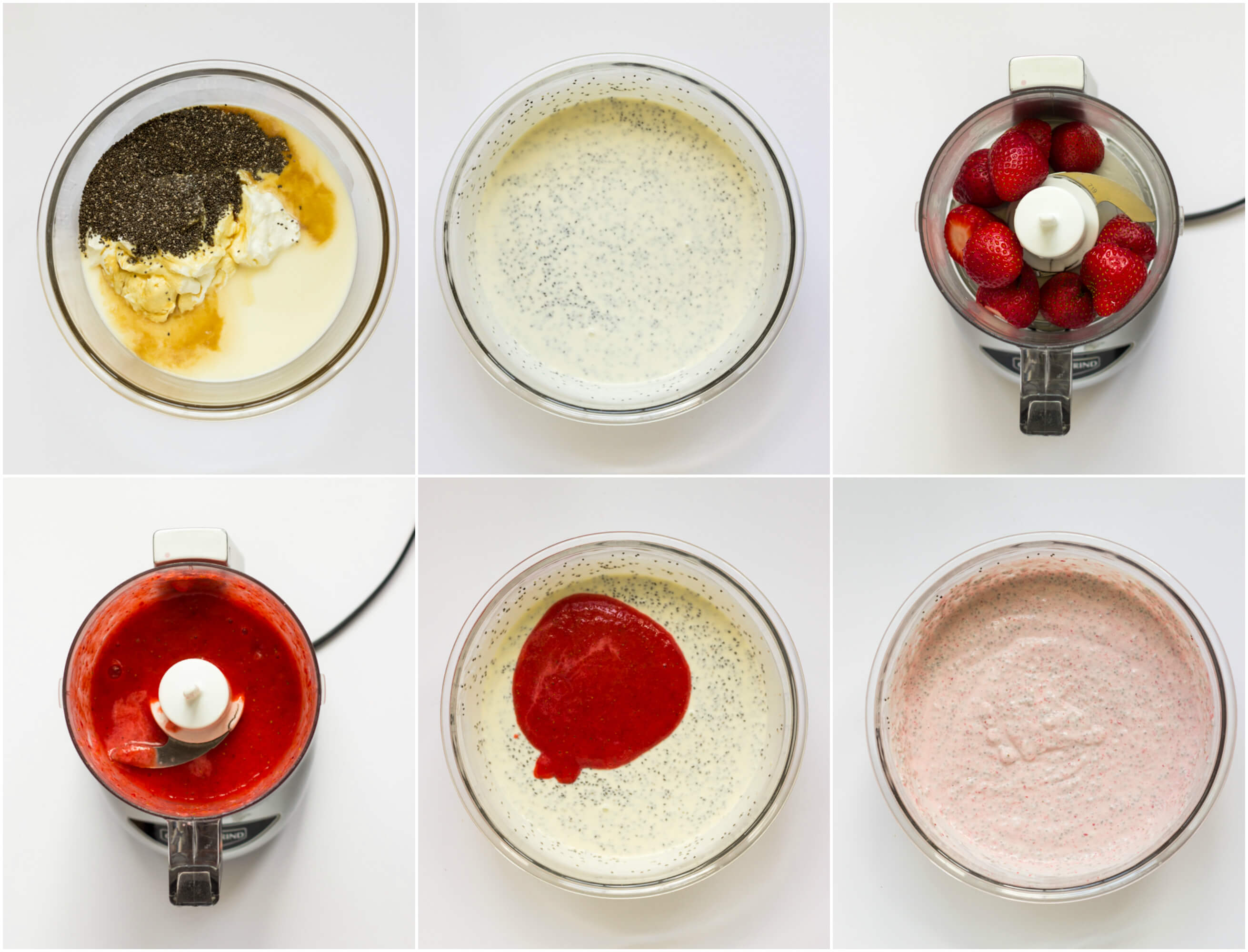 Substitutions and Variations
There are some tasty variations you can make to this sweet treat to make it exactly how you like it. Here are some options:
Milk: Make this pudding dairy-free by substituting almond milk, coconut milk, or oat milk for the whole milk and dairy-free yogurt for the Greek yogurt.
Toppings: Top the individual pudding cups with peanut butter, chocolate chips, vanilla almond flax granola, almond butter, cashew butter, honey, or agave. 
Protein powder: Add a scoop of vanilla protein powder to the pudding to make this snack more filling.
Yogurt: This recipe calls for plain Greek yogurt, but you can use another flavor or style if you prefer. Try strawberry, coconut, peanut butter, lime, or vanilla yogurt instead.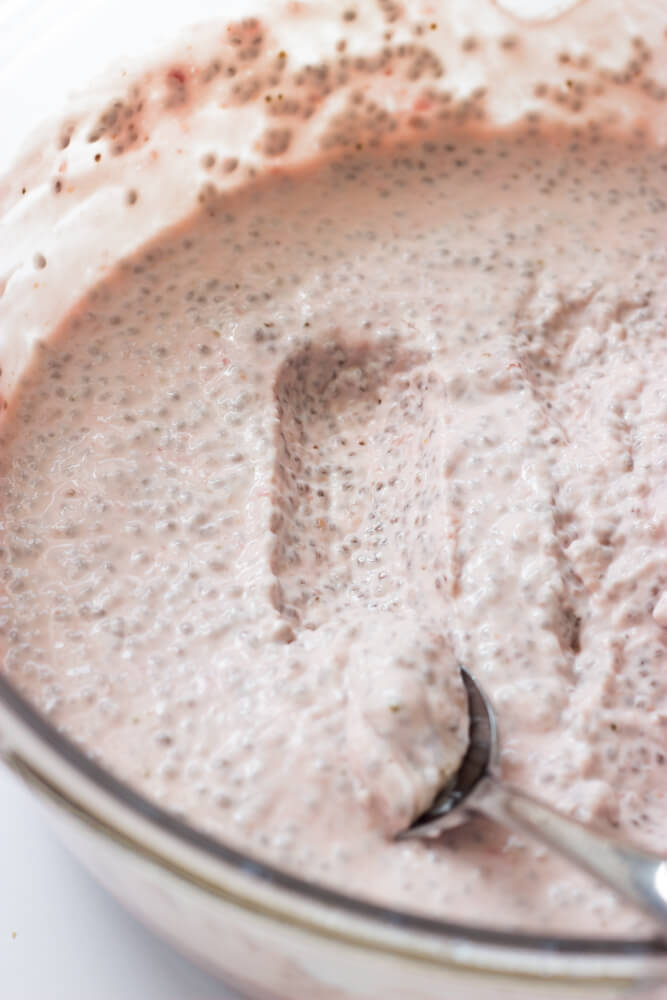 What is the Chia Seed to Liquid Ratio?
The best chia seed to liquid ratio is about 3 to 4 tablespoons of seeds to one cup of liquid. You can change this depending on your preferences as well.
Do you like your pudding thinner or thicker? An easy way to adjust this is to change how many tablespoons of seeds you use.
How to Change the Texture of Chia Seed Pudding?
Chia pudding has a specific texture that lots of people enjoy, however, you can easily change the texture to be smoother and creamier.
To do this, simply pour the prepared yogurt and chia seeds (after they've had a chance to sit in the refrigerator) into a blender and blend until it's nice and smooth. You can then pour it back into the jar and add your favorite toppings.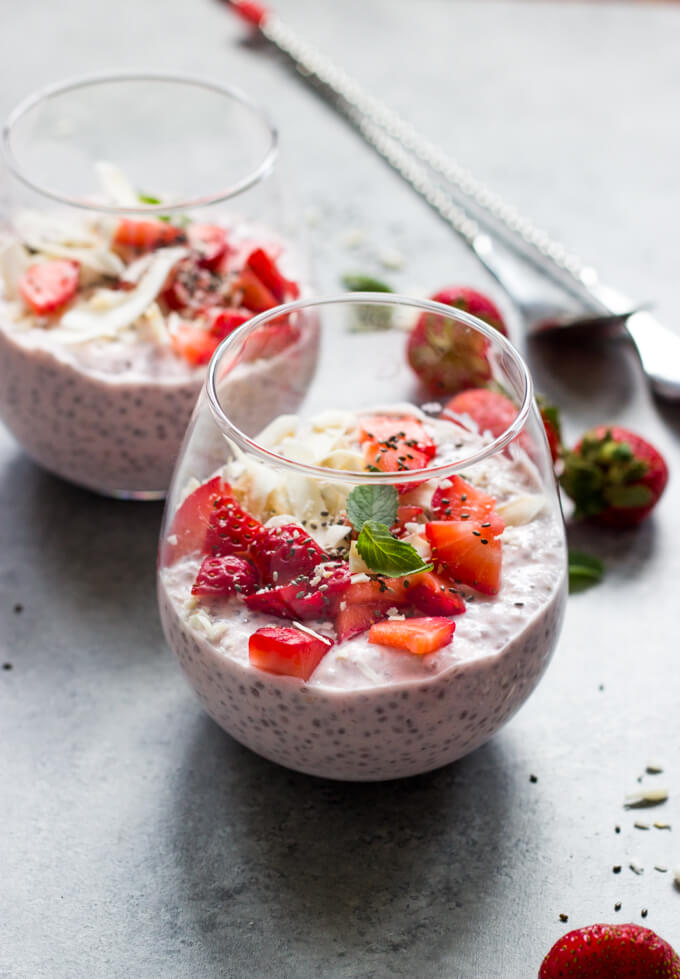 Tips & Notes
There are a few different ways to sweeten chia pudding. This recipe uses maple syrup, but you can use honey, agave, very sweet strawberries, or vanilla yogurt (instead of plain).
Enjoy this pudding alongside other breakfast items. This pudding is a delicious addition to breakfast and can be eaten with Blueberry Ricotta Pancakes, Avocado Toast, Pasta Fritatta, or Ham and Egg Muffins.
Meal prep the chia pudding. Instead of making just one of these tasty chia cups, line up five cups (mason jars work great for this!) and fill them with the ingredients for the pudding. Or freeze for up to a month.
Easily store leftovers in the refrigerator. If you have leftover chia pudding or want to make it in advance, you can easily do this by covering it and putting it in the refrigerator for up to five days. This can be longer if you leave out the strawberry puree before refrigerating it.
Frequently Asked Questions
How to make my chia pudding not clumpy? 
If your chia pudding is clumpy when you take it out of the fridge, be sure to stir it before you add any toppings. This will break up any lumps and make it smooth again. 
Is chia pudding crunchy?
Chia seeds are crunchy, so if you don't have time to allow them to sit in the yogurt for a couple of hours, then you'll notice the crunch when you eat them. 
Why isn't my chia pudding thick enough? 
If your chia pudding isn't thick enough, add more chia seeds and let it sit for about 10 minutes to allow the seeds to absorb some of the liquid. 
Why is my chia pudding bitter?
Chia seeds are slightly bitter before they absorb the moisture from the yogurt. If you didn't let them sit together long enough, your pudding might be on the bitter side. 
More Chia Seed Recipes
Print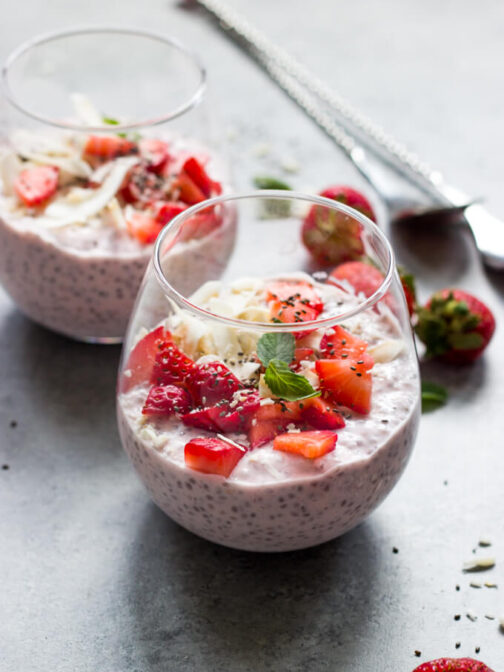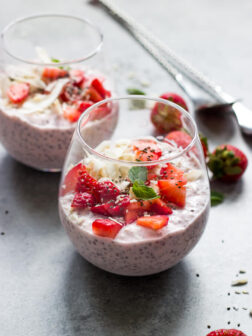 Strawberry Chia Pudding
Author: Katya
Prep Time: 15 mins
Total Time: 15 mins
Yield: 4 1x
Category: Breakfast
Method: Stir
Cuisine: American
---
Description
Quick strawberry coconut chia pudding to enjoy for breakfast, snack, or dessert. No cooking, no fuss, just fresh strawberries, toasted coconut, and creamy pudding.
---
3/4 cup milk (I used whole milk)
1 1/4 cups plain Greek yogurt
2–4 Tbsp. maple syrup
1 tsp. vanilla extract
Pinch of salt
1/4 cup chia seeds
6 oz. fresh strawberries
Toasted coconut chips
Optional toppings: chopped fresh strawberries, chia seeds
---
Instructions
In a medium bowl, whisk the milk, Greek yogurt, maple syrup, vanilla extract, salt, and chia seeds just until blended.
In a food processor or blender process the strawberries until pureed. Add the puree to the chia mixture and whisk to combine.
Cover and refrigerate 2 hours up to overnight.
When ready to serve, spoon the pudding into 4 bowls and top with coconut chips.
---
Nutrition
Serving Size:
Calories: 260
Sugar: 14.1 g
Sodium: 56 mg
Fat: 12.6 g
Carbohydrates: 24.8 g
Protein: 13.3 g
Cholesterol: 16.2 mg
Keywords: on the go, easy, no cook
You May Also Like…