Crunchy Granola Recipe
This Crunchy Granola Recipe is quick, easy to make, and perfect for an afternoon snack or breakfast. It's made with honey, has no added sugar, and is light and filled with oats, nuts, seeds, and dried fruit.
This crunchy granola is an energy-packing snack that will keep you fueled up and ready to take you the day.
You can easily adjust it to match your tastes and preferences by replacing the honey with another natural sugar, leaving out the nuts, or adding rice cereal or chocolate chips.
The beauty of this super crunchy granola is the chewy dried fruit paired with seeds and nuts. The texture combination is out of this world!
What are the best oats to use?
It's best to use oats that can withstand baking and stay whole without crumbling.
Old-fashioned rolled oats are ideal for making granola. They are whole and haven't been processed like quick oats.
Quick oats have been processed and are great for making morning oatmeal or overnight oats. They don't hold up as well as rolled oats when making granola.  
Ingredients
Oats: Rolled oats are best for making granola.
Sunflower seeds: These little seeds are great for texture and added energy.
Almonds: Leave the almonds whole or chop them up for this recipe.
Walnuts: Toasted walnuts are extra nutty and add texture and flavor.
Flax seeds: Fiber-packed flax seeds will keep your energy up during the day.
Coconut oil: Coconut oil adds a slight coconut flavor to the granola.
Honey: Honey is an excellent natural source of sweetener.
Dried fruit: Dried fruit is chewy and adds textural contrast and sweetness to this recipe.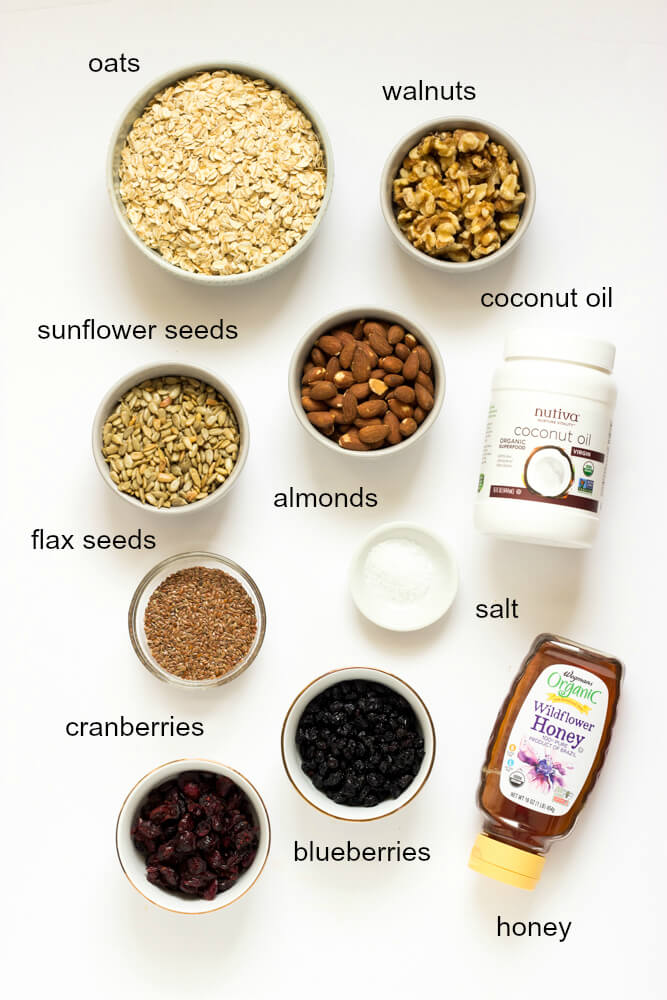 How to make crunchy granola recipe
Here are the directions for making this chunky and nutty granola. For the full recipe, see the recipe card below.
Combine the base mixture: Toss the oats, sunflower seeds, almonds, walnuts, flax seeds, and salt together in a large bowl. Add the coconut oil and honey and stir well with a wooden spoon to ensure every oat and nut is coated.
Bake: Spread the granola mixture evenly onto a parchment paper-lined baking sheet and bake until it's lightly golden brown, stirring halfway.
Cool: Remove the granola from the oven and let it cool completely on the baking sheet without stirring again.
Add the mix-ins: After it's cooled, break it into pieces and mix in the cranberries and blueberries.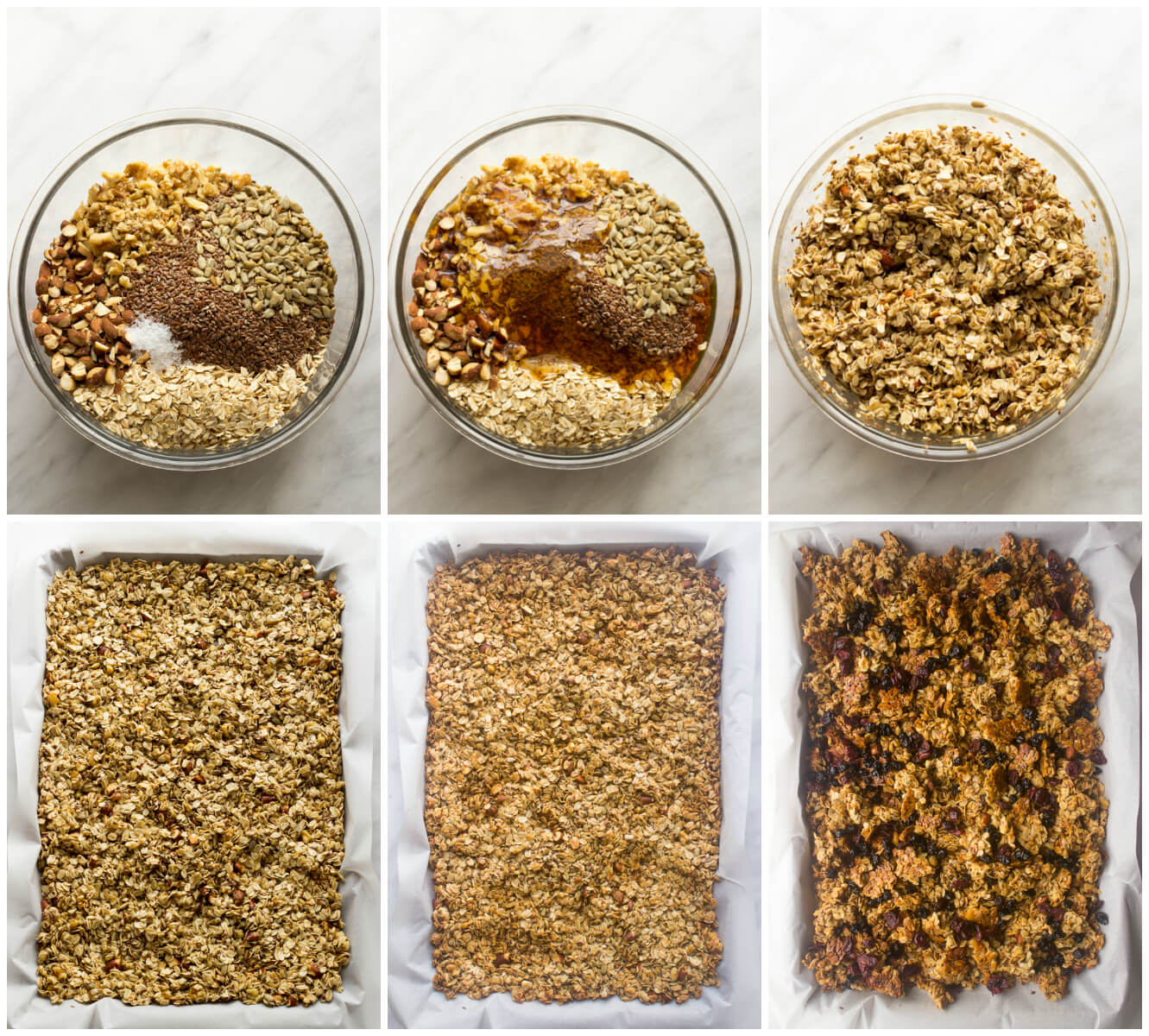 Tips for crunchy granola
This granola recipe is healthy and extra crunchy. Use these tips to make the best granola you've ever tasted.
Try a different sweetener. Try using maple syrup, coconut sugar, or brown sugar in place of the honey. 
Another oil. You can use another neutral oil like light olive oil or avocado oil in place of coconut oil. 
Mix well! Mix until all the ingredients are coated in honey. This helps it stay together better and not fall apart.  
Easy clean-up. Line the baking tray with parchment paper, so it's easier to remove from the pan. 
Stir a few times. Only stir a couple of times in the oven to help toast the oats and nuts, and try not to break it up too much.
For crispy clusters. Cool completely before breaking up the granola on the baking sheet. It will continue to harden as it cools and turn into crispy clusters.
Add-ins. Add the fruit and other mix-ins after the granola is done baking. 
Variations
Here are some tasty variations you can try with this crunchy granola recipe. It's adaptable and easy to make your own.
Dried fruit/zest: Orange or lemon zest, dried strawberries, dried cherries, golden raisins, figs, dates, coconut flakes.
Spices: Cinnamon, ginger, nutmeg, vanilla extract.
Nuts/seeds: Chia seeds, pecans, pumpkin seeds, hazelnuts, pistachios.
Other mix-ins: Rosemary, chocolate chips, crisp rice cereal.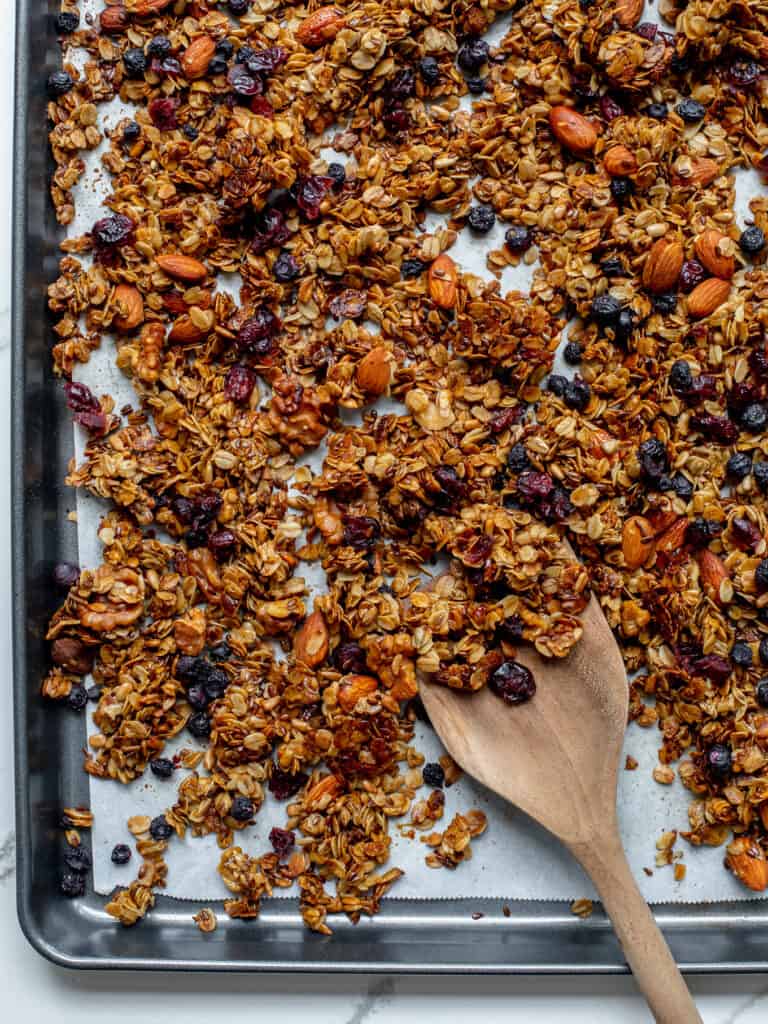 How to serve
This oat and dried fruit granola is delicious served with other breakfast dishes. Here are some tasty options to pair it with:
Yogurt, fresh berries, and drizzled with honey.
Drizzled with nut butter like almond, cashew, or peanut butter and eaten as a snack.
Add it to your favorite oatmeal bowl or smoothie as a crunchy topping.
How to store
On the counter: Keep this crunchy granola in an airtight container on the counter for up to 1-2 weeks.
To refrigerate: Store the granola in a container in the refrigerator if you want it to last longer than one week. You can keep it in the fridge for up to three weeks.
To freeze: You can also freeze homemade granola if you don't plan on using it for a few weeks, and it will stay fresh for up to three months in the freezer.
To meal prep: This is the perfect meal prep recipe. You can make a batch and enjoy it on the go, eat it for an afternoon snack, or add it to your breakfast yogurt.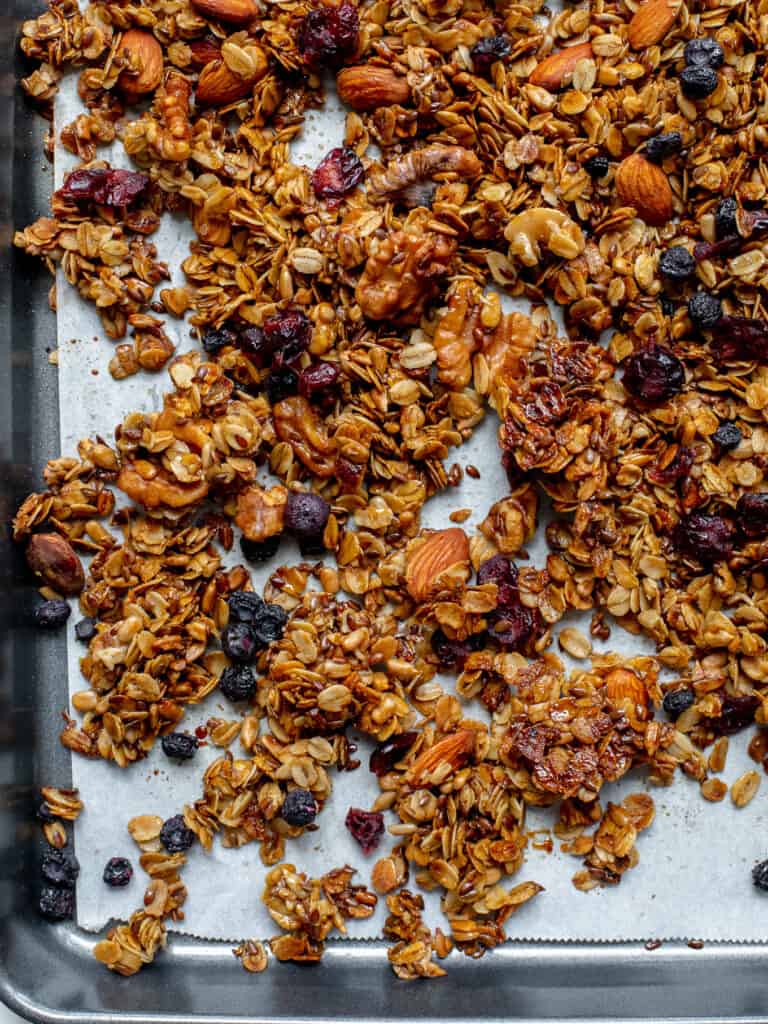 FAQs
Why is my granola chewy, not crunchy?
This can happen if you used too much honey or didn't bake it long enough. It needs to be drier to become crunchy. 
How do you know when granola is done baking?
Granola is done baking when the oats start to brown on the top. This recipe needs around 20 minutes of baking time. 
Why is my granola not sticking together?
There are several reasons why your granola may fall apart after baking. Make sure to use enough honey, use rolled oats, and don't stir until it's cooled completely.  
More oatmeal recipes
Print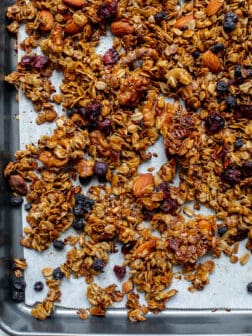 Crunchy Granola Recipe
Author: Katya
Prep Time: 10 mins
Cook Time: 25 mins
Total Time: 35 mins
Yield: 15 1x
Category: Breakfast
Method: Bake
Cuisine: American
---
Description
This granola is lightly sweetened with honey and loaded with wholesome nuts and bright berries! 
---
3 cups old-fashioned rolled oats
1/2 cup unsalted, shelled, sunflower seeds
1/2 cup unsalted whole almonds
1/2 cup walnuts, roughly chopped
1/2 cup flax seeds
1/2 tsp. kosher salt
1/2 cup coconut oil, in liquid form
1/2 cup honey
1 tsp. vanilla extract, optional
1/2 cup dried cranberries
1/2 cup dried blueberries
---
Instructions
Preheat the oven to 325 F and line a large, rimmed baking sheet with parchment paper.
Toss the oats, sunflower seeds, almonds, walnuts, flax seeds, and salt together in a large bowl. Add the coconut oil and honey. Stir really well with a wooden spoon, making sure every oat and nut is coated.
Spread the granola mixture evenly onto the prepared baking sheet and bake for 20-23 minutes or until lightly golden brown, stirring halfway. Keep an eye on it so the granola does not burn. 
Remove the granola from the oven and allow it to cool completely in the baking sheet, undisturbed. It will further crisp up as it cools. Then break into pieces and stir in the cranberries and blueberries.
Store the granola in an airtight container at room temperature for 1-2 weeks. Makes about 7 1/2 cups.
---
Nutrition
Serving Size: 1/2 cup
Calories: 454
Sugar: 18 g
Sodium: 176.4 mg
Fat: 28.9 g
Carbohydrates: 40.9 g
Protein: 10 g
Cholesterol: 0 mg
Keywords: easy, healthy, on the go,
Recipe originally published in January 2017