Thank you to Dunkin' At Home for partnering with me for this post! Today I'm using their Bakery Series® Chocolate Glazed Donut coffee to bring you the most epic coffee smoothie. As always, all opinions stated are my own.
Start the morning off with a delicious coffee smoothie. It's loaded with all things good for you, like oats, chia seeds, almond butter, banana and touch of honey. It's thick, creamy, and absolutely irresistible!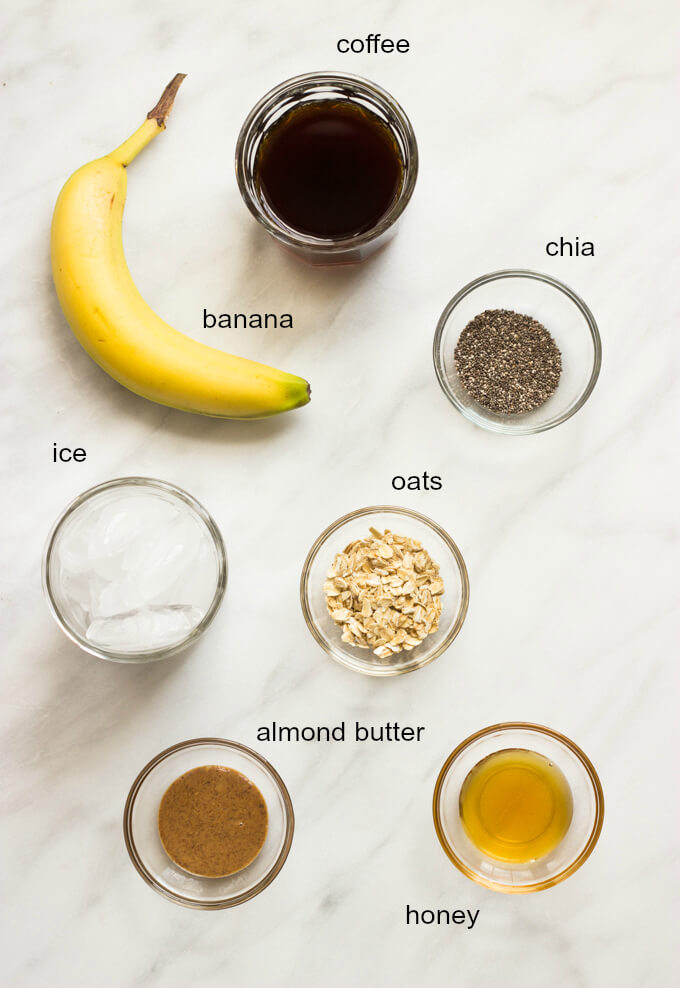 I'm mixing things up today by combining two morning obsessions….coffee and smoothies into ONE! That's right friends a coffee smoothie with one of the best ground coffee in tea bags in the market. It's for all you coffee lovers out there. This is a coffee and banana flavored smoothie that will keep you going until your next meal, whether that's in the morning or an afternoon.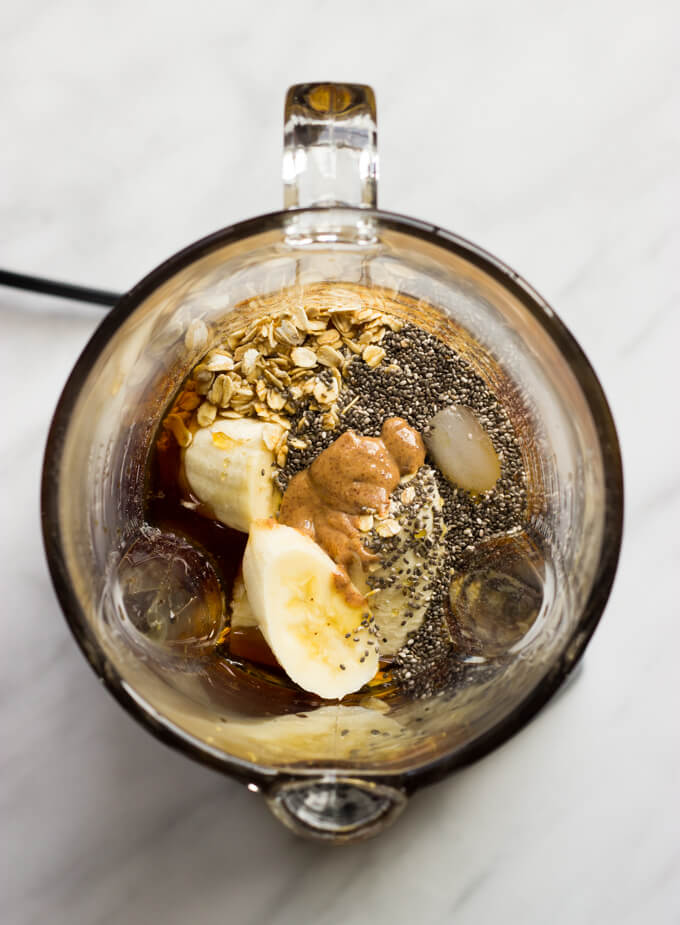 But first I'm going to start with a confessional: I'm not a smoothie person. Like at all! I know, I know. Right? I mean I will have it once in a while but for me to take time out of my day to make a smoothie….never. Even though smoothies take like five seconds to make but still. I guess maybe I prefer to eat my fruit vs. drinking? I don't know but this smoothie guys….it's changing things. Probably because it has coffee in it and coffee we know is life. I mean I don't even know where to begin. I just hope you love it as much as I do and give it a go.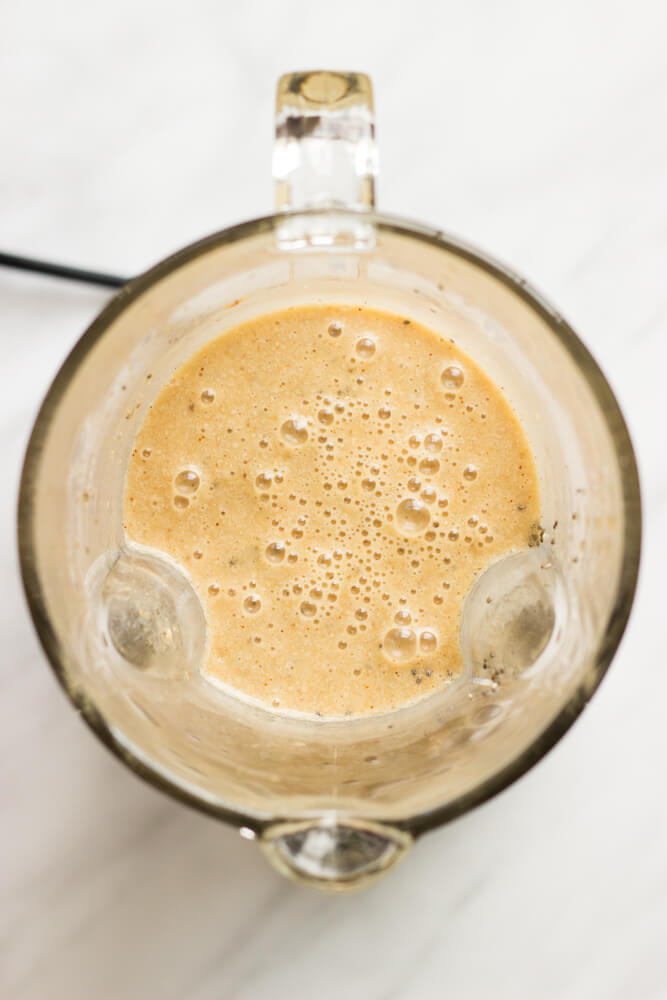 It all starts with brewed coffee. You can use leftover or freshly brewed coffee. I'm using Dunkin' Donuts® Bakery Series® Chocolate Glazed Donut Coffee. It's rich, chocolaty, and the best part…you can pick some up where you buy your groceries. Then the coffee gets blended together with banana, oatmeal, chia seeds, almond butter, honey, and ice. The result is super creamy (like creamy), thick, and lightly sweetened smoothie.
The oats and the chia seeds give the smoothie a nutritional boost, and the almond butter adds just the perfect touch of nutty flavor. Not to mention this protein rich smoothie is dairy free and with just one ingredient swap (oats) you can make it gluten free.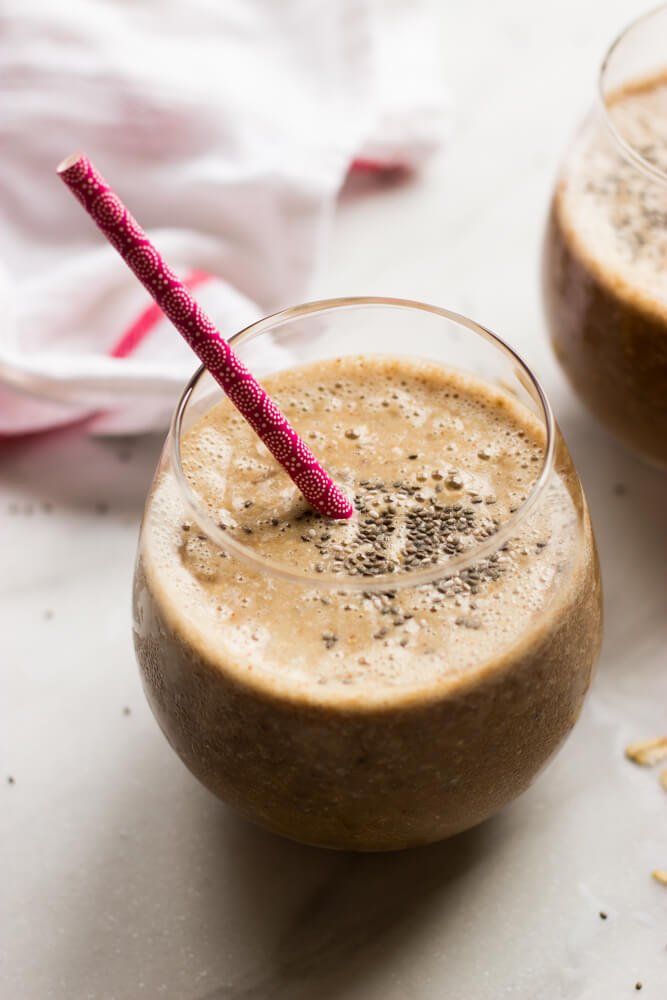 It comes together so easy, especially if you already have brewed coffee. I used slightly warm coffee but completely cold or even just brewed coffee is fine too. You want to use a large banana since not only does it sweeten but also thickens the smoothie. But if you do end up using a smaller banana then make sure to cut down on the amount of ice so that way the smoothie is not watered down.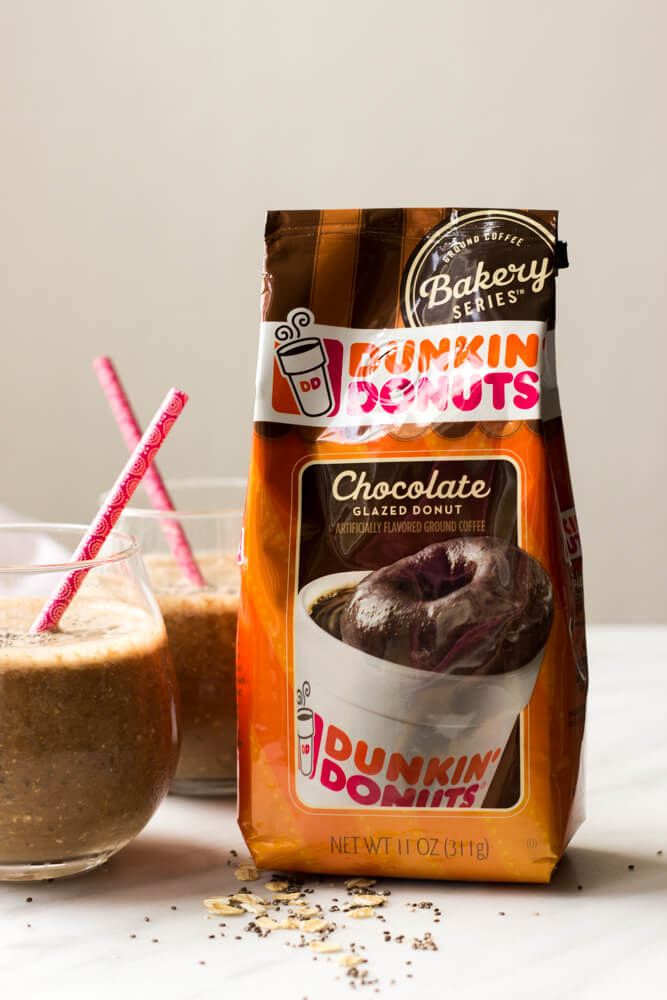 One of my favorite things about this smoothie is that it really keeps me going until breakfast. I normally don't eat until after school drop offs and this is a perfect way to kick start my morning with just enough calories to last me until the breakfast. I also love having it in the afternoon instead of my normal iced coffee. I blend it up with leftover coffee from the morning and I'm all set until dinnertime.
Make it. Snap it. Show it. Instagram @littlebrokenblog or snapchat → littlebrokenblg
Print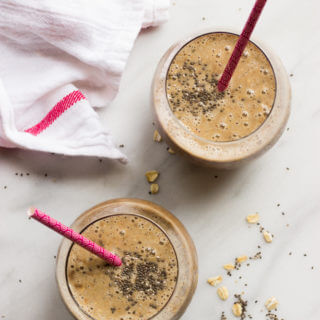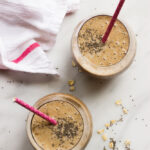 Coffee Banana Smoothie with Oats and Chia
Prep Time:

5 mins

Total Time:

5 mins

Yield:

2
---
3/4 cup

brewed Dunkin' Donuts® Bakery Series® Chocolate Glazed Donut coffee

1

large banana*, cut into chunks

1 Tbsp

. smooth unsalted almond butter

2 Tbsp

. old fashioned rolled oats

1 Tbsp

. chia seeds, plus extra for garnish

1 Tbsp

. honey

1 cup

ice
---
Instructions
Add all ingredients to a blender and pulse until smooth.
Serve immediately, garnished with extra chia seeds, if desired.
---
Notes
You can use smaller banana but then make sure to cut down on the ice.