Potato Corn Chowder Recipe
Comforting potato corn chowder with fresh sweet corn, bacon, and creamy potatoes. It comes together very easily with minimal prep.
For more hearty soups, try our quick and easy potato soup.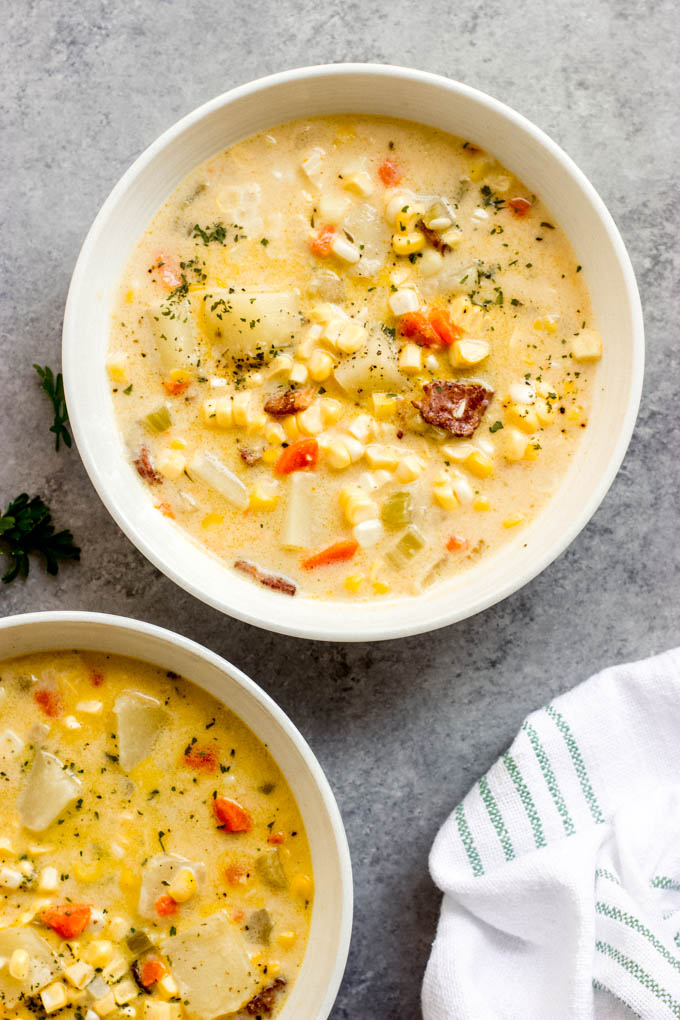 An easy summer dinner is one that requires minimal prep and the entire family loves. This potato corn chowder checks all those boxes.
It's the perfect corn chowder recipe to make at the end of summer and early fall days. It combines a handful of basic vegetables with sweet corn, potatoes, and bacon in a deliciously flavored creamy broth. It's rich, creamy, smoky, and slightly sweet.
Even the pickiest of eaters will love this potato corn chowder recipe, especially when paired with crunchy Parmesan Cheese Crisps.
Best Potatoes for Chowder
Best potatoes for chowder? Yukon Golds are moist, waxy, and incredibly versatile. Not only do they make great chowder but they're also great for cheesy mashed potatoes, rosemary garlic potatoes, and sauteing. Plus their skin is thin and delicate so no need to even peel them!
Red potatoes are a good substitute for Yukon Golds.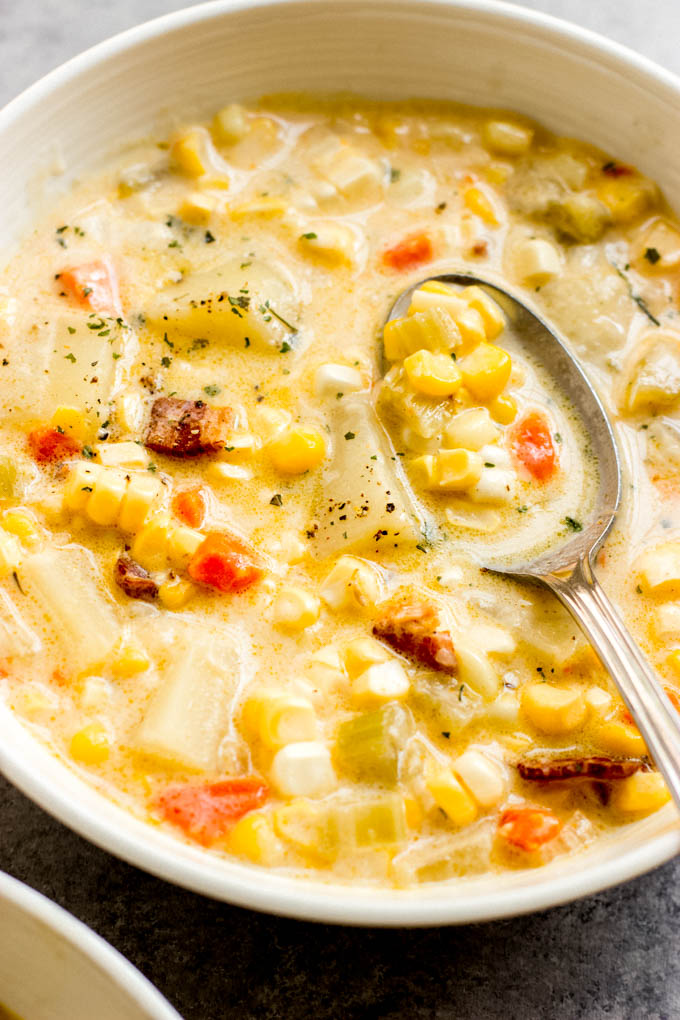 The Key Ingredients for Potato Corn Chowder Recipe
This chowder recipe relies on easy-to-find ingredients that you can find at most grocery stores. Here are key ingredients to stock up on:
Bacon. Bacon adds a salty, smoky flavor to the potato corn chowder. You'll cook it first to render out its fat, then sauté the veggies directly in the flavorful fat.
Waxy potatoes. Yukon Golds or other similar varieties such as red potatoes have less starch and hold up well when cooked.
Fresh corn. Sweet, soft, buttery flavor of summer corn kernels sliced off the cob can not be beaten. Check your local farmers' market for sweet corn.
Cream. Half-and-half adds just the right amount of creaminess and richness to the chowder. It's simply equal parts of milk and heavy cream. And stirring it right at the end means it won't curdle.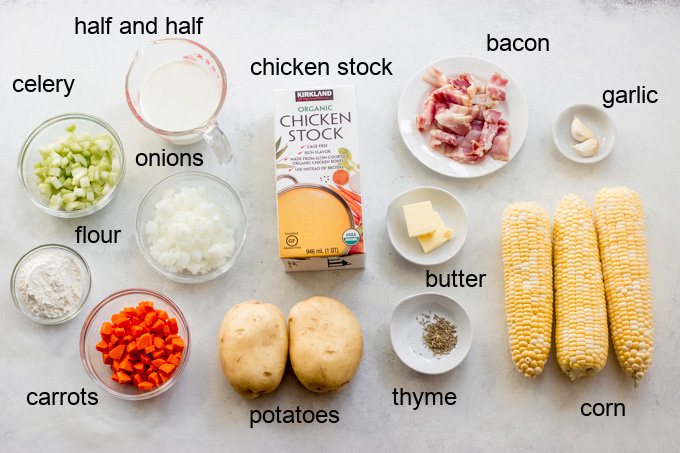 It's Easier Than You Think!
Wondering how to make potato corn chowder? It's actually easier than you think! Here's how:
Cook bacon with little butter in a heavy-duty bottom dutch oven until bacon renders most of its fat. Stir in onions, celery, and carrots. Cook until tender. Stir in garlic and thyme, and cook until fragrant.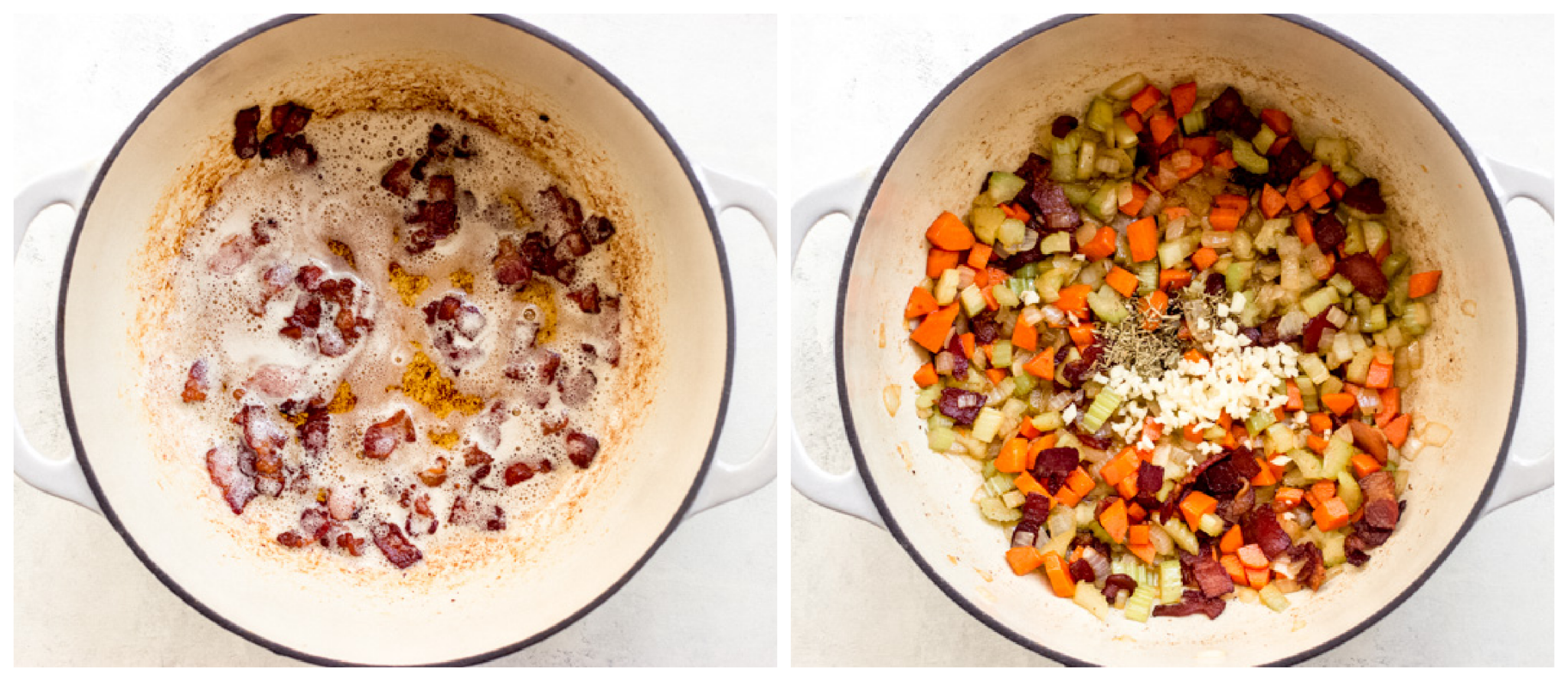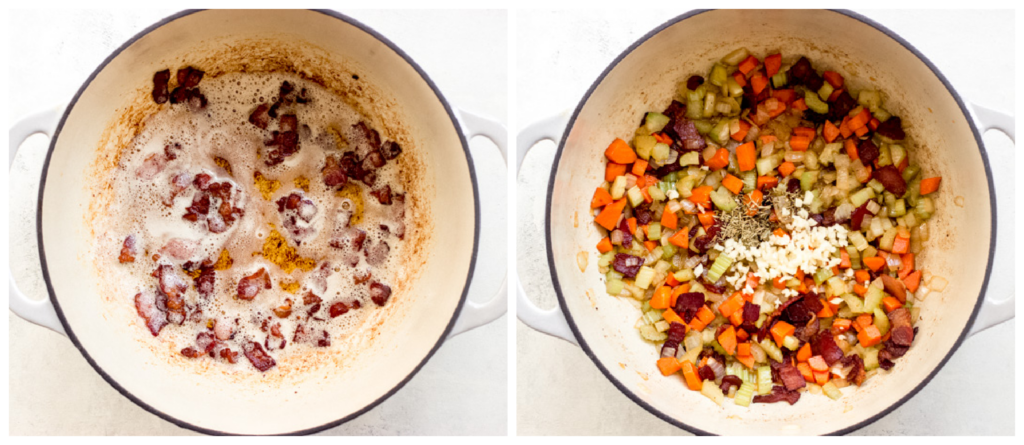 Tips and A Few Notes
Fresh corn. Fresh sweet corn on the cob is the ideal corn to use here. It's best if it's in season.
Make it vegan. To make it vegan, omit the butter and use 2 tablespoons of extra-virgin olive oil and replace bacon with 1 1/2 teaspoons of smoked paprika. Instead of chicken broth, use vegetable broth and canned coconut milk instead of half and half.
Add more flavor. For more flavor, add shredded sharp cheddar cheese. For protein, shredded roasted bone-in chicken breast. You can also add shrimp. Simply add peeled shrimp during the last few minutes of cooking and simmer until firm and pink.
Skip the flour. To thicken chowder without flour, simply puree 2 cups of chowder in a food processor or blender. Stir the mixture back into the pot, and then add half and half.
What Goes with Corn Chowder for Dinner?
Corn and potato chowder is very filling on its own so you really don't need much more. Try these sides to make this chowder into a complete dinner meal.
Storing Leftovers
How long does corn chowder last in the fridge? 4-5 days in an airtight container.
Does corn chowder freeze well? No. Potatoes and half and half do not freeze well. The texture will change and the chowder will not be quite as creamy.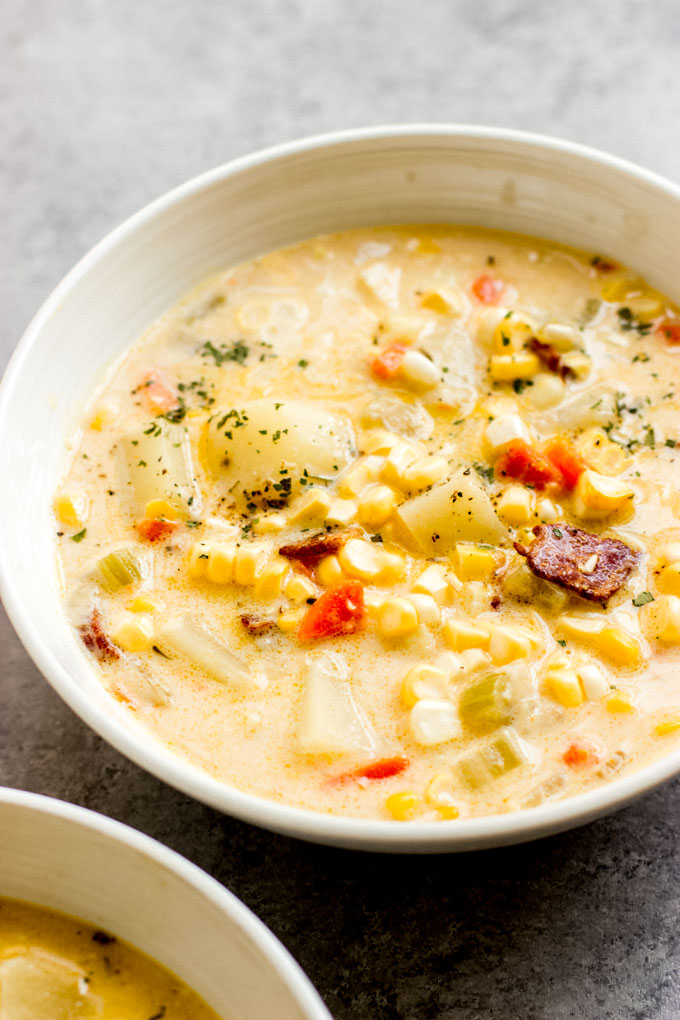 More Chowder Recipes
Print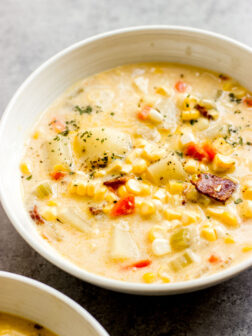 Potato Corn Chowder
Author: Katya
Prep Time: 10 min
Cook Time: 40 min
Total Time: 50 minutes
Yield: 6 1x
Category: Soup
Method: Simmer
Cuisine: American
---
Description
Comforting potato corn chowder with fresh sweet corn, bacon, and creamy potatoes. It comes together very easily with minimal prep.
---
2 Tbsp. butter
3 slices bacon, chopped
1/2 medium onion, chopped, about 3/4 cup
2 celery ribs, chopped, about 3/4 cup
1 medium carrot, chopped, about 3/4
2 garlic cloves, minced
1/4 tsp. dried thyme
1/4 cup all-purpose flour
1 lb. Yukon gold potatoes, diced into 3/4 -inch cubes (feel free to keep skin on)
4 cups chicken broth
3 cups fresh corn, cut from about 3 ears of corn
1 cup half and half
Kosher salt and fresh black pepper
Fresh minced parsley, to garnish, optional
---
Instructions
In a large heavy-duty bottom dutch oven, melt butter over medium heat. Add bacon and cook until bacon renders its fat and begins to crisp up, about 4-5 minutes.
Add onion, celery, and carrots. Cook until vegetables begin to soften, stirring occasionally, about 5-7 minutes.
Stir in garlic and thyme. Cook until fragrant, about 30 seconds, while stirring constantly. Sprinkle flour over the vegetables and cook, stirring frequently, for 1 minute. 
Add potatoes and chicken broth. Season with salt and pepper, to taste. Bring to a boil. Reduce heat to medium-low and simmer, partially covered, for 15 minutes, while stirring occasionally and making sure to scrape the bottom of the pan. 
Add corn and continue to simmer, uncovered, for an additional 10 minutes or until the potatoes and corn are tender. 
Stir in half and half and cook just until warmed through, about 1-2 minutes. Do not boil or it will curdle. Taste for salt and pepper. Serve garnished with parsley, if desired.
---
Notes
Storage: Leftovers can be refrigerated in an airtight container for 3-4 days. This chowder does not freeze well since it has potatoes and half and half. If you do freeze it, the texture will change upon reheating and the broth will not be as creamy.
Substitutions: See post for all substitutions, including on how to make this chowder vegan friendly.
Nutrition
Serving Size:
Calories: 275
Sugar: 8.9 g
Sodium: 771.9 mg
Fat: 11.4 g
Carbohydrates: 37.6 g
Protein: 8.6 g
Cholesterol: 24.7 mg
Keywords: summer soup, corn chowder, weeknight friendly
You May Also Like…