Lemon Orzo Salad
A fresh, tangy salad that'll wake up your taste buds – Lemon Orzo Salad! With its hearty orzo pasta and zesty honey-lemon dressing, it's sure to become a new favorite in your recipe repertoire. Plus, it's quick and easy to make.
Jump to:
Reasons to Love This Salad
There are so many reasons to love lemon orzo salad recipe! For starters, it's bursting with flavor. The orzo has a slightly nutty taste, and when it's cooked al dente, it's got this amazing chewy texture. Plus it serves with just about anything, such as cod with tomato herb butter to jalapeno turkey burgers!
So much flavor: Tangy honey-lemon dressing — it adds bright and refreshing notes, and its acidity cuts right through that rich feta cheese – rounding the dish off nicely. Plus, with fresh veggies like cherry tomatoes and cucumbers, you've got an amazing blend of crunch and color.
Versatile: You'll also love this dish's versatility. It makes a great light lunch, but it's also a perfect side dish for dinner. If you're feeling fancy, pair it with some grilled orange chicken, fish, or tofu for a complete meal that's both delicious and healthy.
Easy: Finally, this herby orzo & lemon salad is super easy to make. Just a few simple ingredients, and you have a fresh, flavorful dish on the table. Perfect for busy weeknights when you don't have time to spend in the kitchen but still want something tasty and satisfying.
Ingredients
Your local grocery store should have everything you need to make this summary orzo salad.
Salad
Orzo: The star of the dish, it's got that nutty, chewy texture that's perfect for soaking up the lemony dressing.
Feta cheese: Let's give it up for the salty, tangy goodness that is feta cheese! It adds a creamy, savory contrast to the fresh, bright flavors of the other ingredients.
Various Veggies: Cherry tomatoes, cucumber, bell peppers, and red onion add layers of flavor and color to the salad.
Baby spinach: Adds a nutrient-packed dose of greens and pairs well with the other ingredients.
Fresh basil: This fragrant herb brings a little bit of summer into every bite, with its bright, fresh flavor that ties everything together.
Dressing
Lemon juice and zest: Adds a zesty kick to the dressing and makes your taste buds dance.
Olive oil: Gives a velvety texture and balances out the acidity of the lemon juice.
Honey: Brings a touch of sweetness and balances out the tanginess of lemon juice.
Garlic: Adds a little depth to the dressing, making it more flavorful and delicious.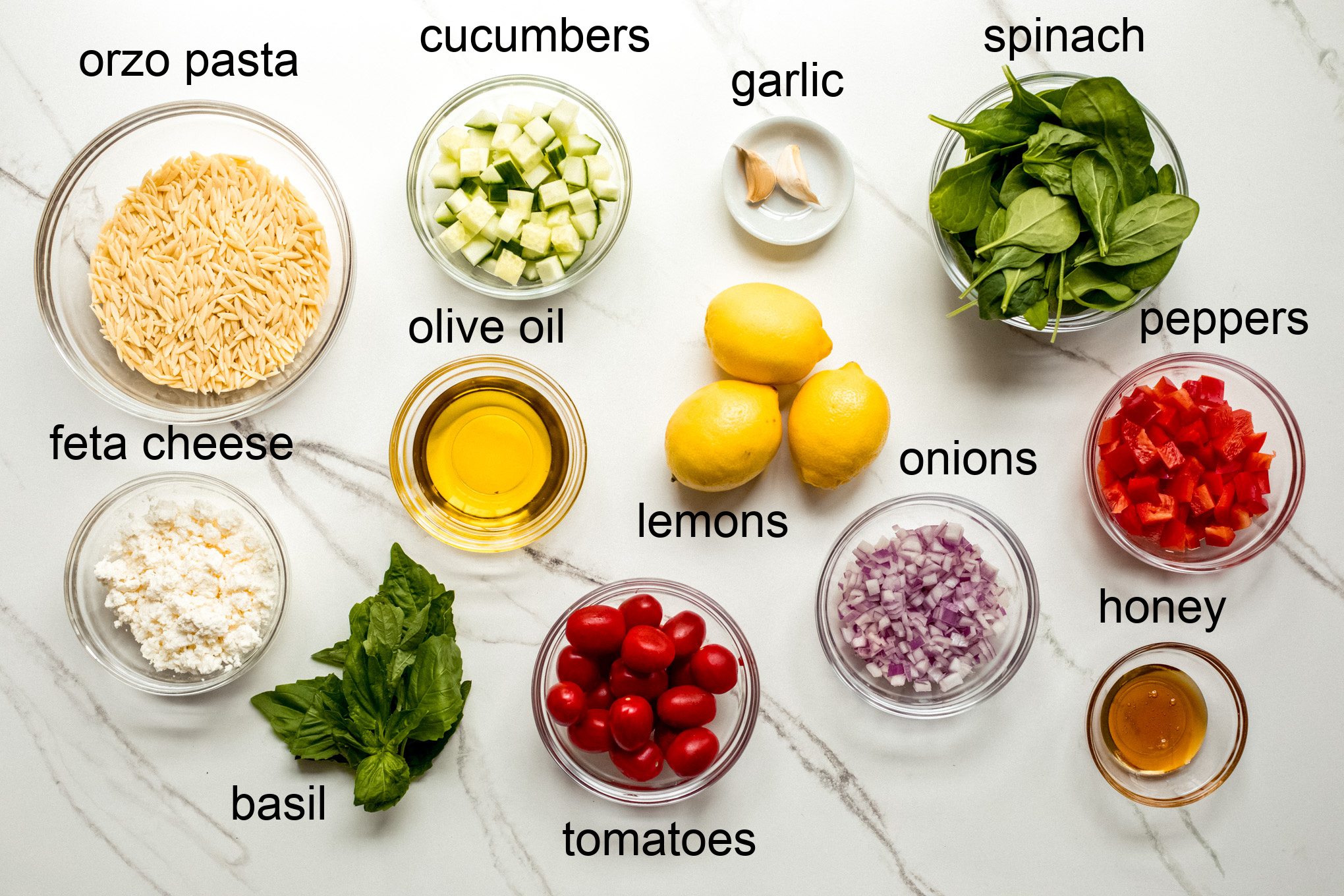 Optional Add-Ins
Want more protein? Or perhaps you like nuts in your salad? There are a lot of ways to add even more oomph to your orzo lemon pasta salad. Here are some ideas to try:
Canned chickpeas: Add for a protein boost with a slightly nutty flavor. Remember to rinse and drain first.
Kalamata olives: Gives a salty kick that goes well with the honey lemon dressing. Remove pits and half first.
Toasted pine nuts: Add for a crunchy texture and nutty flavor that'll make you want more.
Canned artichokes: Add for a mellow and earthy flavor that pairs well with the lemon and orzo.
More herbs: Go wild with herbs such as parsley and dill to take the fresh and herby flavors up a notch.
How to Make Orzo Salad with Lemon
Preparing this light orzo pasta salad is a breeze! These easy steps will get you there in no time. If you need more help, see the recipe card below.
Whisk together dressing ingredients with salt and black pepper.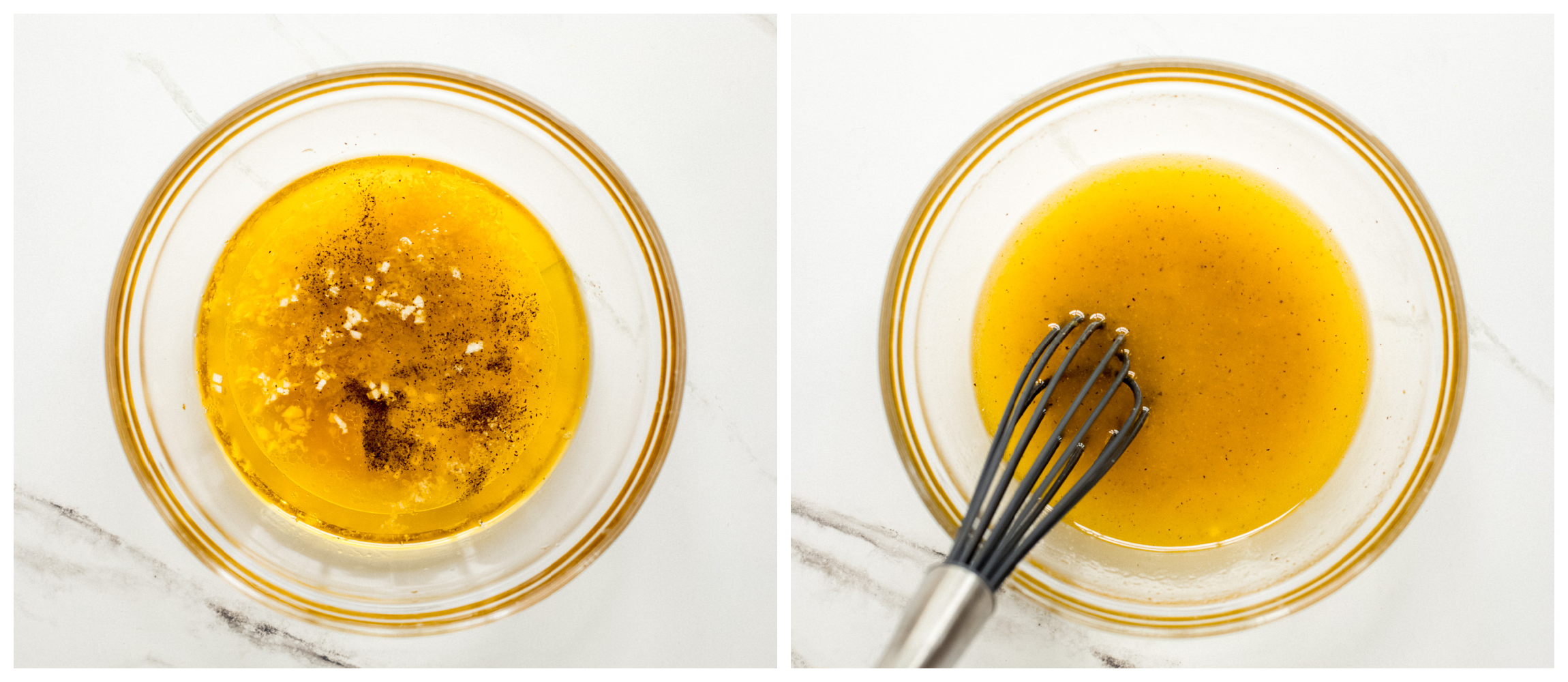 Cook the orzo until it's firm but tender. Drain and put it in a large bowl. Pour dressing over warm orzo and stir.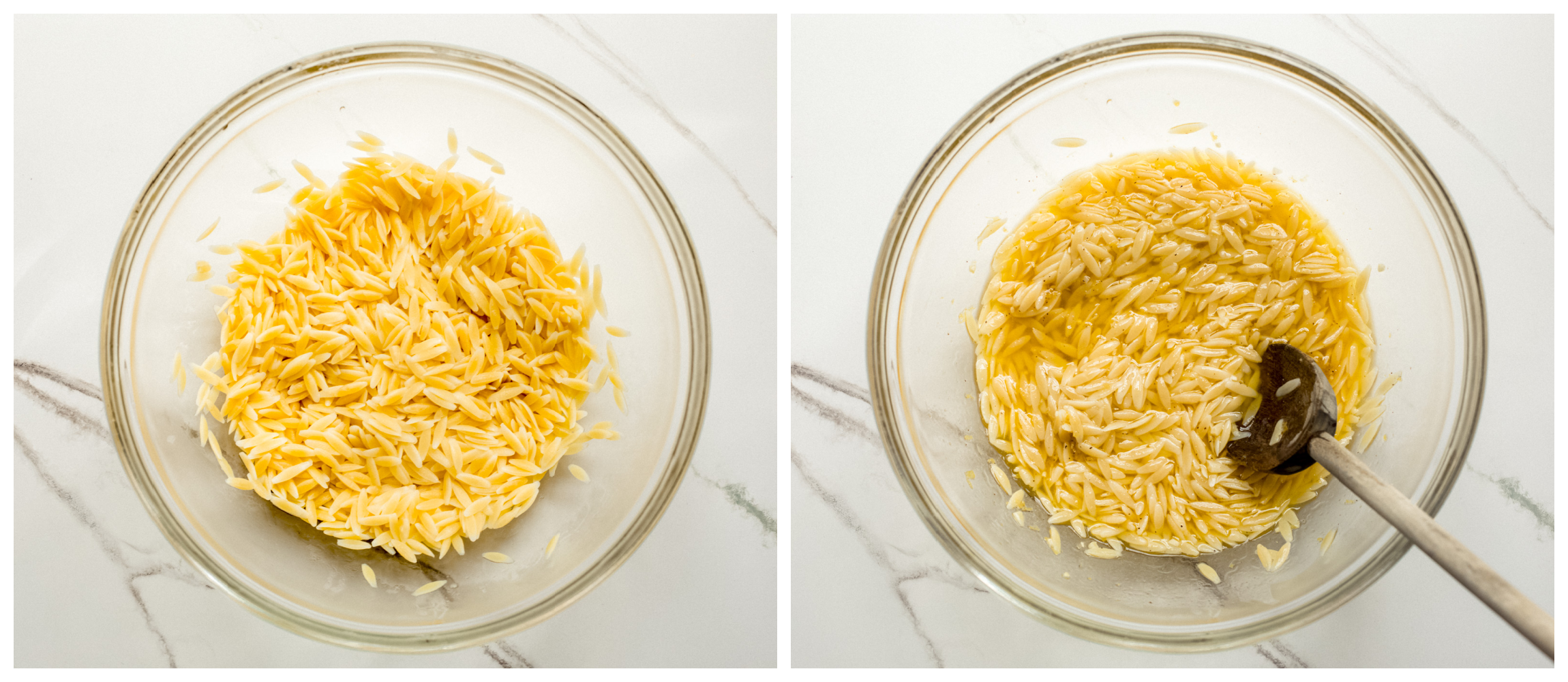 Add tomatoes, cucumbers, red bell pepper, onion, basil, and feta. Stir in spinach. Taste and adjust seasoning. Serve chilled.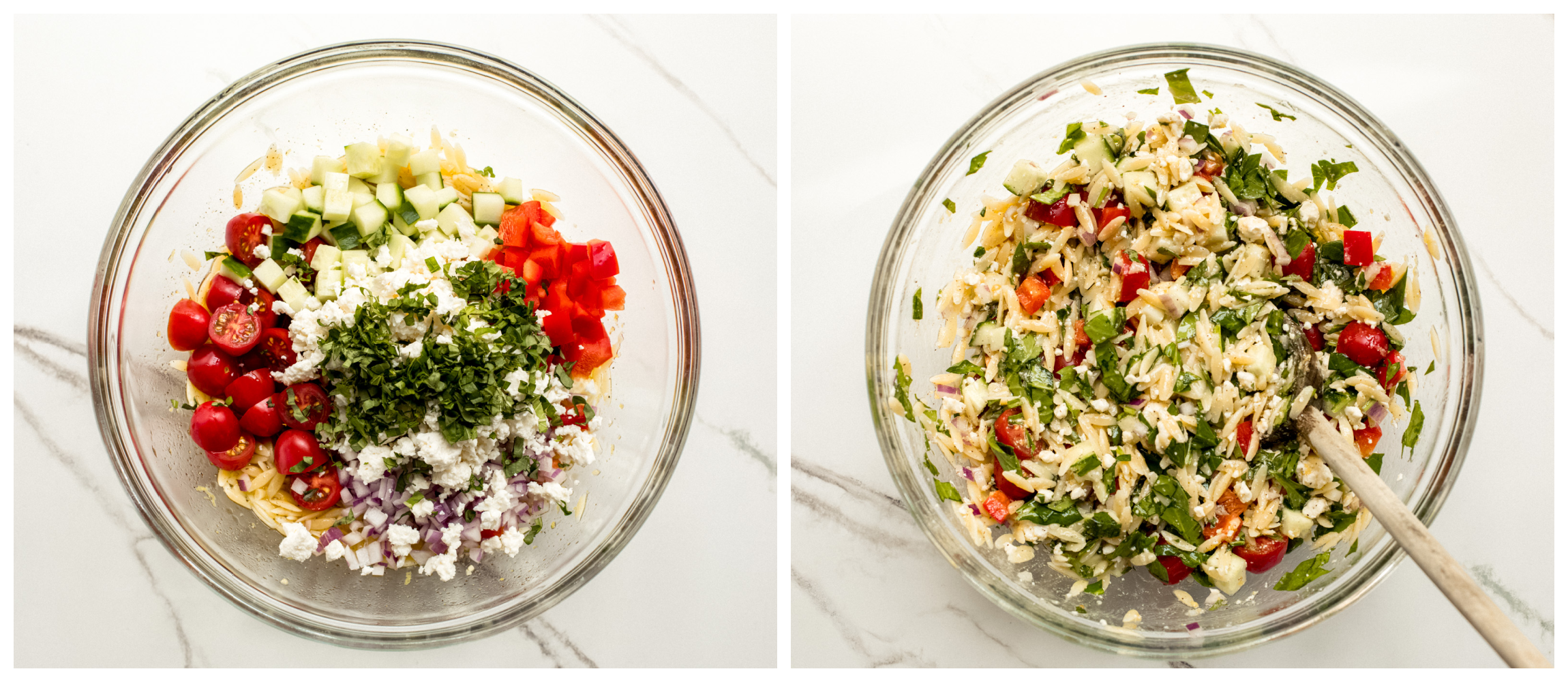 Make It Your Own
If you're looking to put your own spin on the orzo lemon salad, here are some ideas to help you get creative:
Switch up the greens: Swap out the spinach for arugula to add a peppery and slight bitterness to the salad. To balance it out, use a touch more honey in the dressing.
Change the cheese: Swap out the feta for crumbled goat cheese to add a creamy and tangy flavor. A bit more lemon in the dressing will complement the added richness.
Roast it up: Swap out the cherry tomatoes and red bell peppers for roasted vegetables like zucchini, eggplant, or cauliflower.
Balsamic beauty: Swap out the honey lemon dressing for a balsamic vinaigrette for a sweeter, tangier flavor.
Creamy goodness: Change the dressing to a creamy Greek yogurt Caesar dressing or homemade buttermilk ranch dressing for a richer flavor and texture.
Expert Tips
Here are some expert tips to perfect this easy orzo pasta salad recipe:
Don't overcook: Mushy orzo is a no-go. Cook until al dente for the perfect texture. Be sure to follow the cooking time on the package, and keep checking that texture in the last minutes (Be careful, it'll be hot!).
Toss while hot: Toss the orzo with the dressing while it's still hot, this way, it'll soak up more of that dressing goodness.
Always adjust: Be the boss of your salad! Taste it and add more salt or pepper as needed. Do the same with the dressing, adding more lemon juice or honey to suit your taste.
Just chill: Give the flavors time to marry and develop by chilling the salad for at least 30 minutes before serving.
Enjoy it fresh: This orzo salad is best enjoyed within 1-2 days of making.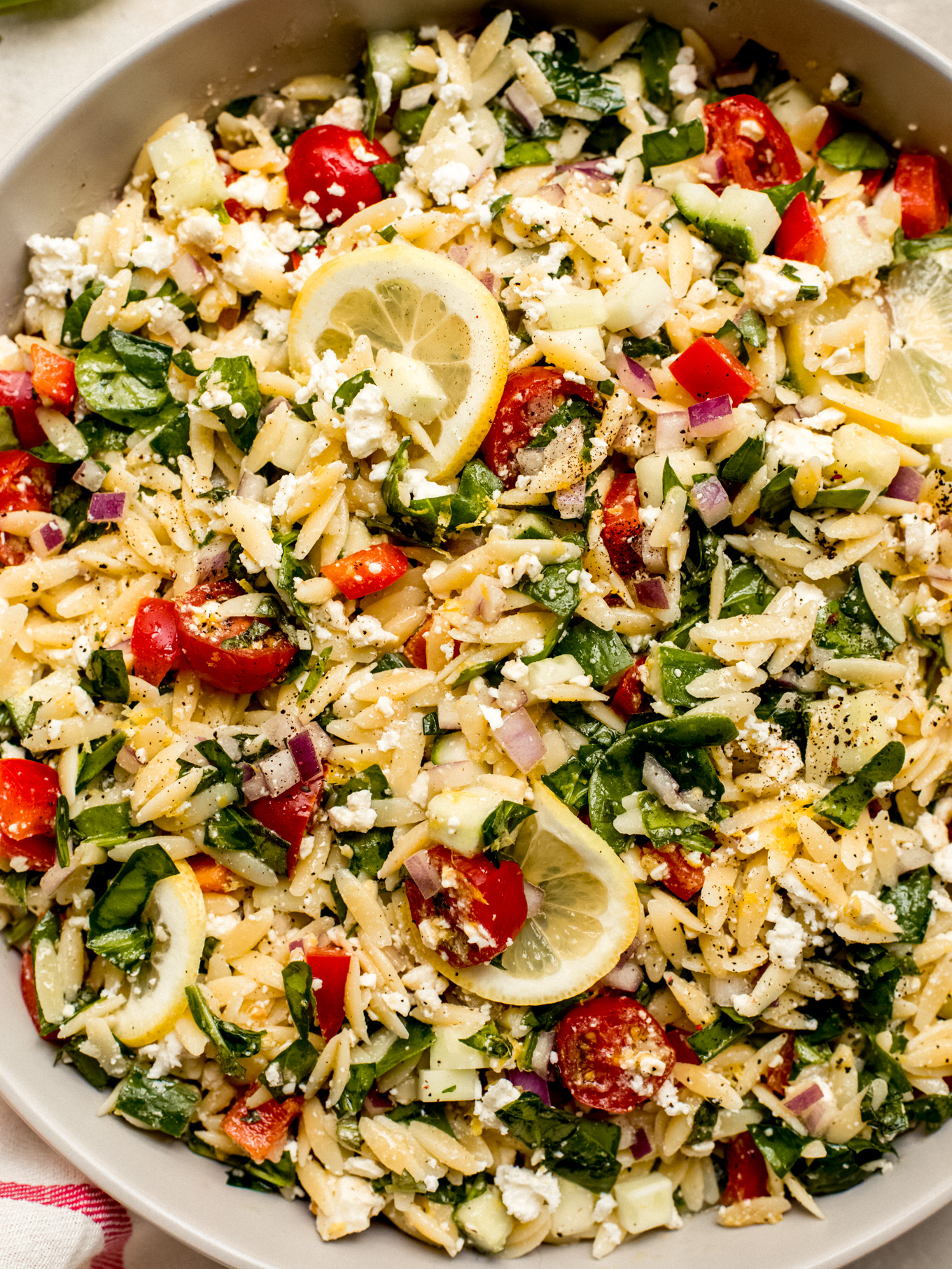 Frequently Asked Questions
What can I substitute for orzo?
Don't worry if your grocery store doesn't have orzo – there are plenty of pasta alternatives you can use! Pearl couscous or any other small-shaped pasta, such as penne will do the trick.

If you don't eat pasta, there's a type of short-grain rice called Arborio that's a great replacement for orzo. It has a similar shape with a creamier texture. Cook it up properly, and you'll hardly know the difference!
Can I make the salad ahead?
Absolutely! Lemon Orzo Salad is great for making in advance and chilling in the fridge for a few hours or even overnight. So, whether you're meal prepping for the week or have a party coming up, you can prepare a big batch ahead of time without any hassle.

The best part is the flavors get even better as they hang out together, so you can look forward to an even tastier salad. Just remember to keep the tomatoes separate until you're ready to serve, so they stay nice and juicy instead of going mushy.
Can I add meat?
Of course! If you want more protein, grilled chicken tenders, grilled garlic shrimp, or even tofu, all work great. Just be sure to cook properly and let it cool before adding it to the salad.

And if you're feeling really fancy, you can even marinate the meat overnight. Make an extra batch of lemon dressing to use as a marinade – it'll give your meat (or tofu) a ton of extra flavor.
Serving Suggestions
Serve this lemony orzo salad as a side dish alongside any of these tasty entrees!
Print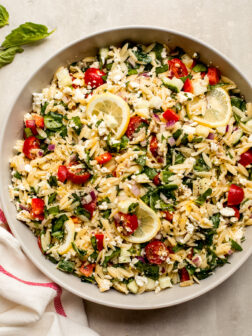 Lemon Orzo Salad Recipe
Author: Katya
Prep Time: 20 min
Cook Time: 10 min
Total Time: 30 minutes
Yield: 6 1x
Category: Salad
Method: Chopped
Cuisine: Mediterranean
---
Description
A fresh, tangy salad that'll wake up your taste buds – Lemon Orzo Salad! With its hearty orzo pasta and zesty honey-lemon dressing, it's sure to become a new favorite in your recipe repertoire. Plus, it's quick and easy to make. 
---
1 cup dry orzo pasta, about 6 ounces
1 cup cherry tomatoes, halved
1 cup diced English cucumber
1/2 cup diced red bell pepper
1/2 cup diced red onion
3 Tbsp. fresh basil, chopped
1 cup feta cheese, about 4 ounces
2 cups fresh baby spinach, roughly chopped
Dressing
1/4 cup fresh lemon juice
1/2 cup olive oil
1 garlic clove, minced
1 Tbsp. honey
Zest 2 lemons
Kosher salt and black pepper
---
Instructions
Cook orzo until al dente. Drain and transfer to a large bowl.
Whisk together the dressing ingredients with 2 teaspoons salt and 1 teaspoon black pepper. Pour dressing over warm orzo and stir well.
Add tomatoes, cucumbers, red bell pepper, onions, basil, and feta cheese. Stir in spinach. Chill the salad for at least 30 minutes before serving. Taste for salt and pepper, and add more if needed.
---
Notes
Make Ahead: This salad can be made up to 1 day ahead. Hold off on adding tomatoes and spinach just until ready to serve. When you take salad out of the refrigerator it will be hard and stiff. Bring it to room temperature before serving that way the pasta will have an appealing texture and the flavors will loosen up.
Leftovers: Store in an airtight container for up to 2 days.
Add-Ins: This salad is very versatile. Feel free to add or switch out any veggies you like. See post for a complete list.
Nutrition
Serving Size: 1/6
Calories: 348
Sugar: 6.8 g
Sodium: 186 mg
Fat: 23.3 g
Carbohydrates: 30 g
Protein: 7.4 g
Cholesterol: 16.8 mg
Keywords: pasta salad, orzo salad, summer
You May Also Like…