Grilled Mediterranean Turkey Burgers
The best Mediterranean turkey burgers with sun-dried tomatoes, feta, and oregano. Grilled until juicy tender and served with tzatziki sauce and tomato cucumber salad.
Serving Tip! Serve these turkey burgers with a side of Baked Potato Fries or Greek Cucumber Salad for a healthy summer meal.
One of the best parts about these grilled turkey burgers is that they're made with just a handful of everyday ingredients, such as sun-dried tomatoes, feta, garlic, and oregano.
The secret ingredients that make these next-level juicy are simply white onions and little mayo. They are served with pepper jack cheese, tzatziki sauce, and simple cucumber tomato salad. These turkey burgers are a healthy and easy option for quick weeknight meals.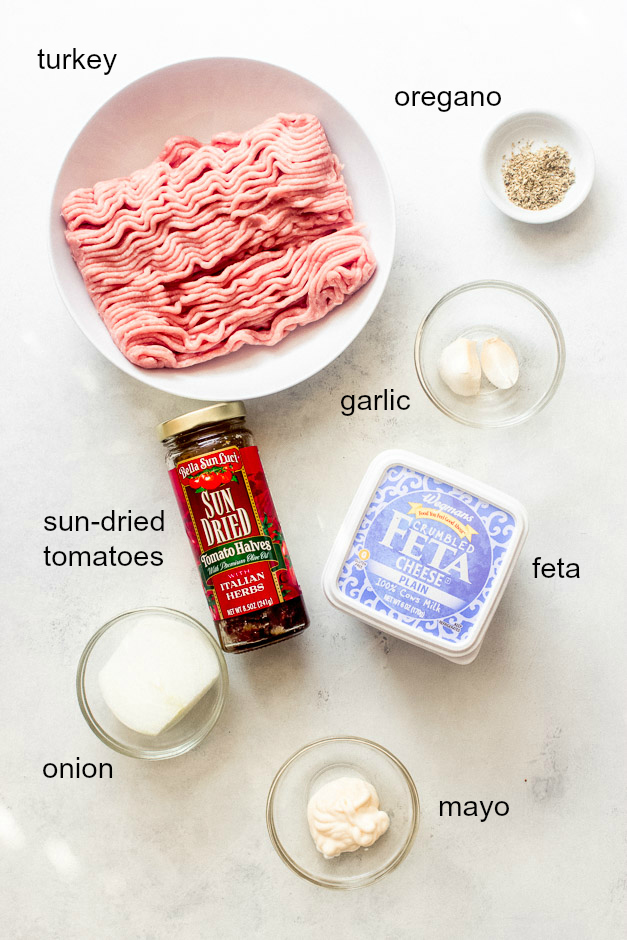 Secret to Moist Turkey Burgers
Ground turkey is very lean and tends to dry out easily when cooked, so you have to add something else to make it juicy and flavorful.
My all-time favorite trick that I've been using for years is to add grated onions and little fat, such as mayo. Onions contain natural enzymes that have a tenderizing effect on the meat.
Instead of chopping the onions, they are grated until mush-like consistency. That way the onion flavors the turkey meat in a very gradual way and you're not biting into chunks of chopped onions.
The mayonnaise does that same thing. Because we all know fat equals flavor. You can substitute full-fat sour cream for the mayo.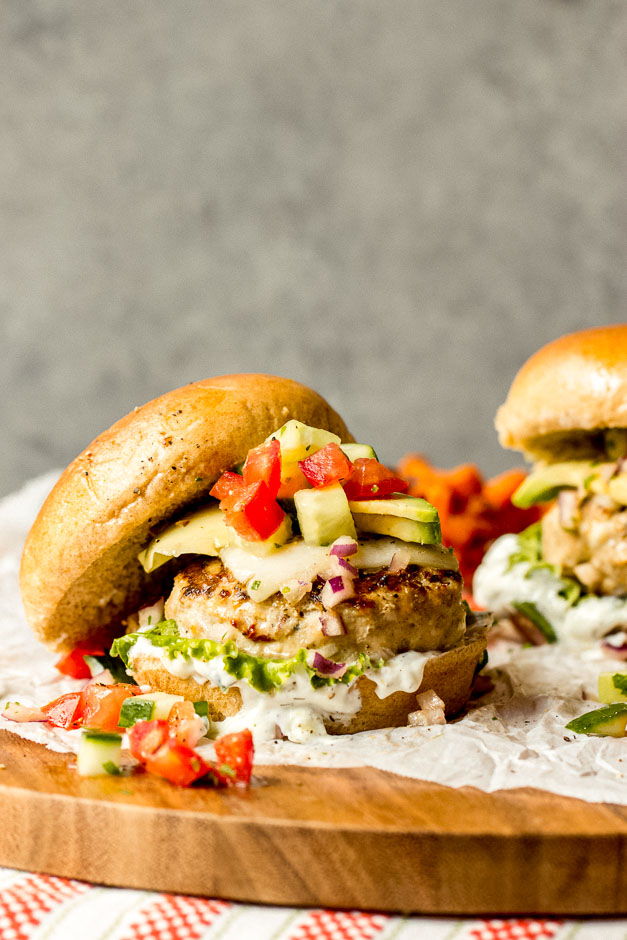 How to Make Mediterranean Turkey Burgers
Step 1: First grate the onion using a box grater. You can also run the onion through a food processor. You want mushy like consistency.
Step 2: In a bowl, combine the grated onions with ground turkey, garlic, sun-dried tomatoes, feta, oregano, and mayonnaise. Season the mixture with salt and pepper, to taste.
Step 3: Form the ground turkey mixture into 6 patties and place on a parchment-lined sheet pan. If it sticks too much to your hands, lightly oil your hands before forming into patties.
Step 4: Lightly drizzle the burgers with olive oil and let them rest at room temperature while you preheat the grill.
Step 5: Clean the grill and preheat to high. Lightly spray the grates with a non-stick spray or lightly dip a wad of paper towels in oil and, using tongs, carefully rub over the grates several times until glossy and coated.
Step 6: Place the turkey burgers on the grill and cook 3-4 minutes, covered. Reduce the grill heat to a medium, flip and continue to cook, covered, for 3-4 more minutes or until cooked through. Cook time will vary on the thickness of the burger.
Make sure not to overcook the burgers. Around 3 minutes start checking for doneness. In the last 2 minutes of cooking, add the cheese. Remove and let rest for 5-8 minutes before serving with toppings.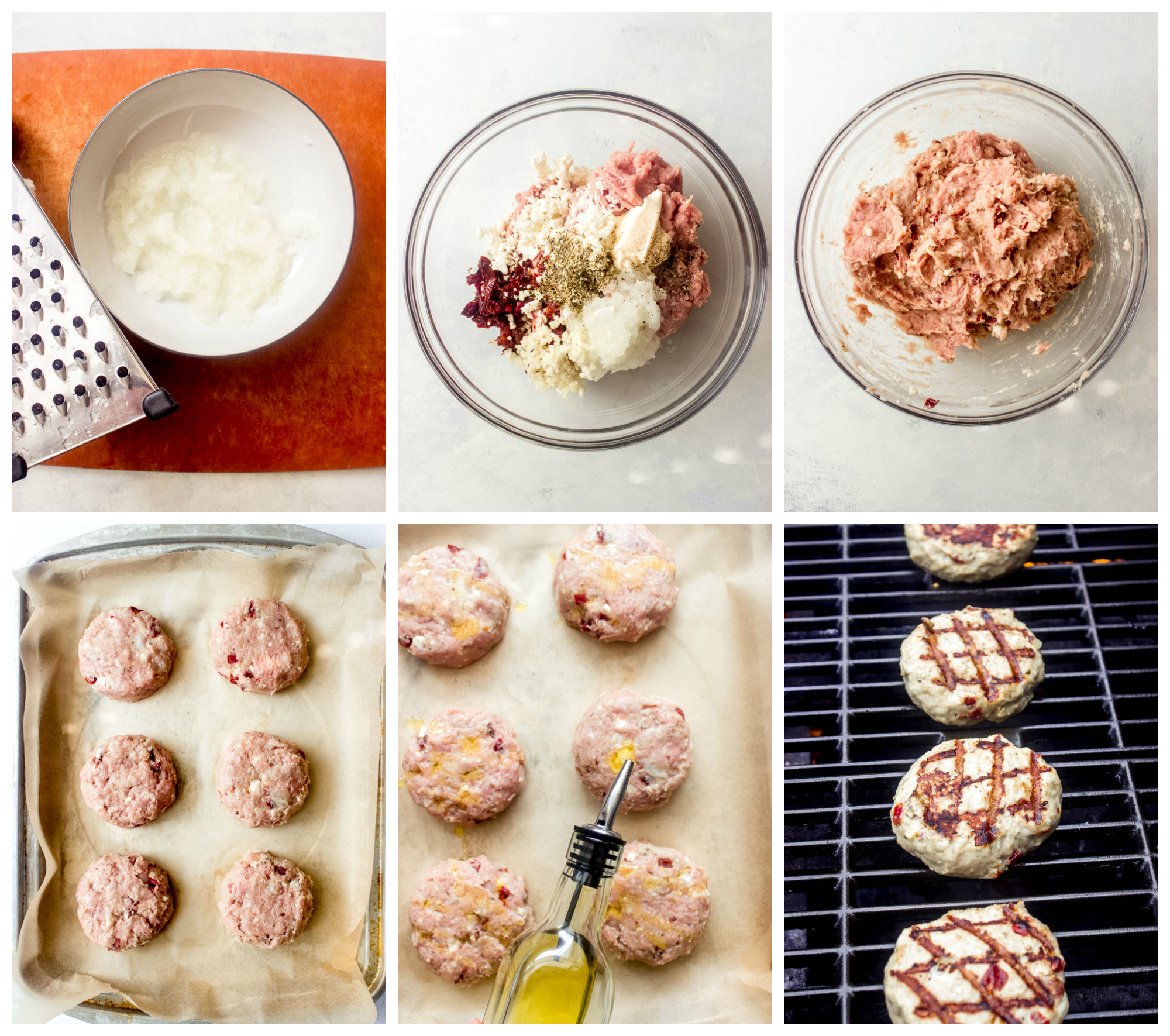 More Mediterranean Recipes
Print