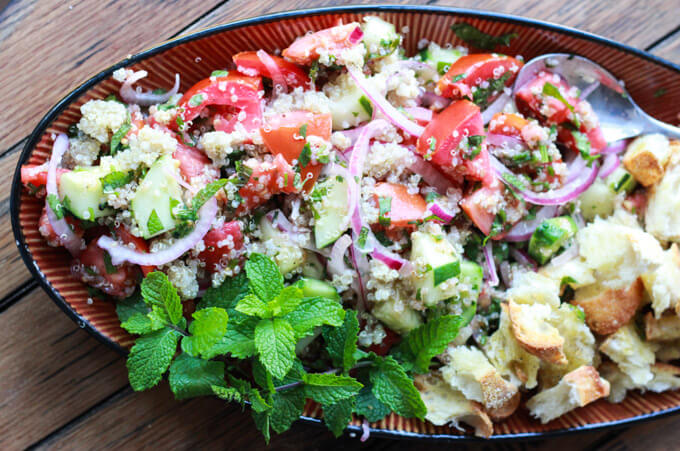 I'm in tomato coma this week. I mean nothing says summer better than a juicy tomato. Make that home grown.
Over the weekend, my sweet in-laws sent us home with a bucket full of every sort of tomato imaginable. I shared a pic on Instagram. Cherry, heirloom, roma. Probably over 10 pounds worth! I mean come on, seriously, that is a lot of love there. My mind automatically went into recipe brainstorm mode but my most favorite tomato recipe (not even sure it's a recipe but probably more of a habit) is simply to cut up the tomatoes, season with salt/pepper, and drizzle with sunflower oil. Here's the BEST PART: take a piece of bread and dip it in the tomato juice. Heaven. Seriously, if you haven't tried it. Do it. It's absolutely the best. Brings back so many great childhood memories. I love it.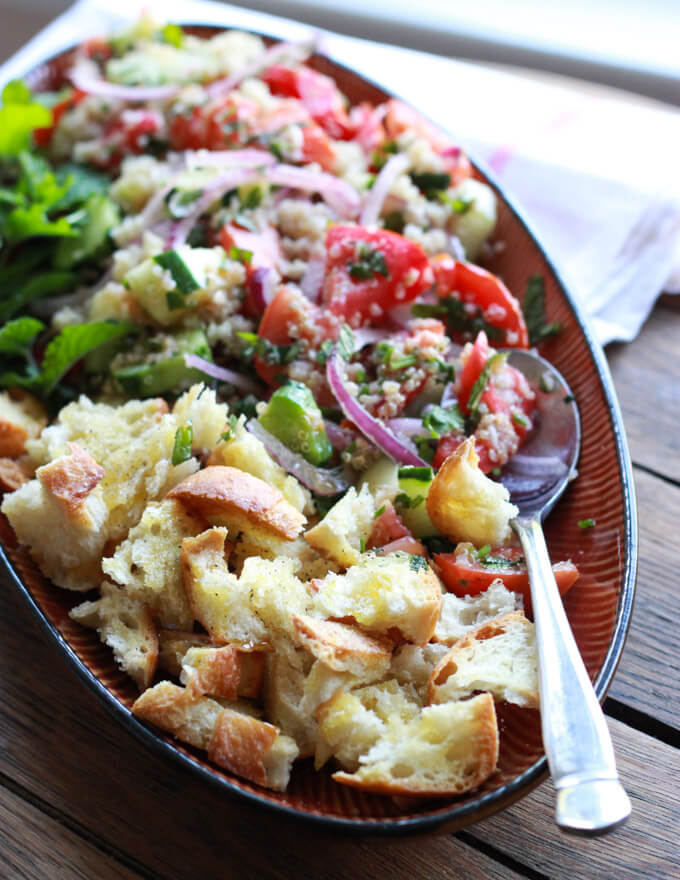 Quinoa and Heirloom Tomato Panzanella Salad is the grown up version of my tomato and bread recipe. Ingredients are simple but there are so many layers of flavor and texture. Perfect way to use up your end of season veggies or in my case bucket of tomatoes!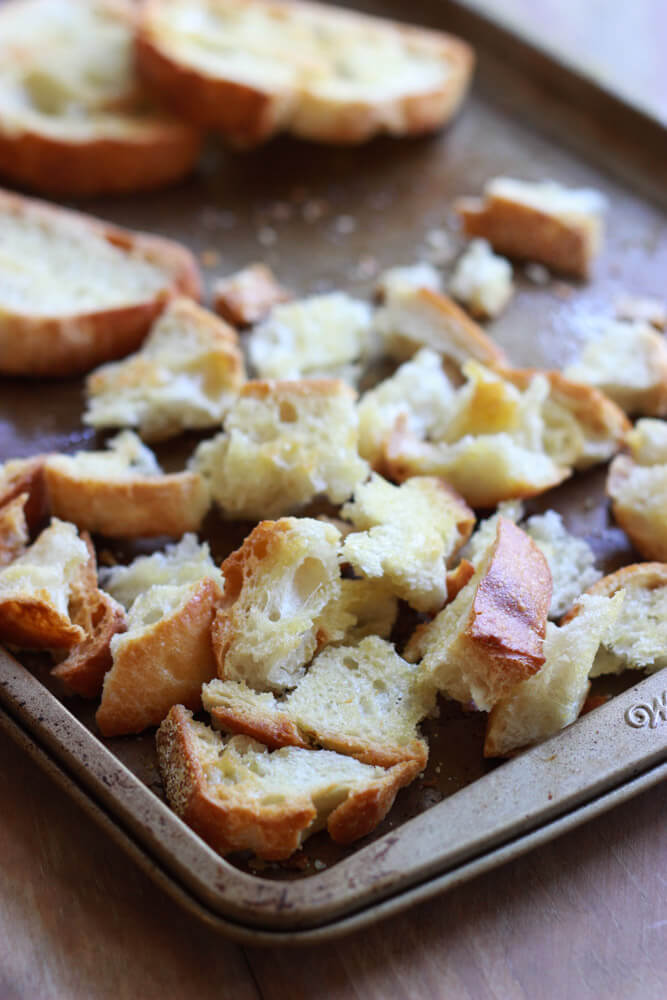 I like to cut my tomatoes and cucumbers into large chunks for rustic texture. I went with heirloom tomatoes as they are super, super juicy and sweet. You can use any other sort of tomato you like but I would splurge on heirloom as they make the salad. (Tip: store your tomatoes at room temperature as they continue to develop flavor even few days after picking and become super juicy.)  You can use any type of bread to make the croutons as long as it's crusty and holds up in the oven. I went with demi baguettes and they worked just fine. Quinoa is a healthy carb addition to this salad, which is nutritious enough to be a meal.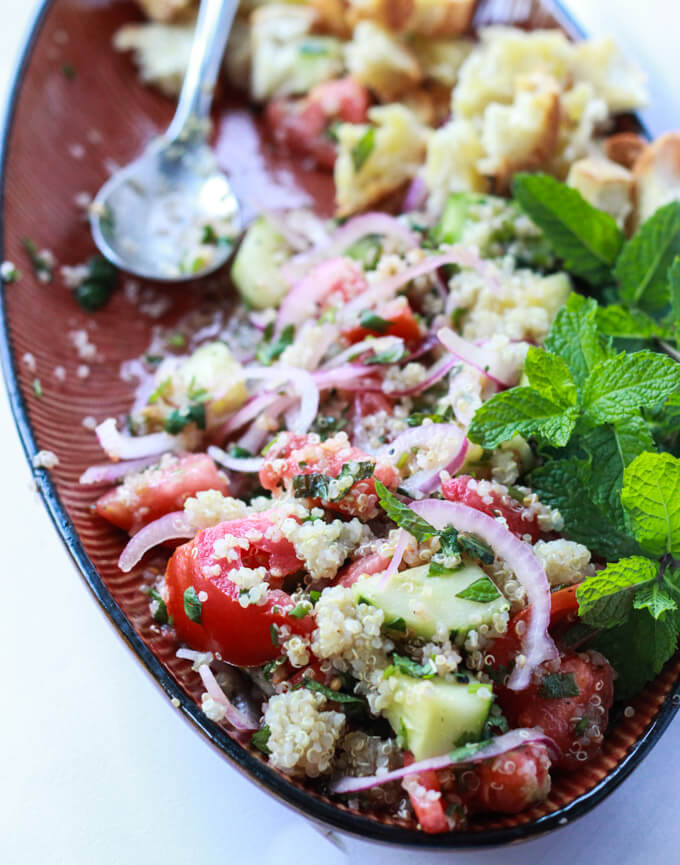 The flavor is all in those tomatoes. That's what makes this salad. The croutons soak up the tomato juice so you're biting into a sweet and crunchy crouton. You wont have any leftovers. I promise. Serve it at up at your next get together and let me know what you think.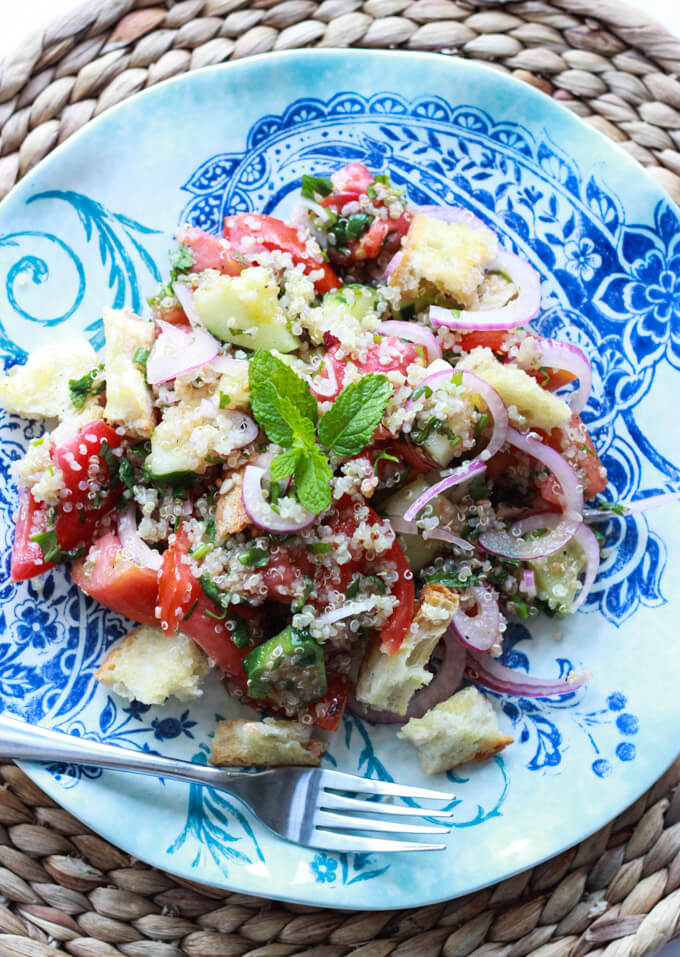 Quinoa and Heirloom Tomato Panzanella Salad
Author:
Katya @ www.littlebroken.com
Ingredients
⅓ cup quinoa
6 slices demi baguette or any other crusty bread
⅓ cup olive oil, plus extra
3 medium heirloom tomatoes, cut into chunks
1 medium/large cucumber, peeled and cut into large dice
½ medium red onion, thinly sliced
4 Tbsp. chopped cilantro
1½ Tbsp. chopped mint
2 Tbsp. chopped parsley
2 Tbsp. lemon juice
1 Tbsp. red wine vinegar
1 large garlic clove, pressed
sea salt and fresh black pepper
Instructions
Preheat the oven to 350F.
Place baguette slices on a baking sheet. Brush with little bit of olive oil (both sides) and sprinkle one side with salt. Toast for 20 minutes, turning every five minutes or until the bread is crispy. Remove from the oven and cool completely. Break by hand into bite-size pieces.
While the bread is toasting, cook quinoa according to package directions or until tender. Drain, rinse under cold water and set aside to cool completely.
To assemble the salad, combine all the ingredients in a large bowl, except for the croutons. Mix gently and season with salt/pepper.
Right before serving, add the baguette pieces to the salad and enjoy! I like my croutons crunchy so I wait to add them but if you prefer them a little soft, you can go ahead and add with the rest of the salad ingredients.
Notes
adapted with changes from cookbook Plenty by Yotam Ottolenghi