Sweet and Spicy Meatballs
Our Sweet and Spicy Meatballs are juicy and tender, with a sweet and tangy sauce. They're a simple dinner or the perfect party food for that special event.
Love meatball recipes? Try our Asian Chicken Meatballs, Turkey Pesto Meatballs, or Chicken Parmesan Meatballs.
Jump to:
Why I Love This Recipe
Delicious – These crockpot sesame meatballs come with an Asian-inspired sauce that takes the flavor to the next level.
Party Favorite – They're an easy holiday appetizer that feeds a big crowd, sure to leave your guests satisfied and impressed. Serve them with our antipasto salad platter.
Crockpot Recipe – Easy to make with little cleanup, this dish requires only about 30 minutes of active prep, then the crockpot does all the work. It's a hassle-free yet tasty option.
Make Ahead – These meatballs are great to make ahead and then let the crockpot keep the meatballs and sauce warm on the day. See notes below.
Ingredients
Here are some of the ingredient highlights of our spicy party meatballs. See the recipe card for full ingredient list and quantities.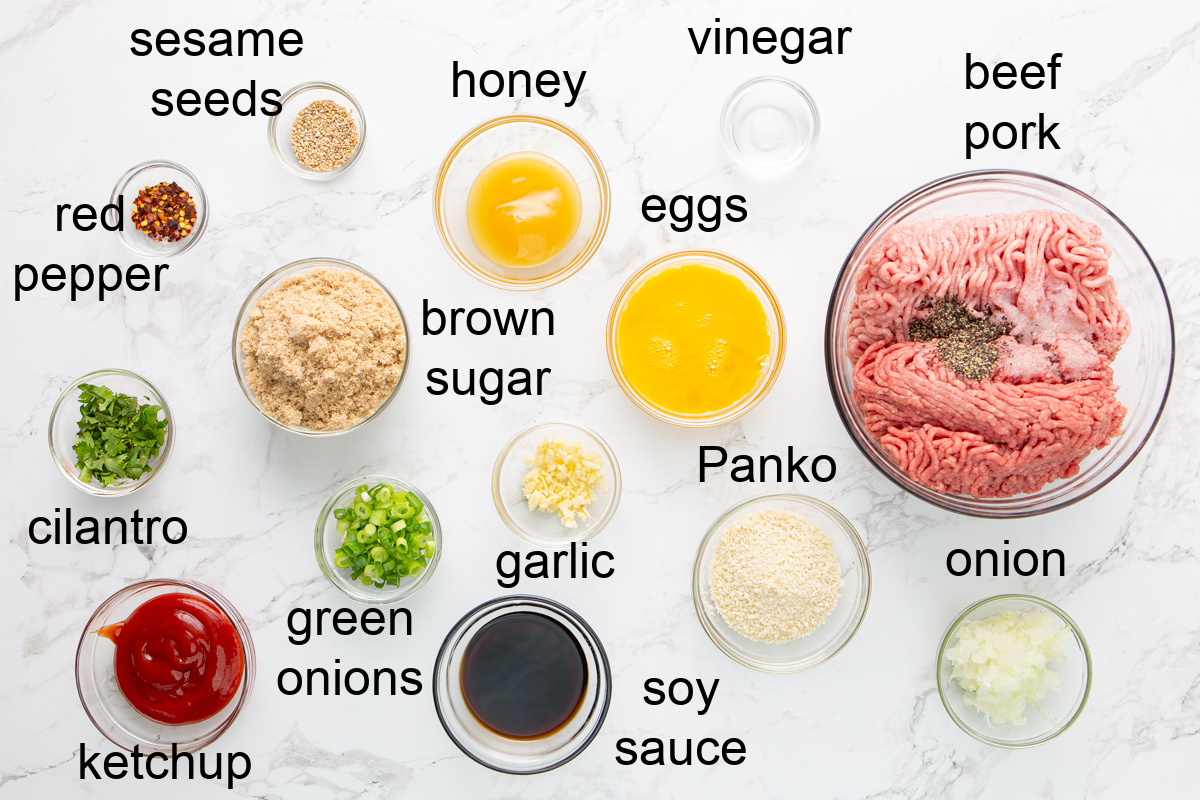 Pork & beef: This ground meat mix keeps things flavourful and moist.
Binders: Eggs and panko breadcrumbs, both help bind the meatballs together. Italian breadcrumbs work, too.
Flavorings: Garlic and onion.
Soy sauce: We use low-sodium soy sauce to give our meatball sauce that umami flavor without the salt.
White wine vinegar: A sauce essential that adds some acidity to really bring out the other flavors.
Sesame seeds: The finishing touch that makes our meatballs look mouthwateringly good.
Herbs: Cilantro and green onions for those fresh, herby notes; and red pepper flakes for a slight fiery kick.
Substitutions
Here are the various ways you can tailor these Asian sweet and spicy meatballs to your liking:
Gluten-free: Use gluten-free breadcrumbs and a gluten-free alternative to soy sauce, such as Tamari or Coconut Aminos.
Low-carb: Make a less-sweet sauce or choose a store-bought diet variant.
Meat: Prefer poultry? Replace pork and beef with ground turkey or chicken
Vinegar: Swap white wine vinegar with apple cider vinegar for a different tang.
Sauce: Feel free to use your favorite chili sauce, Thai sweet chili sauce, or even BBQ sauce.
Classic Twist: Fancy grape jelly meatballs? Create a grape jelly sauce for a nostalgic flavor.
How to Make Spicy Meatballs
This sweet and spicy meatballs recipe takes no time, just follow these simple steps. Check the recipe card at the bottom for more detailed instructions.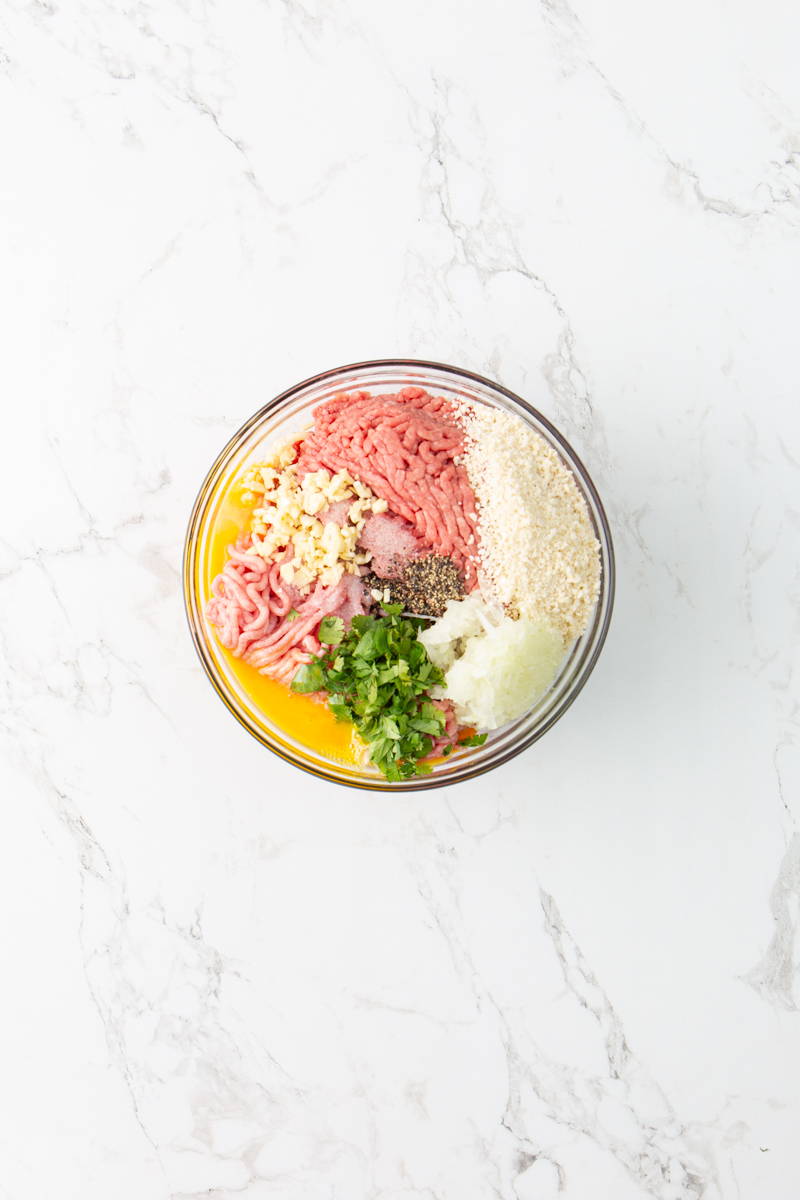 Step 1: Mix the meatball ingredients in a large mixing bowl, then form into 1½ inch meatballs.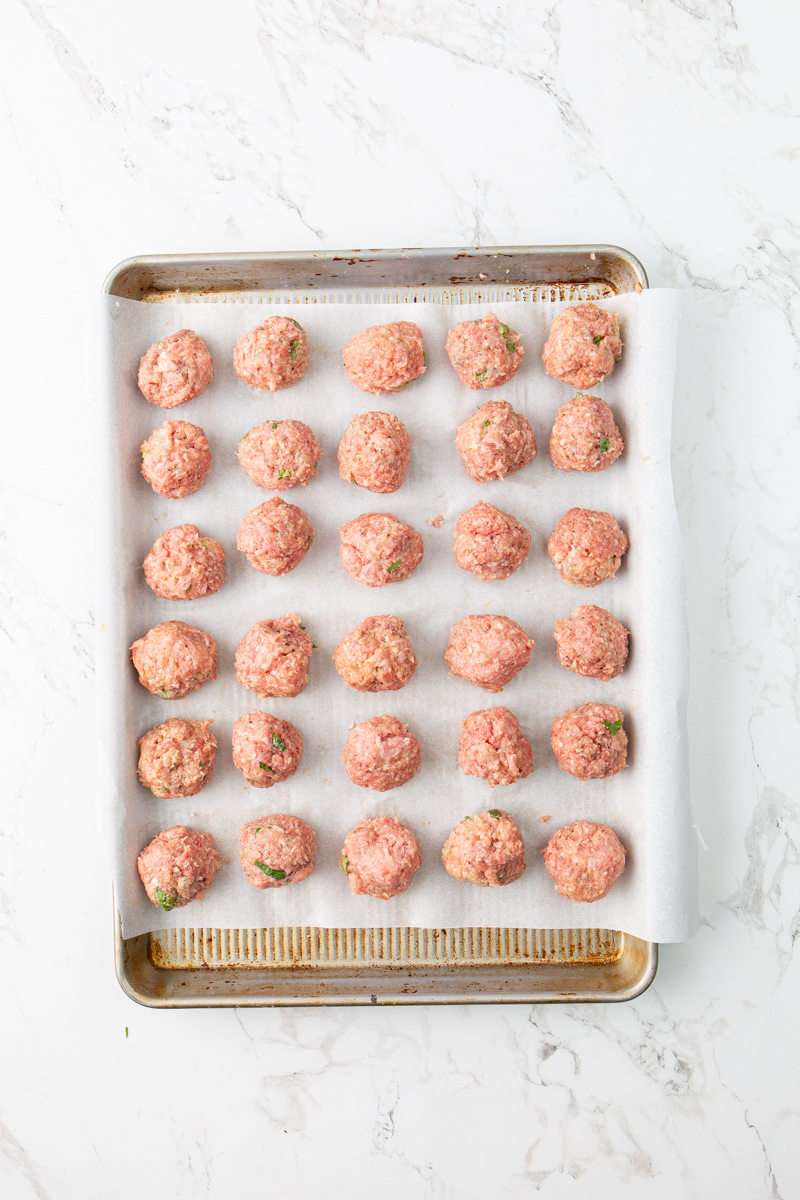 Step 2: Arrange the meatballs on a parchment-lined baking sheet.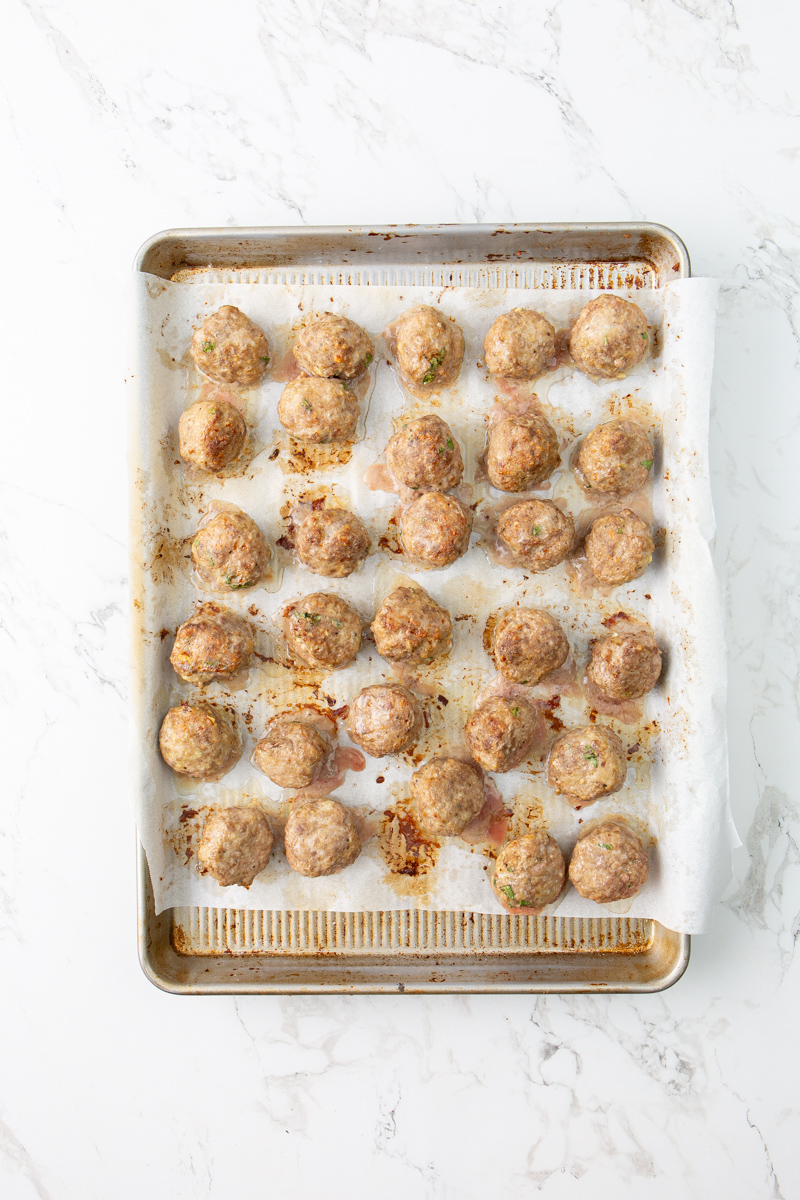 Step 3: Broil the meatballs for 6-7 minutes, flipping halfway. They should be slightly browned but still raw inside.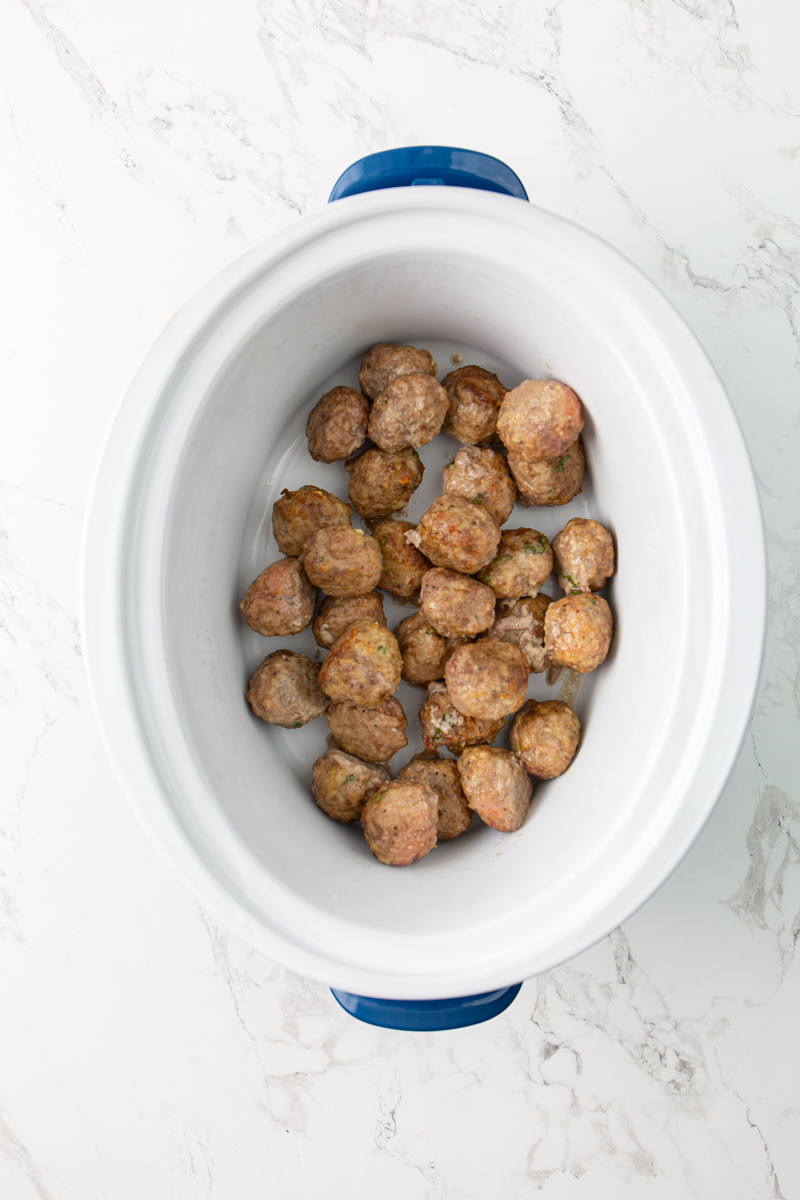 Step 4: Move the meatballs to a crockpot.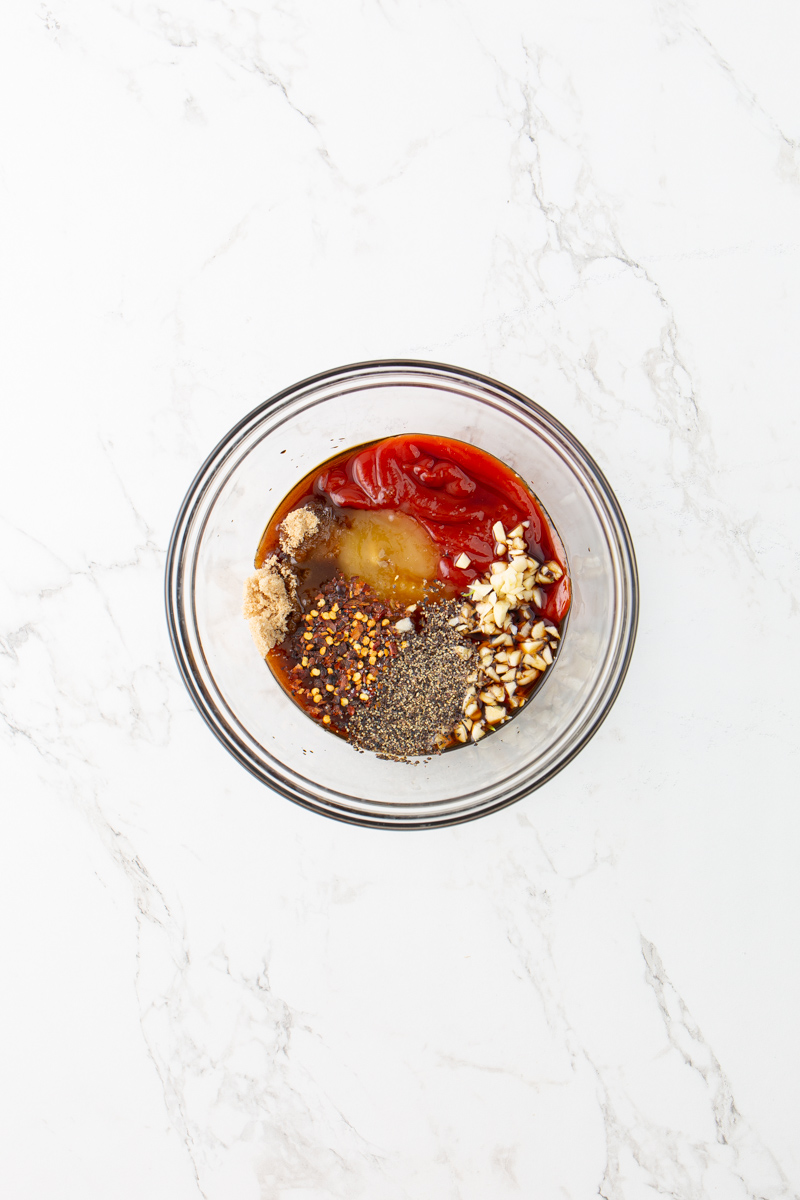 Step 5: For the spicy meatball sauce, mix all the sauce ingredients in a bowl, then pour over the meatballs. Leave out the green onions and sesame seeds.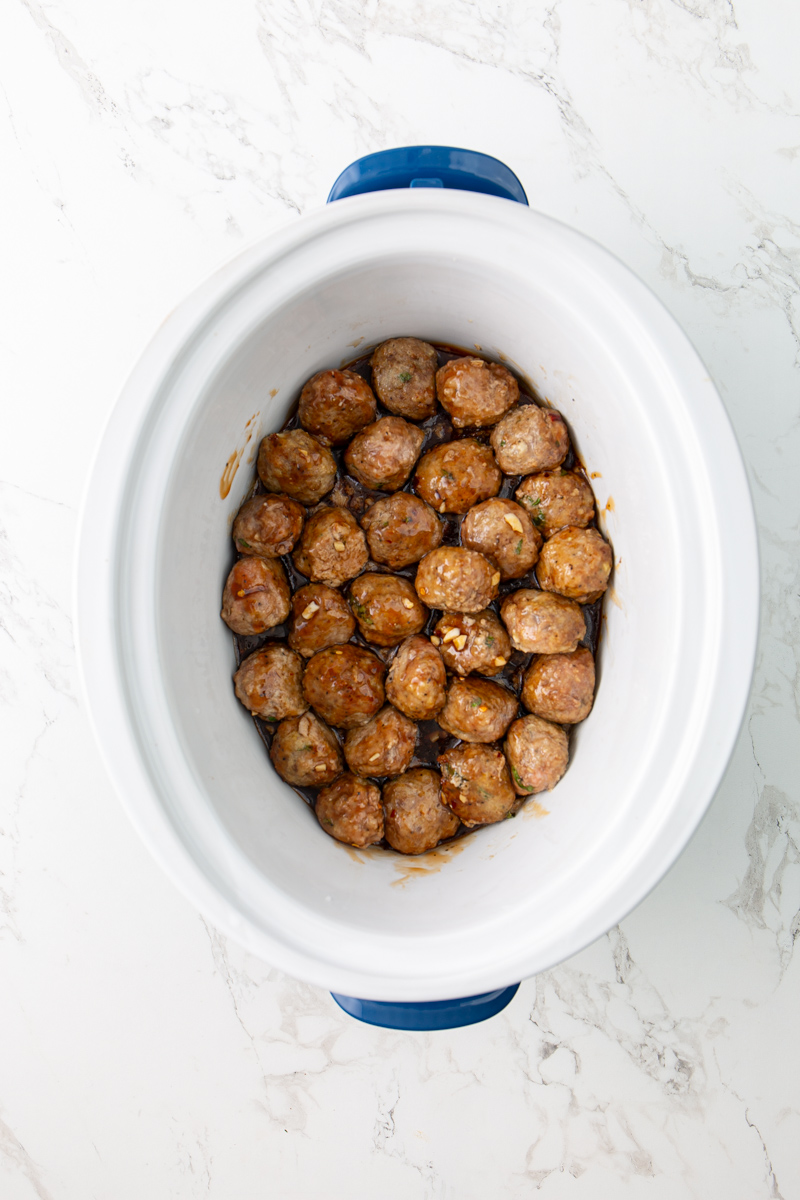 Step 6: Cook on low for 3 hours, stirring halfway. Garnish with green onions and sesame seeds before serving.
Expert Tips
These expert tips will help you make the best Sweet and Spicy Meatballs:
Easy Cleanup: Line your baking sheet with parchment paper so that tidying up is a breeze!
Shortcut Alert: In a rush? You can buy pre-made frozen meatballs. No need to thaw – just toss them in!
Spice it Up: For those who like it hot, add hot sauce or cayenne pepper. We're fans of Frank's hot sauce!
Party Ready: Using a slow cooker or crockpot? Keep it on to ensure your meatballs stay warm throughout the party.
Mix it Right: Don't overmix the meat mixture. Use your hands and mix until just combined for the perfect texture.
Juicy Goodness: For juicy meatballs, avoid overcooking. A meat thermometer is your best friend here (160°F or 70°C).
Serving Suggestions
For a hearty main dish, these meatballs go well with either fluffy rice or creamy mashed potatoes. For potlucks or holiday parties, make them smaller and serve as cocktail meatballs with cocktail sticks.
Here are some other small plate-type dishes that'll go well on your appetizer table:
How to Store
Keep your homemade meatballs fresh for longer by following these tips:
Fridge: Keep the meatballs in the fridge for 3-4 days in an airtight container. Store them separately from the sauce.
Freezer: They can be frozen and stored for up to three months. Freeze them cooked or uncooked.
Reheat: Use a large skillet or saucepan, and reheat together with the sauce. Make sure they are piping hot before serving.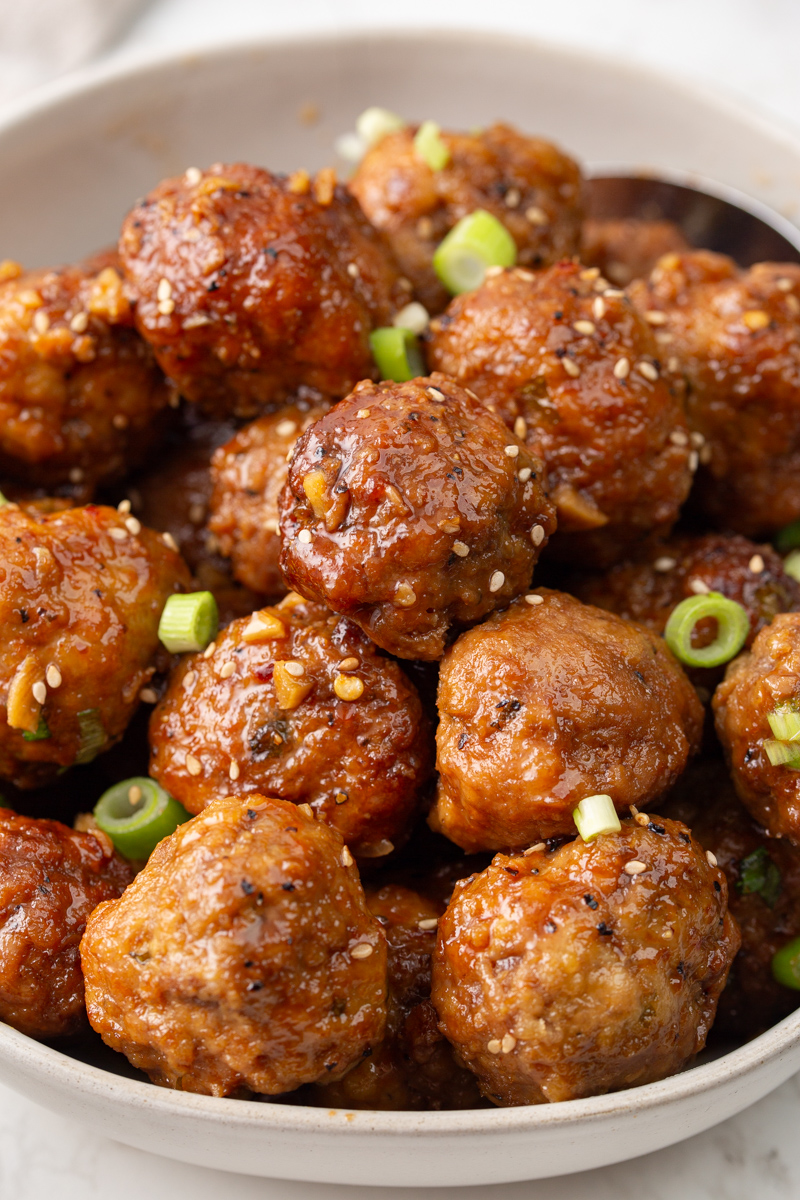 Recipe FAQs
Why do you add egg to meatballs?
Eggs are a key ingredient in this recipe – they act like glue, helping the meatballs hold their shape. They also add more moisture to the mix, so the meatballs are nice and juicy.

Adding some egg is even more important when using store-bought dried breadcrumbs –  otherwise, your meat mixture will be too crumbly.
How many meatballs for 100 guests?
For main meals, each meatball should weigh about 1 ounce (~30g), with a recommended serving of 4-5 per person. So, for a crowd of 100 guests, a total of 400-500 meatballs sounds about right. 

When making smaller party meatballs as part of a party spread, around 200-300 is probably enough.

What makes meatballs stick together better?
Eggs and breadcrumbs are the magic duo that helps meatballs keep their form. The egg is a binder, while breadcrumbs soak up the moisture and add some structure – making your meatballs firm yet juicy.

We also use a bit of a culinary secret in this meatball recipe – grated white onion. This little addition further improves our meatballs' juiciness.
Can I cook the meatballs on the stovetop?
In this easy recipe, we bake the meatballs in the oven. It's our chosen method because it's healthier –  there's less oil involved. It's also less hassle – a bit of parchment paper in your baking pan, and cleanup is easy.
 
However, stovetop cooking works well, too. Just use a large skillet over medium heat, and be sure to keep turning the meatballs so they cook evenly. 

Add the sauce before the meatballs are fully done so they don't overcook. A temperature probe will help you cook them just right (160°F or 70°C). 
If you try Sweet and Spicy Meatballs, please leave a star rating and let me know how you like the recipe in the comments below.
Print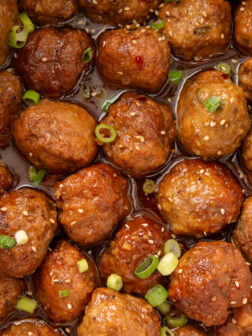 Sweet and Spicy Meatballs
Author: Katya
Prep Time: 20 mins
Cook Time: 3 hours 10 mins
Total Time: 3 hours 30 mins
Yield: 35 meatballs 1x
Category: Appetizer
Method: Crockpot
Cuisine: Asian
---
Description
These saucy crockpot sweet and spicy meatballs make the best appetizer for large gatherings. The meatballs are quickly broiled and then simmered in a sweet and spicy Asian-inspired sauce!
---
Meatballs
1 lb. ground pork
1 lb. ground beef
2 large eggs, lightly beaten
3 large garlic cloves, minced
1/4 cup grated onion (see note)
1/4 cup plain Panko breadcrumbs
1/4 cup fresh cilantro, chopped
Kosher salt and pepper
Sauce
3/4 cup packed brown sugar
1/2 cup low-sodium soy sauce
1/2 cup ketchup
1/4 cup honey
2 Tbsp. white wine vinegar
3 garlic cloves, minced
1 tsp. kosher salt
1 tsp. ground black pepper
1/2 tsp. crushed red pepper flakes (use 1/4 tsp. for less heat)
2 Tbsp. green onion, white and green parts sliced
1 Tbsp. sesame seeds
---
Instructions
Meatballs
Line one full baking sheet pan or two half baking sheets with parchment paper. Set aside.
In a large bowl, combine the meatball ingredients. Season with salt and pepper, to taste.
Form into 1 1/2 inch meatballs and place on the lined sheet pan in a single layer. You should get approximately 35 meatballs. If serving meatballs as an appetizer, roll them into 1-inch balls. This will yield approximately 50 meatballs.
Position the oven rack in the upper third and broil the meatballs for 6-7 minutes, flipping halfway through. Meatballs should be slightly browned on the outside but still raw on the inside. Transfer into a large crockpot.
In a mixing bowl, combine all the sauce ingredients, except for the green onions and sesame seeds. Pour over the meatballs, tossing to coat evenly.
Cook the meatballs on low for 3 hours, mixing halfway through. Serve meatballs garnished with green onions and sesame seeds.
---
Notes
Onion: Use a box grater with large holes to grate the onion.
To Make Ahead: Broil the meatballs and prepare the sauce the night before. Store covered separately in the refrigerator until ready to be cooked in the crockpot.
Frozen Meatballs: Some of the readers tried using frozen meatballs. Please see the comment section for feedback.
Nutrition
Serving Size: 3-4 meatballs with sauce
Calories: 266
Sugar: 21.5 g
Sodium: 568.6 mg
Fat: 10.5 g
Carbohydrates: 25.7 g
Protein: 17.2 g
Cholesterol: 80.9 mg
Keywords: cocktail meatballs, appetizer, party food
Recipe originally published November 2014 but since been updated with new information and images.