Crockpot Sesame Meatballs
Crockpot is a perfect place to make party appetizers that cook and clean up easy. And these Crockpot Sesame Meatballs are just that. Easy holiday appetizer that requires very small effort to feed a big crowd with little clean up. Juicy, tender in a lightly sweet and tangy sauce that penetrates the meatballs while they simmer away in the slow cooker. THE sauce is EVERYTHING!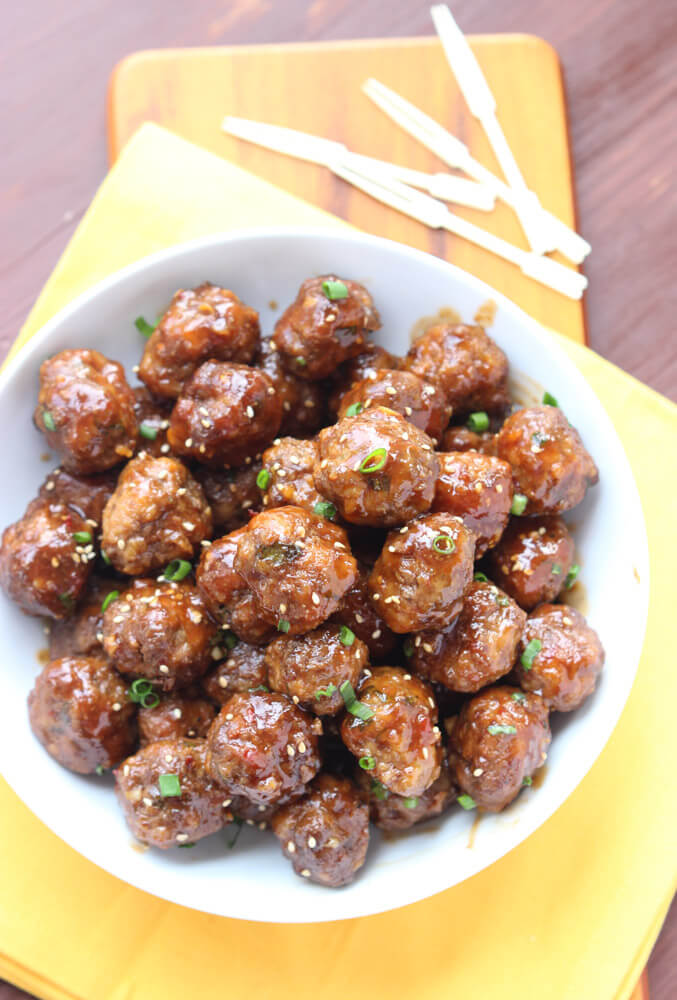 I made country style short ribs in this sweet and tangy sauce couple weeks ago and I knew that I couldn't pass on using the same sauce on something less messy and appetizer friendly for the holidays. It's a perfect blend of sweet and savory and also a little spicy. You can go as much or as little as you like on the crushed red pepper flakes but found that 1/2 teaspoon is a perfect medium.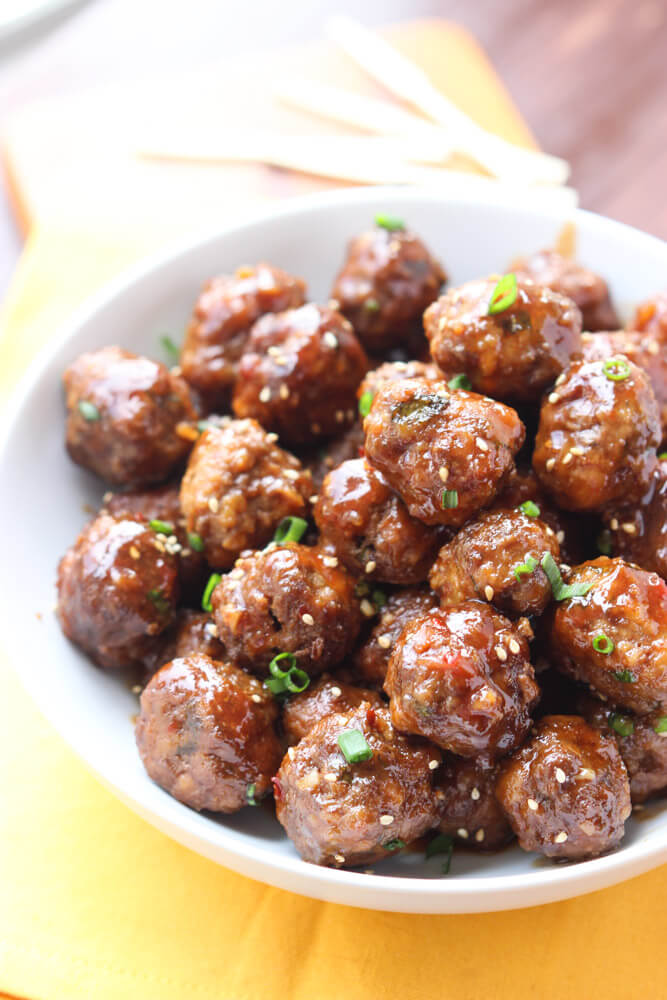 The sauce is some of my favorite ingredients: brown sugar, soy sauce, honey, and garlic. All blended and simmered in a slow cooker along with simple pork and beef meatballs just until tender and fall apart good. Sprinkled with sesame seeds and green onions and you have another tasty appetizer to add to your holiday menu!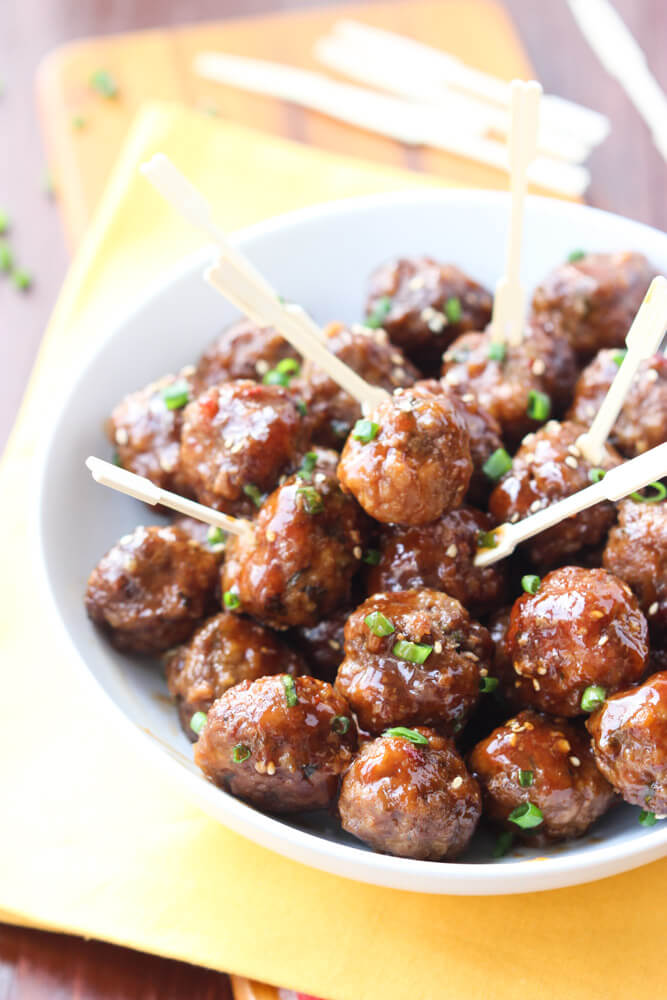 What I also love about these balls is that you can simmer them hot during the duration of your party while you entertain your guests. Or make them hours in advance and keep hot in the crockpot.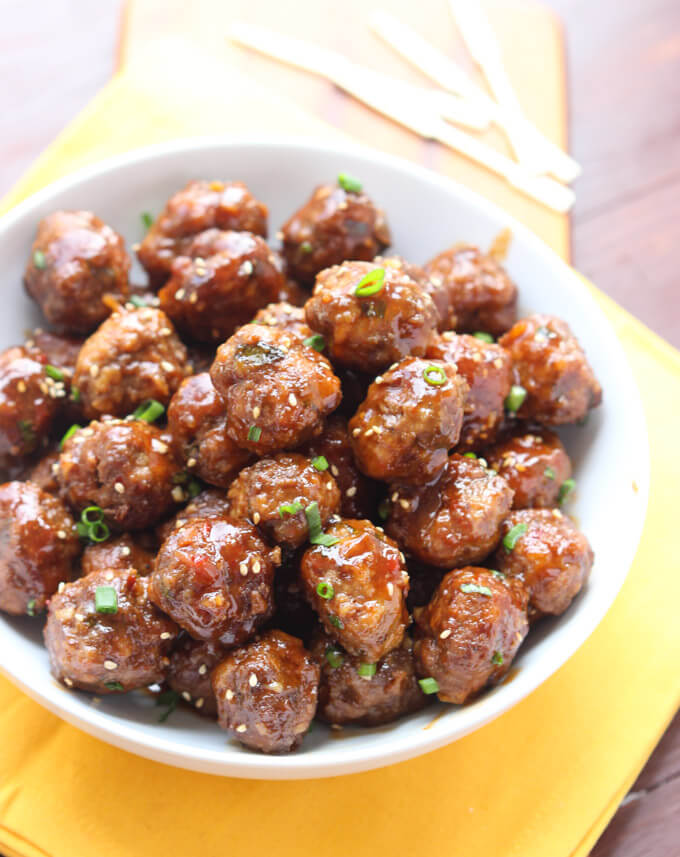 Print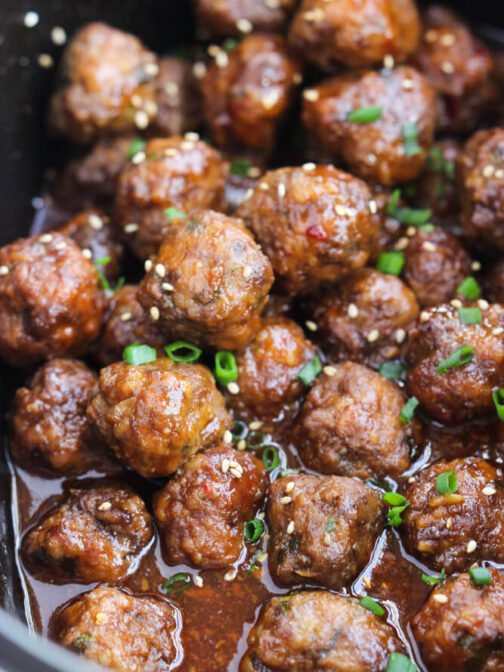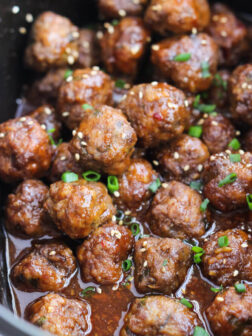 Crockpot Sesame Meatballs
Author: Katya
Prep Time: 20 mins
Cook Time: 3 hours 10 mins
Total Time: 3 hours 30 mins
Yield: 50 mini meatballs 1x
---
Meatballs
1 lb. ground pork
1 lb. ground beef
2 large eggs, lightly beaten
3 large garlic cloves, minced
1/4 cup grated onion
1/4 cup Panko breadcrumbs (Japanese style breadcrumbs found next to regular breadcrumbs or in Asian food aisle)
1/4 cup fresh cilantro, chopped
salt and pepper
Sauce
3/4 cup packed brown sugar
1/2 cup soy sauce (I used low-sodium)
1/2 cup ketchup
1/4 cup honey
2 Tbsp. white wine vinegar
3 garlic cloves, minced
1 tsp. salt
1 tsp. ground pepper
1/2 tsp. crushed red pepper flakes (use 1/4 tsp. for little less heat)
2 Tbsp. green onion, white and green parts chopped
1 Tbsp. sesame seeds
---
Instructions
Meatballs
In a large bowl, combine the meatball ingredients. Season with salt and pepper.
Line two large baking sheets with foil and lightly coat with non-stick cooking spray. Form 1 to 1 1/2 inch meatballs and place on the lined baking sheet in a single layer.
Broil the meatballs on high for 6-7 minutes, flipping halfway through, or just until browned. **You want the meatballs ONLY browned on top and not cooked through***
Sauce
Combine all the sauce ingredients, except for the green onion and sesame seeds.
Place the meatballs in a crockpot, coating with sauce evenly.
Cook the meatballs on low for 3 hours. Mixing couple times to evenly coat with sauce.
Transfer the meatballs to a serving platter and sprinkle with green onion and sesame seeds.
---
Notes
Time Management Tip: broil the meatballs and prepare the sauce the night before; store in the refrigerator covered until ready to be cooked in the crockpot.