Asian Chicken Meatballs
Your new go-to for gatherings: Asian Chicken Meatballs. They're super tender, slathered in a mouthwatering Asian-inspired sauce, and are an easy-to-prepare hit for any holiday party.
Other festive spread ideas: Feta Cheese Dip, Mediterranean Flatbread, and Pineapple Mango Salsa.
Jump to:
Reasons to Love this Recipe
Irresistible – These are no ordinary meatballs – this is a special meatball recipe that's tender, juicy, and smothered in a sweet and spicy sauce.
Versatile – A delicious appetizer perfect for any gathering, or quickly transforms into a main course – just like our buffalo chicken tenders.
Flexible – Whether you have dietary restrictions or specific tastes, this recipe can be tweaked. Make it a well-balanced meal fit for your needs with just a few simple substitutions.
Easy-Peasy – A simple recipe that's also quick. Get dinner on the table in 30 minutes or prep in advance for an easy weeknight meal to serve over coconut lime rice.
Love meatball recipes? Try orecchiette with baked mini chicken meatballs or sweet and spicy meatballs for more delicious goodness!
Ingredients
All the simple ingredients to create these chicken Asian meatballs should be available at your local grocery store. See the recipe card for full information on ingredients and quantities.
Meatballs
Ground chicken: A lean meat for low-fat meatballs.
Eggs: The glue that holds our meatballs together.
Plain panko breadcrumbs: For the perfect texture.
Milk: Softens the breadcrumbs for nice and moist meatballs.
Grated onion: The secret to meatballs that are fall-apart good.
Cilantro: Adds a fresh, herby note to every bite. Finely chopped fresh cilantro works best.
Sour cream: Used in our meatball mixture to make them even more tender and moist.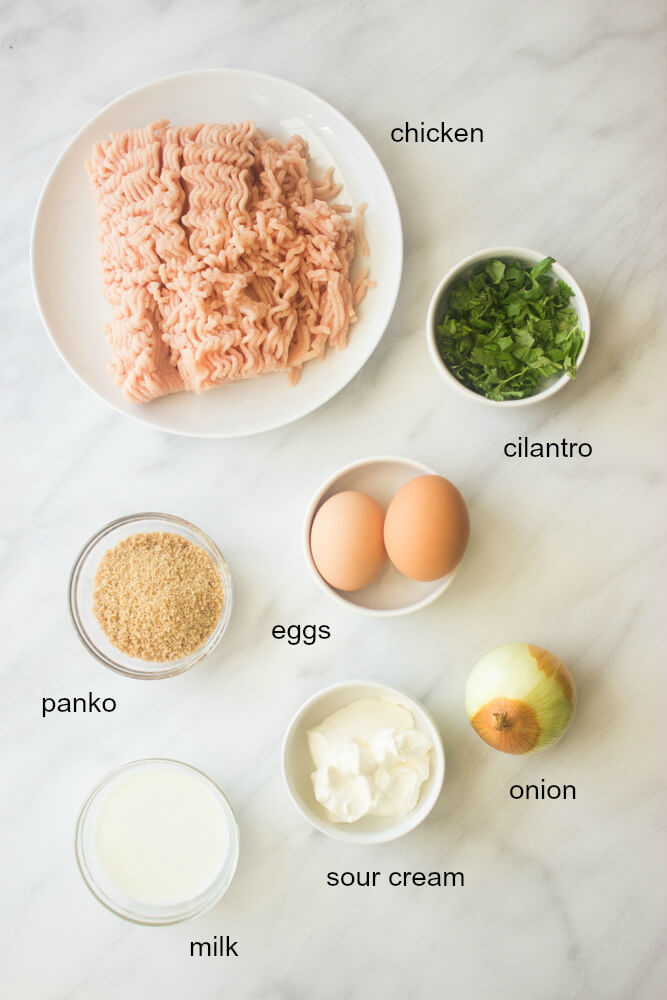 Sauce
Brown sugar: A slightly sweet touch.
Soy Sauce: Gives the sauce its umami kick. Opt for low-sodium soy sauce for less salt.
Ketchup: Adds a tomato base to the sauce, making it richer.
Honey: For more sweetness and a smoother texture.
White Wine Vinegar: Brings acidity to round out the flavors.
Garlic Cloves: Use minced fresh garlic for a nice kick.
Crushed Red Pepper Flakes: A bit of heat.
Green Onions: A fresh garnish that adds a pop of color.
Sesame Seeds: For a bit of crunch and tastier looks.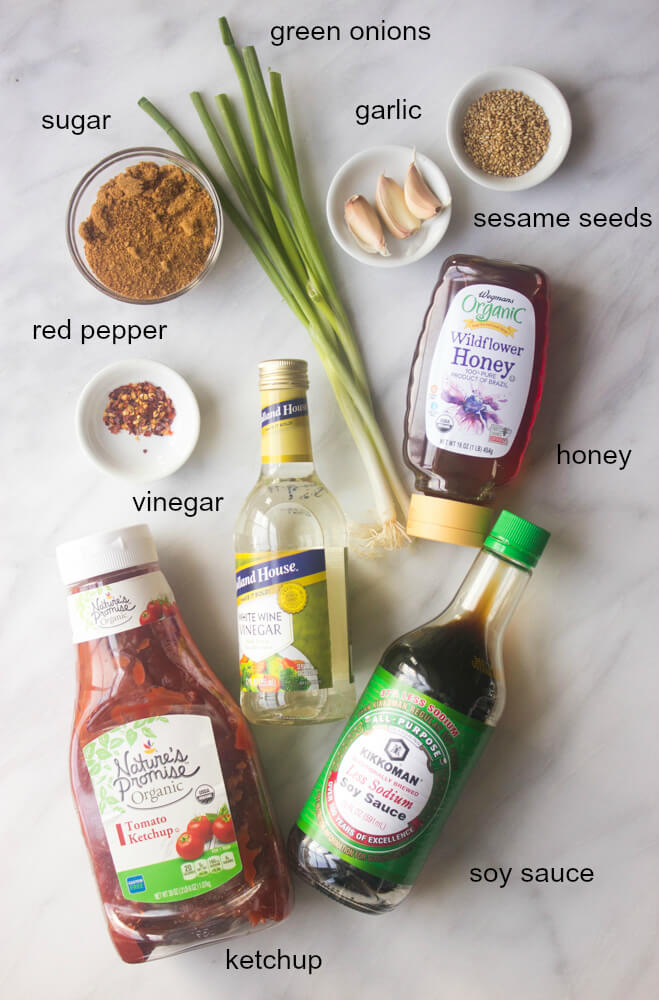 Substitutions
Got some specific dietary needs? We've got your back:
Gluten-free: Use gluten-free breadcrumbs and opt for tamari or coconut aminos instead of traditional soy sauce.
Dairy-free: Replace cow's milk with almond milk or homemade chicken stock for a non-dairy version.
Low-carb: Try using monk fruit sweetener instead of sugar for fewer calories.
Tailor this Asian ground chicken meatball recipe to your liking with these swaps:
Ground chicken: Ground pork, beef, or turkey are other options.
Sugar: Coconut sugar, honey, or even monk fruit sweeteners are all great choices.
Sour cream: Greek yogurt works, too – while also keeping the meatballs moist.
White wine vinegar: Apple cider vinegar, rice vinegar, or mirin for a teriyaki variation all work well.
How to Make
Ready to create some culinary magic with these Asian-style chicken meatballs? For a more detailed step-by-step guide, refer to the recipe card below.
Meatballs
Mix the breadcrumbs and milk in a big bowl and wait 5 minutes.
Add the chicken, eggs, onion, cilantro, sour cream, salt, and pepper. Combine well.
Lay parchment paper on baking sheets. Form 1½ inch meatballs and place them on the sheets.
Broil meatballs on high for 3-4 minutes. Take them out and set aside.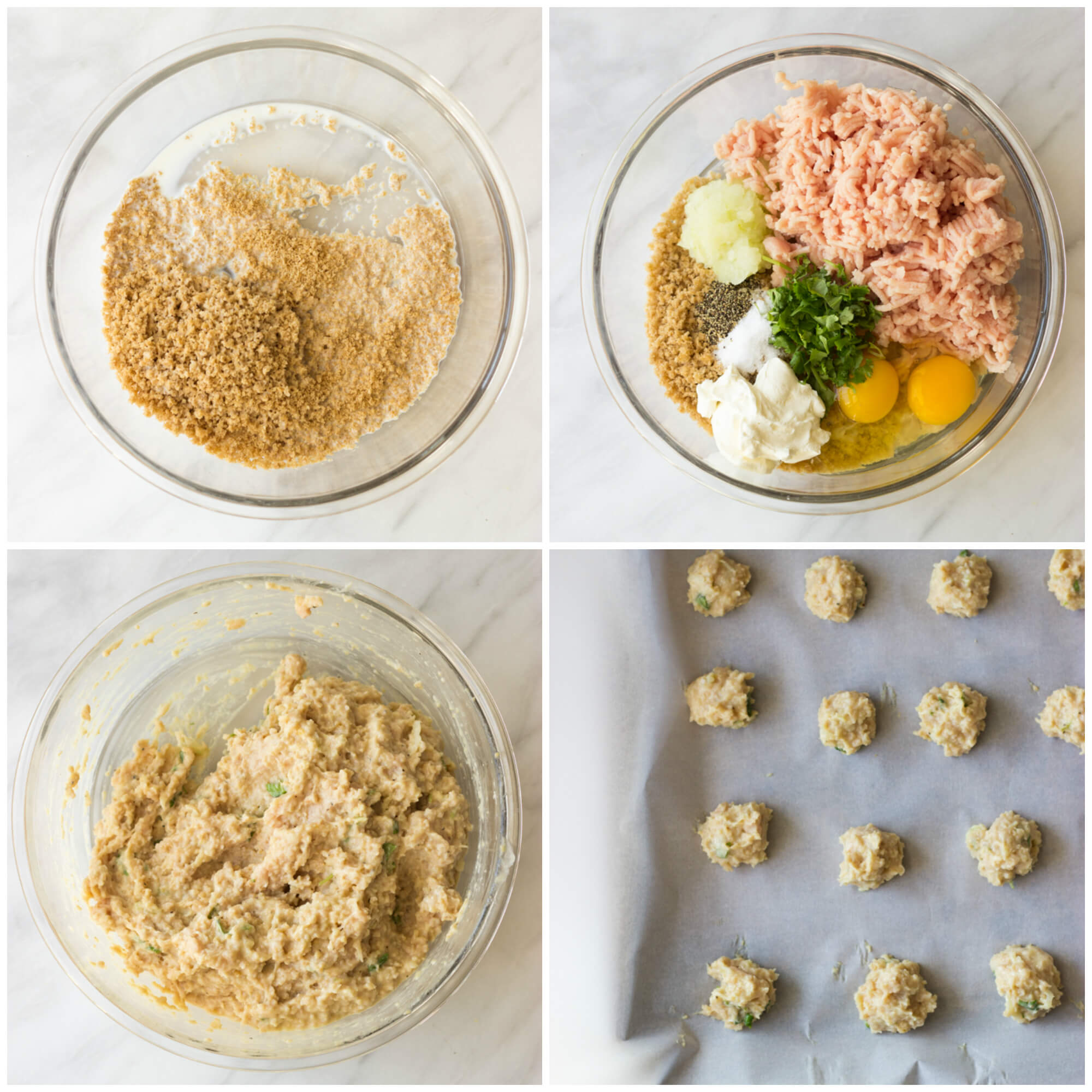 Sauce
Mix all the sauce ingredients except the green onions and sesame seeds in a large skillet. Simmer until the sugar dissolves.
Add meatballs to the sauce and cook for 7-9 minutes.
Top with green onions and sesame seeds before serving.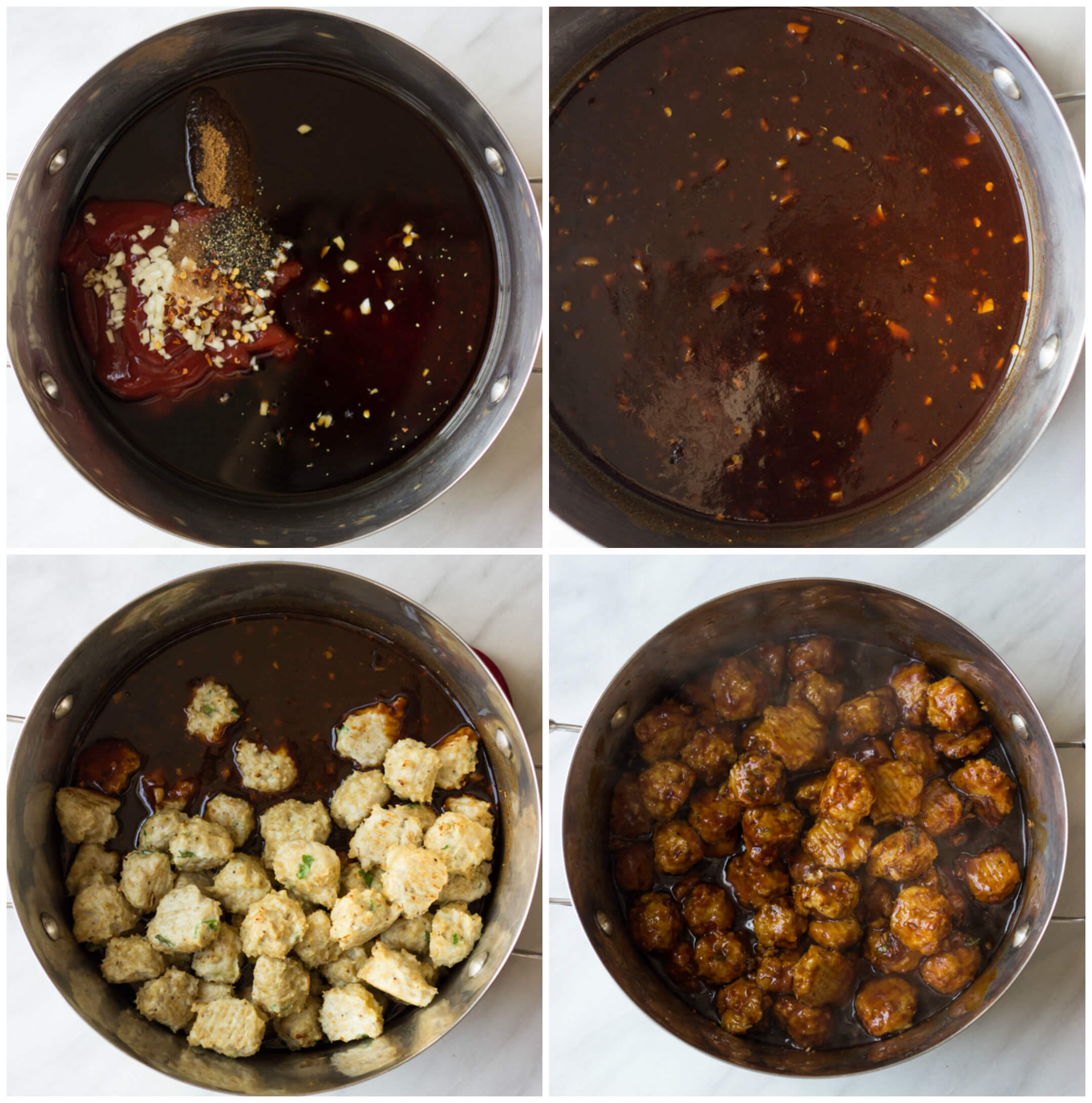 Expert Tips
Get the best from our Asian chicken meatball recipe by following these expert tips:
Baking is Best: Baked meatballs cook more evenly while being less messy and healthier. Remember to line your baking sheet with parchment paper.
No Stick Trick: Rub a little olive oil over the palm of your hands before rolling the meatballs so they don't stick so much.
Scoop Success: Use an ice cream scoop to shape your meatballs so they're all the same size – they'll cook more evenly.
Tender Triumph: Meatballs are perfectly cooked when a meat thermometer reads 165°F (74°C) internally. Try not to overcook.
Soft Touch: Don't overmix your meatball ingredients. The key to tender meatballs is a gentle touch.
Flavor Check: Test your meatball seasoning by cooking a test meatball first, then adjust the batch as needed.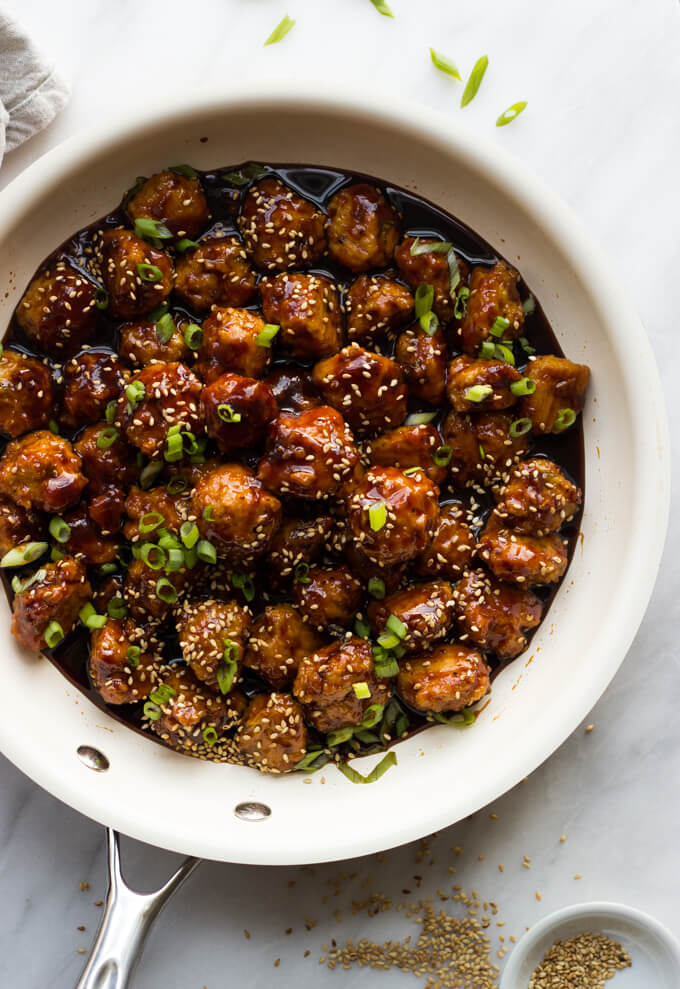 Serving Suggestions
When it comes to serving these delicious chicken meatballs, you have plenty of options:
Appetizer
Present these meatballs on mini cocktail forks or toothpicks for an easy-to-grab appetizer. Add a side of spicy mayo for a perfect dipping companion.
For more holiday favorite appetizers, see these:
Main Course
For a balanced meal, serve alongside these side dishes: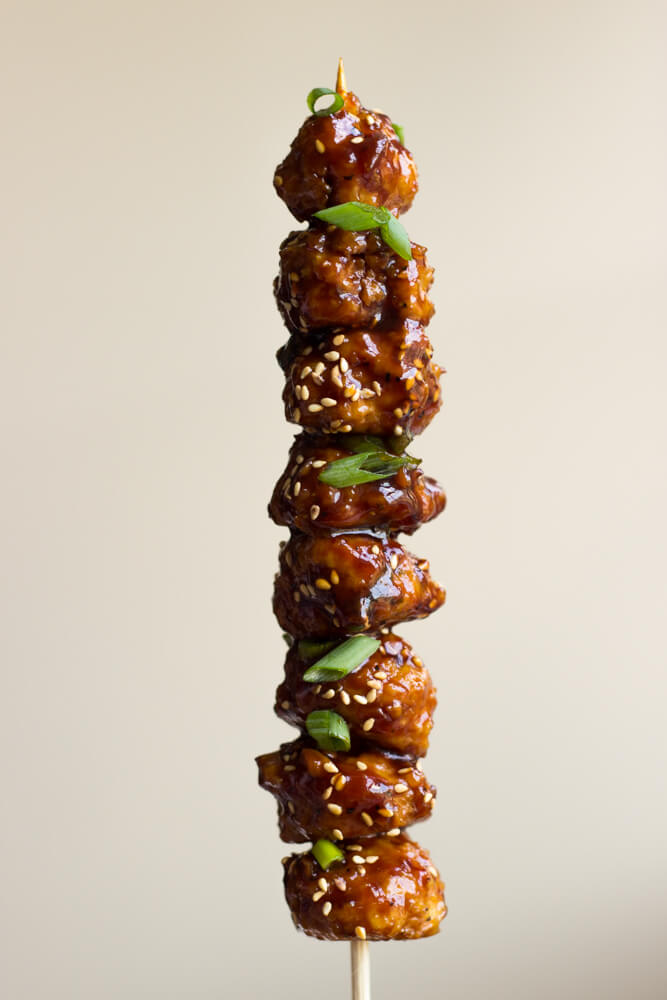 How to Store
You can prepare the meatballs 1-2 days ahead – allowing the flavors to meld together for an even richer taste. Just be sure to store them properly:
Fridge: Store in an airtight container. They'll keep fresh for up to three days.
Freezer: For longer storage, place the meatballs in a single layer on a lined baking sheet. You can freeze them either cooked or uncooked.
Reheat: When you're ready to use your frozen meatballs, reheat them in the oven. Ensure they are fully cooked before eating – a meat thermometer is your best friend here. 
Recipe FAQs
Can you cook the meatballs first, then put them in a crockpot?
Yes, you can absolutely cook the meatballs first and then transfer them to a crockpot with the sauce. 

This is a great way to keep them warm and further infuse them with the flavors of the sauce.
What do you recommend to make meatballs moist and round?
For moist meatballs, use grated onion and sour cream in the mixture and try not to overcook. 

Oil your hands with a little olive oil before rolling the meatballs, and use an ice cream scoop for perfectly round balls.
Can you make these meatballs gluten-free?
Yes, you can make these meatballs gluten-free by using gluten-free breadcrumbs and an alternative to soy sauce, such as tamari or coconut aminos. 
How do you know when the meatballs are cooked?
Make sure you fully cook your meatballs using an instant-read thermometer. 

The internal temperature should read at least 165°F (74°C) – this means they're safe to eat.
If you try Asian Chicken Meatballs, please leave a star rating and let me know how you like the recipe in the comments below.
Print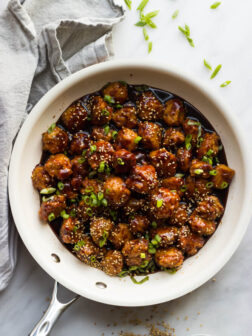 Asian Chicken Meatballs
Author: Katya
Prep Time: 25 mins
Cook Time: 20 mins
Total Time: 45 mins
Yield: about 60 meatballs 1x
Category: Appetizer
Method: Baked
Cuisine: Asian
---
Description
Saucy mini chicken meatballs in a delicious Asian inspired sauce that are SUPER tender and easy to prepare. Perfect for your next holiday party!
---
Meatballs
1 cup plain Panko breadcrumbs, white or whole wheat
1/2 cup milk
1 pound ground chicken
2 large eggs
4 Tbsp. grated onion (about 1 small)
2 Tbsp. finely chopped cilantro
2 Tbsp. sour cream
1 tsp. kosher salt
1/2 tsp. black pepper
Sauce
3/4 cup brown sugar or coconut sugar
1/2 cup low-sodium soy sauce
1/2 cup ketchup
1/4 cup honey
2 Tbsp. white wine vinegar
3 garlic cloves, minced
1/2 tsp. crushed red pepper flakes
1 tsp. kosher salt
1 tsp. black pepper
2 Tbsp. green onions, sliced
1 Tbsp. sesame seeds
---
Instructions
Make the meatballs: Add breadcrumbs to a large bowl. Pour milk over the breadcrumbs and let stand for 5 minutes or until the breadcrumbs absorb the milk.
Add chicken, eggs, onion, cilantro, sour cream, salt, and pepper. Combine the mixture using your hands. It will be wet and sticky. Let stand at room temperature for 10 minutes. It will be easier to roll.
Line two large baking sheets with parchment paper. Roll the mixture into 1 1/2 inch balls and set on the prepared baking sheet. If the mixture is still sticky, rub a little olive oil over the palm of your hands before rolling the meatballs.
Set the oven rack about 9 inches from the heat source and broil the meatballs for 3-4 minutes on HIGH without flipping. The tops will be lightly (barely) golden and the inside raw. Remove and set aside while preparing the sauce.
Make the sauce: In a dutch oven or large skillet, combine all the sauce ingredients, except for the green onions and sesame seeds. Bring the mixture to a slow simmer over medium-low heat and cook until the sugar dissolves.
Stir in the meatballs and cook until the meatballs are completely cooked through about 7-9 minutes. Garnish with green onions and sesame seeds before serving.
---
Notes
Meatballs might be a little flat on the bottom when baked.
Nutrition
Serving Size: 4 meatballs
Calories: 169
Sugar: 18.5 g
Sodium: 510.2 mg
Fat: 3.8 g
Carbohydrates: 26.4 g
Protein: 8.4 g
Cholesterol: 51.2 mg
Keywords: mini meatballs, holiday meatballs