Roasted Fall Vegetables
Welcome the fall season with our Roasted Fall Vegetables. It's a healthy side dish that's simple to make and full of fall colors.
Need more side dish recipes? Try our Roasted Broccoli with Bacon, Maple Roasted Brussels Sprouts, or Roasted Brussels Sprouts with Cranberries.
Jump to:
Why This Recipe Works
Effortless – These seasonal veggies are roasted to perfection in the oven in about 40 minutes. It's the perfect side dish for any meal, just like our roasted asparagus with lemon.
Healthy – Packed with vitamins and fiber, these roasted veggies make a healthy addition to any meal. We use seasonal vegetables for the best nutritional properties and flavor.
Flavorful – Our unique recipe includes balsamic vinegar for a bit of tang, honey for sweetness, and bacon for that savory touch. Vegetables have never tasted so good – also see our roasted garlic green beans.
Versatile – Perfect for meal prep, enjoy these roasted veggies as a side dish or as a hearty salad topping throughout the week. It's the perfect accompaniment to any meal.
Ingredients
Find the simple ingredients to make these healthy roasted veggies in your nearby grocery store: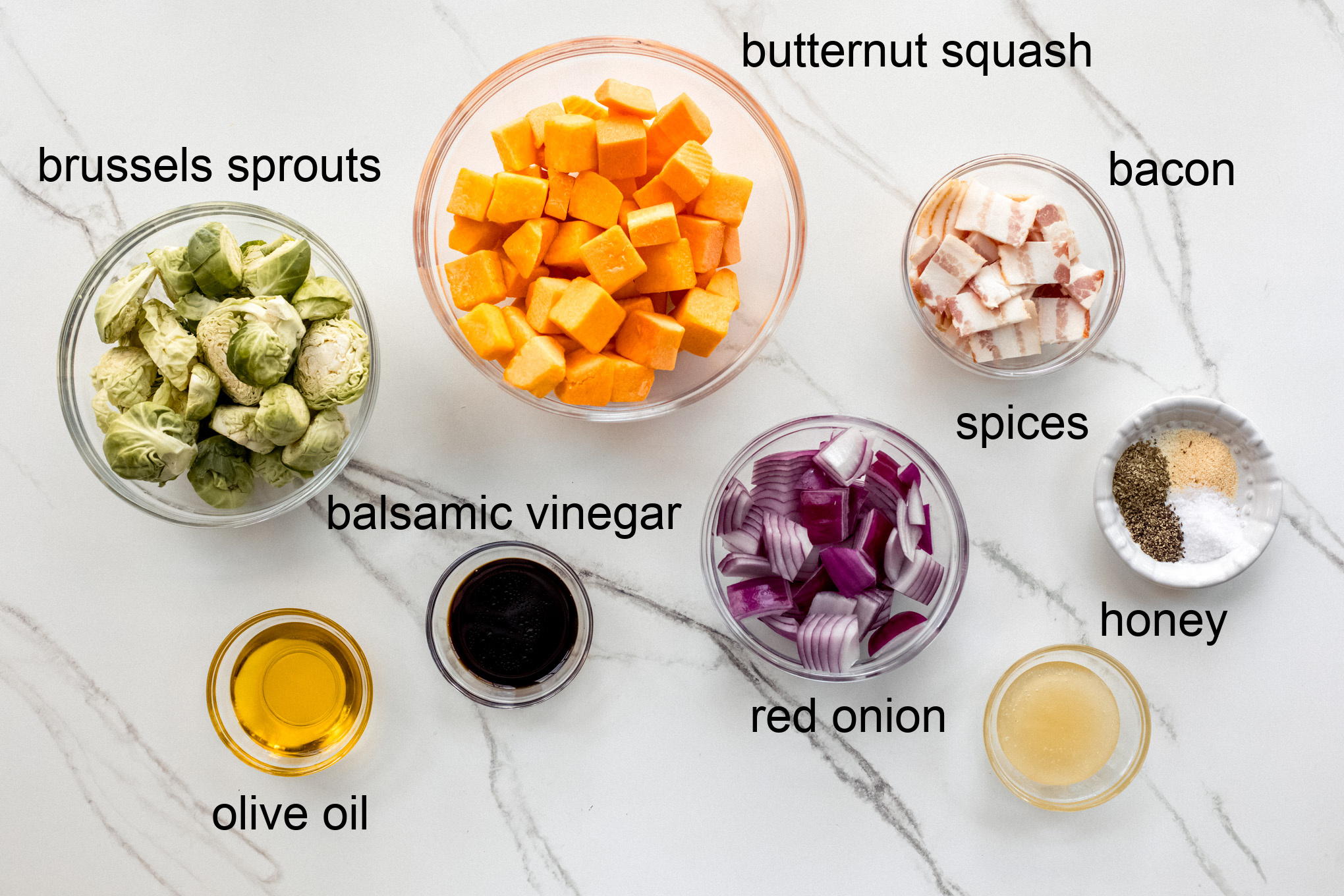 Butternut squash: Sweet and nutty, with a creamy texture.
Brussel sprouts: Become wonderfully caramelized when roasted.
Red onion: Gives a slight sharpness that adds depth.
Bacon: Provides a crispy, smoky bite that adds a layer of umami richness to the veggies.
Olive oil: Use extra virgin olive oil for best results.
Balsamic vinegar: Introduces a rich, slightly sweet tanginess that improves the natural flavors of the vegetables.
Honey: Natural sweetness to balance the acidity of the balsamic and the bitterness of the sprouts.
Italian seasoning: This herb blend adds a classic, herby flavor profile.
Garlic powder: Goes with the Italian seasoning.
Lemon zest (optional): Brightens the entire dish with a zesty, citrusy pop.
See the recipe card for full information on ingredients and quantities.
Additions
Complement your simple roasted fall vegetables with a selection of veggies that are also in season:
Broccoli: Chop into florets and toss in – its earthy flavor complements the sweeter squash beautifully.
Cauliflower: Mix in florets to add a creamy texture and a subtle sweet, nutty flavor.
Carrots: Slice into coins or sticks for even more color and a sweet flavor that gets stronger when roasted.
Beets: Cube and include for an earthy sweetness that pairs well with the balsamic vinegar.
Sweet Potatoes: Cut into cubes and throw in to introduce a sweet taste to the dish.
How to Make
Making these scrumptious roasted vegetables couldn't be simpler! Just follow these step-by-step instructions. For further guidance, the recipe card below has all the info you need.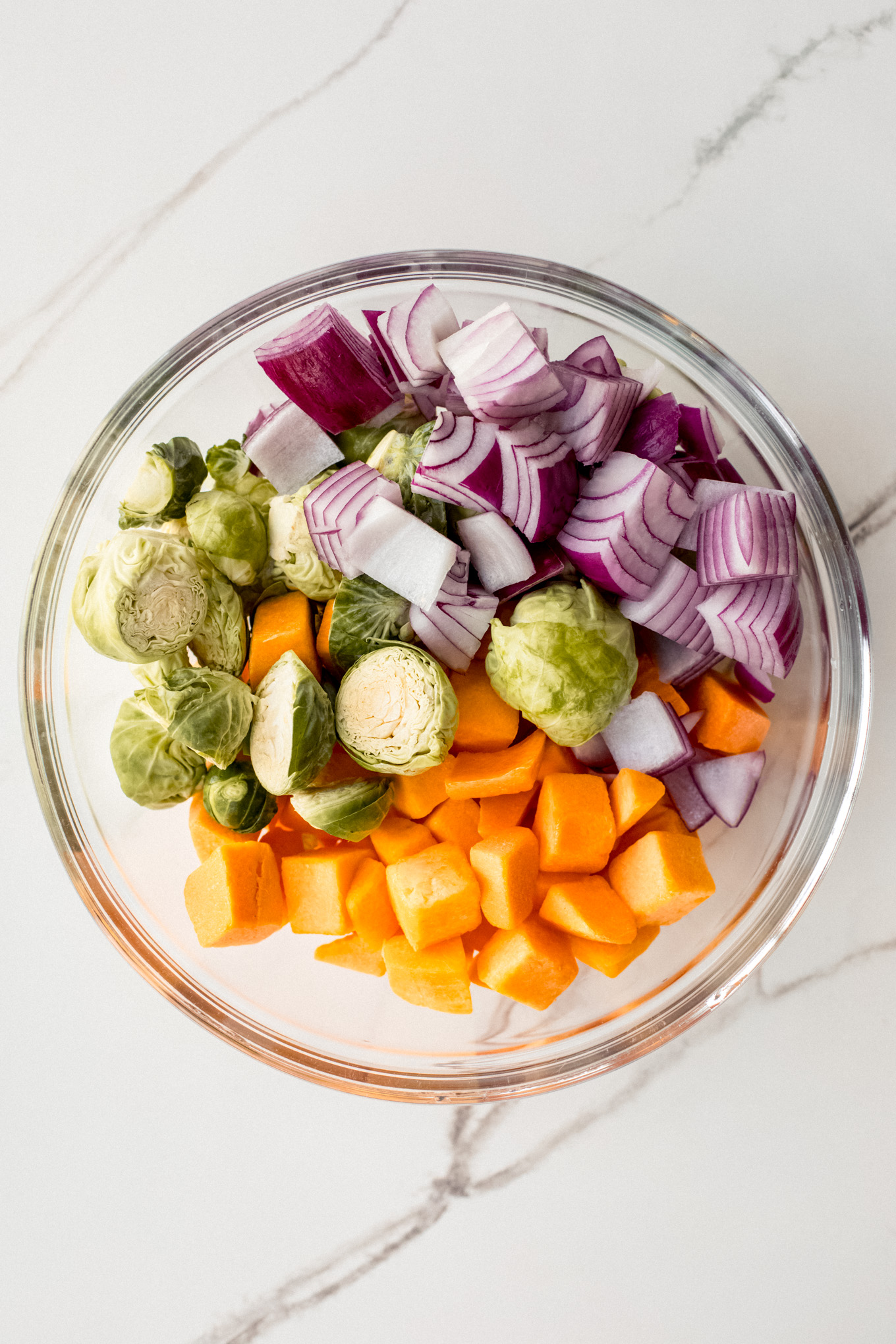 Step 1: Toss the squash, sprouts, and onion in a large bowl.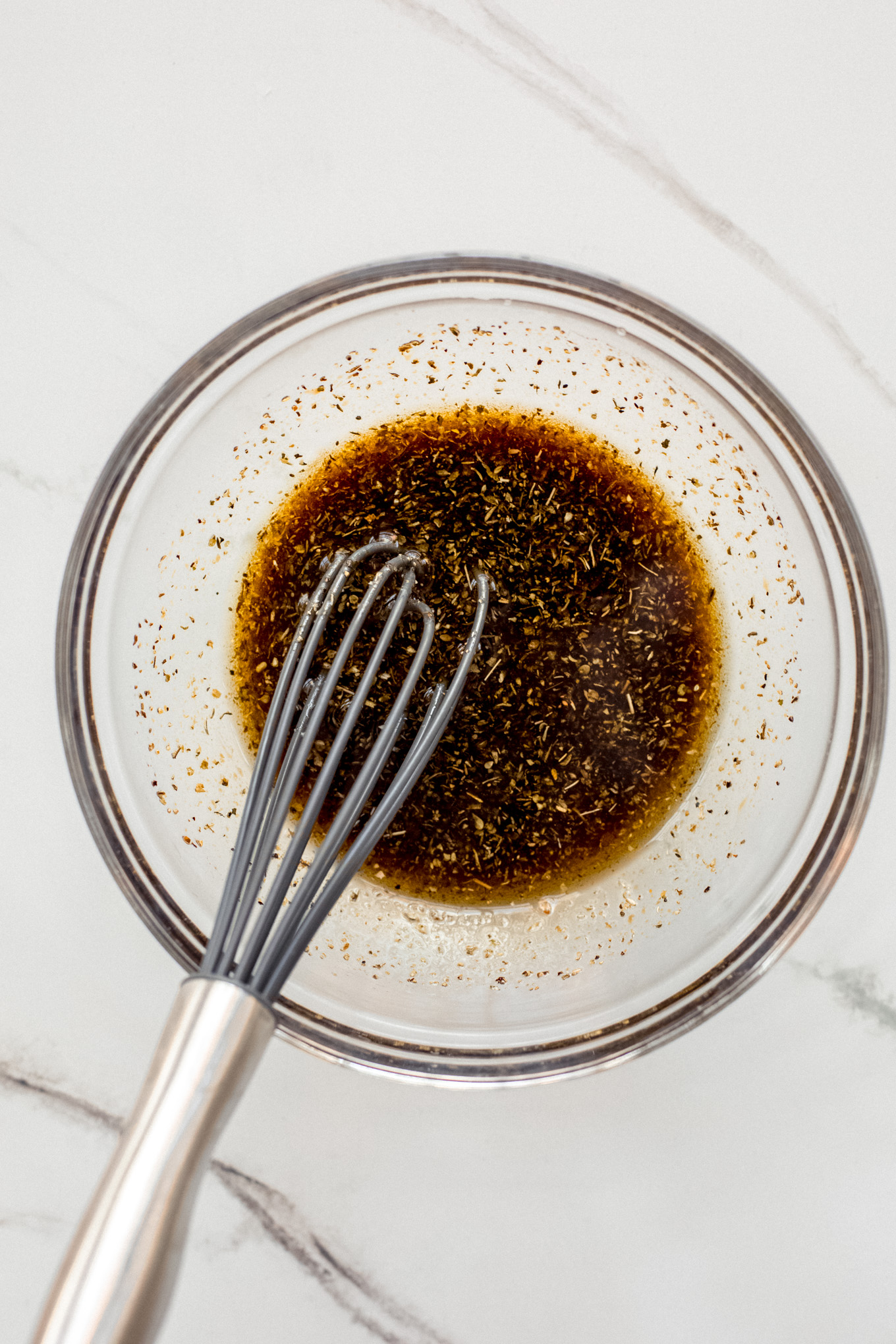 Step 2: Mix oil, vinegar, honey, and seasonings in another bowl.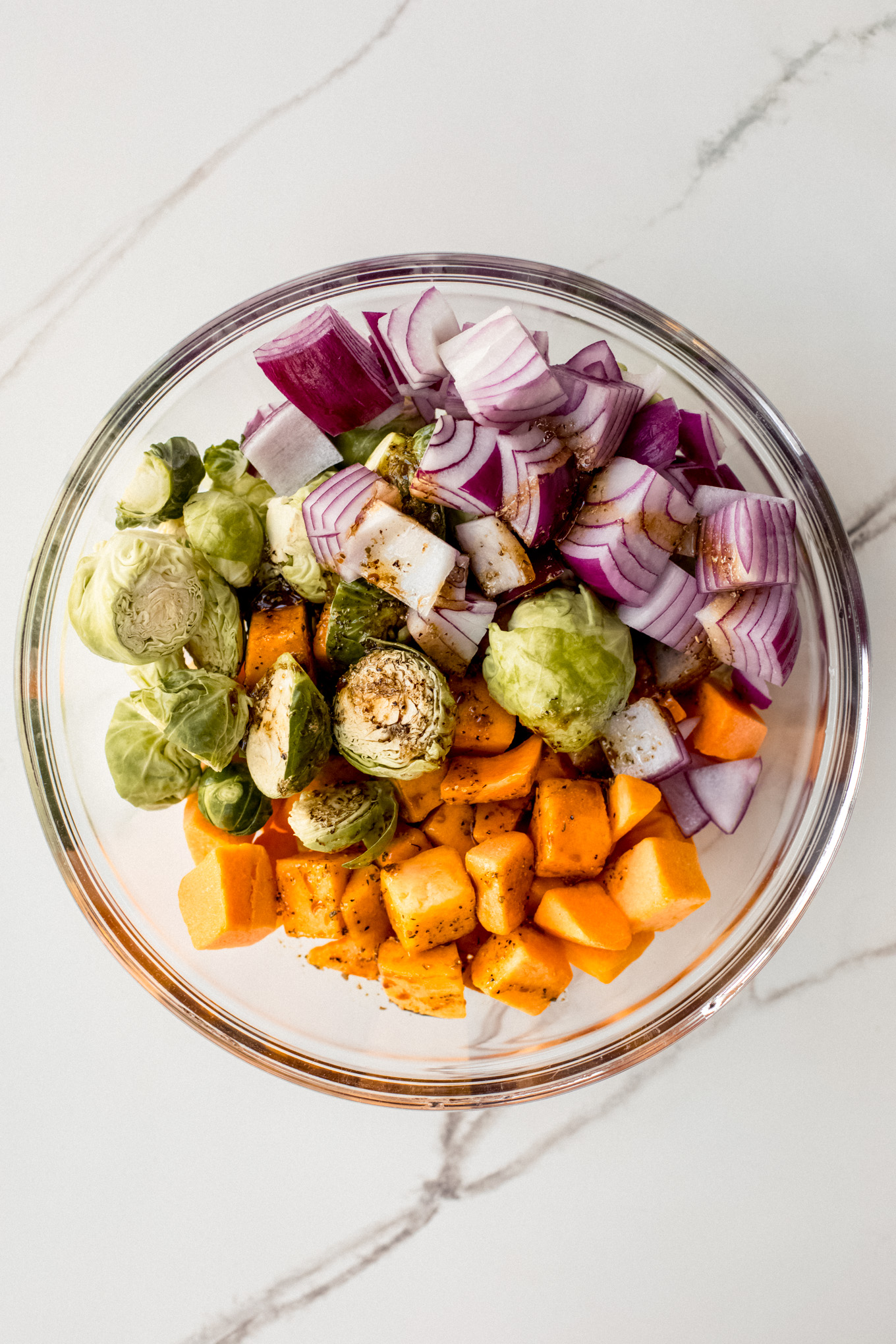 Step 3: Then, pour the oil and vinegar mixture over the veggies to coat.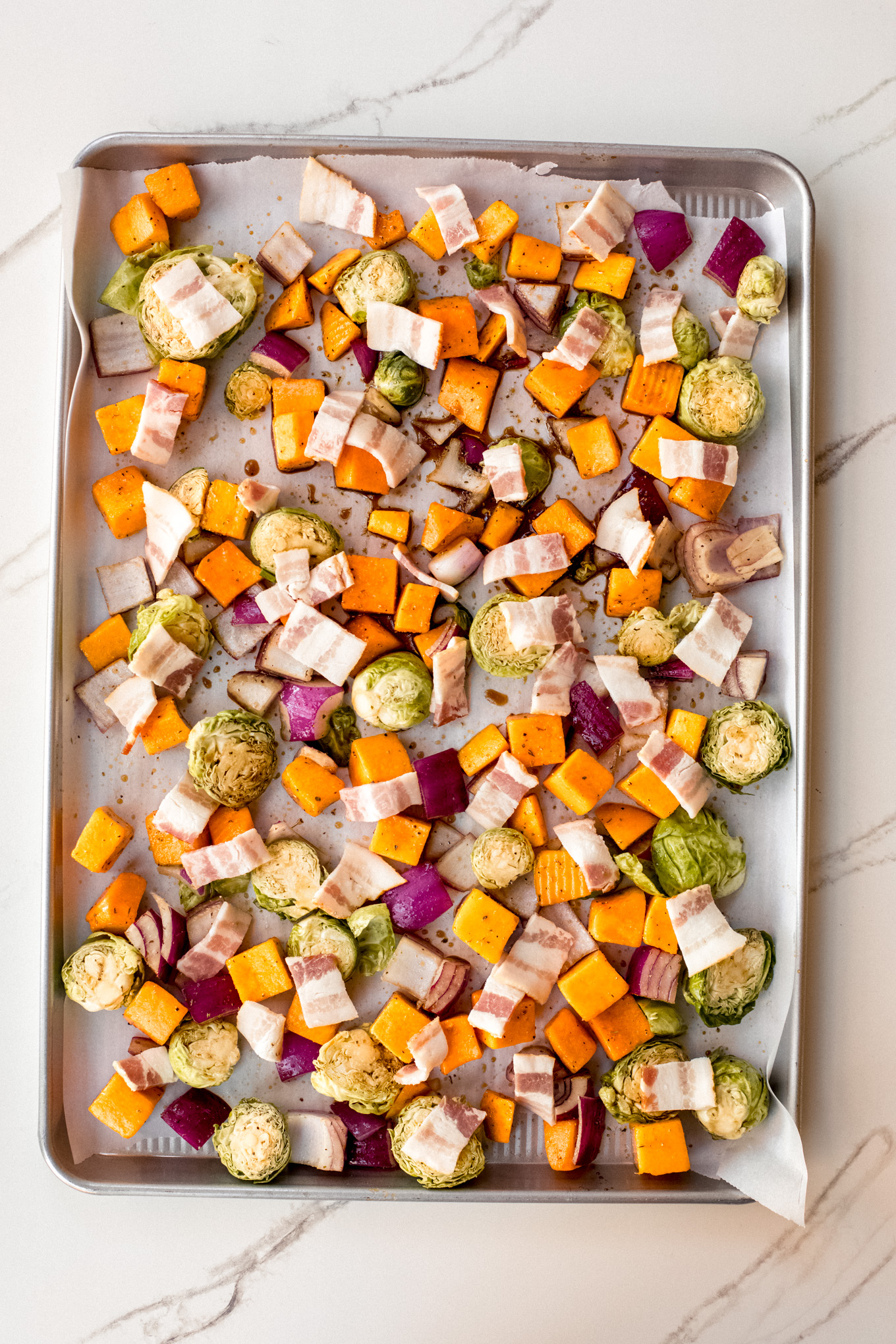 Step 4: Spread veggies out on the pan. Scatter with bacon bits. Bake at 400F for 25 minutes, stir, and bake for 15-18 minutes more.
Expert Tips
If you want to make the best-roasted vegetables, follow these expert tips:
Save on Prep: Buy ready peeled and chopped butternut squash and Brussels sprouts to save on prep time.
Chop Bacon Large: Keep your bacon chunks on the larger side, at about ¾-1 inch – nobody likes burnt whispers of bacon.
Do Not Overcrowd: To ensure vegetables roast evenly, do not overcrowd them in the pan, or they'll go soggy. If you have to, split them up into two pans, so they can crisp up nicely.
Toss Halfway: Keep your eye on the oven and toss the veggies mid-roast. This makes for that golden, even tan – and stops any charring.
Add Some Zest: Adding lemon zest may seem unusual, but lemon zest brightens up the dish and reduces the bitterness of the sprouts. Plus, it makes for a great-looking final touch.
Serving Suggestions
Here are some main dish ideas to serve with your fall roasted vegetables: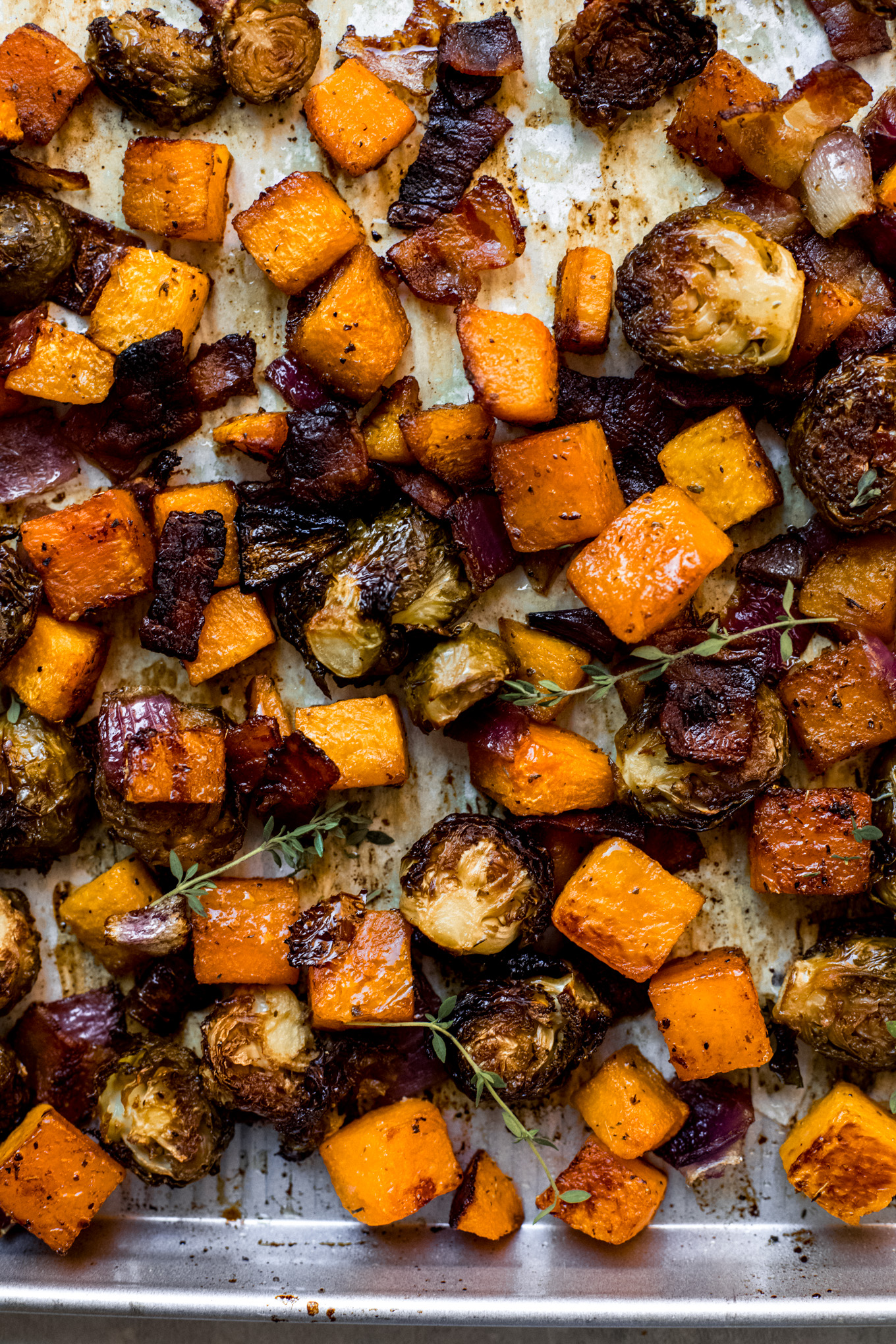 How to Store
When it comes to storing your roasted fall vegetables, keeping them fresh and tasty is key. Here's how to best preserve the flavors:
Fridge: Pop them in an airtight container, and they'll keep their goodness for 3-4 days.
Freezer: It's not the top choice because they tend to lose their texture, yet they'll last for 2-3 months if needed.
Reheat: To get that just-roasted taste, warming them up in the oven yields the best results. The microwave is a quicker alternative, though not ideal.
Recipe FAQs
Can you roast frozen vegetables?
Yes, you can roast frozen vegetables. However, for best results, let them thaw slightly and pat them dry with some kitchen paper to get rid of the extra moisture. This helps them roast better and become crispier.
What vegetables have the same roasting time?
Root vegetables like carrots, potatoes, and parsnips have about the same roasting times. Just be sure to cut them into uniform pieces for even roasting. 

Other vegetables, such as cauliflower or broccoli, aren't quite as dense and will cook quicker. For best results, roast lighter vegetables in a separate pan for a shorter time. 
How do you keep roasted vegetables from getting soggy?
To avoid soggy roasted vegetables, don't overcrowd the pan. There needs to be space for air to circulate. 

Also, roast at a high temperature, just like the recipe recommends. This means the veggies get a good sear instead of steaming in their own moisture.

What kind of vegetables can be roasted?
Most vegetables can be roasted. Root vegetables work well – especially potatoes, carrots, beets, and parsnips.

'Flowery' vegetables like cauliflower and Brussels sprouts also roast beautifully – developing rich, caramelized flavors.
If you try Roasted Fall Vegetables, please leave a star rating and let me know how you like the recipe in the comments below.
Print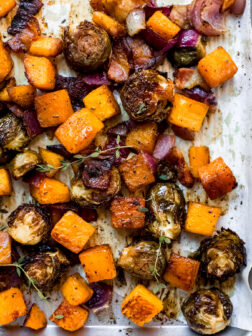 Roasted Fall Vegetables
Author: Katya
Prep Time: 20 min
Cook Time: 45 min
Total Time: 1 hour 5 minutes
Yield: 6 1x
Category: Side
Method: Roasted
Cuisine: American
---
Description
Welcome the fall season with our Roasted Fall Vegetables. It's a healthy side dish that's simple to make and full of fall colors.
---
20 oz. butternut squash, cut into 1-inch cubes
16 oz. halved Brussels sprouts
1 medium red onion, chopped
3 Tbsp. olive oil
2 Tbsp. balsamic vinegar
2 Tbsp. honey
1/2 tsp. garlic powder
1 tsp. Italian seasoning
1 1/2 tsp. kosher salt
1/2 tsp. black pepper
4 strips bacon, chopped into 3/4-to-1 inch chunks
Optional, zest 1 lemon
---
Instructions
Position the oven rack in the center of the oven (for one large sheet pan) or if using two sheet pans, position racks in the upper and lower thirds of the oven. Preheat the oven to 400 degrees F. Line sheet pan with parchment paper and set aside.
To a large mixing bowl, add butternut squash, Brussels sprouts, and onion. Set aside.
In a separate bowl, whisk together the oil, vinegar, honey, garlic powder, Italian seasoning, salt, and pepper. Pour over the vegetables and using your hands, toss to coat, ensuring each vegetable is coated in the oil mixture.
Transfer the vegetables onto the sheet pan, spreading in a single layer. Scatter chopped bacon over the vegetables.
Bake for 25 minutes, undisturbed. Toss the vegetables around (in addition, if using two sheet pans, rotate the pans) and bake for an additional 15-18 minutes. Vegetables should be golden crisp around the edges and tender on the inside.
Before serving, taste the vegetables for seasoning and adjust as needed, and if desired add lemon zest. 
---
Notes
Do Not Overcrowd: To ensure vegetables roast evenly, do not overcrowd them in the pan, or they'll go soggy. Ideally, you want some space around each vegetable. If you have to, split them up into two pans, so they can crisp up nicely.
Leftovers: Roasted vegetables tend to lose their texture when refrigerated but they'll still taste good. Keep them in an airtight container for 3-4 days.
Nutrition
Serving Size: 1 cup
Calories: 249
Sugar: 11.3 g
Sodium: 458.8 mg
Fat: 14.8 g
Carbohydrates: 27 g
Protein: 6.2 g
Cholesterol: 12.3 mg
Keywords: fall, easy, sheet pan