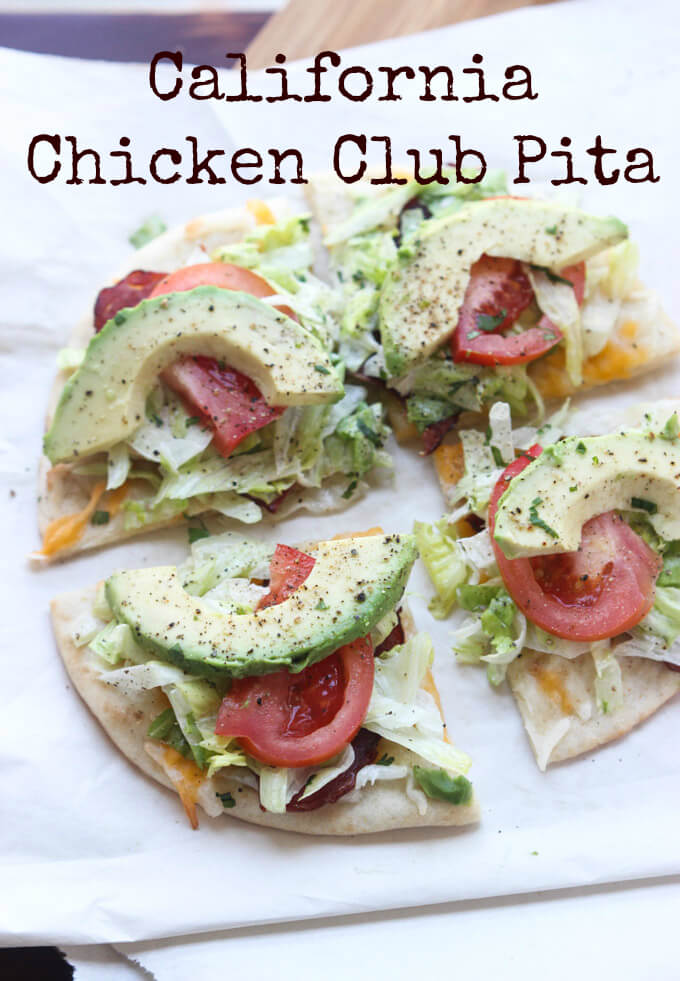 "Californ-I-a, Californ-I-a"…I'm busting a little Tupac on you guys today. Ha! I used to be a little ganster back in the day and by ganster I mean listen to junk like Tupac. Yikes! I know, right..but not going to lie, I have Californ-I-a on my mind. I'll be traveling to the west coast in couple weeks to visit my family, see some palm trees, feel the sunshine and eat some In-N-Out! I'm already planning my trip to In-N-Out…I know, a little desperate you say and I say yes desperate all the way! It's a must for me when I'm in CA. Something about greasy, fatty, delicious burger with side of crispy salty fries makes me wanna move there just for that!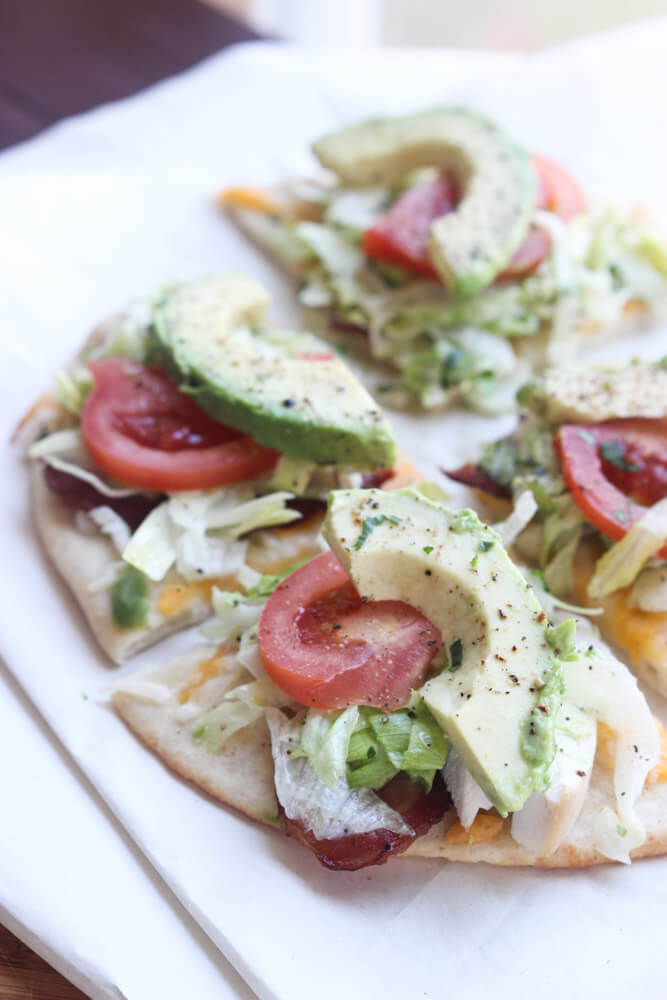 So it's just fitting that I'm sharing a little California love with y'all today by way of California Chicken Club Pita. West coast inspired pita topped with chicken, bacon, lettuce, tomato and avocado.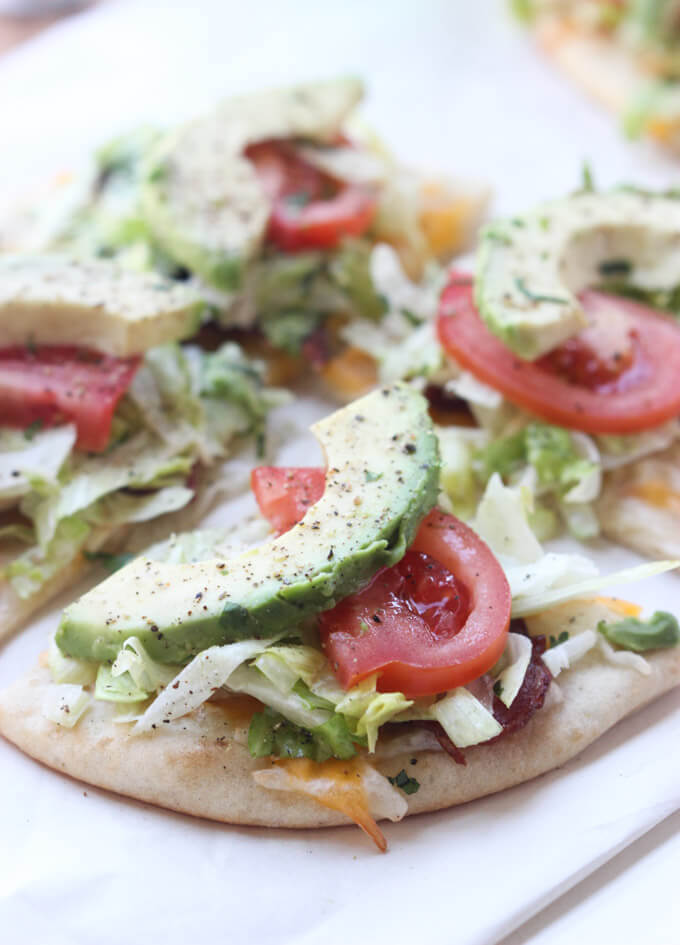 Twenty minutes, a cutting board with a knife (preferably) and the ingredients of course and you have a delicious meal on the table in no time! This is a great meal to make with leftover chicken. I used rotisserie from the grocery store. Thinly sliced and layered on the pita. I love using pita bread for easy and quick individual size pizzas/meals. I do that a lot of my little dude. He loves cheese pizzas and sometimes making the dough from scratch is a time kill so I turn to store bought pita bread.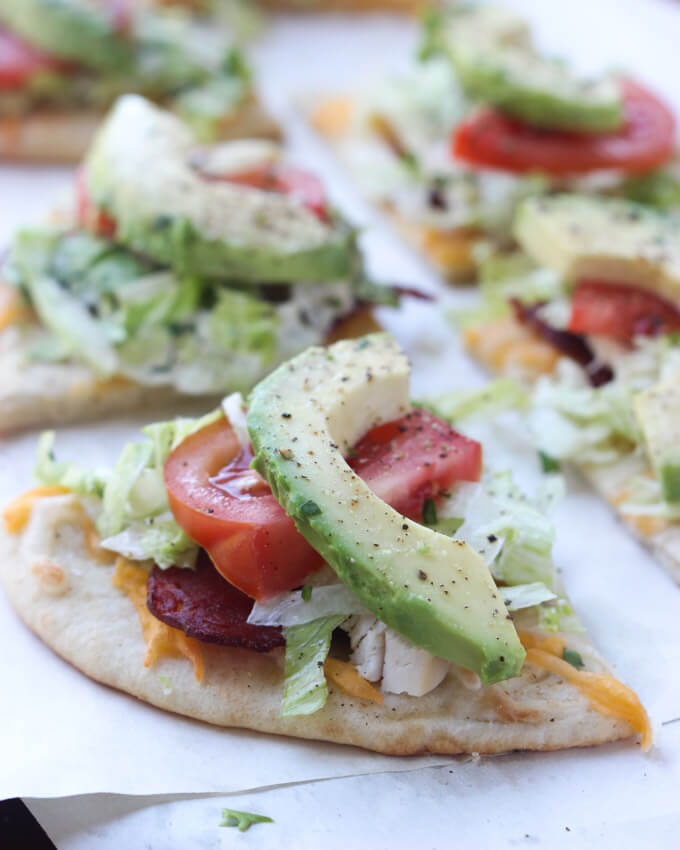 The recipe calls for topping the pita with cheese but honestly you can even go without the cheese. I love cheese and couldn't pass on but if you go without it, I would just toast the pita in the oven to warm it up a bit. Either way is good. Fresh slices of tomatoes, avocado, lettuce and bacon finish off  this 20 minute pita goodness!  It makes a delicious lunch, light dinner, or appetizer. You can easily double the recipe and feed a crowd. Enjoy!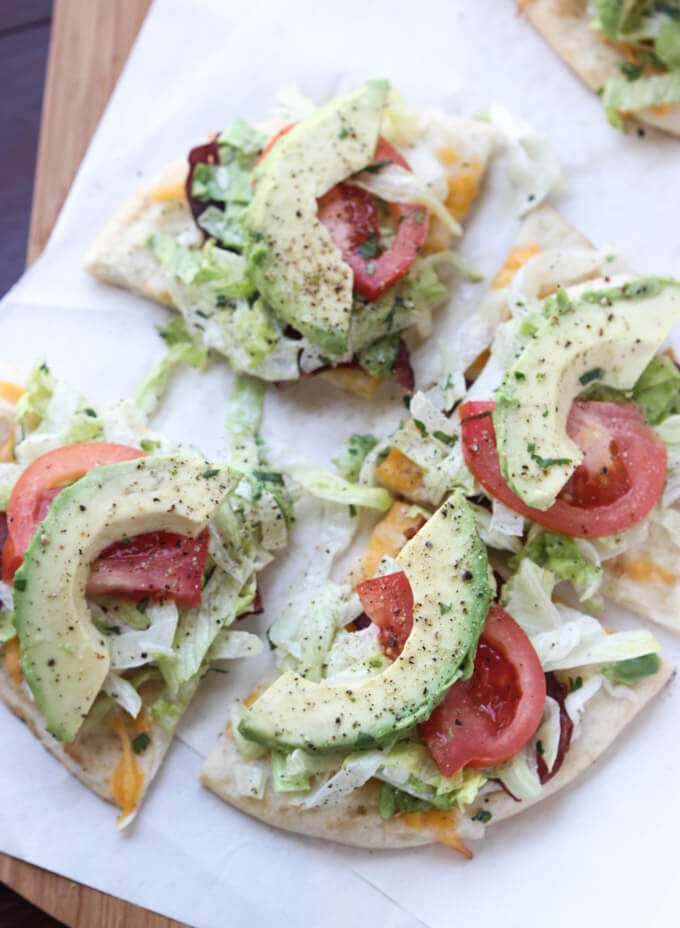 California Chicken Club Pita
Author:
Katya @ https://www.littlebroken.com
Ingredients
2 pocketless pita breads
½ cup shredded Colby Jack cheese
4 slices of cooked bacon, sliced in half (I used turkey but regular pork bacon is fine too)
½ chicken breast, cooked and sliced or any other leftover chicken meat
2 cups shredded iceberg lettuce
1 medium tomato, sliced
1 avocado, halved and sliced (I used the whole avocado as I love avocados but you may need less)
1 Tbsp. mayonnaise
salt and pepper
Instructions
Preheat the oven to 400F.
Line a baking sheet with aluminum foil or parchment paper (for easy clean up).
Divide and sprinkle the cheese evenly between the two pita breads. Bake in the oven for 5-7 minutes, until the cheese is melted and lightly golden.
Toss the shredded lettuce with mayonnaise.
Cut each pizza into 4 portions. Arrange chicken on each slice, followed by bacon. Top with shredded lettuce, tomato slices and avocado. Season with salt and pepper.
Serve immediately.
Notes
Makes 2 individual size pitas. This can also serve 4 as an appetizer.
© Little Broken. All images and content are copyright protected. Please do not use my images without prior permission or claim my work as your own. Feel free to Pin, Tweet, Facebook and share away with a link back to the recipe post. If you want to republish this recipe, please re-write the recipe in your own words and link back to this recipe.