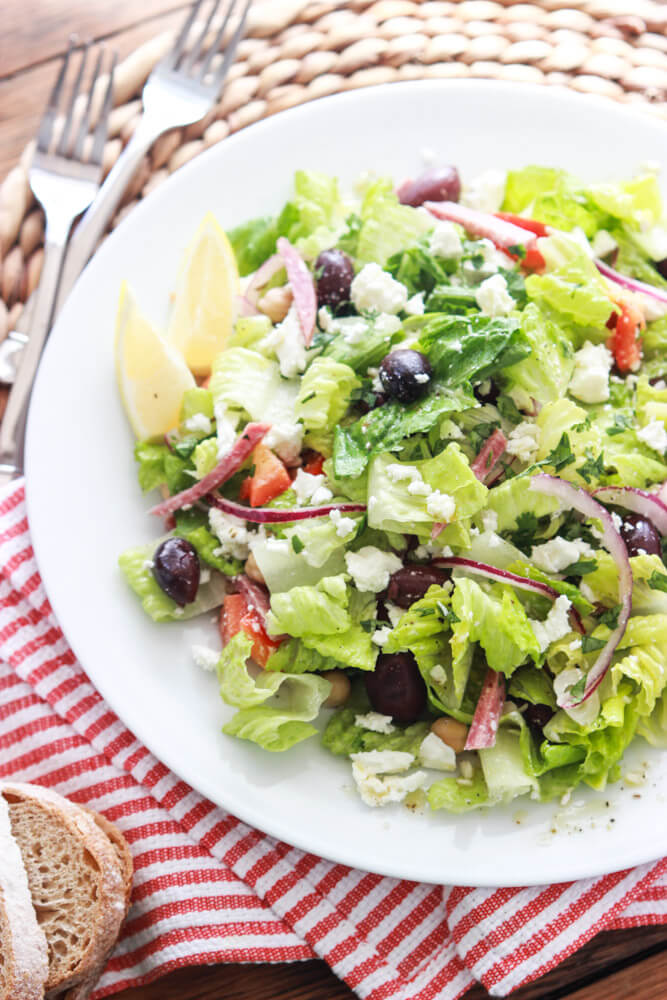 And the love affair continues today…
I've been splitting my time between soups and salads lately. As you guys can tell from…here, here, and here. What can I say, I just can't resist a crispy cold salad or a hot bowl of soup. Best of two worlds in my book.
I love a good lunch salad and always been a salad freak but when I'm home, lunch time usually gets the boot. I'm good with breakfast and dinner but in between meal is usually lost. I don't know about you guys but I get carried away with something and time is lost. Then dinner rolls around and we all know what happens then…right? Food coma after too much food. Not a good feeling.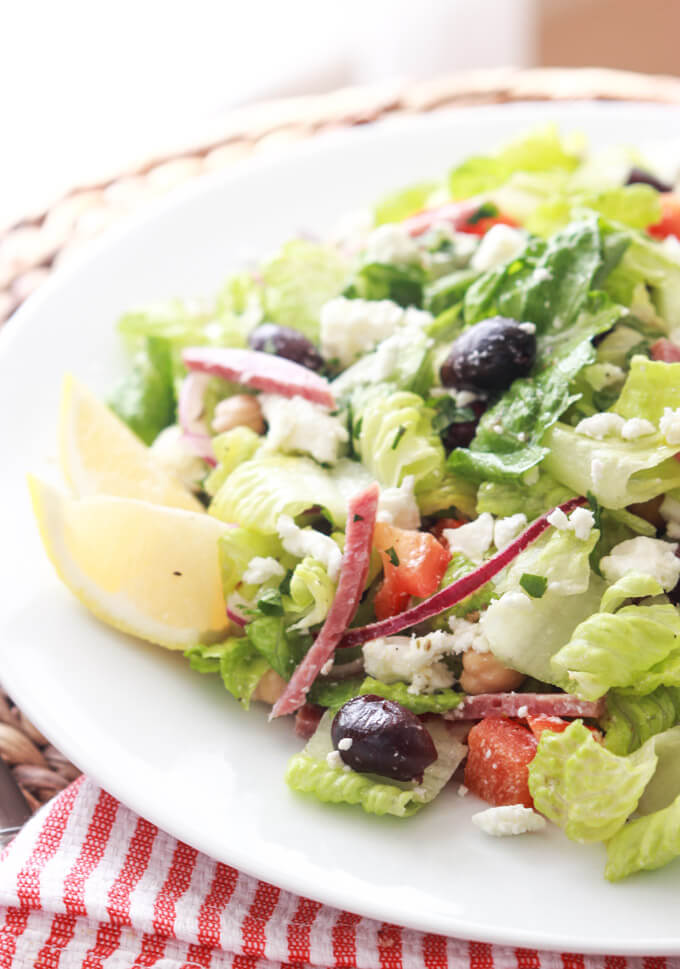 So lately I've been planning for days like that. After I bring all the groceries home, I wash all the produce and store it in tupperware ready to use at lunch, dinner or snacking. I know, it sounds like a pain but honestly it's worth it, especially during busy weeks when you have to prep school lunches, dinners, snacks, etc. Its been working well and keeping me away from eating junk and letting me get creative with my food.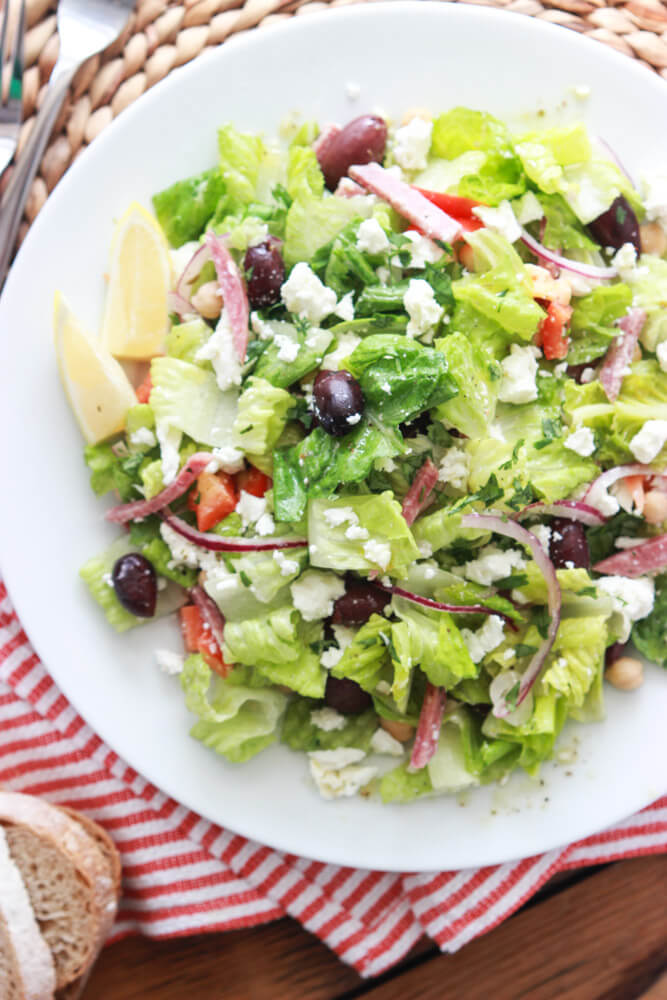 Example…. Greek Italian Chopped Salad. Salami in a salad? Absolutely out of my norm and would never even think it would be appetizing but it actually is. Think of antipasto platter but in a salad form. Simple ingredients but big taste that serves as a fulfilling lunch or even a side dinner salad. Salami, olives and feta is what makes this salad! Perfect Italian and Greek flavors all combined into one. Paired with a simple olive oil and vinegar based vinaigrette that is super zesty and pairs really well with crispy cold romaine. Super good and super easy! My kind of lunch.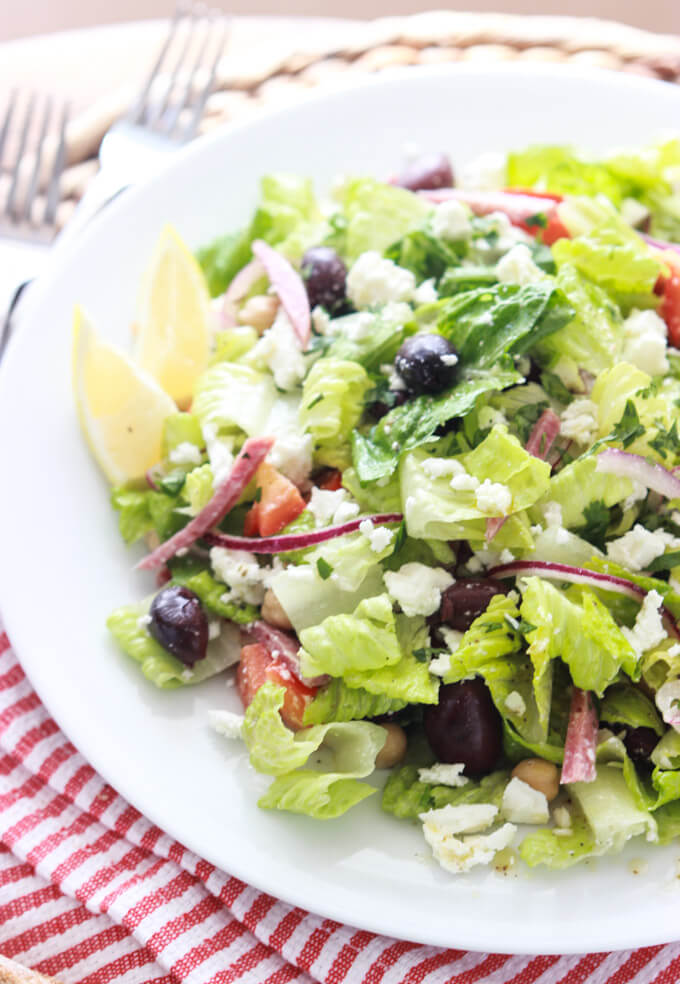 Do you guys have any tricks for not skipping meals? I would love to hear them!

Greek Italian Chopped Salad
Author:
Katya @ https://www.littlebroken.com
Serves:
4 side salads or 2 large salads
Ingredients
Vinaigrette
3 Tbsp. extra-virgin olive oil
2 tsp. white wine vinegar
¼ tsp. oregano (dry leaves)
1 large clove garlic, minced
3 tsp. lemon juice
sea salt & fresh ground pepper
Salad
6 cups romaine, roughly chopped
⅓ cup chickpeas
⅓ cup diced red bell pepper
¼ cup red onion, thinly sliced (you can add more if you like the taste)
⅓ cup feta, crumbled
⅓ cup (about 1 slice -1/4 inch-thick) genoa salami, halved and sliced ¼-inch strips
⅓ cup kalamata olives,pitted
Instructions
Vinaigrette
In a small bowl, whisk all the ingredients until combined. Season with salt and pepper as needed.
Salad
In a large bowl combine all the salad ingredients. Drizzle with vinaigrette and mix until combined. Adjust salt and pepper if needed. Enjoy!