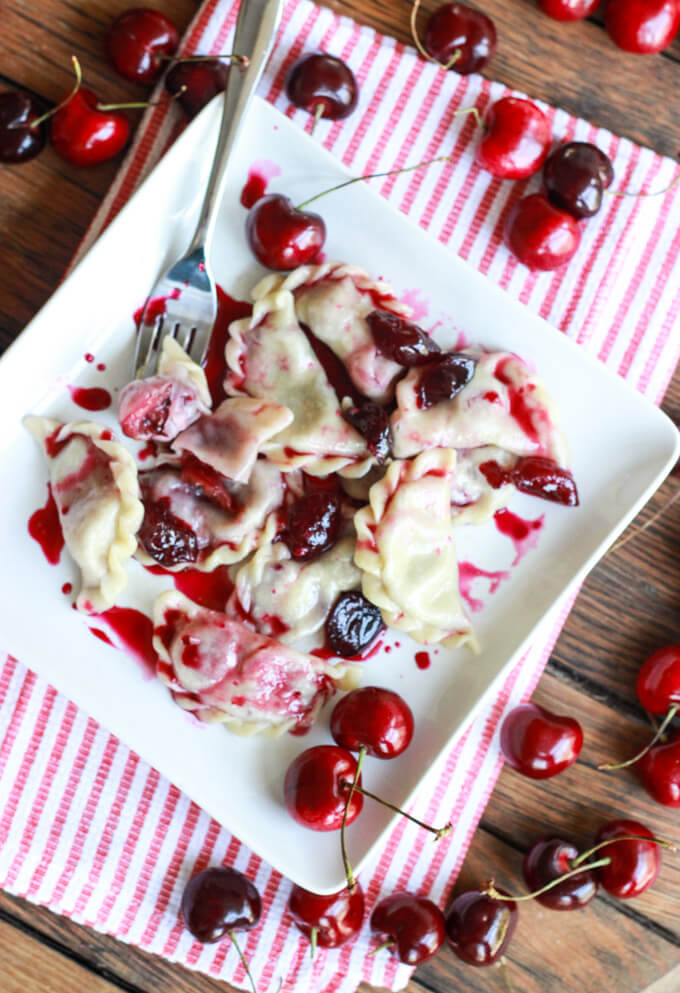 This post may contain affiliate links. Please read our disclosure policy.
Homemade dough always intimidated me and I always stayed away even though I watched my mama knead bread dough almost every day. Recently though I started playing around with dough and made naan bread. Baby steps. It turned out quite well. Then I was flipping through my Russian books for inspiration and saw a picture of vareniki (Russian filled dumplings comparable to ravioli) and it took me back to my childhood. Don't you love when food takes you back to a certain time, place of your life? It does for me a lot. And music.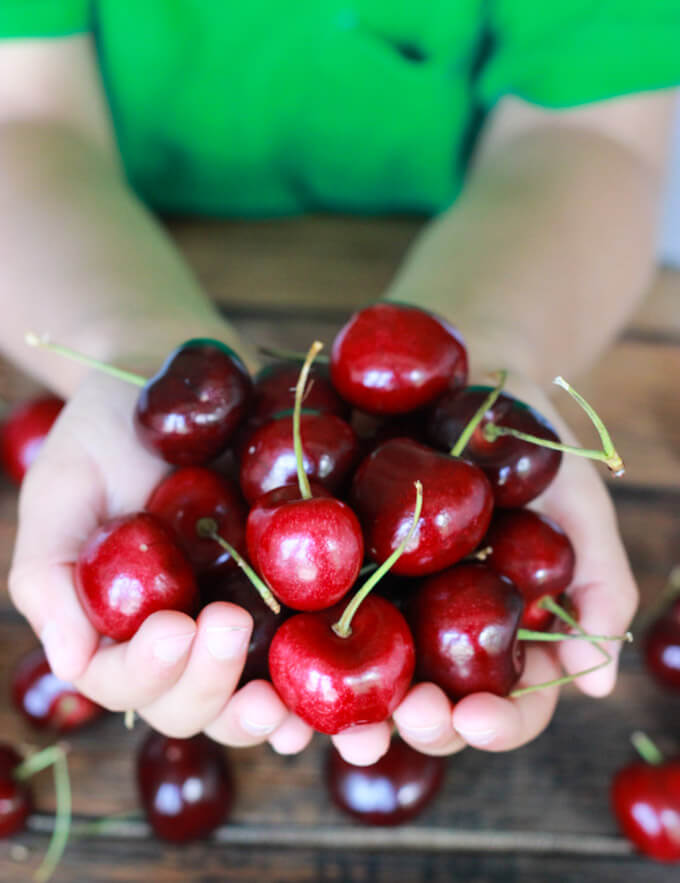 On a side note my 5 year old served as a hand model, which does not look like a promising career for him as there was whining for the whole 3 seconds that he modeled. Gotta love kids:)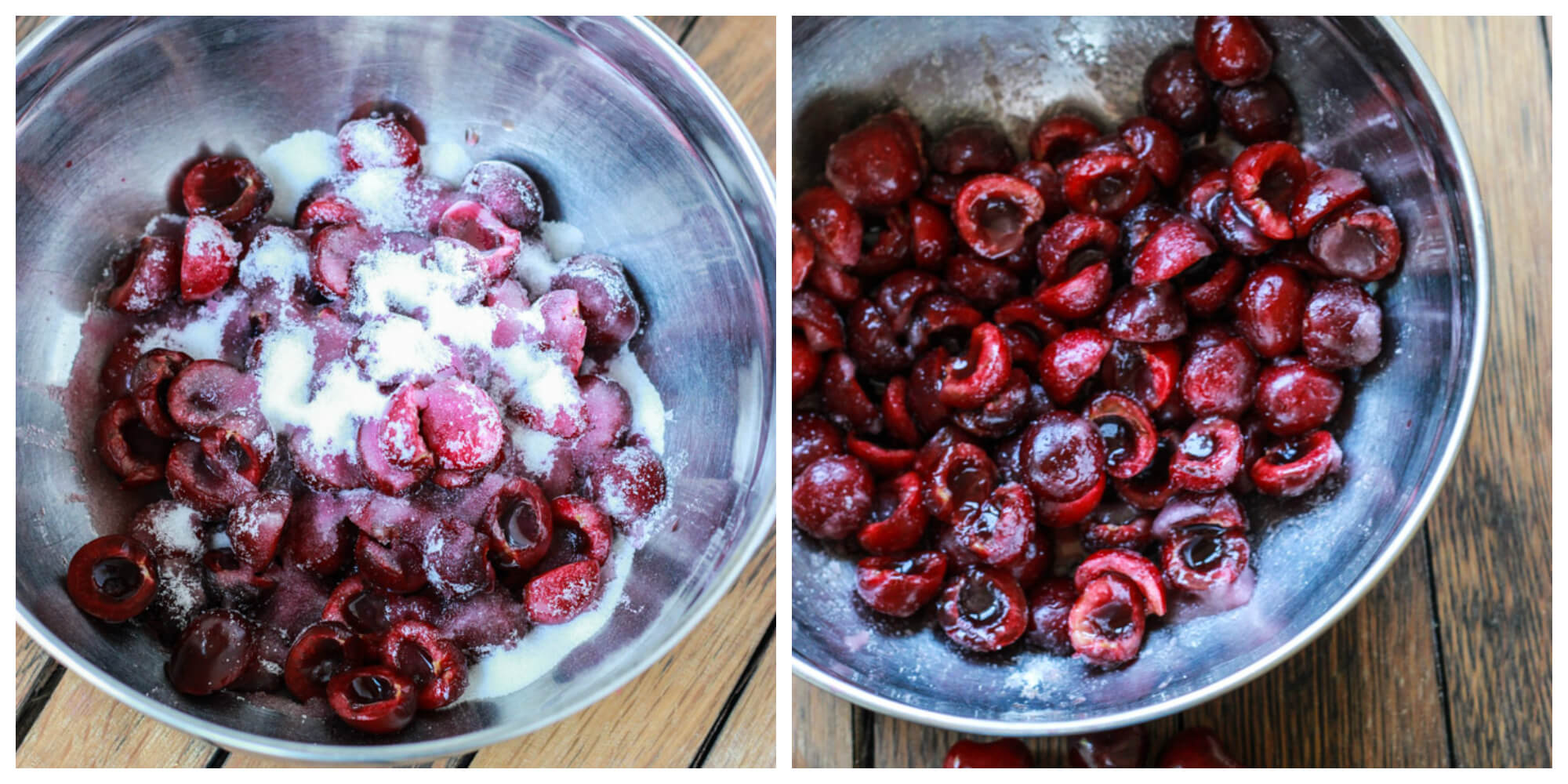 Vareniki is a Russian or some say Ukrainian classic dish. There are many different fillings but the two most popular ones in our household were potato and cherry filled vareniki. Cherry filled were always my favorite. Made only in the summer when the cherries were at its best. It was always a family affair when it came to making vareniki. My mom rolling out the dough and cutting out the circles while we added the filling and sealed. My parents put us to work early but I don't blame them with six mouths to feed I probably would do the same.


Last week I gave it a shot by making a big mess in my kitchen. It was worth it though. I have a small tidy little kitchen with not so much work space but I managed to make my own dough, which by the way is only three ingredients (how cool?!) and cherry filling. The whole recipe is actually like five ingredients total! The best part is you can make a batch and freeze it for later eatin'. My recipe makes about 45 vareniki.
You will love these as they are sweet, very kid friendly, and make a quick dinner for those lazy nights….or in my case I want to eat something homemade but I don't want to cook type of nights. I served mine with homemade cherry compote which I show you how to make with only two ingredients!

I learned a couple of useful tricks and tips that I will leave y'all with: (1) When rolling out the dough, make sure the surface and rolling pin is thoroughly floured. (2) Work the dough really well to get it to 1/4″-1/8″ inch thickness. It is really worth it as it makes the vareniki really delicate and light when cooked. (3) Keep the dough that is not being used, covered or wrapped in a plastic wrap to avoid drying and hardening. (4) Place the vareniki on a parchment paper that are ready to be cooked or frozen to avoid sticking. (5) If freezing vareniki, line a baking sheet with parchment paper, lay out the vareniki in a single layer and freeze overnight; transfer the frozen vareniki into a large ziploc bag and store in freezer for up to 3 months.

Print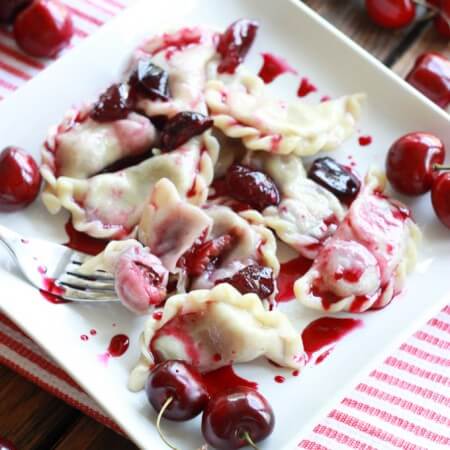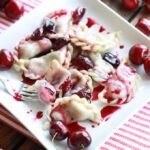 ---
1

lbs. +

12 oz

. fresh cherries, pitted and halved

1 cup

sugar

2 cups

flour + extra for rolling out dough

1/4 tsp

. salt

3/4 cup

+

1 Tbsp

. cold water
Salt for cooking vareniki
---
Instructions
Cherry Filling
In a medium bowl, combine 1 pound of cherries with 1/2 cup sugar; mix and let stand at room temperature for 1 hour or until cherries release their juices.
Dough & Vareniki
In a large bowl, combine sifted flour and salt; add 3/4 cups of cold water. Mix with a spoon until the dough comes together then using your hands knead the dough until throughly mixed and no lumps are visible. Divide the dough into 2 equal portions. Keep the dough not being used covered so it wont dry out.
Roll out the dough on a thoroughly floured surface until 1/4″ – 1/8″ thickness. Cut out 3″ inch circles out of the dough (I used a drinking glass). Place two halved cherries on one side of the dough and seal the dough at the edge by pinching the two sides together. You can leave it at that or go back and create a scalloped edge as shown in the picture.
Continue rolling, filling and sealing until all dough is gone. I re-rolled the leftover dough from cut out circles by rolling it back and cutting out more circles. Makes about 45 vareniki.
To cook vareniki: bring a large pot of water to a boil, season with salt and add vareniki. Don't overcrowd. Cook no more than 5 minutes. You will be able to tell when vareniki are done as they will float to the top. Drain and serve right away with cherry compote or sour cream. I also added little bit of butter to the drained vareniki to prevent them from sticking.
To freeze vareniki: place the vareniki on a parchment lined baking sheet in a single layer, freeze overnight; transfer the frozen vareniki into a large ziploc bag and store in freezer for up to 3 months. When ready to cook, just follow the above cooking instructions. There is no need to thaw out the vareniki before cooking.
Cherry Compote
In a small saucepan, combine the remaining 12 oz. cherries with 1/2 cup sugar and 1 tablespoon of water. Bring to a boil; lower the heat to medium/low and simmer, uncovered for 15 minutes or until the cherries cook down and mixture is thick.
---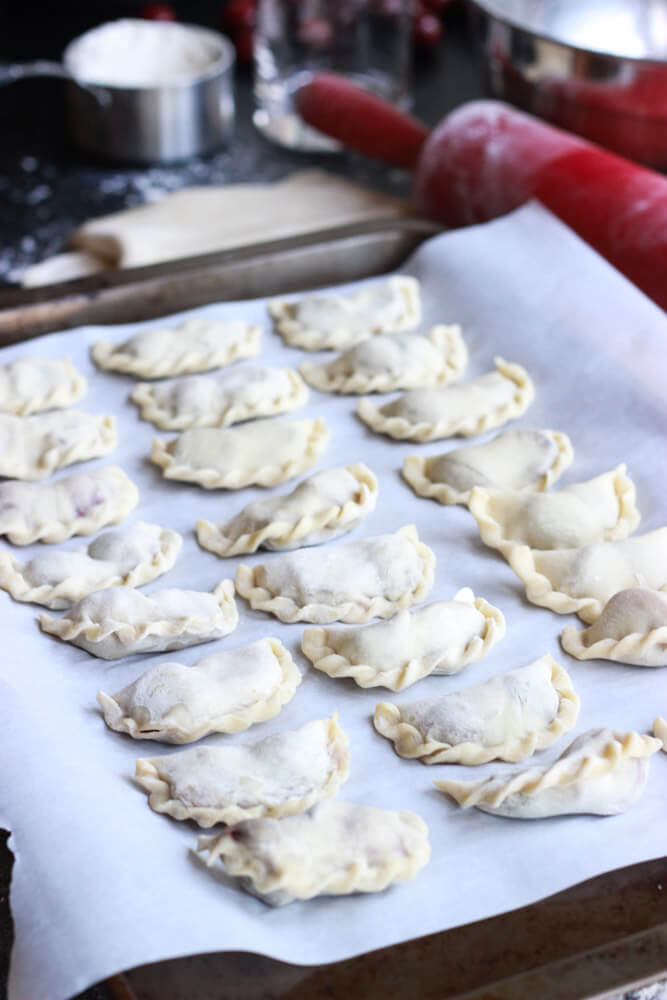 Viola!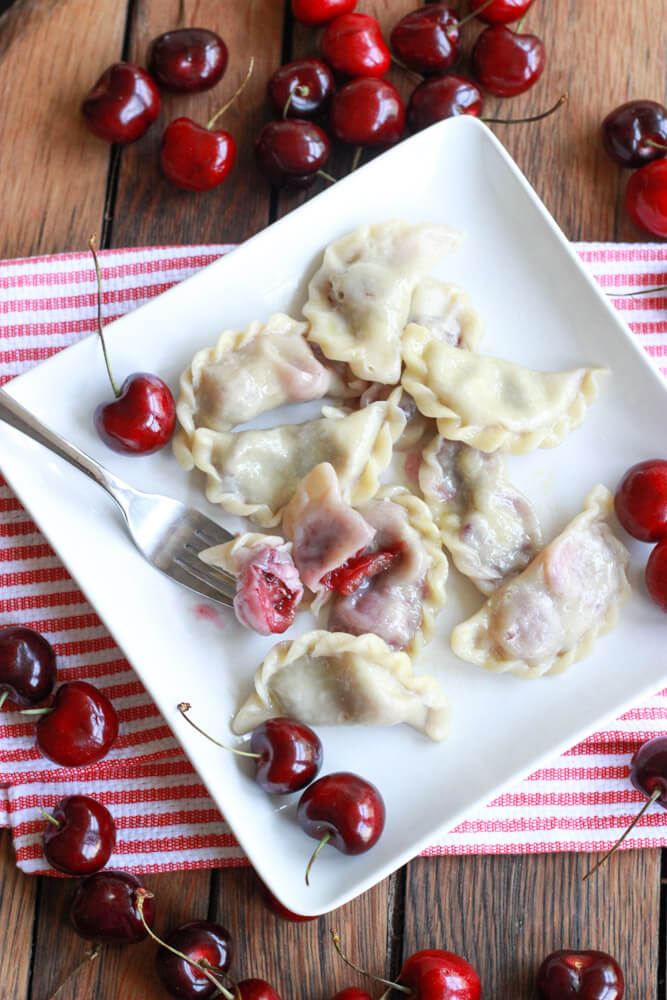 Serve with little bit of cherry compote…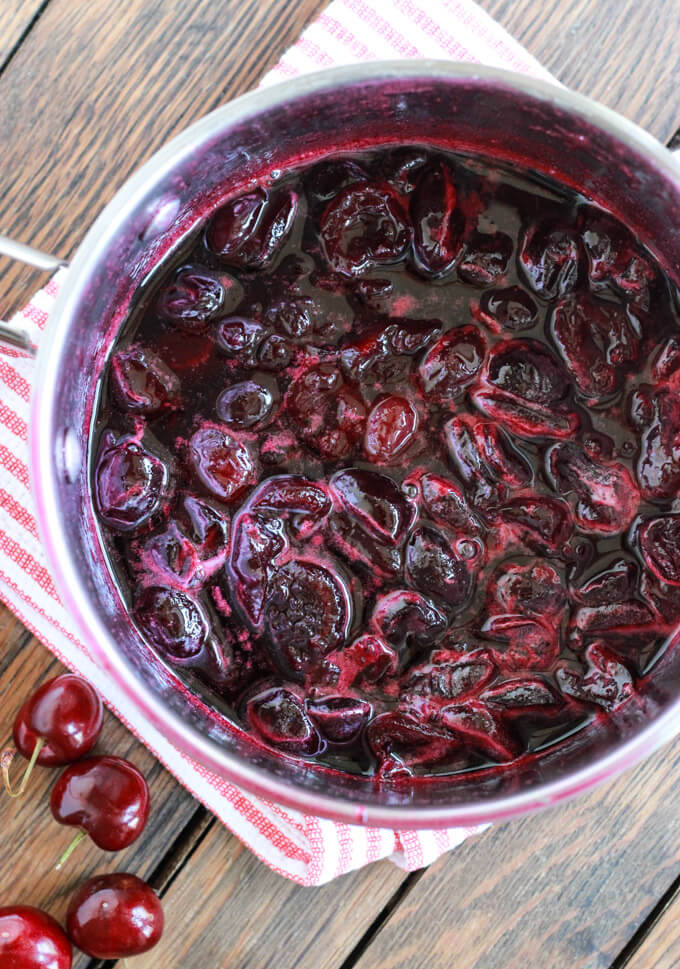 and you have a beautiful summer meal!