Flying with a Toddler (what to bring)
We are currently in sunny California enjoying some family time and right before we left, I snapped pics of everything that I packed for my daughters carry on with the idea of sharing it with you. I think flying with a toddler is always interesting because you just don't know how it's going to go. So packing can sometimes be nerve-racking.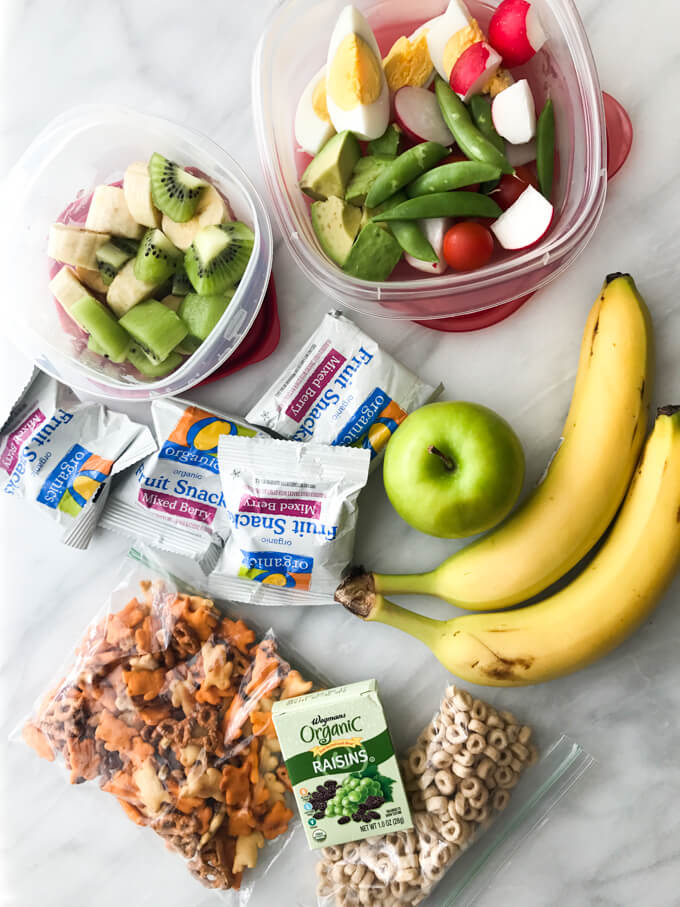 We have flown with my daughter when she was only couple months old, then before she turned one, and now. And I can say that certain travel essentials (diapers, wipes, etc.) always stay the same for us but everything else I'm constantly changing. Same with my son when he was younger. But here is what we packed this time around:
FOOD
fruit – I packed as much fruit as I could. It's something that's easy to eat and holds up well without having to be refrigerated the entire time. Also both of us love fruit 🙂 I chopped up bananas with kiwi and also grabbed some bananas and apple. If I had berries, I would throw in some berries too.
veggies – another easy and healthy snack. I had hard boiled egg and half of avocado that I cut into chunks. If I had more hard boiled eggs on hand I would take more. They're a great source of protein and taste delicious with cut up veggies. I basically took what I already had in my fridge. Grape tomatoes, baby carrots are also some of our favorites.
fruit snacks – they're probably not the healthiest of snacks but I tried to get organic ones with somewhat decent ingredients. Easy to eat, plus they come in fun shapes!
Annie's snack mix – my daughter loves these little bunny shaped snacks.
raisins – I'm not sure why I didn't pack more of these raisins…my daughter is a huge fan. I love that they come in little individual size boxes that are easy to eat with little fingers.
o's cereal – another easy dry snack or a source of entertainment 🙂
(not pictured) I picked up turkey + swiss sandwich at the airport and couple large bottles of water. We split the sandwich on the plane and drank most of the water.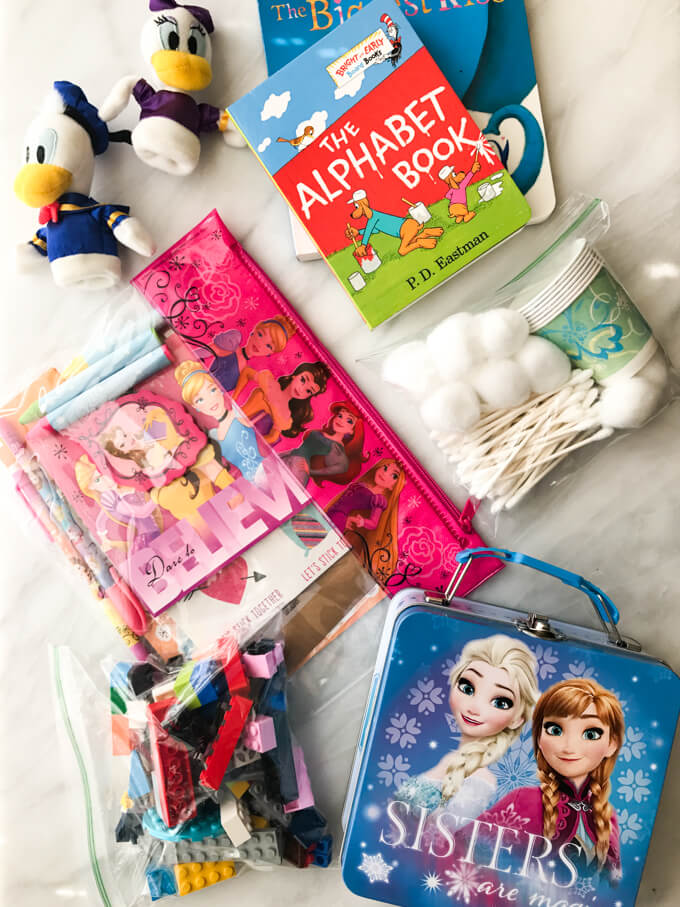 ENTERTAINMENT
stickers/note pad/pens/crayons/pencil/eraser – I picked up this little pouch with most of the things in it at the dollar section at Target. Stickers, pencil, and eraser were probably her favorite and honestly kept her entertained for some time.
small books – both of the books were brand new that she hasn't seen. So half of excitement was just because of that.
finger puppets – they're small and easy to pack.
brother's legos – we raided her older brothers lego bin. I didn't want to take her big blocks and these in a small ziploc bag were just perfect for her.
cotton balls/q-tips/small cups – I wanted something super unusual that she normally does not play with but also something that would keep her entertained. She played with the cups for ever.
small toys – I picked up the Frozen bin at Target and packed some of her favorite character toys.
(not pictured) HappyKids app (free) – thanks to my girlfriend Bethany. It's cute little animals singing kids songs (Twinkle Twinkle, Three Little Kittens, etc.). You do need wifi connection though to work it.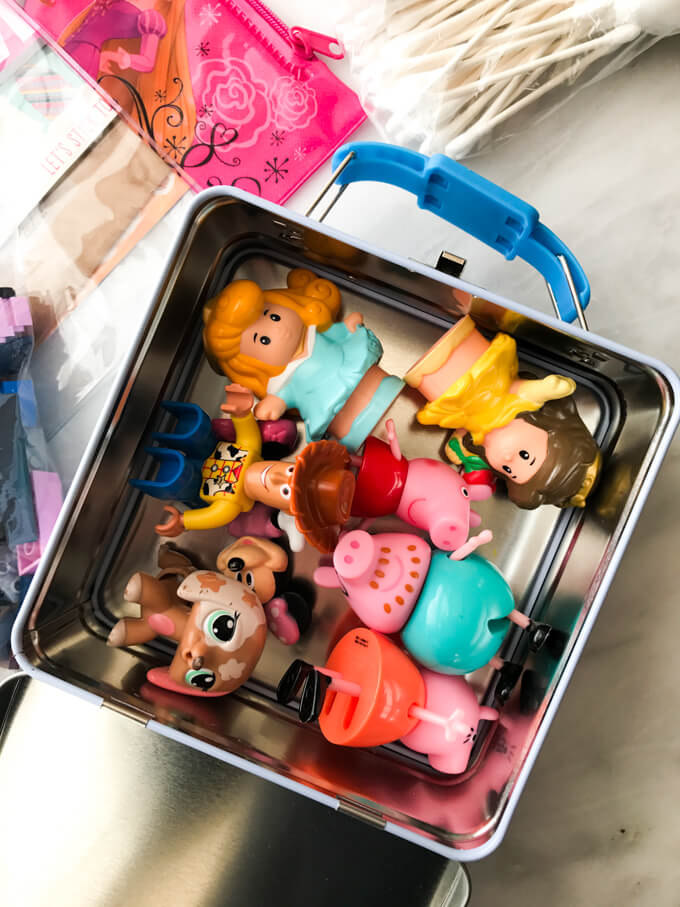 ESSENTIALS
baby face/hand wipes
tissues
bib – thought that I would need it but ended up not using it at all.
trash bag – something I always like to pack regardless of whether we're flying or driving. Always good to have for soiled diapers, dirty clothes, trash, etc.
empty sippy cup – I filled it with water at the airport.
couple sheets of paper towels – I used them as a "mat" for her food on the plane. I'm a germaphobe when it comes to public places like the airplane and even though I wiped down her tray, it was nice to have another layer or "protection" 🙂
diaper wipes
diapers – I packed about 6 diapers on our carry on. Only used two (both at the airport).
blanket/changing pad
another thing that would have been good to pack which I didn't think until after the fact is some extra clothes just in case. Even though we ended up not needing it but always good to have with little ones.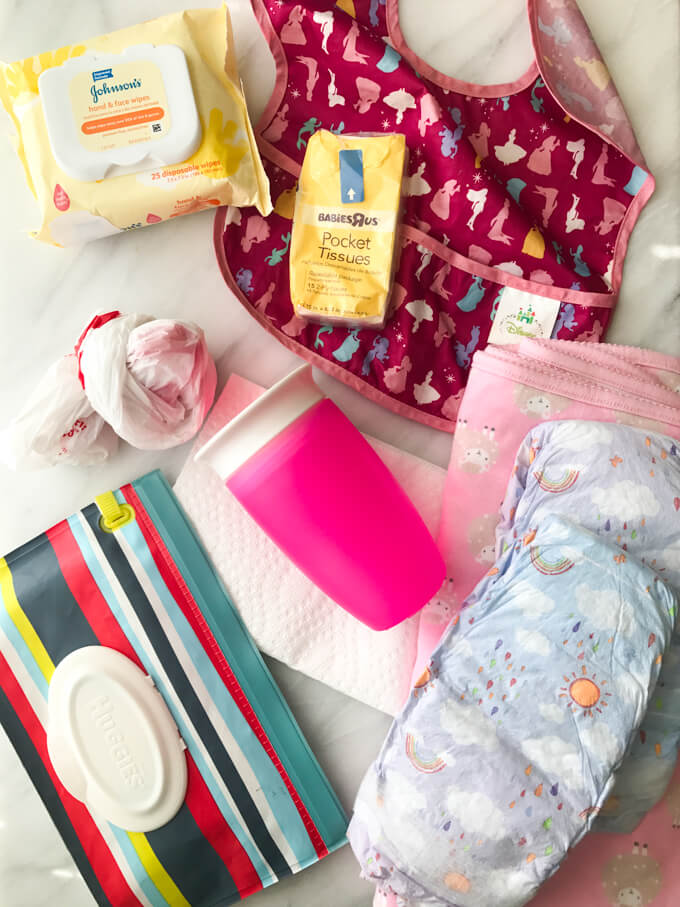 TAKEAWAY
We had a nonstop 6 hour flight to the west coast and I felt that I packed just the right amount of everything with exception of maybe couple things. I think we had a banana, apple, one fruit pack, and some snack mix left but everything else we ate. I personally like to bring my own snacks because not only does it saves me money but I also know exactly what I'm eating. As far as entertainment, one of my sweet readers gave me a great tip last year. Buy your kids couple new things to keep them entertained. It does not have to be expensive things. I purchased most of everything at the dollar section of Target. That way they're a little extra excited about their things. Also I found that your home is a great source to find random things. I raided my sons room for legos and also my bathroom for cotton balls/q-tips/cups. These are things that she normally would not play with but I think that's what made it so interesting.

If you guys have any tips or tricks please do share below!!! We have a little shorter flight back home but I'm planning on packing about the same.