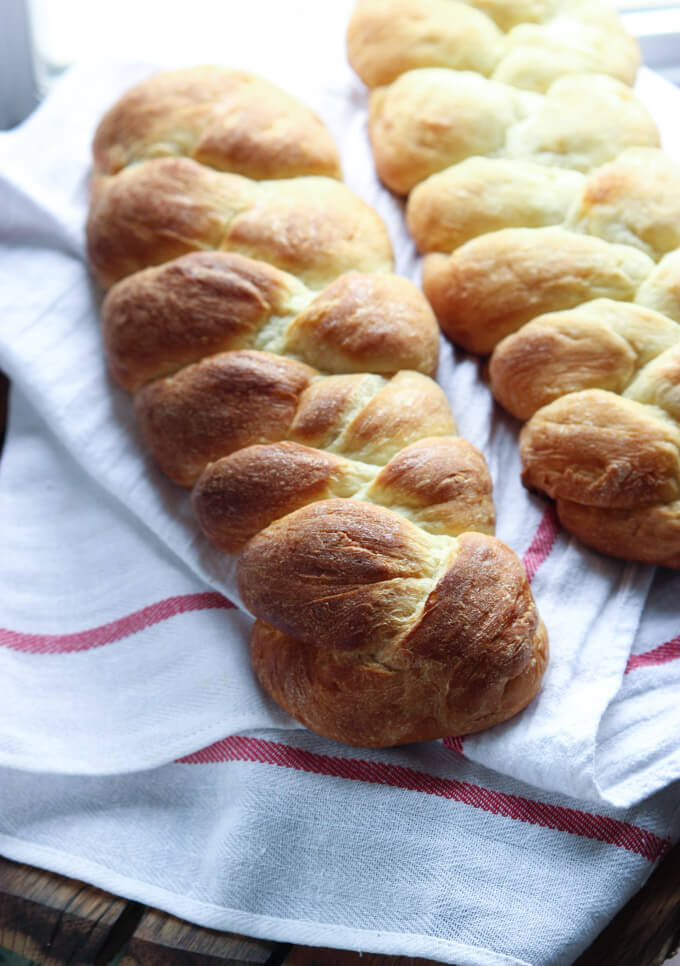 This post may contain affiliate links. Please read our disclosure policy.
I am SO SO excited to finally share this bread recipe! I've been trying to get this dough thing pretty much since Christmas. Here's a little story…
I grew up eating freshly baked bread like kaiser buns made by my mama from scratch pretty much every single day. As I got older, I could care less about homemade bread. It never really appealed to me nor I had any interest in making it. Until I got into the science-y stuff of foods. You know, reading the labels and looking up all the crap that's packed into foods, including bread from the store. And came to conclusion that of course homemade is much better, even if it's white bread but at least I know what's going in it.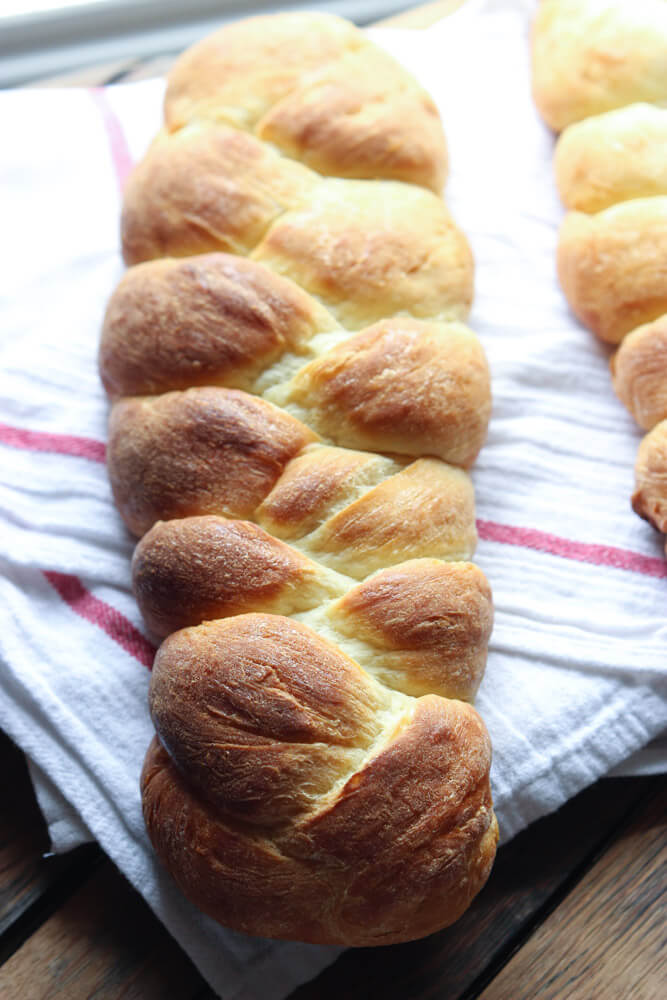 By no means do I make fresh bread on weekly basis but I have been experimenting and trying out different recipes that I can start adding to my collection. So, around the holidays, my son brought home "Secret Surprise Bread" aka Swiss Braided Loaf that he made in school. We devoured the loaf in one evening. No joke. His teacher was sweet enough to include the recipe and I'm glad she did because this is going in my nifty little recipe book for ever. It is absolutely the best!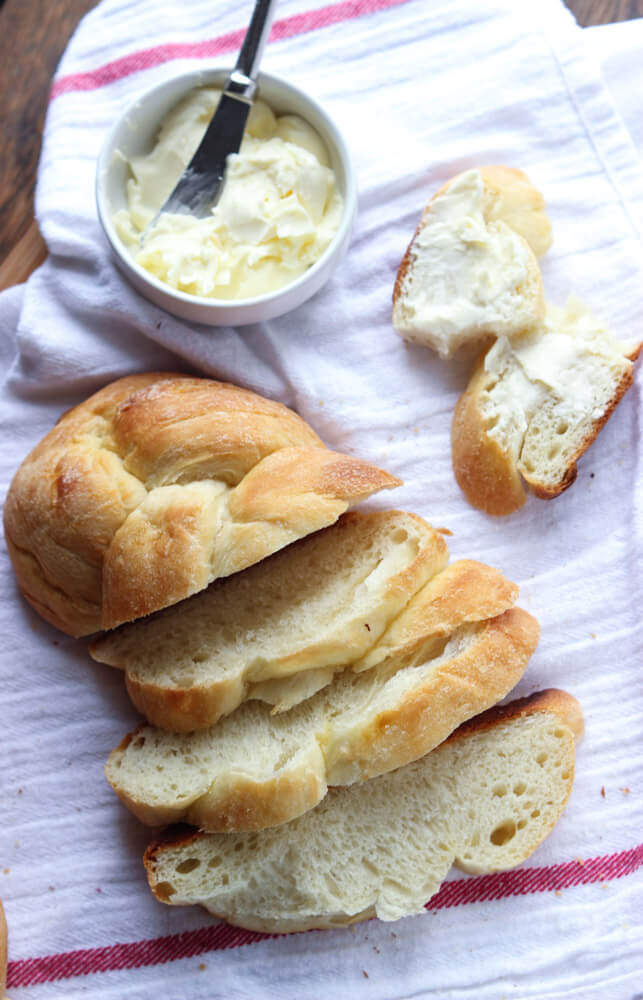 I made it the first time around and it turned out amazing! Second time, the dough would not rise. Third time, the dough did not rise again. I almost, almost gave up. So, I started digging and come to find out yeast apparently expires. Ha! For someone like myself, who's a bread making virgin, that was NEWS! I've been using expired yeast all along. But mistakes always have a way of teaching us a thing or two, so I included tips for working with yeast in the NOTES section of the recipe below. Hopefully you guys wont make same mistakes I did.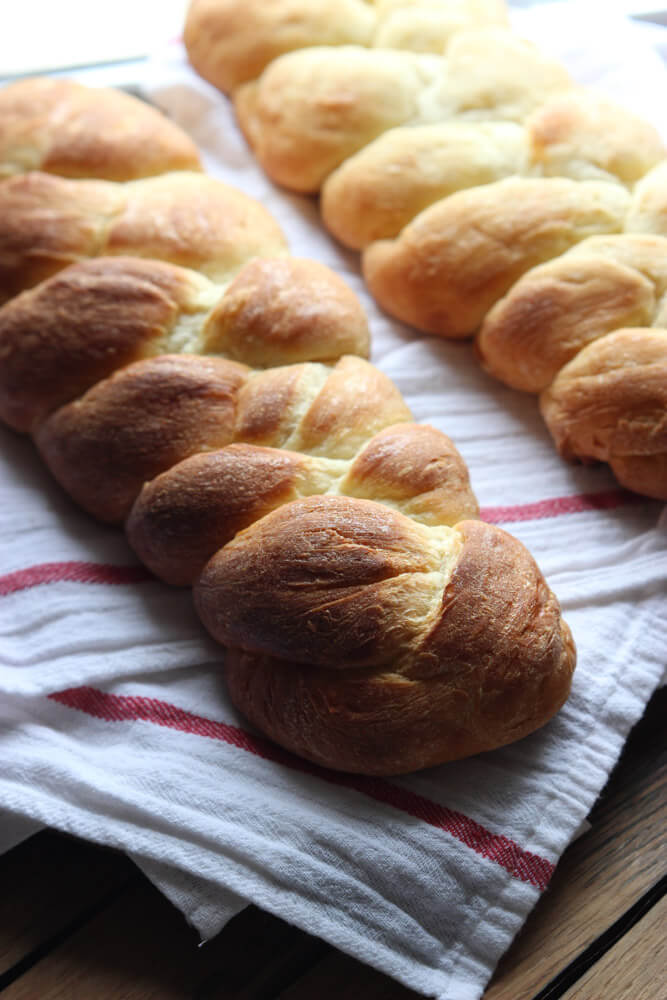 The recipe is pretty simple stuff. White flour, milk, sugar, butter, egg, and yeast. The loafs are braided like Challah but are much smaller, sweeter, and can be eaten on its own (my fav way). Or you can slice it up for sandwiches, toasts, dip it in your favorite soup, eat it alongside your breakfast, lunch, or dinner. You can do whatever you want with it and it will be good.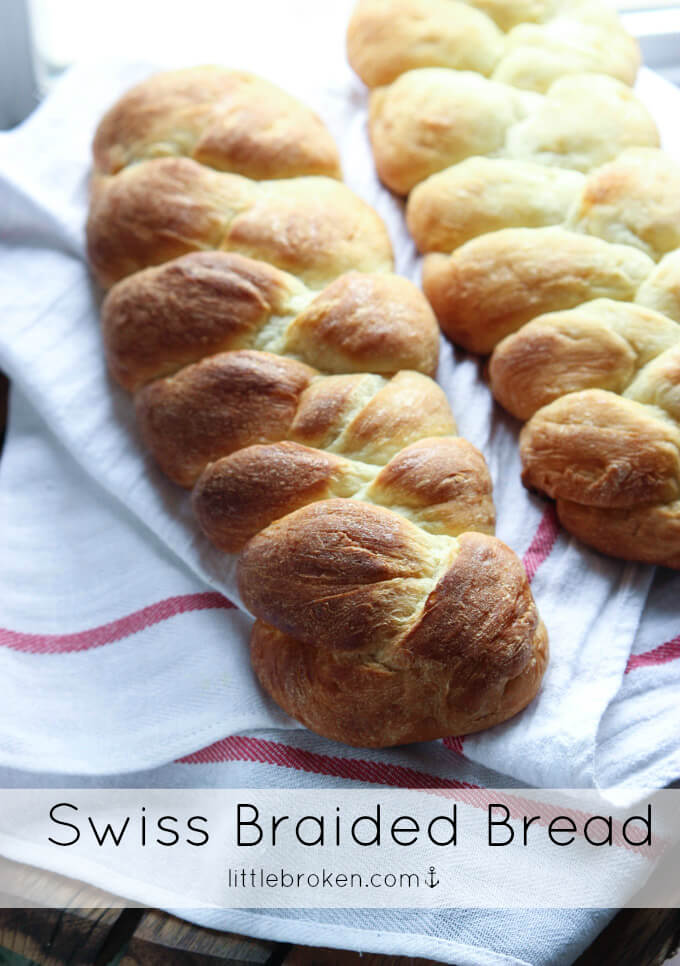 FOLLOW ME and use hashtag #littlebrokenblog or tag me @littlebrokenblog if you try my recipes! Facebook, Instagram, Google+, Pinterest.
Print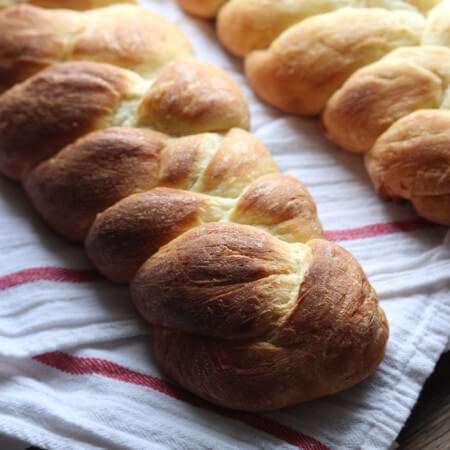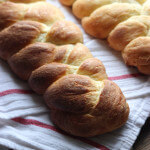 Swiss Braided Bread
Author:

Katya

Prep Time:

1 hour

Cook Time:

25 mins

Total Time:

1 hour 25 mins

Yield:

2

loafs

1

x

Category:

Appetizer

Method:

Bake

Cuisine:

American
---
Description
Lightly sweetened Swiss braided bread with soft and airy texture. So good on it's own or with hearty bowl of soup.
---
1 1/2 cups

whole milk

1 1/2 Tbsp

. granulated sugar

3 tsp

. salt

3 Tbsp

. unsalted butter, divided

1

packet (1/4 oz.) Active Dry Yeast

1

egg, lightly beaten

3 1/2 cups

all-purpose flour, plus extra for rolling the dough
olive oil
Egg Wash
1

egg yolk, lightly beaten

1 Tbsp

. water
---
Instructions
In a small sauce pan, heat milk just until you see bubbles form around the edges (do not boil); remove from the heat. Stir in sugar, salt, and 2 tablespoons of butter; mix until butter has melted and sugar and salt has dissolved; set aside to cool until lukewarm.
In a large bowl, dissolve yeast in 2 tablespoons of lukewarm tap water. Stir in milk mixture but make sure it is lukewarm (to test – dip your finger and count to 10 without getting burnt).
To the same bowl, add the egg and half of the flour. Mix with a wooden spoon. Add the remaining flour and continue mixing as much as you can with the spoon until the the mixture begins to resemble a rough ball.
Using your hands, knead the dough inside the bowl for 10 minutes. If your bowl is not big enough, knead the dough on a lightly floured surface.
Brush the inside of a large separate clean bowl with olive oil. Place the dough in the greased clean bowl; cover with clean dish towel and let rise in warm place (like the stovetop – just make sure the stove is off) for 1 hour or until doubled in size.
Transfer the dough onto a lightly floured surface. Divide into two equal balls. Form each ball into 3 pieces and roll out each piece into 14-inch "snakes".
Braid the "snakes" by pressing the 3 pieces together very securely at one end and braiding as you would a girl's hair. Seal the second end by pressing three pieces together and tucking under the loaf.
Brush two baking sheets with olive oil. Place the loafs on the greased baking sheets.
Brush each loaf with the remaining 1 tablespoon of melted butter; cover with a dish towel and let rise in a warm place (like the stovetop) for additional 50-60 minutes.
Combine the egg yolk with water and brush each loaf with the egg wash.
Bake the bread for 20-25 minutes in a preheated 400F oven or until golden brown.
---
Notes
(1) Make sure to use non-expired yeast and that it is Active Dry Yeast and not Rapid Rise (this recipe specifically). Active Dry Yeast has to be activated in warm water while Rapid Rise does not.
(2) When activating yeast, water should be warm and not hot. To test for the right temperature, dip a finger and count to 10 without getting burnt. If yeast is not activated properly, dough will not rise.
(3) Ways to tell if the dough is kneaded: it will start out looking shaggy and lumpy but will gradually smooth out and wont stick to the bowl as much. You can also lift the ball of dough in your hand and if it holds its ball shape while in the air, it means gluten is tight and strong, if it sags between your fingers, then it needs more kneading. Lastly, you can give the dough a firm poke with finger and if indentation fills back up, you're good to go, if it stays looking like a deep dimple, continue kneading.
***Add extra time to prep for the dough to rise***
Keywords: bread, soup, salad, yeast